Back in the blackpowder era the standard elephant and large dangerous game guns were the 8 bore, 6 bore and 4 bore. This standard began in muzzle-loading days and persisted throughout the blackpowder breech loading cartridge era until the advent of nitro propellants, especially the British Cordite, which rendered the blackpowder bore guns obsolete. This was in part due to the relative power of the nitro cartridges, but probably just as important was gun weight. For example a .600 Nitro Express needs to weigh around 16-17lb in order to keep recoil manageable. By comparison a 4 bore rifle needs to weigh over 20lb up to around 26lb. A 17lb .600 Nitro Express feels sufficiently heavy, at least to my aging body, that one would want a gun bearer to carry it until one was ready to get into action. A 4 bore all the more so.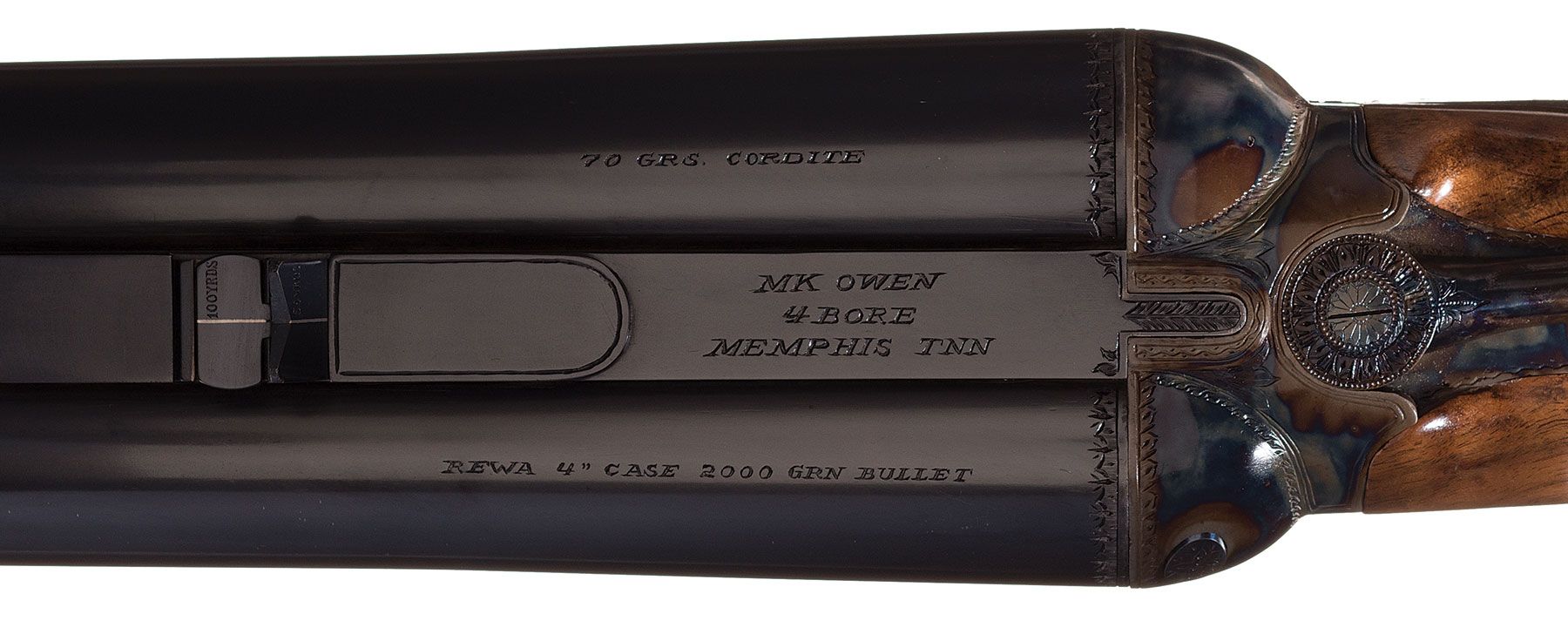 These very heavy rifles were not just made for Africa however, as is often assumed. One of the main markets for Britain's best heavy caliber rifles was India. Maharajahs and Nizams were some of the London gunmaking trade's best customers, and when we consider the typical way they would go hunting and the jungle they would be shooting in it should come as no surprise that the big bore guns and nitro rifles such as the .600 Nitro Express were so popular.
For Indian Royalty the popular animal to hunt was the tiger. Not only was the tiger popular because it was (and is) such a dangerous quarry, but tigers have a tendency to kill people (and continue to do so to the present day). So, if a Maharajah or Nizam killed a tiger the local villagers would be very happy because it meant that they and their loved ones would be much safer. So tiger shooting was a popular thing with the ordinary village people also: they didn't get to shoot tigers, but they were happy they were being culled.

Tiger hunting in India was normally done from a "howdah", which was a seat on the back of an elephant, much like the seats that are nowadays used in Thailand to take tourists for elephant rides. In the howdah would normally be kept a heavy caliber rifle or two, and a howdah pistol or two as back-up in case a tiger managed to leap up onto the elephant and stopping the tiger at point blank range became a matter of life or death.
This hunting would be carried out in thick jungle, in the sort of thick cover where the "brush-busting" power of the cartridge was all important. High velocity rifle bullets were not good in such thick cover because the bullets were easily deflected. What was needed were moderate velocity but very heavy blunt nosed bullets that would plow through thick cover to find, and to decisively stop a tiger.
This style of howdah based jungle shooting meant that rifle weight was not of great importance, the rifle could be heavy because it was carried in the gun rack on the howdah. This style of shooting also meant that bullet weight and diameter were of paramount importance.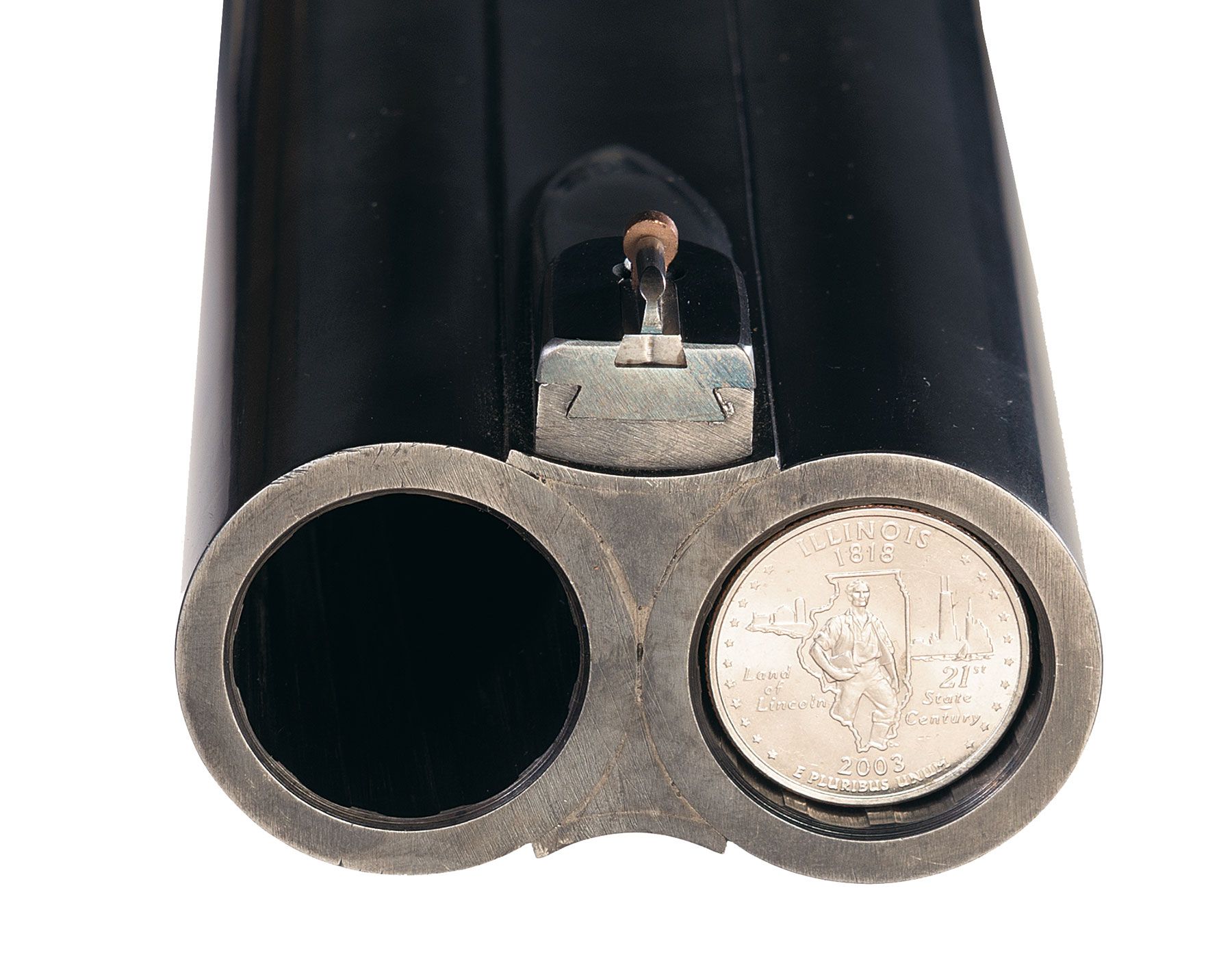 While the .577 and .600 Nitro Express rifles generally took over from the traditional bore guns there was one Indian Maharajah who wanted a traditional 4 bore, but wanted it in a double rifle and using modern Cordite as the propellant: he was the Maharajah of Rewa (Rewah). The Maharajah of Rewa commissioned London gunmaker Holland & Holland to build him a Cordite 4 bore nitro rifle in the 1920's, which they duly did, and it was the only such rifle ever built.
Although this may sound like a big undertaking for Holland & Holland it is worth remembering that 4 bore water-fowling guns were in regular use in Britain, as were 8 bores, and so making a 4 bore nitro double rifle was not a greatly different undertaking than making a nitro 4 bore shotgun.

Inspired by the Holland & Holland 4 bore made for the Maharajah of Rewa, Tennessee master gunsmith decided to try his hand in building one of these rifles by hand. He finished up making no less than six of them and each one required approximately 1,000 hours of work to create.
To make these rifles Ken Owen used a 100 year old investment casting method and each rifle was entirely hand crafted. The rifle features double under locking lugs with a Greener cross-bolt at the top.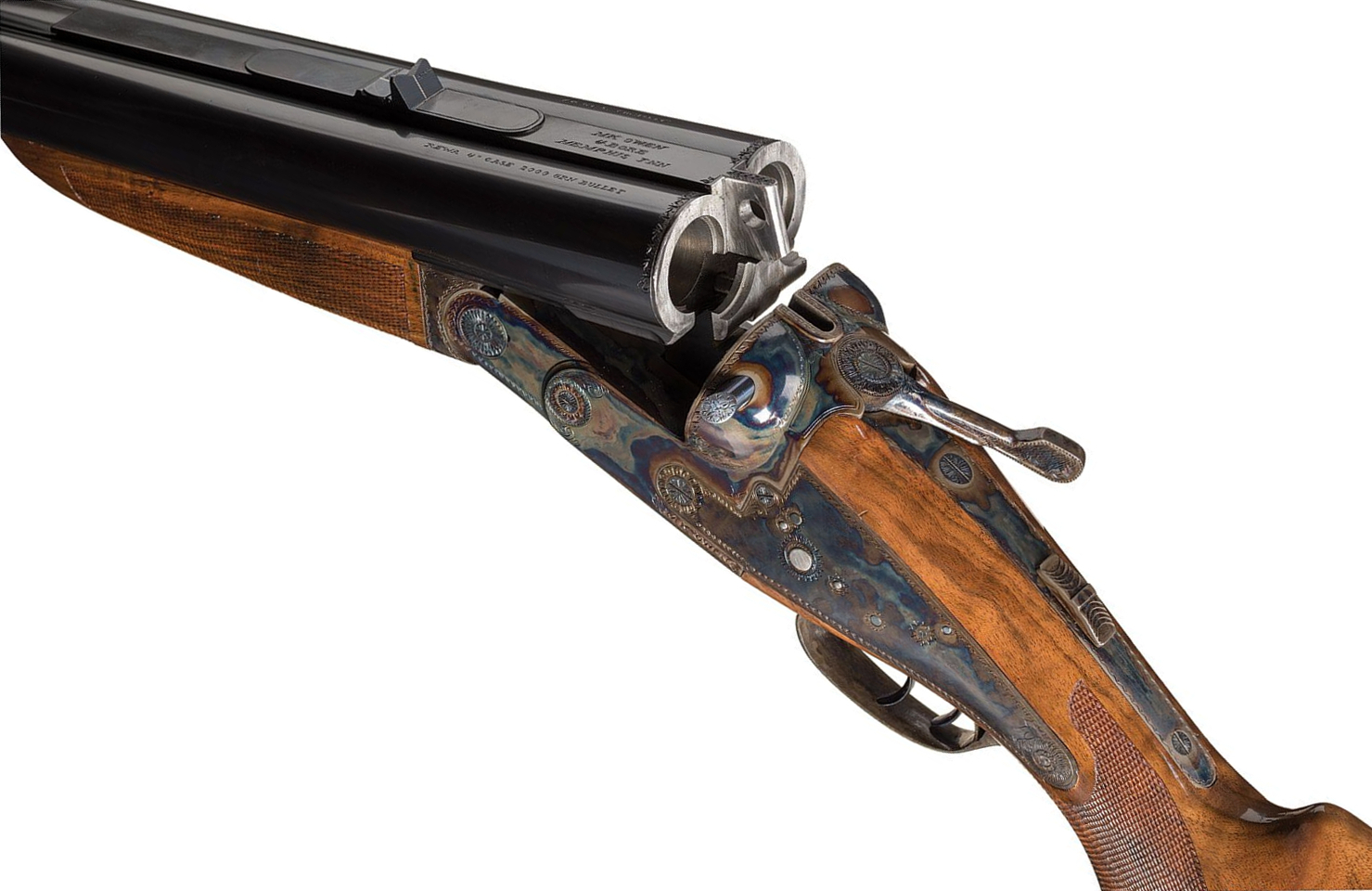 The firing pins are bushed and the rifle is fitted with classic dangerous game double triggers. As can be appreciated from the photographs the action is nicely case hardened with tasteful border engraving. The forearm features an Anson type release and the wood is triple-X-fancy, hand checkered, English walnut.
The rear sight is a classic open "V" with a fixed leaf graduated for 50yards and a folding leaf for 100yards. The front sight is a fixed post with a folding night sight.
The barrels are 24″ long and the overall weight of the rifle is 26lb. Stock dimensions are 1½" drop at comb, 2⅜" drop at heel, 14⅞" length of pull. The rifle comes with a Rod Kibler sling, leather Rod Kibler custom shell holder, and unmarked leather flap shell holder.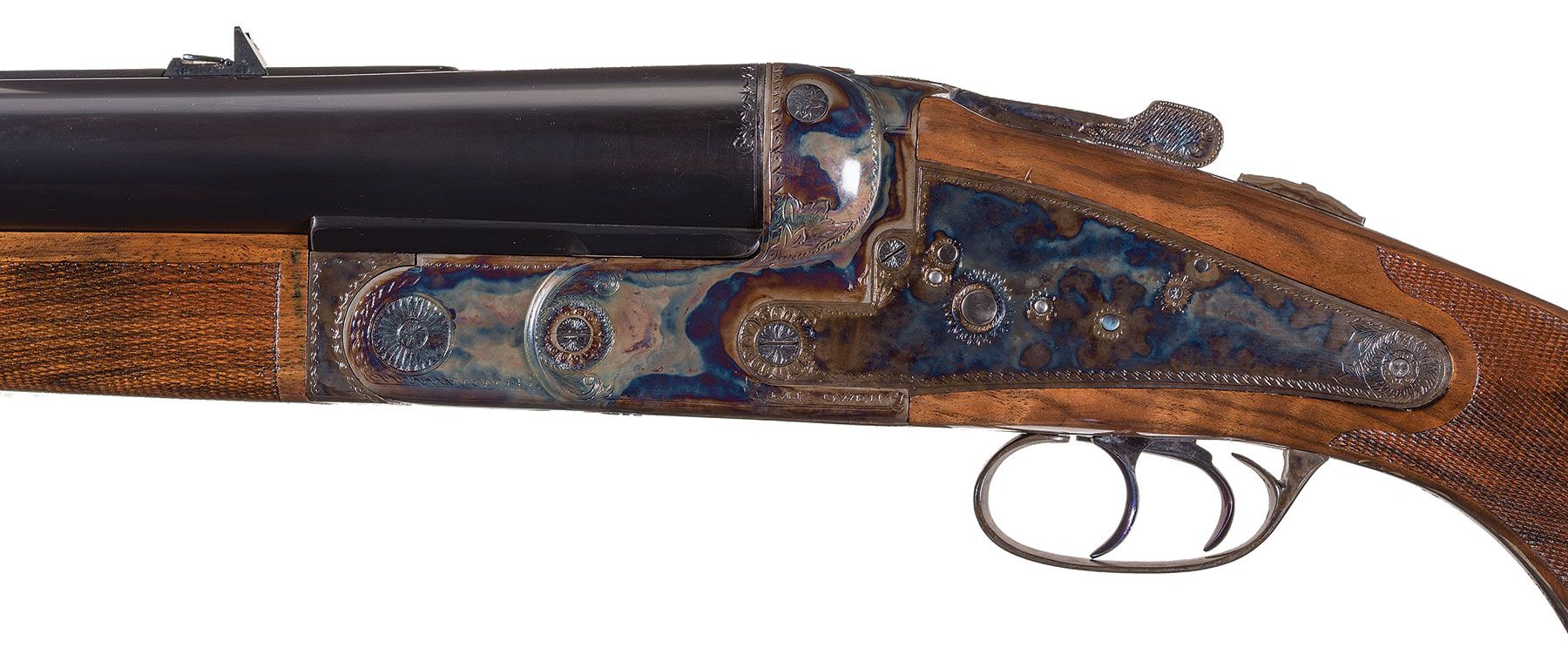 This rifle is coming up for sale by Rock Island Auction at their upcoming Premiere Gun Auction which will be held between November 30th – December 2nd, 2018. This rifle will be offered on December 2nd.
You can find the sale page for this rifle if you click here.
It is expected to sell in the range USD$35,000-$55,000.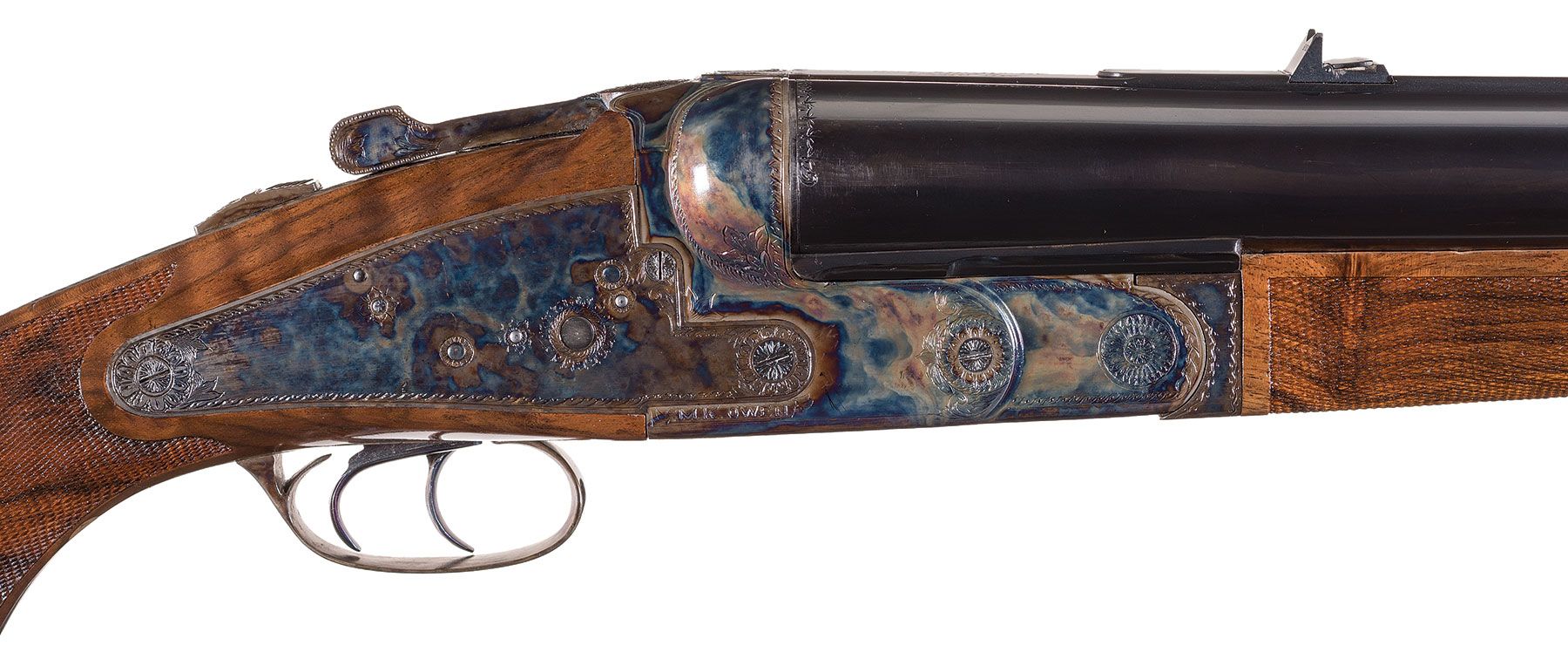 Rock Island Auction describe the condition of this rifle as follows:- "Excellent. 98% plus original blue finish remains with some visible wear near the right muzzle, handling marks, and a small bright spot on the underside of the barrels. The engraving is sharp and 98% original vibrant case colors remain. The stock is also excellent with crisp checkering, attractive grain, and a few small scattered dings. Mechanically excellent. A truly impressive example of a big bore double rifle."
The 4 bore is the largest of the traditional classic double rifle cartridges and was the standard for use against elephant and other thick skinned dangerous game before the advent of the lighter nitro rifles. This Ken Owen rifle provides the advantages of nitro propellant with the largest classic caliber commonly used. If you are looking for a stopping rifle this one, firing a 2,000grain bullet, looks to be one of the most capable in existence.

(All pictures courtesy Rock Island Auction).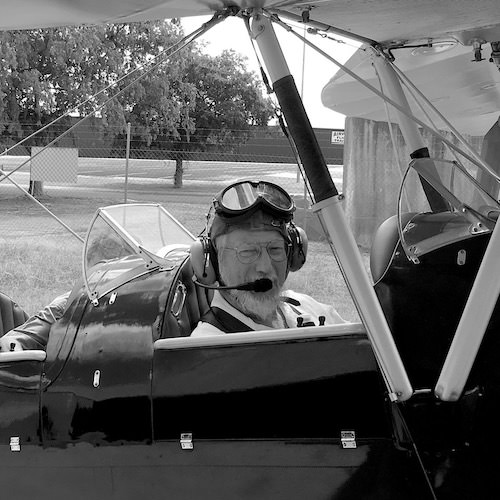 Jon Branch is the founder and senior editor of Revivaler and has written a significant number of articles for various publications including official Buying Guides for eBay, classic car articles for Hagerty, magazine articles for both the Australian Shooters Journal and the Australian Shooter, and he's a long time contributor to Silodrome.
Jon has done radio, television, magazine and newspaper interviews on various issues, and has traveled extensively, having lived in Britain, Australia, China and Hong Kong. His travels have taken him to Indonesia, Israel, Italy, Japan and a number of other countries. He has studied the Japanese sword arts and has a long history of involvement in the shooting sports, which has included authoring submissions to government on various firearms related issues and assisting in the design and establishment of shooting ranges.