Hodgdon has been supplying shooters and reloaders with top quality powder since the end of the Second World War. They are a company that has earned the respect and trust of people involved in the shooting sports and in the firearms industry. When faced with a choice of powder many reloaders will opt for the Hodgdon product as one that they know they can trust.
Many American shooters and reloaders will be aware that some of the current Hodgdon powders are made overseas and in fact that Bruce Hodgdon's powder business was and is a powder distribution business, not a powder manufacturing business. So the powders sold under the Hodgdon brand name are not made by Hodgdon and never have been. Bruce Hodgdon began the research and groundwork for his business during World War II so that by the end of the war when large quantities of military surplus powders were stockpiled he was able to purchase bulk quantities, re-package them in small retail packages, and sell them. In 1946 he began by selling 4895 powder which had been used during the war to load 30/06 cartridges. In 1947 Bruce Hodgdon got hold of spherical powder that had been used for loading the .303 British cartridge used by British, ANZAC and Canadian forces which he sold as BL type C, and then in 1949 he managed to get hold of a large quantity of powder normally used to load 20mm Oerlikon ammunition. Bruce Hodgdon initially sold this as 4350 but it was actually slower burning than 4350 so it was re-named 4831. So Bruce Hodgdon began by distributing military surplus powders for reloaders and supplying reloaders has historically been Hodgdon's core business.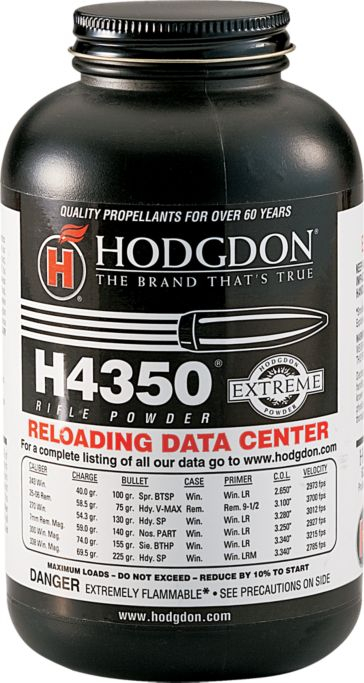 Some of Hodgdon's best powders are made "Down Under" in Australia and the business relationship between Hodgdon and Australian manufacturer Australian Defense Industries (ADI) has been ongoing for more than two decades. Australia has long been a military ally of the United States and American and ANZAC soldiers have fought together in two world wars, Korea and Vietnam amongst others. Like the US Australia has a long and proud military history, a history that is remembered and respected by Australians today as evidenced by the huge crowds who participate in ANZAC Day dawn services and remembrance services across the nation. Many people outside Australia will be unaware that it was the Australian Light Horse that carried out the last successful cavalry charge in history, during the First World War at Beersheba. Who would be mad enough to charge artillery and machine guns on horseback armed with eighteen inch Enfield bayonets? Eight hundred Australians were willing to "have a go".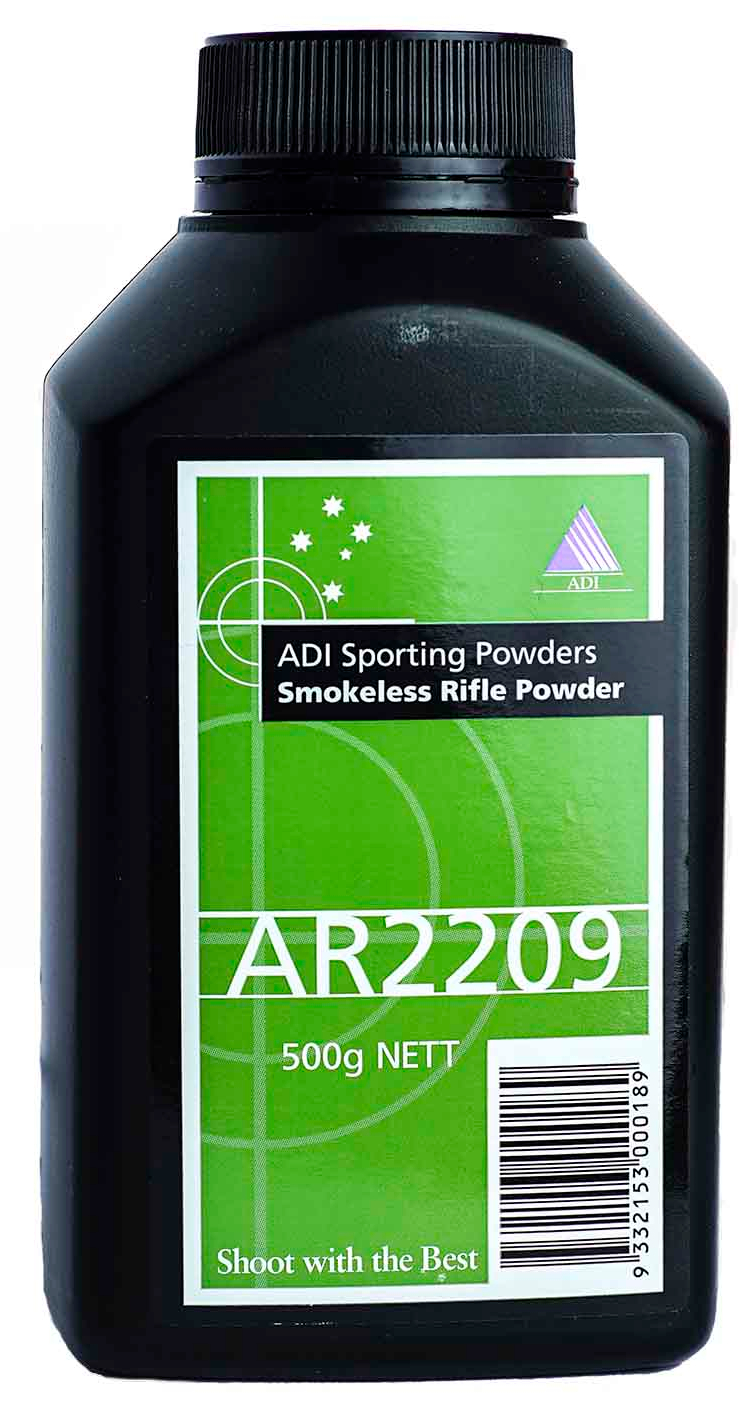 Australia is situated immediately south of Asia, a region with a history of conflict and instability, and so Australia has long realized that she needs to be as self sufficient as possible for her defense needs. As a part of that Australia Defense Industries is established to provide the powder to supply Australia's armed forces so it is appropriate that ADI also supply powder to companies such as Hodgdon for the sporting shooter market. There is always a link between the sporting shooters and the nation's military needs, for in times of deepest crisis if the nation needs to mobilize then the sporting shooters, their expertise, equipment and shooting ranges are an indispensible asset.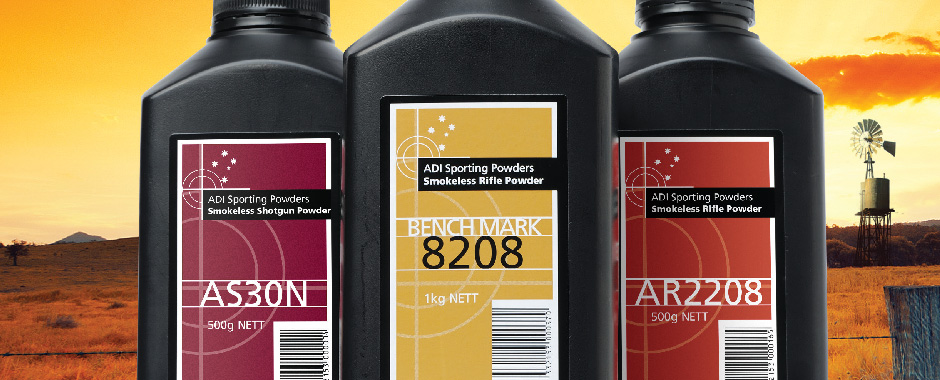 Bruce Hodgdon's powder distribution business has grown to become one of the most important suppliers of powder to the handloader market world wide. His story, and the story of Hodgdon is one of a man who had a vision and the willingness to give that vision his best shot. You will find his story on Hodgdon's web site if you click here.
Which Hodgdon powders are manufactured by ADI in Australia? The following table is a listing of the powders manufactured by ADI in Australia, marketed in the US by Hodgdon under Hodgdon brand labeling, and marketed in Australia and New Zealand under ADI brand labeling. Same powder, different packaging.
The above list is of particular value to shooters and reloaders in Australia and New Zealand when they may have reloading data in an American reloading manual that lists Hodgdon powders but does not list the ADI powders. This listing enables a shooter to safely work up data for their firearm using this table and that American reloading manual.
To illustrate this in another way let us compare the reloading data provided on the ADI website with the reloading data provided on the Hodgdon website. My personal interest is in load data for the .375 Holland and Holland Magnum so let's compare the load data for this calibre on each site.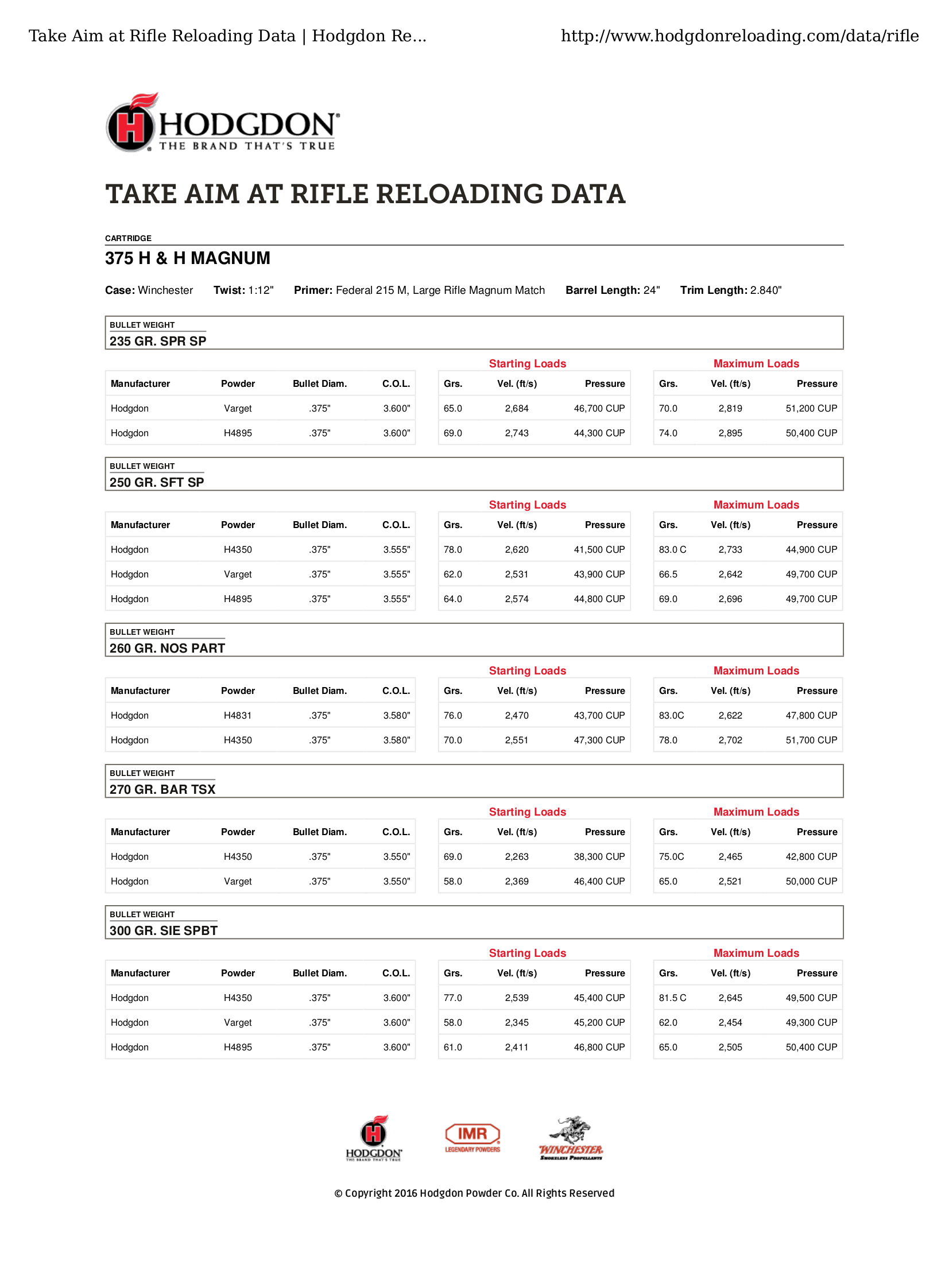 Next let's look at the reloading data provided on the ADI website for the same calibre.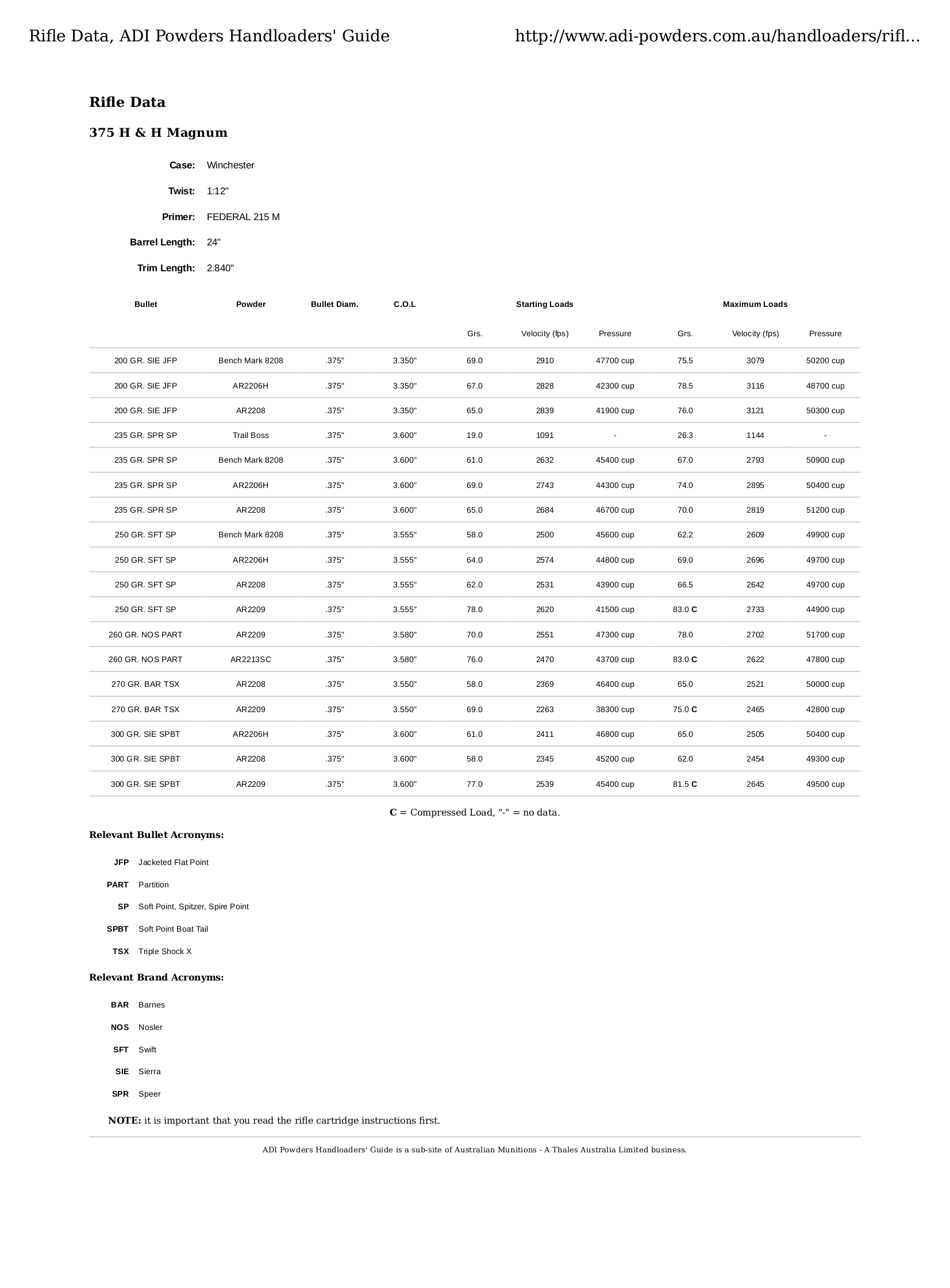 As you can see by comparing the data from Hodgdon and ADI using the equivalent powder table above the load data is the same. For example, the maximum load for the 375H&H Magnum using both H4350 and AR2209 with the Sierra 300grain SPBT and is the same at 81.5 grains compressed. Velocity and pressure figures are likewise identical. Try this for your favorite calibres using the links to the Hodgdon reloading data and the ADI reloading data below.
To find ADI load data on the ADI website click here.
To see Hodgdon load data on the Hodgdon website click here.
So, there you have it, for our readers in the United States and Canada you have a clear picture of where some of the powders distributed by Hodgdon come from. For our Australia and New Zealand readers you have information that allows you to safely work up loads with equivalent powders as listed in the information provided by ADI. When doing this you should first check the load data on the ADI and Hodgdon websites and work from that data if possible. If the bullet you wish to use is not listed but you have it in a US reloading handbook then armed with reference to the equivalent powder table above and load data on the ADI and Hodgdon websites you can intelligently use that reloading manual to work up your data. Just beware of old reloading data manuals and be especially circumspect of other reloading information you find from non-industry sources which must be compared with the ADI and Hodgdon data to see if it is in agreement or not. If not then obviously don't trust it. Reloading is a bit like carpentry. The rule in carpentry is "measure twice, cut once", in other words make sure you've got it right before you commit with the saw. In reloading check everything at least twice before you commit to pressing the trigger.
For those interested in purchasing Hodgdon powder you can find it on Cabela's if you click here.
And you'll find it for sale at Sinclair International if you click here.
For those who are interested in ADI powders and Australian Munitions ammunition you will find the ADI website's reloading page if you click here.
ADI publish a reloading handbook which you will find on the ADI web site if you click here.
The Australian Munitions website is found if you click here.
You can download the PDF brochure for Australian Outback ammunition if you click here.
You can download the PDF brochure for .300 Blackout ammunition if you click here.
So, not only will you find good beer, good wine and good company "down under" in Australia. You will also find some of the best reloading powder available in the world today.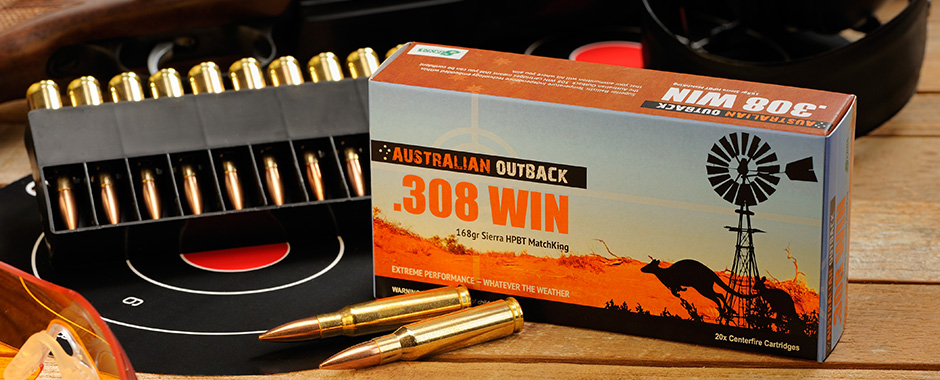 (Our thanks to the ADI Technical Support Centre for their assistance.)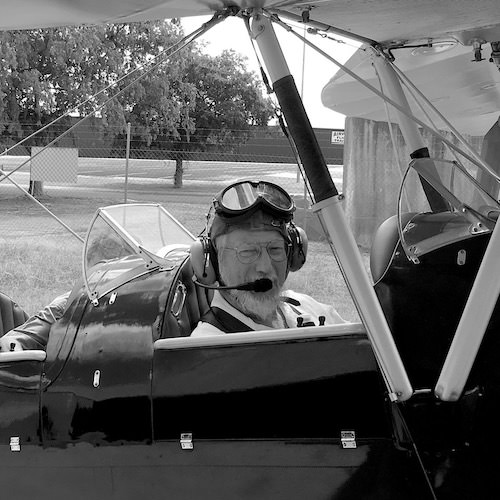 Jon Branch is the founder and senior editor of Revivaler and has written a significant number of articles for various publications including official Buying Guides for eBay, classic car articles for Hagerty, magazine articles for both the Australian Shooters Journal and the Australian Shooter, and he's a long time contributor to Silodrome.
Jon has done radio, television, magazine and newspaper interviews on various issues, and has traveled extensively, having lived in Britain, Australia, China and Hong Kong. His travels have taken him to Indonesia, Israel, Italy, Japan and a number of other countries. He has studied the Japanese sword arts and has a long history of involvement in the shooting sports, which has included authoring submissions to government on various firearms related issues and assisting in the design and establishment of shooting ranges.