John and Tom Wilkes closed their shop located just off London's busy Regent's Street, at 79 Beak Street, in 2003. The shop later became an art gallery appropriately called "The Riflemaker" for John Wilkes was both rifle and gunmaker, and an artist in the best London gun tradition whilst Tom was the business manager. In 1970 the two brothers were joined by gunmaker Craig Whitsey who remained with the business for thirty years and who worked with John Wilkes on the guns and rifles produced by the shop from 1970 until 2003. Tom Wilkes passed away in March 2009 whilst his elder brother John passed on in April 2010 leaving a gunmaking heritage as their legacy to the world. Their gunmaking tradition continues in the hands of Craig Whitsey who worked with John and Tom for thirty years. His business is located in Arundel, West Sussex and you will find his website if you click here. Craig Whitsey is a highly accomplished gunmaker and engraver and the beautifully engraved John Wilkes shotgun coming up for sale by Rock Island Auction featured in our photographs may include some of his work.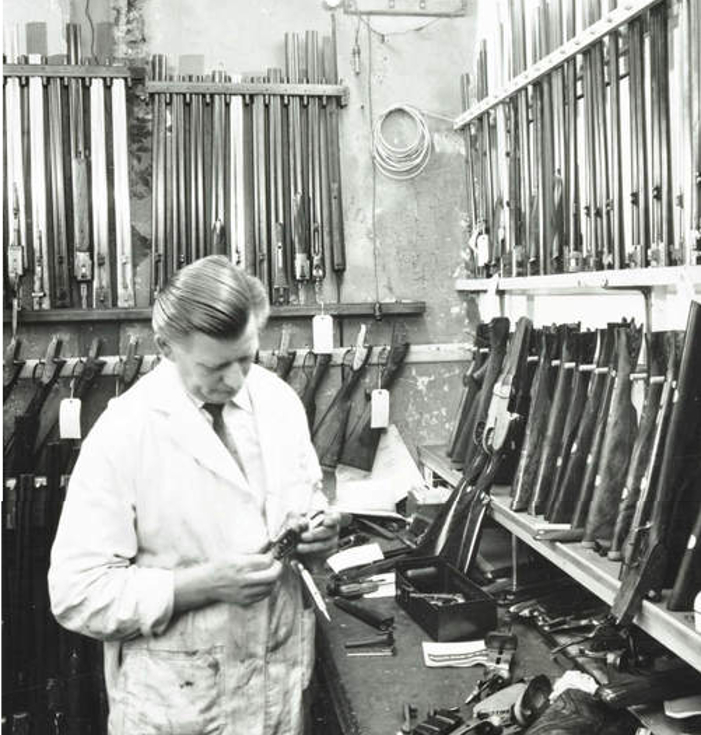 John Wilkes guns are amongst the lesser known but top quality London guns extant. The 12 gauge shotgun coming up for sale by Rock Island Auction on 7th May 2017 is a prime example of a John Wilkes best gun. Made in 1983 this side by side 12 bore sidelock ejector gun is chambered for 2¾" cartridges and choked modifed/improved modified as is common for British guns.

AS can be appreciated from the photographs of this fine gun there is a veritable plethora of gold inlay work set into the color case hardened action and blued barrels. The concave top rib is gold inlaid "JOHN WILKES 79 BEAK STREET LONDON. W.I."

Stock style of this fine gun is in straight hand style with a splinter fore-end. Stock dimensions are: Drop at the heel is 1⅝" inches, drop at the comb is 1¼", length of pull is 14¼". Butt is bare and checkered.

The wood on this gun features beautiful and complex grain nicely accented with some deep figure. Barrels are 28″ and the gun looks to be a fast handling piece.
This gun comes in a black leather and oak case with brass corner protectors, leather straps and leather handle, wine colored felt lining with leather John Wilkes label attached to the inside of the lid. The case also comes with a canvas cover with leather corner protectors, trim and label. Inside the case are the usual accessories; a two-piece brass and wood cleaning rod, a round brass container with screw on lid numbered to the gun, two brass snap caps, a "JOHN WILKES/LONDON" marked oiler, a can of lubricant, and a bore mop and brush.

This gun is one of the stars of the coming Rock Island Auction and you will find the sale page for it if you click here.
It will be offered on May 7th, 2017
Rock Island Auction describe the condition of this gun as follows: "Excellent. The shotgun retains 99% plus original blue and casehardened finish. There is a small minor scratch on the underside of the left barrel near the forearm and overall only light handling marks. All of the gold inlay remains, and 95% of the gold wash remains on the internal parts. The stock is also excellent with a few light blemishes and a few minor dings and pressure dents. The checkering is sharp. Mechanically excellent. The case and cover are excellent with a few minor scuffs on the leather and some light staining on the canvas cover. The accessories are all excellent. A beautiful masterfully embellished John Wilkes shotgun."
This gun is expected to sell in the range USD$25,000-$30,000

(All pictures courtesy Rock Island Auction unless otherwise noted).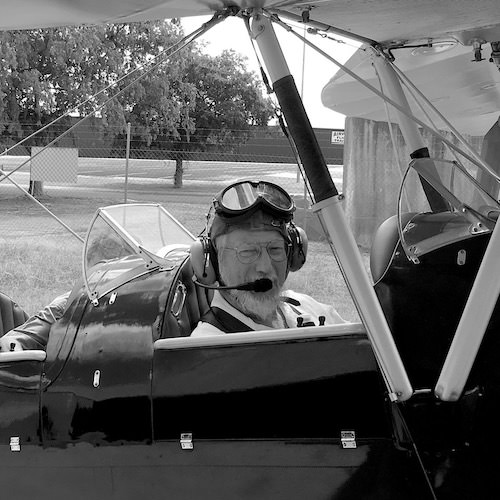 Jon Branch is the founder and senior editor of Revivaler and has written a significant number of articles for various publications including official Buying Guides for eBay, classic car articles for Hagerty, magazine articles for both the Australian Shooters Journal and the Australian Shooter, and he's a long time contributor to Silodrome.
Jon has done radio, television, magazine and newspaper interviews on various issues, and has traveled extensively, having lived in Britain, Australia, China and Hong Kong. His travels have taken him to Indonesia, Israel, Italy, Japan and a number of other countries. He has studied the Japanese sword arts and has a long history of involvement in the shooting sports, which has included authoring submissions to government on various firearms related issues and assisting in the design and establishment of shooting ranges.