Background
Some like to say that "the best things in life are free" but this is perhaps a bit of a wishful thinking statement. The best things in life are typically costly. In order to have health you need a decent diet and exercise, and you need to be free of oppressive levels of stress and anxiety, having good health and dental insurance helps too. To have love you need to be willing to be selfless, often sacrificially so, there will be both personal and financial costs, and this will be all the more so if you marry and have children. So when the Beatles sing "Money can't buy me love…" they're not telling the whole story, you may not be able to "buy" love, but it will surely be costly.
So, the best things in life are typically costly, and Friedel Münch was a man who was determined to pursue a vision and pay the price that pursuit would cost him. He was born in 1927 and spent his early years developing a love of engineering and machines: acquiring the knowledge and skill set of an engineer in his father's automotive workshop and also working at a Horex dealership in the town of Florstadt, which is not far from Frankfurt in Germany. He served with the Luftwaffe as a technician during the Second World War and went on to attend a technical school where he trained in mechanical and electrical engineering and experienced great success. When you love your job and are conscientious success is likely to come your way.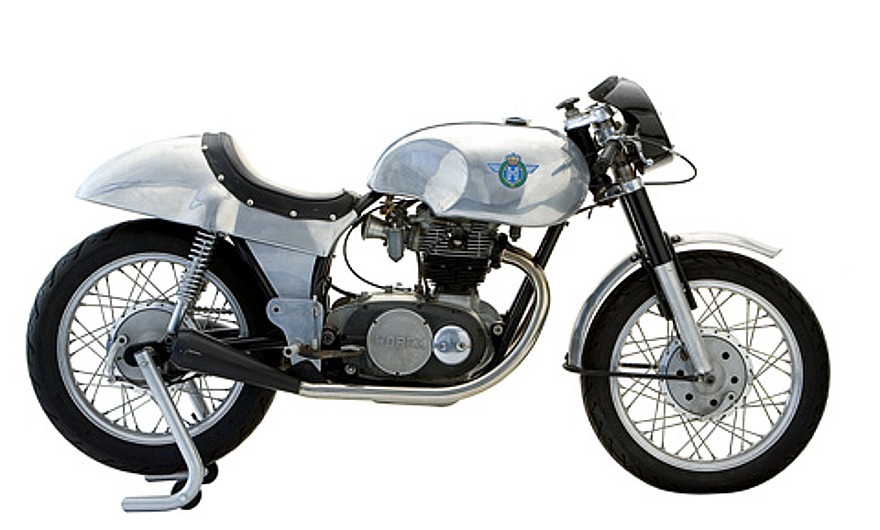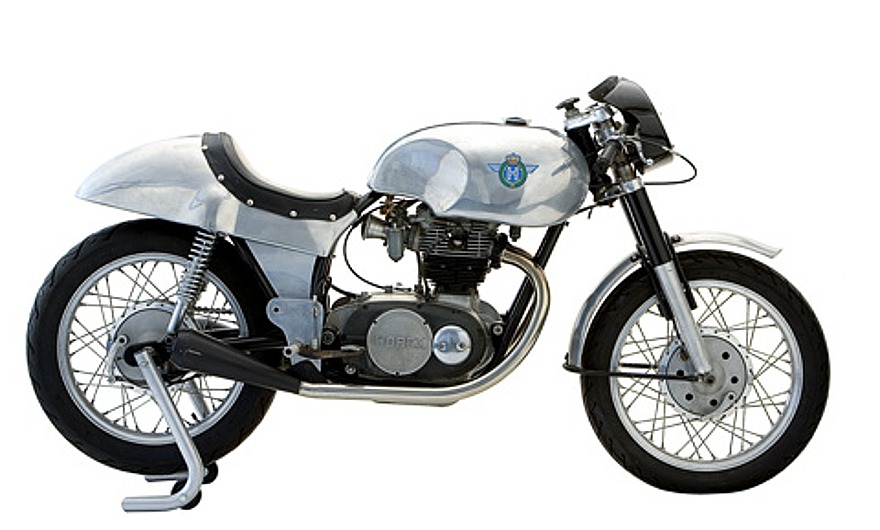 Münch completed his training by 1948 and opened his own motorcycle workshop primarily repairing Horex motorcycles, logically because he had well established expertise with them and had previously worked for Horex.
Racing and Horex
Friedel Münch was motivated not just to run a successful motorcycle repair shop however, he'd been bitten by the speed bug and was inspired by motorcycle racing but this proved to be costly when he was involved in a serious racing accident and was forced to give up his ambition to become a motorcycle racer. Not to be defeated however Friedel decided that even if he couldn't race bikes he could certainly attempt to create the best racing motorcycles in Germany and he applied himself to that quest.
Friedel Münch first became famous for his 500cc racing motorcycle which was based on a twin cylinder 400cc Horex Emperor. His efforts at creating Horex racing bikes was not lost on Horex' management and they asked him to come and work for their own racing department. Friedel was reluctant but eventually did go to work for them for a while for the simple reason he needed the money. This only lasted until the late 1950's however and Horex went out of business leaving Friedel with the opportunity to acquire a large stockpile of Horex parts, and also the Horex name, which was very helpful to his own workshop and racing bike building business. The other result of the ending of Horex was that Friedel was set free to focus his full attention onto his vision for the future.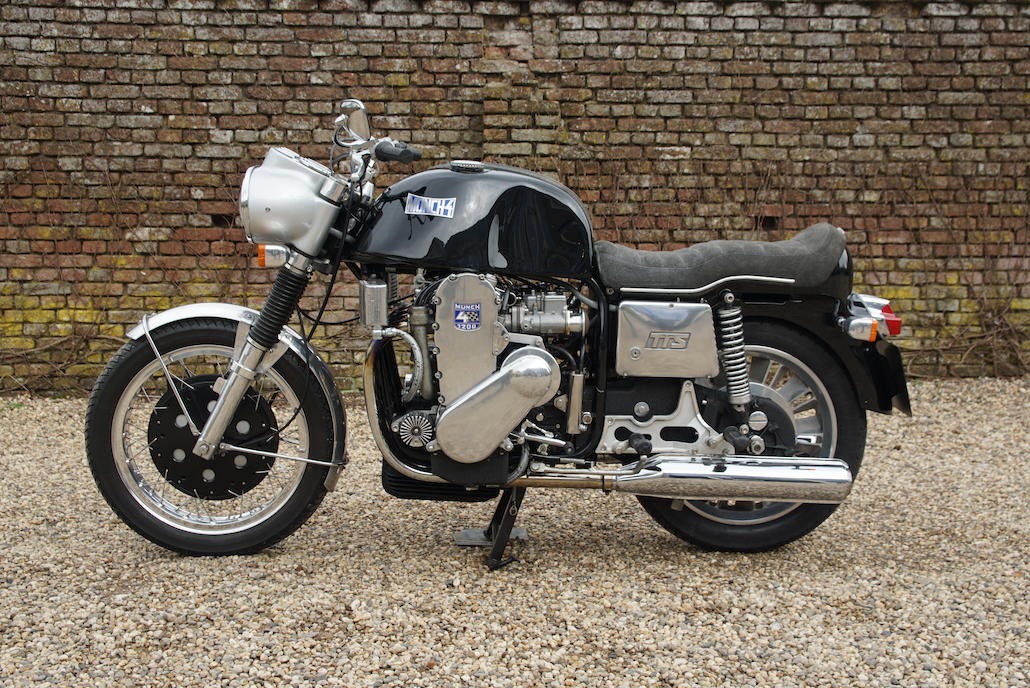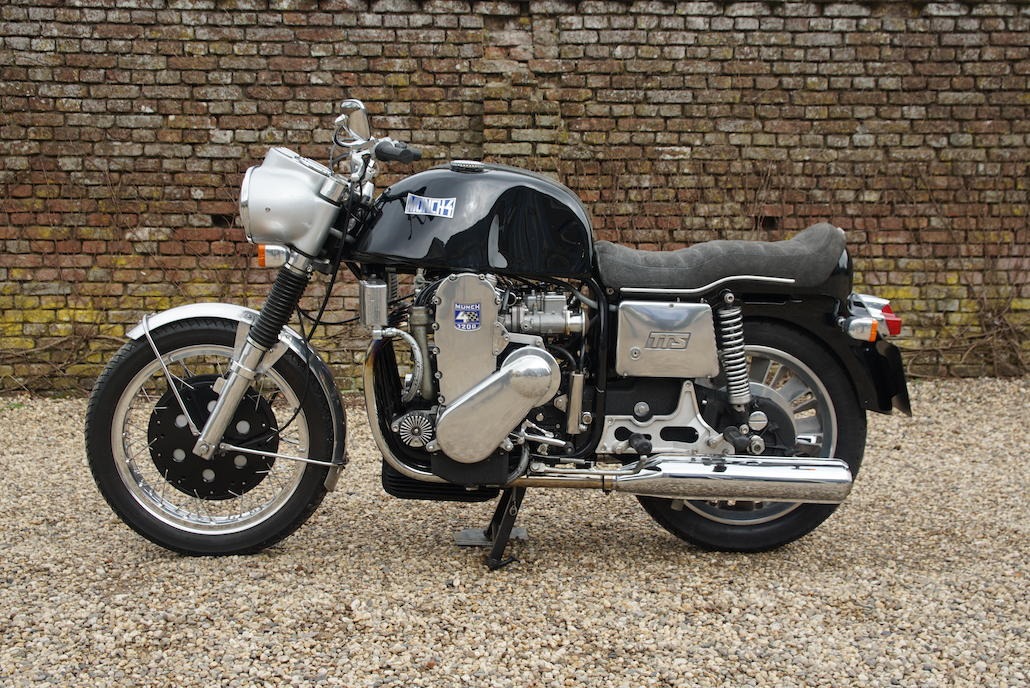 To Build a 1 Liter Motorcycle
Friedel applied his considerable skills and knowledge into designing a new 1,000cc bike which he planned to create by joining two of the Horex Emperor twin cylinder engines together to make an in-line four cylinder, and he designed his own DOHC cylinder head to bolt on top of it. This engine he planned to mount transversely in the frame in exactly the way Soichiro Honda would do more than a decade later.
In 1963, as Friedel was thinking about the design for his ideal motorcycle,  a friend showed him an NSU Prinz automobile and lifted the hood to reveal the NSU's in-line four cylinder 996cc air-cooled engine. Friedel looked at the NSU engine and had an engineer's epiphany: why design and build a new engine from Horex parts when the NSU car engine would work just as well if not better. Suddenly the task of creating his 1,000cc motorcycle had gotten a whole lot easier.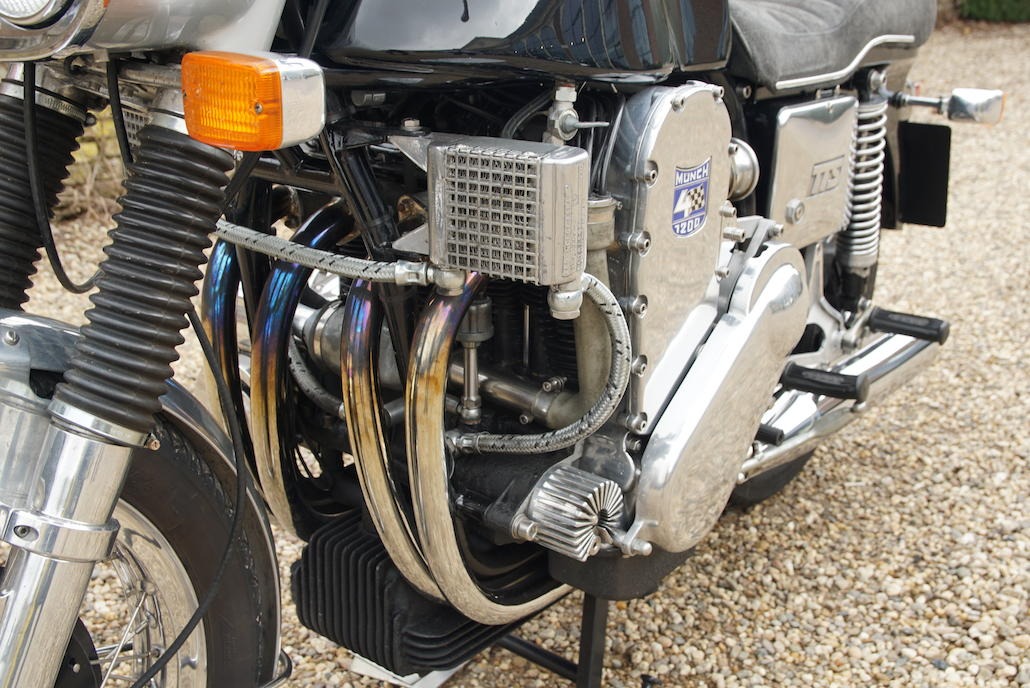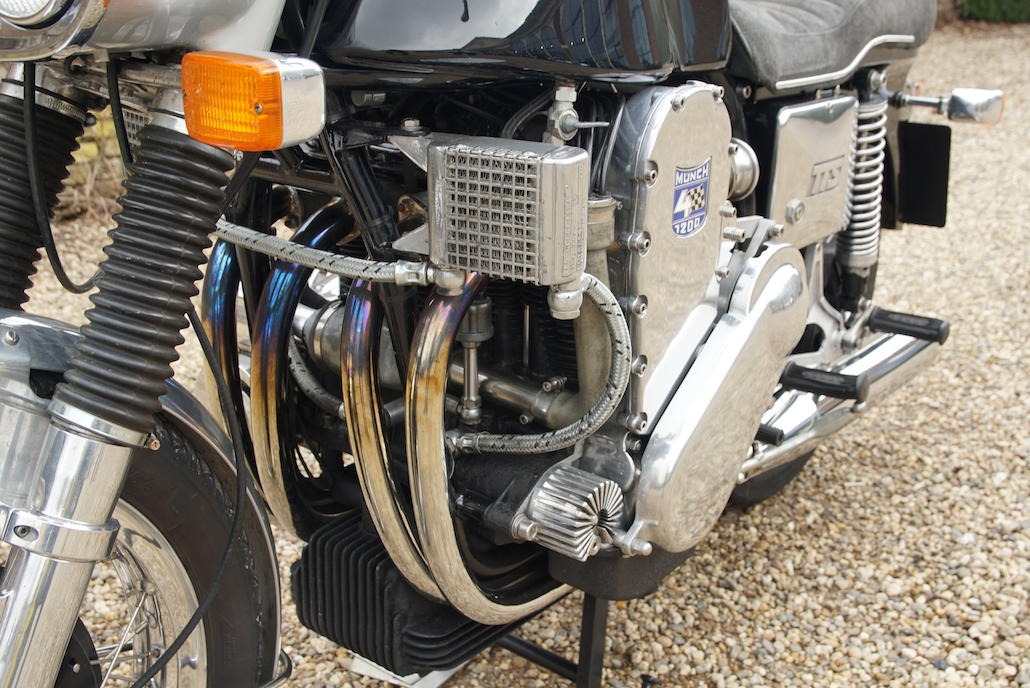 Friedel Münch possessed a high degree of knowledge about motorcycle designs and when he set out to build his Münch "superbike" he chose to build it on a frame of his own design, based on the most state-of-the-art motorcycle frame in existence at the time, the Norton Featherbed frame. He found it was not too difficult to create a "Featherbed" frame to accommodate the NSU Prinz engine and he also reasoned that there was advantage in keeping the NSU engine's electrical system as the automotive system was better than a typical motorcycle system.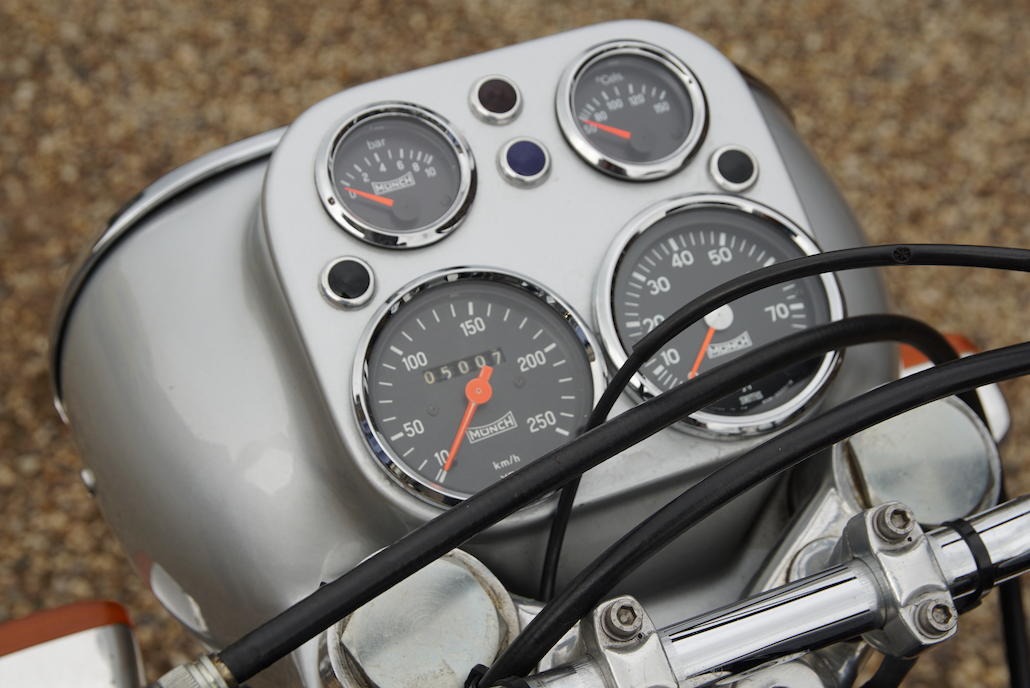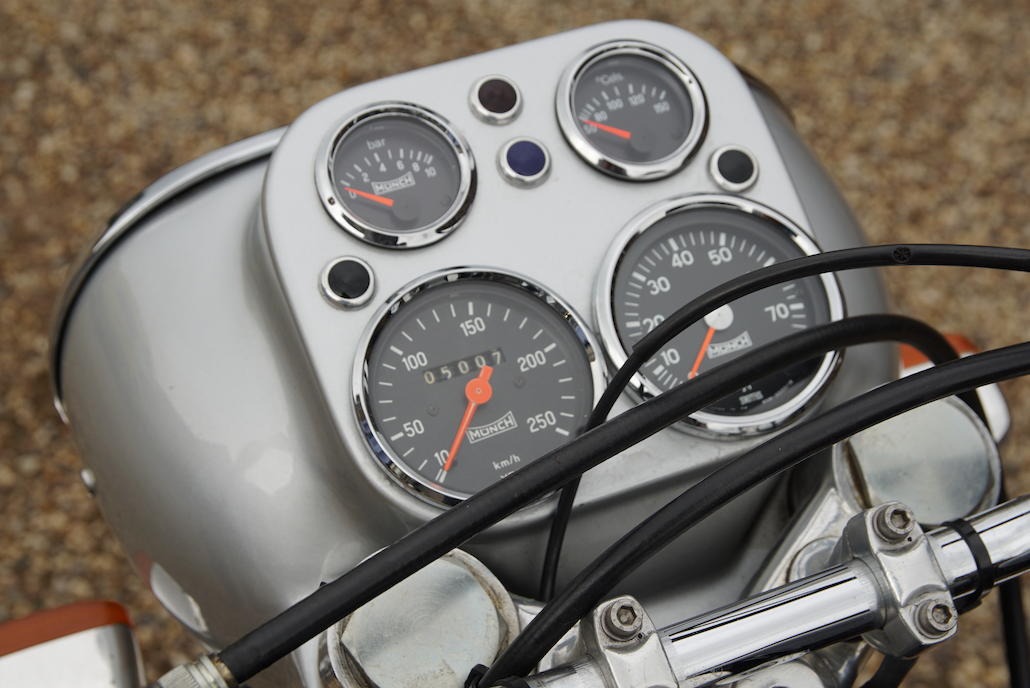 During this period, in 1965, Friedel was approached by Jean Murit, an ex motorcycle sidecar racer who was interested in having Friedel build him a custom motorcycle with an engine of about one liter capacity. This was to be the ultimate motorcycle, something better than everything else on the road. Friedel and Jean had no doubt had some conversations as to the work Friedel was doing to create his NSU Prinz engine motorcycle and by 1966 Murit formally commissioned Friedel to build him the first bike.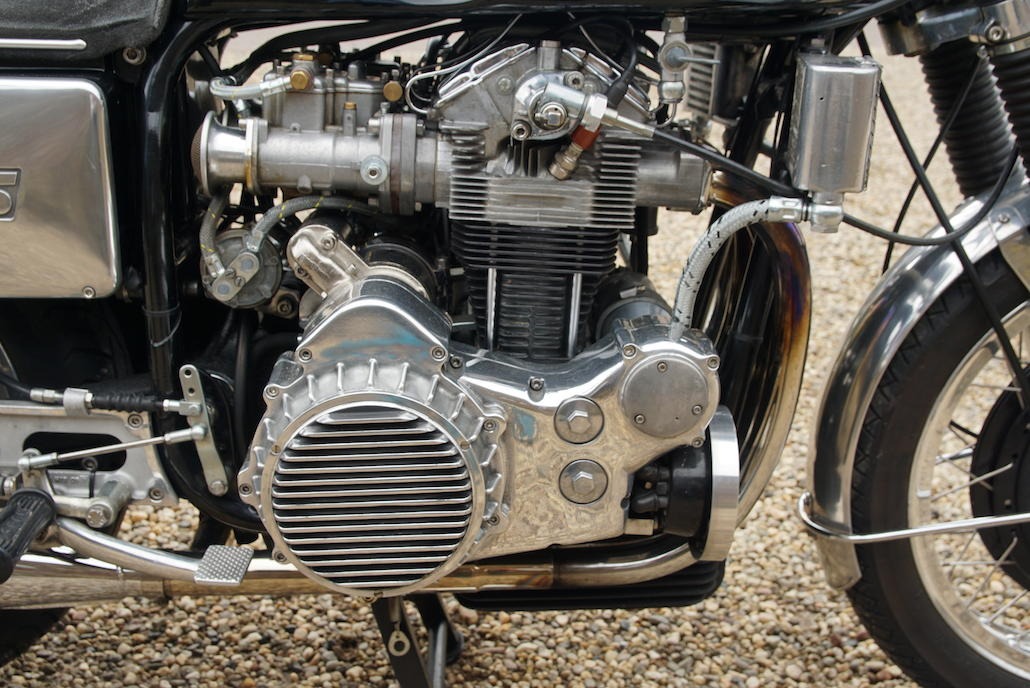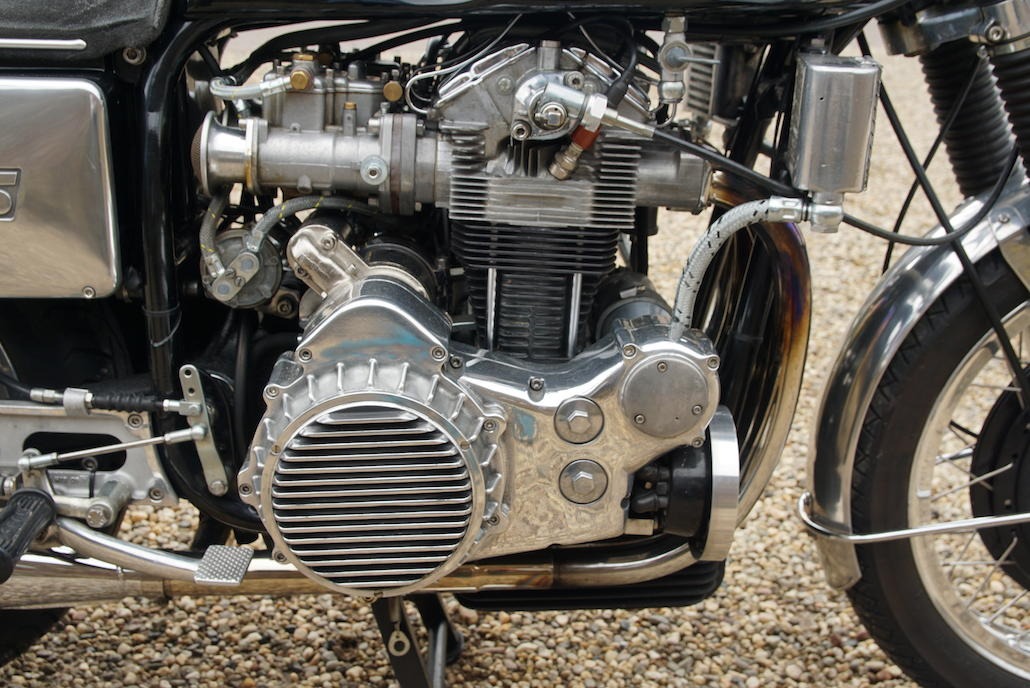 Jean Murit took delivery of his new Münch motorcycle in 1966 and in July of that year he rode it at the head of a convoy of motorcycles from Val d'Isère up Europe's second-highest mountain pass, the Col de l'Iseran. Meanwhile with a happily satisfied first customer for his Münch motorcycle Friedel offered the model for sale and named it the Münch Mammoth.
The Münch Mammoth Enters Production
Friedel offered his machine for sale with the choice of one, two or four carburetors giving power that ranged from 43hp to 55hp. This engine was mated to a modified Horex four speed gearbox and a chain final drive.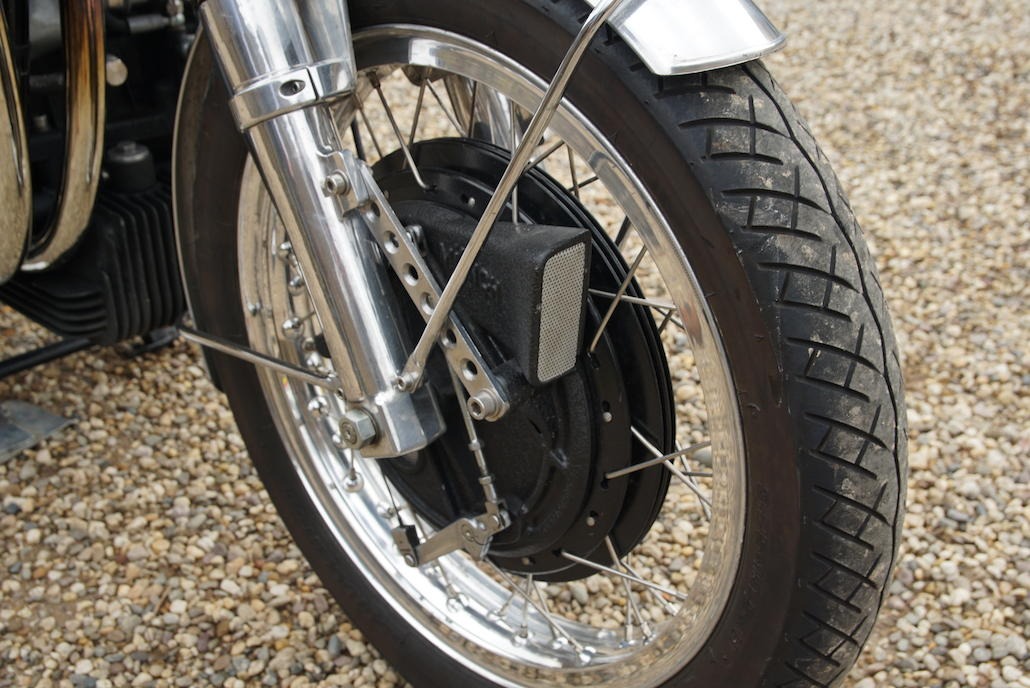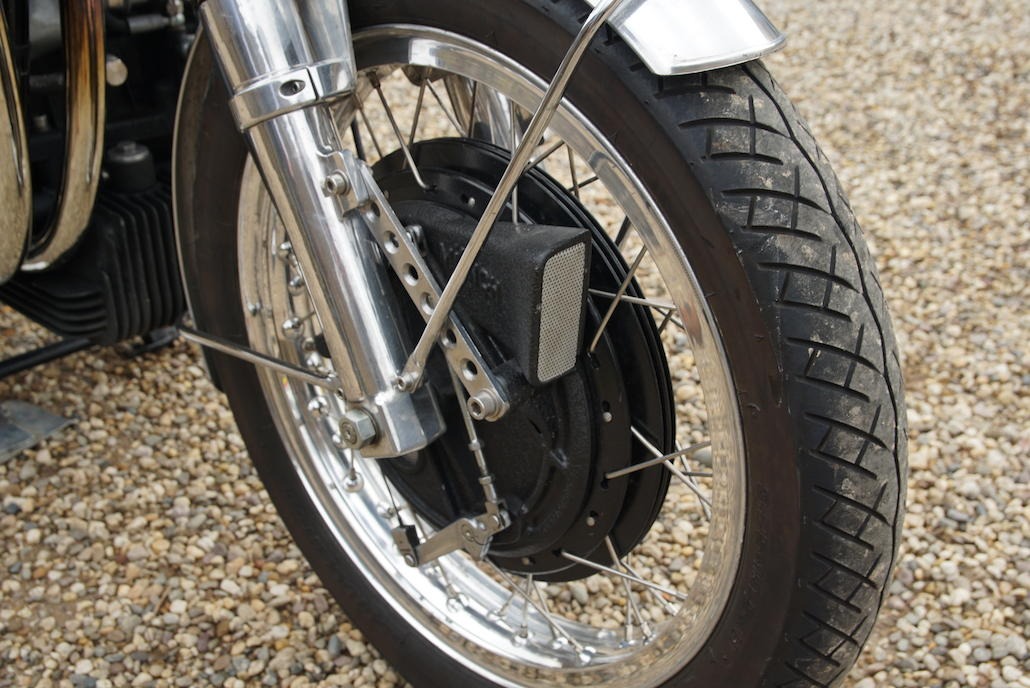 Not only was his bike made to go it was also made to stop with brakes of his own design. The front brake was an impressive 10″ (250mm) magnesium alloy "Elektron" casing with iron liner and twin leading shoes. The front brake was not the only component made of expensive and difficult to work with "Elektron" magnesium alloy. The engine oil pan, primary transmission housings and steering stems were also made of ultra lightweight Elektron. Friedel also designed and made special 40mm front forks for the bike.
The first prototype tipped the scales at 480lb (433lb dry weight) and had a top speed of 115mph. Like most first prototypes it was not completely de-bugged and Friedel had the problem that despite using rear wheel spokes a full 5mm in diameter they would be progressively damaged by the torque of the engine. Friedel's solution to this was to create his own cast Elektron magnesium alloy rear wheel with integral 10″ (250mm) drum brake. That solved the problem and it would serve well for the future motorcycles that Friedel would build.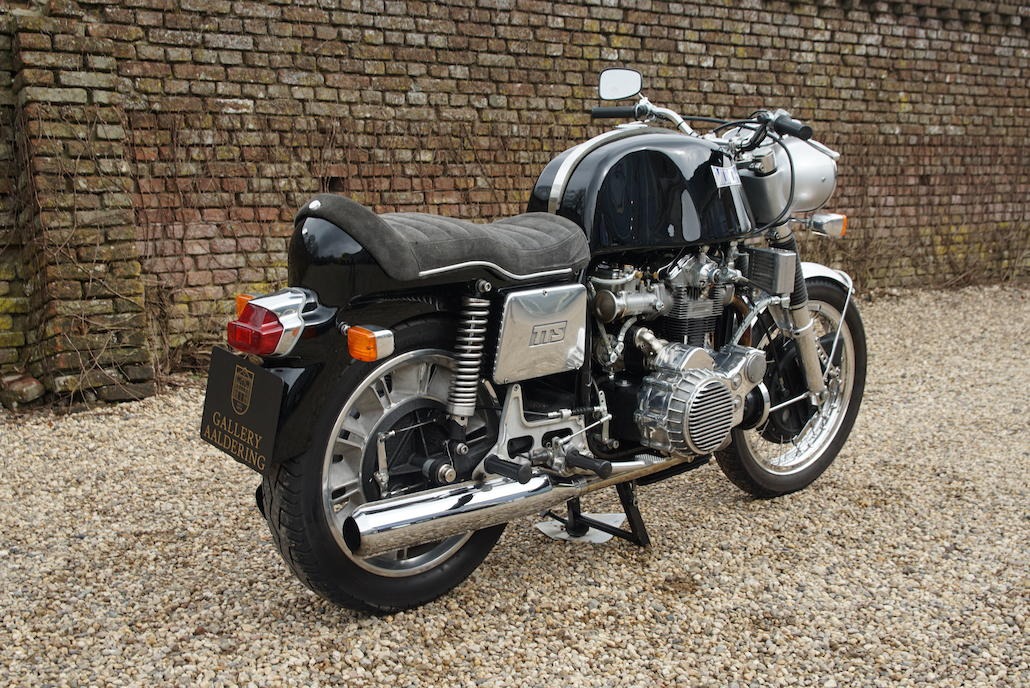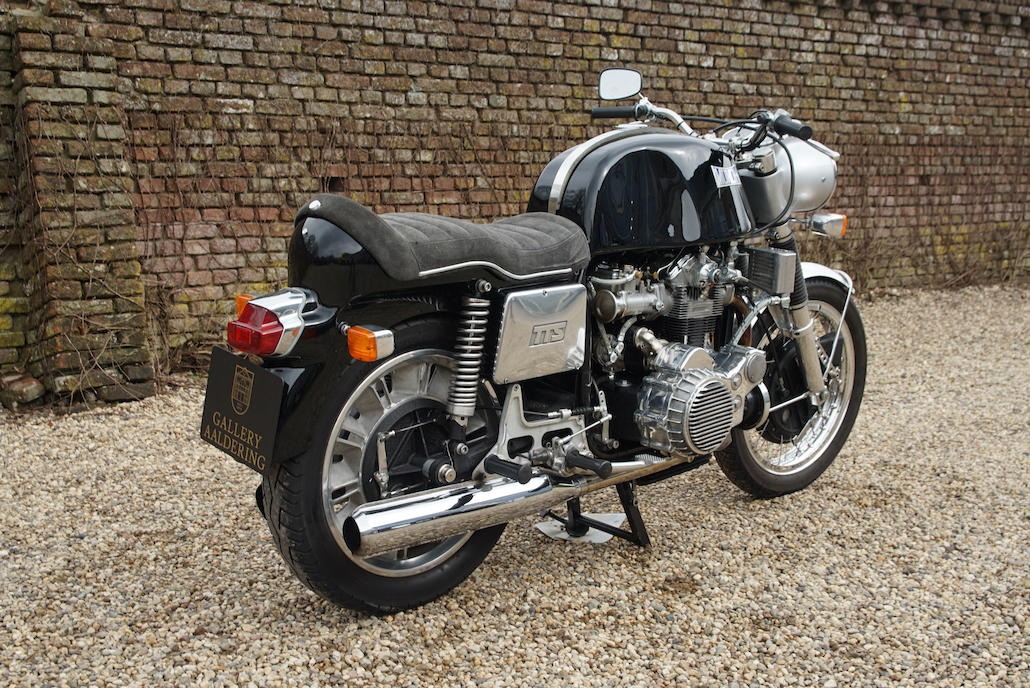 By 1966 NSU moved to a larger engine offering a 1,085cc SOHC air cooled in-line four cylinder engine for their NSU 1100. Friedel built his Mammoth bike using the 1,085cc engine which he tuned to produce 70hp and which propelled it to a top speed in the region of 140mph. This bike was shown at the Cologne Motorcycle show in September of that year and resulted in eighteen orders for his very expensive motorcycles.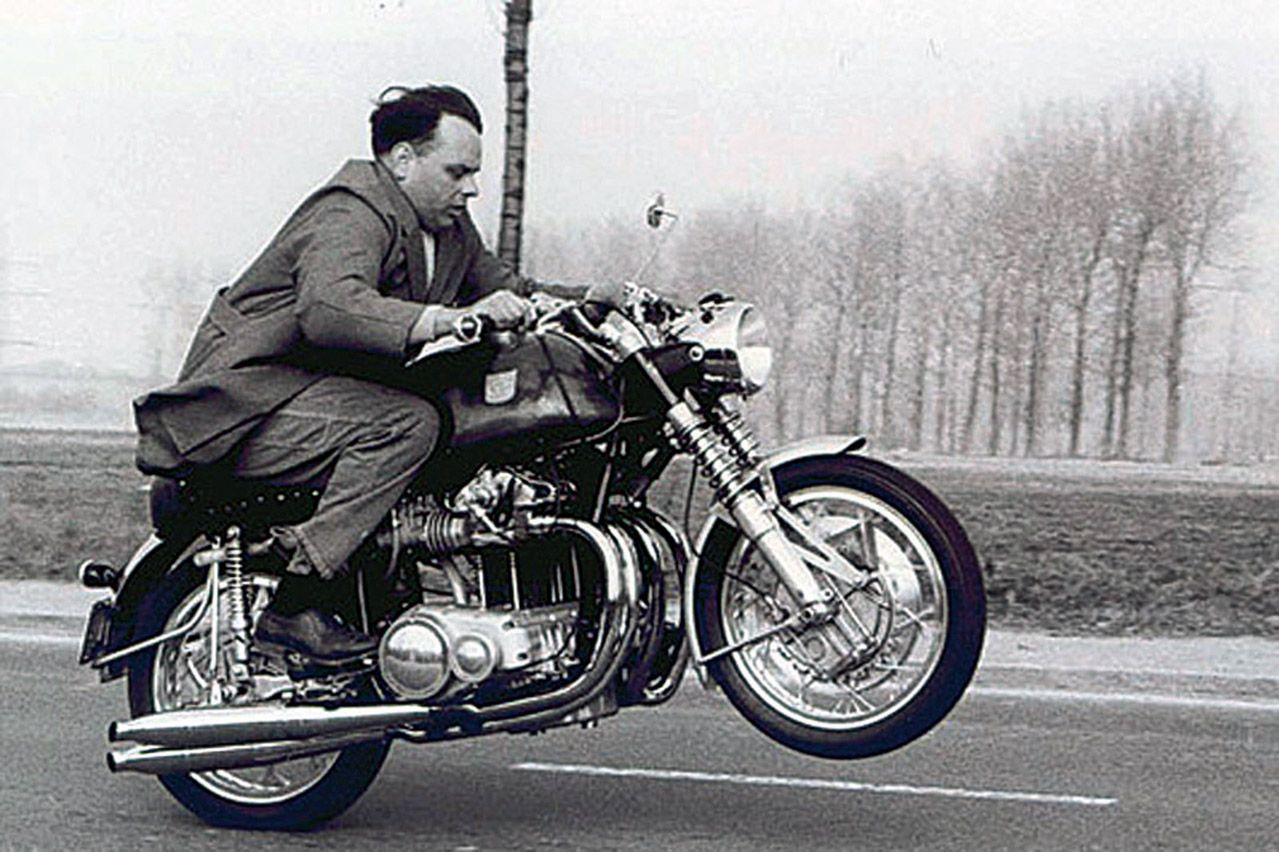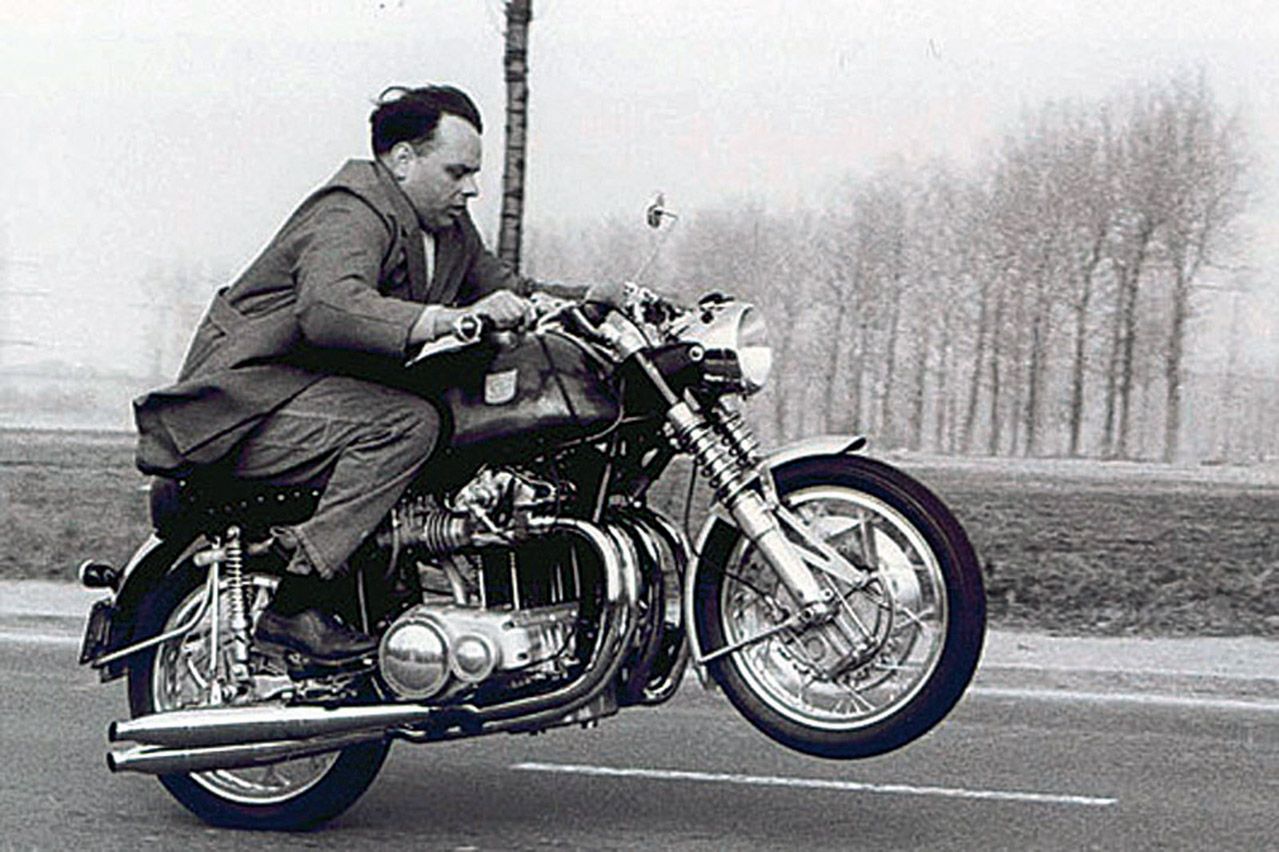 Partnership with Floyd Clymer
The only issue with obtaining eighteen orders was that Friedel was going to be kept busy for years just making that many bikes on his own. What he needed was a small factory with skilled workers who could build the Münch motorcycles up to Friedel's high standards. Friedel did not have the capital behind him to achieve that but, fortuitously, he was approached by the American publisher of "Cycle" magazine, entrepreneur Floyd Clymer, with an offer to provide him with the financing in return for giving Clymer the US rights to market the motorcycles under the Clymer-Münch brand name.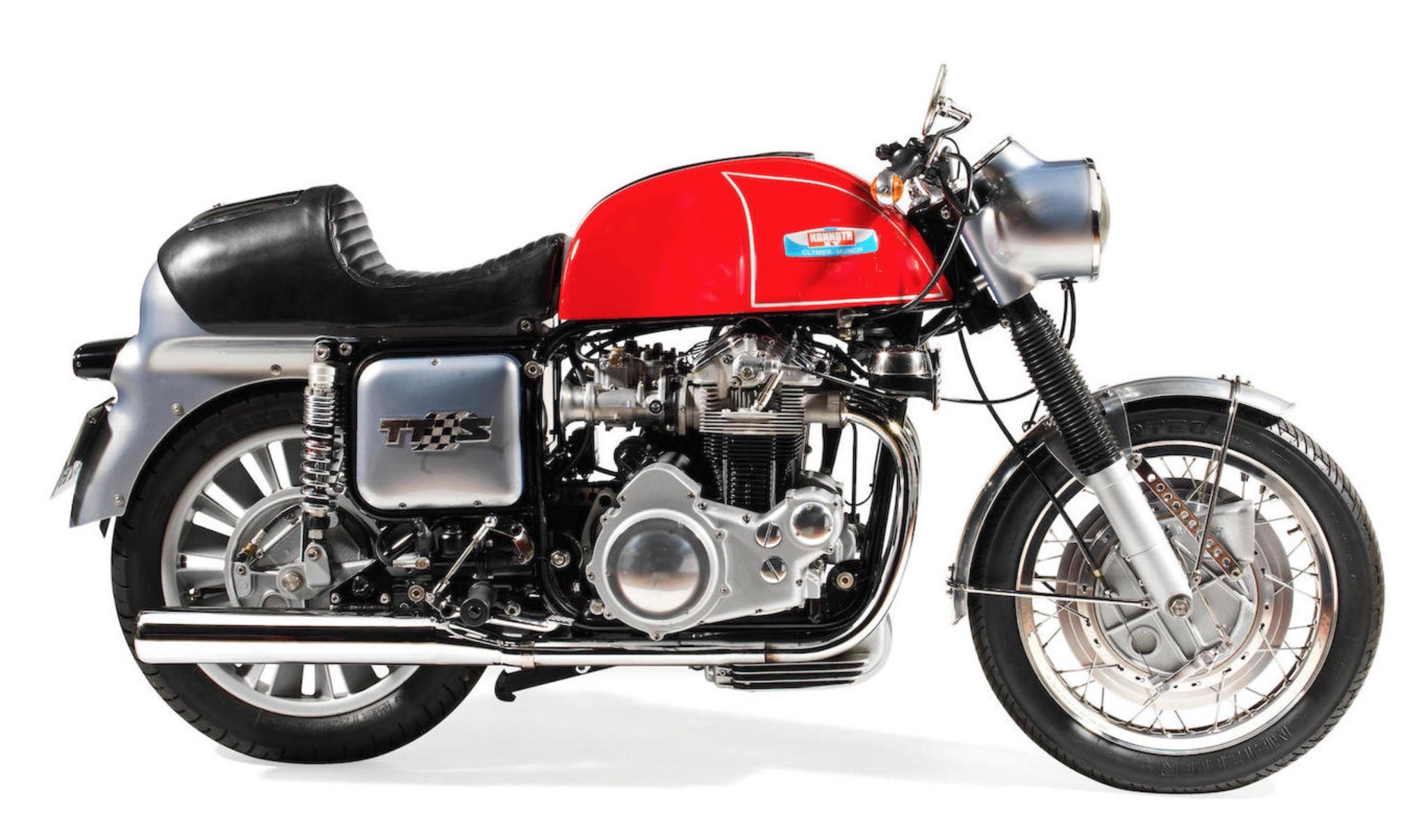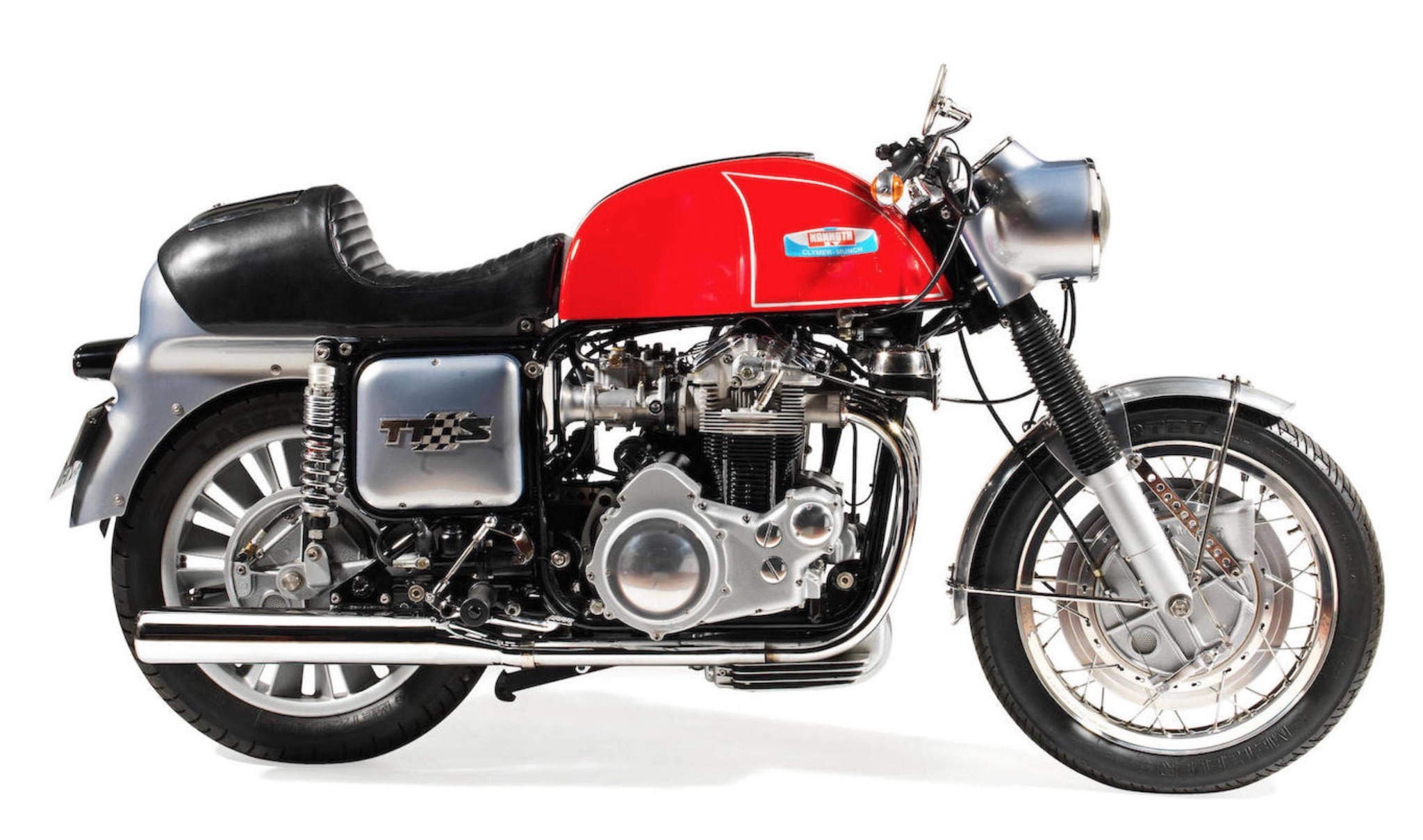 Friedel set up a new factory in Ossenheim, Germany in 1967 and employed twenty workers with the aim to produce thirty motorcycles in the first year of production. The deal between Friedel and Floyd Clymer was formalized in 1968 and the Clymer-Münch motorcycles went on sale in the United States for USD$3,995, which was about double the price of a new BMW R69S. About 150 Clymer-Münch motorcycles would be sold prior to Floyd Clymer's death in 1970. For the US Market the motorcycles were marketed under the name "Clymer-Münch Mammoth" but this was not possible in Europe because the name "Mammoth" had already been copyrighted by another party. So bikes for the European market were sold under the name Münch with a model name, that model name typically being taken from the name of the NSU engine fitted to the bike.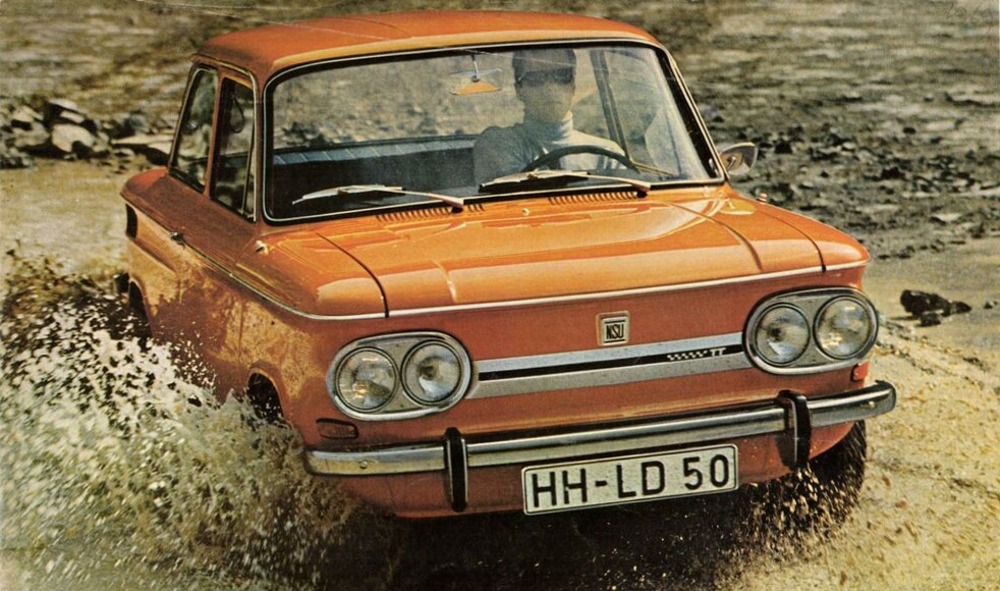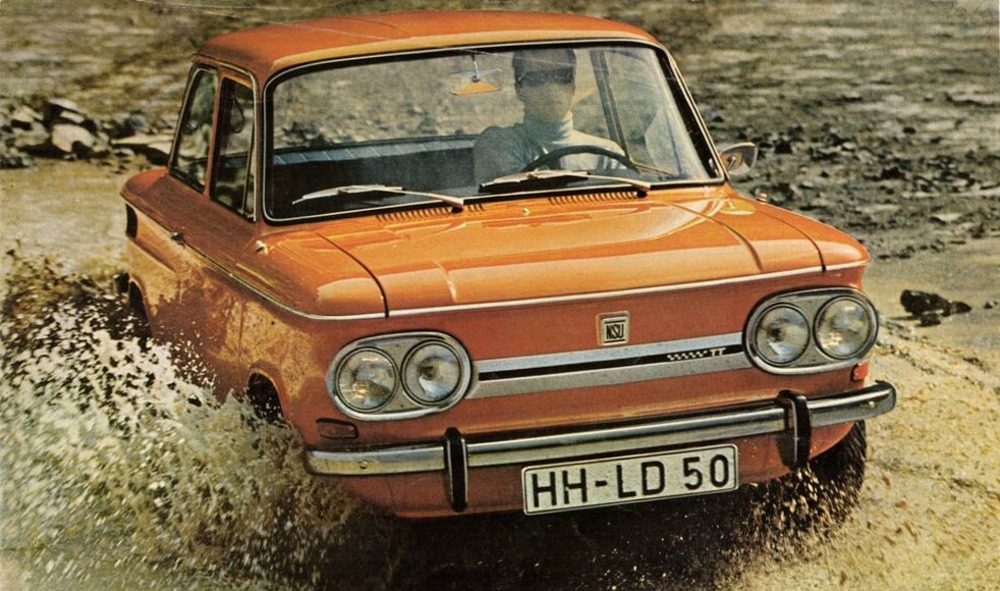 1968 Friedel Münch was inspired to build an even more powerful model of his motorcycle using the new 1,177cc "1200" NSU engine from the NSU 1200 TT and 1200 TTS cars. Friedel Münch had visited NSU with a friend, prominent motorcycle journalist Ernst Leverkus, and NSU had agreed to supply Friedel with the engines he needed to produce his motorcycles so he was able to source the new engines for his next model.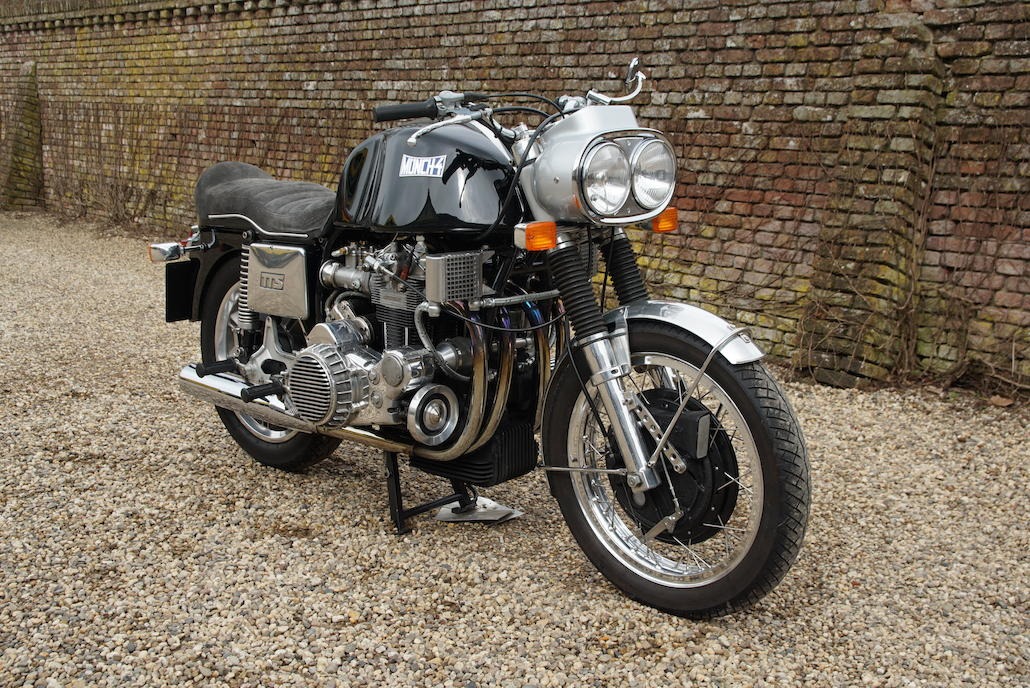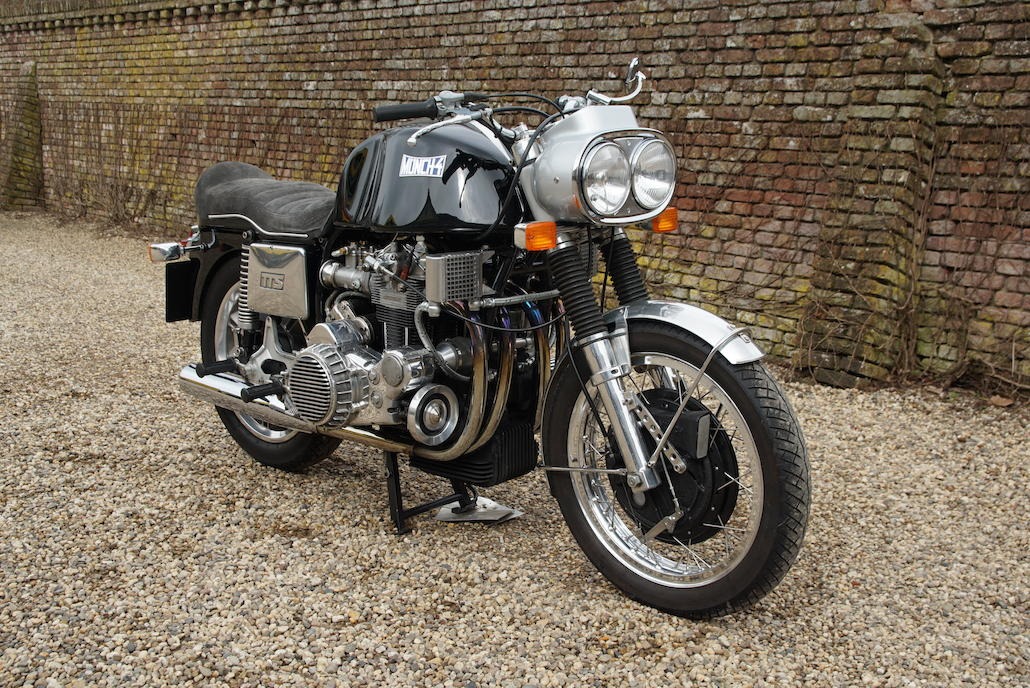 The new Münch motorcycle was called the Münch 1200 TTS after the NSU car the engine was used in it, and reflecting that the engine was the TTS sports version. The NSU 1200 TTS car was a fast and maneuverable little road going rocket that had the potential to be a veritable Mini Cooper muncher. The Münch 1200 TTS installed a tuned up version of that potent little powerhouse into a motorcycle. Suffice to say this was a very exciting motorcycle even though it had gained some weight with the larger engine and now weighed 650lb. Despite the extra weight the bike remained well balanced, vibration free, and surprisingly easy to ride.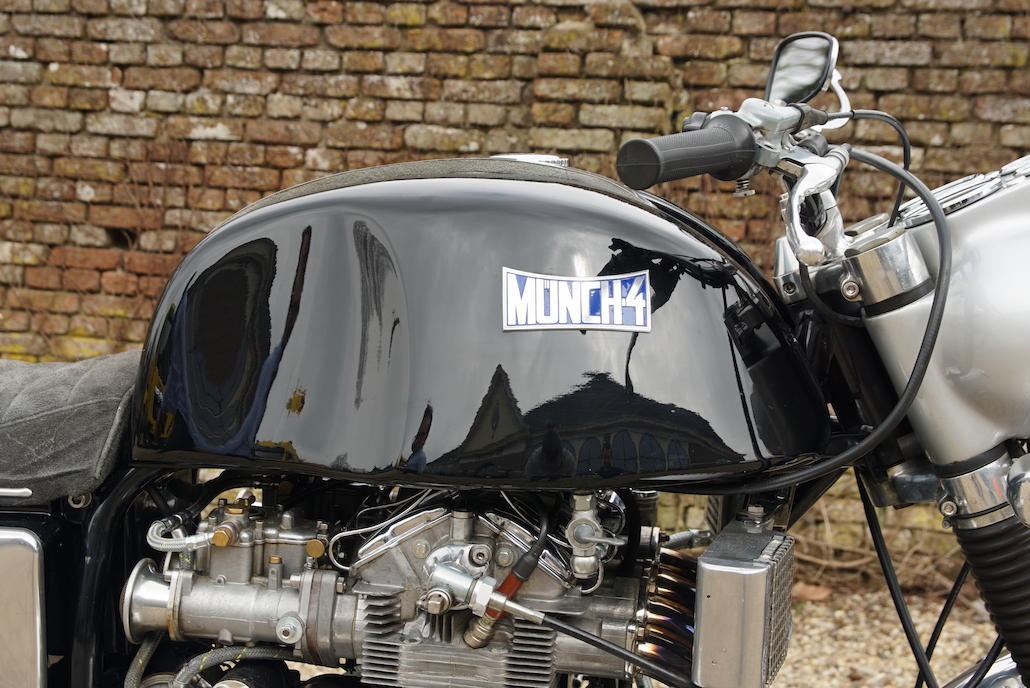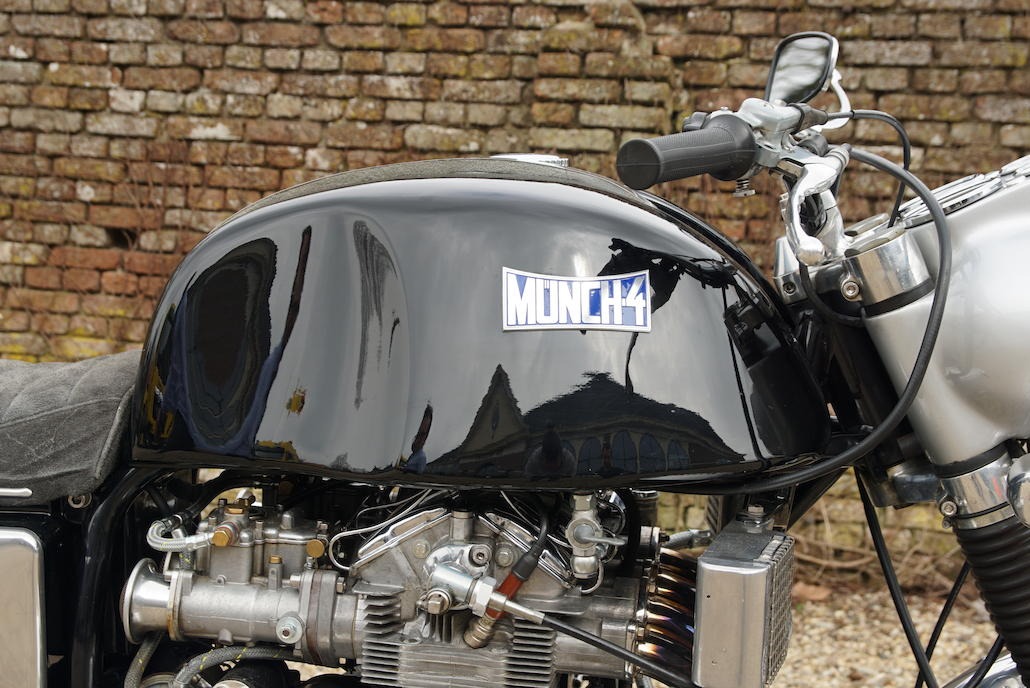 Friedel tuned the 1,177cc NSU TTS engine and fitted twin dual throat Weber 40DCOE carburetors with the result that the engine produced 88hp. The bike was fitted with new 41.3mm Rickman forks and had a fuel tank made of hand beaten aluminum, where previous models had been fitted with fiberglass tanks. Friedel made a couple of high performance versions of this bike in the early 1970's. The first was the Sport-Münch with the engine tuned to produce 115hp, and the second was the Daytona Bomb with the engine tweaked up to 125hp. Friedel created the Daytona Bomb specifically to beat the one hour world speed record at Daytona which had been set by British rider Mike Hailwood in 1965 riding an MV Agusta. The Münch Daytona Bomb was a faster motorcycle and was recording speeds of 178mph, but Friedel could not find a rear tire that would last for more than four laps so they had to give up. Friedel could make pretty much any part of a motorcycle except for the tires.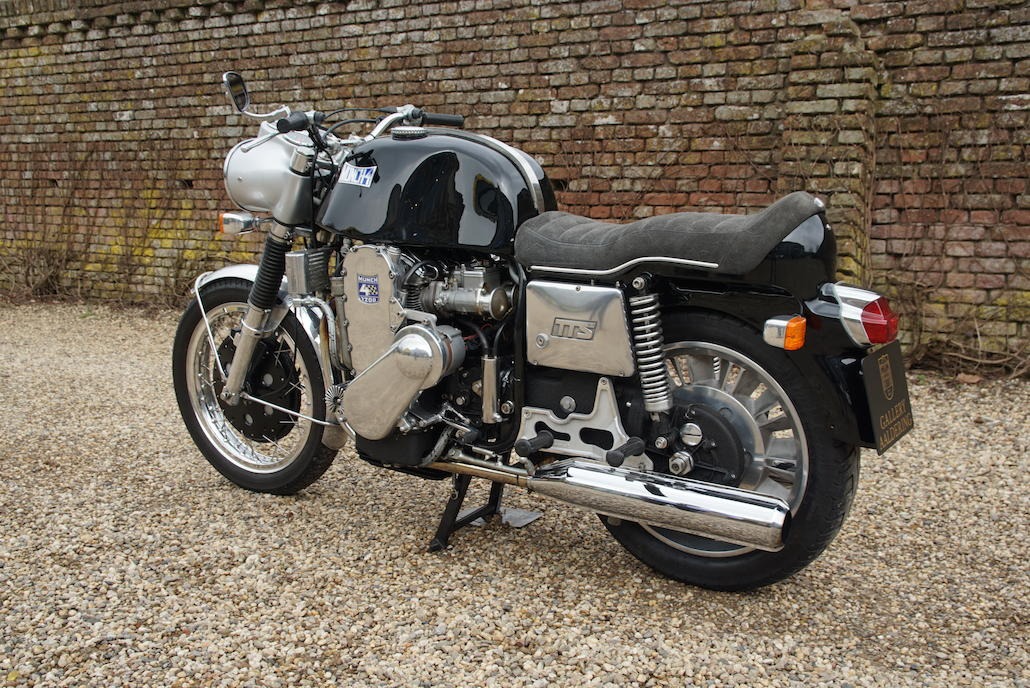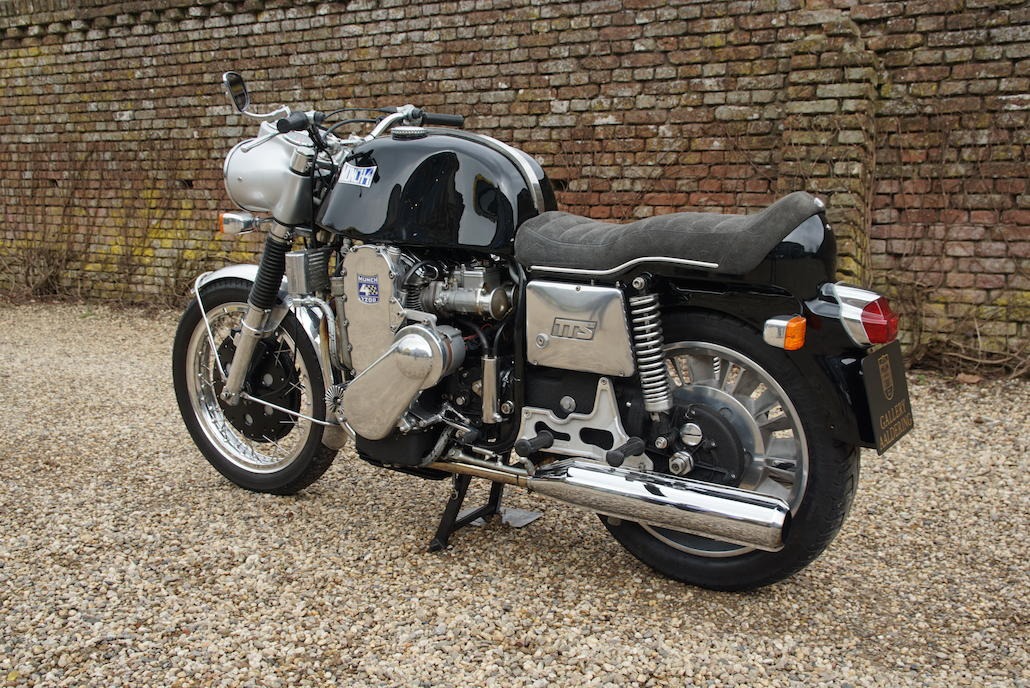 This would be the ultimate Münch motorcycle until 1973 when Friedel discovered that he could get even more power by using Kugelfischer mechanical fuel injection. The Münch 1200 TTS-E was the world's first production motorcycle with a fuel injected engine, and that engine produced a nice round 100hp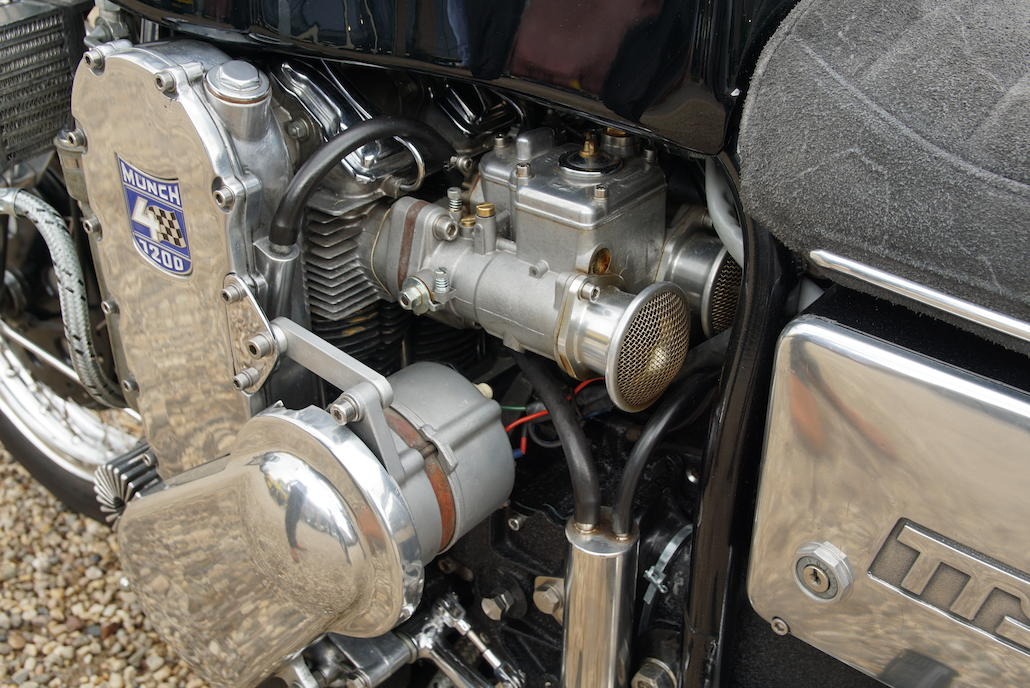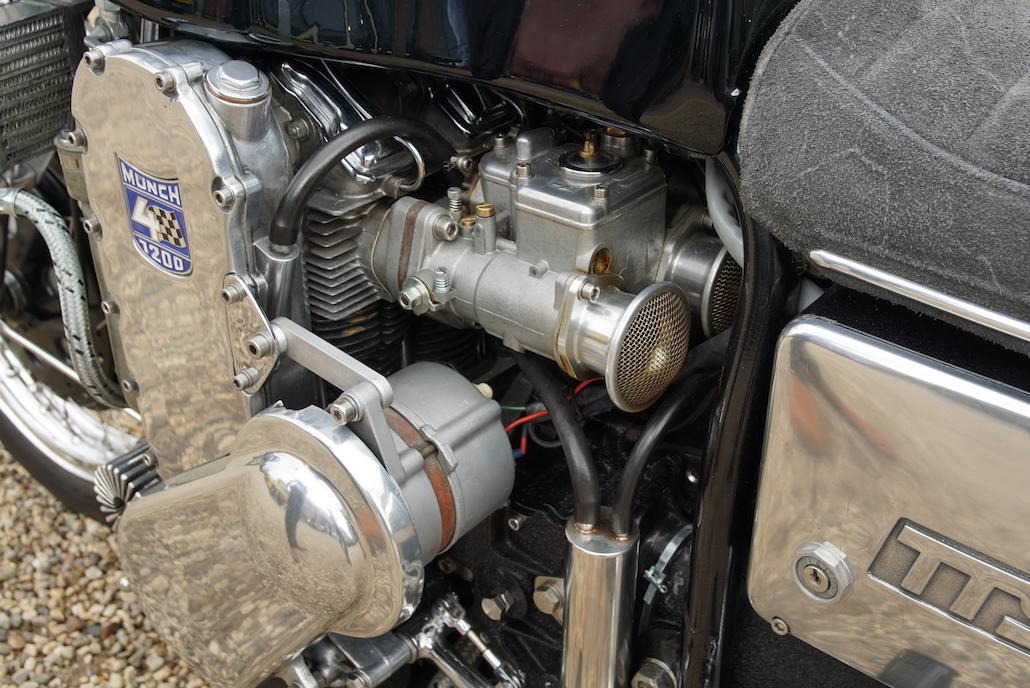 The End of the Clymer-Münch Era and New Beginnings
Friedel Münch's business was put in jeopardy by Floyd Clymer's untimely passing but Clymer's share in Münch was purchsed by a millionaire named Arthur Bell who acquired it with the view to having his son George learn how to operate in business by running one. Not only did Bell acquire his interest in Münch but he also bought the URS world championship sidecar racing team. The URS team campaigned a Münch for the 1971 world championship and won. While these things could have worked out well George Bell decided to leave the business which led to Friedel Münch being forced into bankruptcy and having to sell the Münch name to another manufacturer. Friedel was determined not to be beaten however and resumed making motorcycles with his son Rainer under the Horex name, which he had acquired in the 1950's at the time when he also acquired his stockpile of Horex parts.
Friedel Münch would go on to create a 1,400cc version of the fuel injected TTS-E which delivered 140hp to the transmission, and then the 1,800cc supercharged Horex Titan 1800 producing 160hp @ 7,800rpm. The Horex Titan 1800 used a supercharger that operated on the Wankel principle and which had been built by Felix Wankel. The engine for that bike featured a cylinder head from a Volkswagen in-line four modified from water cooling to oil cooling.
Friedel Münch suffered a stroke in 1991 but, having been a man willing to pay the price to achieve what he was determined to do he emerged from that and created one last motorcycle, the Münch 2000. This bike was powered by a Schwitzer turbocharged 1,998cc Cosworth engine and featured Öhlins suspension. Engine power was 260hp and the bike was manufactured in Poland. The Münch 2000 sold for US$80,000 and fifteen of them were made.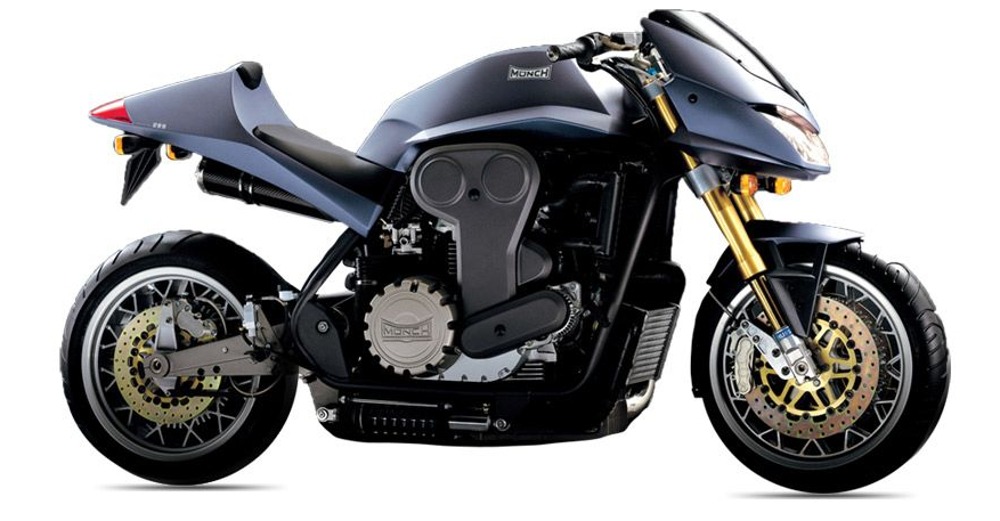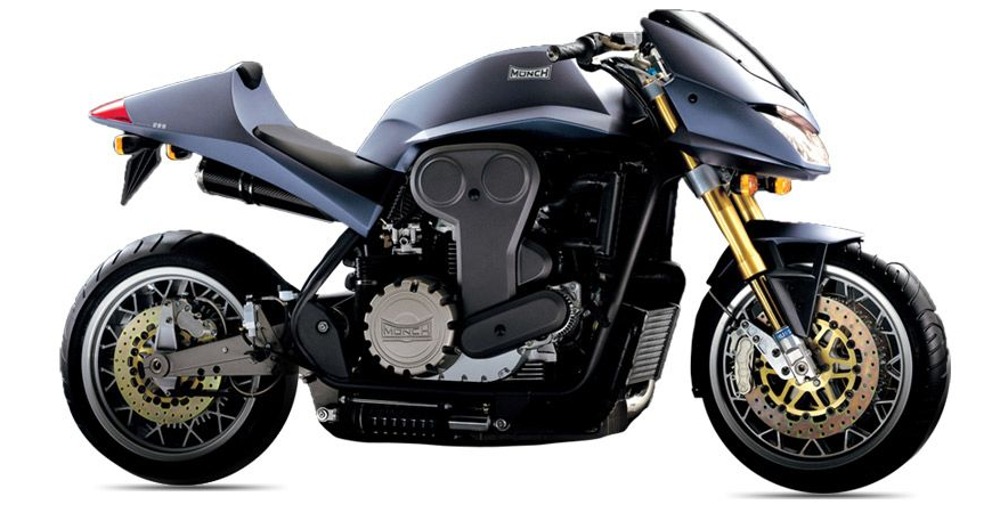 Epilogue
Friedel Münch passed away on 27th April 2014 at the age of 87 years. He had been willing to pay the price to get the best out of life, and he'd lived life to the full, taken the rough with the smooth, faced success and failure, and made his mark on the world.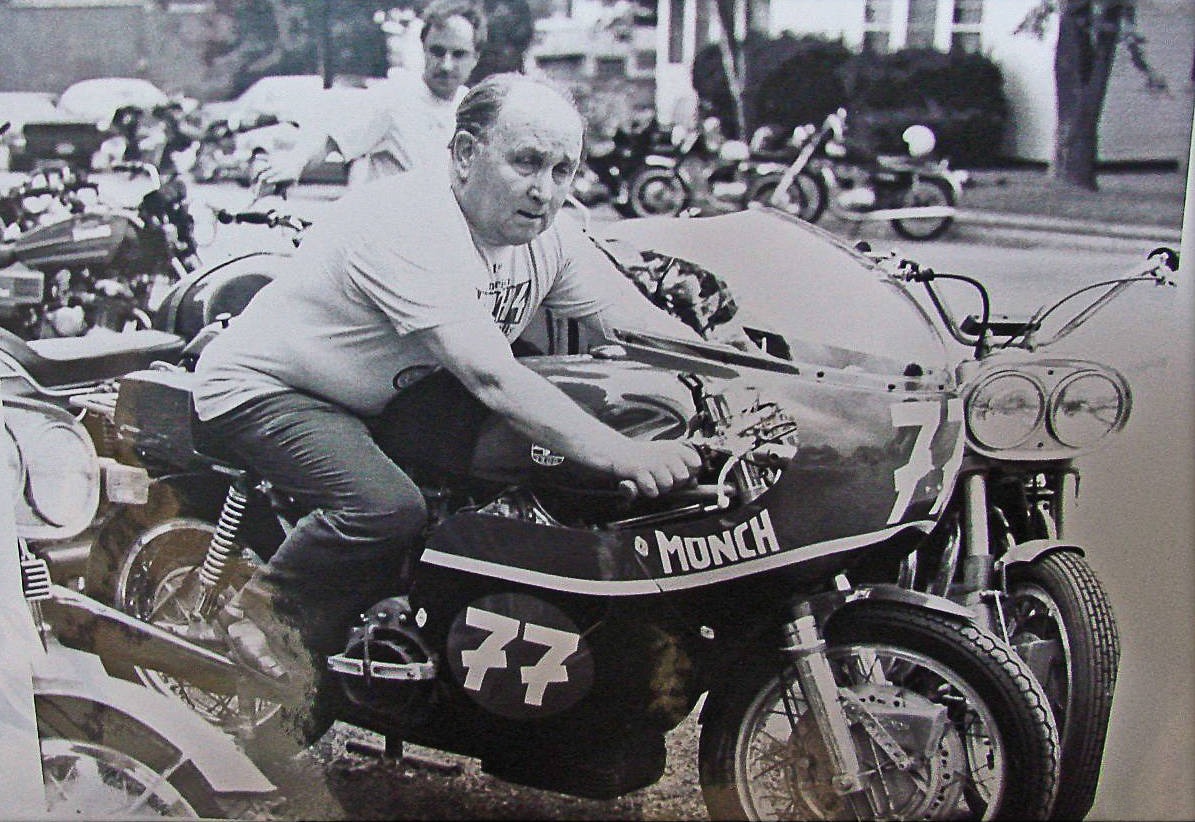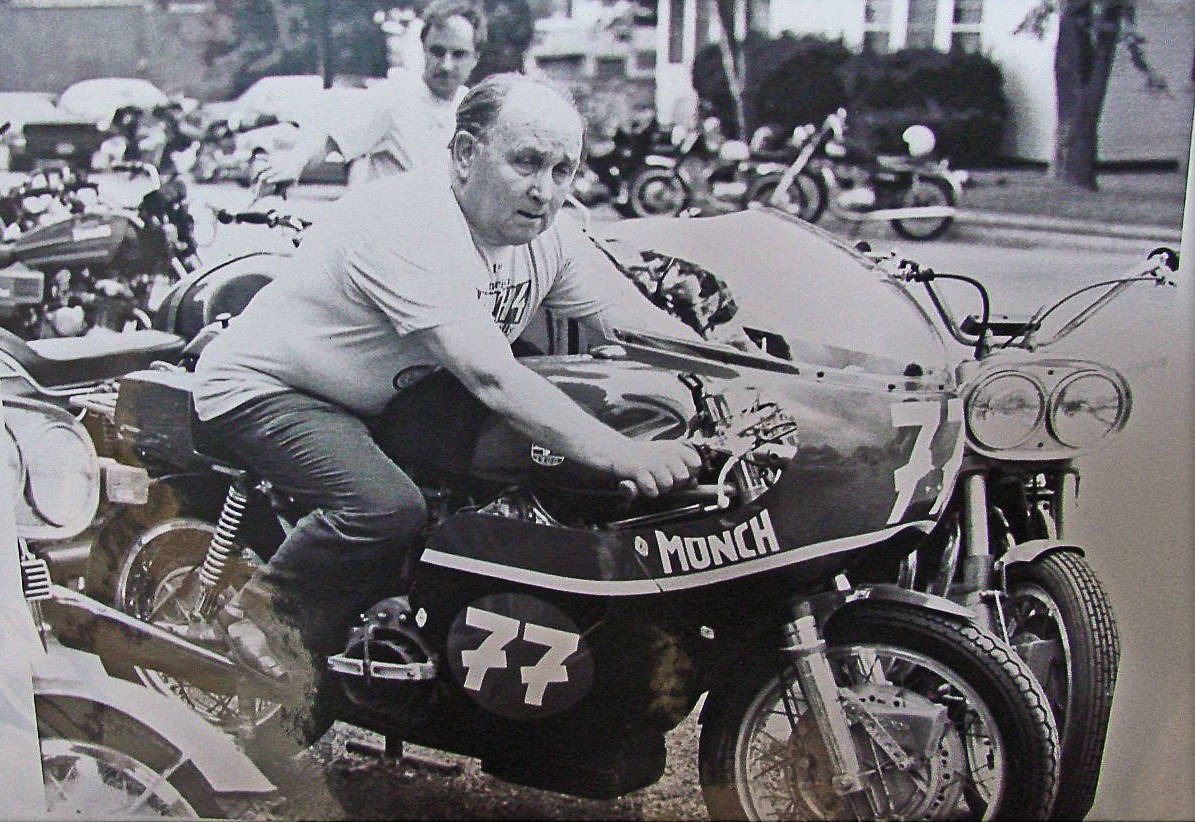 The Featured 1971 Münch Mammoth 1200 TTS
The 1971 Münch Mammoth 1200 TTS featured in our pictures in this post is coming up for sale by Bonhams at their Spring Stafford Sale to be held at The International Classic MotorCycle Show in Britain over April 27-28, 2019.
You will find the sale page for this motocycle if you click here.
Like the best things in life this 1971 Münch Mammoth 1200 TTS is costly, and is estimated to sell in the range £90,000-£120,000.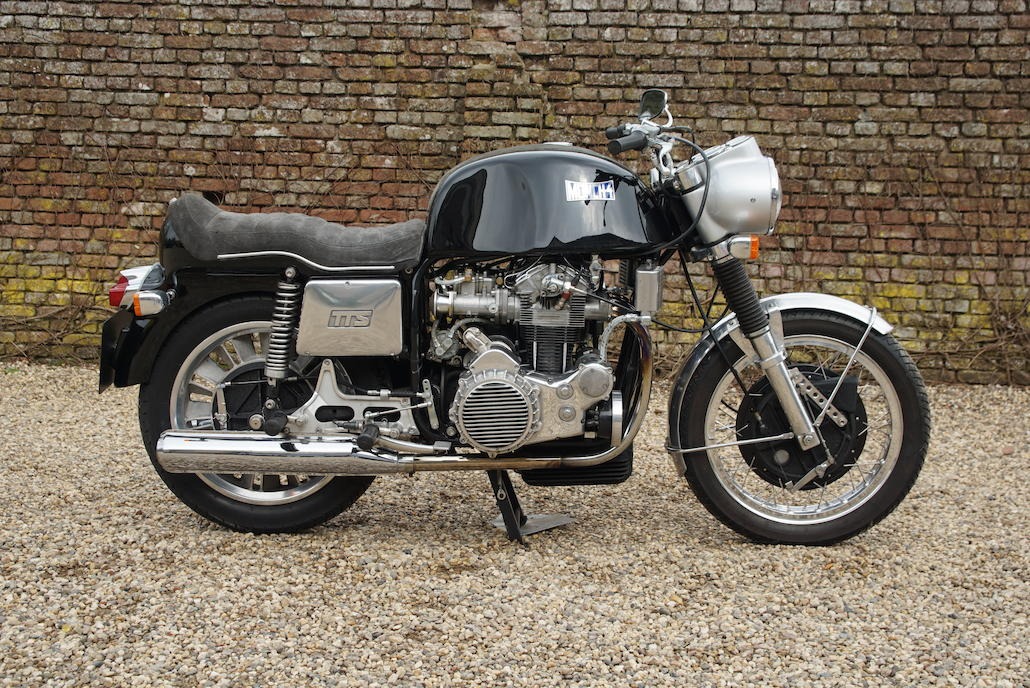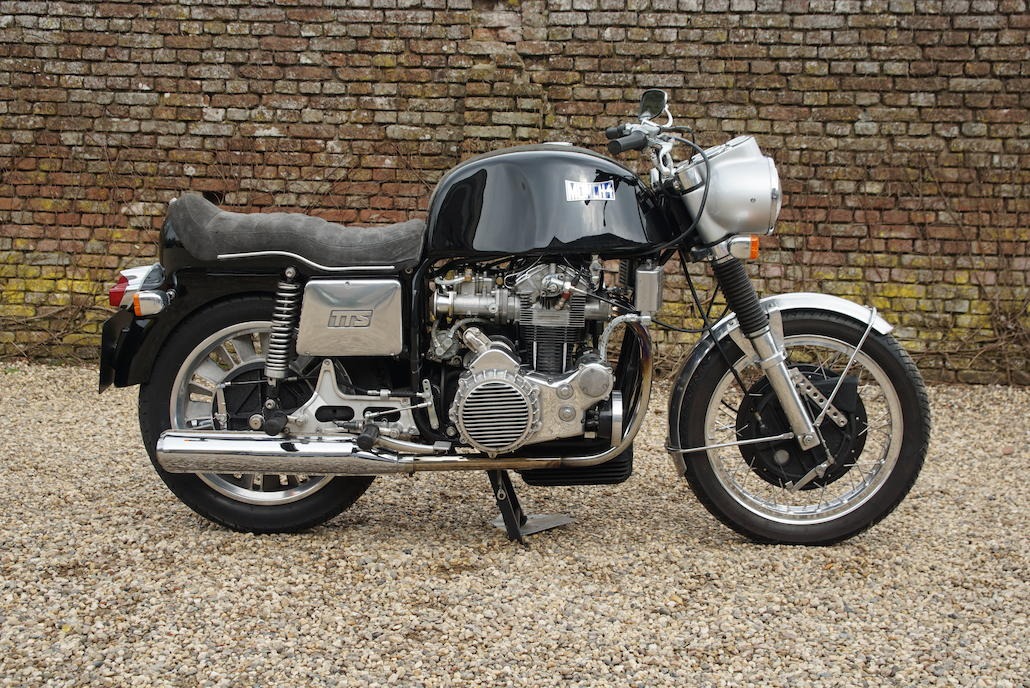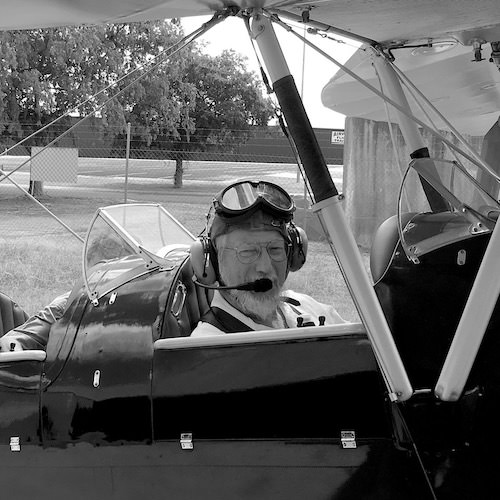 Jon Branch is the founder and senior editor of Revivaler and has written a significant number of articles for various publications including official Buying Guides for eBay, classic car articles for Hagerty, magazine articles for both the Australian Shooters Journal and the Australian Shooter, and he's a long time contributor to Silodrome.
Jon has done radio, television, magazine and newspaper interviews on various issues, and has traveled extensively, having lived in Britain, Australia, China and Hong Kong. His travels have taken him to Indonesia, Israel, Italy, Japan and a number of other countries. He has studied the Japanese sword arts and has a long history of involvement in the shooting sports, which has included authoring submissions to government on various firearms related issues and assisting in the design and establishment of shooting ranges.