Background History
The Madsen M47 bolt action rifle is an interesting design from the company that also made the famous Madsen recoil-operated machine gun. The Madsen hailed from Denmark, the nation that also gave us the 30-40 Krag rifle and the beautifully made Schultz & Larsen sporting rifles, which among other claims to fame, were the first to be used by Roy Weatherby for his .378 Weatherby Magnum before he moved to creating and manufacturing his own multi-lug front locking action and building his own rifles on it.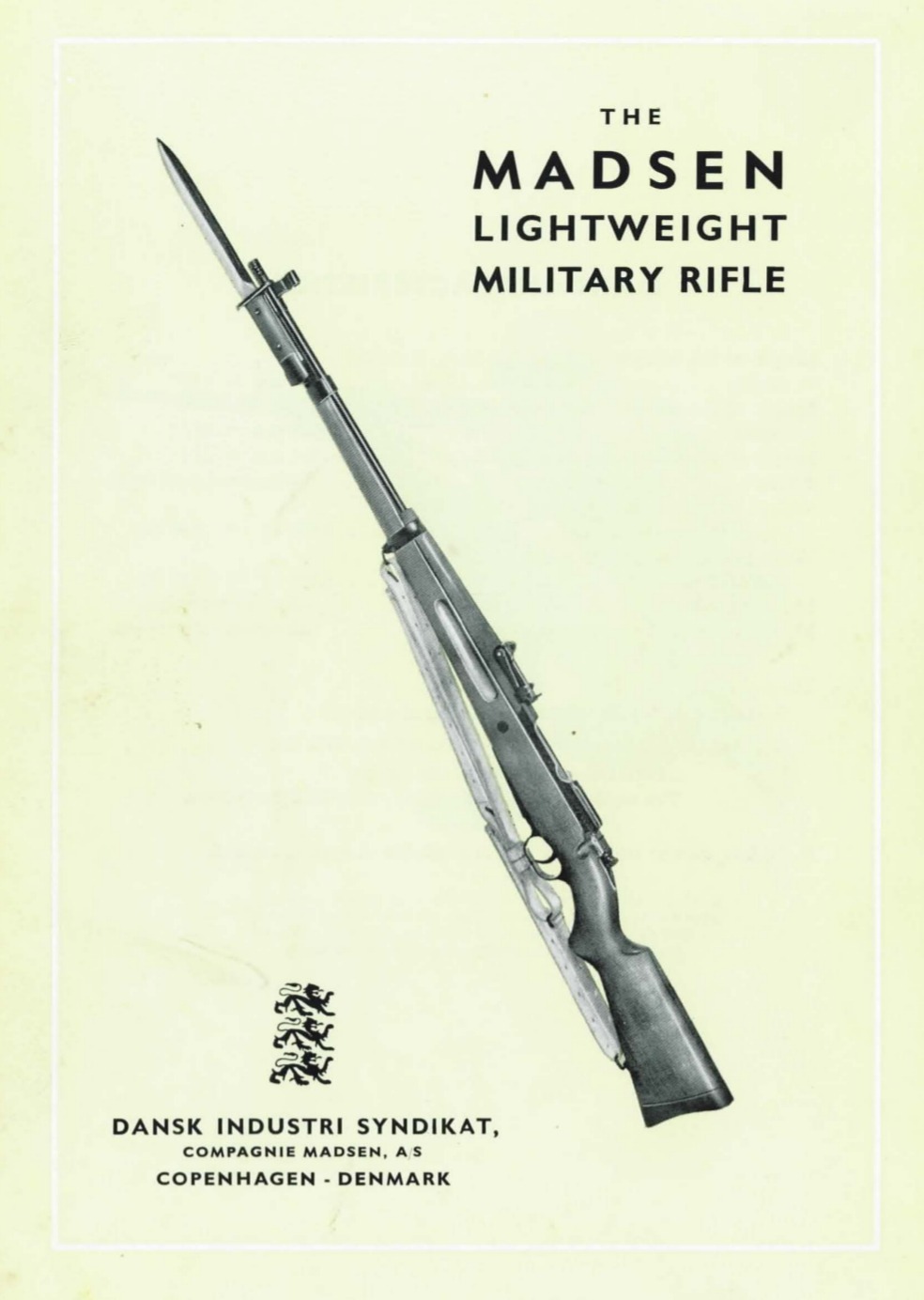 Madsen created the M47 bolt action rifle in the post Second World War period and it is in some respects a curiosity because the American Garand had proved the superiority of the semi-automatic rifle as an infantry weapon during that conflict, and nations rapidly sold off their old inventory of bolt action military rifles and replaced them with semi-automatic and selective fire rifles when the war was over. Madsen nonetheless seem to have believed that there would be a market for a quality light bolt action military rifle in the 1950's, perhaps reasoning that many emerging nations that were shedding their colonial past and gaining independence would want bolt action rifles rather than semi-automatics. There is logic in this thinking: if your soldiers are at a low level of training and you have a very limited budget to supply them with ammunition, then giving a minimally trained soldier a semi-automatic rifle is likely to make him or her a danger not only to the enemy but also to his/her comrades. Add to that a minimally trained soldier is likely to shoot all his/her cartridges off in quick succession if faced with danger and will thus find themselves out of ammo: an undesirable condition to finish up in, and expensive to replenish the ammo supply.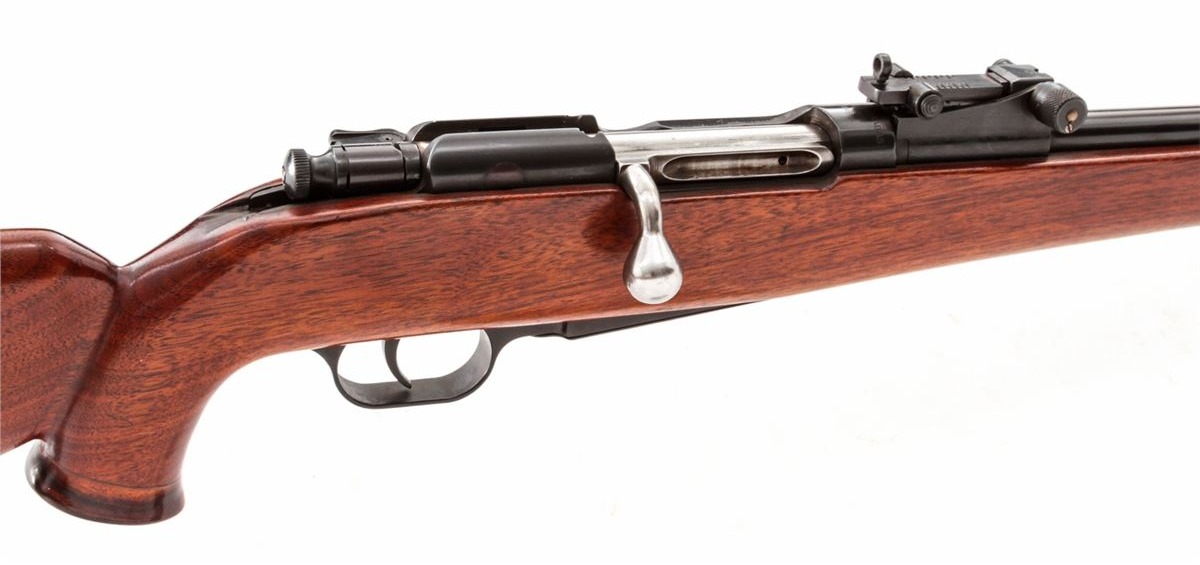 So, although there certainly were armies that wanted cheap bolt action rifles the sheer volume of surplus bolt action rifles that were sold off after the war ensured that customers looking to equip their military with inexpensive bolt actions were able to purchase very cheap surplus rifles so there was no real market niche for the M47. Only the government of South American nation Columbia decided to purchase 6,000 new Madsen M47 rifles chambered for the 30-06 cartridge, with five round internal magazines, and complete with knife bayonets. These rifles were only used for ceremonial purposes and were sold off as surplus to the United States in the 1960's, not long after they had been delivered.

As a surplus rifle the Madsen M47 had some pluses and minuses for Americans looking for an inexpensive venison rifle. They were chambered for the 30-06, which was attractive, but they had a split bridge receiver so mounting a telescopic sight was a tad more difficult requiring a gunsmith to drill and tap the action for side mounts. The other potential downside was that the action was rear-locking. In the 1960's ammunition reloading was becoming common practice and rear locking actions were, and are not a particularly good choice for a reloader.
Technical Information
The Madsen M47 was a manual cock-on-opening bolt action rifle with two rear locking lugs which were at 90° to the bolt on the rearward locking surface and tapered at the front, presumably to ensure a smooth bolt closure. Like the Mannlicher rifles the receiver bridge was split to provide a bolt guide for the upturned bolt root. On the Mannlicher-Schönauer this provided one of the smoothest actions ever made and the Madsen bolt action benefited from this also. In addition to the twin locking lugs the bolt handle root also locked down against the right side of the split receiver bridge so the action was rather well set up to protect against a blow-up in the case that the barrel became obstructed and the soldier attempted to fire the rifle for example.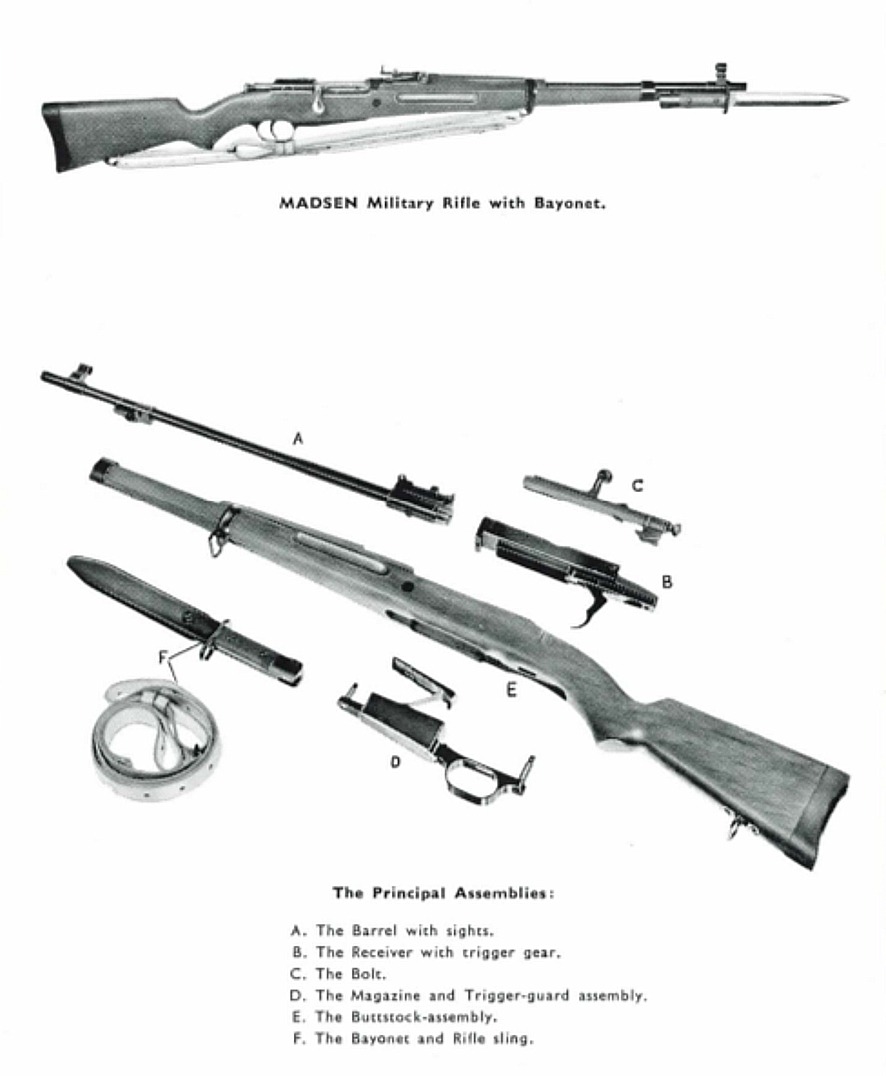 The Madsen M47 featured a staggered column fixed magazine with stripper clip feeding. Magazine capacity was either five or ten rounds and the rifle could be ordered in any standard military caliber including 30-06 and 7.62×51 NATO. The safety catch was a flag type with a locking button that had to be depressed in order to move the safety. In the "safe" position the flag safety catch stood upright obscuring the sights so that the shooter would be aware that their rifle was not going to fire unless they took the safety catch off.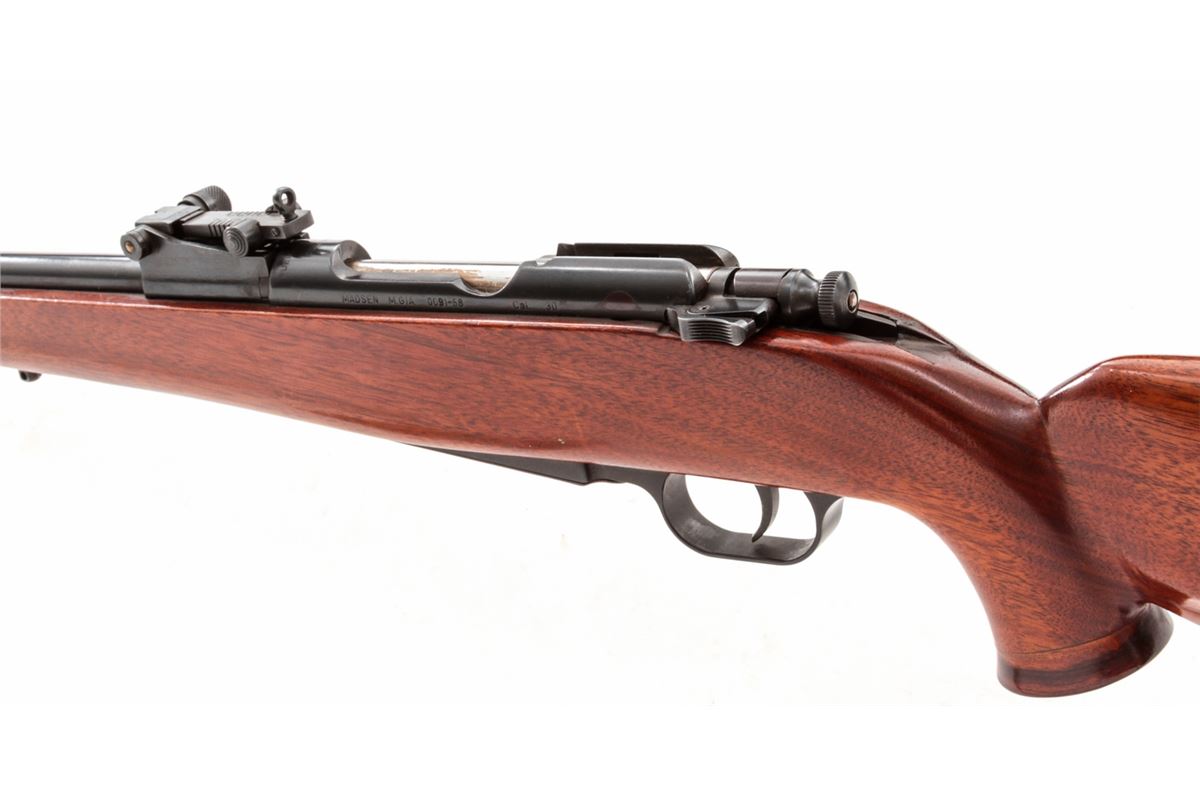 The sights of the M47 comprised a hooded blade front sight and a "ghost ring" aperture rear sight mounted ahead of the receiver ring. The rear sight being adjustable for elevation from 100-900 meters, and click adjustable for windage.
The barrel of the Colombian contract rifles was 23.4″ long with four groove right hand twist rifling and was fitted with a recoil compensator. The rifle was supplied with a knife bayonet and with sling swivels which were suited to the US 1907 Military Sling. The user manual illustrates this type of sling fitted and in use.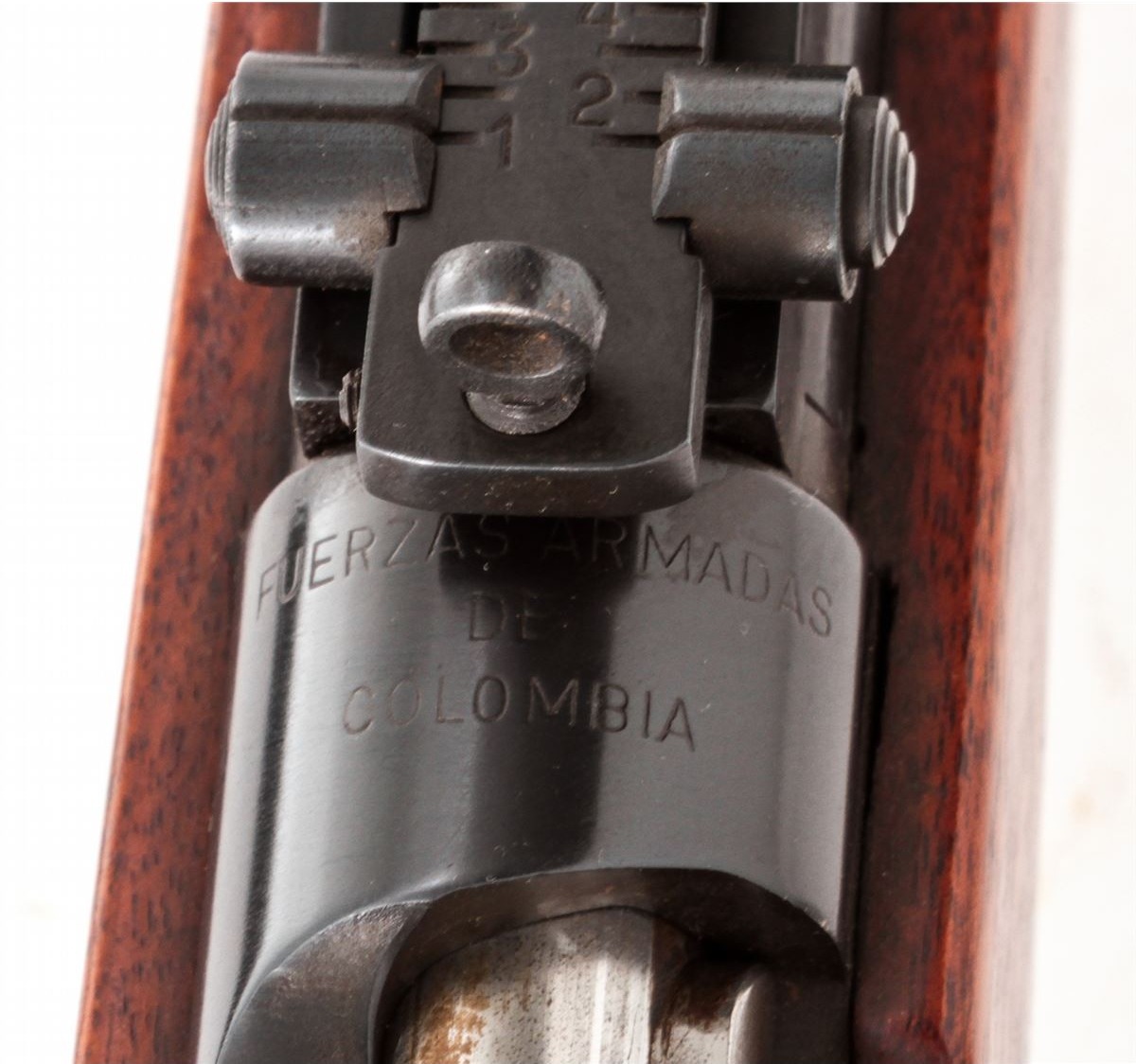 The military style stock was fitted with an approximately 1″ rubber recoil pad which, in combination with the recoil compensator, helped to make it remarkably pleasant to shoot. Rifle weight without bayonet was 8.48lb and with bayonet 9.16lb. Overall rifle length without bayonet fitted was 43.3″. The factory also offered a "slightly shorter and lighter rifle on request".
You can find the user manual for the Madsen M47 at ForgottenWeapons.com if you click here.
Forgotten Weapons has a short video on the M47 below:
Conclusion
The Madsen M47 was created for people of smaller stature "in response to a "request from a country in the tropics". It is interesting to think which country that might have been given the various communist insurgencies that took place during the 1950's and 1960's: but we probably don't need to look any further than Colombia which has the equator running through the south of the country. The communists tended to use Mikhail Kalashnikov's AK47 which was lightweight, had a large magazine capacity, was horribly cheap to make, and fired cheap ammunition.

After its venture into making the M47 its maker, Dansk Industri Syndikat, Compagnie Madsen, created a semi-automatic rifle, the Madsen LAR, which was based on Mikhail Kalashnikov's AK47 in much the same way the Israeli Galil was.
Examples of the Madsen M47 don't turn up for sale often but occasionally they do and they are often in good condition because they were not regularly issued or used.

One is coming up for sale by Rock Island Auction on March 28th, 2019, and you will find its sale page if you click here.
Rock Island Auction describe the sale rifle's condition as:- "NC – FINE- All original finish 90% – 94% or better, some dings in wood wear commensurable with percent of finish. In working order."
It is expected to sell in the range USD$500-$700 so its a nicely affordable collector's item, or it can be used as a venison getter, or both.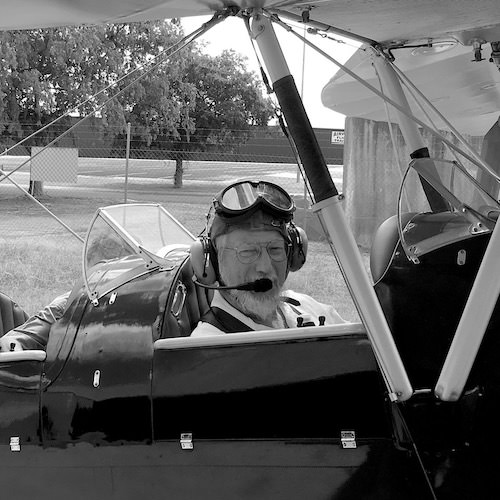 Jon Branch is the founder and senior editor of Revivaler and has written a significant number of articles for various publications including official Buying Guides for eBay, classic car articles for Hagerty, magazine articles for both the Australian Shooters Journal and the Australian Shooter, and he's a long time contributor to Silodrome.
Jon has done radio, television, magazine and newspaper interviews on various issues, and has traveled extensively, having lived in Britain, Australia, China and Hong Kong. His travels have taken him to Indonesia, Israel, Italy, Japan and a number of other countries. He has studied the Japanese sword arts and has a long history of involvement in the shooting sports, which has included authoring submissions to government on various firearms related issues and assisting in the design and establishment of shooting ranges.