The Rigby Rising Bite double rifle has always been one of the most expensive pieces of ordnance one could ever open one's wallet for. A Rising Bite rifle takes about three years to make, which means you are not just paying for the steel and the wood, but making a substantial contribution to the salary of the gunmakers for that period of time.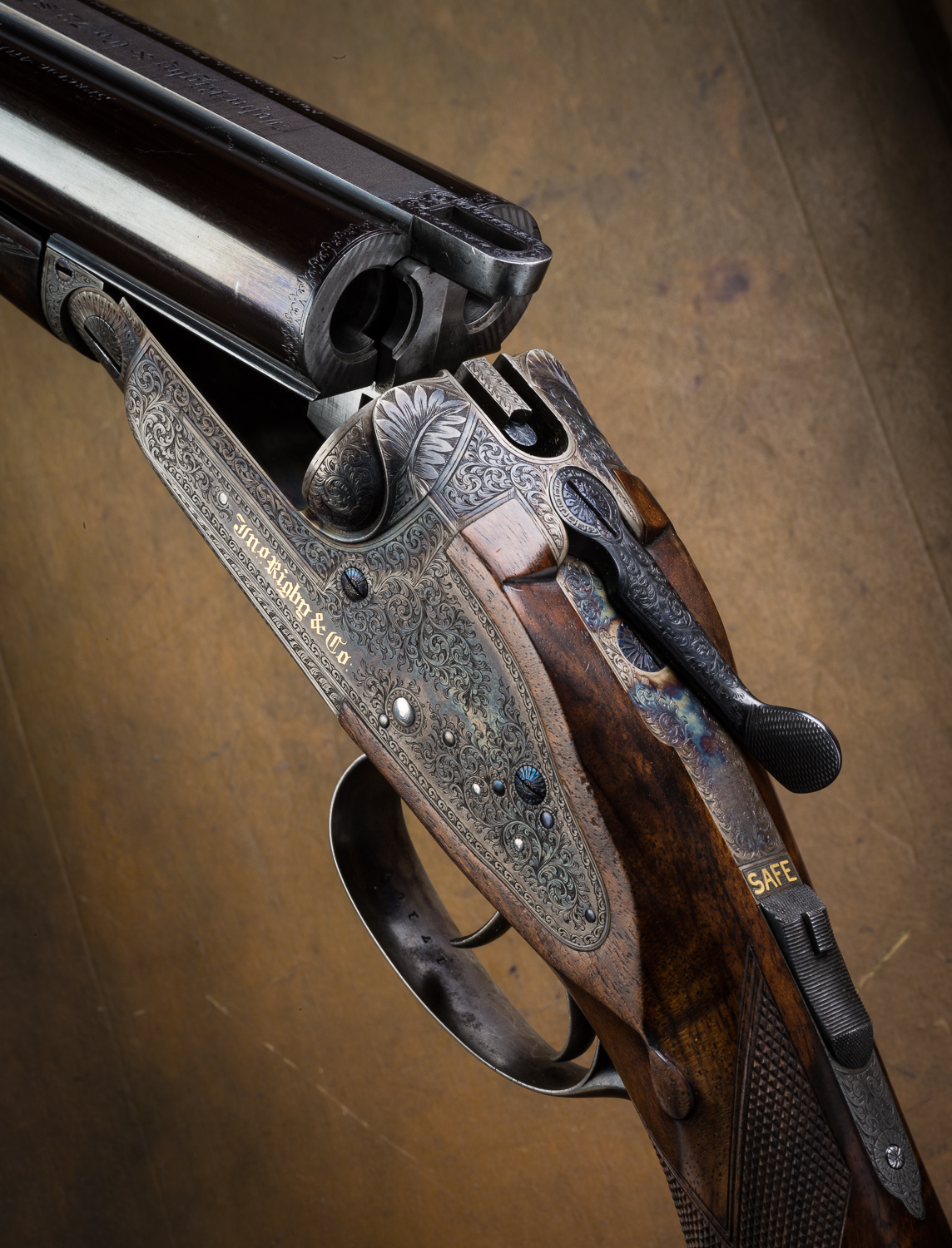 The Rising Bite was originally designed by T. Bissel in collaboration with John Rigby in 1879 and was awarded patent number 1141 in that year. The Rising Bite itself provides a top locking lug to complement the double Purdey underbolts. This is a sophisticated piece of metal work because it has to fit perfectly and be load bearing. The Rising Bite became the most sophisticated of Rigby's top extensions, the other being their "spadehead" top extension.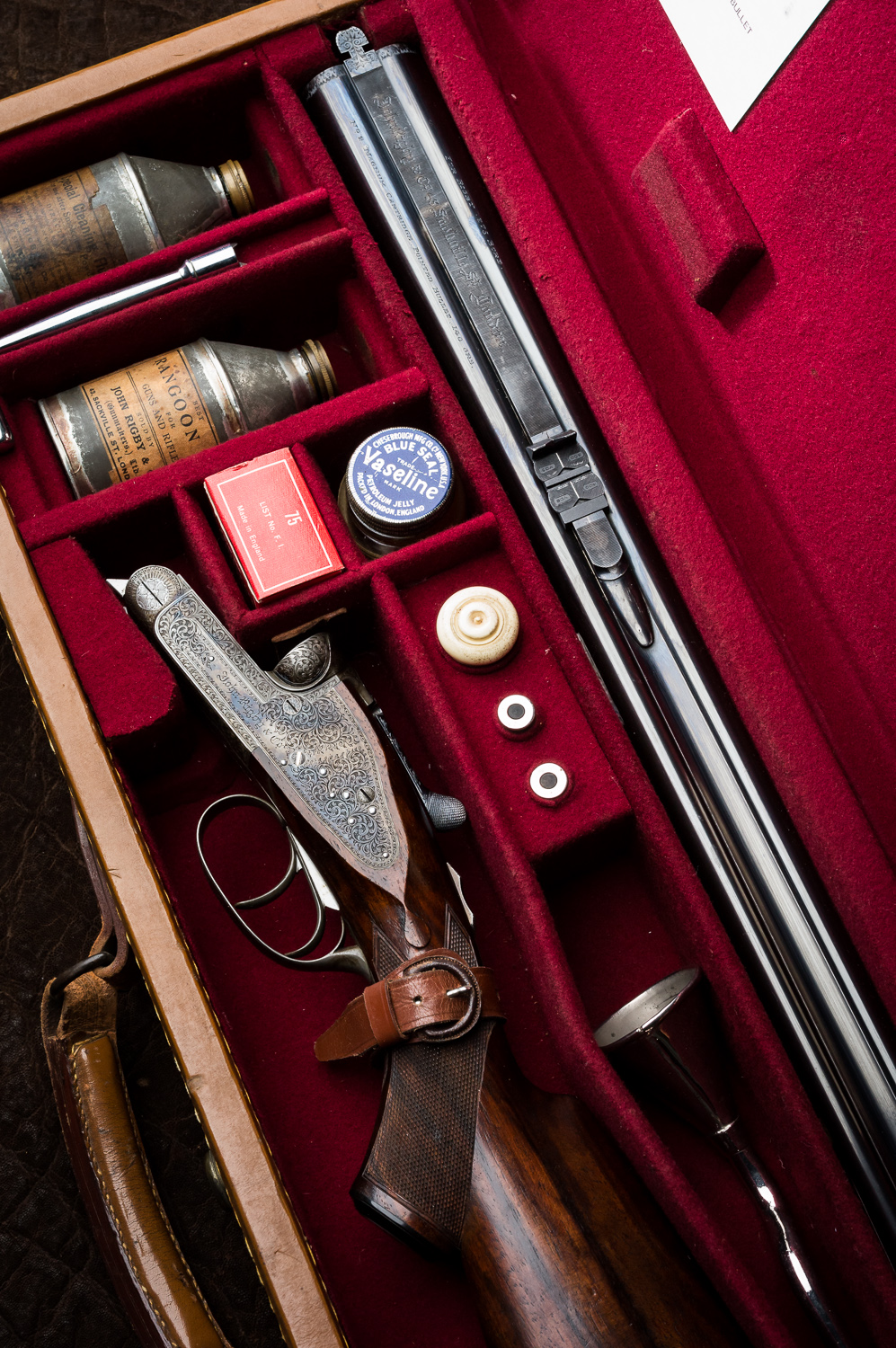 The Rising Bite mechanism is more complex than might be initially realized. It does not just comprise the "O" shaped extension on the top of the barrels fitting into a corresponding recess on the top of the receiver. In addition to that there is a rising locking bolt that comes up into the rear of the "O" extension of the barrels as the rifle is locked shut.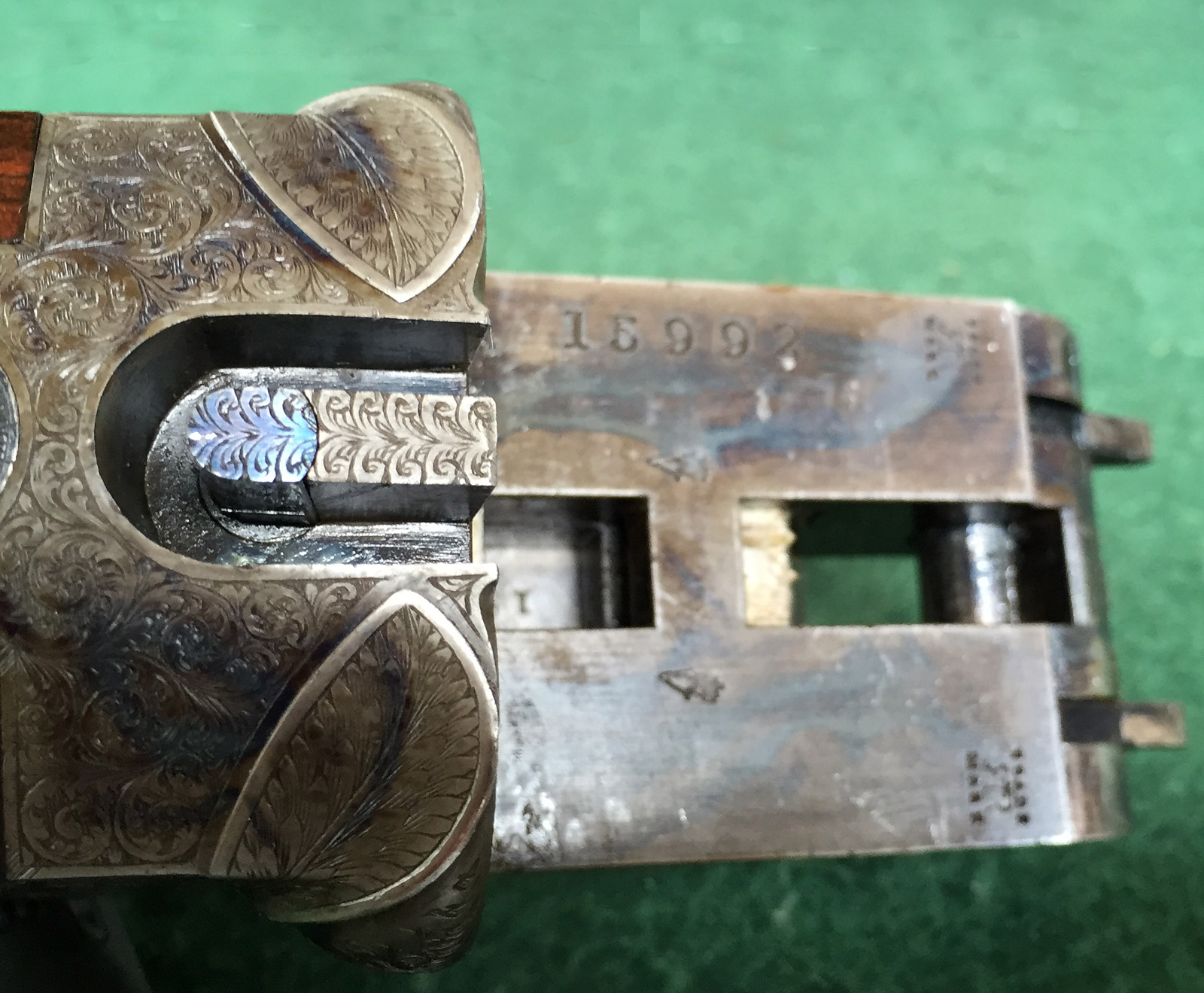 When the top lever of the double rifle is moved to unlock the action the "Rising Bite" (i.e. the rising locking bolt) is drawn downwards to release the top of the action allowing the rifle to be opened.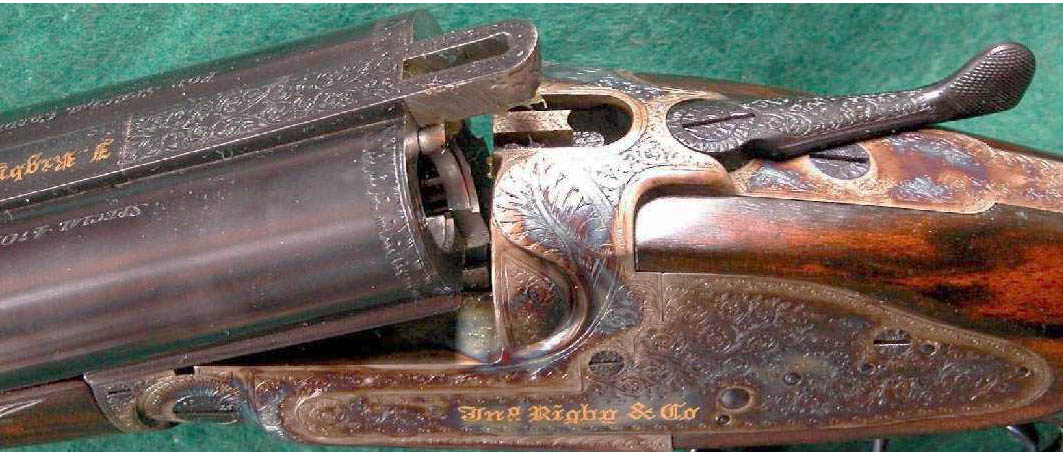 So as we can see the Rising Bite mechanism is more sophisticated than we might at first realize.
The last custom Rigby Rising Bite rifles were delivered in 1932. The two rifles were custom made for the Maharaja of Karuli and were in Teddy Rooseveldt's favorite caliber, the .405 Winchester, and in .350 Rigby (.350 No. 2 Rigby Nitro Express). In order to begin making Rising Bite rifles again the gunsmiths working with the newly resurrected John Rigby & Co. reverse engineered an original Rigby Rising Bite made in 1904 for His Highness the Maharana of Udaipur in 1902.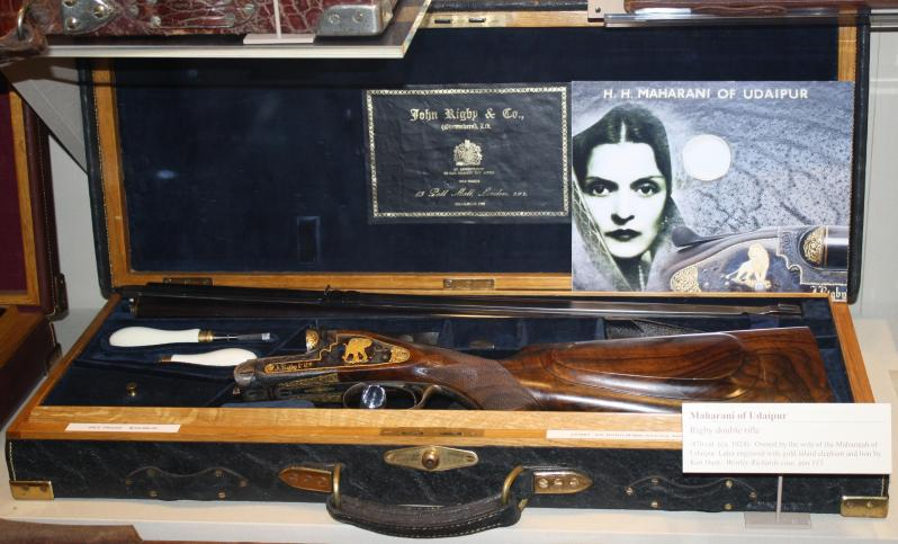 John Rigby & Co. are now making Rising Bite rifles again and indeed the first of these recently passed its London Proof Test.
The new Rigby Rising Bite rifles are bespoke made and are available in a variety of calibers; .416 Rigby, .450/.400 Nitro Express, .470 Nitro Express, .500 Nitro Express, .577 Nitro Express and .600 Nitro Express. Although these are the listed calibers no doubt a prospective buyer could inquire if Rigby would make a Rising Bite for them in a different caliber such as the .375 Holland and Holland Magnum if desired. Rigby in the past made their Rising Bite rifles in a number of smaller calibers including 6.5 Mannlicher.

You can read and/or download Rigby's full catalog if you click here.
You will find information on the Rising Bite rifle and contact details for John Rigby & Co. if you click here.
The Rigby Rising Bite was one of the most respected double rifle actions ever made and it is now available again. If you are looking for a reliable and exquisitely made double rifle that will be a great hunting companion, and an investment quality rifle, then the Rigby Rising Bite is a top contender to look at.
Rigby Rising Bite rifles are not common and used ones do not come up for sale often. There is one listed on-line at present; a .450/.400 3¼" Nitro Express Rigby Rising Bite with 26″ barrels at Connecticut Shotgun if you click here. This same rifle is also listed at Guns International if you click here.
If you are seriously considering a Rigby Rising Bite rifle you will without doubt want to head over to London and discuss your requirements with the staff at Rigby. You will also want to allow staff to show you their workshops so you can appreciate the craftsmanship that goes into one of these unique bespoke rifles.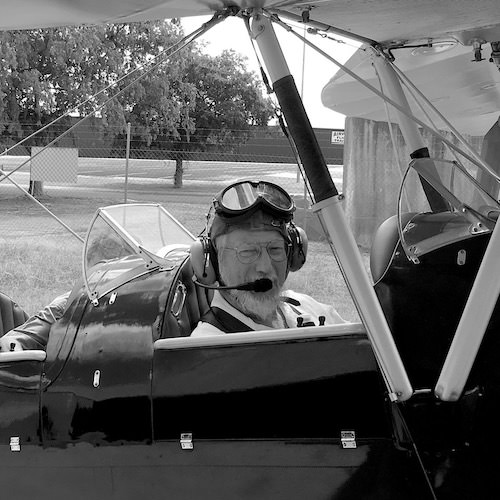 Jon Branch is the founder and senior editor of Revivaler and has written a significant number of articles for various publications including official Buying Guides for eBay, classic car articles for Hagerty, magazine articles for both the Australian Shooters Journal and the Australian Shooter, and he's a long time contributor to Silodrome.
Jon has done radio, television, magazine and newspaper interviews on various issues, and has traveled extensively, having lived in Britain, Australia, China and Hong Kong. His travels have taken him to Indonesia, Israel, Italy, Japan and a number of other countries. He has studied the Japanese sword arts and has a long history of involvement in the shooting sports, which has included authoring submissions to government on various firearms related issues and assisting in the design and establishment of shooting ranges.