Way back in 1968 a New York Banker named James O'Donnell got together with legendary American designer Virgil Exner who had worked with both Studebaker and Chrysler and was one of the driving forces behind American car styling of the fifties and sixties including rear fins so they looked more like aircraft than mundane road cars. Exner was keen on creating a series of "Revival Cars" and in 1963 had published concepts in Esquire magazine for revivals of Stutz, Duesenberg, Packard and Mercer. After the Esquire article he also did concept designs for revival of Bugatti, Pierce-Arrow and Jordan. This captured James O'Donnell's interest and the two got together to do a revival of the first car on Exner's list, the Stutz.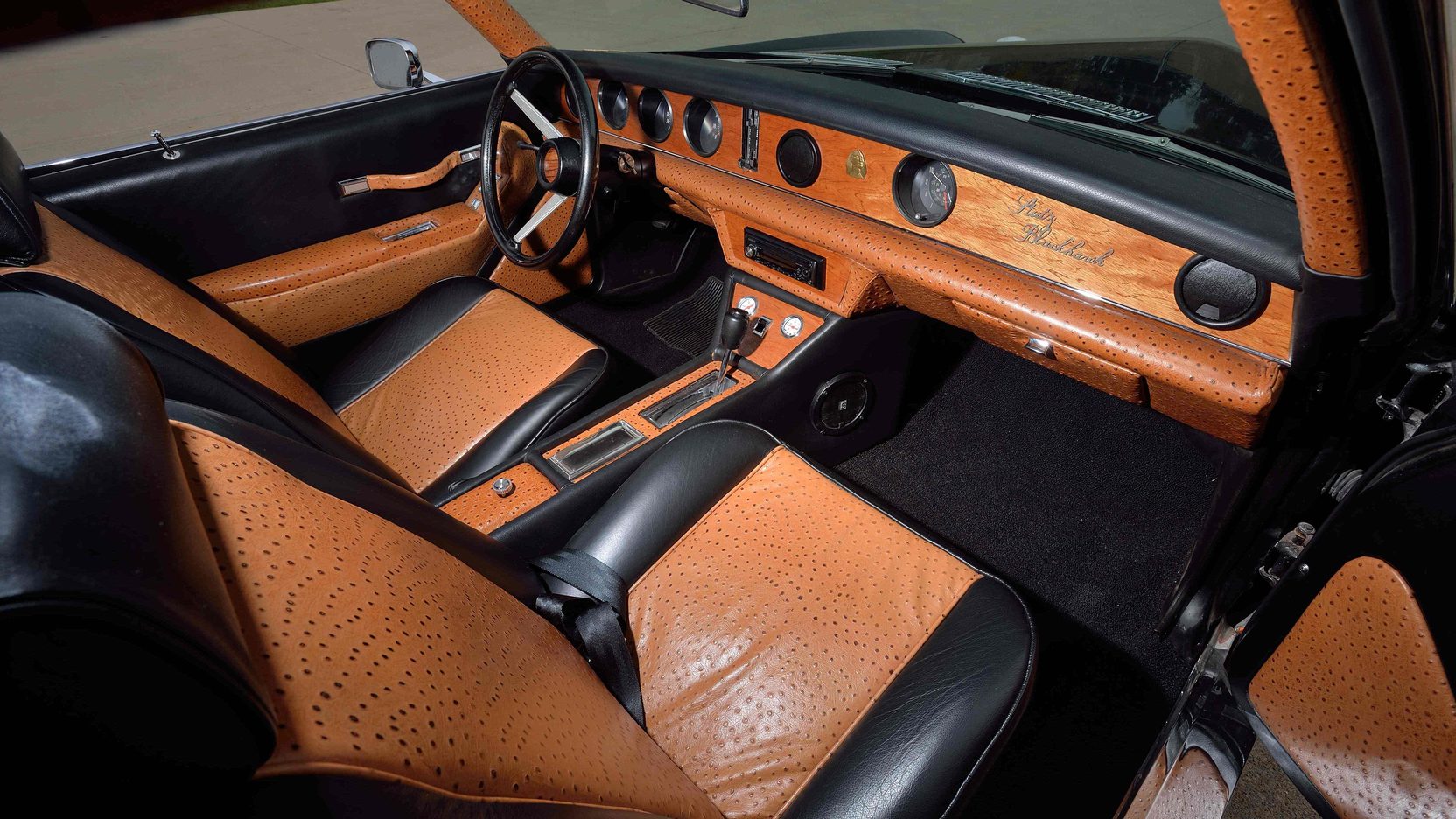 Prior to his involvement with O'Donnell Virgil Exner didn't just create concepts he moved to build prototypes creating a Bugatti in collaboration with Italian design house Ghia, the car being built on one of the last surviving Bugatti Type 101 chassis. He also created a Mercer based on a Shelby Cobra chassis that was shortened by 18″, and he collaborated with members of the Duesenberg family to build a new Duesenberg based on the Chrysler Imperial chassis with bodywork by Ghia. This 1965 prototype was so impressive that Jerry Lewis and even the "King of Rock and Roll" Elvis Presley were amongst the fifty customers who ordered one. All of those projects fell through however but once Exner teamed up with O'Donnell who was able to ensure the necessary cash flow the Stutz revival project got underway using Italian design house Ghia with the car to be built on Pontiac Grand Prix suspension and mechanicals so this car could be unique and yet easy and affordable to maintain.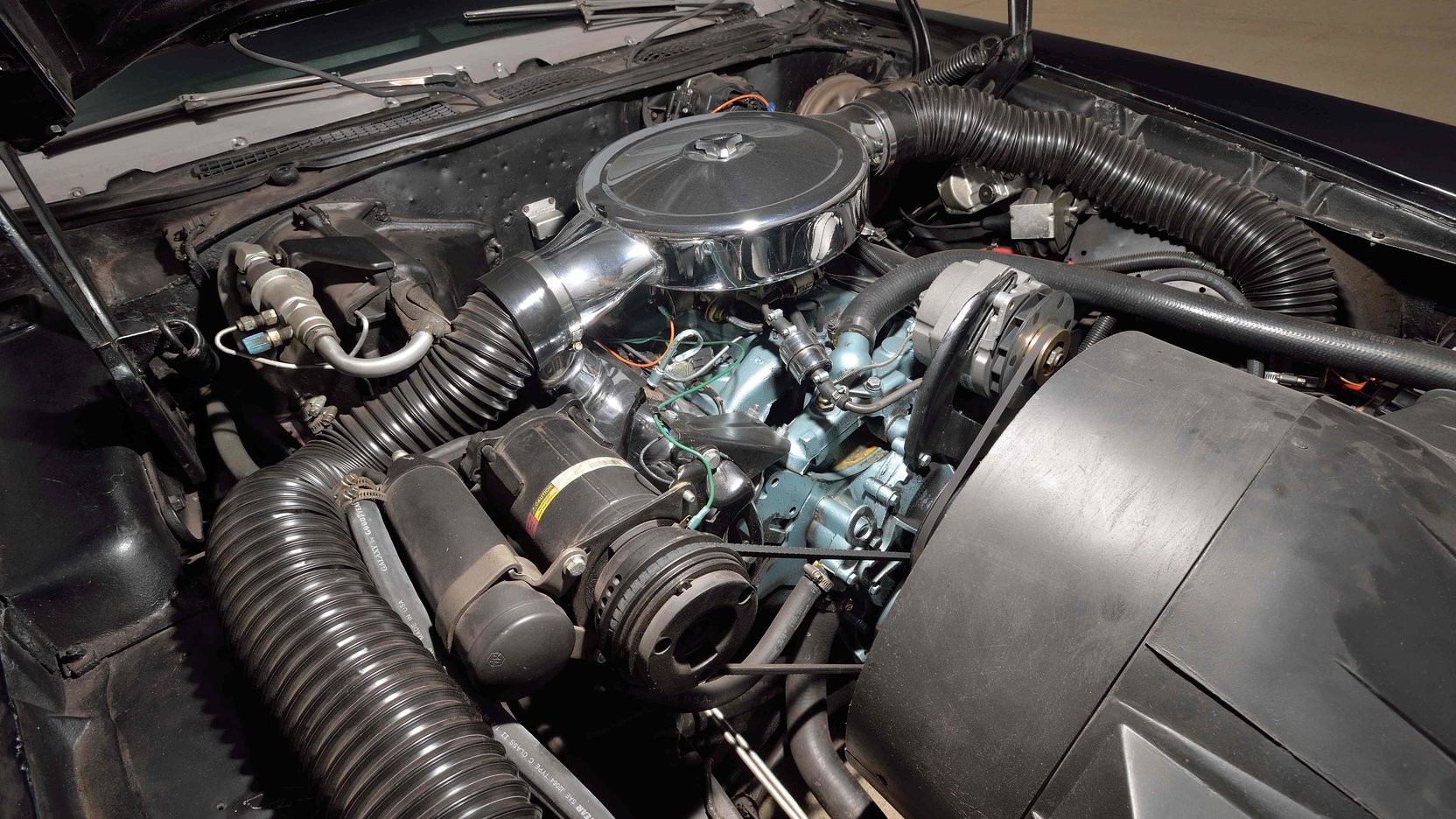 The bodywork for the Stutz Blackhawk was built by Carrozzeria Padane in Modena, Italy, from 1968-1971 and then by Carrozzeria Saturn in Cavallermaggiore, near Torino, Italy from 1972 until the end of production in 1987. The bodywork was made of heavier gauge steel than that of typical American cars of the day. As fifties and sixties American production cars already used quite heavy gauge steel this means the Stutz coachwork was both heavy and tough. The early model of the Stutz Blackhawk was powered by the Pontiac Grand Prix 455 cu. in. (7.5 liter) V8 engine tuned to deliver 425hp with 420ft/lb of torque though a three speed GM TH400 automatic transmission. The car was over 19 feet long but even with that big heavy body it was capable of 0-60mph in 8.4 seconds and boasted a top speed of 130mph. It was a car that looked a lot more avant-garde than a Bentley or Rolls-Royce, was built like the proverbial brick outhouse, and it could out accelerate and attain a higher top speed than its luxury car competition Bentley and Rolls-Royce.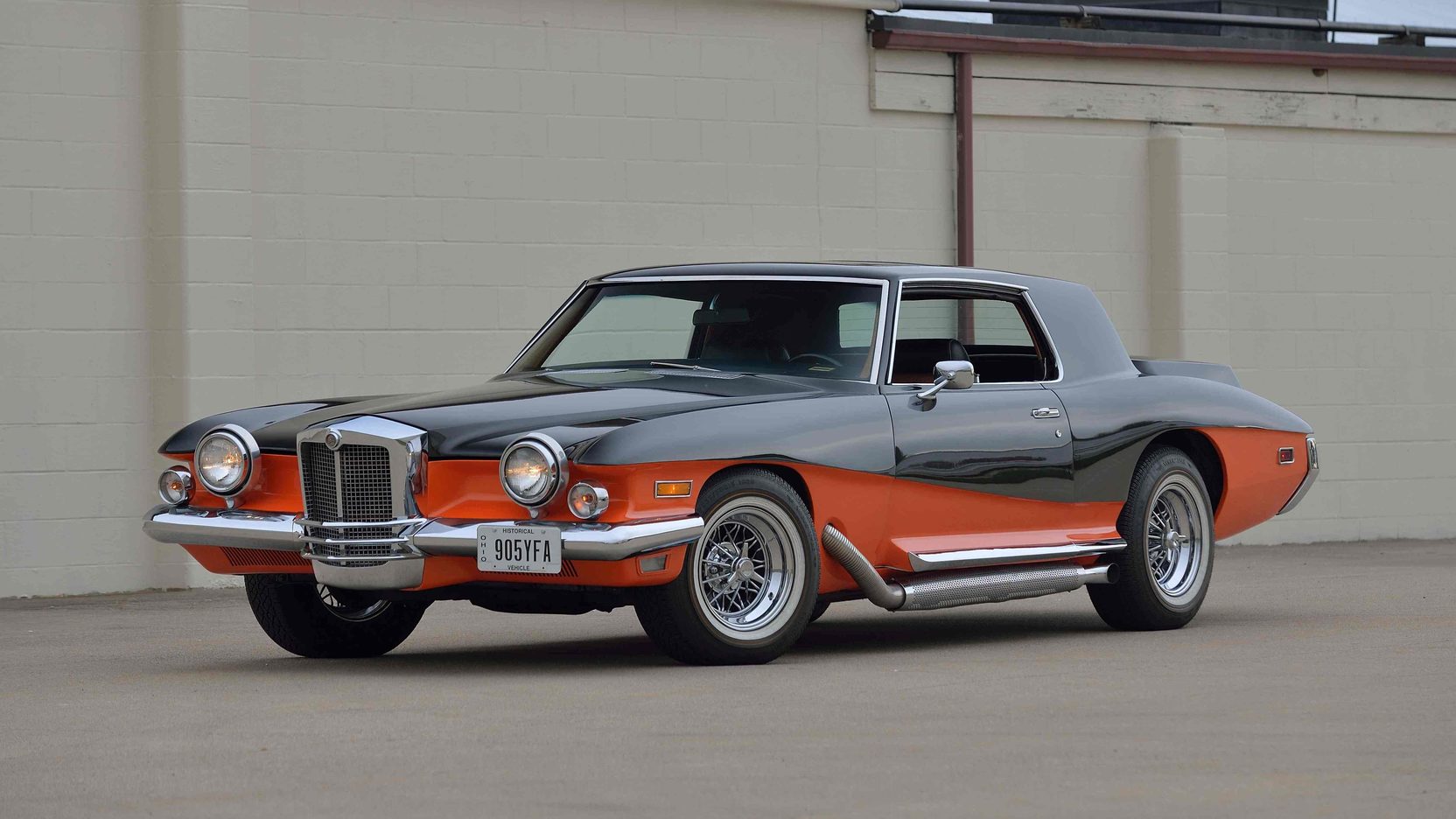 Fuel consumption was however of the order of eight miles to the US gallon so the Stutz Blackhawk was a bit of a thirsty lady who liked more than the occasional drink.
New York banker James O'Donnell was the first to own a Stutz Blackhawk as he received the first car built, the one hand built by Ghia. The list of people who owned Stutz Blackhawks reads like a Who's Who of sixties and seventies show business. The list includes Elvis Presley, Frank Sinatra, Sammy Davis Jr., Dean Martin (who owned three of them one of which wore the custom license plate "DRUNKY" which he crashed), Evel Knievel (we don't know if he ever tried to "jump" his Stutz – we suspect not), Wilson Pickett, Johnny Cash, Jerry Lewis, Liberace, Willie Nelson, Muhammad Ali, George Foreman, Tom Jones, Billy Joel, Elton John, Paul McCartney and Al Pacino. The Shah of Iran owned a dozen Stutz Blackhawks also.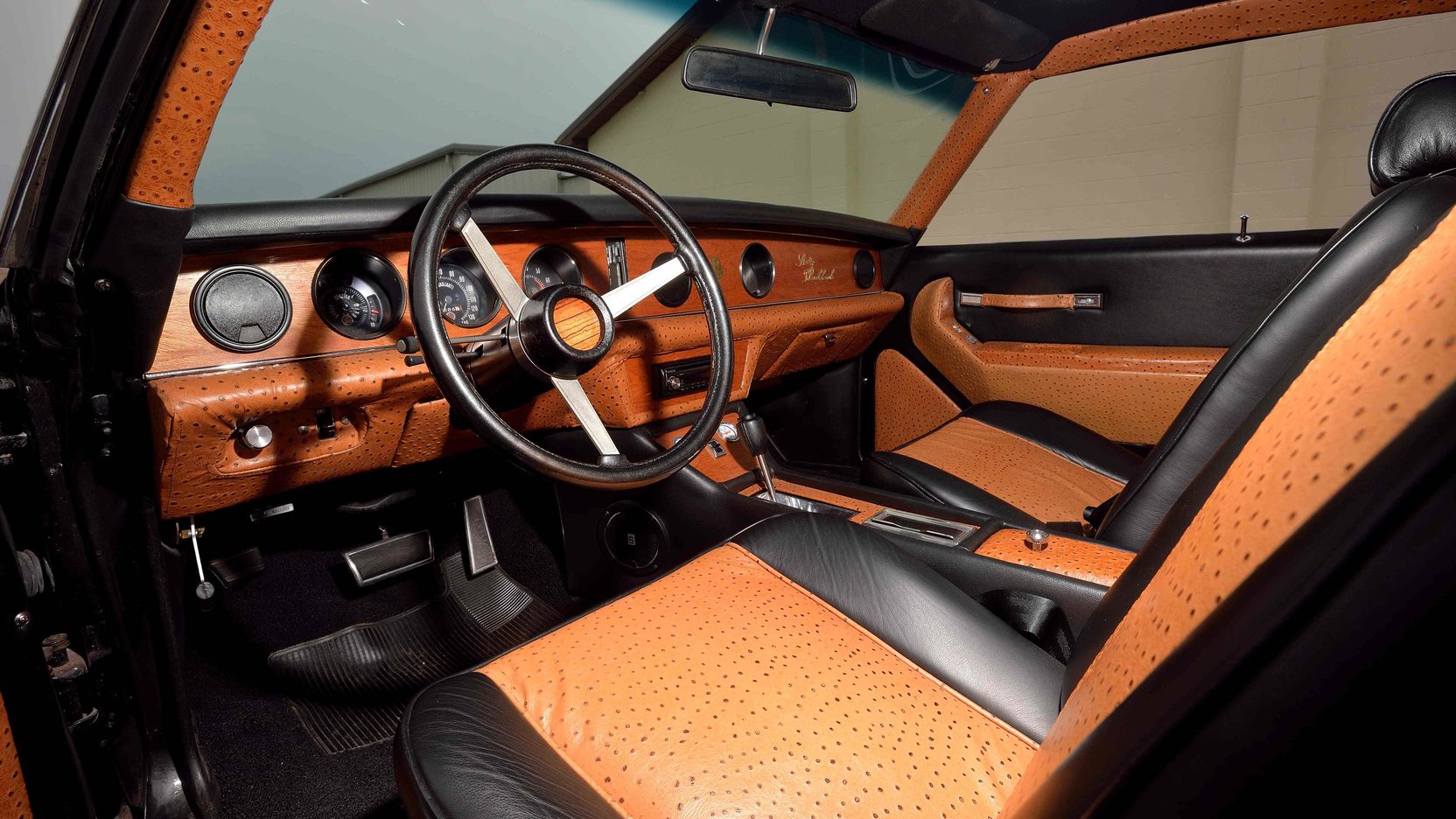 The gorgeous black and orange Stutz Blackhawk in our pictures is a second generation 1972 model powered by the Pontiac 400 cu. in. V8 breathing through a four barrel carburettor and with the three speed automatic transmission and air conditioning. It has a tilt steering column, power steering, power brakes, power windows and an after-market Kenwood CD stereo system. There is also a cigar lighter as this is very much a car in which to enjoy a Cohiba or Romeo Y Julietta of Churchillian proportions.
This car is coming up for auction by Mecum Auctions at their Kansas City auction to be held from the 1st-3rd December 2016.
You will find the sale page for this car if you click here.
This is a car from a golden era. A golden era of Hollywood entertainment, a golden era of larger than life characters, a golden era in which it was good to be alive. So although in modern day Hollywood it has become more fashionable to drive a Toyota Prius, give me the choice between the Stutz Blackhawk and the Prius and it will take me milliseconds to grab the keys to the Stutz and drive away cigar smoke wafting gracefully around the air conditioned cabin. Perhaps with a Ruger Blackhawk safely ensconced in the glove box. This is a car with so much personality that it was owned by some of the most iconic personalities of the twentieth century. Are you in the market for an icon of a golden era?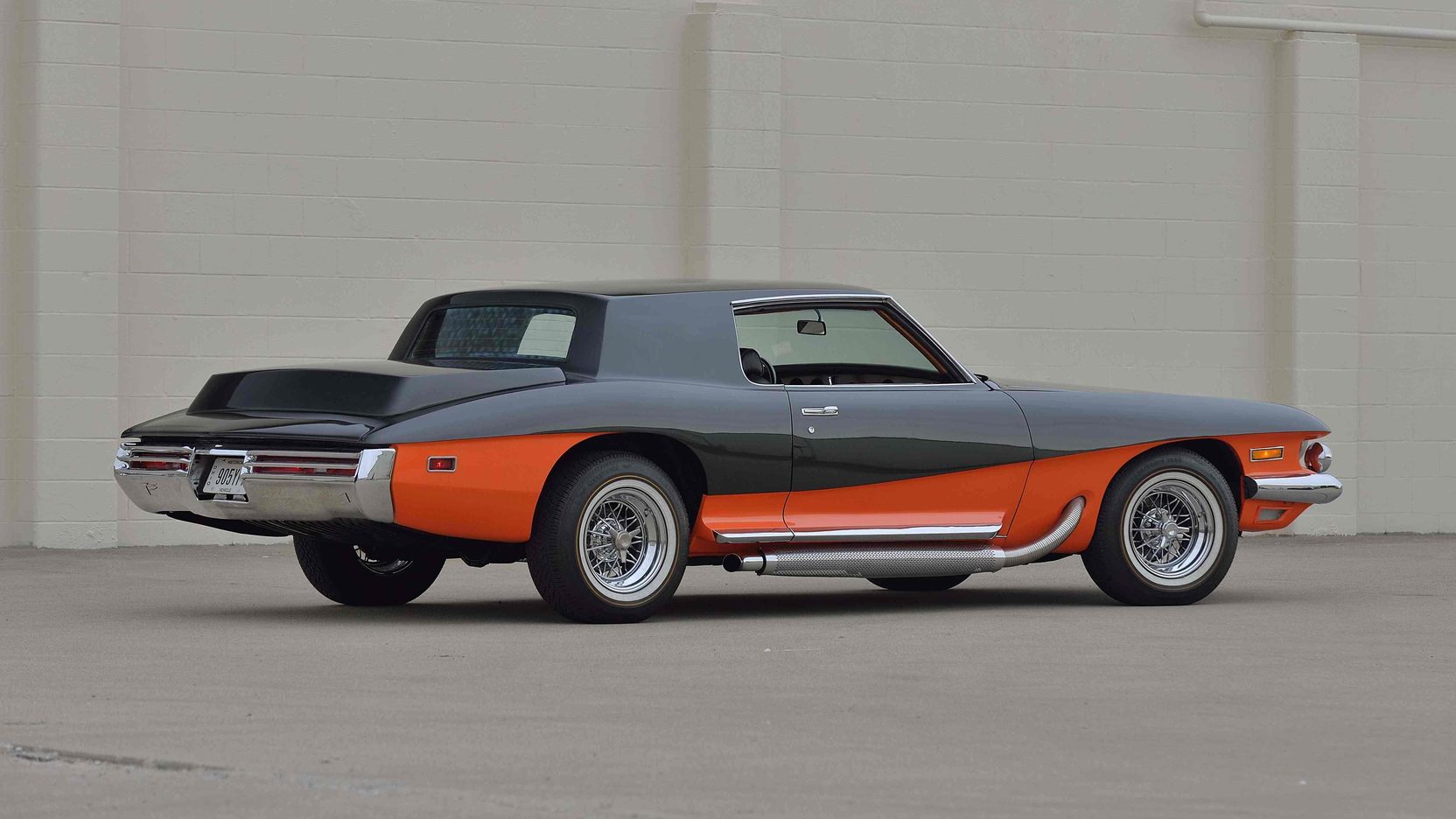 (All pictures courtesy Mecum Auctions).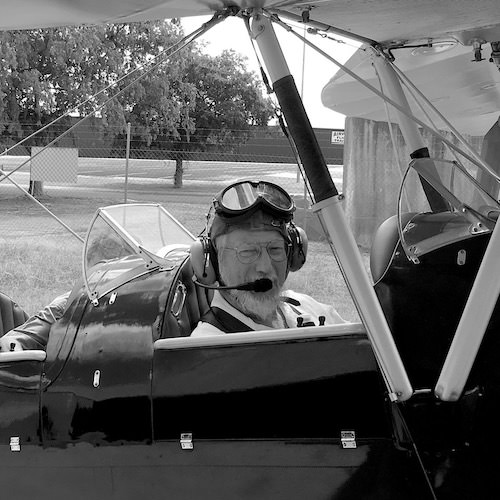 Jon Branch is the founder and senior editor of Revivaler and has written a significant number of articles for various publications including official Buying Guides for eBay, classic car articles for Hagerty, magazine articles for both the Australian Shooters Journal and the Australian Shooter, and he's a long time contributor to Silodrome.
Jon has done radio, television, magazine and newspaper interviews on various issues, and has traveled extensively, having lived in Britain, Australia, China and Hong Kong. His travels have taken him to Indonesia, Israel, Italy, Japan and a number of other countries. He has studied the Japanese sword arts and has a long history of involvement in the shooting sports, which has included authoring submissions to government on various firearms related issues and assisting in the design and establishment of shooting ranges.