When it comes to decorating the house choice is commonly based on compromise unless you happen to be a crusty old bachelor, or a young "the world is at my feet" one. Personally I would happily decorate a home with fireams, swords and car paraphernalia, perhaps with some bits from old steam trains thrown in to alleviate the monotony. However, wives and daughters almost always have minds of their own and their minds tend not to appreciate locomotive builders plates as decorative art.
However, for those blessed with freedom of choice in the art that will decorate your home Bonhams are having an auction of Transportation History items which are interesting,.to me at least.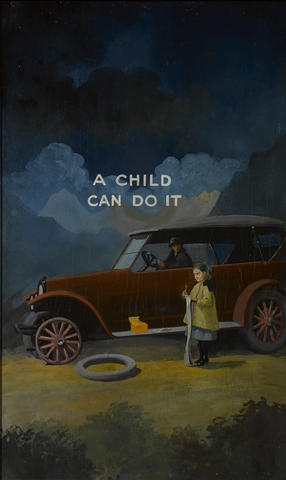 This is a painting my daughter would approve of. The smart and self reliant girl fixing the punctured tube for her parent. It reminds me of a time long ago when my second son was about nine. He just loved real mechanical things from babyhood on up and tended to shun children's toys. Anyway, one day when he was about nine years old I was rotating the wheels on our second car, a sixties vintage Vauxhall Viva, when the phone rang. I went into the house to answer it and, on coming back out discovered my son had the Vauxhall jacked up, one wheel off and the spare half put on, bless him.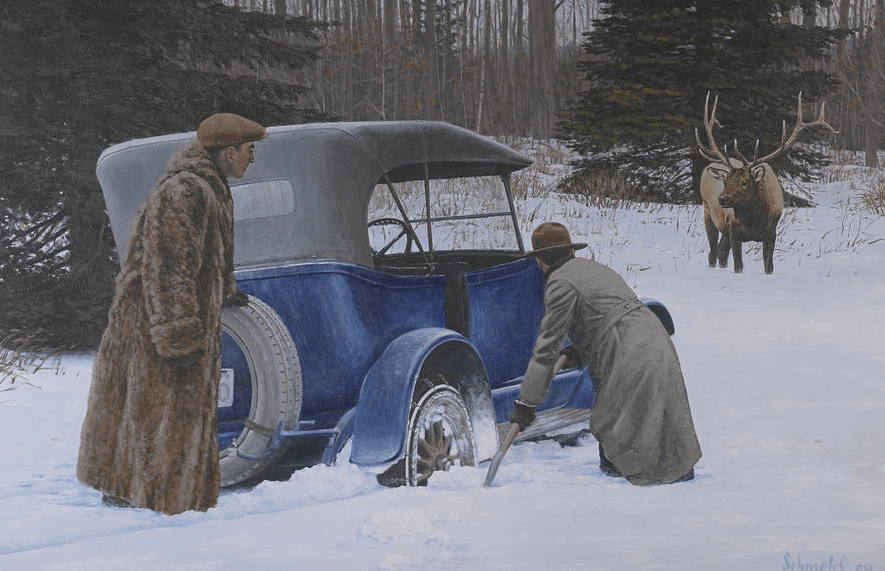 This picture reminds me of a situation a friend recounted on his return from Africa where he had been working as a school headmaster. He was traveling home in his Land Rover when he got a flat tyre. As he got out the jack and proceeded to jack up the "Landy" he noticed a leopard taking much interest in him and getting uncomfortably close. He didn't have a shotgun and had to jump into the vehicle and wait until the leopard seemed to lose interest and go away. He got out and got the wheel off and then noticed his sharp toothed spotted friend was coming back, no doubt to offer a helping paw. So he had to jump back into the Land Rover again and wait until boredom set in for the big pussy cat and it went away again. This process was repeated a number more times until he was able to complete his tire change and finally head home for dinner – having avoided becoming someone else's dinner.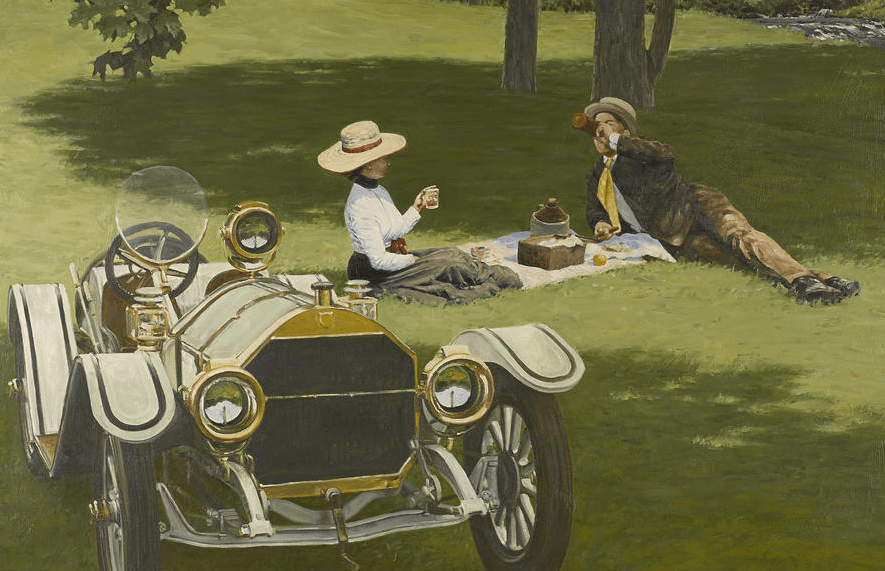 And whilst we're on the subject of outdoor eating, what better picnic vehicle could one have than a Mercer Raceabout. The Mercer was the ultimate "wind in your face" driving experience. I'm sure the lady will need to secure her sun hat with a scarf if she's not to lose it on the journey home.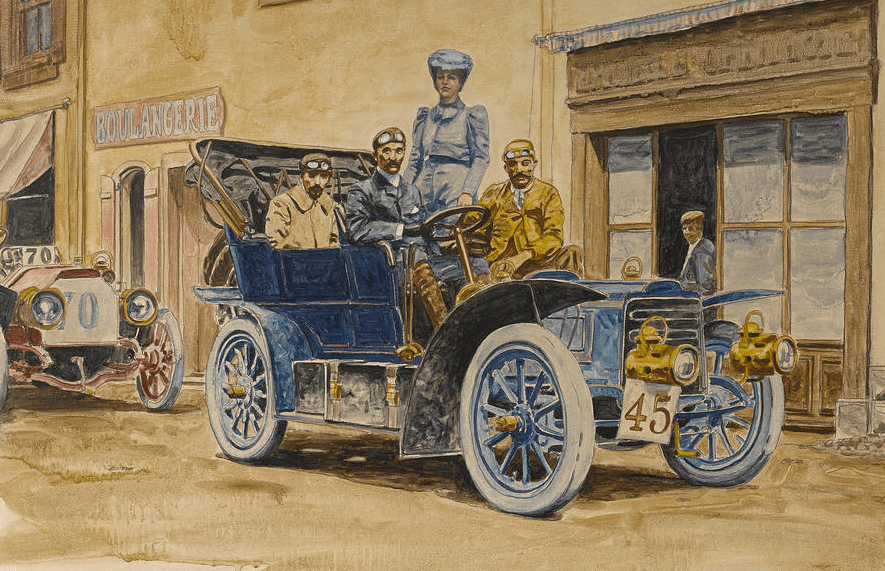 Here is Grand Touring in style. A quick stop at the bakery before heading off on this pioneering rally through rural pre Great War France.
The thrill of the race. You can just about smell the dust, oil and motor spirit in this one.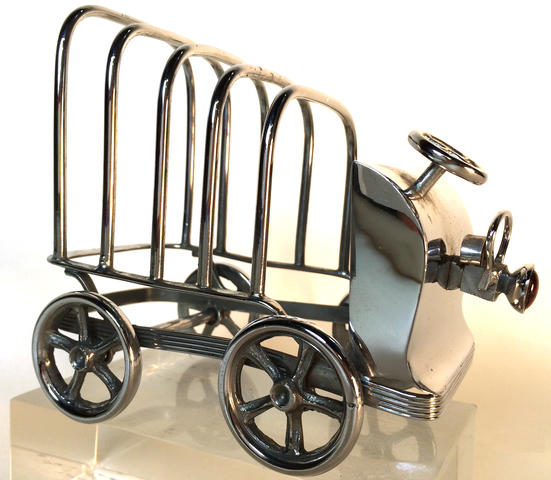 And last of all the piece de resistance. A toast rack with gorgeous motoring attitude. I especially like the not so independent suspension and the sports wheels.
(You'll find the page for our feature image here.)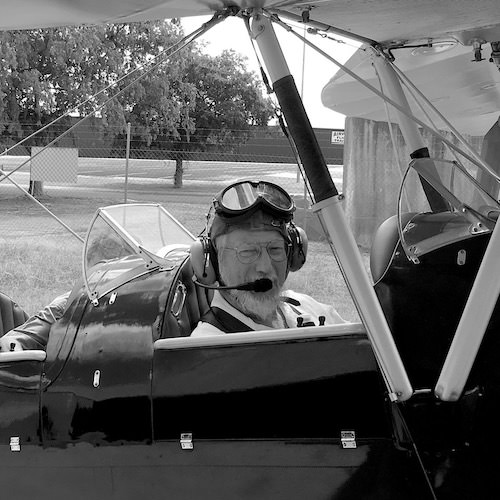 Jon Branch is the founder and senior editor of Revivaler and has written a significant number of articles for various publications including official Buying Guides for eBay, classic car articles for Hagerty, magazine articles for both the Australian Shooters Journal and the Australian Shooter, and he's a long time contributor to Silodrome.
Jon has done radio, television, magazine and newspaper interviews on various issues, and has traveled extensively, having lived in Britain, Australia, China and Hong Kong. His travels have taken him to Indonesia, Israel, Italy, Japan and a number of other countries. He has studied the Japanese sword arts and has a long history of involvement in the shooting sports, which has included authoring submissions to government on various firearms related issues and assisting in the design and establishment of shooting ranges.