The Triumph Thunderbird went into production soon after the end of the Second World War in 1950. Rationing was still very much in place in Britain and British manufacturers were left in no doubt by the British government that they had to "export, or perish". Europe was still reeling from the effects of the war and the upshot of that was that exports to Europe presented significant difficulties, but the United States had been largely spared the direct effects of the war and she was a ready potential market for all things British.
Although the British think they're the "best at everything" they are of course not. But they are quite good at some things and making motorcycles was one of the things they were actually rather good at. So good in fact that Indian Motorcycles looked very seriously at building their post war Indian motorcycle around a British Vincent V twin. It could have been a world beater but Indian decided not to go ahead with it. Whilst that was going on another British motorcycle company with the very British name Triumph decided to have a bash at exporting their bikes to the United States.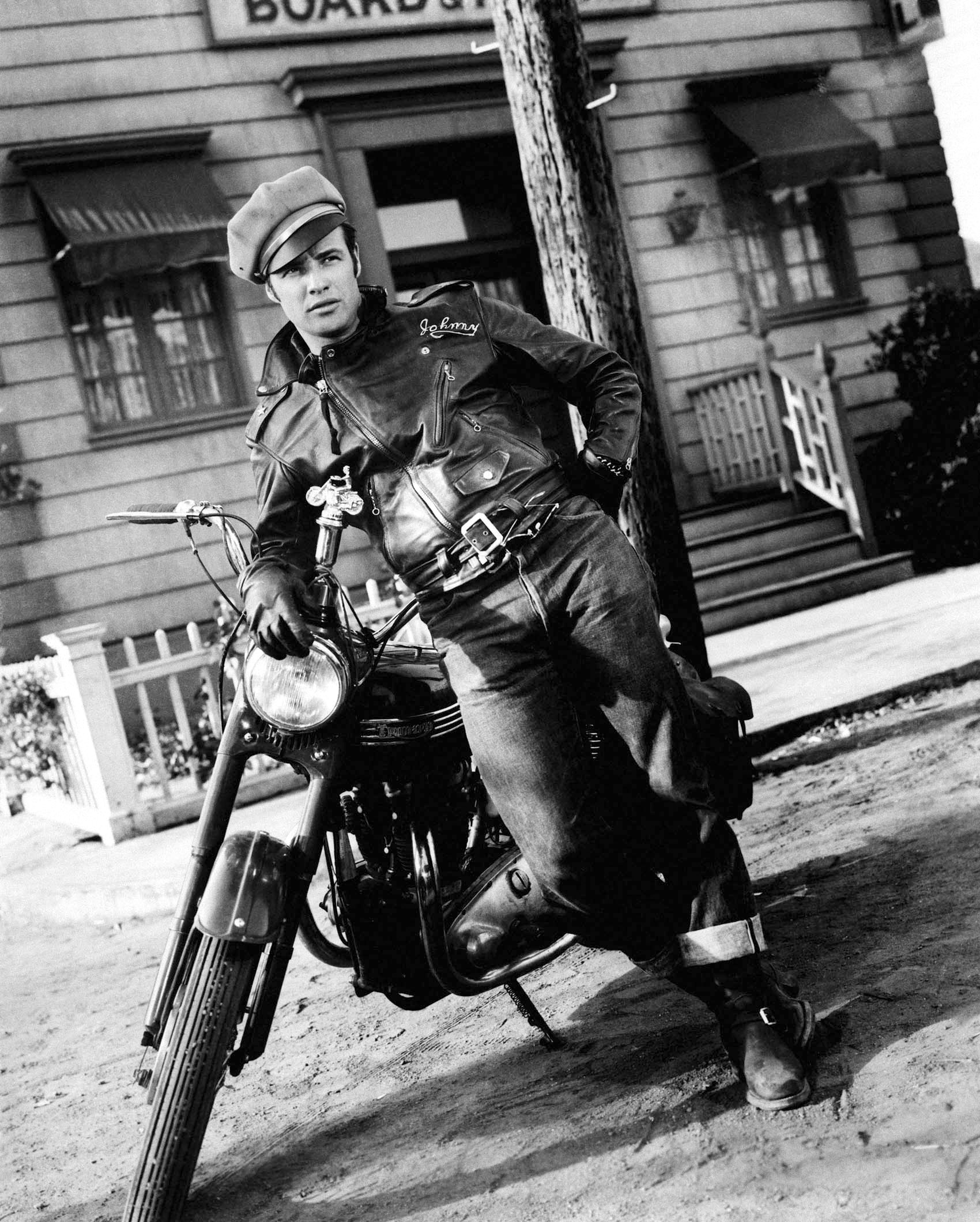 Triumph exports to the United States proved to be wonderfully successful, so much so that in the 1953 movie "The Wild One" Marlon Brando rides a 650cc Triumph Thunderbird and not a Harley-Davidson or an Indian. The British bikes, such as the Triumph and their stablemates by BSA proved to be powerful despite their comparatively small engines and possessed excellent handling qualities. Indian attempted to import British motorcycles which were badge engineered with the Indian brand name, but failed. Harley-Davidson heeded the wake-up call of the sales figures and the publicity Triumph got from the movie and made significant improvements to their motorcycles.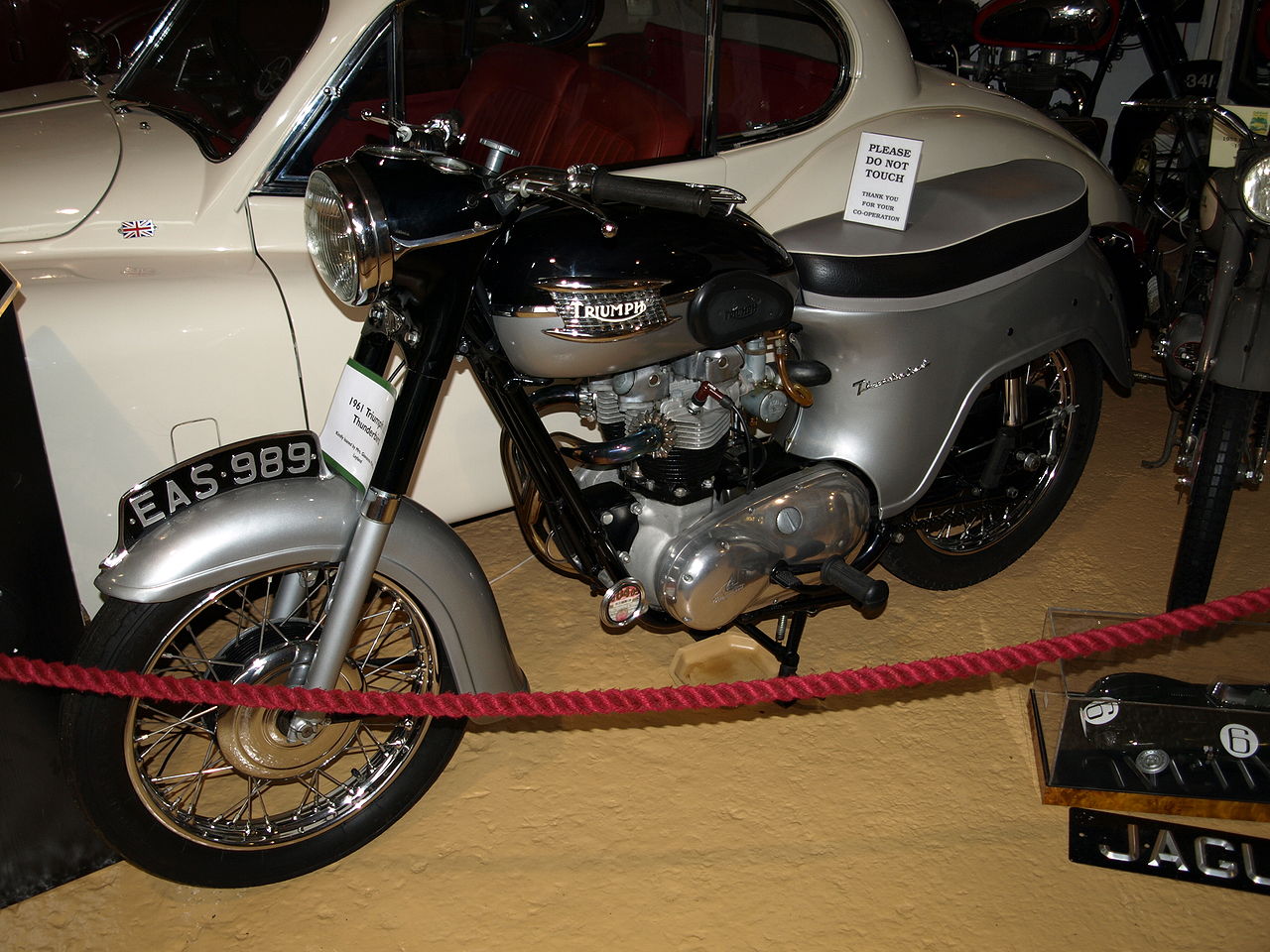 The Triumph Thunderbird was fitted with a bored out version of the 500cc parallel twin engine used in the popular Triumph Speed Twin which had preceded it. In this Edward Turner designed engine both pistons reciprocate together so the motorcycle thumps the pavement like a big single and projects an exhaust note that goes right through your chest. This chest thumping characteristic was no doubt one of the bike's selling points. It was a gutsy sounding motorcycle with a load of personality, lively performance and excellent handling. The only downside, especially for customers in Britain, was that Triumph were trying to make motorcycle riding "respectable" and so the styling of the British home market models was made to look "modern" and "stylish" with a bathtub fairing around the rear of the bike. American's were spared this abomination for the US market export model and many a British Triumph Thunderbird owner removed the "bathtub" and re-styled their motorcycle so that it looked much more stripped down and purposeful. This was a part of the creation of the original "bobber" style for motorcycles.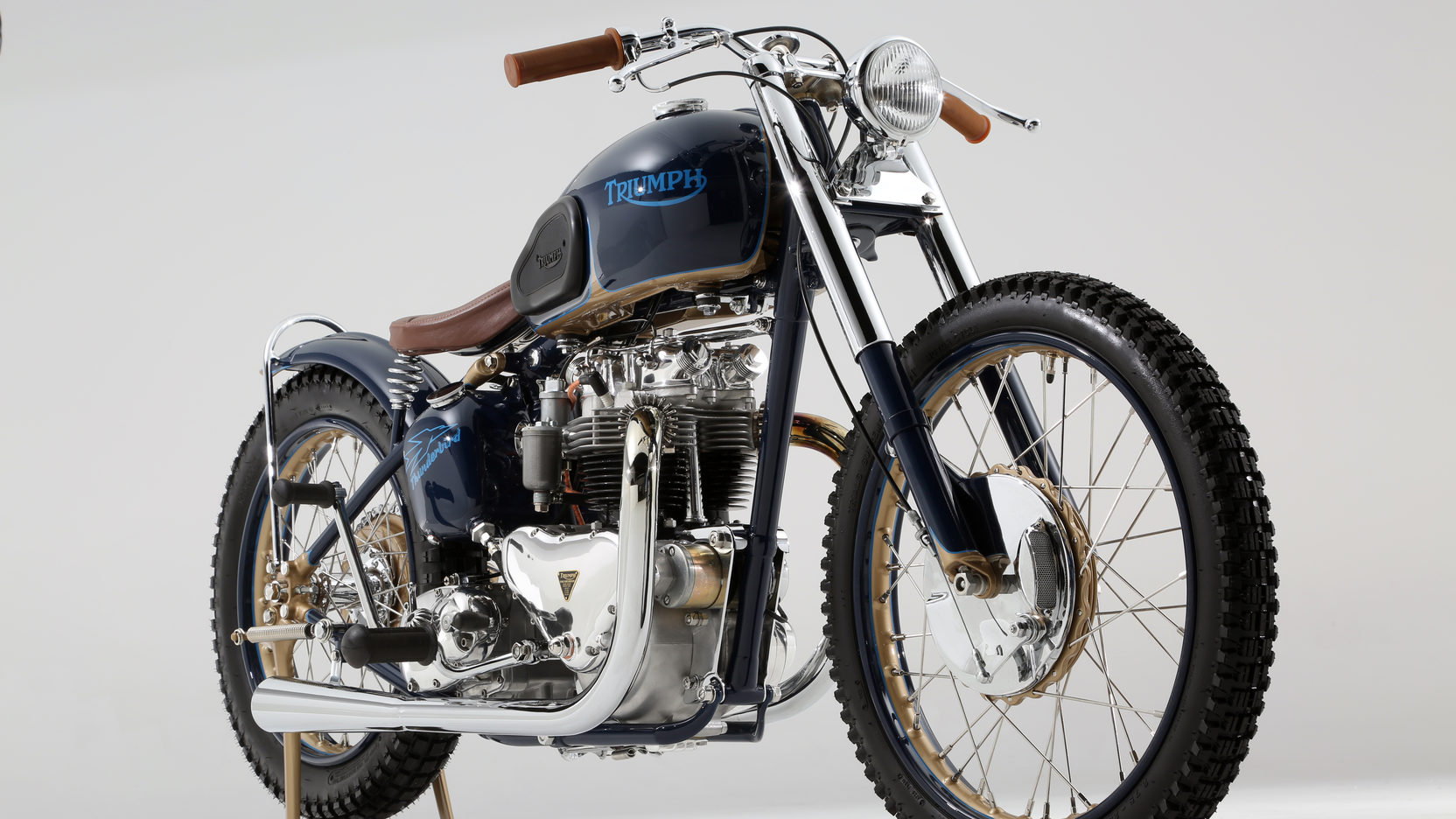 The Triumph Thunderbird in the picture above is a modern custom bobber created by Bryan Thompson. The bike is built on a 1952 Triumph Thunderbird which began life looking pretty much the way Marlon Brando's bike in The Wild One looked. However, this 1952 Triumph Thunderbird has been given a beautiful customizing to make a bike that is reminiscent of the Triumph's of the fifties and sixties yet its a bike that looks as modern as tomorrow.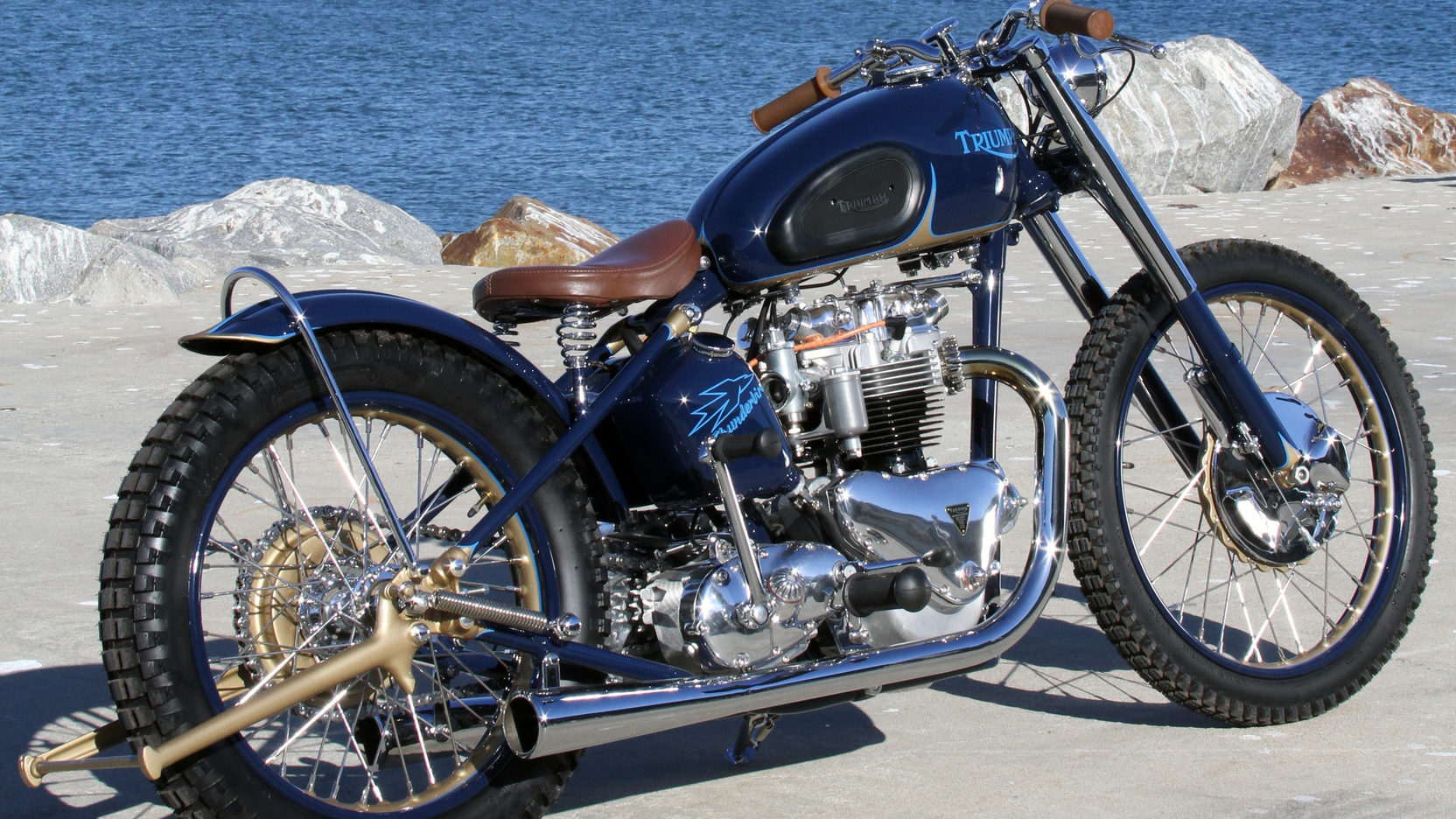 This exotic custom motorcycle is going to be offered for sale by Mecum Auctions at their Las Vegas auction to be held over 25th-28th January 2017.
You will find the sale page for this bike if you click here.
Mecum Auctions describe this bike as follows:-
"He (Bryan Thompson) started with a matching-numbers 1952 machine and chose all period parts to create a 1950s-style show custom, using only the rarest parts available in the period. The 20-inch front wheel is built with a one-year-only pie-crust front hub with air-scooped brakes and the rear hub is also a rare roller-bearing item. The '52 engine uses a later 9-bolt aluminum cylinder head, but Thompson shaved the fins from the rocker boxes for a period look. The MCM fork covers are chromed, and the mufflers and rear fender are Bates, the latter with a seam down the middle matching the stock Triumph tank. The oil tank is a factory-correct item, but it's been matched with a custom, mirror-image 'glovebox' perfectly built. The nearly all-blue finish is a 1940s Mercury color, complemented by gold accents on the chassis and wheels."
So this is a top quality and unique work of motorcycle art that can be ridden and fully enjoyed. A "true blue" British motorcycle custom built by one of the best custom motorcycle builders in America.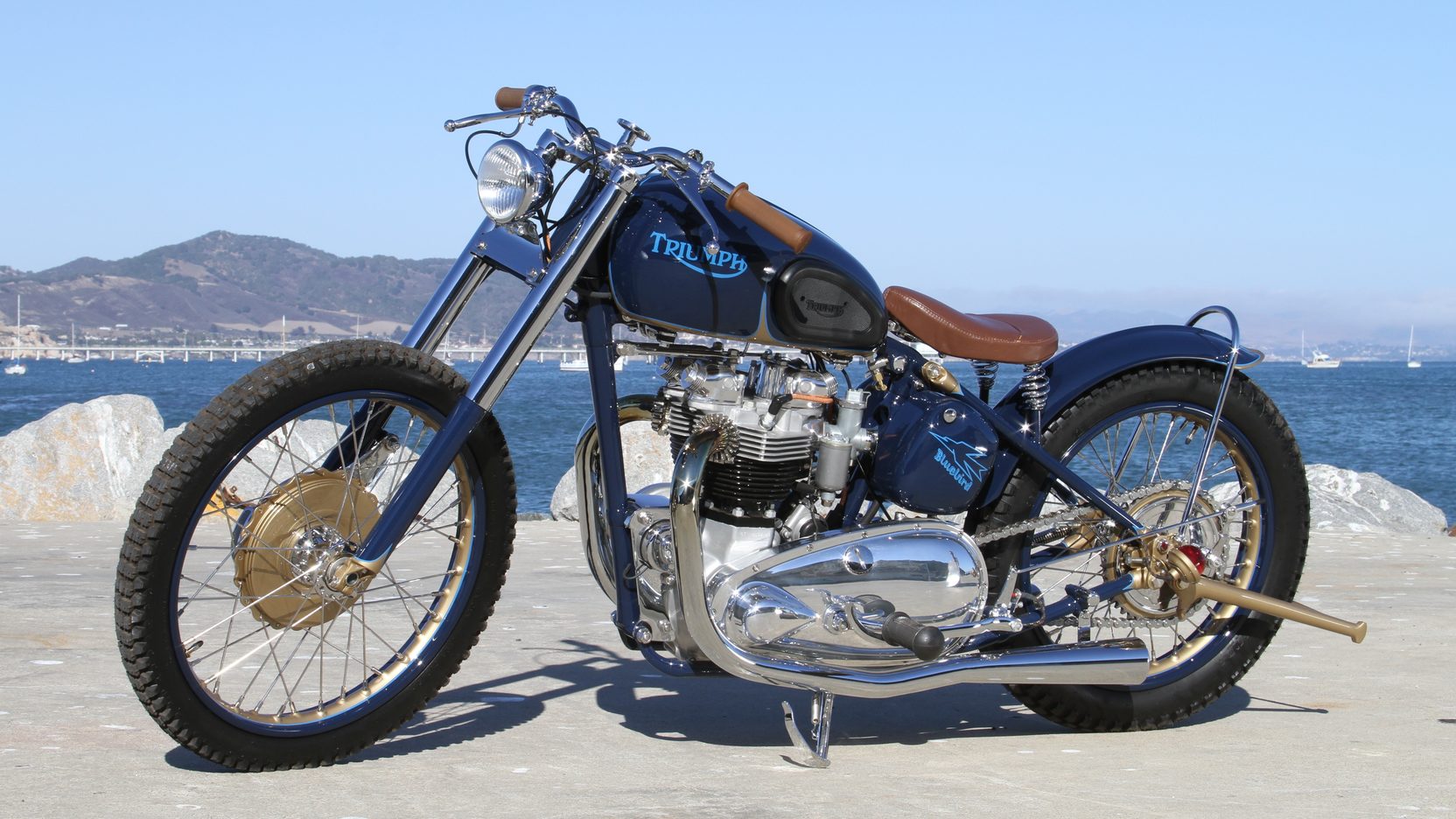 (All pictures courtesy Mecum Auctions unless otherwise marked).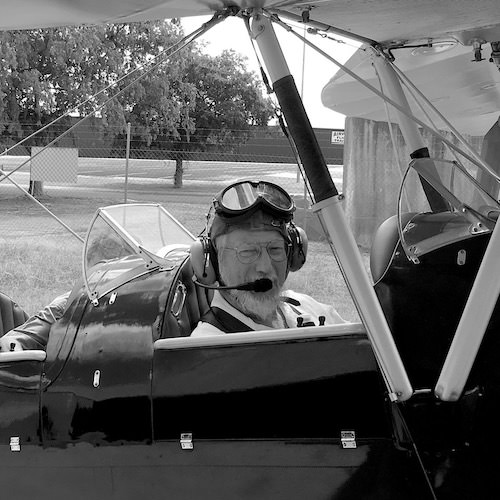 Jon Branch is the founder and senior editor of Revivaler and has written a significant number of articles for various publications including official Buying Guides for eBay, classic car articles for Hagerty, magazine articles for both the Australian Shooters Journal and the Australian Shooter, and he's a long time contributor to Silodrome.
Jon has done radio, television, magazine and newspaper interviews on various issues, and has traveled extensively, having lived in Britain, Australia, China and Hong Kong. His travels have taken him to Indonesia, Israel, Italy, Japan and a number of other countries. He has studied the Japanese sword arts and has a long history of involvement in the shooting sports, which has included authoring submissions to government on various firearms related issues and assisting in the design and establishment of shooting ranges.