If you are looking for a knife and you are just not certain of what you want then something by Ka-Bar is going to provide you with a top quality knife at an affordable price – though don't expect cheap – with knives you get what you pay for. Ka-Bar make a very wide variety of knives for a plethora of tastes and purposes but their most iconic knife is their U.S. Marine Corps knife, and if you are looking for a general purpose camping knife then its a hard knife to beat.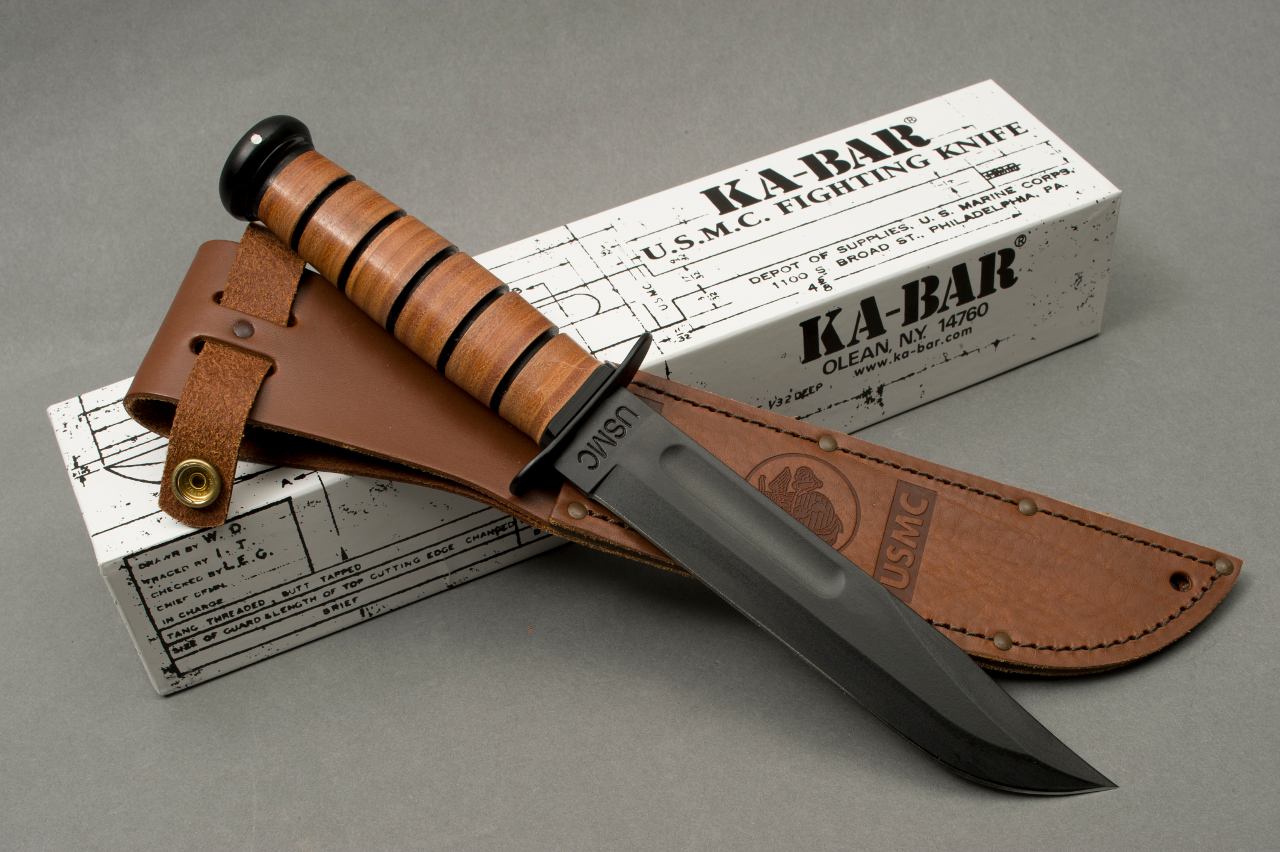 The original Ka-Bar USMC knife of World War II fame was a plain edged knife in the Bowie style with a fuller (blood groove) and hand-guard. The knife was made as a "Fighting and Utility Knife" and it was intelligently designed to do all the jobs a Marine might just need it to do from opening a can of beans to dealing with pesky enemy combatants. I was introduced to the Ka-Bar on a police organized bush survival training course and quickly discovered this is one useful knife. We did pretty much everything with them including building shelters which required chopping branches off saplings. I was so impressed that after the course I went and bought one and it went with me on every hunting and camping trip from then on.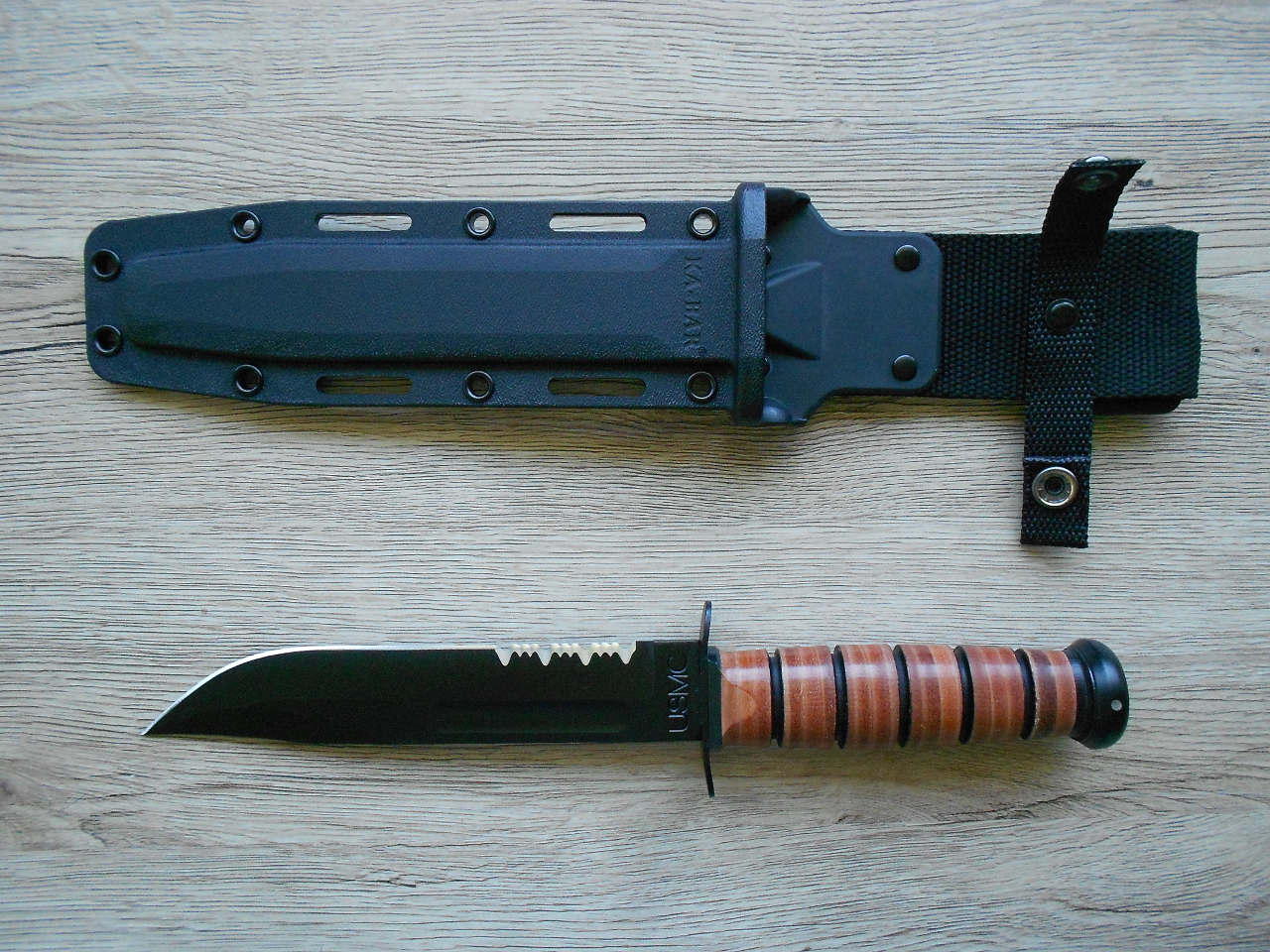 A new version of the USMC Ka-Bar is now being made with a serrated edge just ahead of the hand guard. This serrated edge is especially useful if you need to cut nylon or other synthetic rope and of course it allows the knife to double as a bone saw which is a handy feature when field dressing out medium to big game. Nowadays the Ka-Bar USMC knives come with the choice of either the old style leather sheath or a modern plastic sheath. Although the leather sheath is the traditional choice the plastic one is almost certainly the most practical. Not only is it stiffer and safer – there is no risk of the knife penetrating the sheath in a fall and wounding the wearer for example, but it also holds the knife positively so it cannot fall out.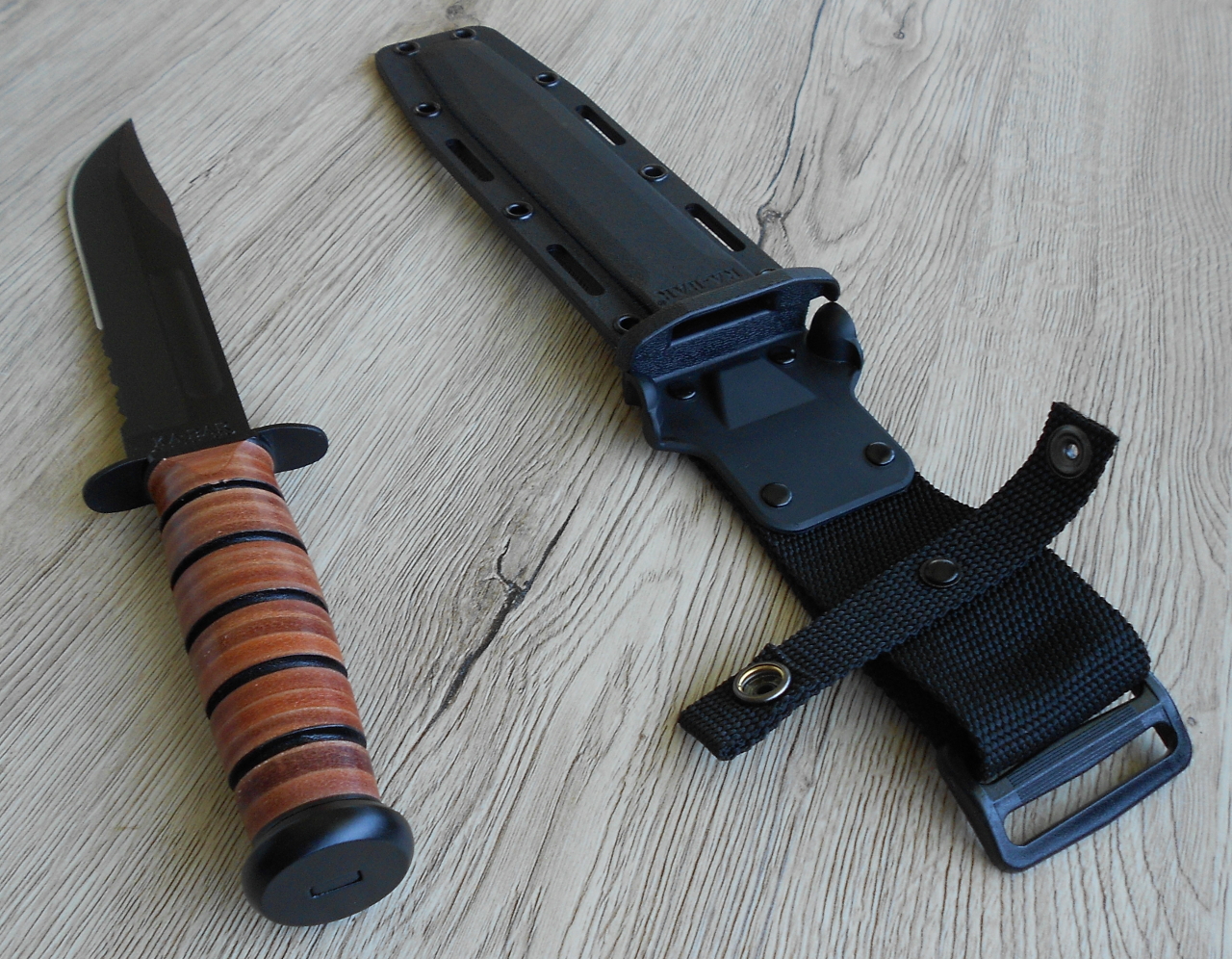 One of the best features of the USMC Ka-Bar is the leather handle. The blade has a slender full tang that goes the full length of the handle and is secured to the pommel. The leather covering is made up of stacked disks of thick leather and the grip this design affords is unmatched. The only potentially controversial design feature of the USMC Ka-Bar is the flat pommel which is intentionally made on the large side. It helps if one understands the purpose for this design. As a fighting knife the flat steel pommel means you have the ability to use both the sharp and blunt ends of the knife as a weapon. As a utility and hunting knife the flat pommel can be hit with the heel of the hand or with a small mallet to drive the knife into something. There are many situations where this can be handy, including using the knife to open a can of beans.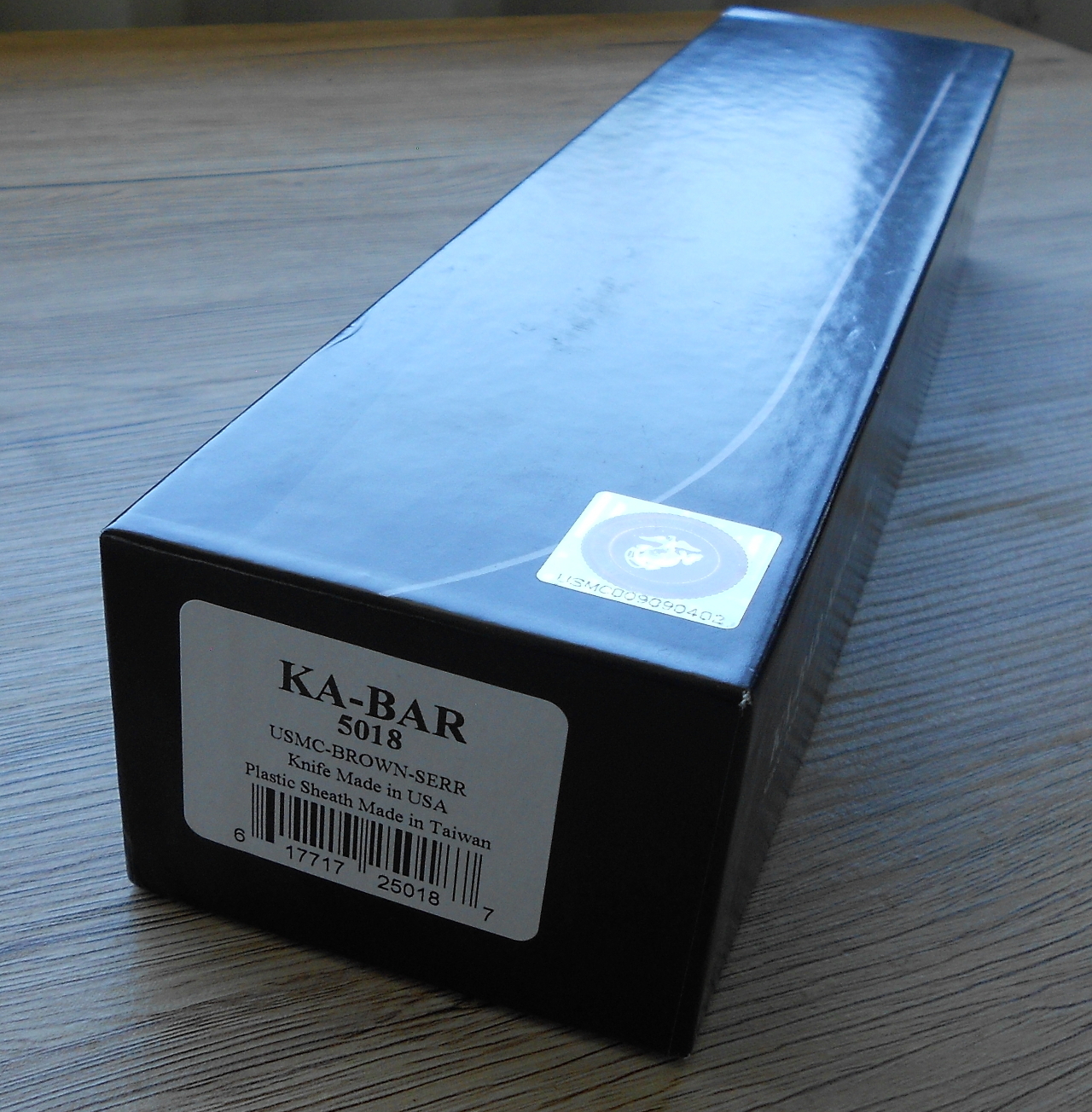 A genuine USMC Ka-Bar knife is one that will last a lifetime, a knife with a blade that will take and hold an edge. The knives come from the factory shaving sharp and the instructions provided with the knife will keep it sharp. Personally I use a leather strop with a micro fine honing compound on it such as Formax No. 12668 or similar. If the knife needs stoning I prefer to use a Lansky kit to ensure the edge is kept a bit convex. I like to polish with a fine Arkansas stone in the Lansky kit and then fine polish with the strop and honing compound. The steel and the heat treatment of a genuine Ka-Bar is second to none. So although there are imitations out there they are to be avoided as they just won't match the genuine Ka-Bar for its ability to take and hold an edge, and to last for a lifetime.
If you live in the USA then you can purchase a Ka-Bar directly from them. You'll find the Ka-Bar home page if you click here.
You will find the USMC plain edged knife with leather sheath if you click here.
You will find the USMC serrated edged knife with leather sheath if you click here.
You will find the USMC plain edged knife with the practical plastic sheath if you click here.
You will find the USMC serrated edged knife with the practical plastic sheath if you click here.
A Ka-Bar knife is an investment in quality, an investment in dependability, and because they are made in the United States they are an investment in America's people.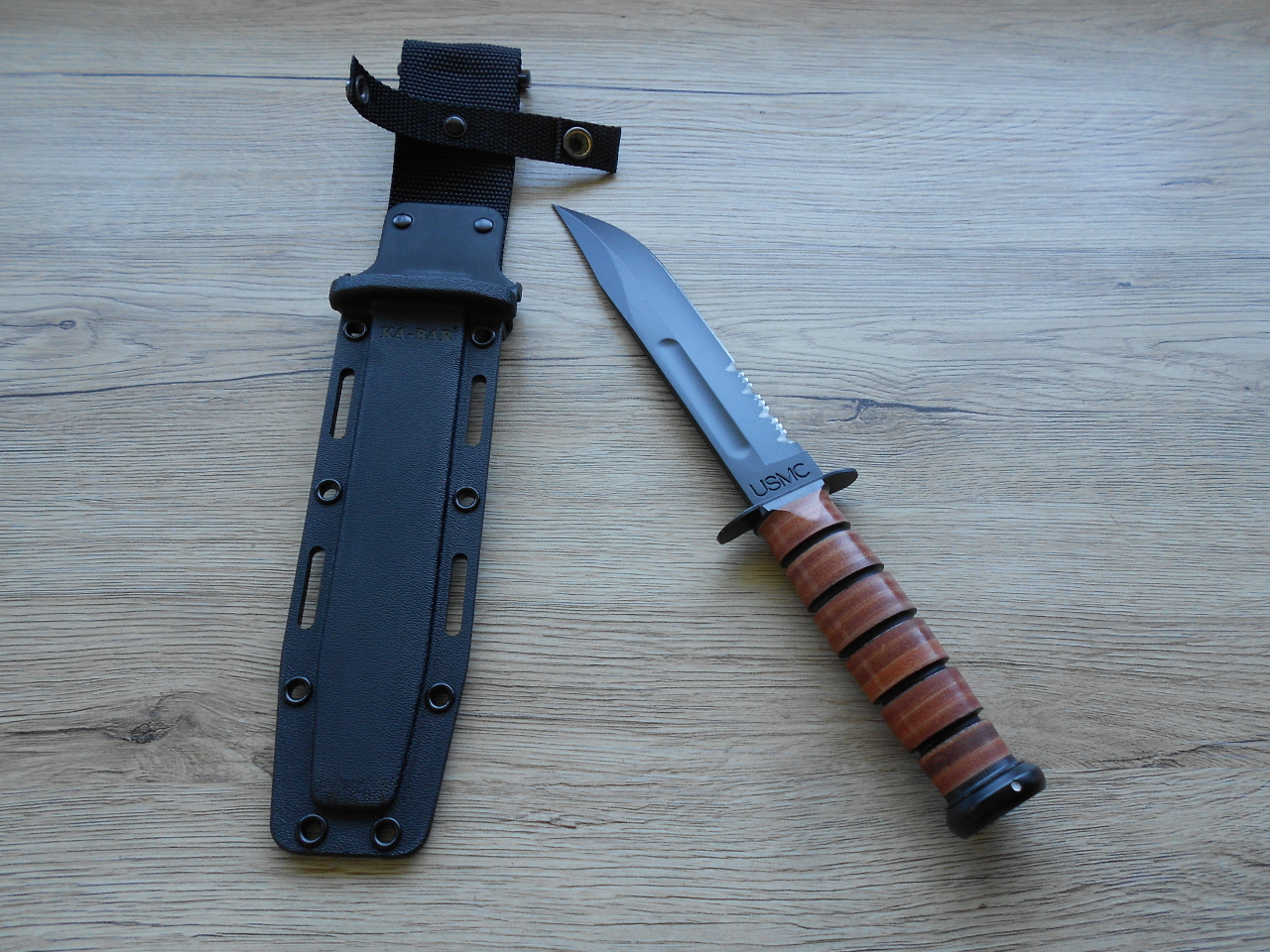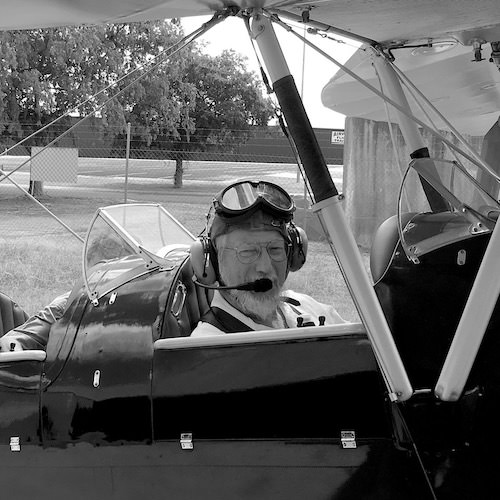 Jon Branch is the founder and senior editor of Revivaler and has written a significant number of articles for various publications including official Buying Guides for eBay, classic car articles for Hagerty, magazine articles for both the Australian Shooters Journal and the Australian Shooter, and he's a long time contributor to Silodrome.
Jon has done radio, television, magazine and newspaper interviews on various issues, and has traveled extensively, having lived in Britain, Australia, China and Hong Kong. His travels have taken him to Indonesia, Israel, Italy, Japan and a number of other countries. He has studied the Japanese sword arts and has a long history of involvement in the shooting sports, which has included authoring submissions to government on various firearms related issues and assisting in the design and establishment of shooting ranges.