The W.J. Jeffery & Company was formed back in 1890 when Jeffery was in partnership with a man named Davies so it was called Jeffery & Davies but that partnership had ended a year later so W.J. Jeffery & Company formed in 1891 and having passed through various premises over the years is still in operation with an outlet in the United States. Jeffery was famous for his heavy caliber rifles for African and Asian big game hunting and he built affordable rifles and guns for practical and professional hunters. The emphasis on his arms has long been one of excellence in build and reliability.

Despite being a relatively small workshop Jeffery not only produced the sort of rifles that professional hunters appreciated the value of but he was also instrumental in either creating a number of big game calibers such as the .404 Jeffery, and the .333 Jeffery which not only proved its worth in the sporting fields but also during the First World War when its high sectional density bullets proved highly effective against the protective steel screens used by German snipers.

The largest of the calibers to wear the Jeffery name, the .500 Jeffery, was actually not designed by them however but by famous German designer August Schuler, whose most famous cartridge is the 6.5×68 Schuler which is still in production by RWS (Note: for the Revivaler post on the 6.5×68 click here). The .500 Jeffery began as the German 12.7×70 Schuler which Jeffery recognised as a brilliant answer to the problem of providing a sufficiently powerful caliber for dangerous African and Asian game but in affordable magazine rifles. August Schuler had originally created his 12.7x70mm cartridge as a way of providing an elephant and hippo stopper in a conventional Mauser 98 action with a minimum of need to open up the action.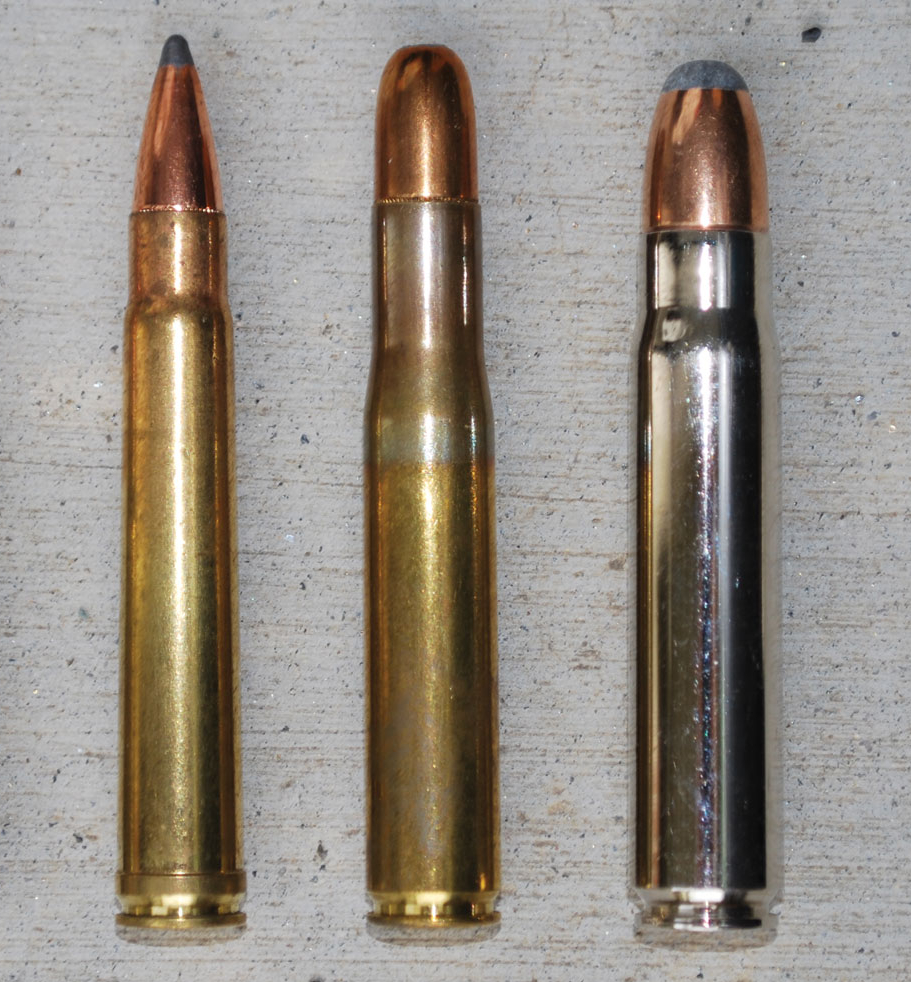 In a modified Mauser 98 action the rifle could normally hold two .500 Jeffery cartridges and the surplus M17 Enfield action also provided both a basis for creating an affordable stopping rifle for use against animals that were "B.A.D." (i.e. Big Angry and Determined) with the advantage of having a slightly larger magazine capacity. The early Mauser 98 based .500 Jeffery rifles were sometimes made too light weighing around 9lb and recoil of those early rifles was described in typical understated British style as "hideous". But if they were made a tad heavier up around 11lb then recoil is better managed and they are more like a .500 Nitro Express double to shoot.

The rifle pictured above is a fine example of an original W.J. Jeffery Mauser action .500 Jeffery which was made to order in the nineties when Jeffery still had their London shop open. The rifle was made for a customer from Zimbabwe who was not able to export it from Britain to Zimbabwe due to British export restrictions at the time and it is pretty much in as new condition having only been sighted in and taken to the range a few times. The rifle has otherwise resided in the maker's vault in the UK for about fifteen years. This rifle is to be offered for sale by Rock Island Auction in the US on September 10th, 2017.
You will find the sale page for the above rifle with more comprehensive details if you click here.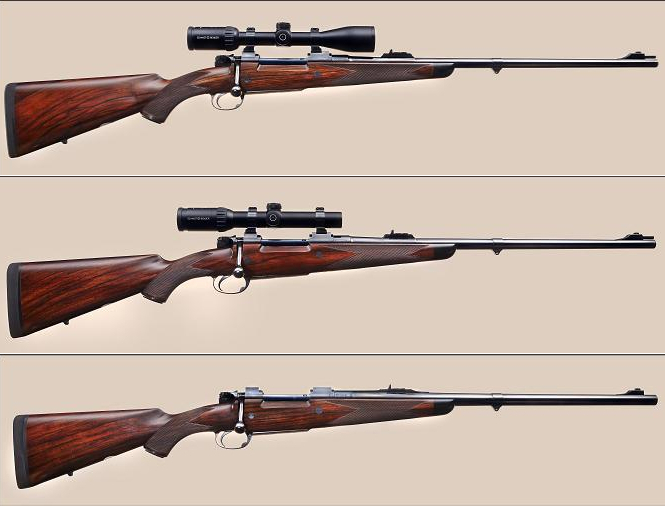 W.J. Jeffery rifles are still being made and are available in .243 Winchester, .300 Winchester Magnum, .375 Holland & Holland Magnum, .416 Rigby and .500 Jeffery. The two larger caliber models are fitted with a quarter rib with folding leaf Express sights. These are also available as a five rifle set to form a superb battery for world wide hunting.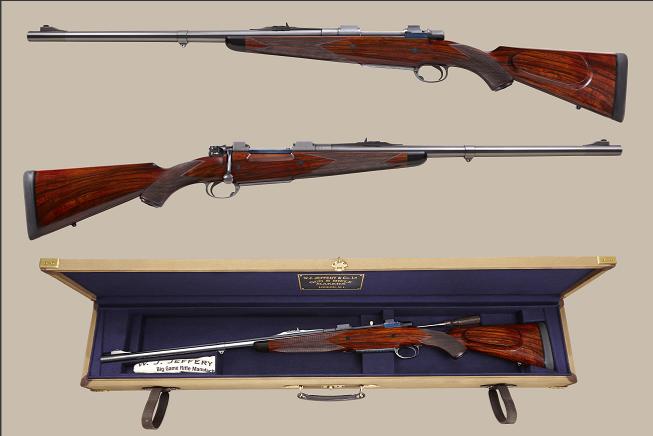 You will find the website of US dealer for W.J. Jeffery rifles Buehler Custom Sporting Arms if you click here.
Both bolt action rifles and double rifles are available. To see the double rifles click here.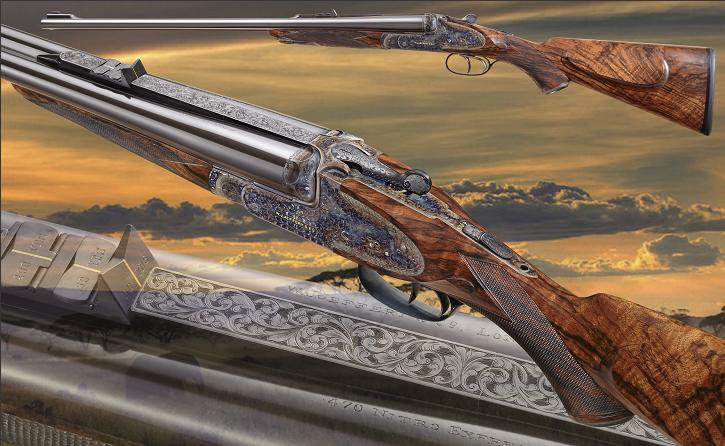 The name W.J. Jeffery is one of the best known in the history of big game hunting especially in Africa and Asia. It is excellent to see this great name carried on in the top quality sporting arms being produced today.
The .500 Jeffery has experienced something of a renaissance in recent years and ammunition for it is now plentiful.
To see available ammunition from Midway USA click here.
For handloaders one of the best possible bullets to choose for your .500 Jeffery is the Australian made Woodleigh Hydrostatically Stabilized bullet which you will find if you click here.
So if you are planning an expedition out after creatures that might just turn out to be Big, Angry and Determined or if you are looking for a rifle for more ordinary big game hunting then a genuine Jeffery rifle is an available option; and the near new .500 Jeffery from Rock Island Auction would be a superb choice.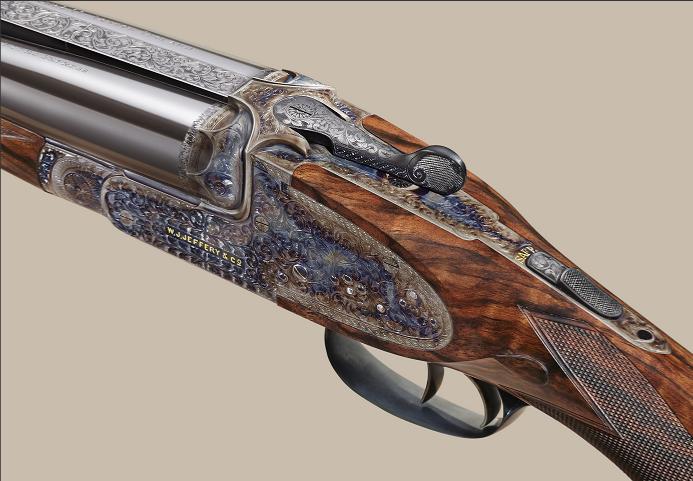 (All pictures courtesy Rock Island Auction except as otherwise marked).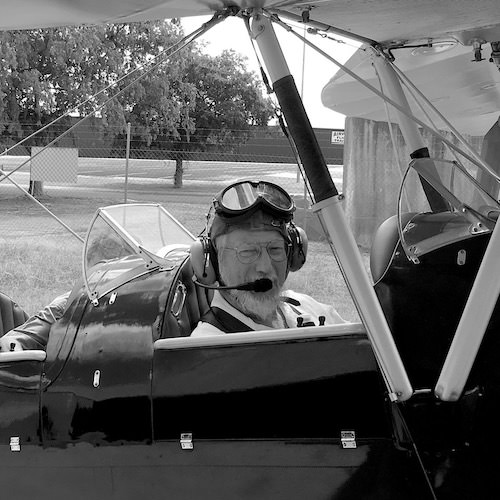 Jon Branch is the founder and senior editor of Revivaler and has written a significant number of articles for various publications including official Buying Guides for eBay, classic car articles for Hagerty, magazine articles for both the Australian Shooters Journal and the Australian Shooter, and he's a long time contributor to Silodrome.
Jon has done radio, television, magazine and newspaper interviews on various issues, and has traveled extensively, having lived in Britain, Australia, China and Hong Kong. His travels have taken him to Indonesia, Israel, Italy, Japan and a number of other countries. He has studied the Japanese sword arts and has a long history of involvement in the shooting sports, which has included authoring submissions to government on various firearms related issues and assisting in the design and establishment of shooting ranges.