The Welbike began life as a creation of the boffins of  Britain's Special Operation Executive's (SOE) secret special equipment facility "Station IX" at Welwyn in Hertfordshire and found a surprising range of uses during the Second World War and in the immediate post war era. The original idea of the Welbike was to create a small lightweight motorcycle that would fit into a CLE (Container Light Equipment) standard parachute drop canister that could be dropped with a secret agent or paratroopers even behind enemy lines and provide convenient and reasonably quick transport. A CLE canister was 51″ long, 15″ high and 12″ wide. Fitting a motorcycle into such a narrow container meant that it had to be both small and collapsible.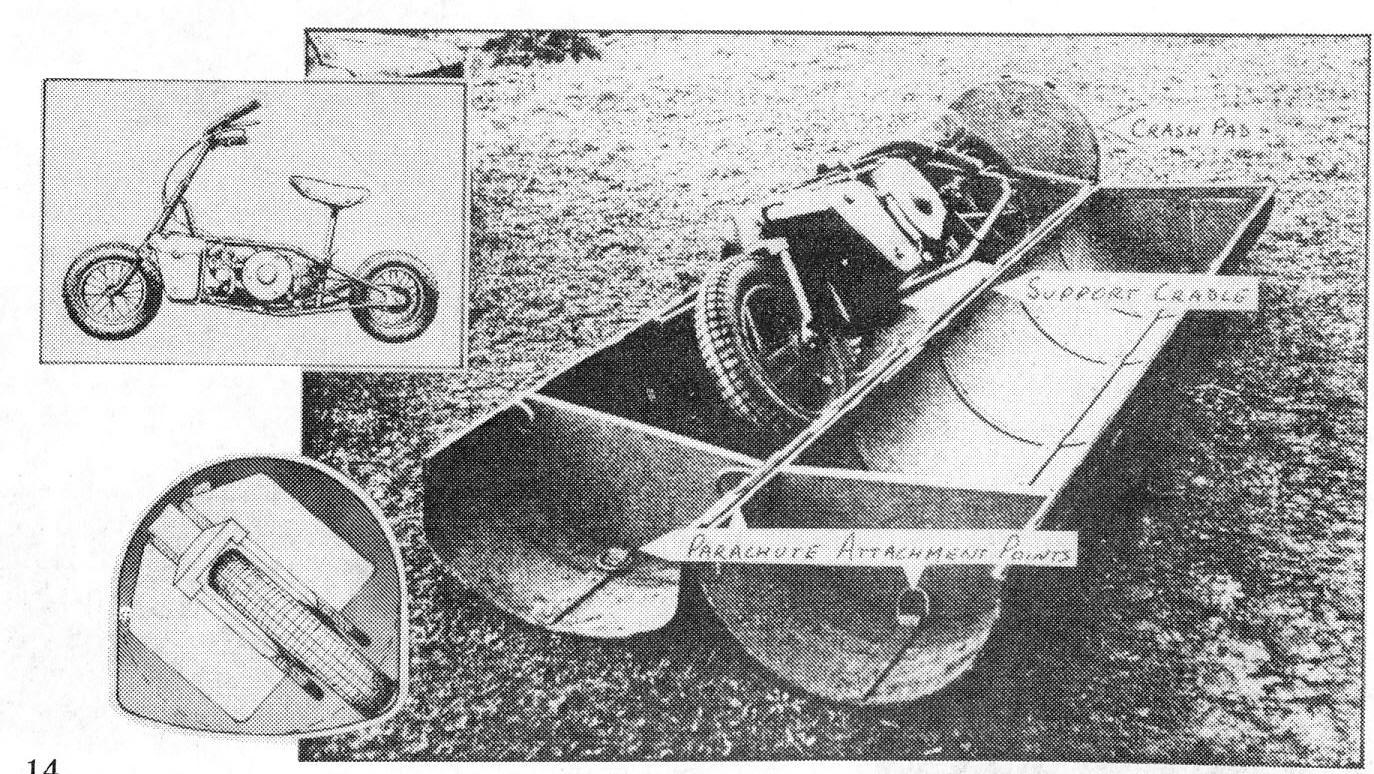 Created during the early forties the Welbike was developed in three versions; The first Mark 1 version was built on a War Department contract of 26th August 1942 and 1200 were made, the Mark 2 Series 1 were made on a War Department contract of 19th November 1942 and 1400 were made, and the Mark 2 Series 2 were made on a contract of 27th December 1942 and 1241 were made.
Mark 1
The Mark 1 was the production version of the original prototype. The engine was a single cylinder 1.5hp Villiers 98cc two stroke petrol/gasoline unit, the frame was tubular steel, there was no suspension as the bike was made as light as possible and it weighed 71lb (32kg) dry. The bike had only a rear brake and no lights. The gearbox was single speed and the bike was started by getting it moving and dropping the clutch. The Mark 1 had twin fuel tanks of a combined capacity of 0.81 Imperial gallons (0.98 US gallons, 3.7 liters) which gave it a cruising speed of up to 30mph on a reasonable road or track and a range of about 90miles (140km). The small wheels made the Welbike unsuited to rough off road conditions. The fuel tank outlets were below the level of the carburettor so the fuel tanks had to be pressurized in order to feed fuel. The tanks were pre-pressurized before being put into the CLE ready for deployment but a hand pump was included so the user could re-pressurize the tanks when required. This hand pump had to be removed for re-fueling.
Mark 2 Series 1
This bike had some minor improvements including provision of a rear mudguard to keep the paratrooper's rear end dry in wet or muddy conditions.
Mark 2 Series 2
This model was improved by having re-designed saddle fuel tanks to improve feed. The filler cap was improved so the pressurization pump did not need to be removed when filling the tank.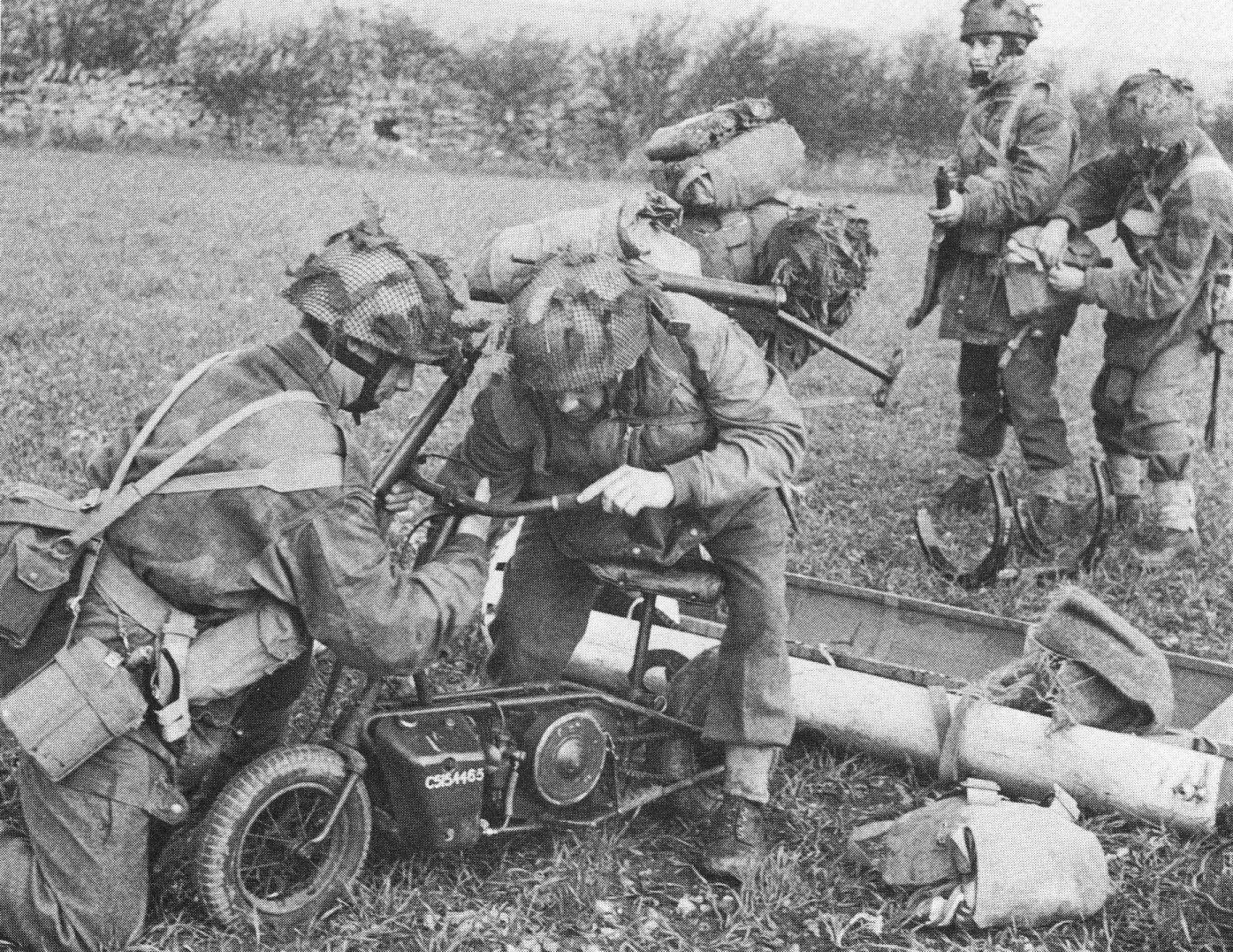 When a Welbike landed it was designed so that combat troops could unfold it and get it operational in 11 seconds. The handlebars were unfolded and twisted to the correct position for riding where they would click into place, the seat was folded up and clicked into place, then the user would run with the bike and drop the clutch to start it.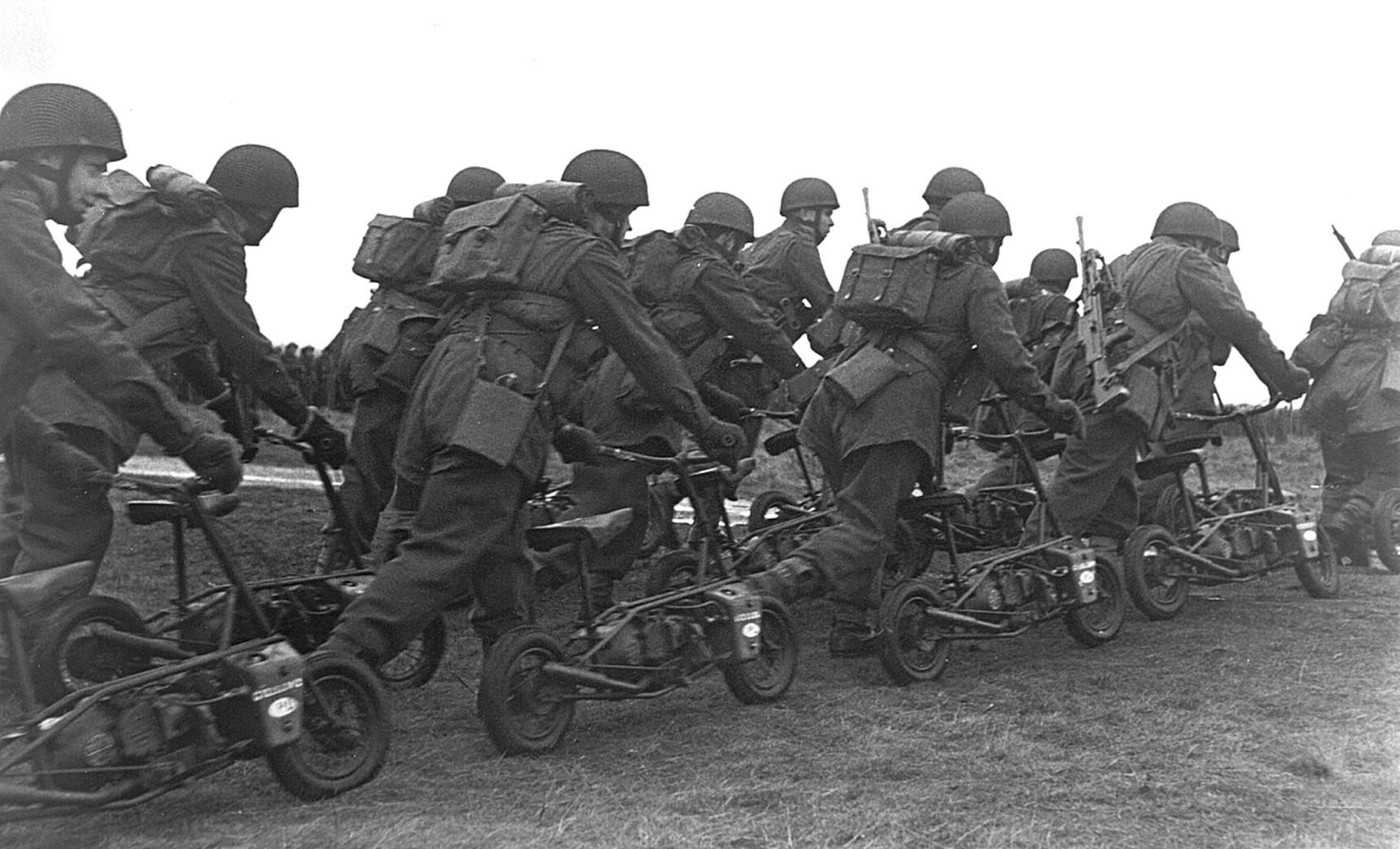 One of the deployments of Welbikes was in Operation Market Garden from 17th–25th September 1944 in which the First Allied Airborne Army and the British XXX Corps attempted, unsuccessfully, to create a pincer movement against German industry in the Ruhr. The Welbike found lots of uses however and were a popular item for moving around airfields where their small size made them easy to store and their limited range was not a problem.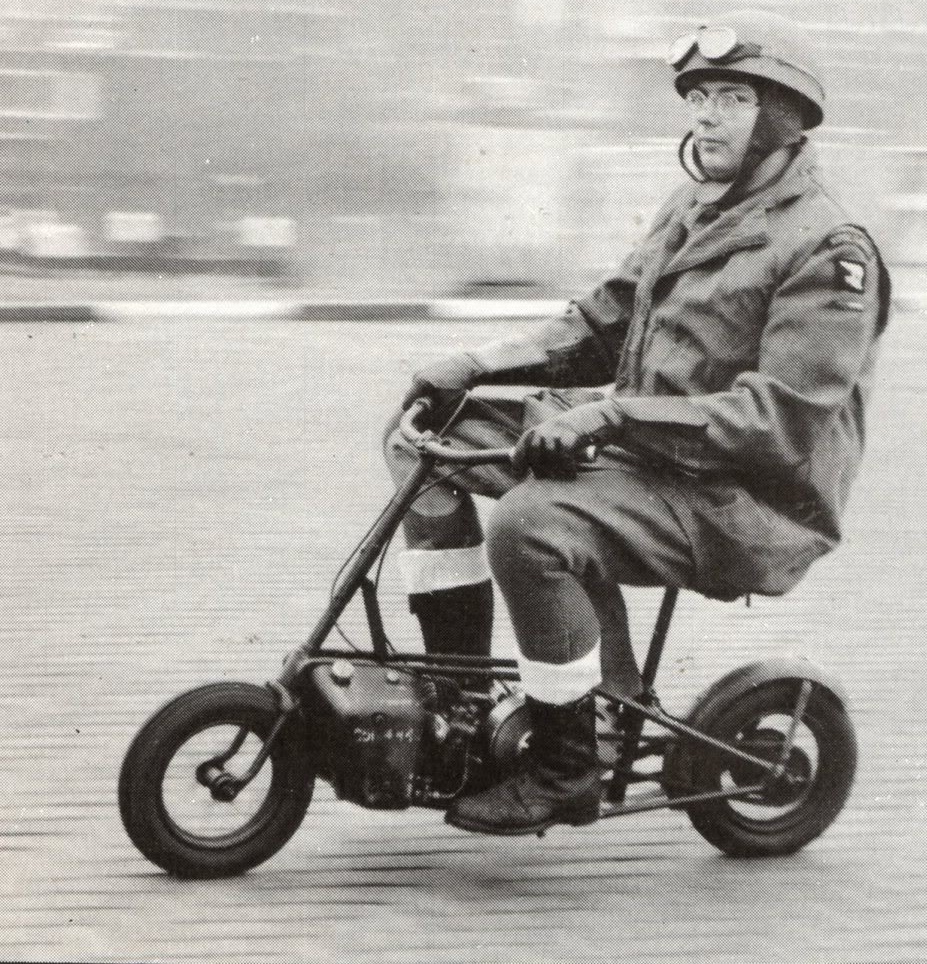 After the war was over the Welbike found a new use in post 1945 war ravaged Britain. The bikes were re-designed and made and sold as the Corgi (a cute dog with short legs) and amongst those the bike was marketed to were District Nurses as the easily folded bike could carry a nurse and her equipment adequately. With fuel consumption of around 111mpg-125mpg this was an economic way to get around in those post war years when fuel rationing was still in force.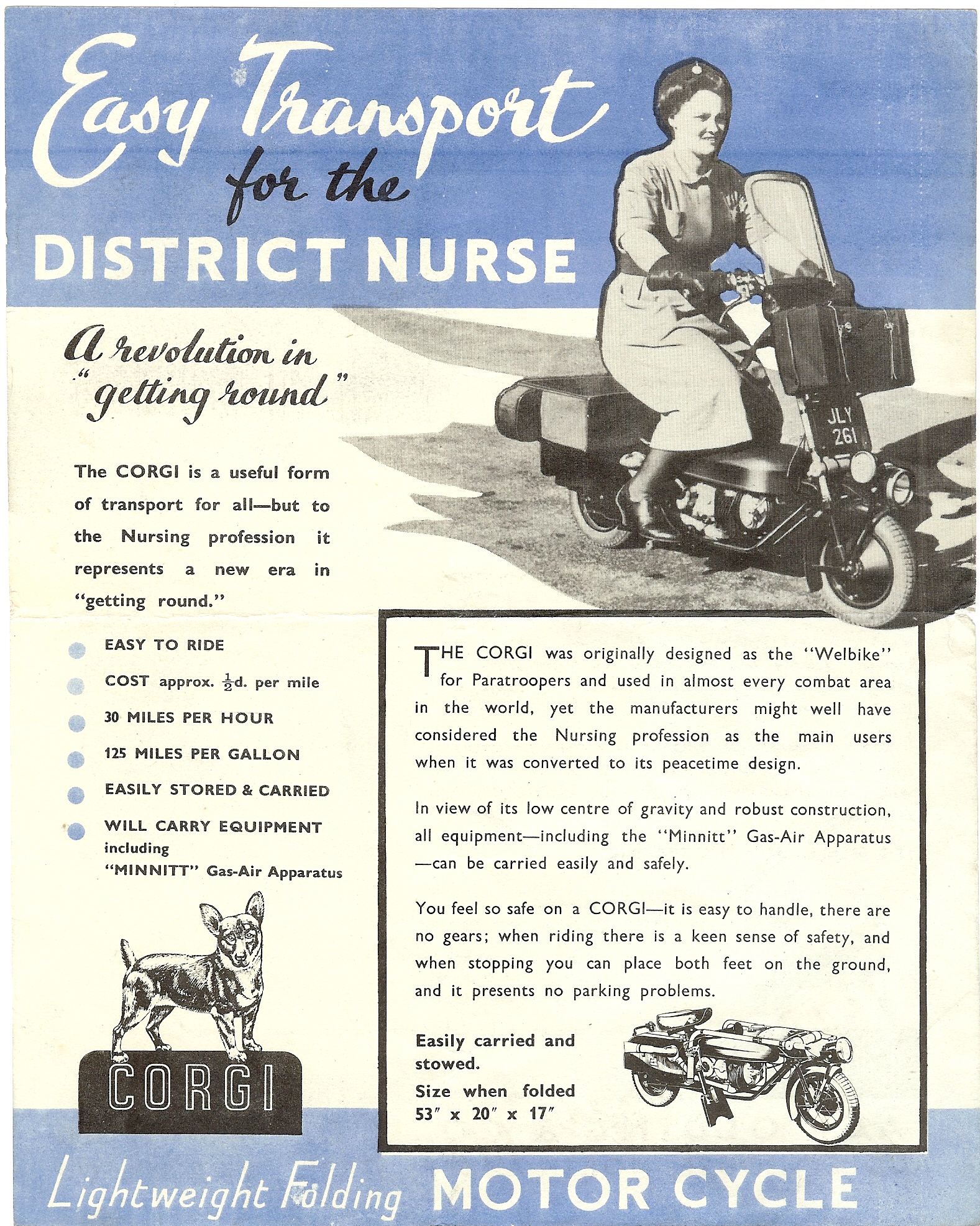 It is still possible to buy a Welbike if you have a need for small light transport or are interested in World War II oddities. Welbike UK Limited make Welbikes and parts for them.
You will find the Welbike UK Limited website if you click here.
The Welbike and its sibling the Corgi are an interesting product of Britain's World War II boffins. One has not yet appeared in a James Bond movie although they were created by the guys who inspired Ian Flemings "Q", the boffin responsible for the creation of an Aston Martin DB5 with a passenger ejector seat. So perhaps one should.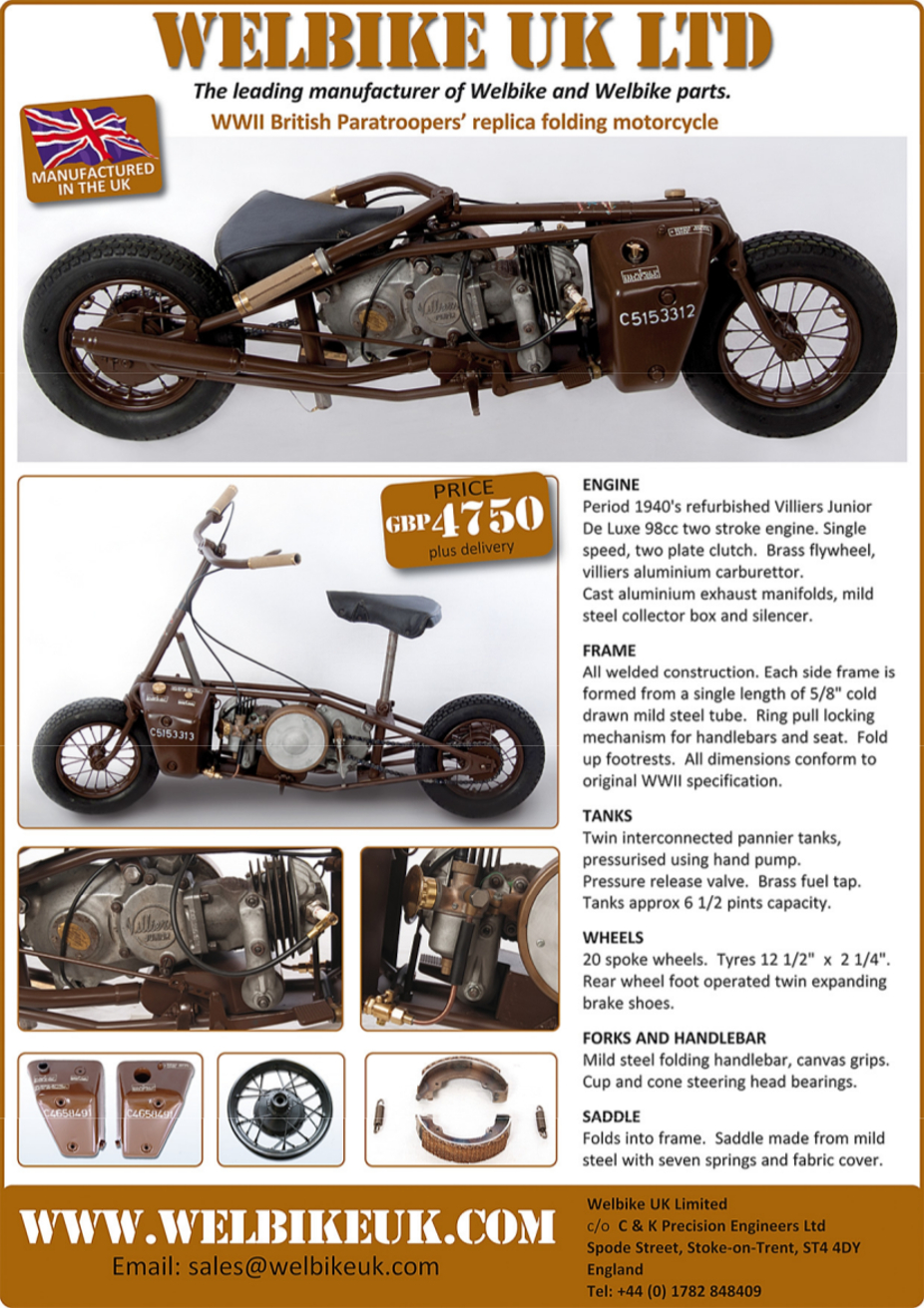 (Feature image at the head of this post courtesy motors-bay.com).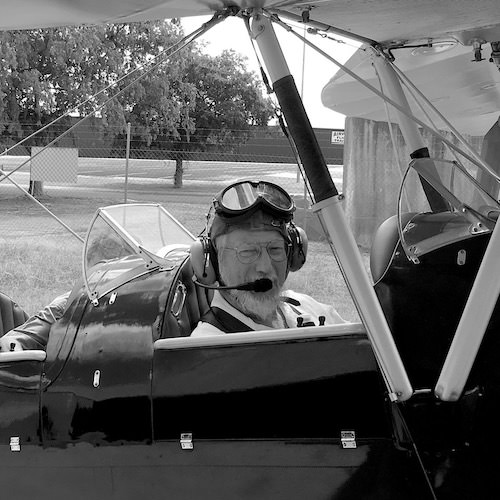 Jon Branch is the founder and senior editor of Revivaler and has written a significant number of articles for various publications including official Buying Guides for eBay, classic car articles for Hagerty, magazine articles for both the Australian Shooters Journal and the Australian Shooter, and he's a long time contributor to Silodrome.
Jon has done radio, television, magazine and newspaper interviews on various issues, and has traveled extensively, having lived in Britain, Australia, China and Hong Kong. His travels have taken him to Indonesia, Israel, Italy, Japan and a number of other countries. He has studied the Japanese sword arts and has a long history of involvement in the shooting sports, which has included authoring submissions to government on various firearms related issues and assisting in the design and establishment of shooting ranges.