Most people have heard of a sidelock action and a boxlock action for a double barrel rifle or shotgun: but not everyone has heard of a droplock action. The droplock action was created and patented by British gunmaker Westley Richards back in 1897 and it is arguably the one genuinely viable alternative to the sidelock. The droplock action has been kept intentionally simple: the parts of each lock being the lock plate, cocking lifter, hammer, mainspring, sear and sear spring. The left and right droplock assemblies can be removed by opening the floorplate under the action and dropping them out. The locks can only be re-assembled in the correct way: and the system provides a way to disable the gun or rifle for transport, and of course to clean it easily.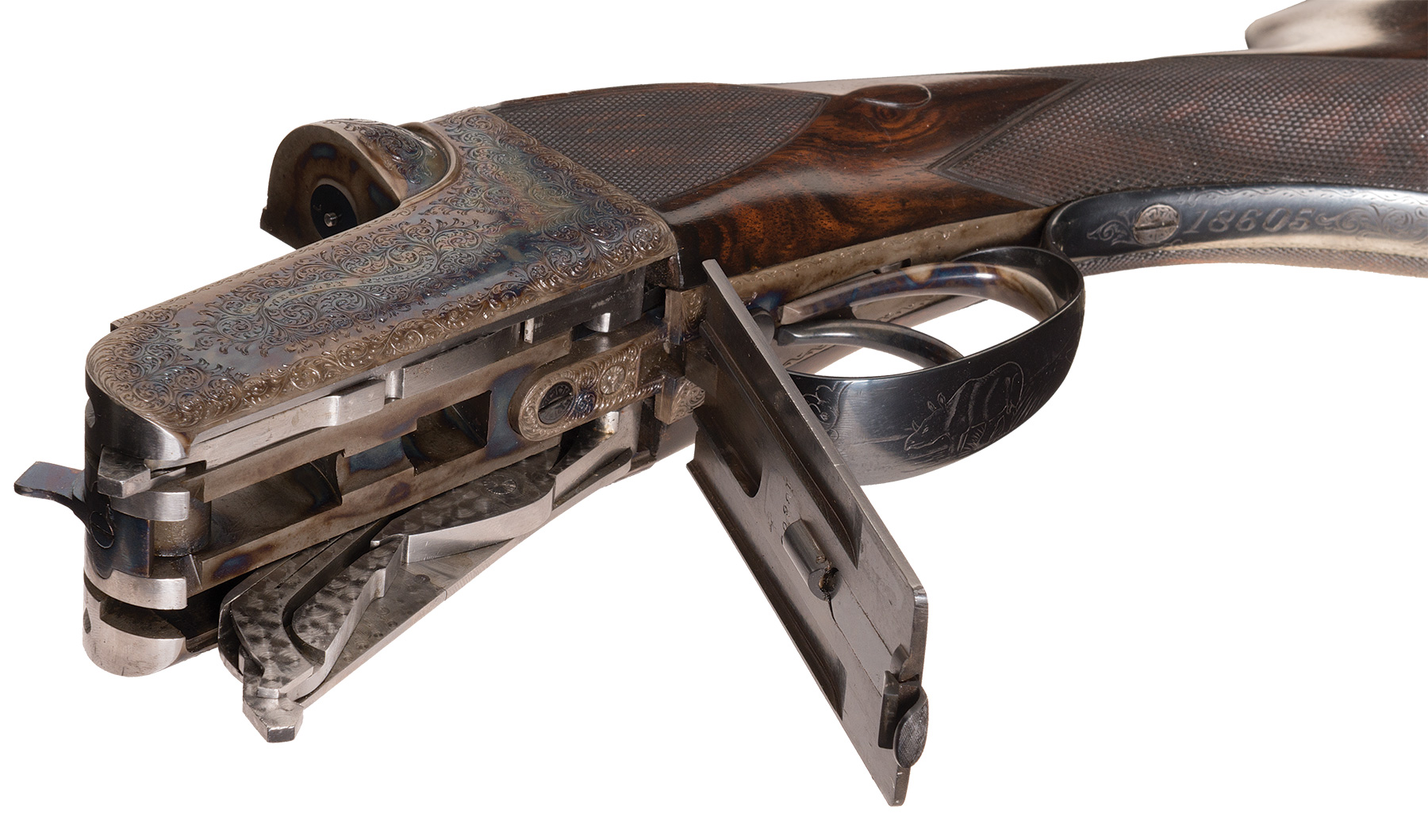 The droplock action has been a hallmark of London gunmaker Westley Richards and it is still in production both for shotguns and double rifles. Westley Richards have been one of the top gunmakers in London along with Holland & Holland, Purdey, Rigby, and Anderson Wheeler. They have a long tradition of supplying sporting arms, including dangerous game rifles, for over two centuries, and their arms have been used by many famous people, including Karen Blixen of "Out of Africa" fame.

The double rifle we are featuring in this post was made during the reign of British King George V who was on the throne from May 6th, 1910 until January 20th, 1936. He was succeeded by his son George VI who was the subject of the movie "The King's Speech". So this double rifle was made sometime between 1910-1936. The rifle has two barrel sets, one chambered for the .500 Schuler (aka .500 Jeffery), and the other in .458 Winchester Magnum. As the .458 Winchester Magnum was not introduced until 1956 we can be sure the second barrel set was made for the rifle after then and in fact it is proof-marked 1975. This would have been necessary because British ammunition maker Kynoch ceased making the cartridges for large dangerous game rifles by about 1970 and from then on the .458 Winchester Magnum became the only over .40 caliber big game cartridge available until the revival of interest in big game rifles and hunting that has occurred in recent years.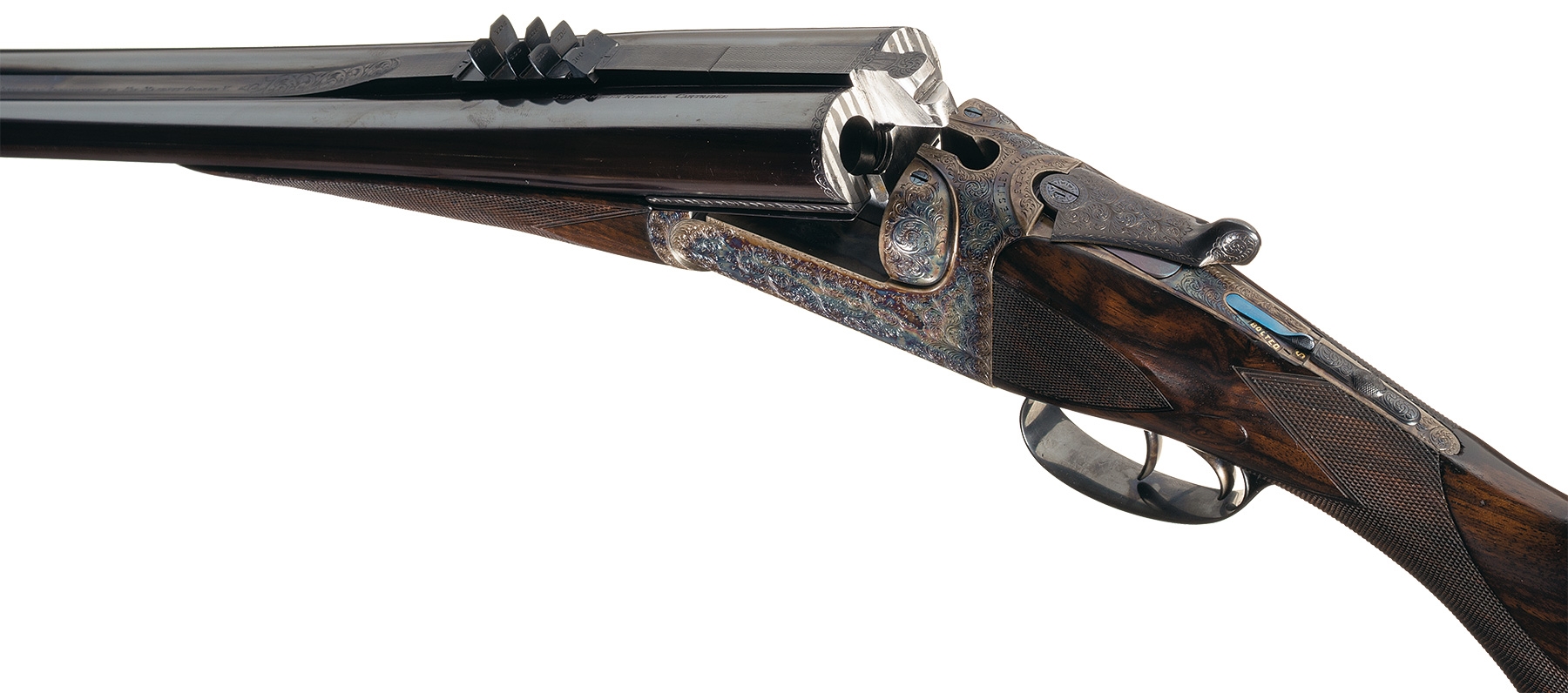 This Westley Richards rifle is something of a curiosity however as the .500 Schuler (.500 Jeffery) was a rimless cartridge made for bolt action magazine rifles, similar in power to the rimmed .500 Nitro Express, and the .500 Nitro Express would have been a more sensible choice for this double rifle. Use of a rimless cartridge in a double rifle means that a special spring loaded extractor is required similar in function to the extractors on push-feed bolt action rifles. The other issue with a rimless cartridge in a double rifle is that rimless or belted cartridges work at the higher breech pressures suited to a bolt action, and those higher pressures can make a fired case more difficult to extract, especially in the hot climates typical in Africa or Asia. This is likely one of the reasons this rifle is fitted with ejectors. Ejectors were not necessarily favored by professional hunters for the simple reason that they are noisy and provide a lion or tiger a fix on your location as soon as you open your rifle and the ejectors click as they eject fired cases.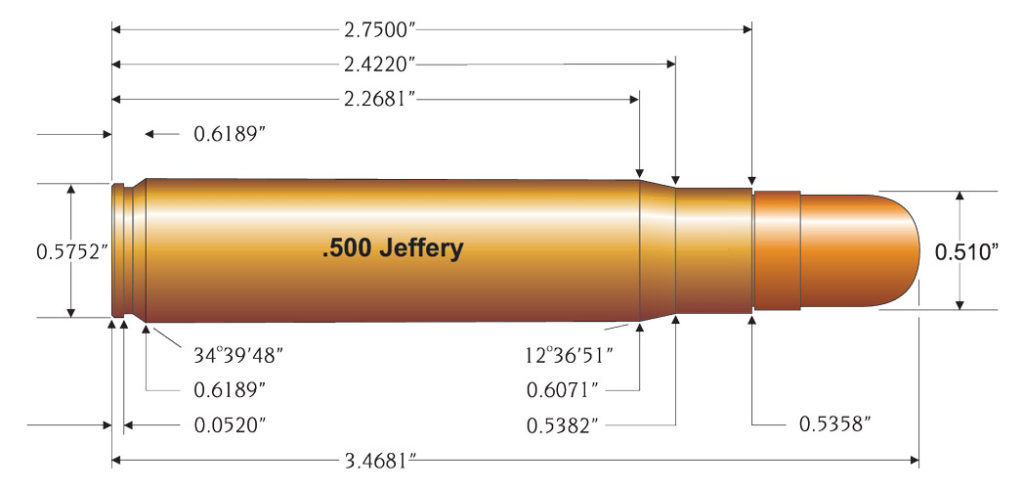 The original barrels of this double rifle are marked ".500 SCHULER RIMLESS CARTRIDGE" (The .500 Schuler being same cartridge as the .500 Jeffery). August Schuler was a well known German gunmaker who was also responsible for the creation of the 6.5x68mm Schuler which is ballistically about the same as the .264 Winchester Magnum but which was introduced in the 1930's.
The original .500 Schuler/.500 Jeffery fired a 535 grain bullet over 95 grains of Cordite to provide a muzzle velocity of 2,400fps. There was another higher pressure loading which used a 530 grain bullet over 118 grains of Cordite for a slightly higher velocity, and this double rifle is regulated for that higher pressure/velocity cartridge. By comparison the .500 Nitro Express fired a 570 grain bullet at 2,150fps. In choosing to have his double rifle chambered for the highest velocity loading of the .500 Schuler the buyer of this rifle appears to have been looking for the maximum velocity and stopping power possible.

Another interesting feature of the .500 Schuler barrel set is that it is fitted with a set of folding leaf rear sights graduated 200, 300, 400 and 500 yards. So the person who ordered this rifle expected it to be able to be used out to 500 yards, presumably on large African plains game. By contrast the barrel set chambered for .458 Winchester Magnum has folding leaf rear sights graduated 50, 100 and 200 yards, which seems much more practical.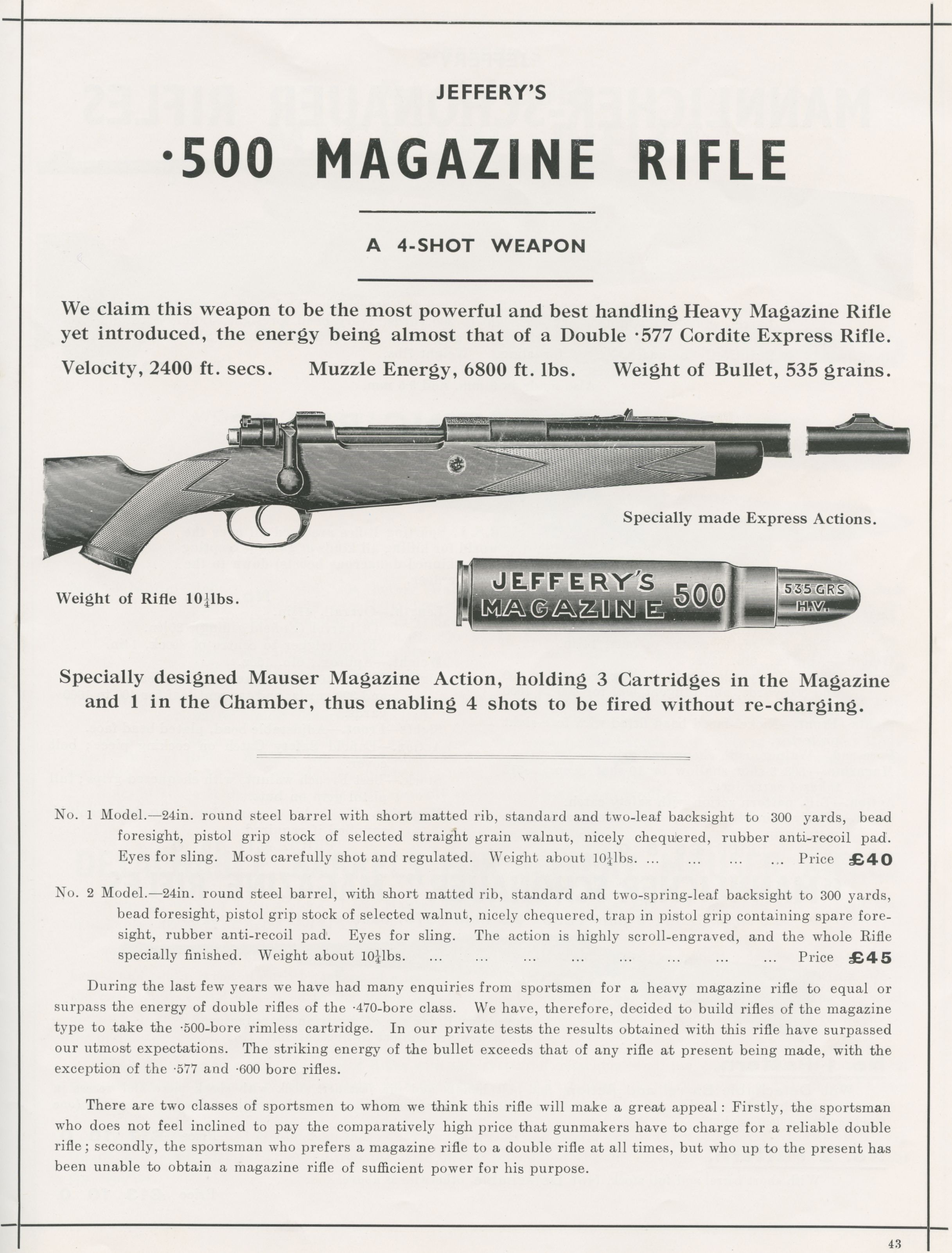 Getting back to the unusual .500 Schuler loading for this double rifle, that of a 530 grain bullet propelled by 118 grains of Cordite, we wonder if this was a special proprietary Westley Richards loading for this caliber? Such a loading should have been capable of driving a 530 grain bullet at a velocity of at least 2,500fps, and a pointed higher ballistic coefficient bullet could have given it a long range ability. One photograph I came across that caught my interest is the one below. Westley Richards were famous for their metal capped projectiles designed by employee Leslie B Taylor, and these bullets appeared in their Explora guns and big game rifles.

So if any of you reading this has information on this loading we would much appreciate it so we can make this post more accurate and informative.
This Westley Richards double rifle is a fascinating piece that presents a mystery to solve, and it is also an excellent rifle both as a collector rifle and as a rifle that can be taken on safari and used. The .500 Schuler barrel set can nowadays be used as ammunition is once again being made by a number of manufacturers including Norma. So this rifle, which is more powerful than a .500 Nitro Express with its .500 Schuler barrels, is an ideal arm for Africa's Big Five. Yet the rifle has the advantage of also having a matched set of .458 Winchester Magnum barrels that are regulated for the 500 grain bullet and proof marked from 1975. The .458 Winchester Magnum generates less recoil than the .500 Schuler and the ammunition is somewhat less expensive, so this enables this double rifle to be used both for training as well as on Safari.
The .500 Schuler barrels are 24″ long and when fitted the rifle weighs 11 lbs. 15 oz. Calculated recoil energy is just under 73 ft/lb.
The .458 Winchester Magnum barrels are 22″ long and when fitted the rifle weighs 11 lbs. 12 oz. Calculated recoil energy is 51 ft/lb.

This rifle is coming up for sale by Rock Island Auction at their April auction and will be offered for sale on April 14th, 2018.
Rock Island Auction describe the condition of this rifle as follows: "Professionally refurbished by the factory and excellent overall. The finish on the 24 inch barrels is fading to a plum color, engraving remains clear. The 22 inch barrels retaining nearly all their original blue finish and have crisp engraving throughout. Action retaining nearly all its casehardened and blued finish, engraving slightly softened. Stock refinished, checkering crisp. Mechanically fine. Provenance: William J. Feldstein Collection, purchased from Griffin & Howe in 1985; Robert M. Lee Collection."
You will find the sale page for this rifle with further details if you click here.
The expected sale price for this rifle is in the range USD$50,000 – $75,000
This rifle has great potential and we hope it goes to a home where it will be thoroughly researched, and well used in the field. It is one of those rifles that could become a much valued companion on safari, and a carrier of fond memories of hunts enjoyed and the people that made them possible.

(All pictures courtesy Rock Island Auction unless otherwise marked).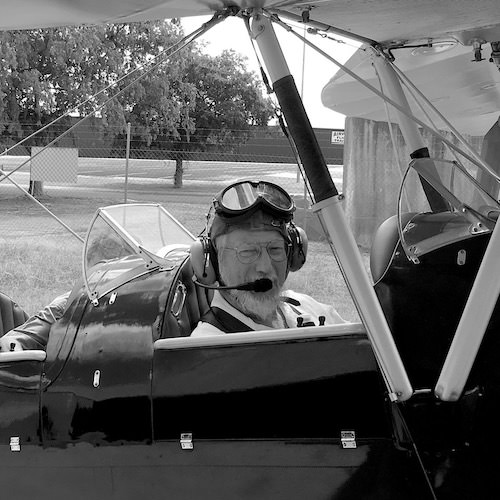 Jon Branch is the founder and senior editor of Revivaler and has written a significant number of articles for various publications including official Buying Guides for eBay, classic car articles for Hagerty, magazine articles for both the Australian Shooters Journal and the Australian Shooter, and he's a long time contributor to Silodrome.
Jon has done radio, television, magazine and newspaper interviews on various issues, and has traveled extensively, having lived in Britain, Australia, China and Hong Kong. His travels have taken him to Indonesia, Israel, Italy, Japan and a number of other countries. He has studied the Japanese sword arts and has a long history of involvement in the shooting sports, which has included authoring submissions to government on various firearms related issues and assisting in the design and establishment of shooting ranges.