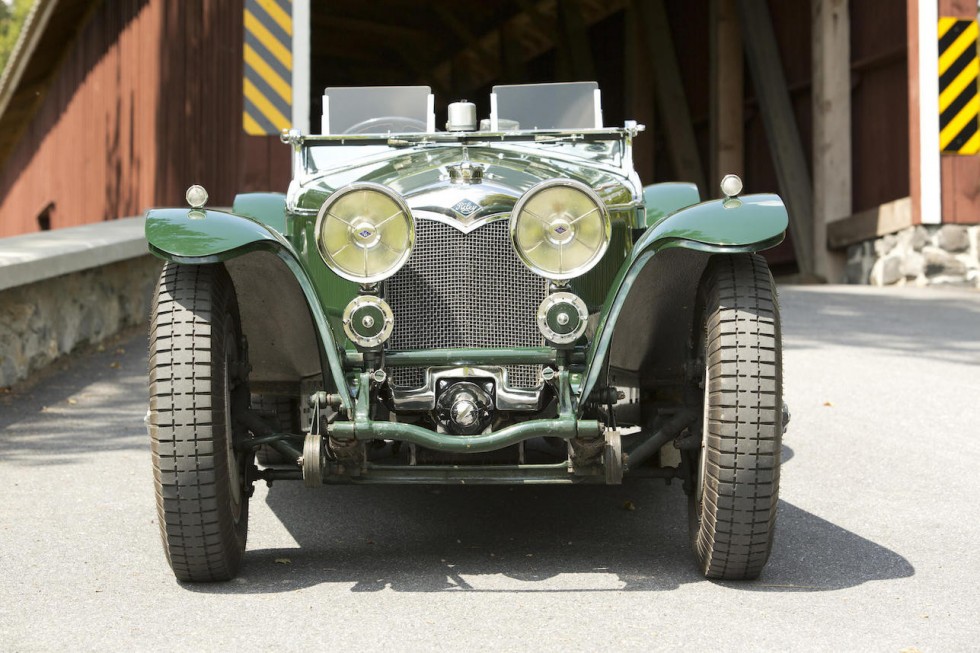 The Riley MPH that GM executive Bob Lutz lusted after as a sixteen year old teenager is finally coming up for public auction. One of sixteen Riley MPH known to have been made this car was purchased new by a gentleman named Jakob Waeny who was the Riley importer for Western Switzerland. Originally painted red the car was delivered prepared for competition use and even so Mr. Waeny appears to have had the car's engine upgraded to a 15/6 of the Rose design early in his ownership.
The engine in the car is a 1,726cc, OHV Inline 6-Cylinder breathing through twin SU carburettors and delivering 70bhp at 4800rpm. The engine drives the car through a Wilson pre-selector four speed gearbox as was commonly fitted on Riley cars of the period as an option (a conventional four speed "crash" gearbox being the alternative). The Wilson pre-selector gearbox makes gearchanging easier and faster so these were common equipment on Rileys, especially those intended for competition use.
The picture above illustrates the Wilson pre-selector gear lever to the right of the steering column. The gear layout can be seen to be from the top 4,3,2,1,N,R. In a previous post on another Riley equipped with a Wilson pre-selector gearbox we included the instructions on how to drive one from the 1946 edition of "Motor Driving Made Easy" published by the Autocar Technical Staff and you'll find that post if you click here.
The Riley MPH was built on an ash wood frame with aluminium body panels. The MPH was based on the Riley created for the 1933 TT races and had solid axles front and rear with half-elliptic leaf springs, the rear axle being set underneath the chassis to lower the car as much as possible.
Brakes of the MPH were 11″ drums and provided a very efficient system for a thirties vintage car. All in all this was a car that could and did take on the best that Europe could throw at it. With Mr. Jakob Waeny at the helm the car was raced in 1936 in the Preis von Bremgarten in Switzerland and came second to an Alfa Romeo 6C 1500 driven by a Mr. de Graffenreid.
This car is coming up for auction by Bonhams on 10th March 2016 and you will find further information on the Bonhams auction page if you click here.
Rileys are amongst the nicest of all the British car marques, they have a delightfully British character about them, an air of individuality. This Riley MPH has a rather large dose of that tasteful individuality and is no doubt a fabulously enjoyable car to drive.
You'll find a short video of one in action below.