Back in 1935 having a car, or a motorcycle that was capable of doing one hundred miles per hour or "the ton" as it used to be called, was a big deal. Nowadays it is a level of performance that many of us take for granted. In fact many modern cars are quite comfortable cruising at one hundred miles per hour and with their independent suspensions and four wheel disc brakes can do so completely safely. But in the thirties a car that could do the "ton" was the exception.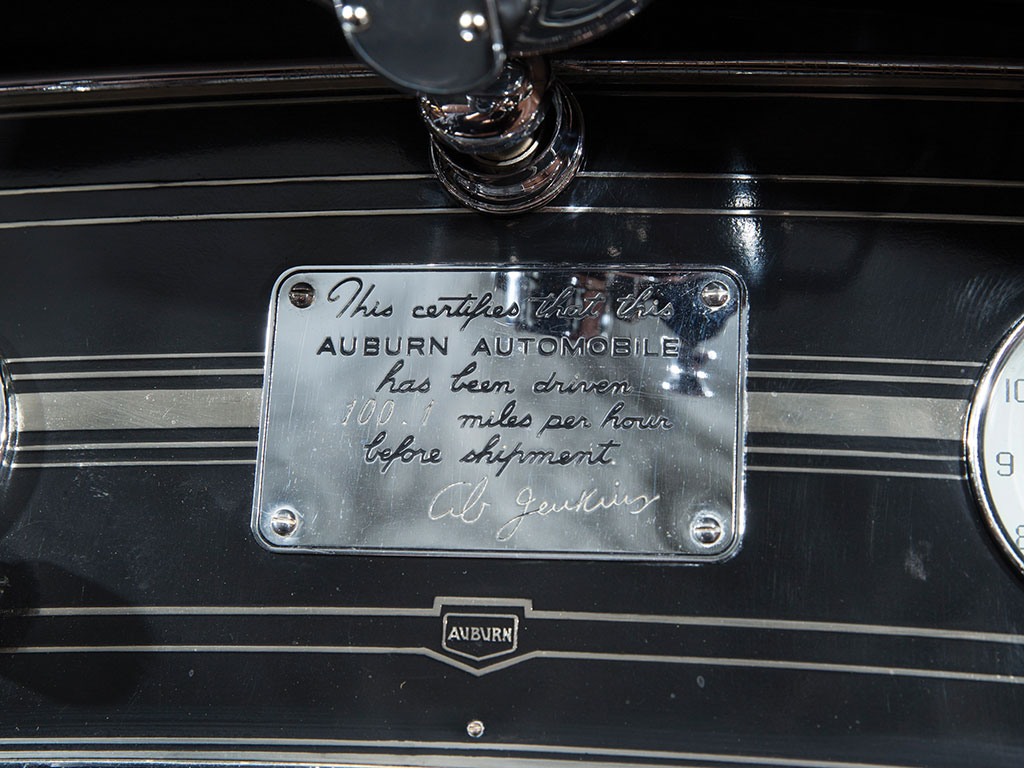 So for the Model 851 Supercharged Auburn Speedster to proudly proclaim via a plaque on the dashboard of every car that this car had been driven at over 100 miles per hour before delivery was a bold claim and a convincing sales enhancement. Every supercharged Auburn Speedster had this plaque, signed by speed record holder David "Ab" Jenkins testifying to this capability.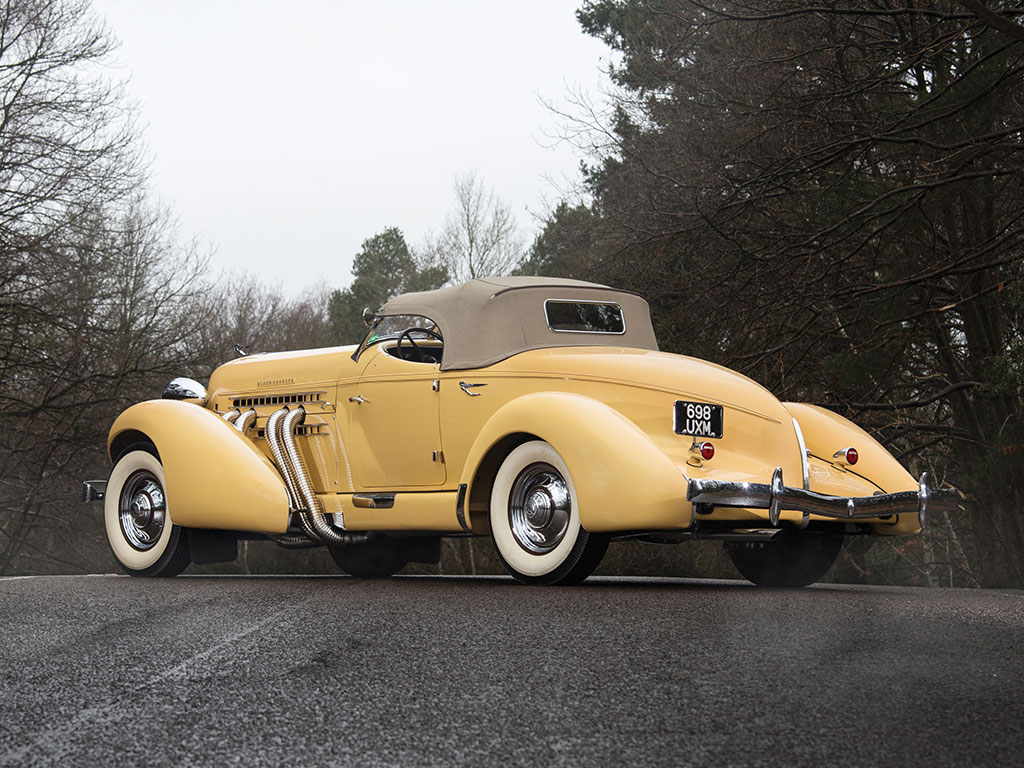 Certainly the Model 851 Auburn Speedster with its body design by Gordon Buehrig even looks fast when standing still, but it also looks stable, as if it can be driven flat out and remain completely controllable. With their 280 cu. in. straight eight Lycoming engine with its Schwitzer-Cummins centrifugal supercharger producing 150bhp the Auburn Speedsters certainly had the power to live up to their claim. But they also had a sleekness that was unusual even in the thirties, they are a car whose styling sits between the conventional looks of the cars of the twenties and the very different looks of the cars of the forties. They are a car that somehow manages to look "modern" even today, like something a specialist builder would create as a concept car or limited production hand built masterpiece.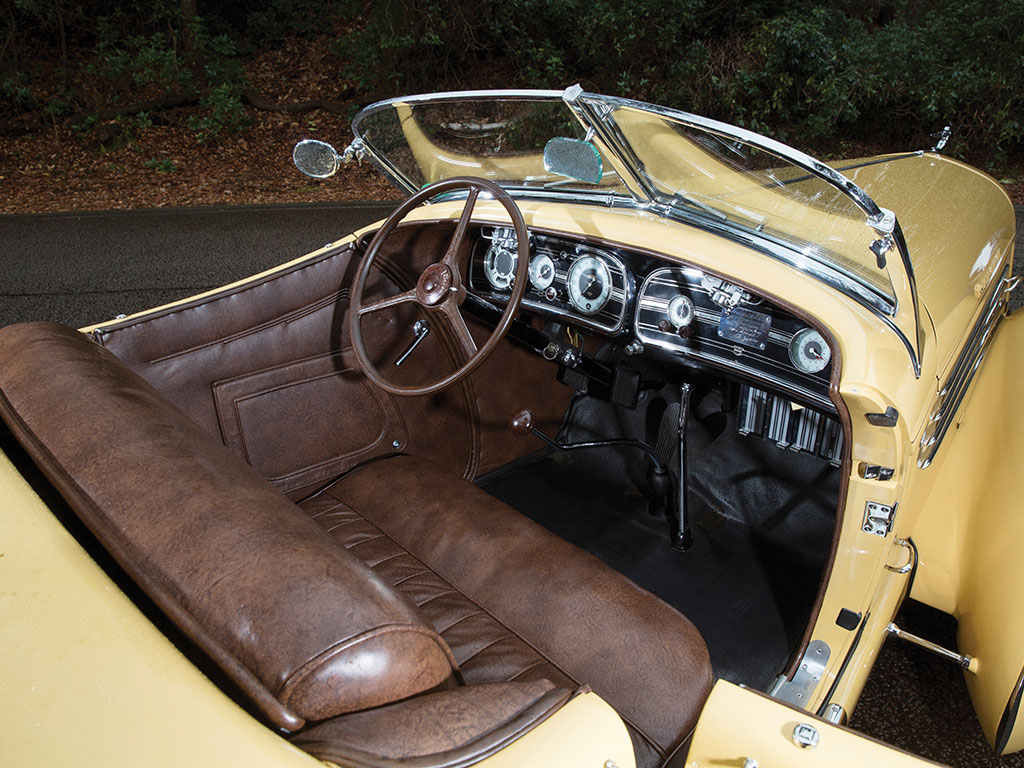 The interior of a car is often one of its strongest selling points and the Model 851 Auburn Supercharged Speedster did not disappoint. It's seating was luxurious, driving position good by comparison with other cars of this era, it was built as a prestige driver's car. The three speed gearbox being augmented by a Columbia dual-ratio rear axle giving the driver six gear ratios to choose from, although the driver would have no need to split shift through all six gears to drive the car to its full potential. The two speed differential being primarily used to differentiate between town driving for which a 4.5:1 was provided and open road country driving for which the ratio was 3:1. The two speed differential was innovative using an epicyclic gear train between the axle and the crown wheel. So to shift the driver simply needed to operate the lever mounted in the centre of the steering wheel whilst depressing the clutch as one does for a conventional gear change. The two speed rear axle being similar in its operation to the "split differential" found on some older models of truck. This added a sense of technical specialness with this feature other cars typically did not have.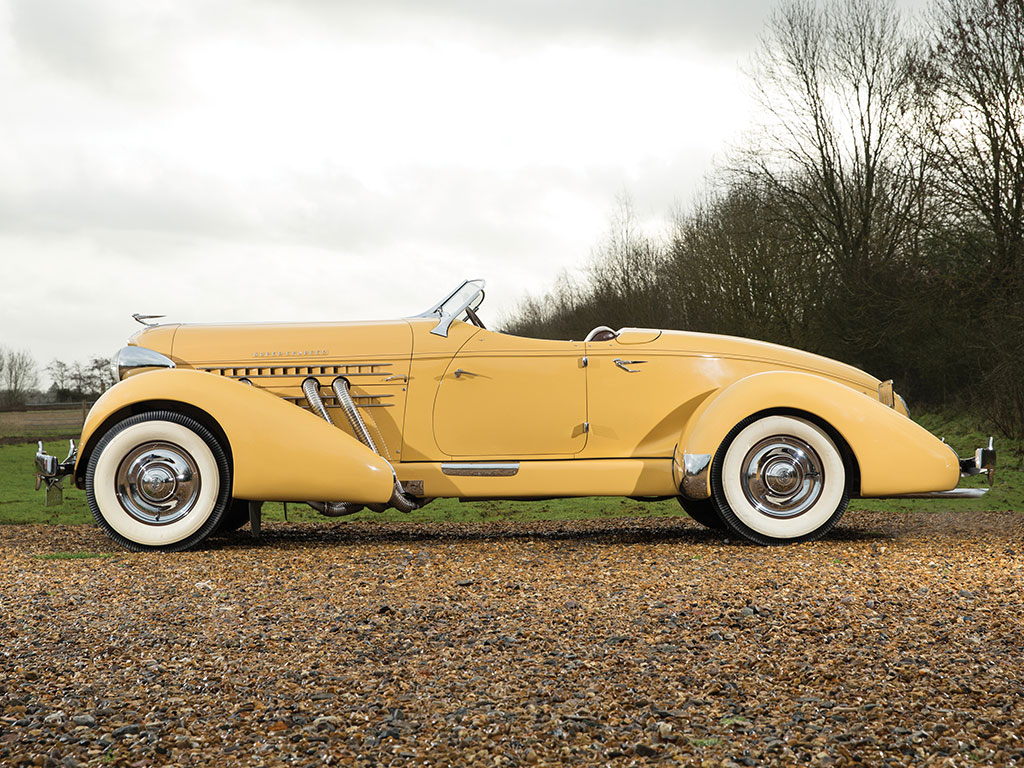 Underneath that svelte art deco bodywork the actual mechanics of the Auburn Speedster was really quite conventional. The flathead straight eight engine was not highly stressed even with its supercharger. The suspension was by semi-elliptic leaf springs with live axles. Brakes were hydraulically operated Lockheed drums.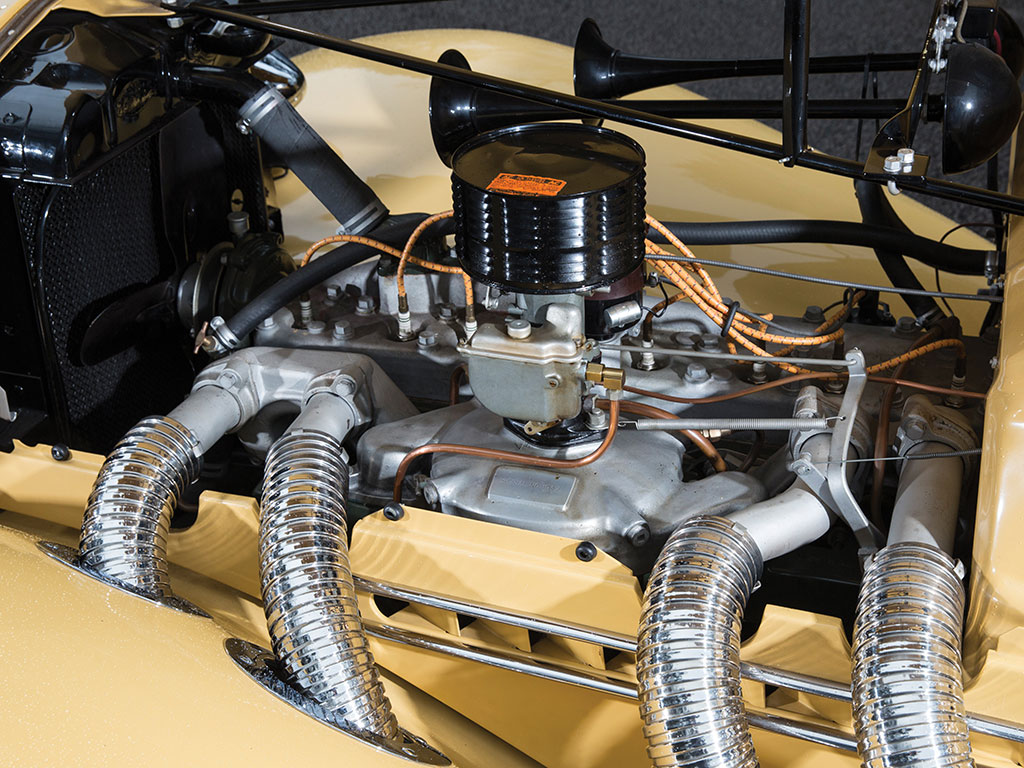 So Auburn's Model 851 Speedster was a styling work of art sitting on top of very conventional hardware with some additional technical features to set it apart as something special and desirable.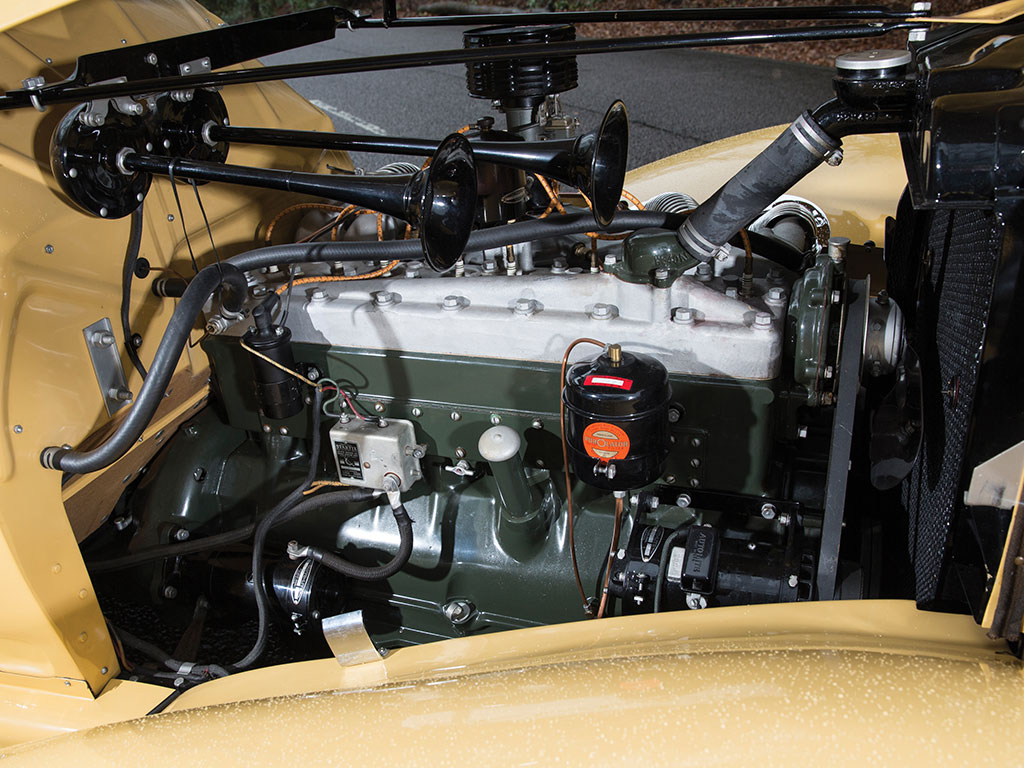 The "cigarette cream" Model 851 Auburn Supercharged Speedster we are featuring is coming up for auction by RM Sotherby's at their Amelia Island auction on 12th March 2016.
You will find the RM Sotherby's auction page for this car with its full details if you click here.
Auburn's Model 851 Supercharged Speedster was the second last car Auburn produced. Its successor, the Model 852 being identical with the Model 851 other than the badge on the front. Auburn ceased production in 1937 but their cars are head turners even today when people are no longer amazed at a car that can do one hundred miles per hour. The Auburn has a unique character that modern cars cannot match, even if they can go faster.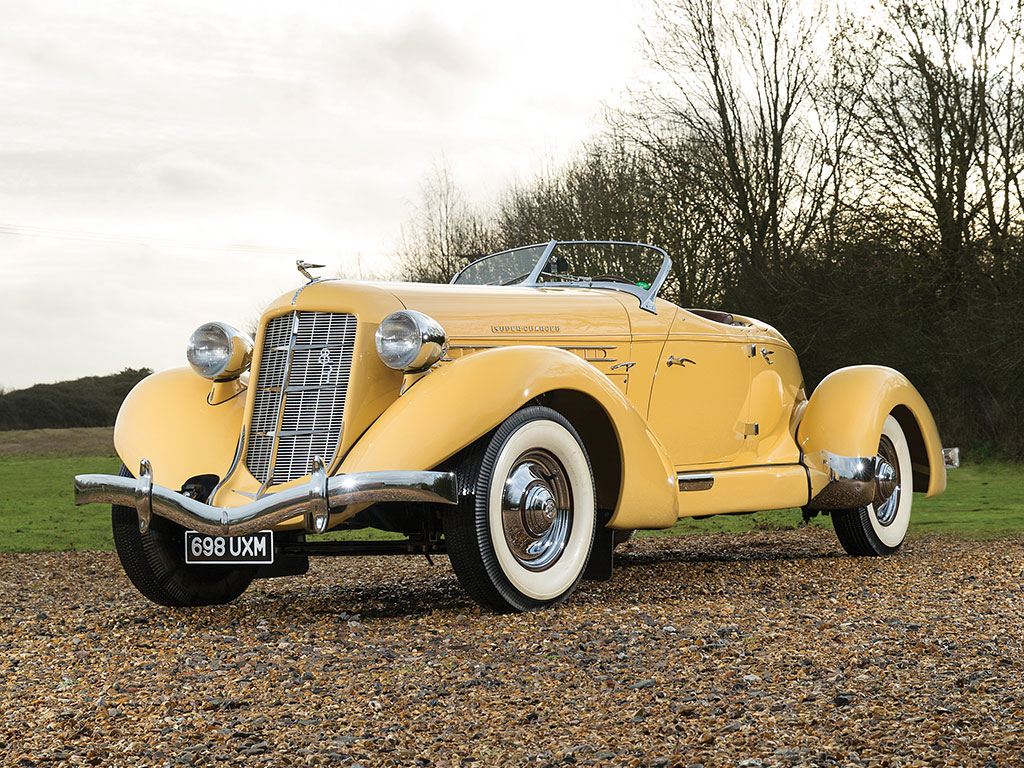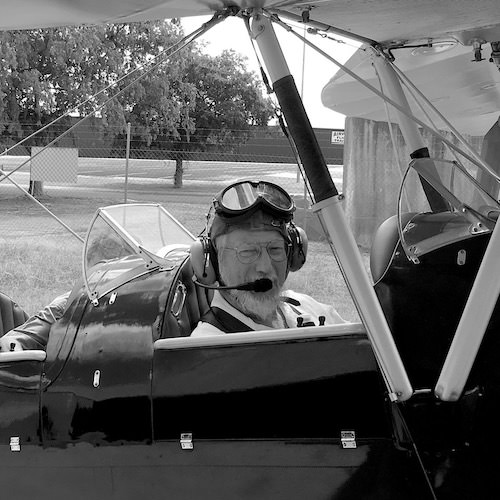 Jon Branch is the founder and senior editor of Revivaler and has written a significant number of articles for various publications including official Buying Guides for eBay, classic car articles for Hagerty, magazine articles for both the Australian Shooters Journal and the Australian Shooter, and he's a long time contributor to Silodrome.
Jon has done radio, television, magazine and newspaper interviews on various issues, and has traveled extensively, having lived in Britain, Australia, China and Hong Kong. His travels have taken him to Indonesia, Israel, Italy, Japan and a number of other countries. He has studied the Japanese sword arts and has a long history of involvement in the shooting sports, which has included authoring submissions to government on various firearms related issues and assisting in the design and establishment of shooting ranges.