During the 1930's Mercedes-Benz were designing and manufacturing cars in the environment of Nazi Germany and, as Adolf Hitler was a car enthusiast (albeit one who could not drive) there were significant influences placed upon the design team and engineers to create cars that fitted in with the National Socialist Party's plan for Germany, which included a national network of high speed roads called Autobahns, and the vision that motor car ownership would become widespread. Inherent in all this was the influence of Dr. Ferdinand Porsche and his ideas about design which had been established during his time at Mercedes-Benz during the twenties. For an example of this see our previous post on a 1926 Mercedes-Benz Model K.
Thus it was during the 1930's that there was something of a tug-o-war between Hitler, and Dr. Porsche's preference for rear engine cars and the automotive engineering establishment that favored conventional designs. (You will find our previous article for Hagerty Insurance on the pre-war rear engined Mercedes-Benz if you click here). It was a contest that was to be won and lost in the car showrooms. What would the buyers choose?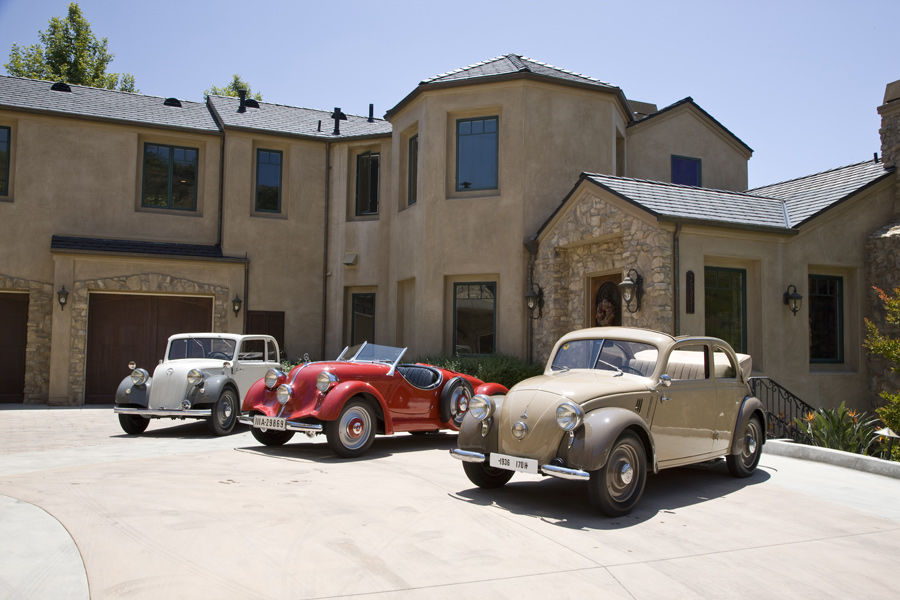 The three rear engined Mercedes-Benz, the 130, the mid-engined 150, and the rear engined 170H were the unconventional cars in direct competition with the conventional Mercedes-Benz 170V. For the Mercedes-Benz 170V Sports Roadster we are featuring the most direct competition was with the mid-engined Mercedes-Benz 150.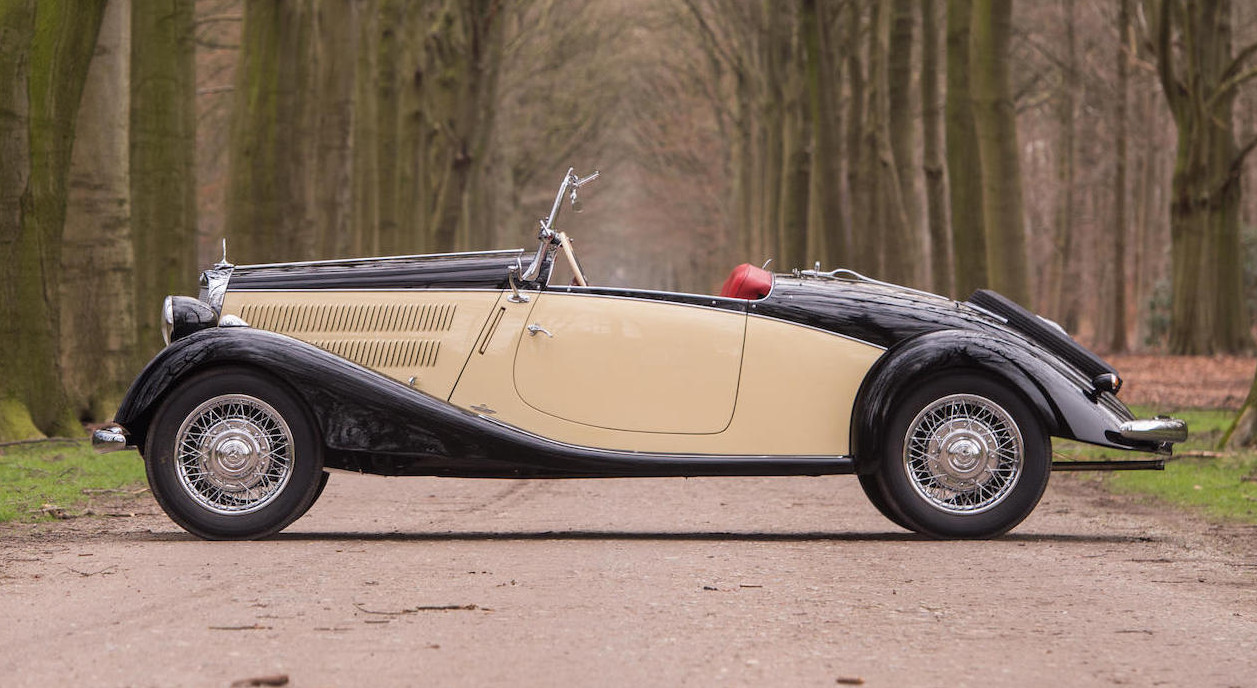 Although the 170V seems to be a conventional car at first glance we quickly find as we look underneath the coachwork that it is rather more technically advanced that we might first imagine, and we will also discover that it has a lot in common with its rear and mid-engined rivals.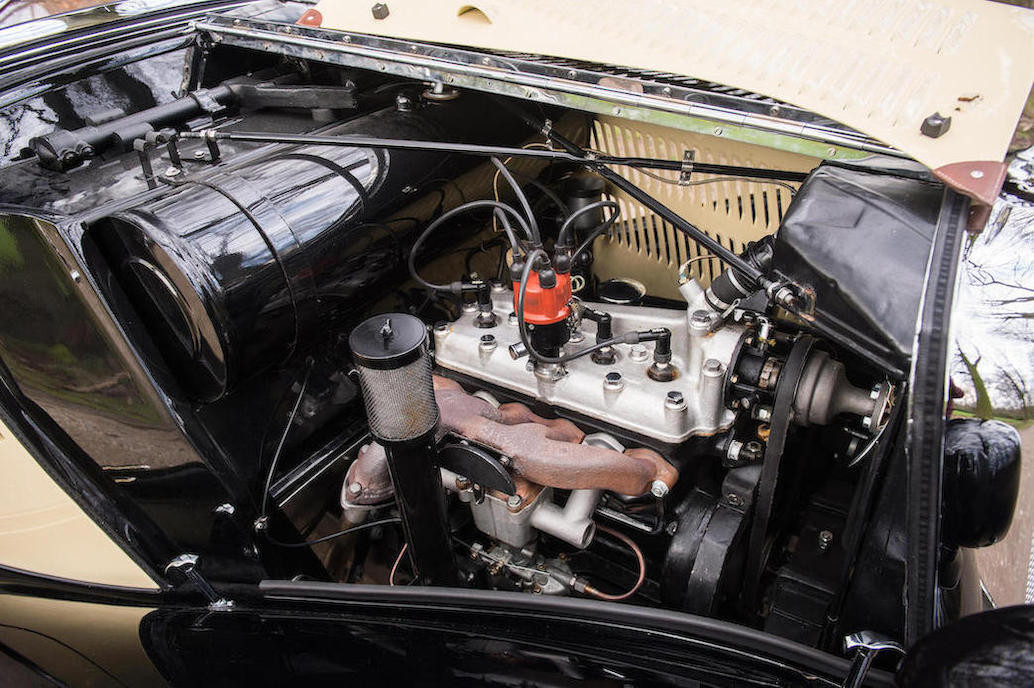 This Mercedes-Benz 170V shares the same engine as the rear-engined 170H. But the similarities don't stop there. Both use a backbone chassis not quite as originally developed by an associate of Dr. Porsche, Austrian engineer Hans Ledwinka.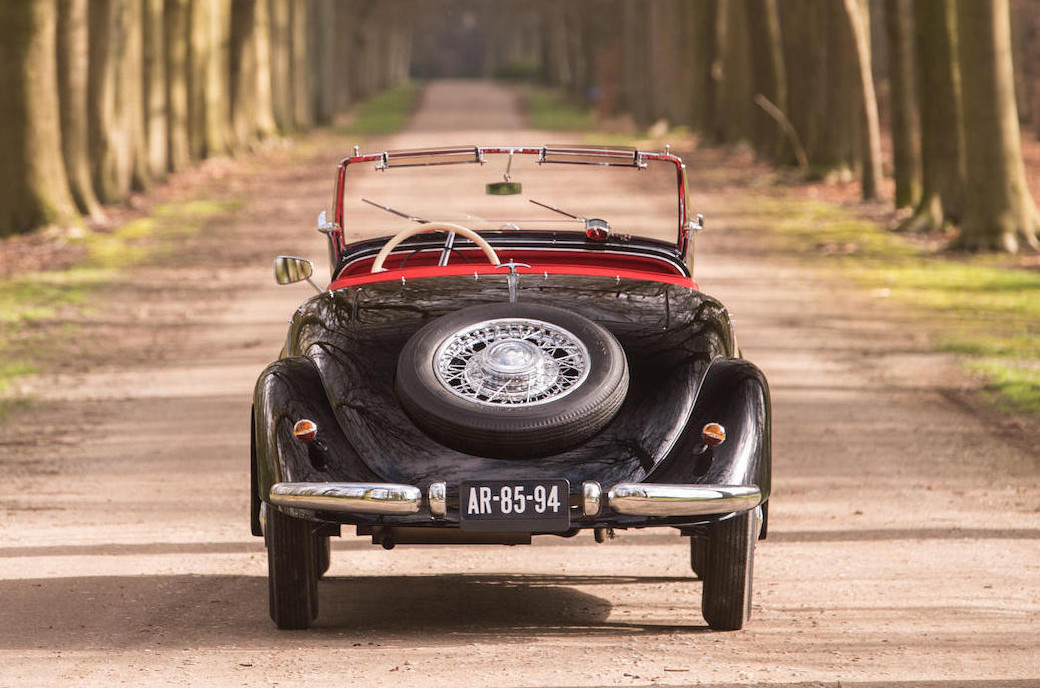 The chassis of the 170V has a twin oval tube backbone onto which the engine, drive-train, suspension and coachwork are all supported.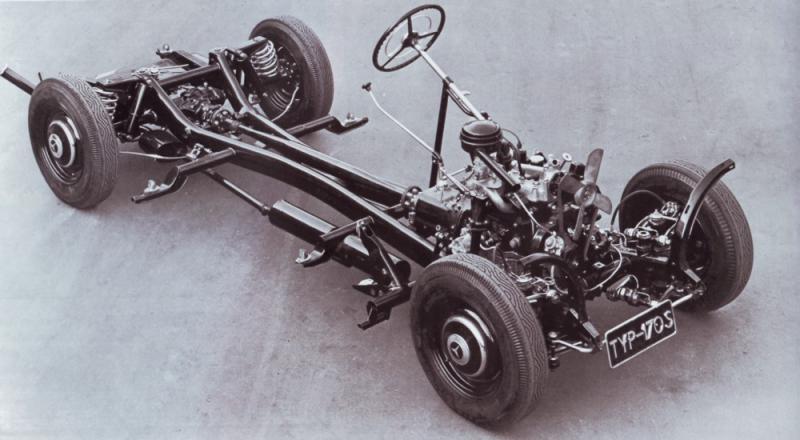 Looking at the rear of the conventional looking 170V we notice that it has four wheel independent suspension, and that the rear suspension uses swing axles as were used on Dr. Porsche's Volkswagen and on the three rear engined Mercedes-Benz. We arrive at the discovery that the chassis and suspension between the rear engined models and the conventional front engined 170V all share the same heritage.
The front suspension of the Mercedes-Benz 170V was independent with transverse leaf springs whilst the rear used coil springs with swing axles and was of the same type as the rear and mid-engined cars. This suspension proved to be stable and provided a high level of ride comfort on the 170V and on the rear engined cars also.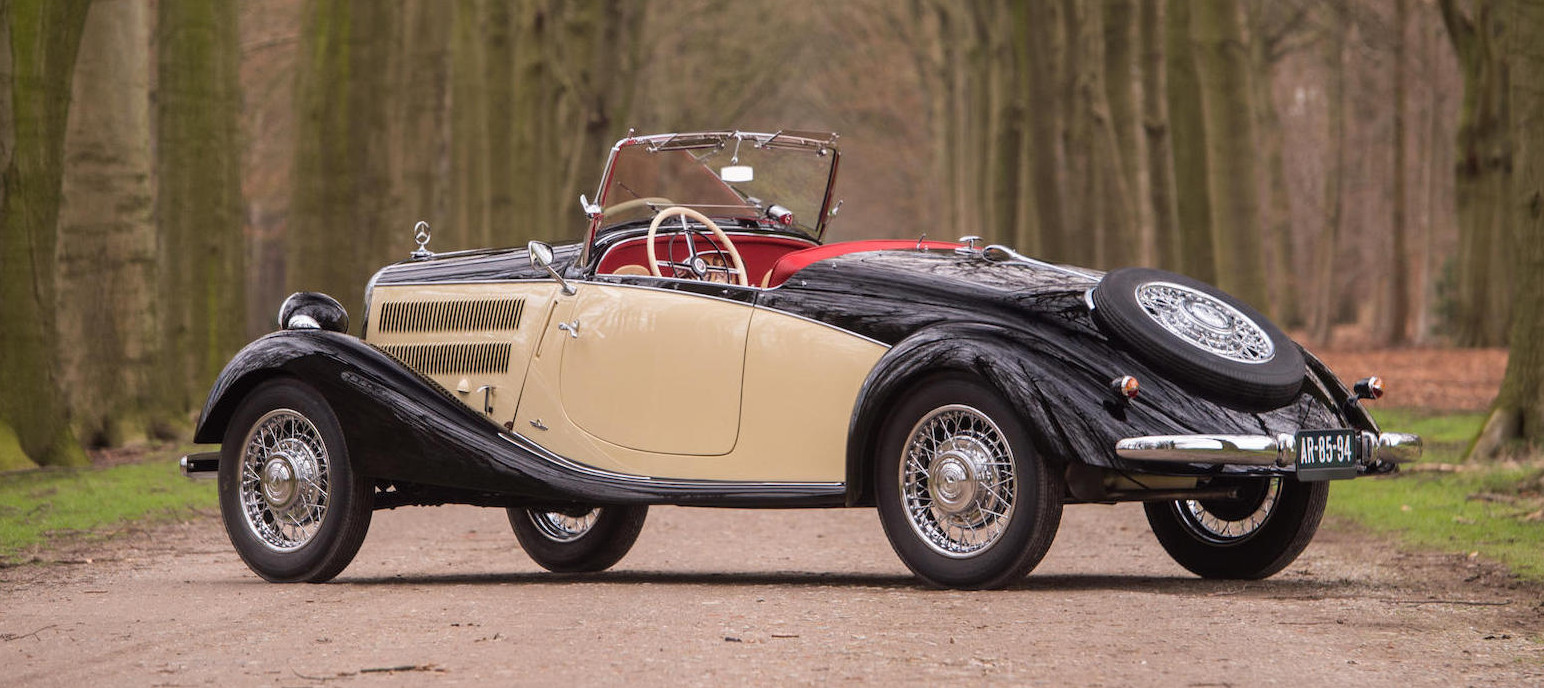 The brakes of the Mercedes-Benz 170V are hydraulically actuated drums all around. So this was a car with impeccable ride quality, excellent and predictable handling, and excellent brakes. Add to this the Mercedes-Benz excellence in build quality and you have a formula that should be a winner in the showrooms. But was it? This Sports Roadster was up against one of the most beautiful and technologically advanced Mercedes-Benz of the thirties, the mid-engined 150.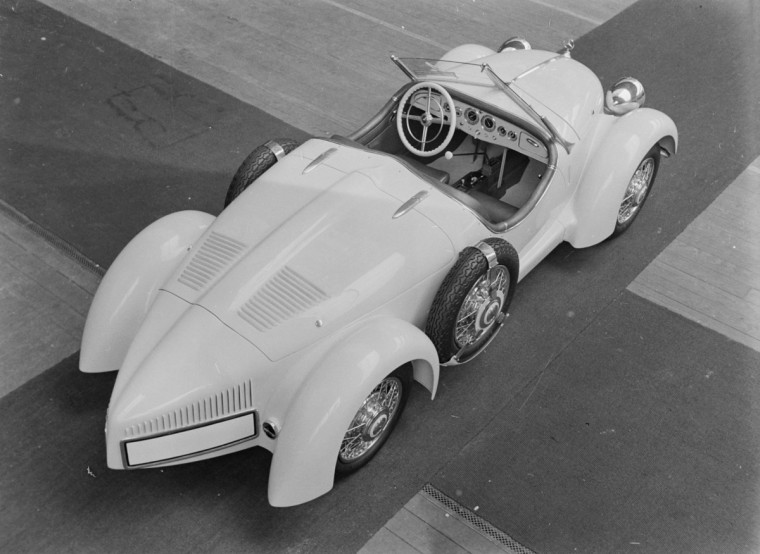 The Mercedes-Benz 150 was significantly more expensive than the 170V, and it also had no luggage space, the front being filled up with fuel tank in the interests of obtaining a near perfect 50/50 front to rear weight distribution. The 150 was a car for the sports afficionado, a car for the romantic at heart. The 170V was a sporty but practical car that had space for luggage and it was a safer choice because of its conventional familiarity. Suffice to say sales of the Mercedes-Benz 170V Sports Roadster beat the imaginative Mercedes-Benz 150 and also its rear-engined siblings by a huge margin. The imaginative and unconventional cars disappeared from production whereas the 170V in its various forms survived the war and remained in production from 1935 until 1955 with a hiatus in production between 1942 and 1947 and in total 158,196 were made.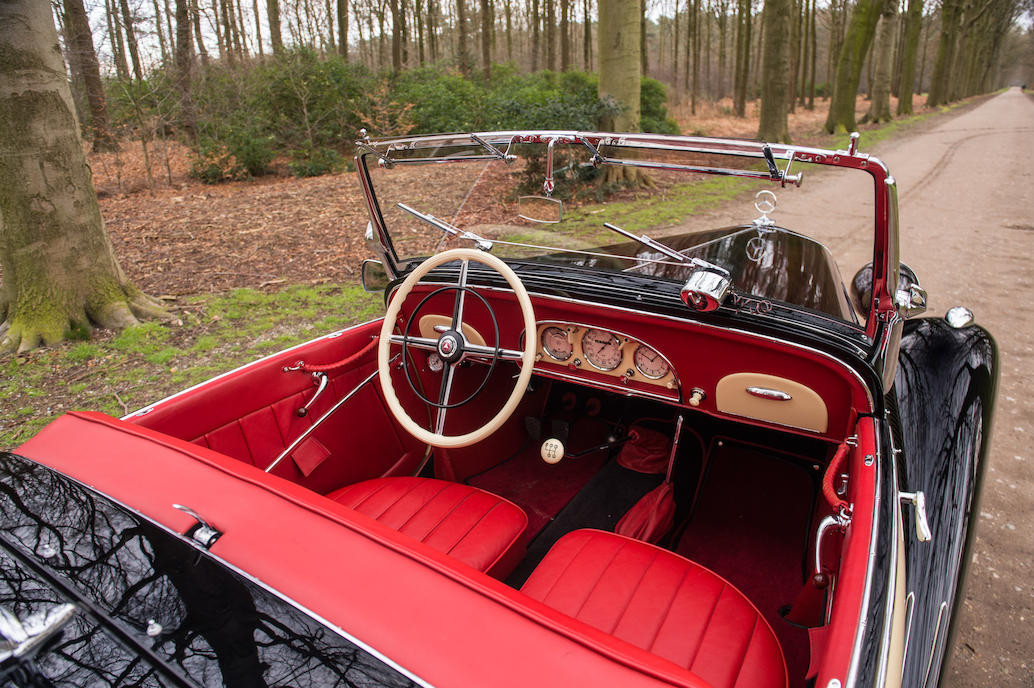 Although a large number of Mercedes-Benz 170V were made few of them were of the Sports Roadster as per our feature car. There were only 271 Sports Roadsters such as our feature car made and of those only 11 are known to still exist. So this pretty car is also a rare car.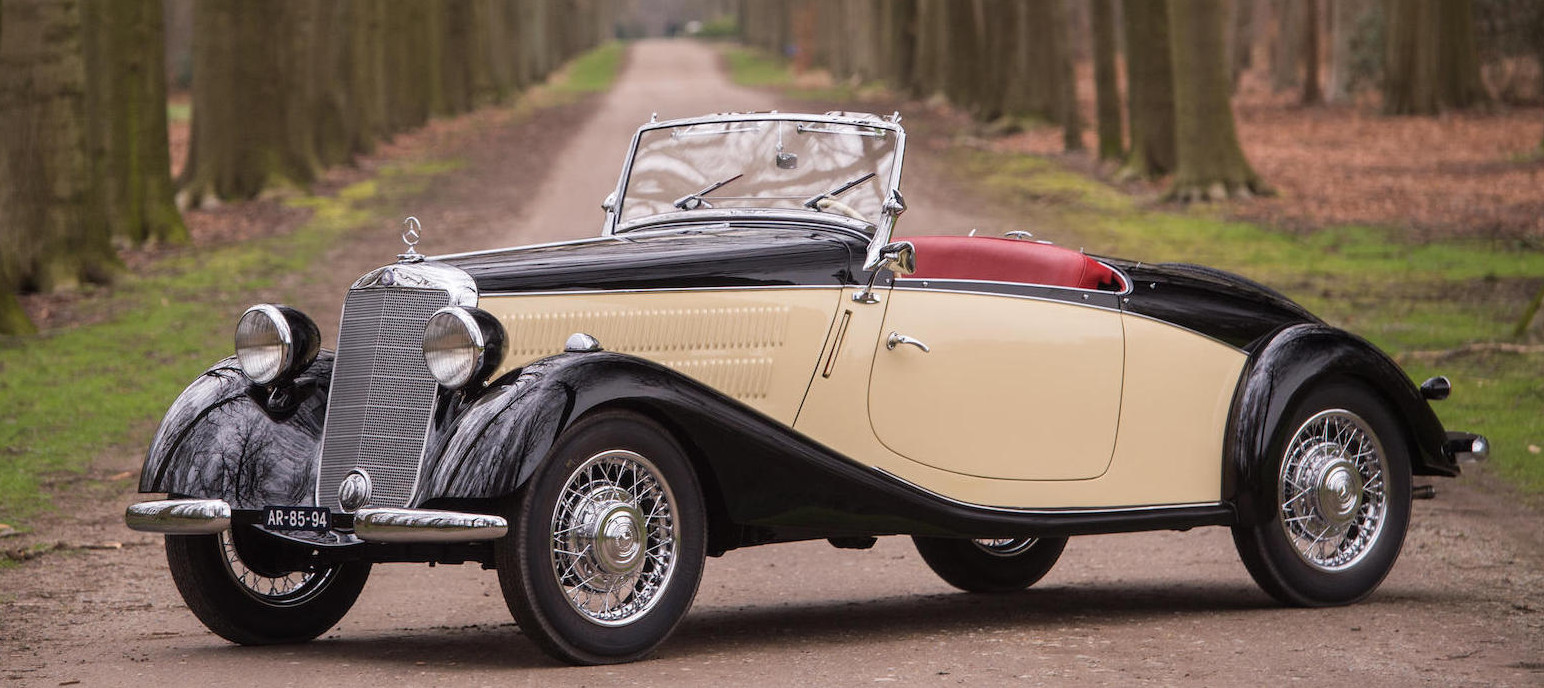 This car is coming up for auction by Bonhams at their Mercedes-Benz sale on 19th March 2016 in Stuttgart. You will find the Bonhams auction page if you click here.
For book lovers Brooklands have published a history of Mercedes-Benz from 1926-1939. The book is titled "Mercedes-Benz Automobiles 1926-1939 (A Brooklands Portfolio)" by R. Clarke and you'll find it on Amazon if you click here. If you do purchase the book make a point of checking that page 11 is correct and not a page 22 repeat as early editions had that errata. Should you find you've received a faulty copy of a new book contact the publisher for a replacement.
The Mercedes-Benz 170V was a car that was instrumental in helping the company get back on their feet in the aftermath of World War II. That it was kept in production through until 1955 is a testament to just how good a car this was, and still is. This Sports Roadster version is a stunning example.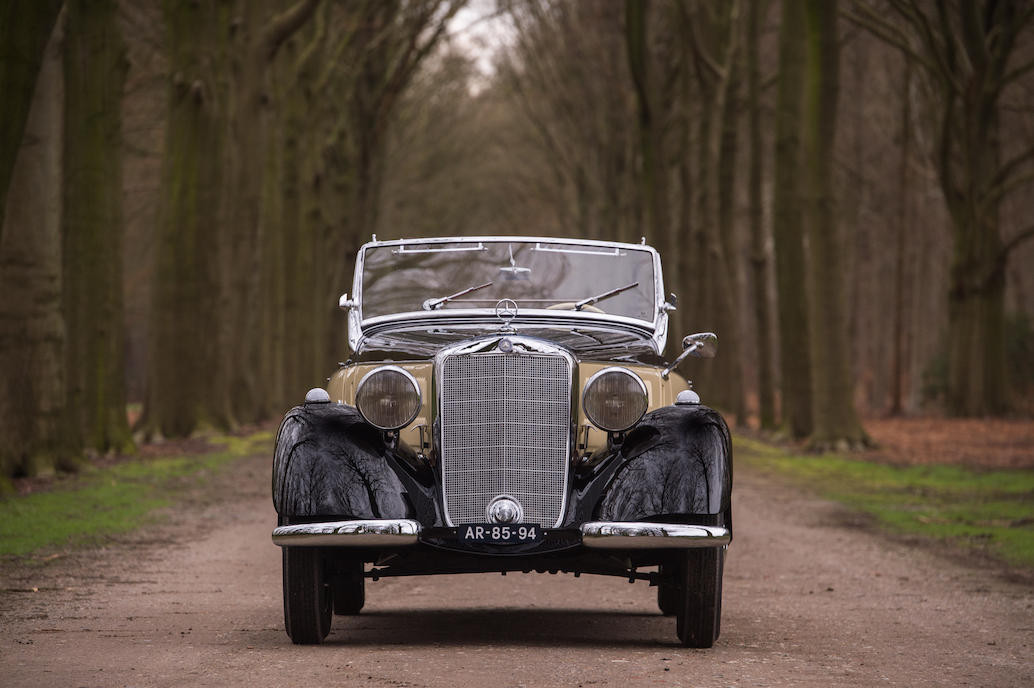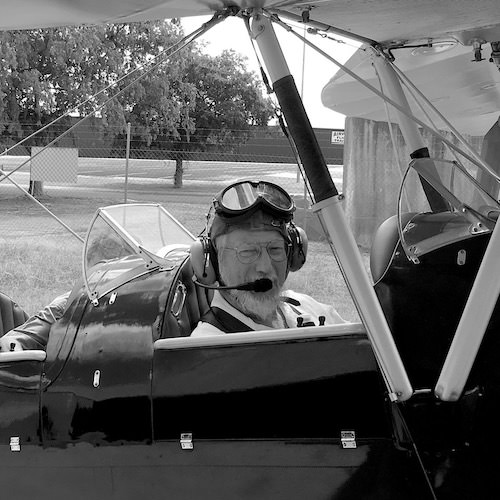 Jon Branch is the founder and senior editor of Revivaler and has written a significant number of articles for various publications including official Buying Guides for eBay, classic car articles for Hagerty, magazine articles for both the Australian Shooters Journal and the Australian Shooter, and he's a long time contributor to Silodrome.
Jon has done radio, television, magazine and newspaper interviews on various issues, and has traveled extensively, having lived in Britain, Australia, China and Hong Kong. His travels have taken him to Indonesia, Israel, Italy, Japan and a number of other countries. He has studied the Japanese sword arts and has a long history of involvement in the shooting sports, which has included authoring submissions to government on various firearms related issues and assisting in the design and establishment of shooting ranges.