I think that people go out and buy "super cars" for one of two possible reasons; one is they really want to take that car somewhere and make the opportunity to drive it to its full potential or, they just want it as a status symbol – a "mine's faster than yours and more expensive …" type of thinking. I'm in the first category. I really don't care if I have the fastest or most expensive car in the world, I care about the sheer enjoyment of driving whether I have the chance to drive flat out on a race track or am pottering along at whatever the speed limit is on a public road. Wherever I am and whatever I'm driving I just like to enjoy the driving and the thing I'm in. In fact one of my most memorable driving experiences was being turned lose in a Caterpillar D9, all 98 tons of it. It wasn't fast, in fact it was downright slow – but you could feel the earth move under your feet – literally.
If you are someone who is really after the thrill of the experience and the challenge of driving something that moves the driving experience into the third dimension then flying is almost certainly what you will lust after. And if you are someone who wants to fly then I suspect as you "Walter Mitty" into your dream of what you'd like to fly then the Supermarine Spitfire of World War II fame is either at the top of your list (if you are a Brit) or perhaps second on your list (if you are an American).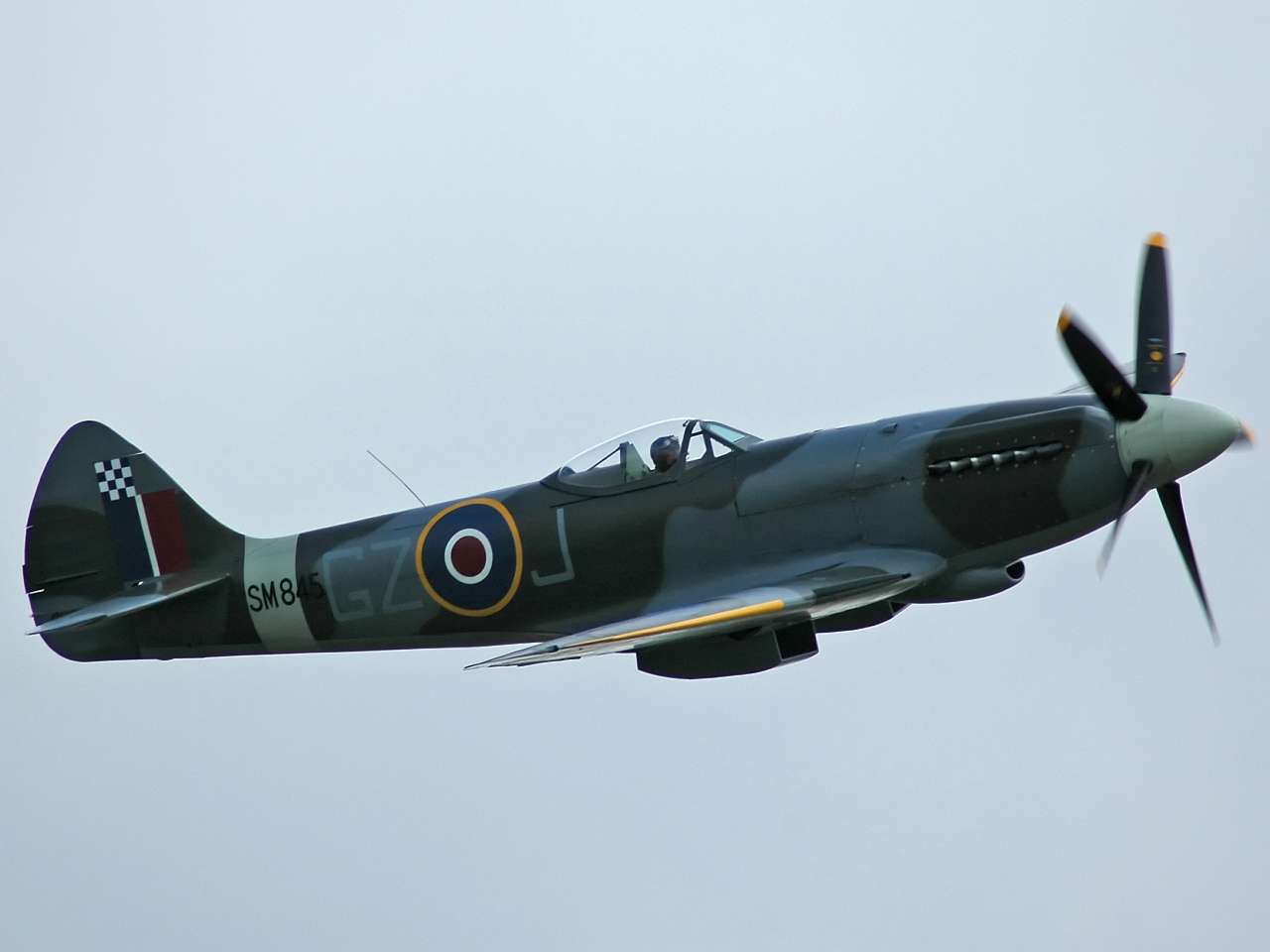 Why would you buy a Bugatti Veyron if you could buy a Spitfire? In London or New York traffic the Bugatti is just going to generate heat. On the open road it's just going to generate speeding tickets. A Spitfire is going to stretch your adrenalin glands to their limits and beyond and there are no speed guns or speed cameras up in the wild blue yonder.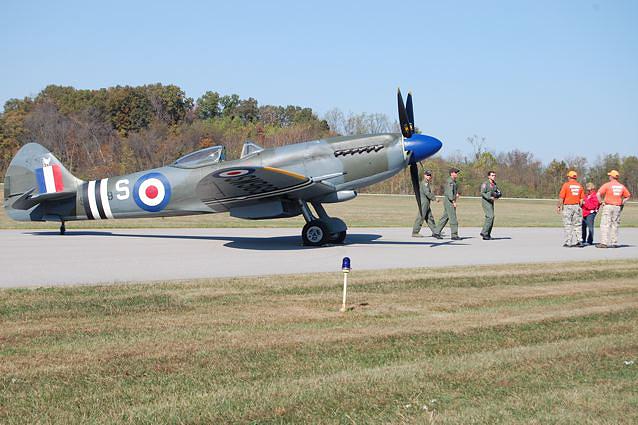 There were various models of the Supermarine Spitfire, most of which were fitted with one of the Rolls Royce Merlin engines. However, early in the Spitfire's development it was planned to create a version which was fitted with the larger Rolls Royce Griffon engine particularly for marine work and low altitude flying as desired by the Royal Navy. Thus the Griffon engined Spitfire family was birthed and, although they were produced in far smaller numbers that the more commonly seen Merlin engined ones they really are amongst the crem de la crem of all piston engined aircraft.
Here is a video of this exact aircraft in the air.

Of the various Griffon engined Spitfires the Model XVIII is one of the best being fitted with the Griffon 65 engine, cockpit enhancements, greater fuel capacity, and an improved stronger wing structure. These aircraft missed the closing stages of World War II and this found them deployed in the far east in such places as Malaysia and Hong Kong. The aircraft being offered for sale is painted in Hong Kong 80 Squadron colors and was discovered in India.
So, if you have the cash and you have the desire to fly one of the best and most adrenalin pumping aircraft ever created then this might just be for you. And if you, like me, don't have a check book that will quite handle this then I guess we, like Walter Mitty, can dream.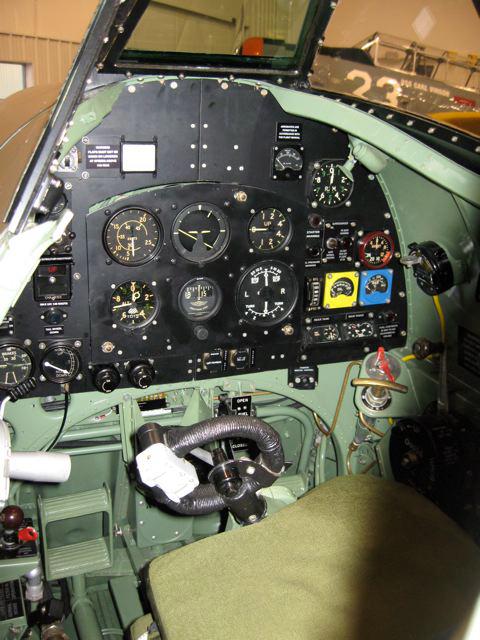 You will find the for sale page here.
Technical Details of the Aircraft from Platinum Fighters is as follows:-
Airframe: 80.0 Hours since complete restoration by The Fighter Collection, Duxford, UK
First Flight after restoration: 12/2008
Engine: Rolls Royce Griffon 65 with 58 Heads and Banks
100.0 SMOH by Zueschel Racing Engines
80.0 Since IRAN by The Fighter Collection
Propeller: Dowty Rotol 5 blade
80.0 Hours SMOH to zero time condition by Skycraft, UK
​Exterior: Painted in the markings of 80 Squadron – Hong Kong 10/10
​Interior: Painted in authentic green paint – 10/10
​Avionics: Becker Comm
Becker Transponder
​Spares: A large inventory of spares is available seperately.
​History: Prior history shows very little time on the airframe since first being build by Vickers in 1945.
It was reportedly in a UK maintenance unit for a bit and then to India in 1946 where there was a landing accident, which caused its return to the UK where it was repaired and sent back to India.
​It apparently flew with the Indian Air Force for another year or so and then ended up as a gate guard in New Dehli until 1978 when Doug Arnold brought it and a few other spitfires out of India.
You can still see the Supermarine part number stamps on the cowling, etc., so it is all stock to this airframe.
​Doug Arnold had SM969 rebuilt with a first flight in 1985. With approximately 20 hours flight time, the Spitfire was placed in storage between 1992 -2006. Sold to The Fighter Collection, a full rebuilt to airworthy standards was commissioned.
Upon completion of the restoration the Spitfire was shipped to its current owner in the United States. It has been displayed at several airshows on the East Coast.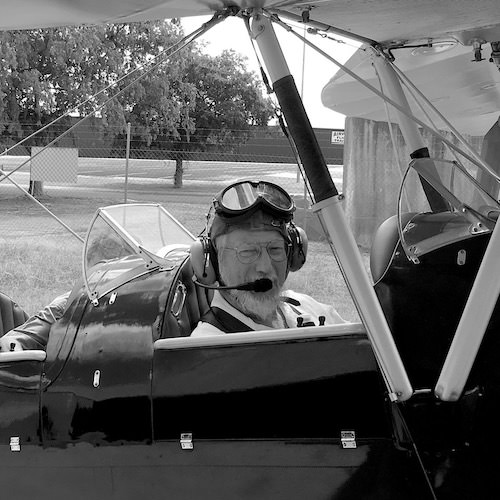 Jon Branch is the founder and senior editor of Revivaler and has written a significant number of articles for various publications including official Buying Guides for eBay, classic car articles for Hagerty, magazine articles for both the Australian Shooters Journal and the Australian Shooter, and he's a long time contributor to Silodrome.
Jon has done radio, television, magazine and newspaper interviews on various issues, and has traveled extensively, having lived in Britain, Australia, China and Hong Kong. His travels have taken him to Indonesia, Israel, Italy, Japan and a number of other countries. He has studied the Japanese sword arts and has a long history of involvement in the shooting sports, which has included authoring submissions to government on various firearms related issues and assisting in the design and establishment of shooting ranges.