(This post was updated with additional information on 13th April 2015)
I was born and grew up in London, England and developed a passion for rifles at a young age. So there were times when my poor long suffering father would take me to Thomas Bland and Sons shop at 4-5 William IV Street, just off The Strand so I could look through the window. Occasionally he would take me inside so I could get a closer look at the guns on display. I think that even at that young age I must have been developing a taste for fine rifles and it was the Mannlicher Schönauer rifles that caught my eye and my imagination. Then one fateful day my father bought me a Bland's catalog and it was immediately added to my modest "treasured books" collection.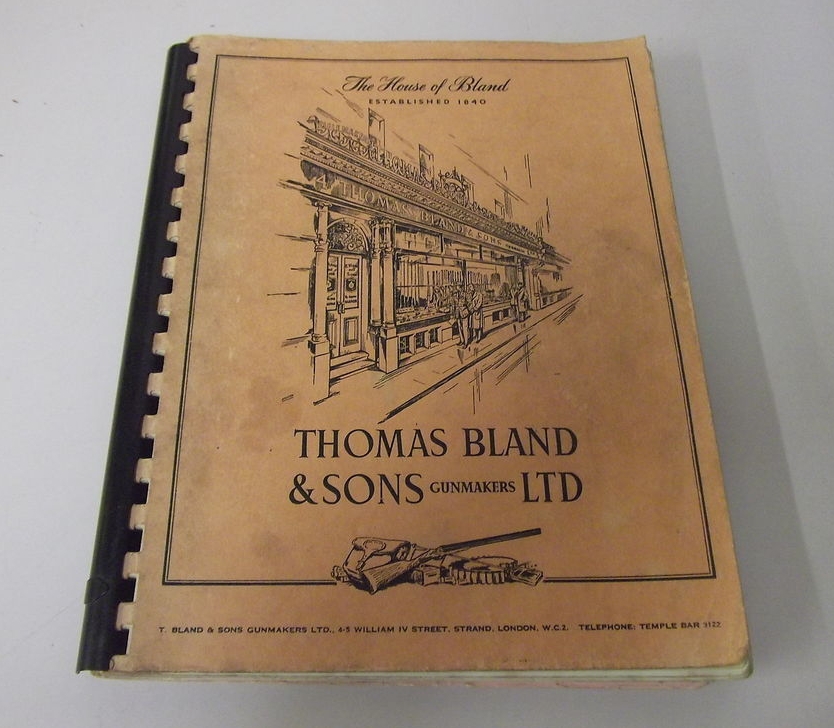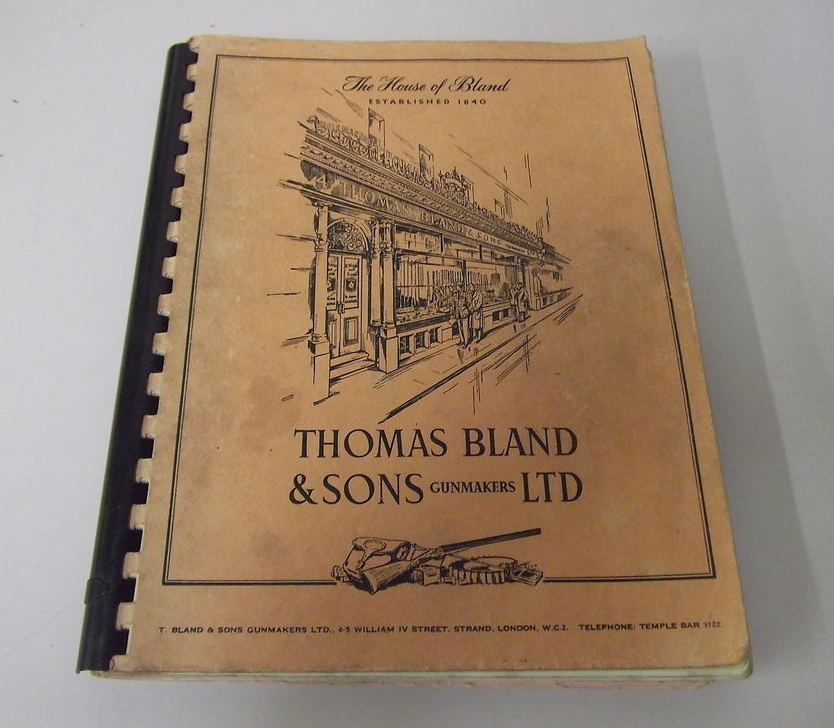 The family moved away from Britain to Australia and that Bland's catalog came with me and stayed with me for another decade or so. I got involved in the shooting sports seriously, then I got married, and a couple of years after my lovely wife and I tied the knot she told me she was expecting. This was fantastic news and we were both blissfully happy. But there came a moment when I thought "I haven't bought my Mannlicher-Schönauer yet." and I decided that, if I didn't get one before our first child was born then just maybe the responsibilities of children and a mortgage might put paid to any chances I might have had of getting one. Mind you, at that stage I didn't even know if one could still buy a Mannlicher-Schönauer like the ones I'd seen in Bland's shop in London. I'd seen the new model Steyr-Mannlicher a few years earlier when I was in a gun shop in Jakarta in 1975. They had a plastic magazine, plastic trigger guard and were just about as plain ugly as you could make a rifle. So I assumed my only chance of getting a real Mannlicher-Schönauer would be to find a second hand one.


I was wrong however. One day as I was heading home from work in the city I happened to stop in at a newsagent and noticed a British shooting magazine on the rack. Browsing through it my eyeballs widened as I came across an advertisement by the Hilton Gun Wholesale Company; what was pictured in the ad was a Mannlicher Schönauer M72 and it looked just as gorgeous as the rifles I'd seen in London. The decision was made, I bought the magazine just for the ad, wrote to Hilton Gun Wholesale and commenced the process of getting my Mannlicher. I ordered one in 6.5×68 Schuler fitted with quick detachable rifle-scope mounts and in due course it arrived.
Taking the rifle out of the box at the gun shop it was an impressive rifle. It had been shipped partly disassembled so I had a pleasant time getting to know it as I put it together. One of the first things I noticed about it was the hammer forged barrel with its characteristic "licorice twist" pattern on the outside. In fact later at the rifle club it became christened "The licorice stick".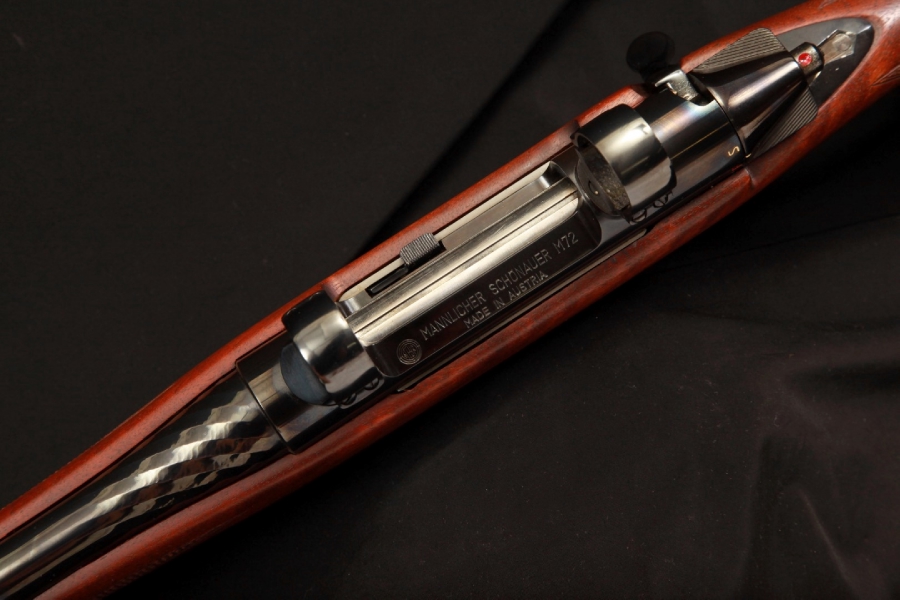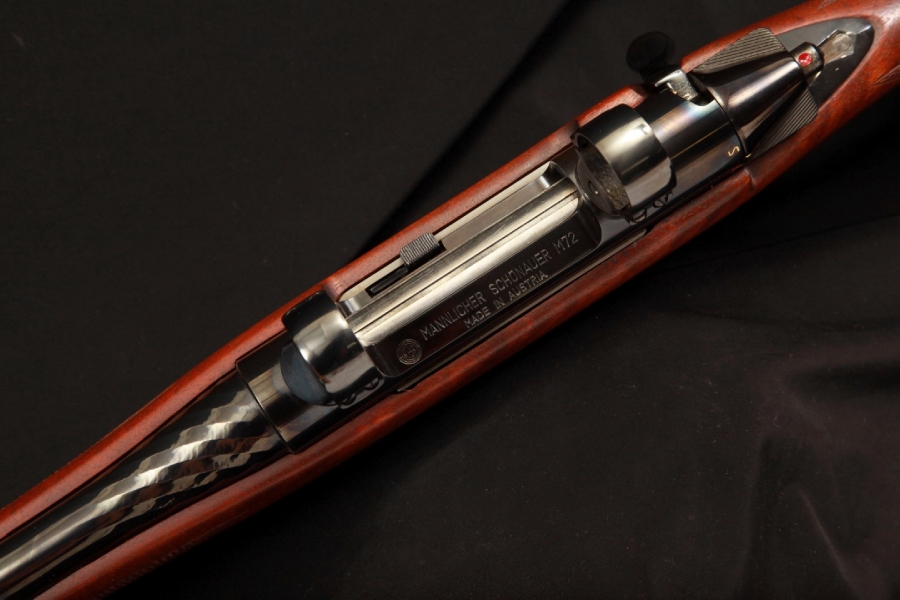 The action of the M72 was a serious attempt by Steyr to create a modern front locking action that was in some respects similar to the Weatherby but incorporating a traditional Schönauer rotary magazine with support at the cartridge shoulder to ensure soft point bullets were not deformed.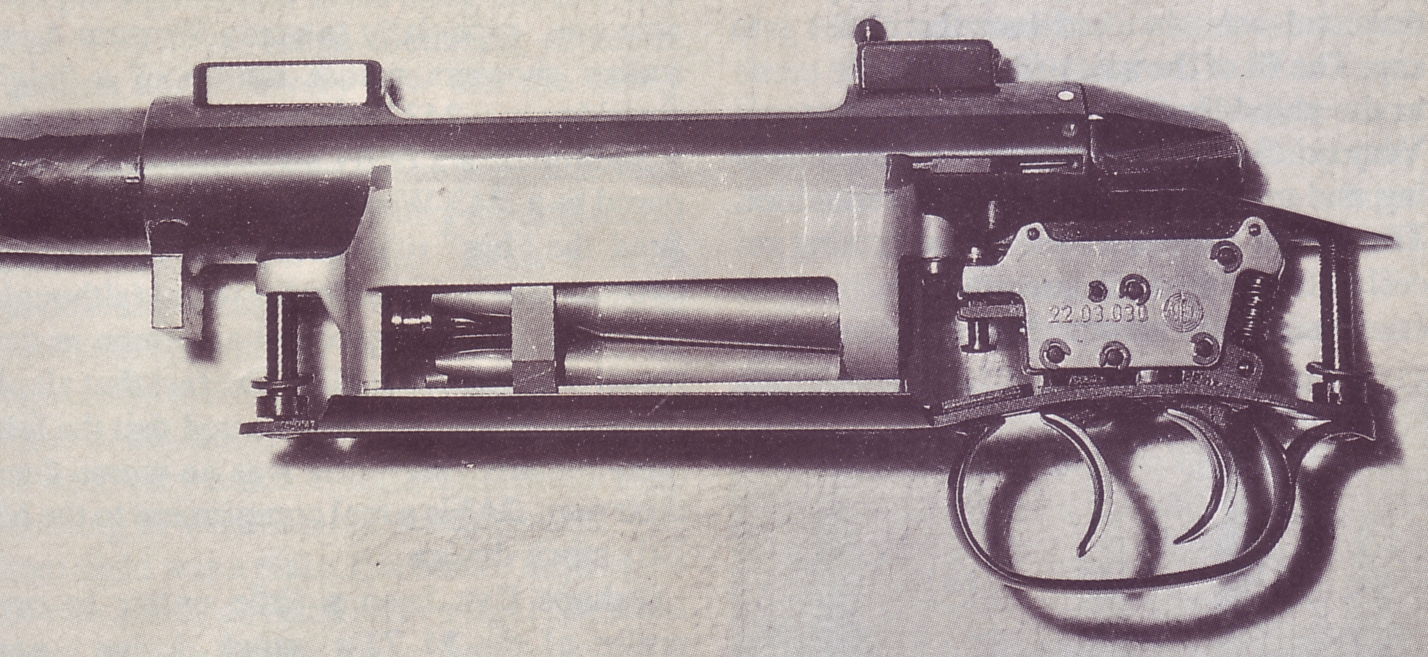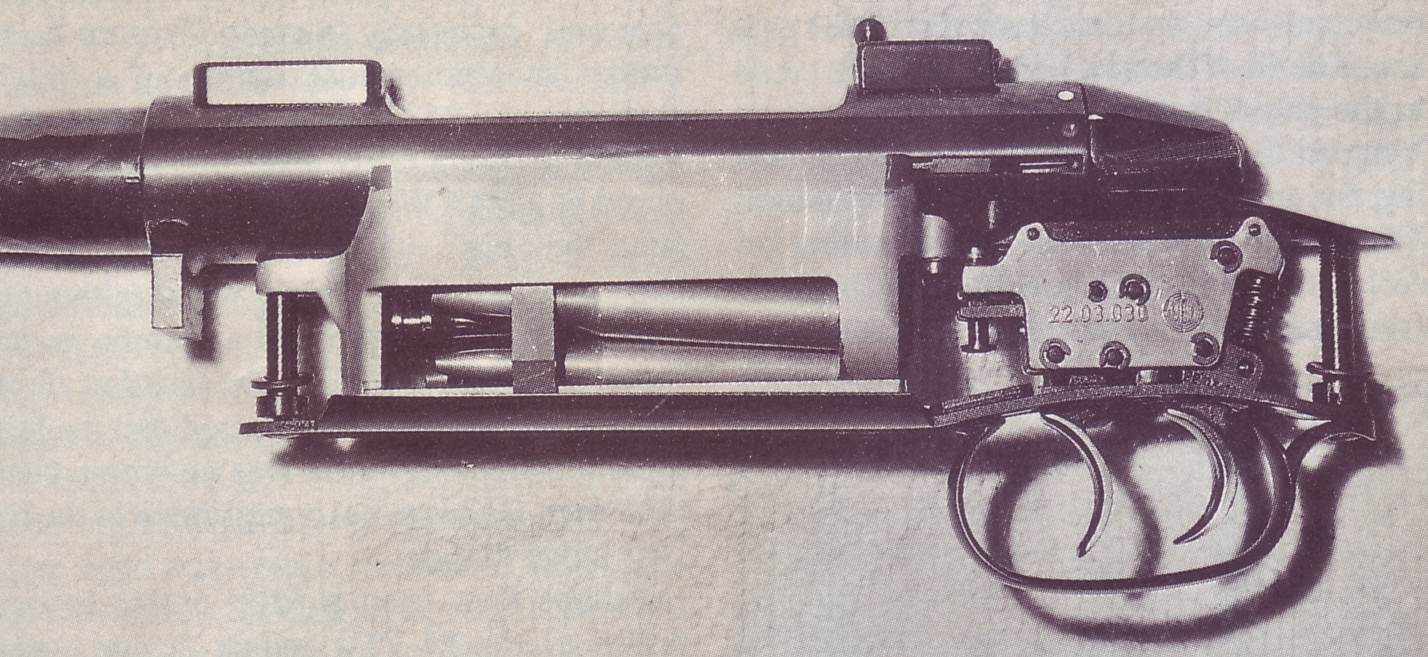 The only disappointment with the rifle was that the people at Steyr had seen fit to make the magazine follower out of plastic, despite having described the M72 as being a "rifle for those who shun the use of modern materials" – "modern materials" meaning plastic. It worked fine, but it should have been steel.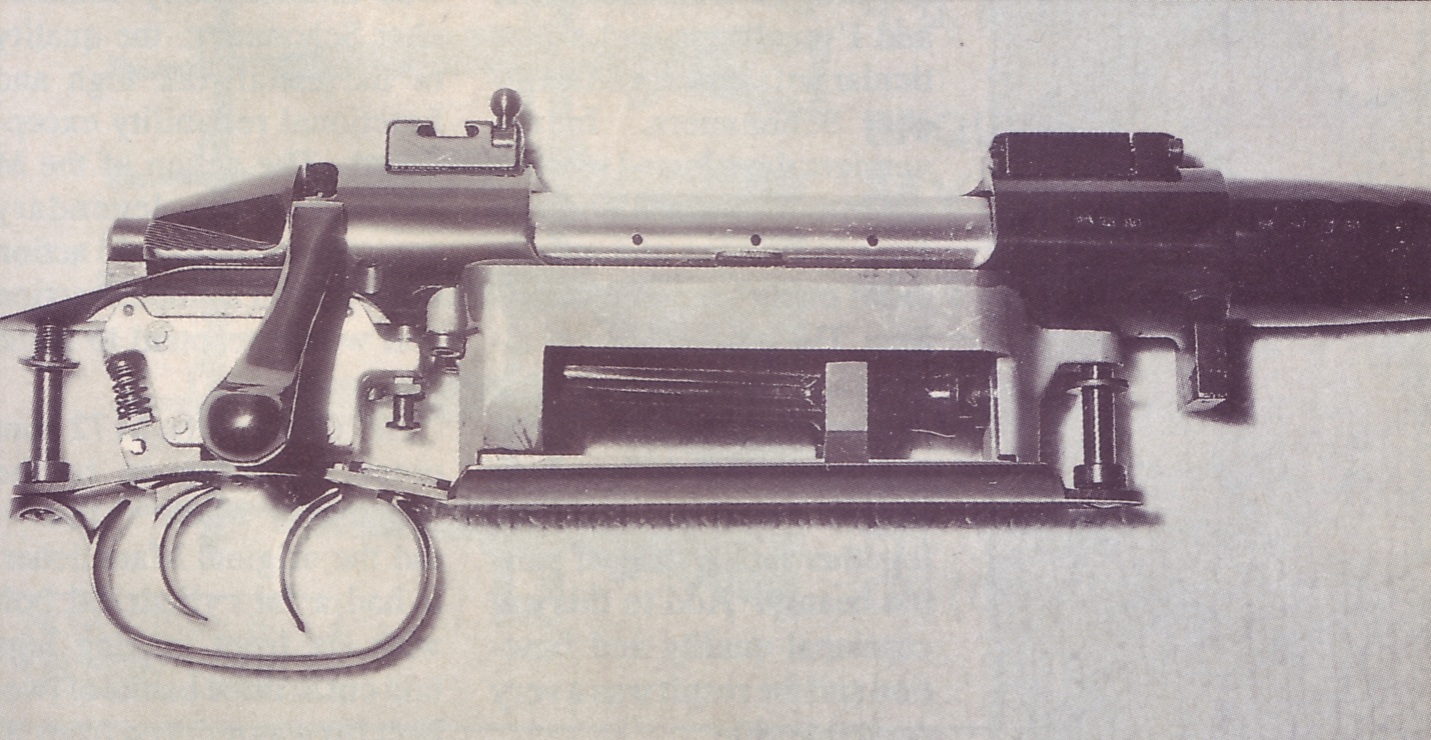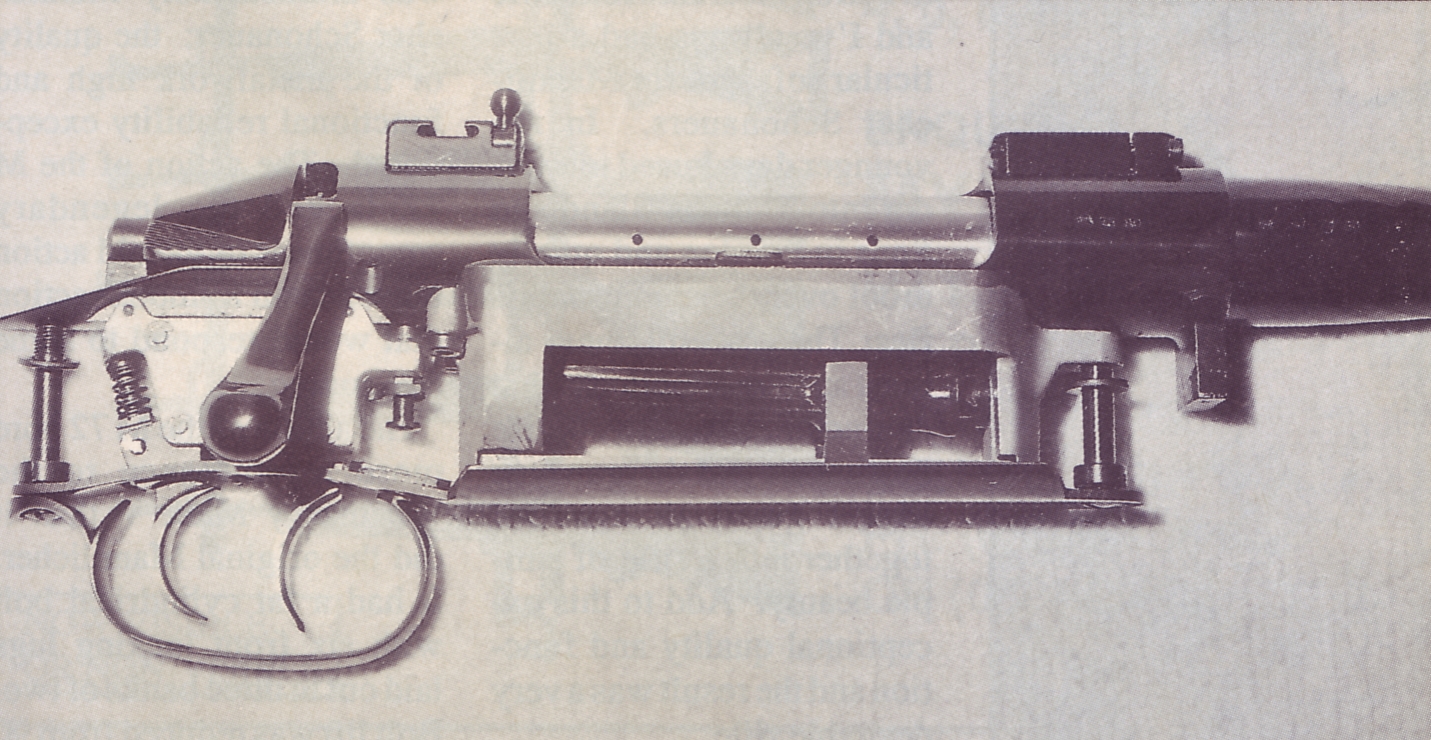 Steyr had built the rifle incorporating lessons learned from bench-rest rifles so the action had a rounded underside that was uniform front to rear and bedded into the wood consistently. The double set trigger mechanism was an independent assembly and performed delightfully. Firing pin travel was 0.2″ and lock time was fast.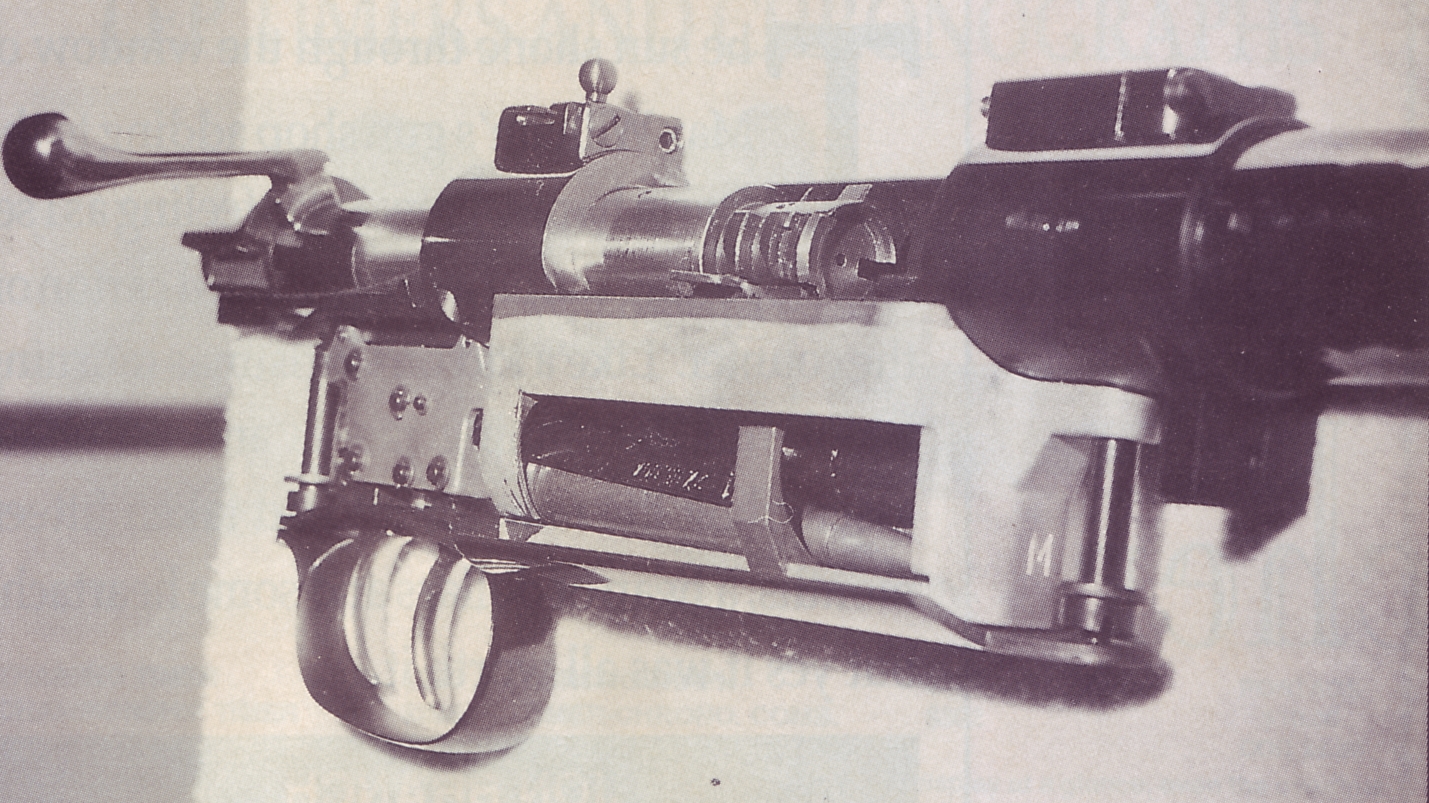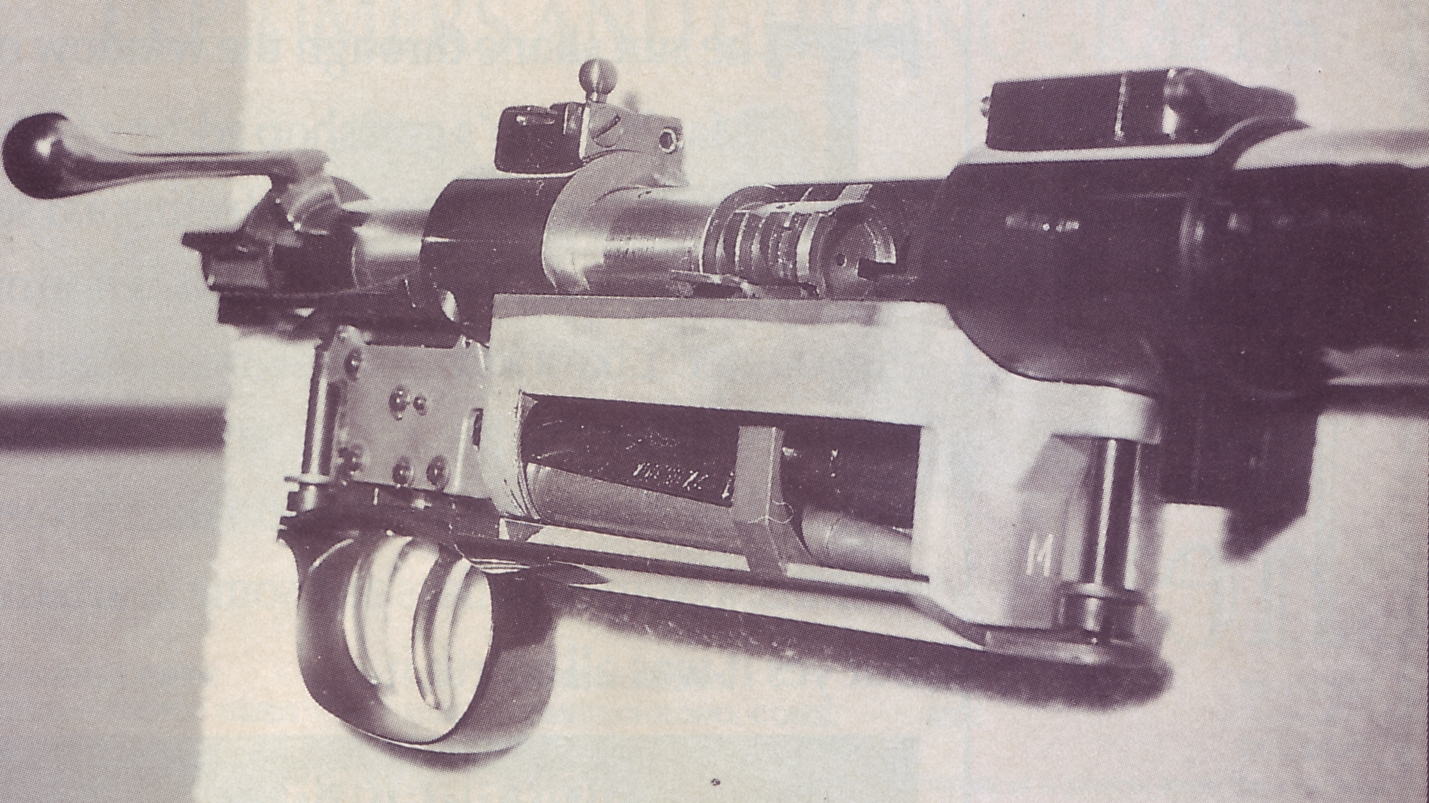 The bolt was front locking ostensibly with six locking lugs laid out in three banks of two, although this really was five lugs as the rearmost lug on the underside of the bolt was undercut to allow easy passage of the bolt stop/release when removing the bolt from the receiver. This was a controlled feed action which engaged the cartridge rim into the extractor as the cartridge was stripped from the magazine. Like the Weatherby the bolt had three gas vents and the firing pin assembly was designed to deflect and vent gases away from the shooter's face should a cartridge case rupture occur. There was an additional rear locking lug in the root of the bolt handle as can be seen in the picture above.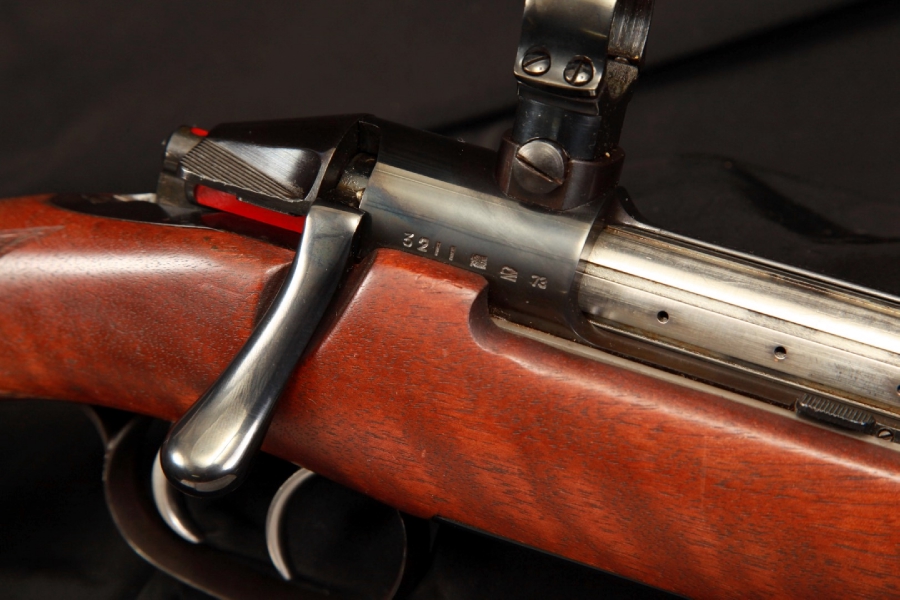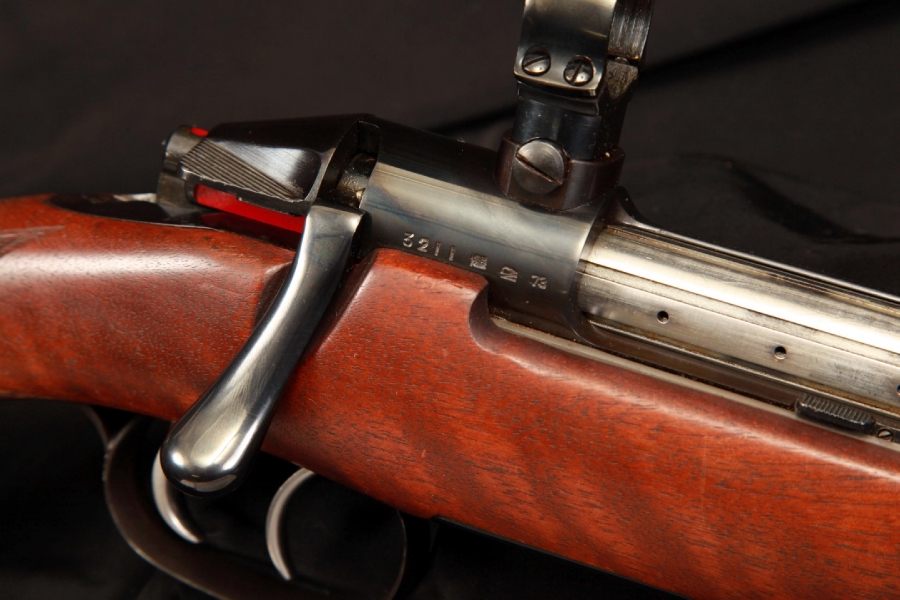 The safety catch was a convenient wing type; rock to the left to disengage and rock to the right to engage. I came to really like it once I got used to it. The safety blocked the firing pin and that block was visible from the rear of the bolt which was a safety feature I liked also. The safety catch was not silent if operated with one thumb, but was easy and very fast, just as easy as a tang safety. To make it silent however needed a finger and thumb to rock it from safe to fire. This was still convenient, just not quite as fast, but it was another feature that I grew to like and ultimately to prefer. This particular set of features I learned to really appreciate. Cocked/uncocked, safety on/off were all both visually clear and also tactile clear in the dark. It was a very safe rifle designed to be just as "idiot proof" as one could possibly make it.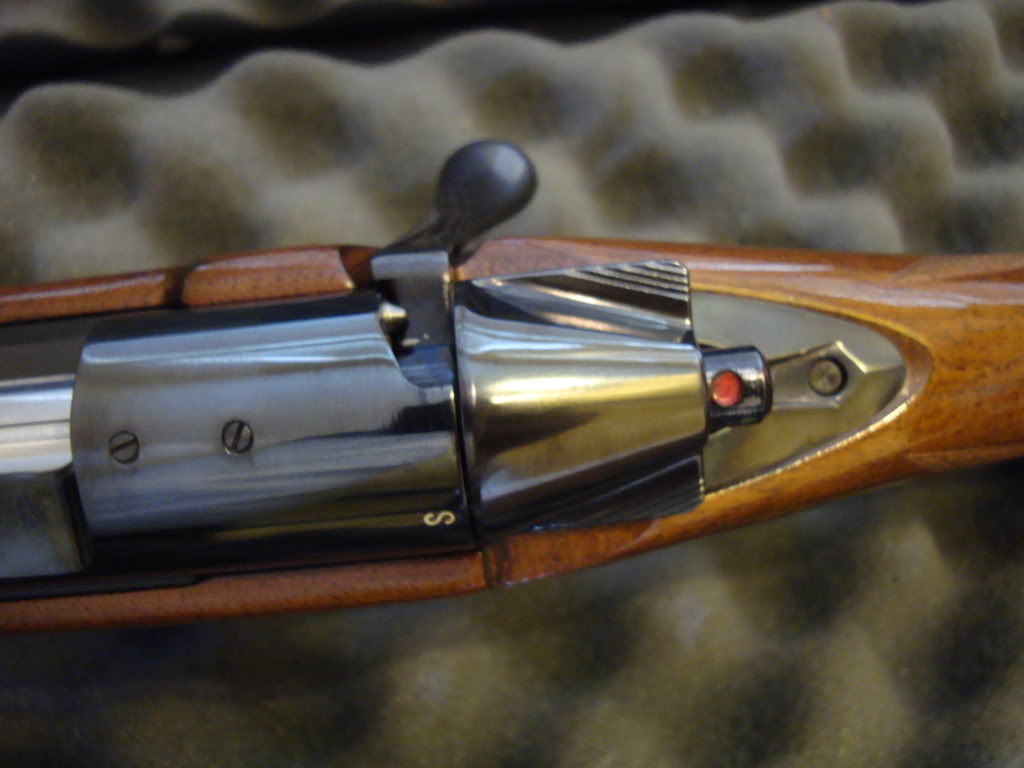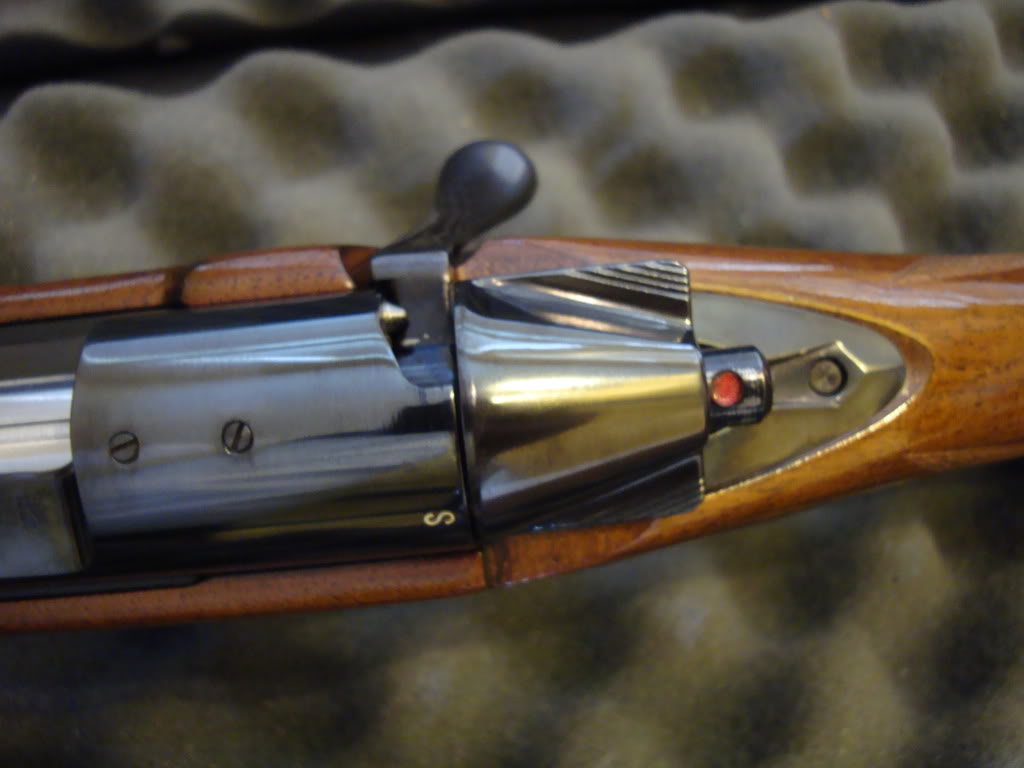 The stock on my rifle was a plain oil finish as per my preference and what I'd ordered. The M72 could be had with either oil or lacquer stock finish. Sling swivels were of the push button type and I fitted a plain leather Military Sling as that is the type of sling I have long preferred. The rifle came with EAW quick detachable pivot mounts. You can find a post I've done on EAW mounts here. I settled on an 8x56mm Kahles rifle-scope on the rifle for the first few years but then had a matching set of rings made by EAW and fitted a 3-12x56mm Nickel Supra with a 4x36mm Nickel Supra as a back-up rifle-scope. The picture at the top of this post is of my M72 with the 3-12x56mm Nickel Supra attached. Weight of the rifle with the 3-12x56mm was 10.1lb and about half a pound lighter with the 4x36mm. I actually used the 4x36mm as much more than just a back-up. Often I would zero the 3-12x56mm with the 93grain soft point RWS bullets and the 4x36mm with a heavier bullet such as the Nosler 140grain Partition or the RWS KS.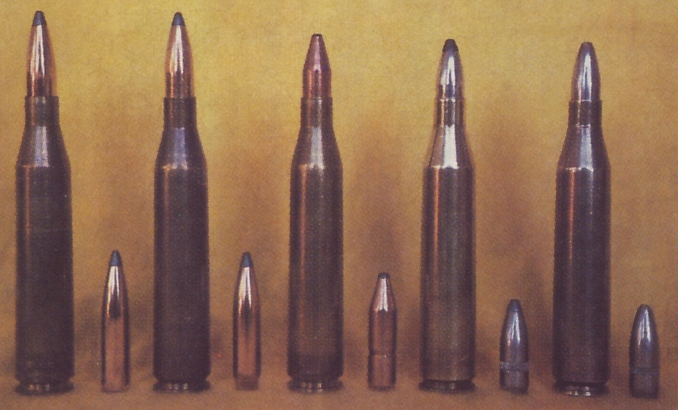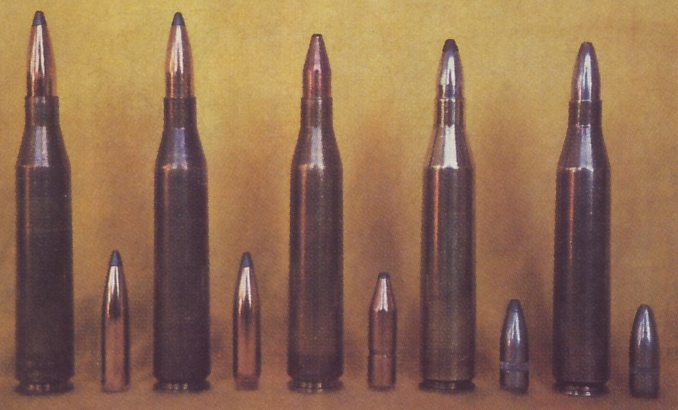 I discuss the 6.5x68mm Schuler cartridge in another post here.
Of these my preferred bullet became the 140grain Sierra SPBT. In the M72 it would consistently group under 0.7MOA, had a nice flat trajectory curve, and excellent resistance to wind deflection. It's performance on the game I was shooting was what really set it apart however. It produced the sort of "struck by lightening" instant kills that I always look for. The others were good, but the Sierra stood out. The Nosler Partition I would only recommend for wild boar or pigs where penetration becomes the big issue or perhaps for the larger deer, although personally I would still opt for the 140grain Sierra for large deer.
The last thing to consider is how does the M72 compare with the post war Mannlicher-Schönauer rifles I used to admire in Bland's gun shop in London back in the late fifties and early sixties? Each rifle has its strong suits and each its weaknesses.




The older Mannlicher-Schönauer rifles were all steel and beautifully made. The action was renowned for its smoothness and reliability. The bolt handle sits well forward of the shooter's hand which I think is something of an advantage as it precludes the shooter accidentally knocking the bolt upwards. These are a beautiful rifle, and hard to fault. They are however typically not sub-MOA performers. The split bridge receiver contributed to a wonderfully smooth bolt action that only got better with age. The split bridge receiver did require special rifle-scope mounts which drew quite a bit of criticism notably from American writers. Personally I think that mounting a scope on the older rifle was really not a difficult proposition, especially on the post war models.
The M72 was a completely new and modern design that sought to answer the criticisms of the older rifle. The split bridge receiver was gone yet the bolt retained a nice smooth action. The safety catch was much improved and the 60 degree bolt lift kept the bolt handle well clear of the rifle-scope. The three banks of locking lugs helped ensure a near perfect alignment of bolt face with chamber and the large extractor provided for unfailing extraction. The 0.2″ firing pin travel ensured a fast lock time and the set trigger mechanism was simply fantastic. So, although the M72 has often been maligned as a "transitional" rifle or as a "rifle designed by a committee" it really is a better rifle than the older one if you are looking for accuracy, which I was. The critics have tended to be traditionalists lamenting the passing of the older rifle. I lament its passing also, but the M72 was, without doubt, the best rifle I have ever owned and if I ever get the chance to own another one I promise you I will be shelling out the shekels before you can say "Mannlicher".
Models and Calibers
The M72 was made in three models. The L/M (Medium), S ("Strong" Magnum), and S/T ("Strong" Tropical).
Model L/M
Calibers available were 22-250 Remington, 5.6x57RWS, 6mm Remington, 243 Winchester, 6.5×57, 270 Winchester, 7×57, 7×64 Brenneke, 308 Winchester, and 30/06. All Model L/M rifles were available in full stock versions with a 50.8cm (20″) carbine length barrel or half stock with a 60cm (23.6″) barrel. Only the half stock 7×64 Brenneke was offered with either the standard 60cm (23.6″) barrel or an optional 65cm (25.6″) barrel. Magazine capacity was five rounds.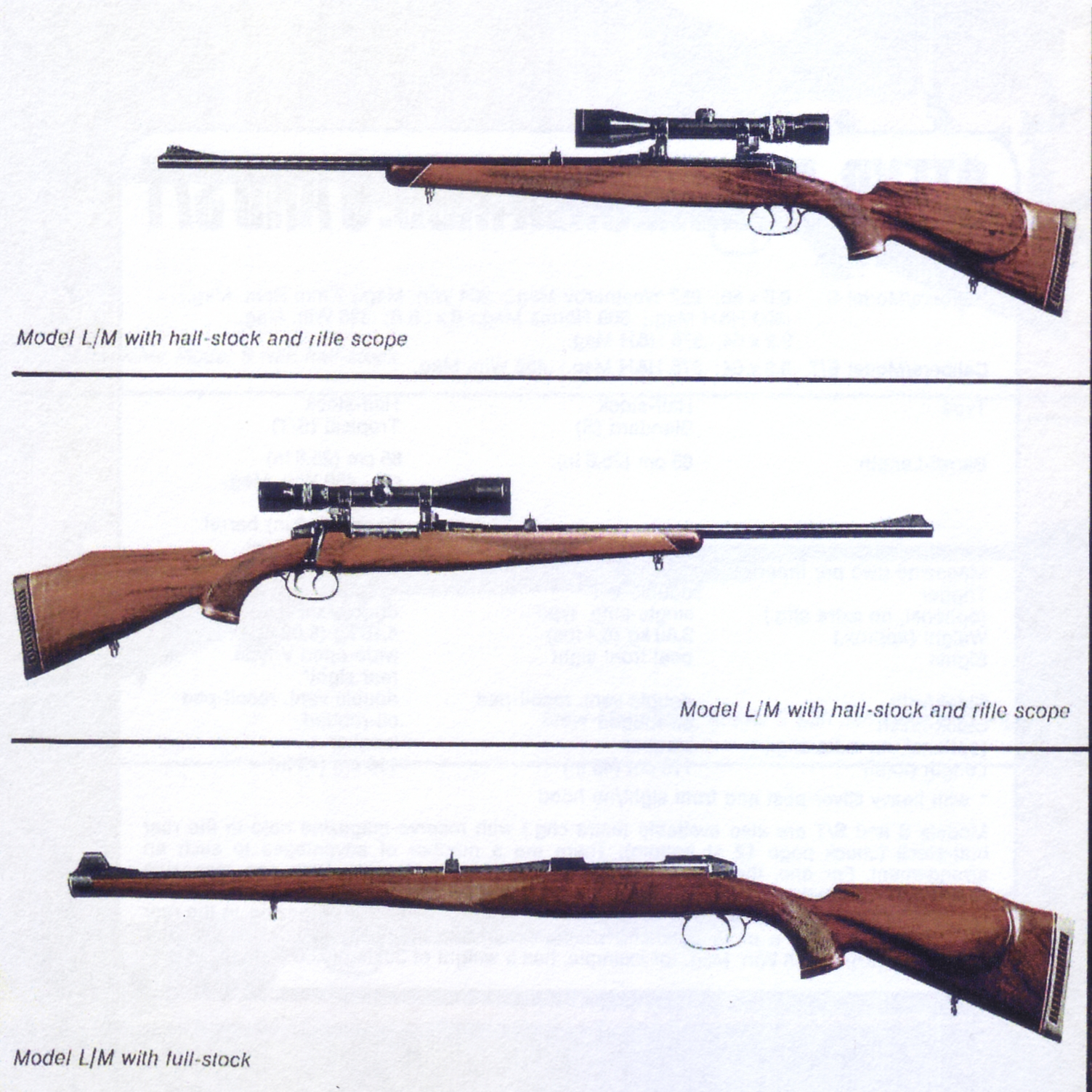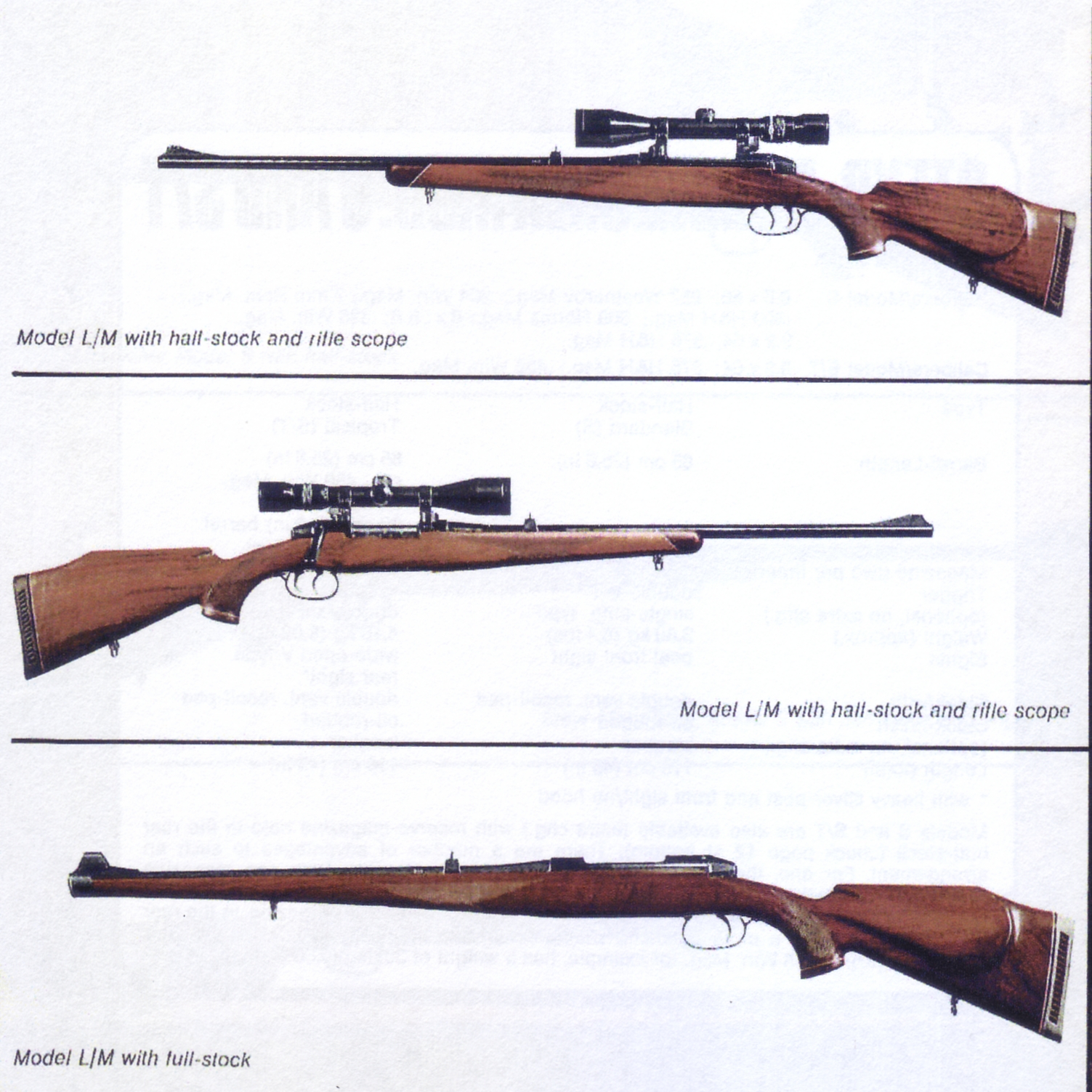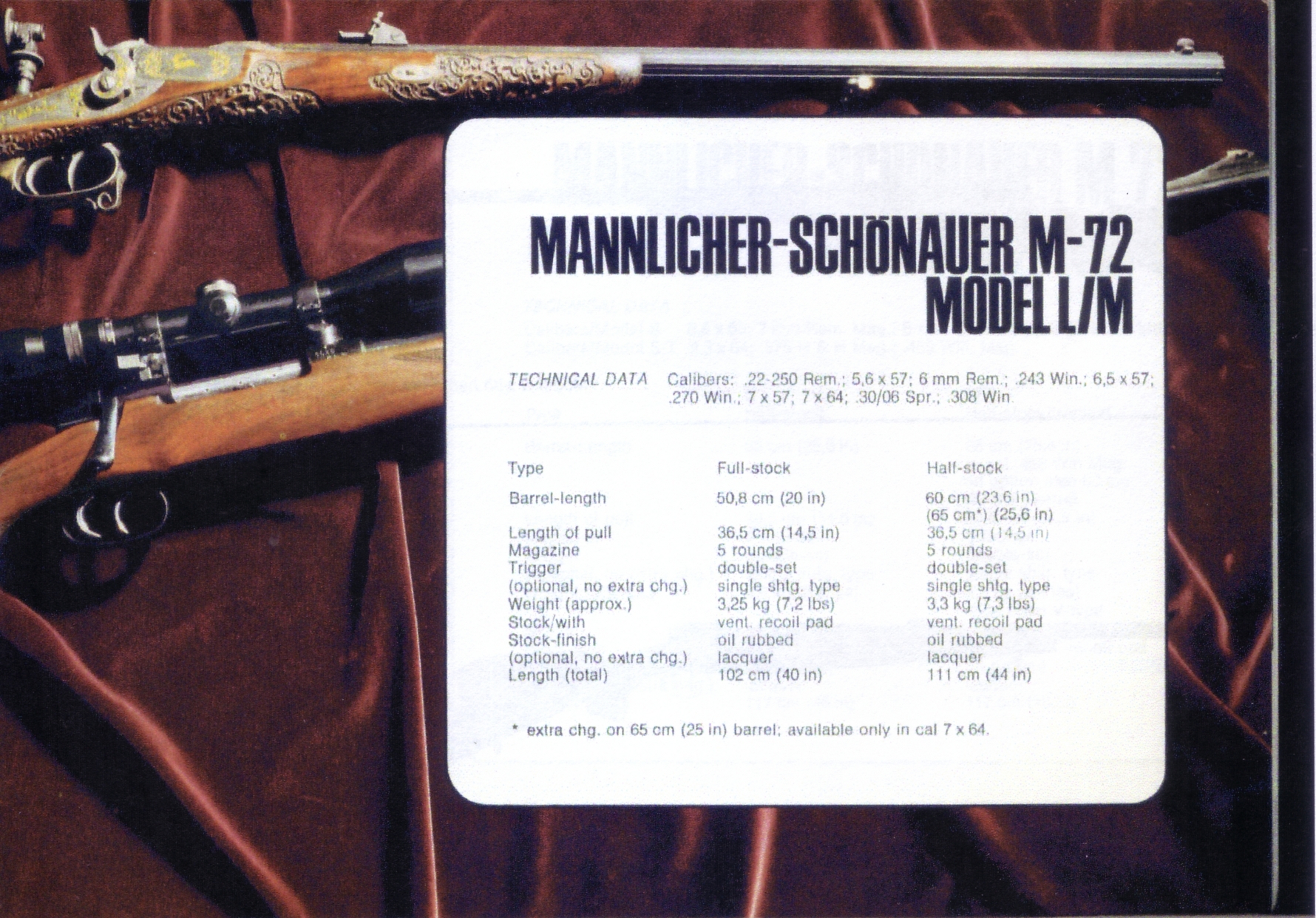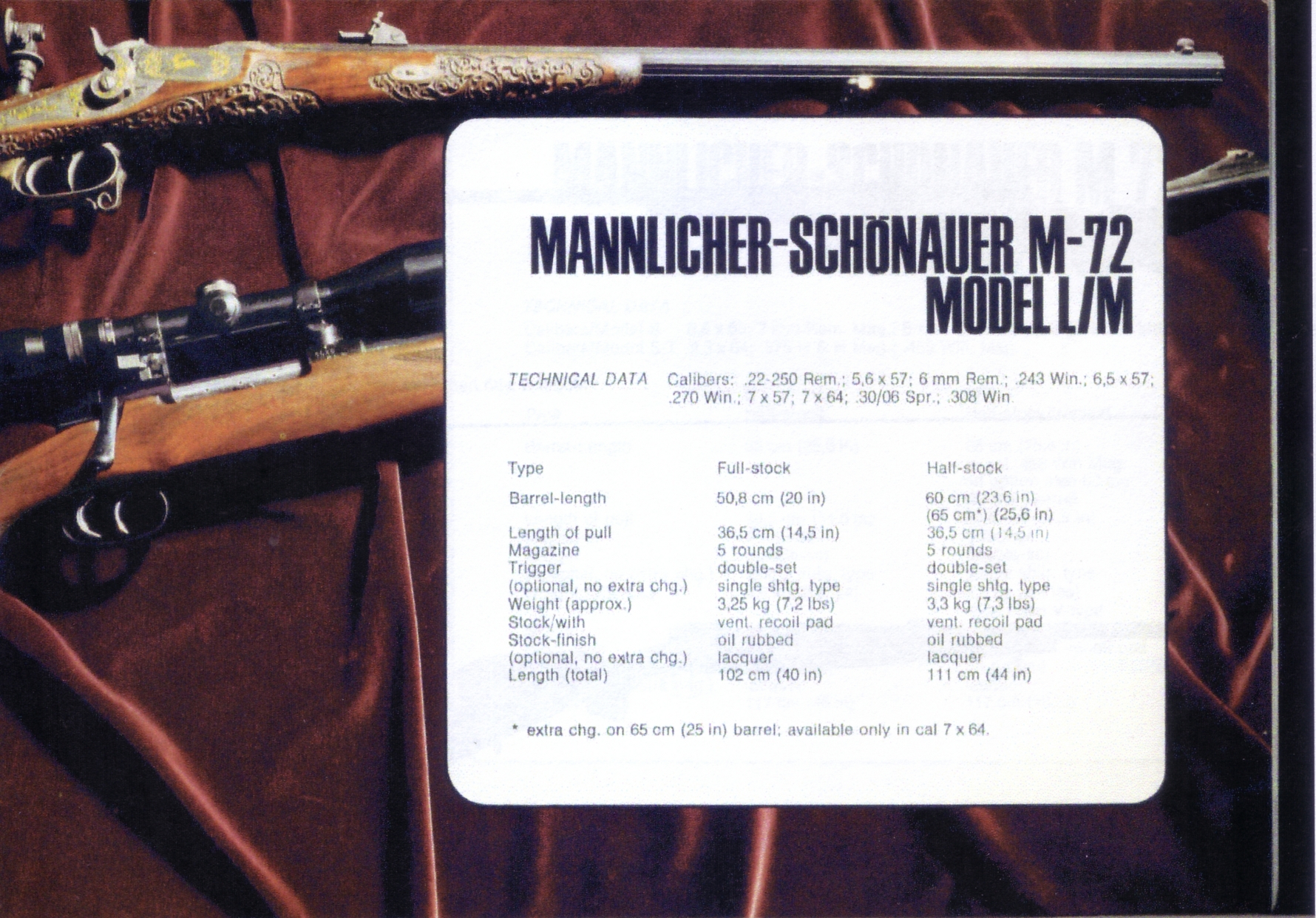 Model S
Calibers offered were 6.5×68 Schuler, 7mm Remington Magnum, 8x68S, 9.3×64 Brenneke, and 375 Holland and Holland Magnum. All Model S  rifles were fitted with a 65cm (25.6″) barrel. Magazine capacity was four rounds.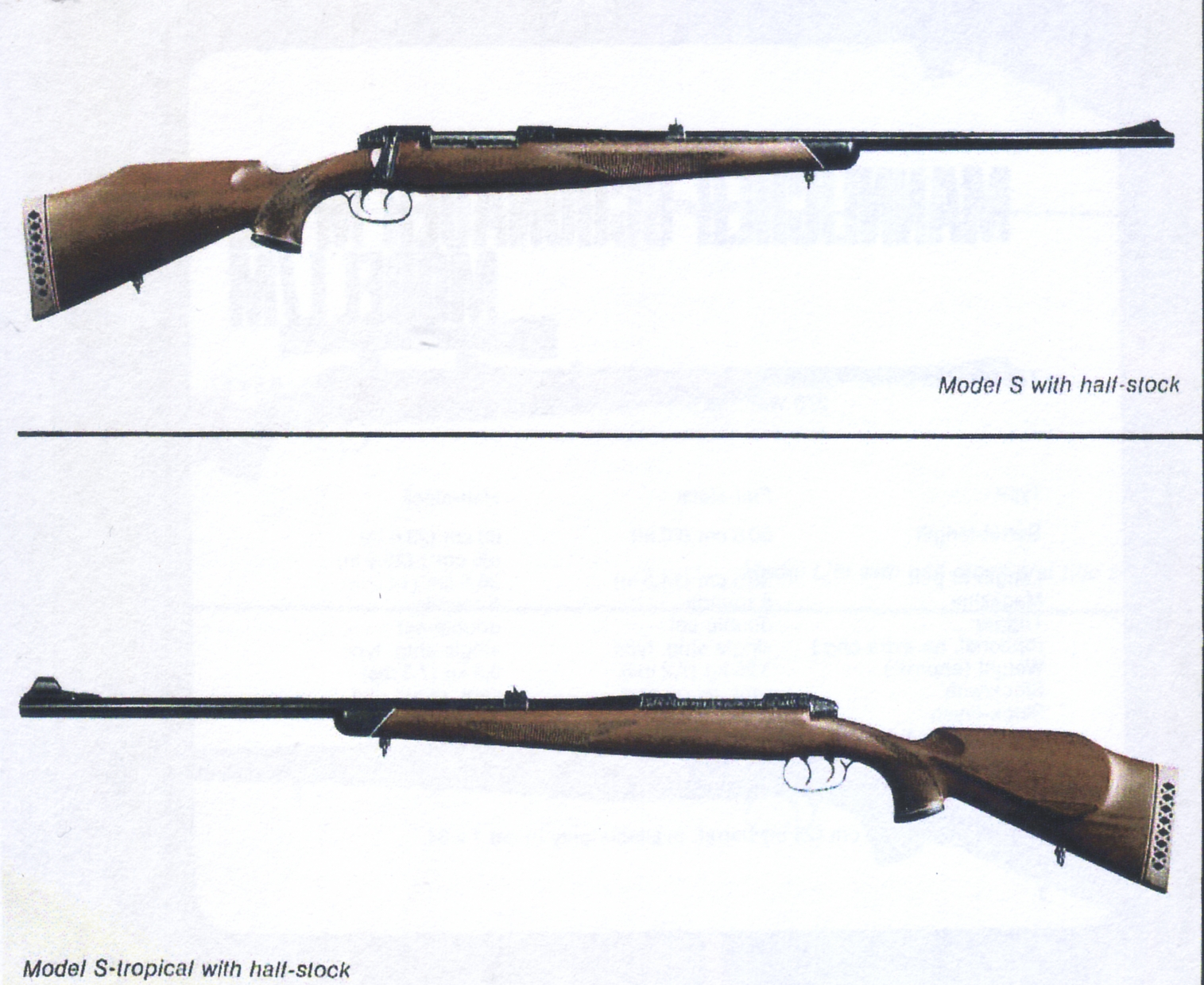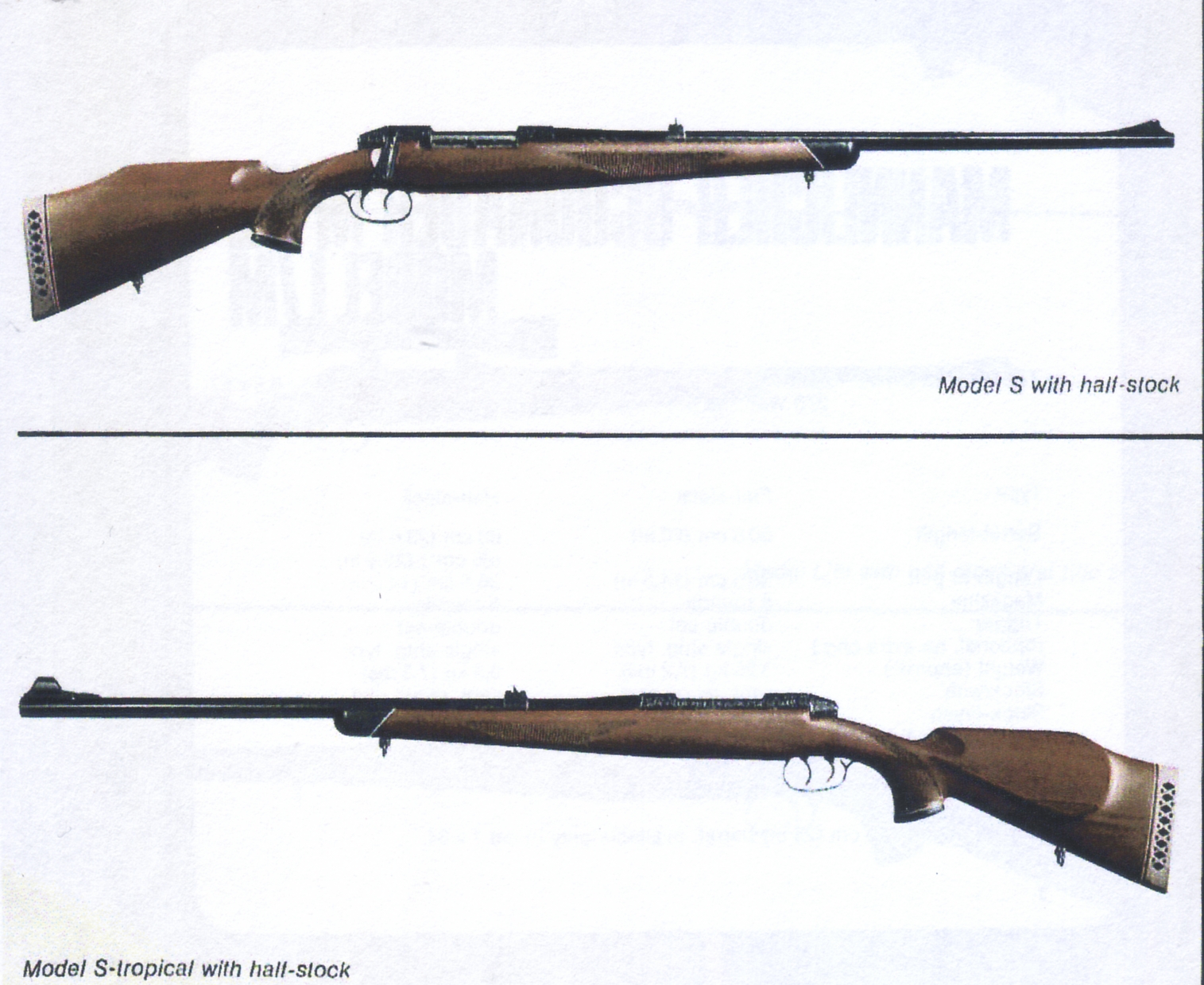 Model S/T
This model was offered in 9.3×64 Brenneke, 375 Holland and Holland Magnum and 458 Winchester Magnum. All had a 65cm (25.6″) barrel.  The 458 Winchester Magnum Model S/T was available with an optional shorter 60cm (23.6″) barrel. The model S/T differed from the Model S in having an "open V" express rear sight. Magazine capacity was the same as the Model S, four rounds.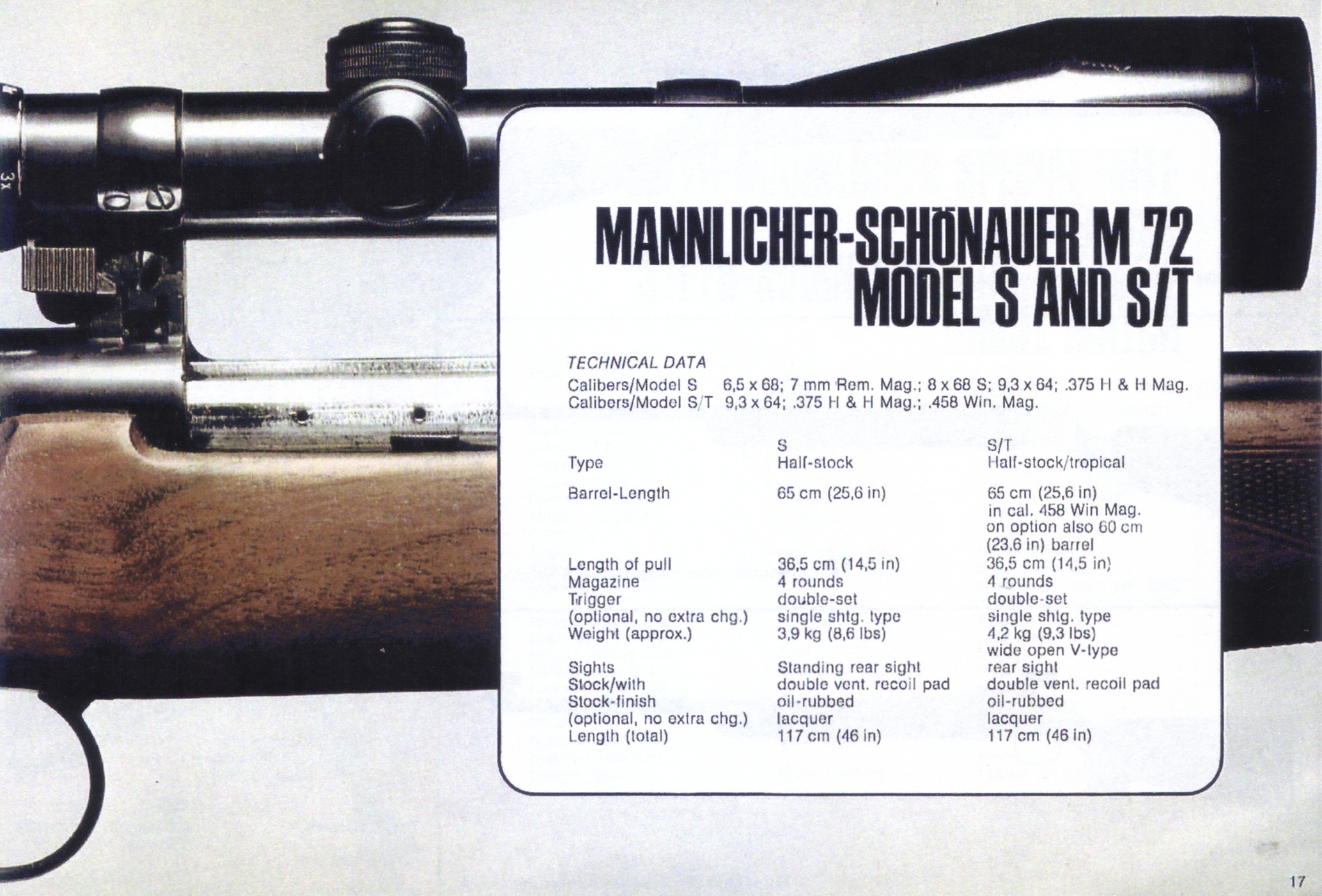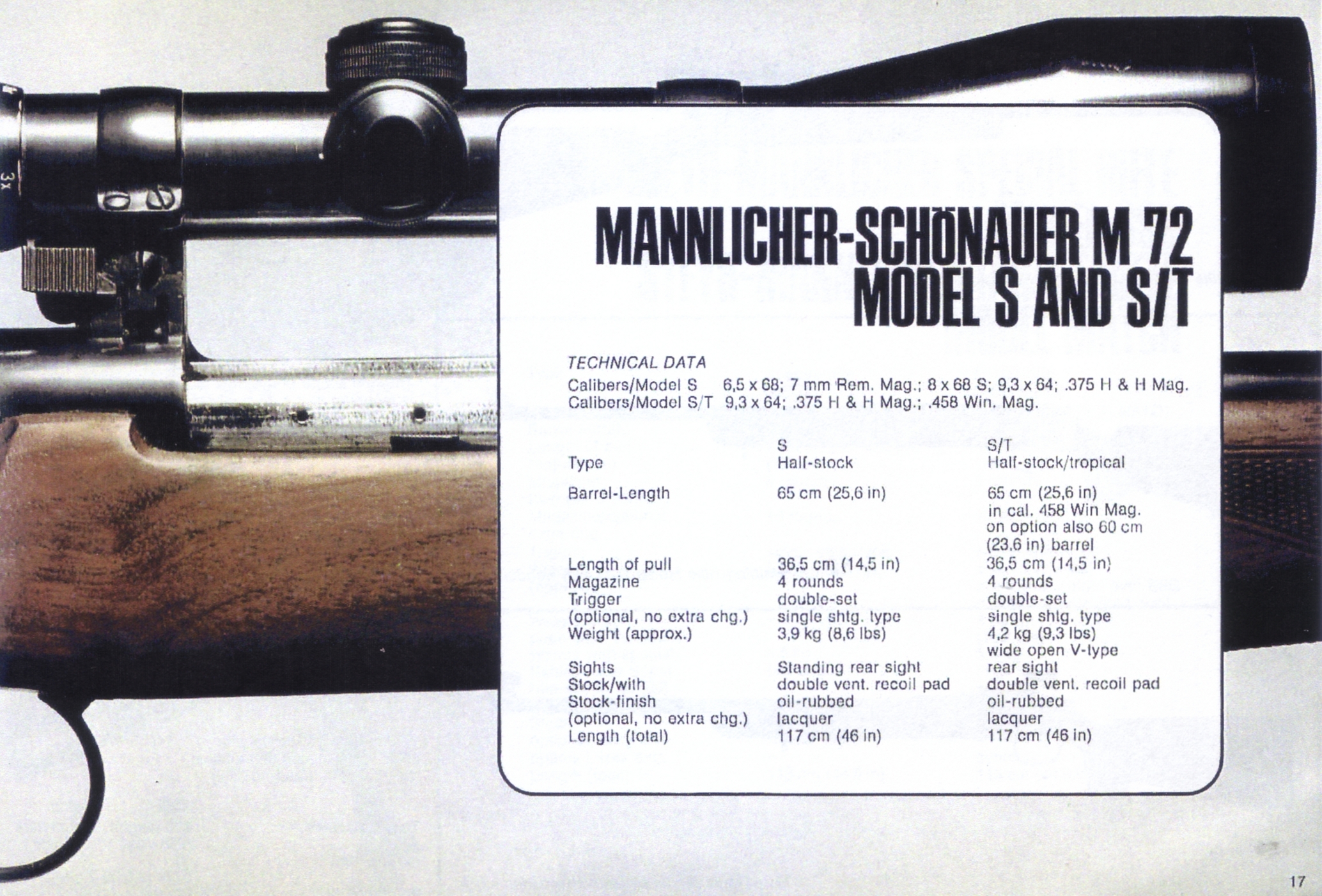 Open sights on the M72s I've seen have had either a plan vertical blade rear sight with a square notch or a forward angled "Open V" rear sight with a notch and a small gold triangle, combined with a plain blade front sight which had a light colour. A front sight hood was optional. There are model variations in the rear sight mounting. Some have a more square block on which the rear sight is mounted, others have a more gracefully curved ramp for the rear sight as per my rifle. I've included examples of a couple of different variations in the pictures above. My own 6.5x68mm Model S had the forward angled "Open V" rear-sight which is more commonly associated with the Model S/T.
Production of the Mannlicher-Schönauer M72 officially began in 1972, and, according to a letter I received from Steyr, ended in 1979. Interestingly my own rifle was proof marked "80" and delivered in 1980 so it was likely one of the last rifles made.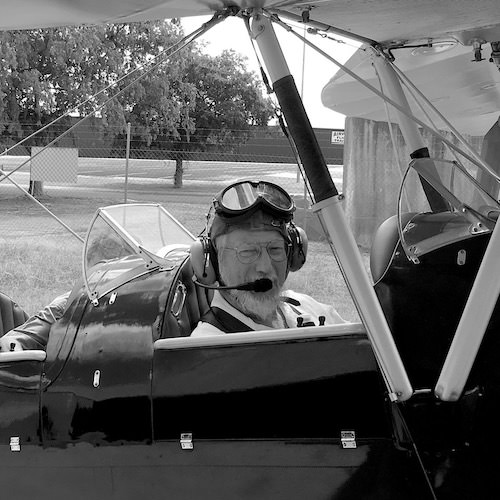 Jon Branch is the founder and senior editor of Revivaler and has written a significant number of articles for various publications including official Buying Guides for eBay, classic car articles for Hagerty, magazine articles for both the Australian Shooters Journal and the Australian Shooter, and he's a long time contributor to Silodrome.
Jon has done radio, television, magazine and newspaper interviews on various issues, and has traveled extensively, having lived in Britain, Australia, China and Hong Kong. His travels have taken him to Indonesia, Israel, Italy, Japan and a number of other countries. He has studied the Japanese sword arts and has a long history of involvement in the shooting sports, which has included authoring submissions to government on various firearms related issues and assisting in the design and establishment of shooting ranges.