"Out of Africa" with Meryl Streep and Robert Redford is one of my favourite movies. Director Sydney Pollack's blending of John Barry's music with Africa's landscape, people and wildlife is fabulous, and as the icing on the cake, they almost get the guns right. Denys Finch Hatton in real life carried a Lancaster double rifle in 450 Nitro Express, whereas in the movie he has a Holland and Holland 500/465 Nitro Express which looks very similar. For Karen Blixen the movie maker's would have had more trouble as she used a number of rifles over her time in Africa including a full stock Mannlicher-Schönauer.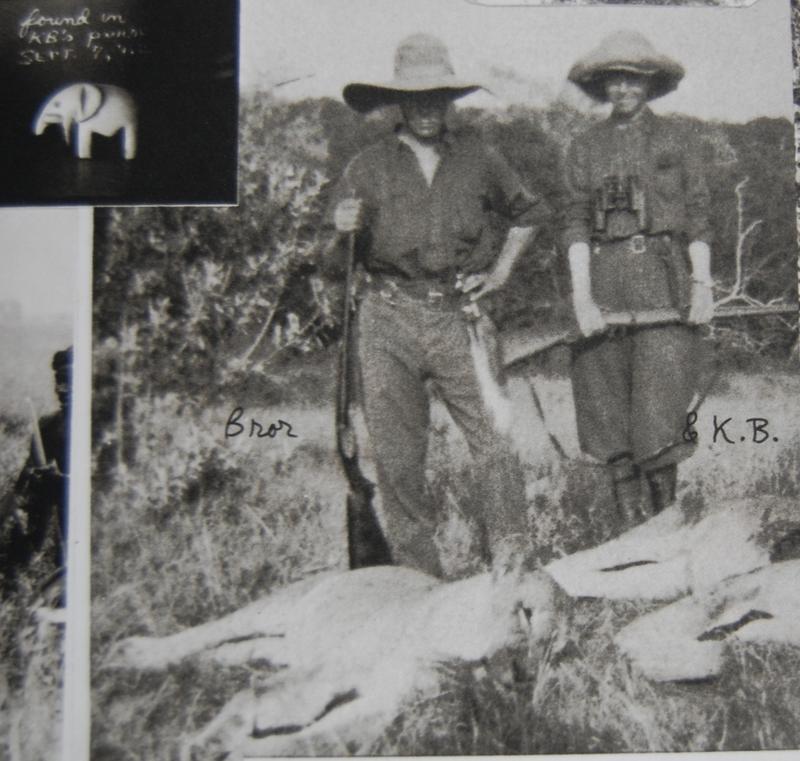 Karen Blixen's last rifle was however easy to identify, she had a Westley Richards bolt action magazine rifle chambered for the 318 Westley Richards. When she left Africa she sold the rifle to a neighbouring farmer who cut the fore-end shorter so he could better attach a decent light for night time leopard culling. To the best of my knowledge that rifle has long since been lost and the rifle in the Karen Blixen museum at the house where her farm was is apparently a .350 Rigby owned by her husband Bror. Nonetheless in the movie "Out of Africa" they went to the trouble of getting Karen Blixen's rifle correct.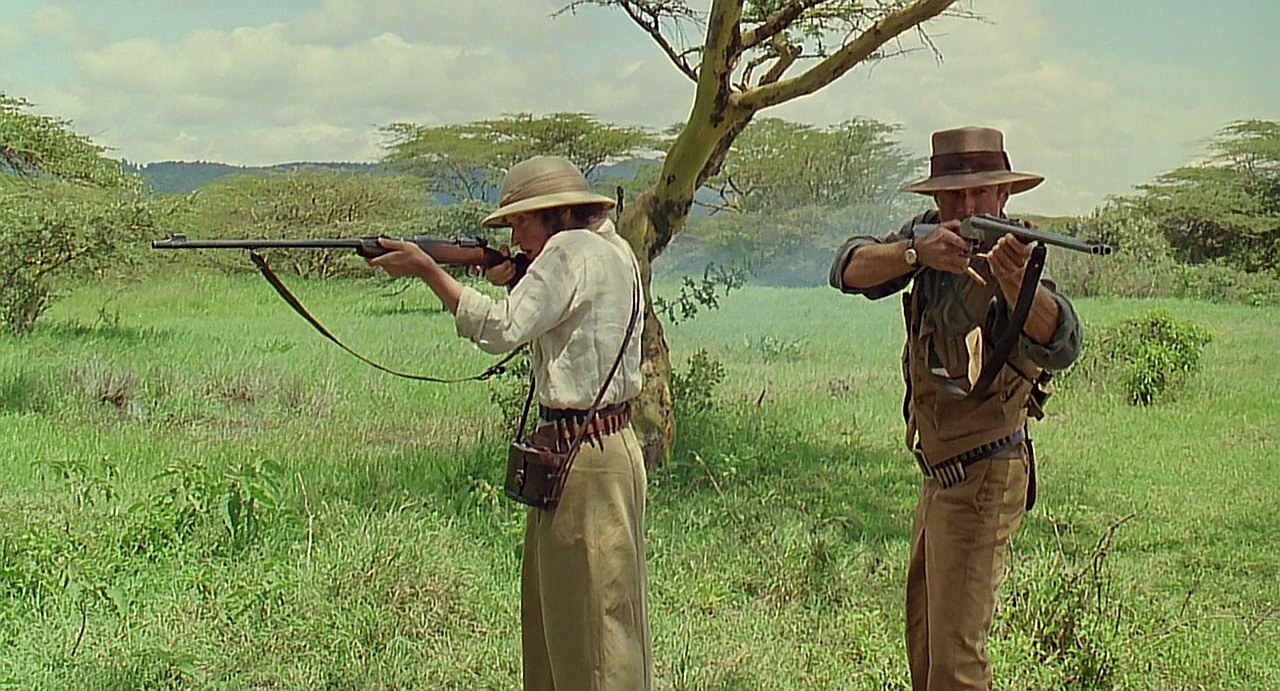 The above picture comes from imfdb.org who claim the rifle Karen uses in the movie is a Lee Speed Sporter. As you can see from the above photo the rifle Meryl Streep is using has a Mauser 98 action, evident by the bolt stop lever which the Lee Speed does not have, and that it is indeed a genuine Westley Richards .318. As Westley Richards also made sporting rifles based on the Lee Speed action the folks at imfdb.org may have mixed one with the other, but the Lee Speed was chambered for the .303 British cartridge.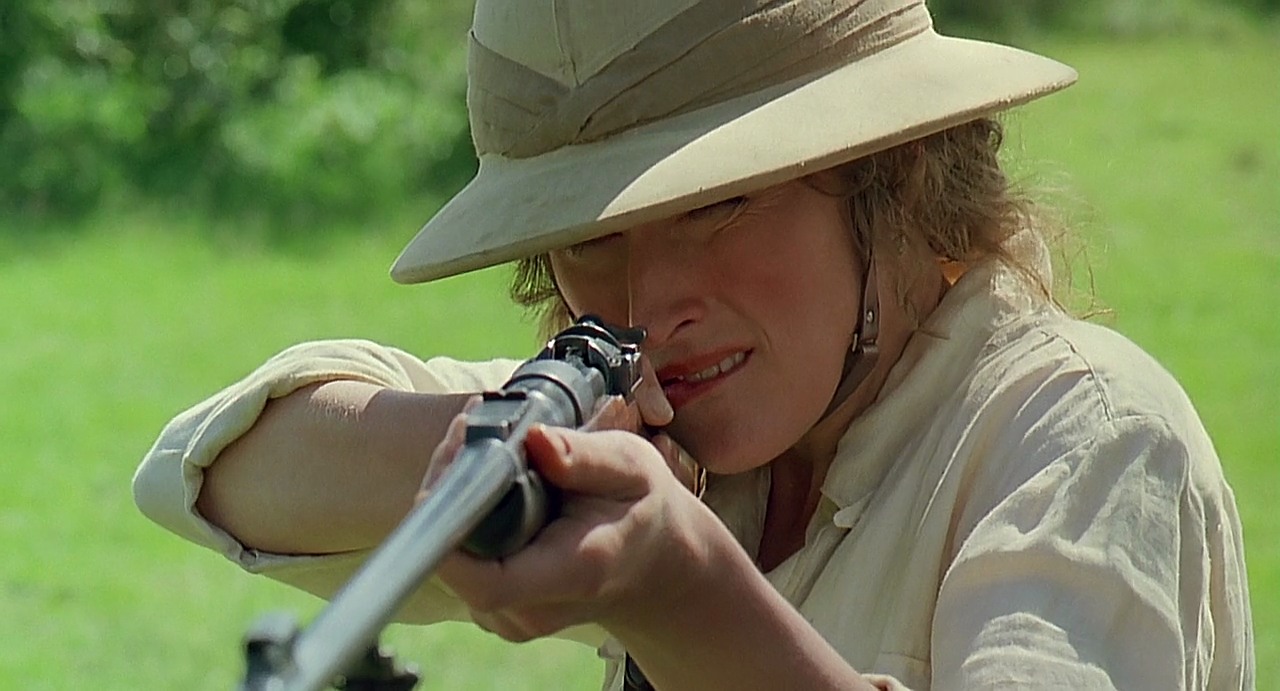 Which brings us to the interesting rifle being offered by Bonhams at their upcoming "Modern Sporting Guns" auction to be held in London on 12th May 2016. The rifle is a 1927 Westley Richards bolt action magazine rifle in 318 Westley Richards "Accelerated Express", not Karen Blixen's actual rifle but pretty much identical. The rifle has open-sights for 100, 200, 300, 400 and 500 yards matched to a block-mounted bead-foresight with protector. The pistol grip cap has a trap, most likely for an oil bottle, the steel but plate also has a trap which may have been for extra cartridges or cleaning equipment. The rifle would need to be examined to determine which.
You will find the Bonhams auction sale page for this rifle if you click here.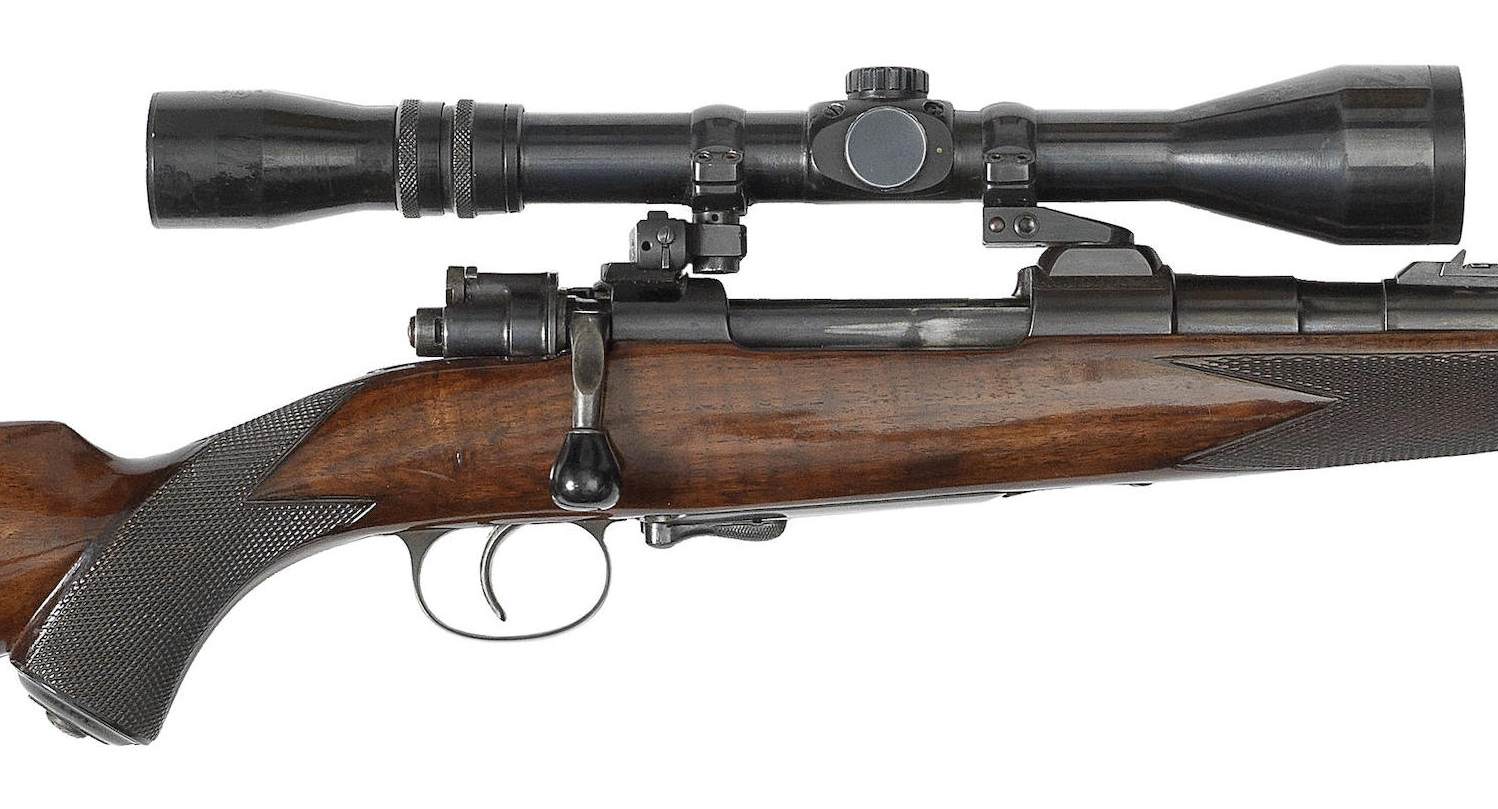 The rifle is fitted with a Pecar 4-10x45mm rifle scope. These were a well regarded premium quality rifle-scope in the US, Canada, Britain and Australia, and were popular amongst professional kangaroo shooters in Australia. They had a reputation for rugged reliability and also had an interchangeable reticle system. The rifle-scope fitted to the sale rifle appears to have the interchangeable reticle system fitted as is evident from the turret caps and screws on the reticle housing. The rifle scope and mounts look to be a later attachment being post war, most likely having been fitted in the sixties. The eyepiece, and the focus and power changing rings on Pecar rifle scopes made in the seventies are alloy and thus different to the older style steel ones on the sale rifle.
Reloading for the 318 Westley Richards is made a bit difficult because the bullet diameter is .330″. Bullets would need to be sized to .330″. You can get Hornady 205grain spitzers for the 8x56R (check this link for the Wikipedia page on the 8x56R for some ideas on resizing or creating .330″ bullets) which are .330″ diameter from Graf & Sons if you click here. These Hornady bullets are obsolete and out of production. You can find correct .330″ FMJ Woodleigh bullets on Midway USA if you click here. Midway USA had empty brass for the 318 Westley Richards which you'll find if you click here although it is now listed as out of production. 318 Westley Richards cases can however be made from cheap and plentiful 30/06 brass. Midway USA have the RCBS forming dies which you'll find if you click here.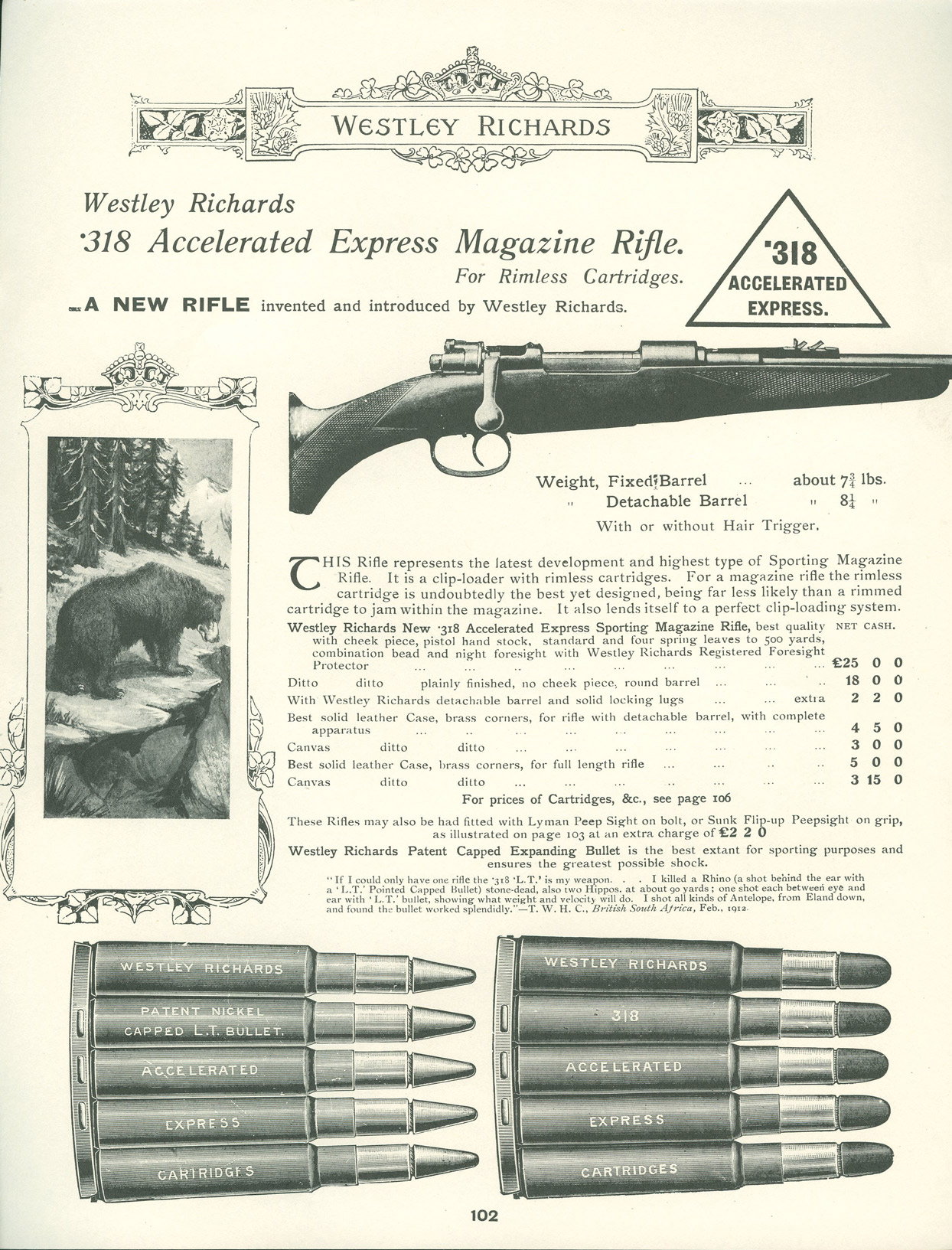 This is a rifle that brings with it the romance of an era long since past. An era we catch a glimpse of in movies such as "Out of Africa" – romanticized though it is. But I'm an old romantic at heart so that's all good with me.
A couple of weeks ago I was on a road trip with family and they told me we were going to see a vintage aircraft museum which sounded like fun. When we arrived there was an old Tiger Moth bi-plane and whilst we were having a look at it my eldest son put his arm around my shoulder and said "You're going up in this today". So it was my first trip up in a Tiger Moth and it was absolutely fantastic – even though there were no herds of wildebeest or flamingos to fly over, and I finished up having the music from "Out of Africa" playing in my head for the next couple of days.
Life is good, enjoy it whilst you can. And enjoy the people who make this journey of life so wonderful.

(Video courtesy berkshire101 on YouTube).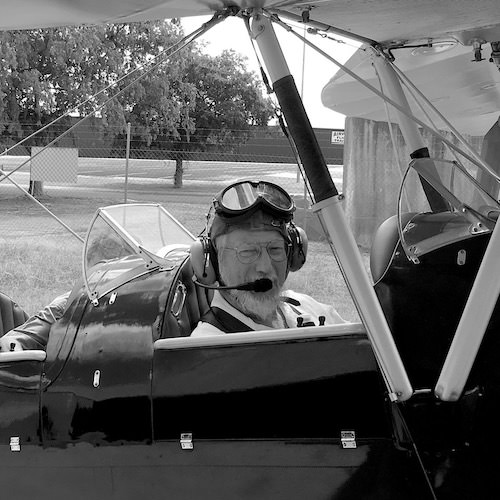 Jon Branch is the founder and senior editor of Revivaler and has written a significant number of articles for various publications including official Buying Guides for eBay, classic car articles for Hagerty, magazine articles for both the Australian Shooters Journal and the Australian Shooter, and he's a long time contributor to Silodrome.
Jon has done radio, television, magazine and newspaper interviews on various issues, and has traveled extensively, having lived in Britain, Australia, China and Hong Kong. His travels have taken him to Indonesia, Israel, Italy, Japan and a number of other countries. He has studied the Japanese sword arts and has a long history of involvement in the shooting sports, which has included authoring submissions to government on various firearms related issues and assisting in the design and establishment of shooting ranges.