Tom and William Henderson formed their Henderson Motorcycle Company in Detroit in 1912 and created one of the most exciting motorcycles the world had seen up to that time. The Henderson featured an in-line F head (inlet over exhaust) air cooled engine and quickly gained a reputation for itself for speed and agility. The company the Hendersons had started was purchased by Chicago cycle maker Ignaz Schwinn who owned the Excelsior Motorcycle Company in 1917 and initially the Henderson brothers remained with the company which was by then producing the Excelsior Henderson motorcycles. But by 1919 Tom and William had decided they valued their design freedom and so they left Excelsior and created a new company which they called Ace Motorcycles.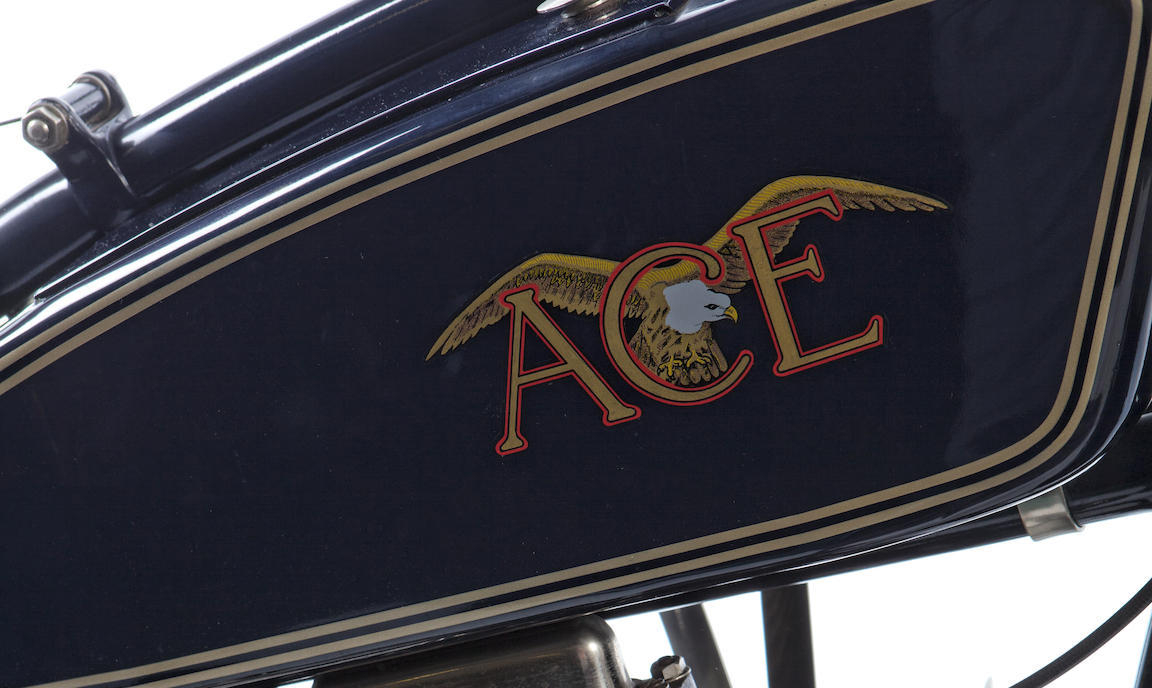 Being careful not to infringe on the patents now owned by Excelsior Tom and William designed a new motorcycle with a 1,220cc F head in-line four cylinder air cooled engine which in typical Henderson style was made lightweight, with lively handling, and an elegant sufficiency of power and speed. The new Ace tipped the scales at a mere 365lb and as such is amongst the lightest 1,220cc motorcycles created.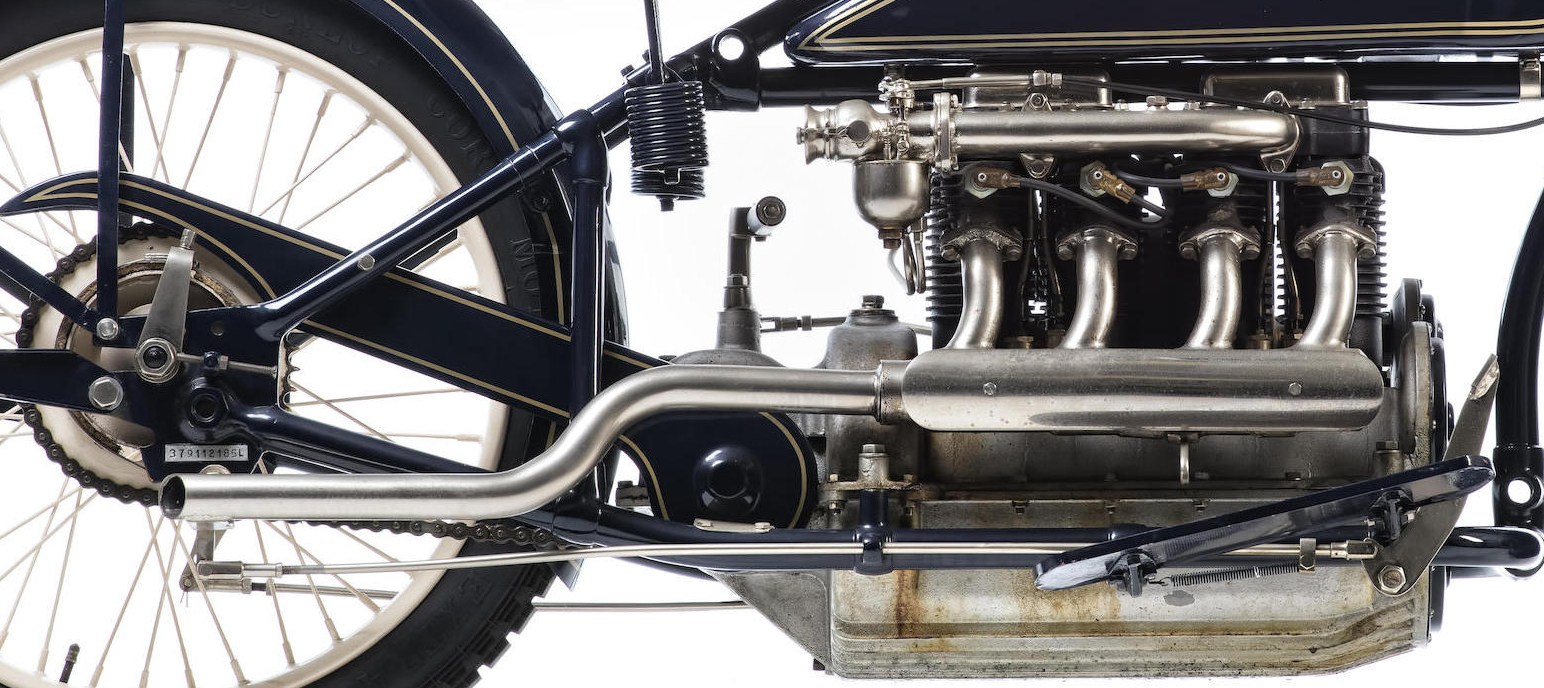 The Hendersons quickly began work on establishing the "street cred" of the Ace by hiring a rider known as "Cannonball" Baker (Erwin G Baker) to take an Ace on a US transcontinental record breaking ride. "Cannonball" Baker likely surprised everyone by completing the trip in 6 days, 22 hours and 52 minutes handsomely breaking the previous record set by Wells Bennett on a Henderson.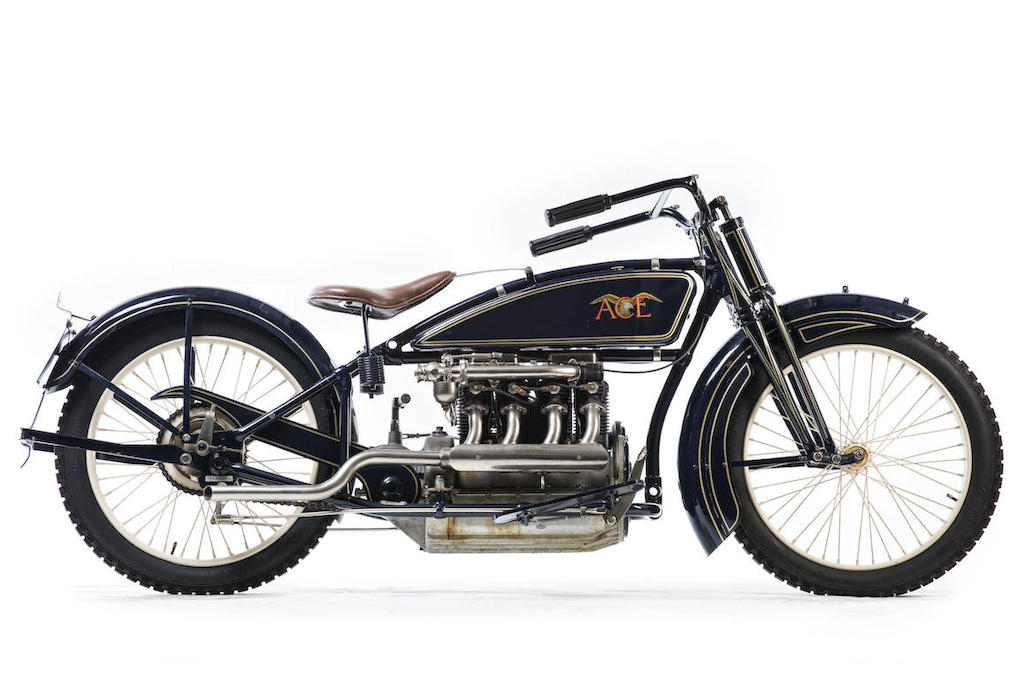 Sadly in 1922, on the morning of the 11th December, William Henderson was killed when the motorcycle he was riding was hit by an automobile. This led to a former Henderson salesman Arthur O. Lemon stepping in to take leadership as Chief Engineer in the company in 1923. Following these events also in 1923 a rider named Red Wolverton set a speed record of 129mph on a specially prepared Ace XP-4 and Ace created the "Ace Speed Trophy" and issued a cash prize challenge for someone to beat it. No-one ever did.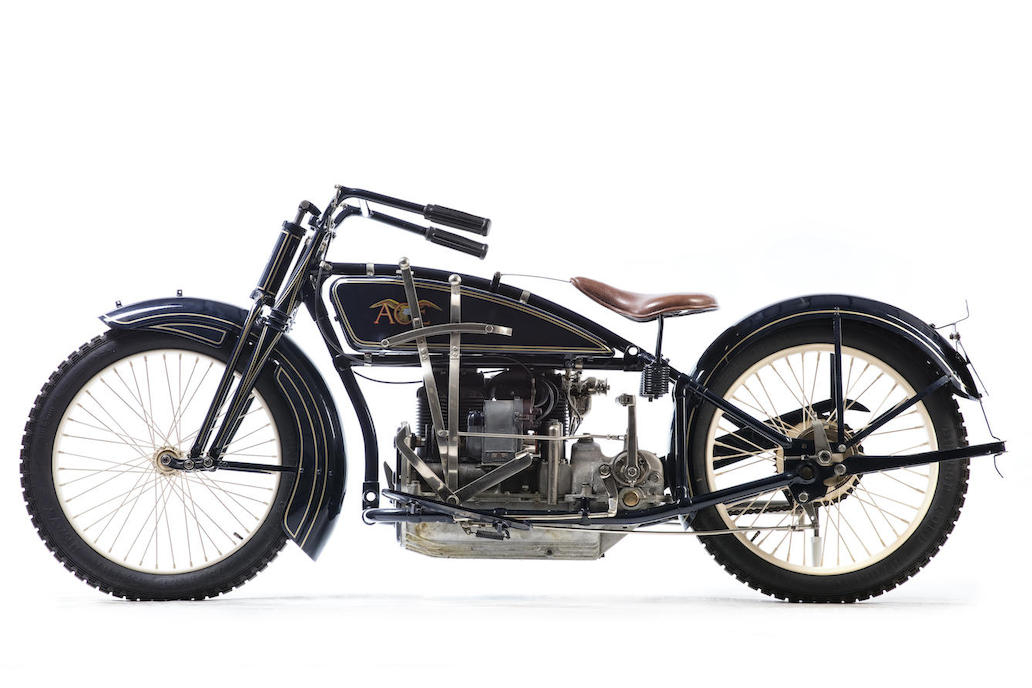 Despite Arthur O. Lemon's stepping in as Chief Engineer Ace ended in 1924 and went though a couple of owners until it was purchased by Indian Motocycle in 1927. The Ace became the basis for the iconic Indian four cylinder motorcycles of the twenties, thirties and forties, a bike described as "The Dusenberg of Motorcycles". It was the Tom and William Henderson Ace that was the father of that bike and the Indian four became the legacy that Tom and William Henderson gave to American motorcycling.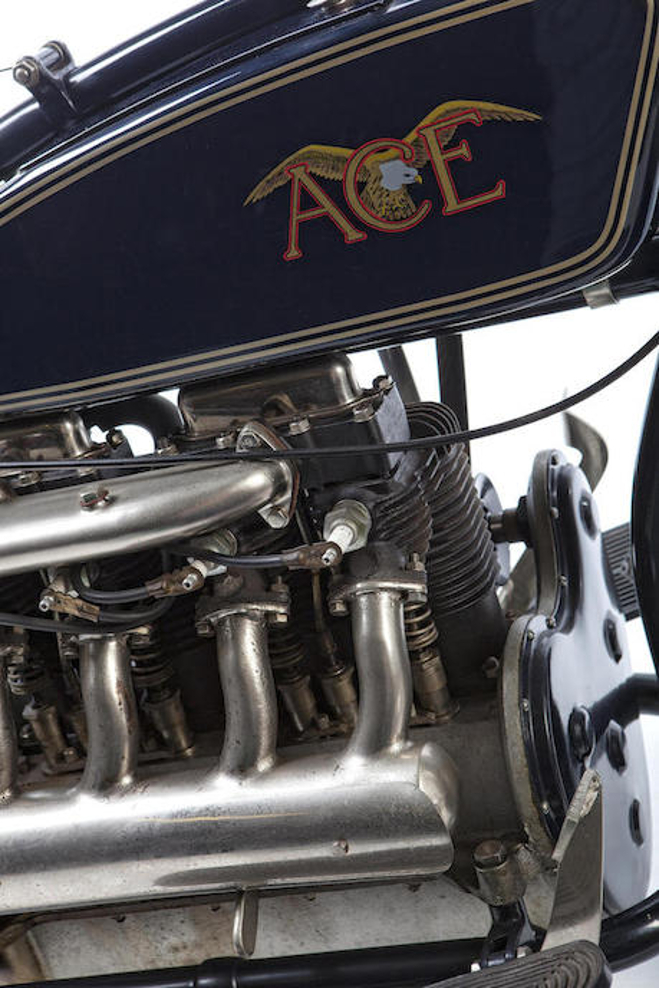 The beautifully restored Ace 1,220cc Four from 1920 is coming up for sale by Bonhams as a part of the sale of the Robert White Collection.
You will find the sale page for this motorcycle if you click here.
The auction is to be held in London on 19th September 2016.
Of all the motorcycles that might be considered a "must have" this surely is one of the most important. It represents Tom and William Henderson's highest level of design sophistication and as such it is a beautiful and lightweight motorcycle that epitomizes their design philosophy.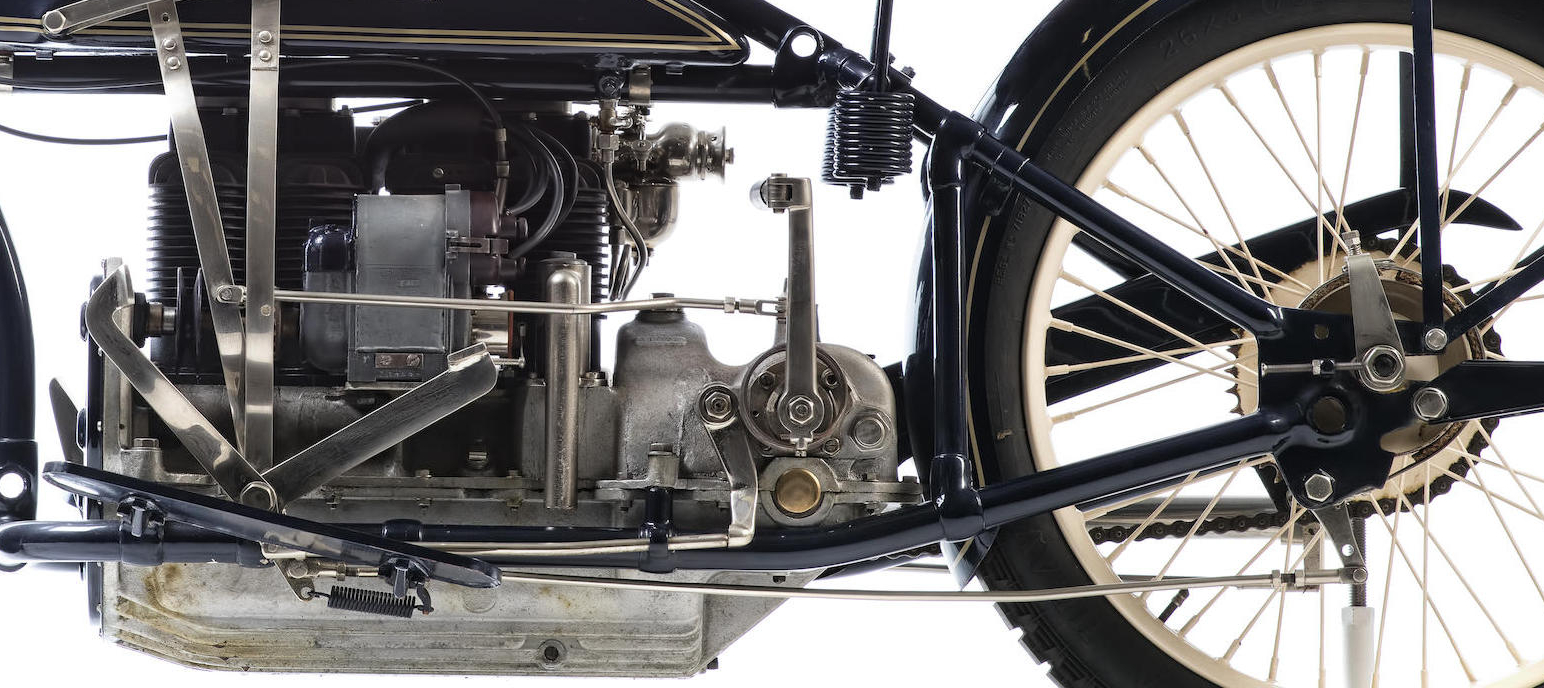 (All pictures courtesy Bonhams).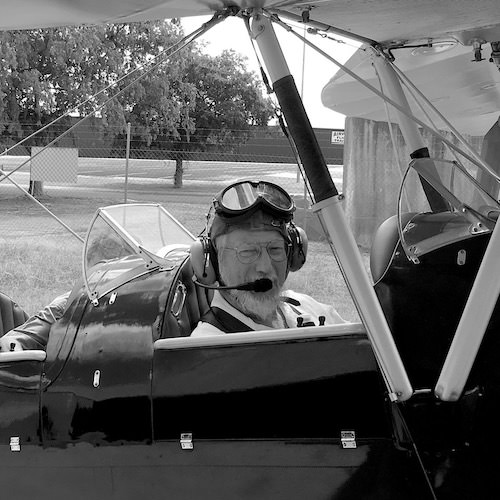 Jon Branch is the founder and senior editor of Revivaler and has written a significant number of articles for various publications including official Buying Guides for eBay, classic car articles for Hagerty, magazine articles for both the Australian Shooters Journal and the Australian Shooter, and he's a long time contributor to Silodrome.
Jon has done radio, television, magazine and newspaper interviews on various issues, and has traveled extensively, having lived in Britain, Australia, China and Hong Kong. His travels have taken him to Indonesia, Israel, Italy, Japan and a number of other countries. He has studied the Japanese sword arts and has a long history of involvement in the shooting sports, which has included authoring submissions to government on various firearms related issues and assisting in the design and establishment of shooting ranges.