The End of a Perfect Day
When we come to the end of a perfect day out shooting, or even a not so perfect day, it is one of the nicest experiences in life to be able to sit around with friends and perhaps share a drink or two, preferably accompanied by a decent cigar. I don't know about you but I've long been one to believe that just because we are out camping that is not a reason to embrace being uncomfortable nor for being deprived of life's simple but delightful pleasures.
Thus it was that I acquired a reputation among shooting friends for being someone who would ensure that a suitable set of life's little necessary luxuries would be brought out of my old Land Rover. Those little luxuries would include folding chairs and a folding table, picnic equipment, and a coffee percolator. My shooting friends would thoroughly enjoy laughing my little luxuries to derision: but they'd all come to scrounge a cup of aromatic percolated coffee. It was all fun, and it was no great burden to the Land Rover to be loaded with a few bits of furniture to turn camping into "glamping" (i.e. glamorous camping). The word "glamping" hadn't been invented back in the 1970's, at least not among the people I knew, so who knows, perhaps I was one of the intrepid comfort pioneers who helped bring it into existence, though I'm sure there must have been many of us.
Camp Furniture With Comfort and Style
While it is possible to be comfortable with inexpensive camp furniture life can be even more satisfying with rather better quality things. One company that specializes in providing top shelf gear for a hunting trip be it in Africa or the United States is African Sporting Creations. They make a wide range of equipment from knives and boots to slings and shooting sticks, but one of the things they do is gorgeous camping furniture.
A Rifle Rack Fit for a British "Best" Rifle
In my travels around various rifle ranges I've observed that the rifle racks are almost always pretty rough and rudimentary affairs and range rules typically require that a shooter's rifle be kept on that rifle rack during target changes. So we often see a fairly flimsy rack being used to hold tens of thousands of dollars worth of rifles. If you are looking for a rifle rack that will be a perfect custodian for your rifle whether its a Holland & Holland or a Winchester or any of the shades in between then the African Sporting Creations British Campaign Gun Rack is well worth a look.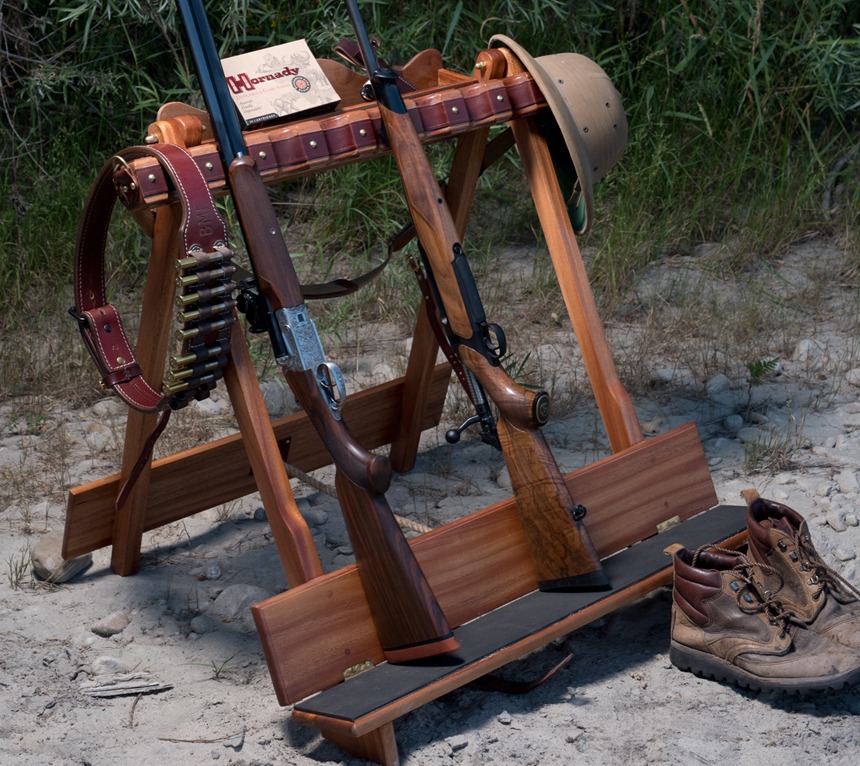 The British Campaign Gun rack is three feet wide, 32 inches tall, and 26 inches deep. It holds up to nine rifles and/or guns and is wide enough for twelve gauge side-by-side shotguns. The rack also incorporates an ammunition box. It is hand-made in Africa of African Mahogany with saddle leather and brass fittings. The rack folds down to 5 inches deep for transport so it is quite convenient to pack into a vehicle.
You'll find the page with more details of this item if you click here.
Roorkhee Take-Down Chair
The Roorkhee chair was originally a catalog item of the British Army and Navy Stores during the days of the British "Raj". It was the most popular chair for officers from 1898 until the beginning of the Second World War because of its comfort and portability.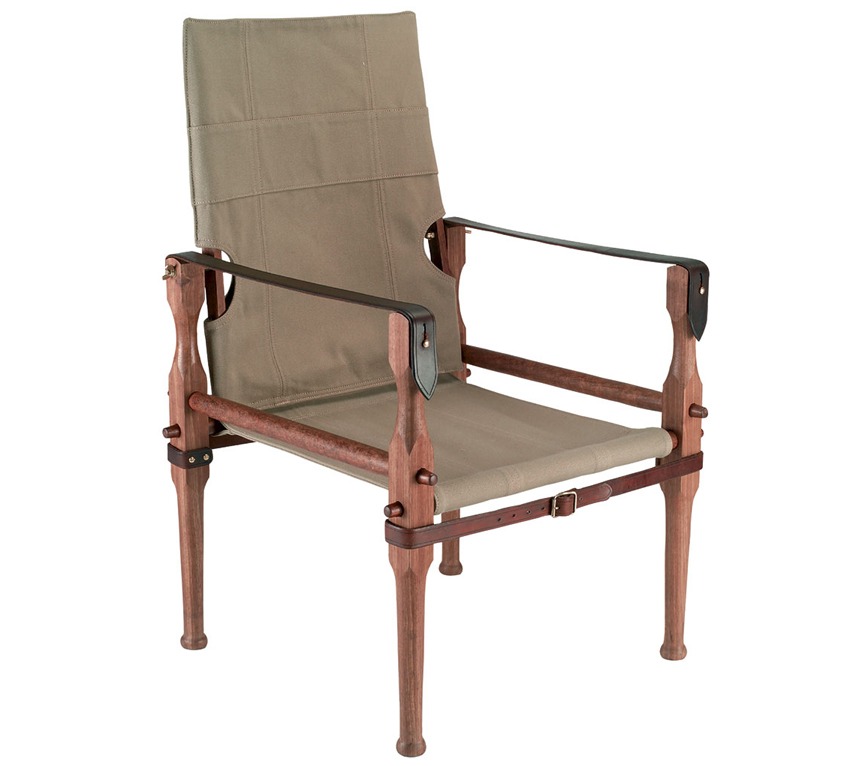 The Roorkhee chair folds down flat and can be easily carried on a pack horse should you be venturing into places a Land Rover cannot go and you are determined to have your "glamping" creature comforts regardless: just as British officers were back in days gone by.
You will find the page for the Roorkhee chair if you click here.
Campaign Side-Table
Once you have your rifles on the rifle rack and you've got a decently comfortable chair to ensconce yourself in what might be needed is something to drink or snack on, and that will require a side-table which can safely support a drink glass or two and the snacks.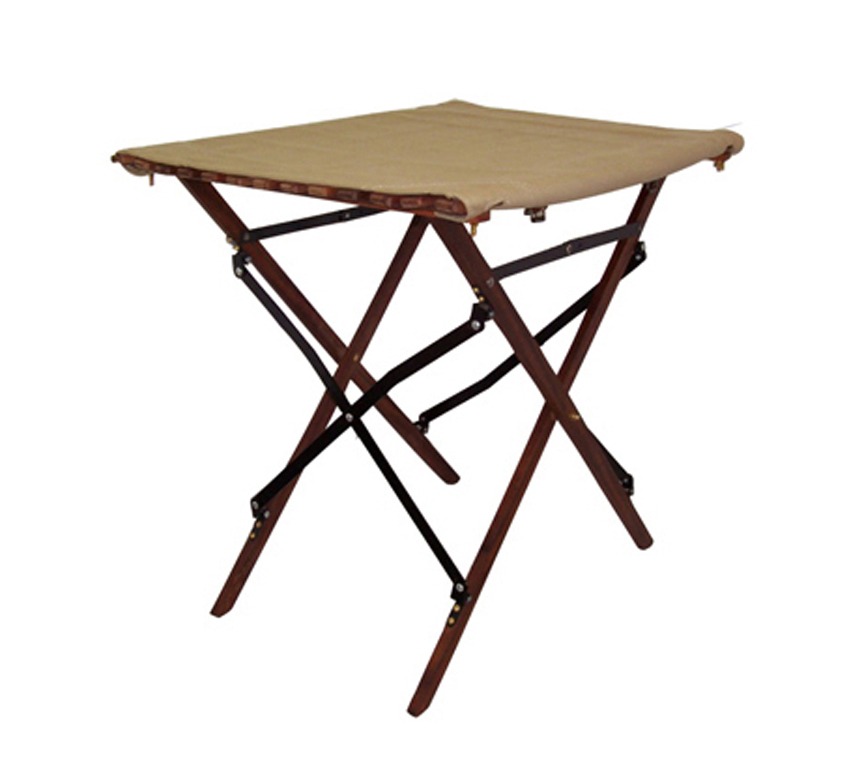 This Harry Moon camp side-table features a slatted roll-up with canvas cover and folding legs, which makes it both stable enough for drinks glasses and similar items.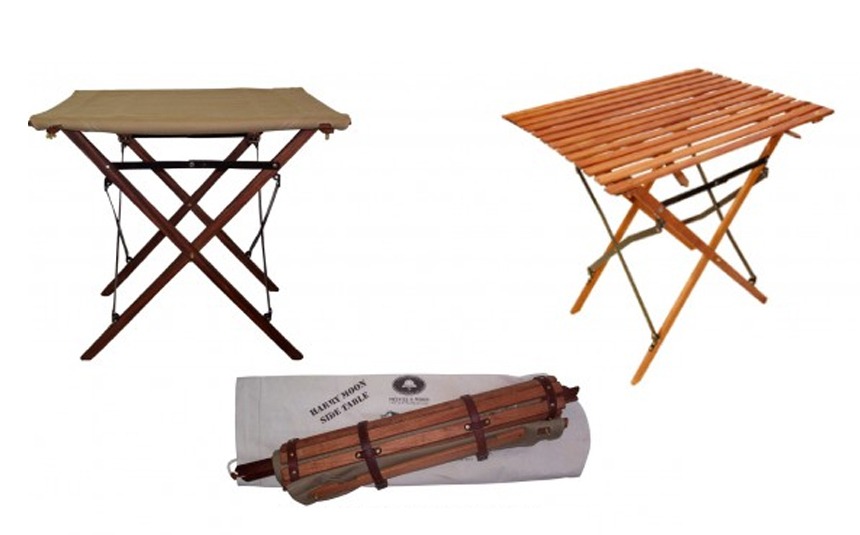 You will find this roll-up folding side table if you click here.
Camping Champagne Bucket or Wash Basin
At the end of a Formula 1 motor race it is champagne all around to celebrate a win. Likewise when out hunting a successful hunt should be celebrated in a similar way. Champagne is best served chilled and so one needs a means of chilling it and keeping it at a moderate temperature. A folding wash basin is a good way to accomplish this, presuming you have had the presence of mind to bring some ice with you in your camping fridge/freezer.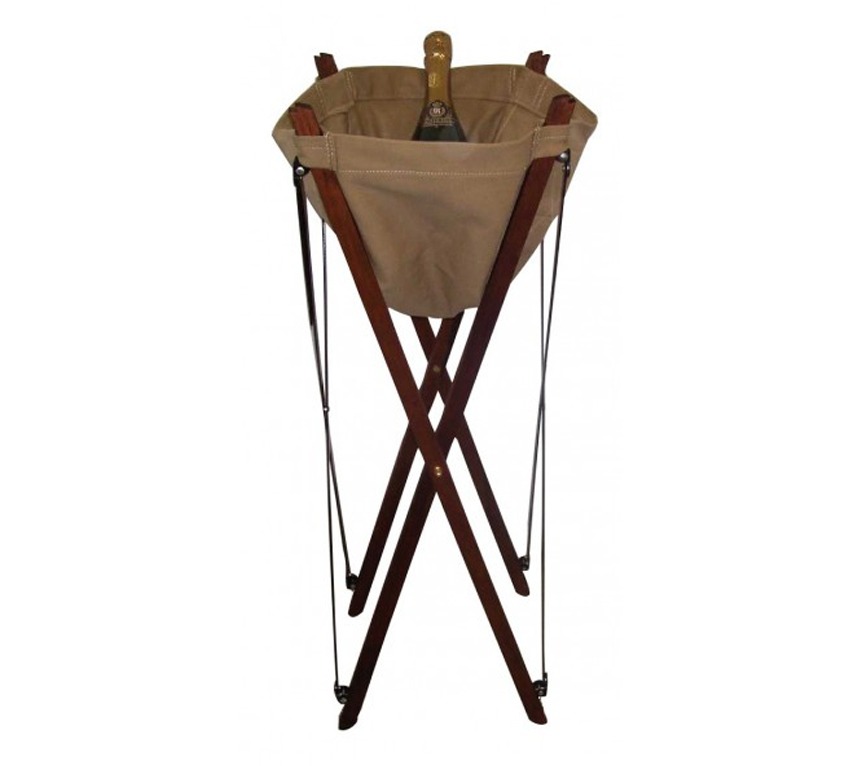 This wash-basin is made by Harry Moon and it provides a folding water and/or ice container, so its very multi-purpose.
You'll find this item if you click here.
Field Chair
If you need a chair that's more easily portable then the Field Chair by Melvill and Moon is a good choice. This chair was popular for officers during the Second World War in part because of its comfort and also for its portability.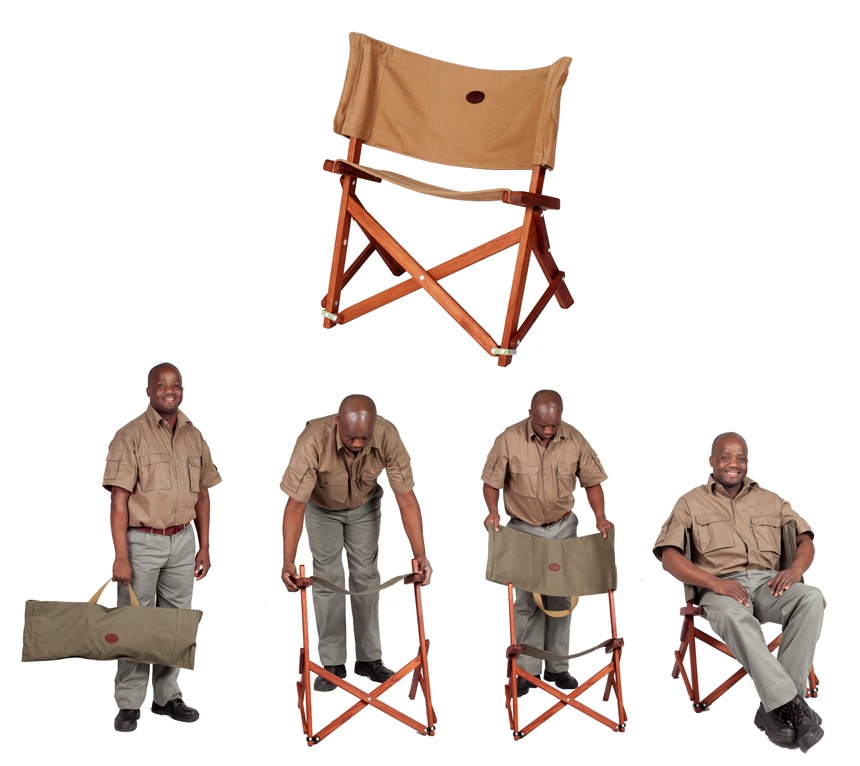 This is a good alternative to the Roorkhee chair being smaller. It is made of white oak and washable canvas.
You will find the Melvill and Moon Field Chair if you click here.
Leather Scotch Carrier
Last but not least, at the end of a day out shooting, whether we're in good spirits or need commiseration and a bit of cheering up then cracking open the spirits for a modest tipple can be a great end to a great, or not so great day.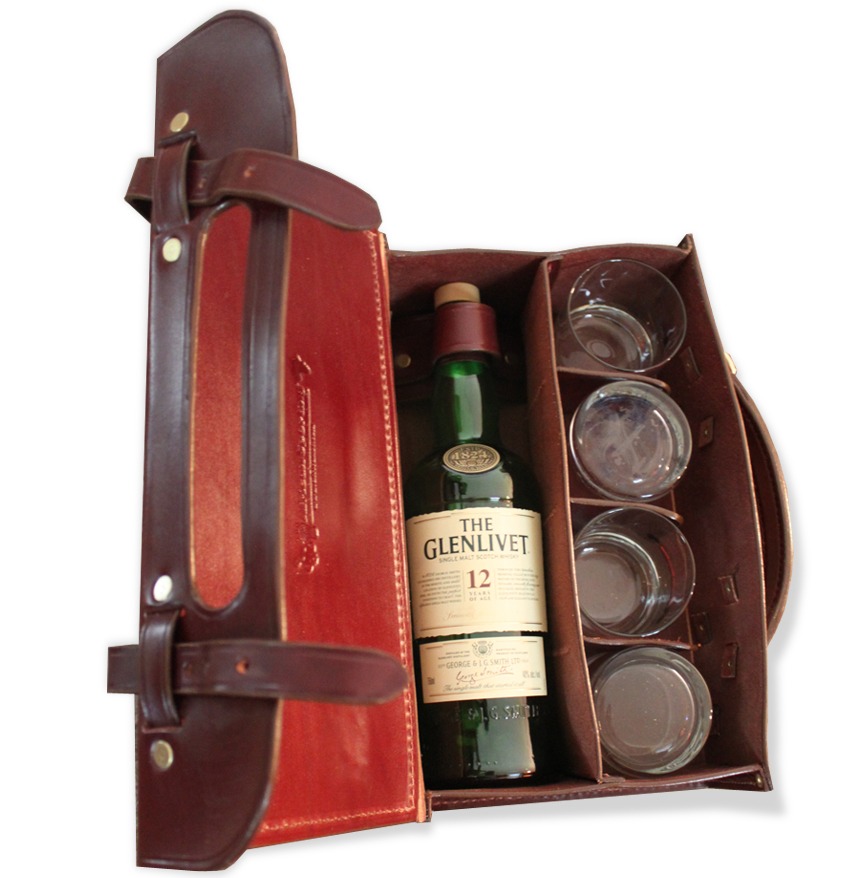 This leather case holds a bottle of your favorite spirits and four glasses so you can share with friends and enjoy your time. The case is hand made of extra thick, hand stitched, vegetable tanned leather and both looks good and works well to protect whatever favorite spirit you prefer to carry. In my case it would not be a bottle of scotch but a nice Lemon Hart rum while a shooting friend has a penchant for Jameson's Irish Whisky, which I tell him is almost as nice as a good rum.
This case measures 13″ across, 7.5″ deep and 4″ tall and comes complete with glasses, but not with the scotch illustrated, nor with a bottle of Lemon Hart rum.
The case can be ordered with a personal monogram at modest extra cost.
You will find this practical and gentlemanly elegant spirits case if you click here.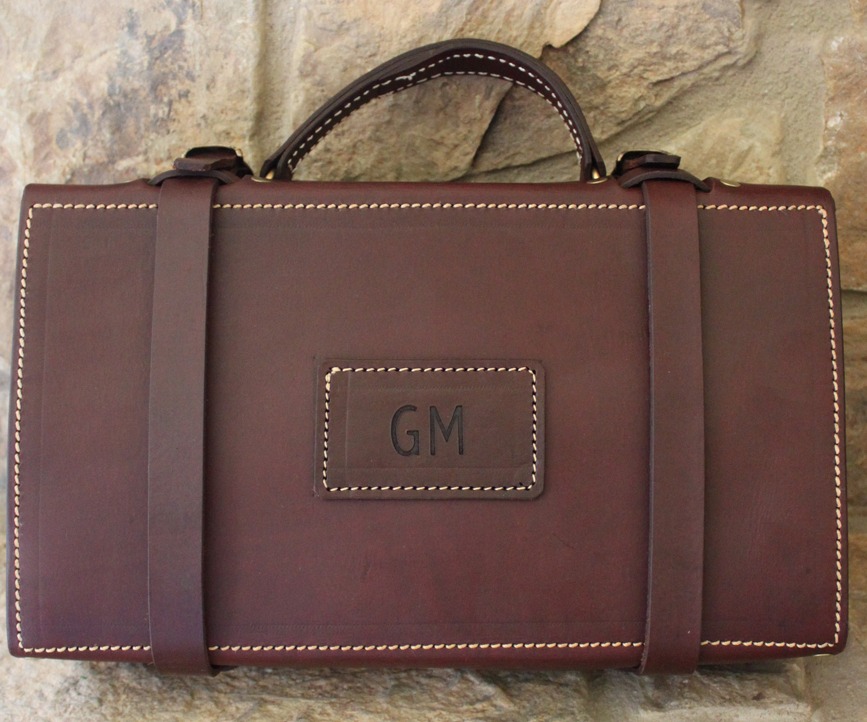 Conclusion
When out shooting and/or camping we often have a choice as to whether we are going to be "roughing it" or enjoying a measure of comfort. Choosing a few suitable accessories can make all the difference and make our time out shooting with good friends all the more pleasurable, and more memorable.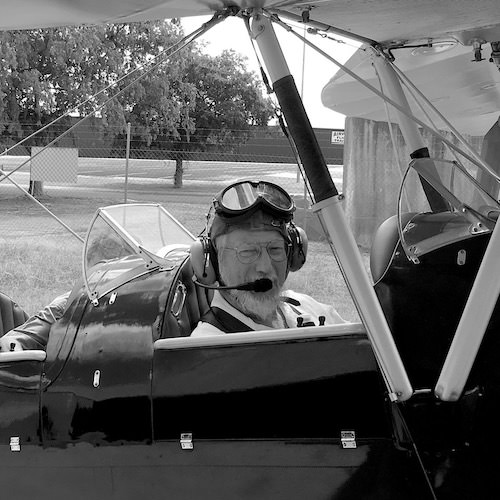 Jon Branch is the founder and senior editor of Revivaler and has written a significant number of articles for various publications including official Buying Guides for eBay, classic car articles for Hagerty, magazine articles for both the Australian Shooters Journal and the Australian Shooter, and he's a long time contributor to Silodrome.
Jon has done radio, television, magazine and newspaper interviews on various issues, and has traveled extensively, having lived in Britain, Australia, China and Hong Kong. His travels have taken him to Indonesia, Israel, Italy, Japan and a number of other countries. He has studied the Japanese sword arts and has a long history of involvement in the shooting sports, which has included authoring submissions to government on various firearms related issues and assisting in the design and establishment of shooting ranges.