The Austin FX3 became the iconic post-war London taxi during the period up into the "swinging sixties" in which British pop groups captured the music charts all over the world and London's Carnaby Street became a global fashion centre.
The Austin FX3 was the London taxi during the time that saw the Austin/Morris Mini burst onto the world stage: a time in which the Jaguar E-type (XKE) made its debut to be described by Enzo Ferrari as "The most beautiful car ever made".
The Austin FX3 Taxi did not share much in common with the E-type save in one thing – neither one featured synchromesh on first gear.
Fast Facts
The Austin FX3 Taxi made its debut in 1948, just three years after the end of the Second World War, and went into full production in 1949.
The FX3 was made to be reliable, easy and inexpensive to maintain, and comfortable.
One of the FX3's unusual features was its "Jackall" hydraulic jacking system which allowed a driver to easily and safely jack up his taxi to change a flat tyre.
The FX3 remained in production until 1958, and in regular use until 1968.
Background History
The origins of British car maker Austin's involvement in designing and making taxis for use in Britain's cities dates back to 1928. That year Will Overton, who was the director of the Mann and Overton car dealership, approached Herbert Austin of Austin Motors with the desire to create a taxi car that would comply with the new regulations for taxicabs in Britain's capital city, London.
Prior to that time the first motor taxi cars had been a mix of French Renault Type AG, five hundred of which had been imported by the General Cab Company in 1906, and French Unic, which were brought into Britain by the Mann and Overton car dealership.
London Hackney Cabs had been regulated since the 17th Century but the "Conditions of Fitness" rules for motorized cabs was introduced in 1906. These rules required that taxi cars have a minimum ground clearance of ten inches and a turning circle of not more than twenty five feet. Then in 1907 taximeters were mandated and as a result these Hackney Cabs came to be renamed Taxicabs.
The Conditions of Fitness regulations were unchanged until 1927 when the ten inch ground clearance requirement was reduced to seven inches.
On 1st May 1926 the McKenna Duties were introduced: these were intended to place a tax on imported commercial vehicles and thus pressure British commercial vehicle operators to purchase vehicles that were made in Britain.
This new tax meant that the Renault and Unic vehicles were suddenly too expensive, and Will Overton of the Mann and Overton dealership approached Herbert Austin of Austin Motors with a view to having Austin modify their Heavy 12/4 hire car chassis to meet the Conditions of Fitness to create a British made London taxicab.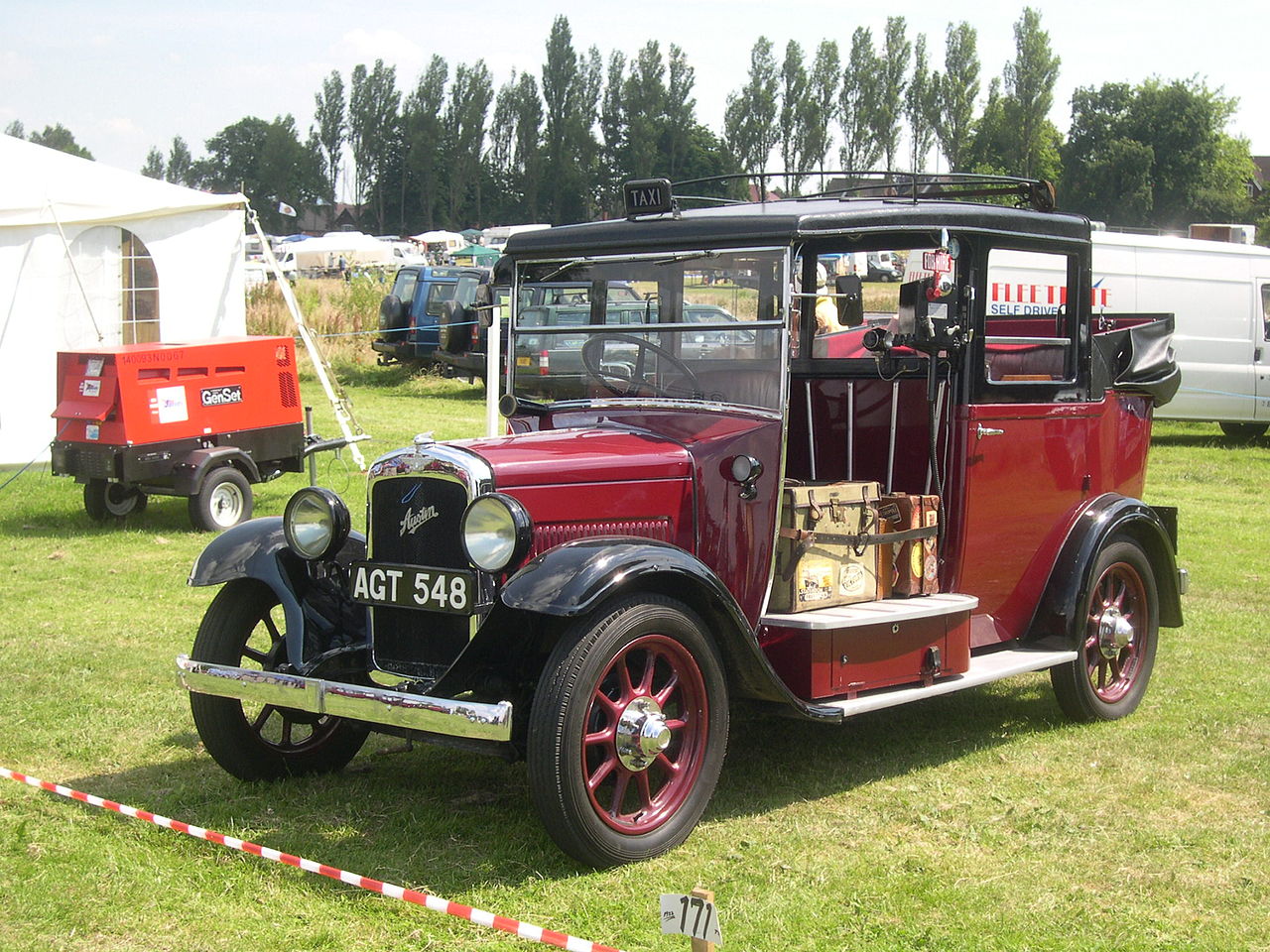 Happy to have the ability to break into the taxicab market Herbert Austin agreed, and in the same period the Conditions of Fitness regulations were eased somewhat which assisted in the process of allowing the use of British made vehicles as London taxicabs.
Austin supplied the rolling chassis for these new taxicabs, the coachwork was made by three London coach-builders: Strachan, Vincent or Jones.
There would be two versions of this first Austin taxicab, from 1930-1934 was the "High Lot" which was also known as the "Upright Grand". Then from 1934 came the "Low Loading" model and finally just as the war was about to start in 1939 was a model known as the "Flash Lot" which featured styling differences in a raked front grill and windscreen.
Enter the Austin FX3 Taxicab
The Second World War tended to put the creation of new taxi models on hold, and the post-war austerity period extended that pause, but in 1948 Mann and Overton debuted their new FX3 taxi model which was built on a custom Austin chassis and running gear, with bodywork made by Carbodies of Coventry.
The new Austin FX3 was kept as mechanically conventional as possible with reliability and durability as its most important assets.
The front suspension was by beam axle and leaf springs while at the rear was a driven live axle  suspended by leaf springs. The ride was comfortable as I recall from the few times I rode in one.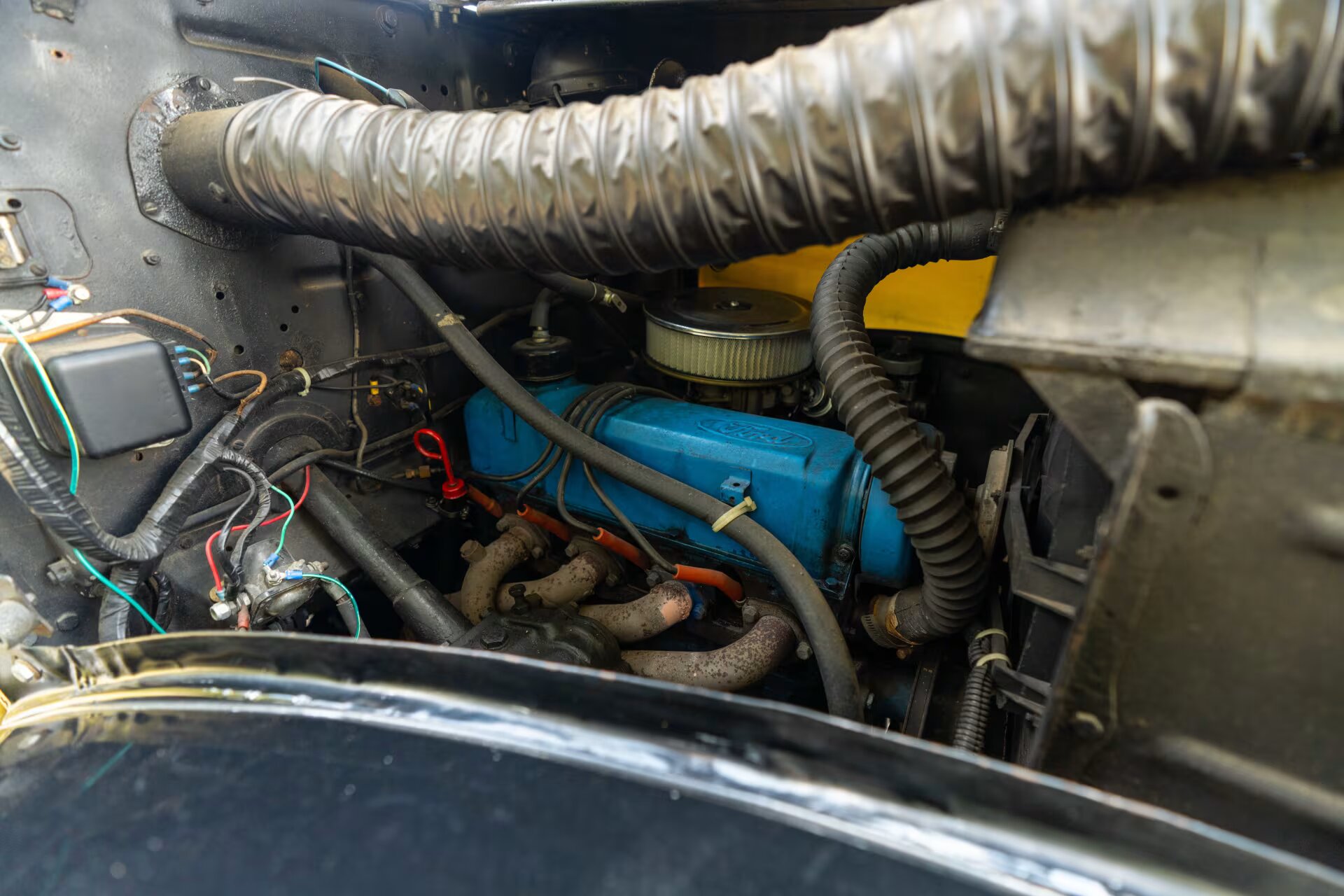 The engine was a 2.2 litre OHV Austin petrol/gasoline inline four cylinder mated to a four speed manual gearbox with gearshift lever on the floor to the left of the driver. In the typical British style of the 1950's and 1960's there was no synchromesh on first gear but there was on the upper three.
During 1957-1958 Austin also offered an automatic transmission option. These seem to be quite rare among survivors nowadays so it seems likely that this was not a popular choice for owners. Britain to this day has been a bit of a stronghold of the manual transmission and the manual was certainly the popular choice during the 1950's and 1960's.
The bonnet/hood style with exposed front wings/fenders permitted easy access to the engine and related mechanical parts.
A novel feature was the built in Jackall hydraulic jacking system for each of the four wheels, so changing a flat tyre was made as easy as possible.
The brakes were not hydraulic however but mechanically actuated drums, using rods.
Steering was not power assisted so some muscle was required for close manuvering, but the front wheels angled sharply enough to make the twenty-five foot turning circle (7.6 metres) required by the Conditions of Fitness.
Wheels were sixteen inch, and the fuel tank capacity was 12.1 Imperial gallons (14.5 US gallons, 55 litres).
The electrical system was by British auto electrics company Lucas – often referred to as "Lucas Prince of Darkness" for reasons the reader may well surmise.
Kerb weight was 3,192 lb (1,448 kg).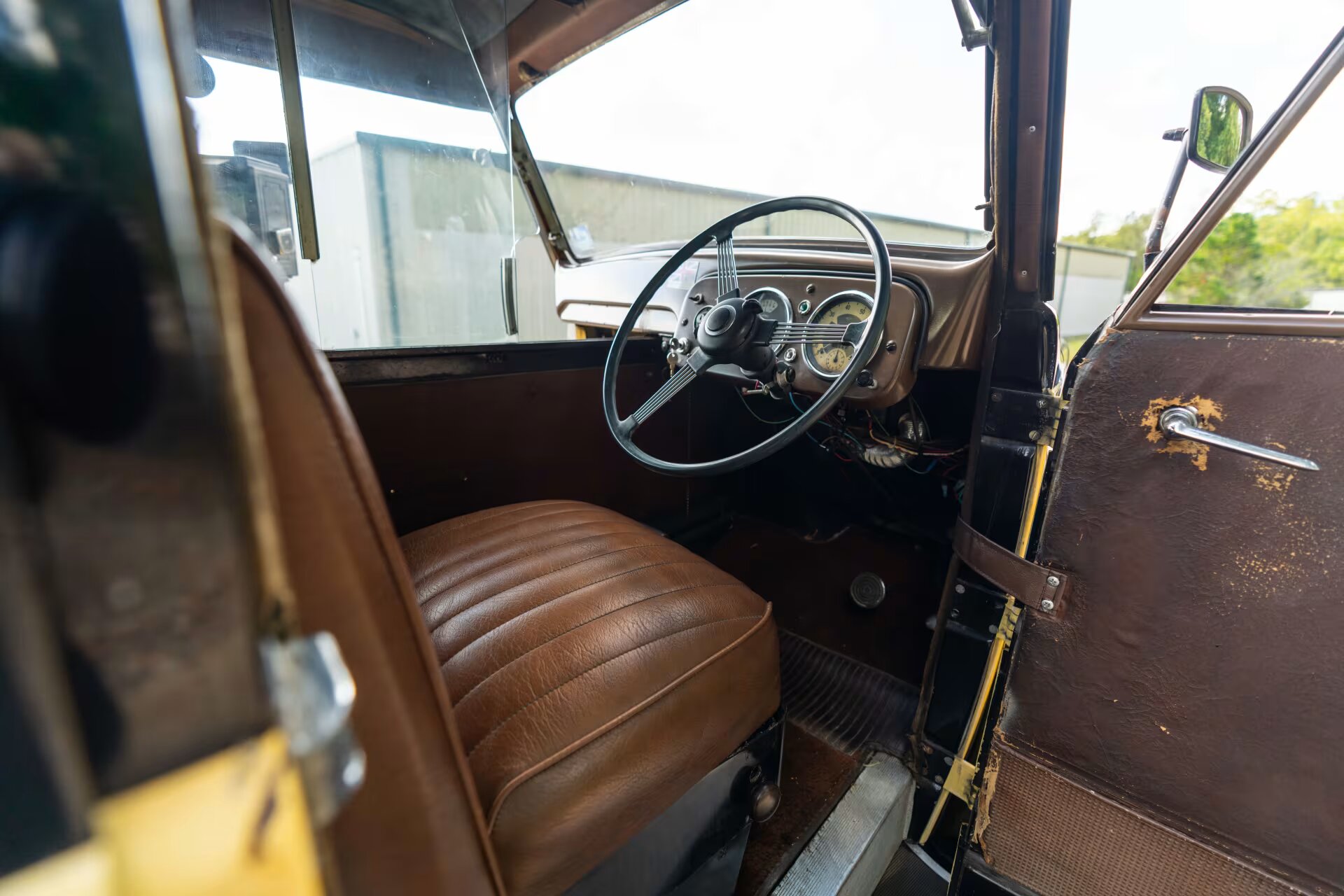 The FX3 was progressively developed before its public debut, the first prototype was the FX1, which was fitted with a 1.8 litre side-valve engine: this proved to be inadequate to the task of hauling the almost 3,200 lb taxi up hill and down dale loaded with driver, passengers and luggage, so a 1.8 litre OHV engine was tried, and declared also inadequate.
It was finally decided to fit the FX3 with a 2.2 litre (2,199 cc/134.2 cu. in.) OHV petrol engine with a compression ratio of 6.8:1, and that was the development prototype that went into full production in 1949.
The 2.2 litre engine developed 50 bhp @ 3,500 rpm with torque of 102 ft/lb @ 1,600 rpm, and enabled the taxi to have a top speed of approximately 60 mph (100 km/hr). Suffice to say the vehicle did not so much accelerate as "gain momentum", especially with a full load on board.
For some operators the 2.2 litre petrol engine was not regarded as being sufficiently economical and so there were owner operators who opted to switch the engine over to a diesel unit.
The conversion to diesel was usually done by Birch Brothers of Kentish Town and the customer had the choice of a three litre Standard Motor Company diesel engine or an engine from Perkins.
Austin Motor Company became aware of these developments and in 1956 offered their own diesel engine as an option for new taxicab buyers. This quickly proved to be a popular option.
Back then diesel was not taxed as heavily as petrol so diesel fuel was much cheaper than petrol, and a diesel engine produced significantly better fuel economy as well.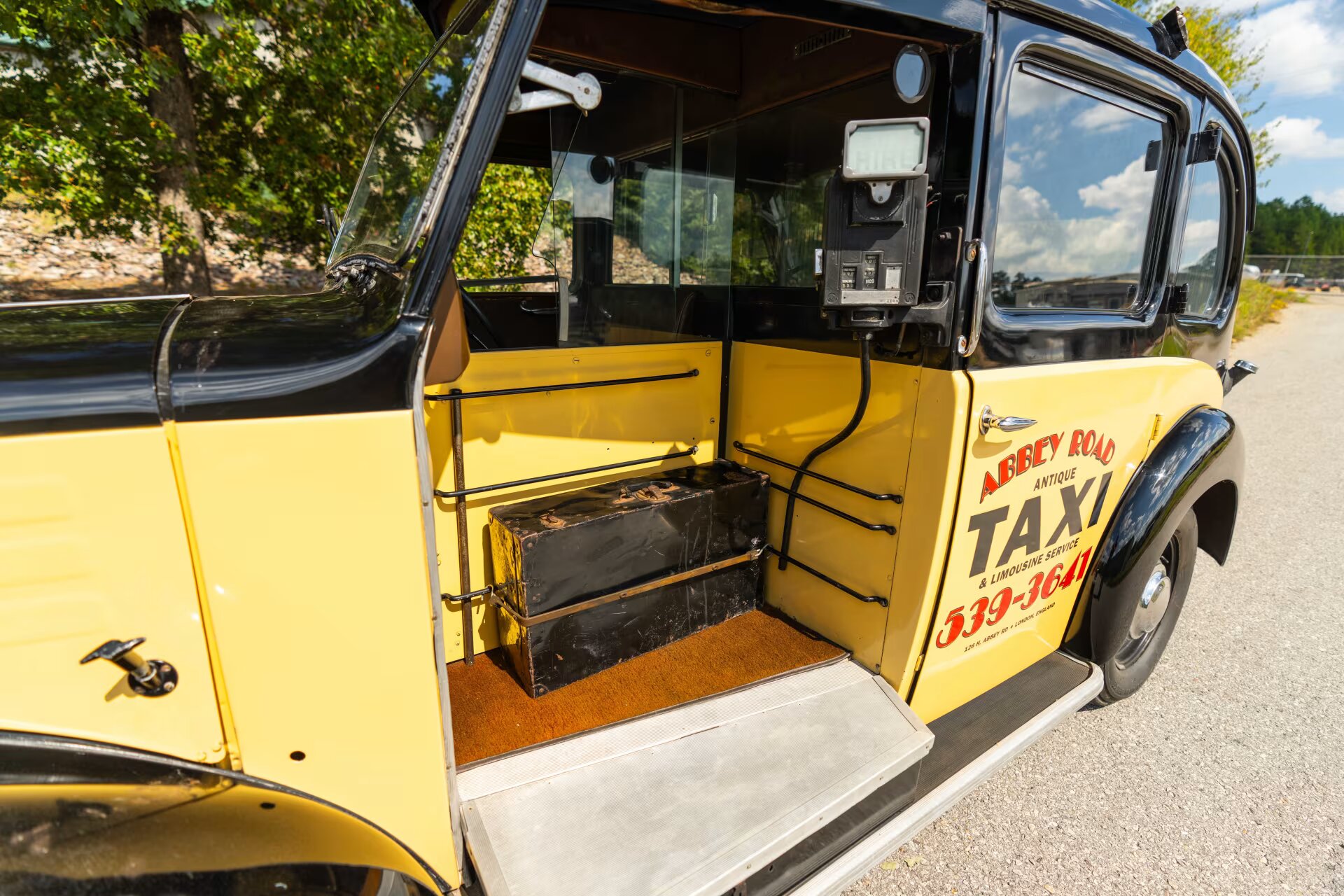 The FX3 was a three door car in the tradition of London taxis. The rear two doors provided access to the passenger compartment while the driver's door enabled the driver to access the driving cab.
There was no front passenger seat or door however, but instead the front left was luggage space for the suitcases that were the standard for people traveling, whether by train, ferry, motor coach or aircraft back in the 1950's and 1960's.
An Ex-London Taxi Coming Up For Sale by Mecum Auctions
The FX3 London taxi is a vehicle that exudes a truckload of character. They are an icon of the post-war era, and of the "swinging sixties" when British pop stars were world famous and Carnaby Street ruled the fashion world.
There is a rather quaint Austin taxi coming up for sale by Mecum Auctions at their Kansas City 2023 auction which will be held over Thursday November 30th, Friday December 1st, and Saturday December 2nd, 2023.
This vehicle is painted in an attractive black and amber colour scheme and has the sign-work "Abbey Road" Antique Taxi on the passenger doors and boot/trunk – Abbey Road being the name of one of The Beatles most well known albums.
The taxi is listed by Mecum as an "FX4", but it does not look like an FX4, but rather an FX3.
This vehicle is fitted with a Ford inline four cylinder gasoline engine and automatic transmission.
You can find the sale page for this quite delightful vehicle if you click here.
Picture Credits: All pictures of the sale Ex-London Taxi courtesy Mecum Auctions.
Other picture as individually credited.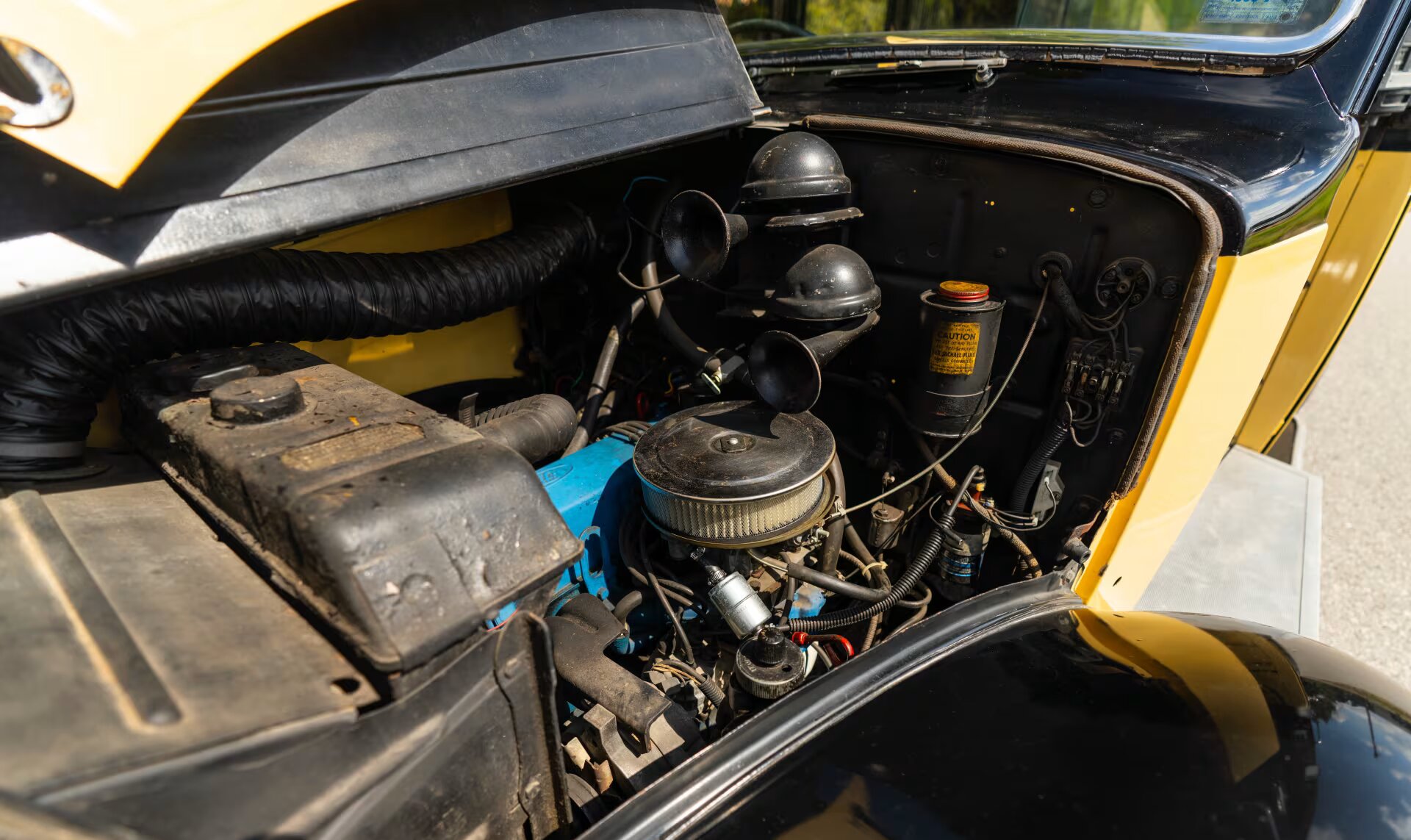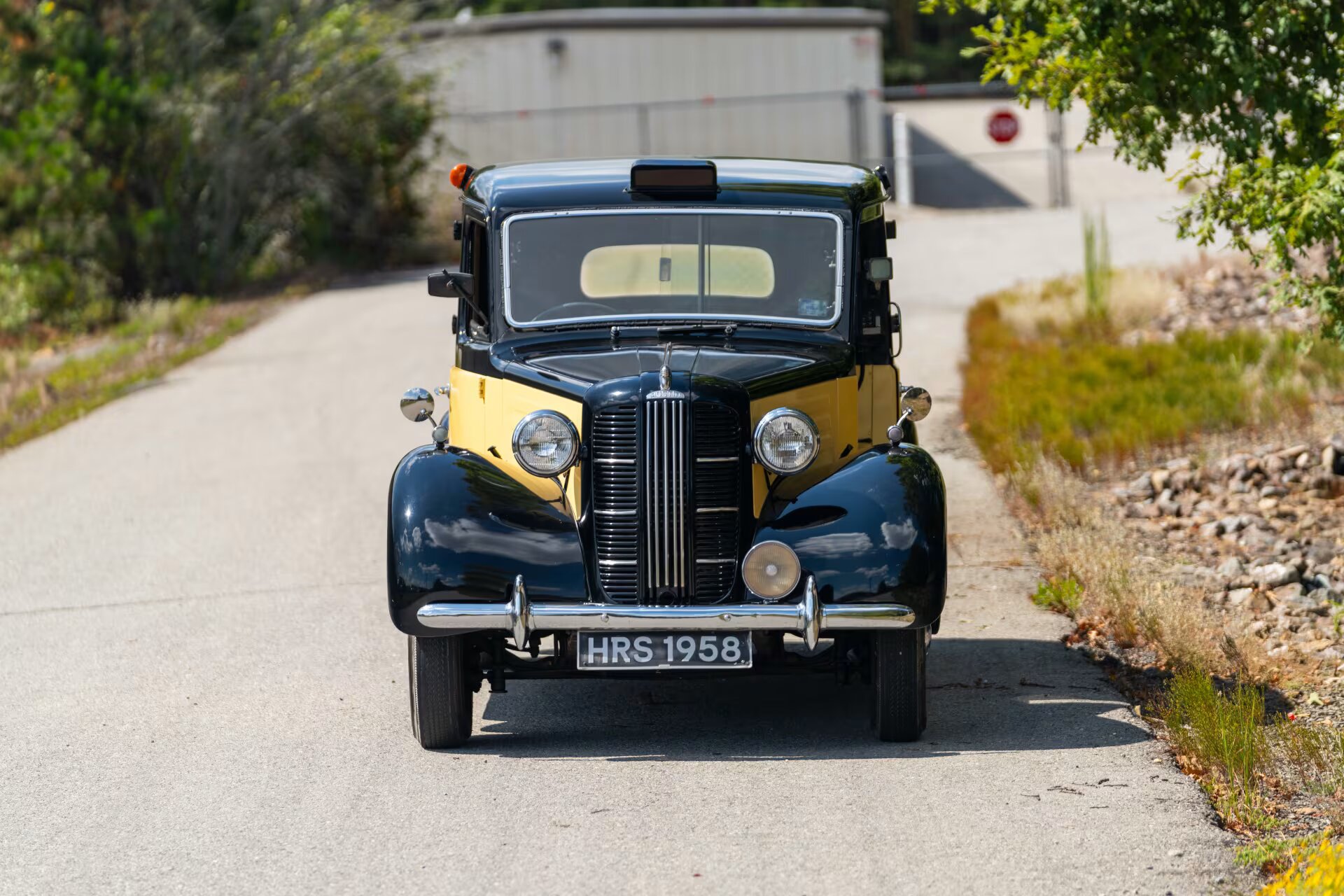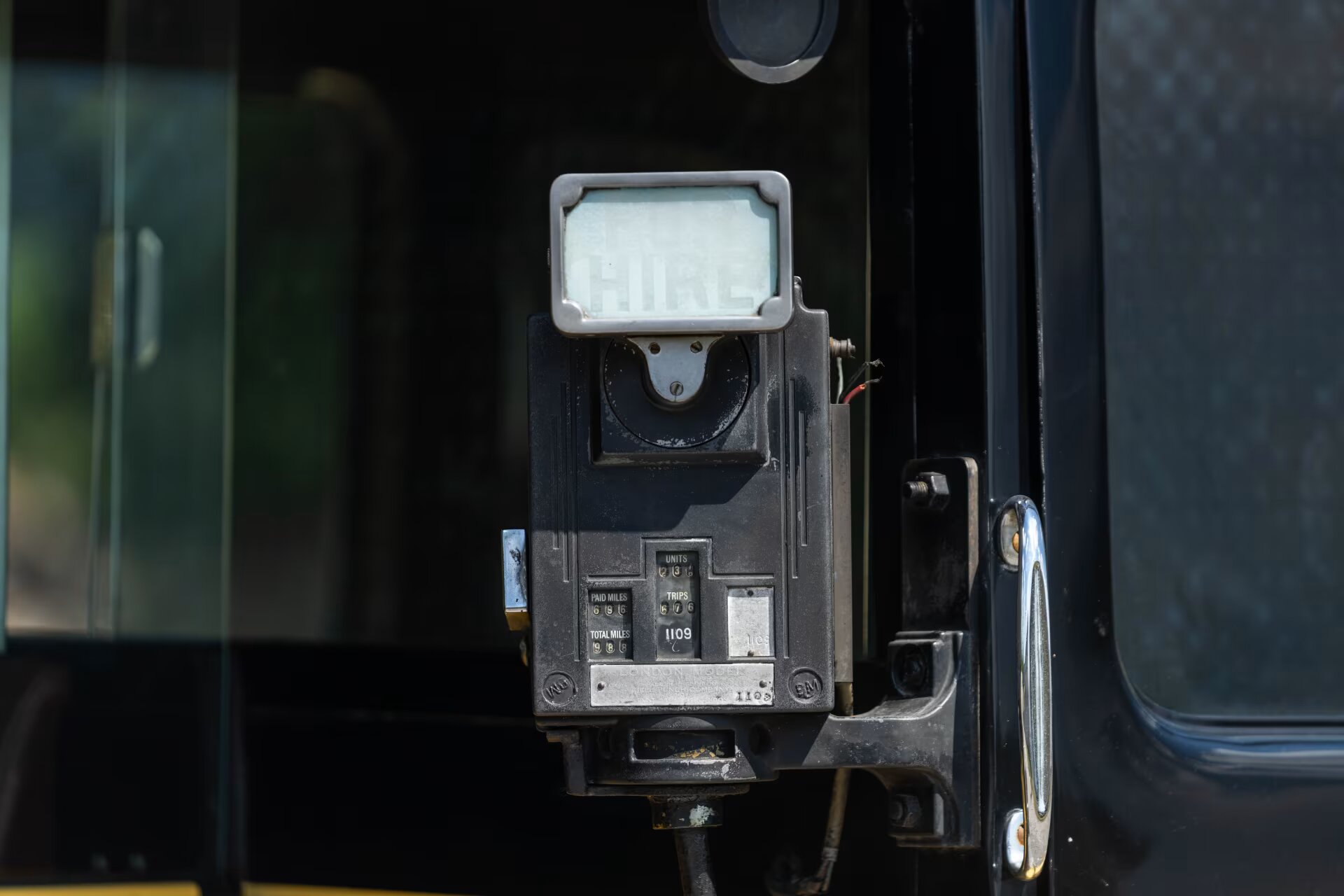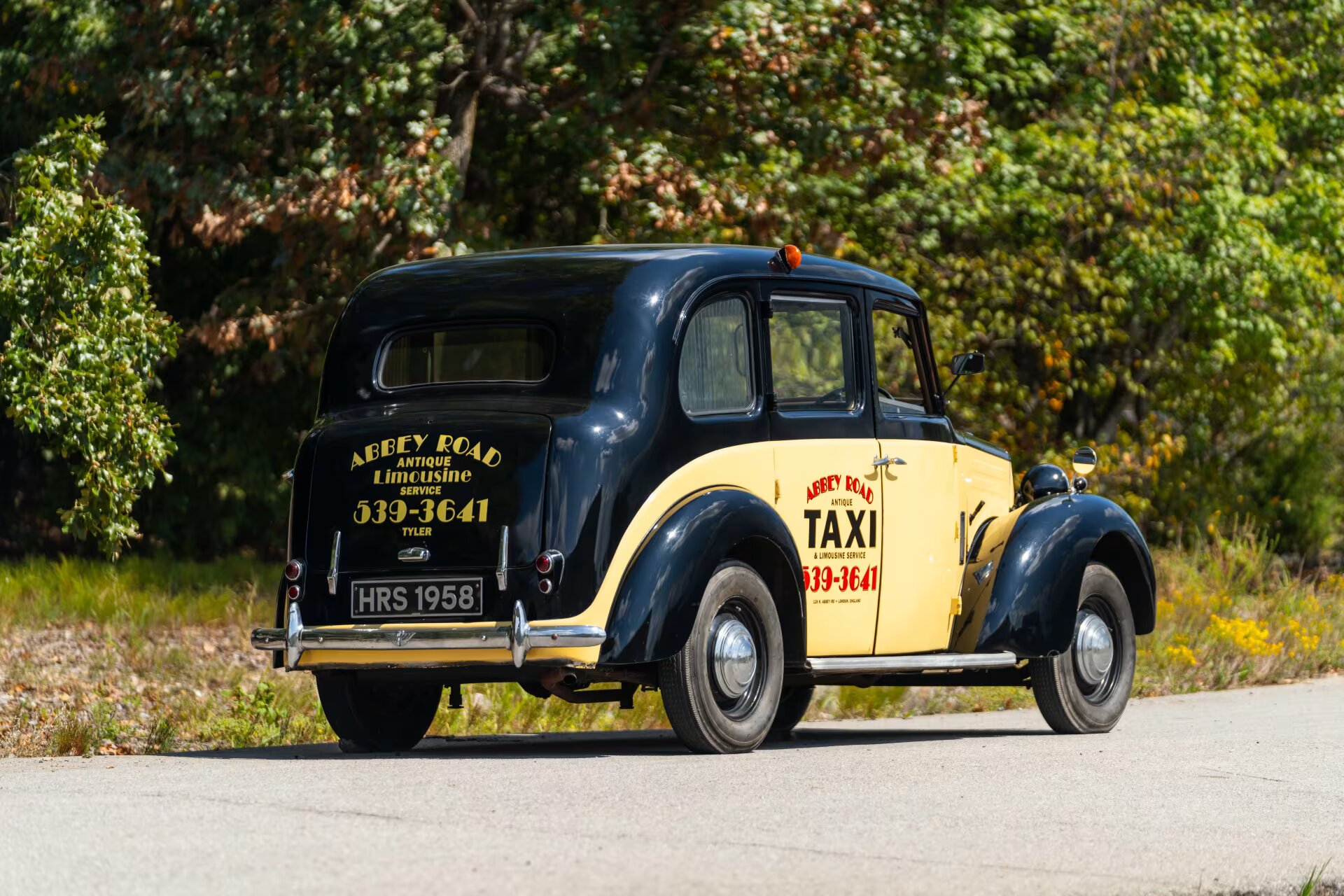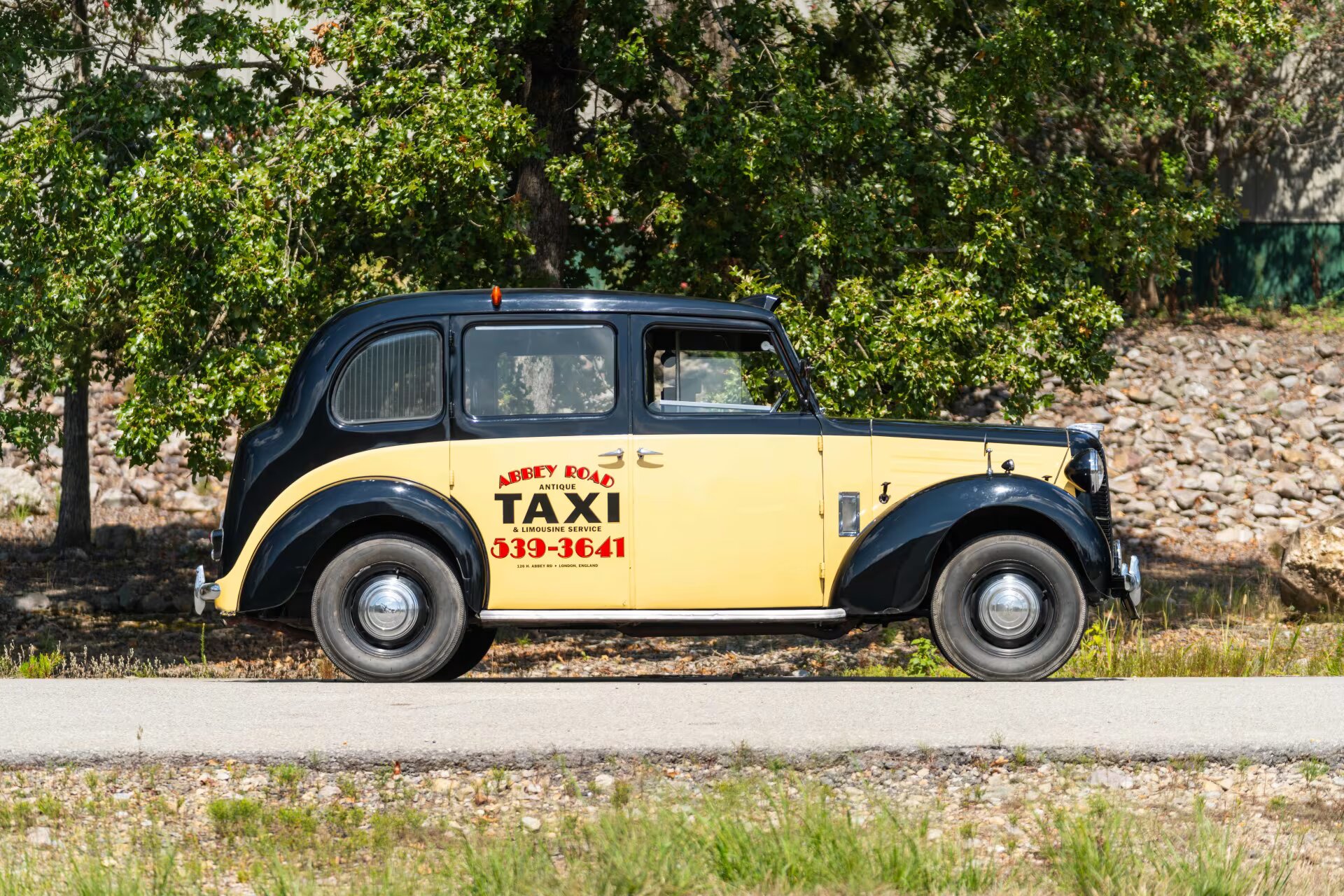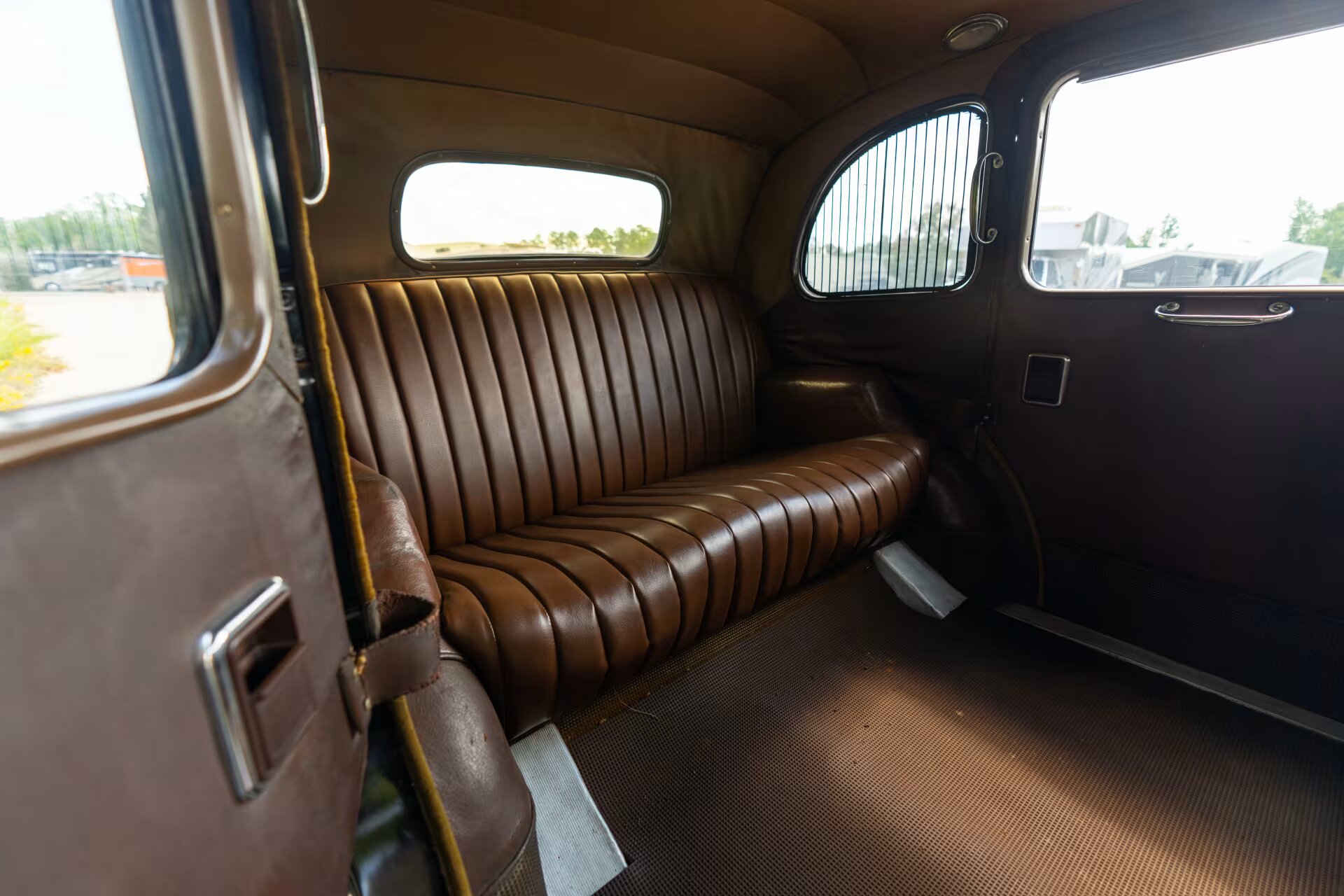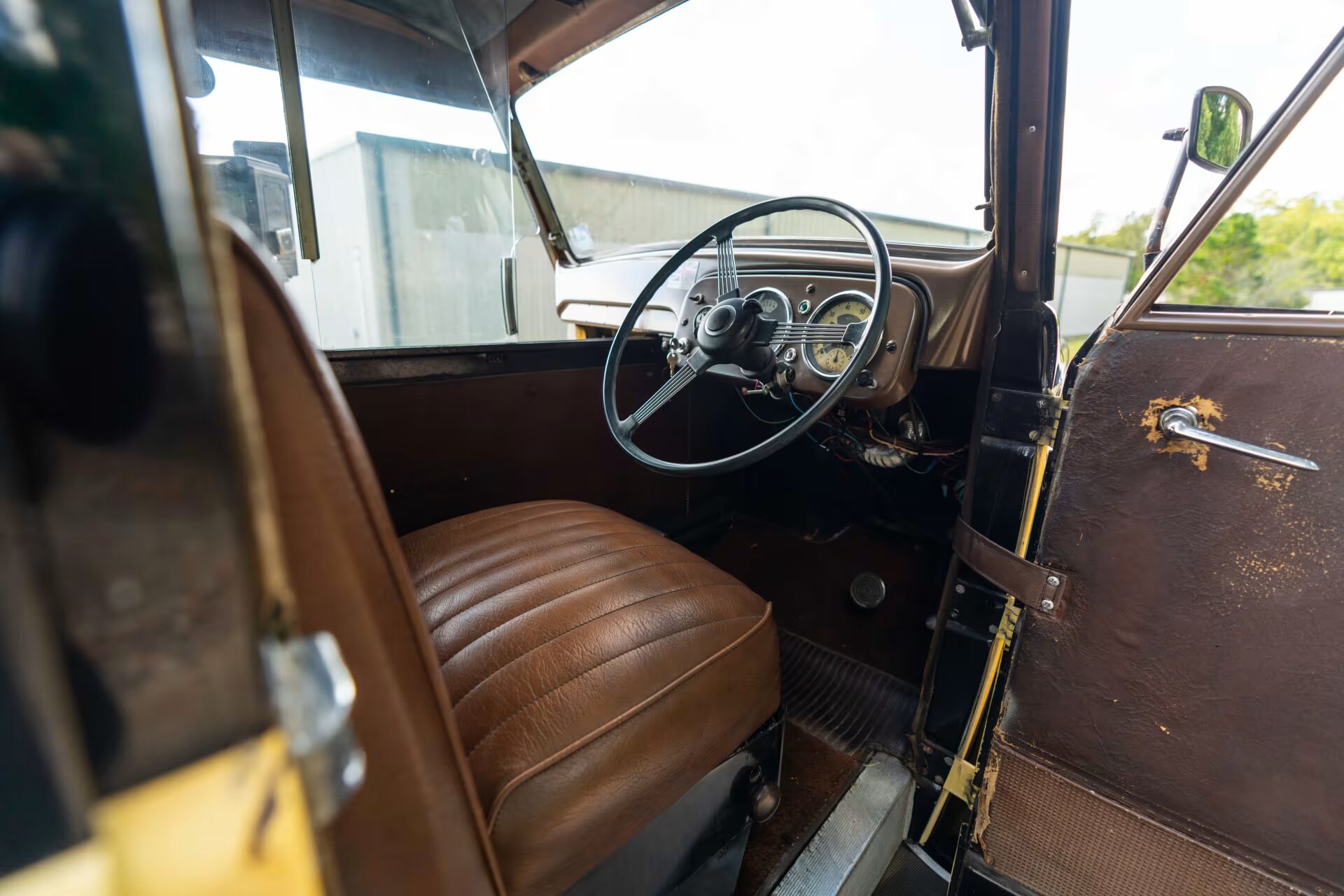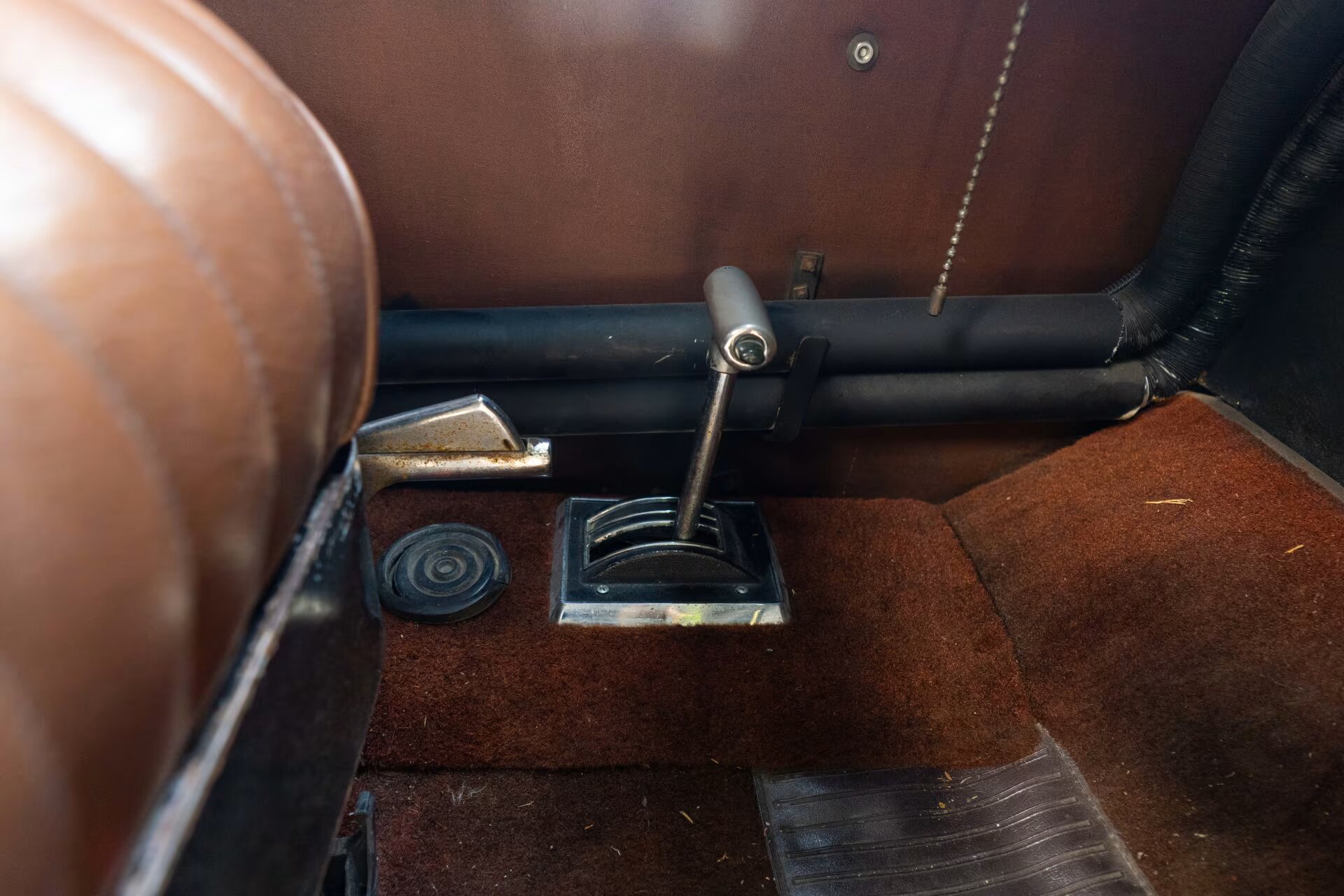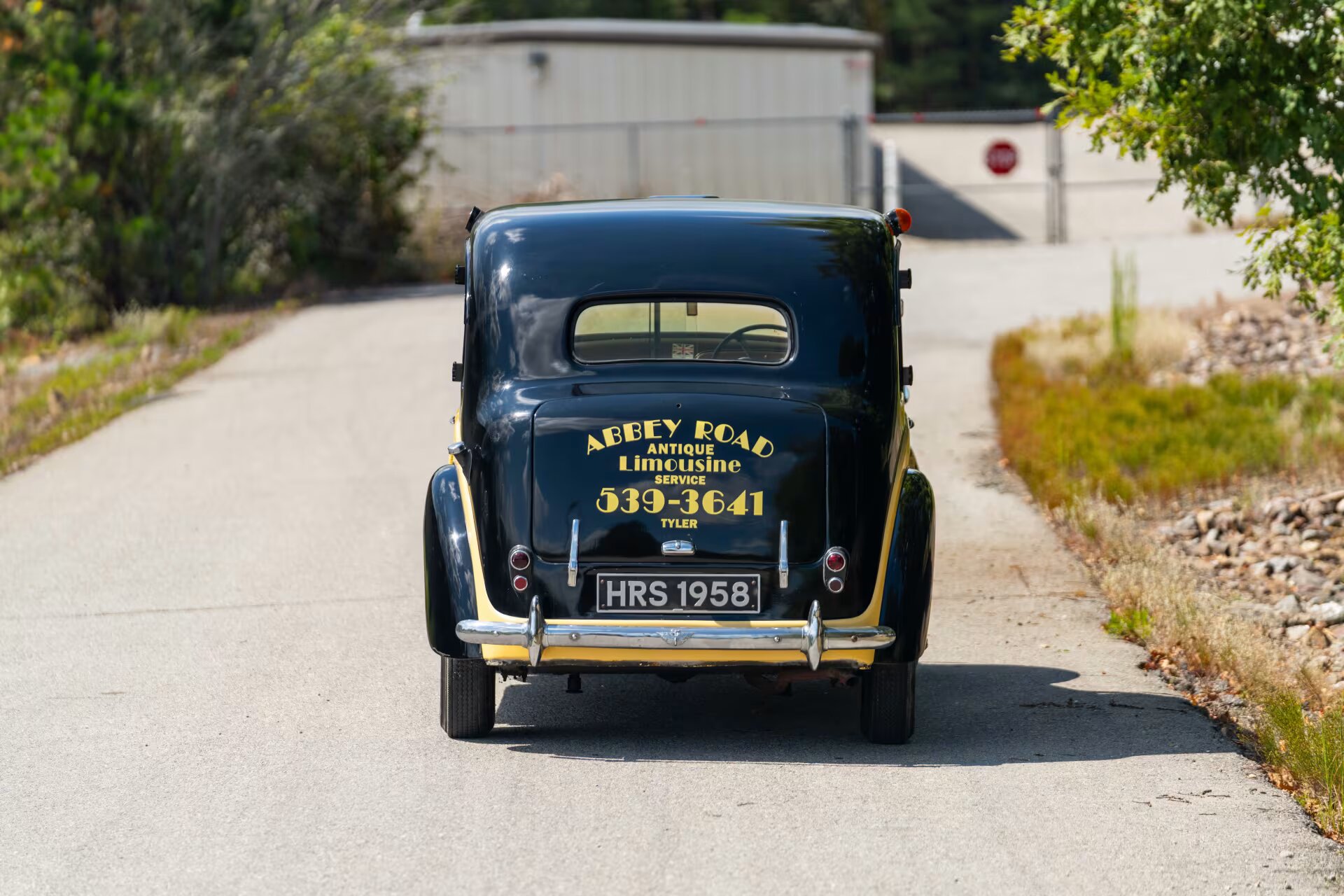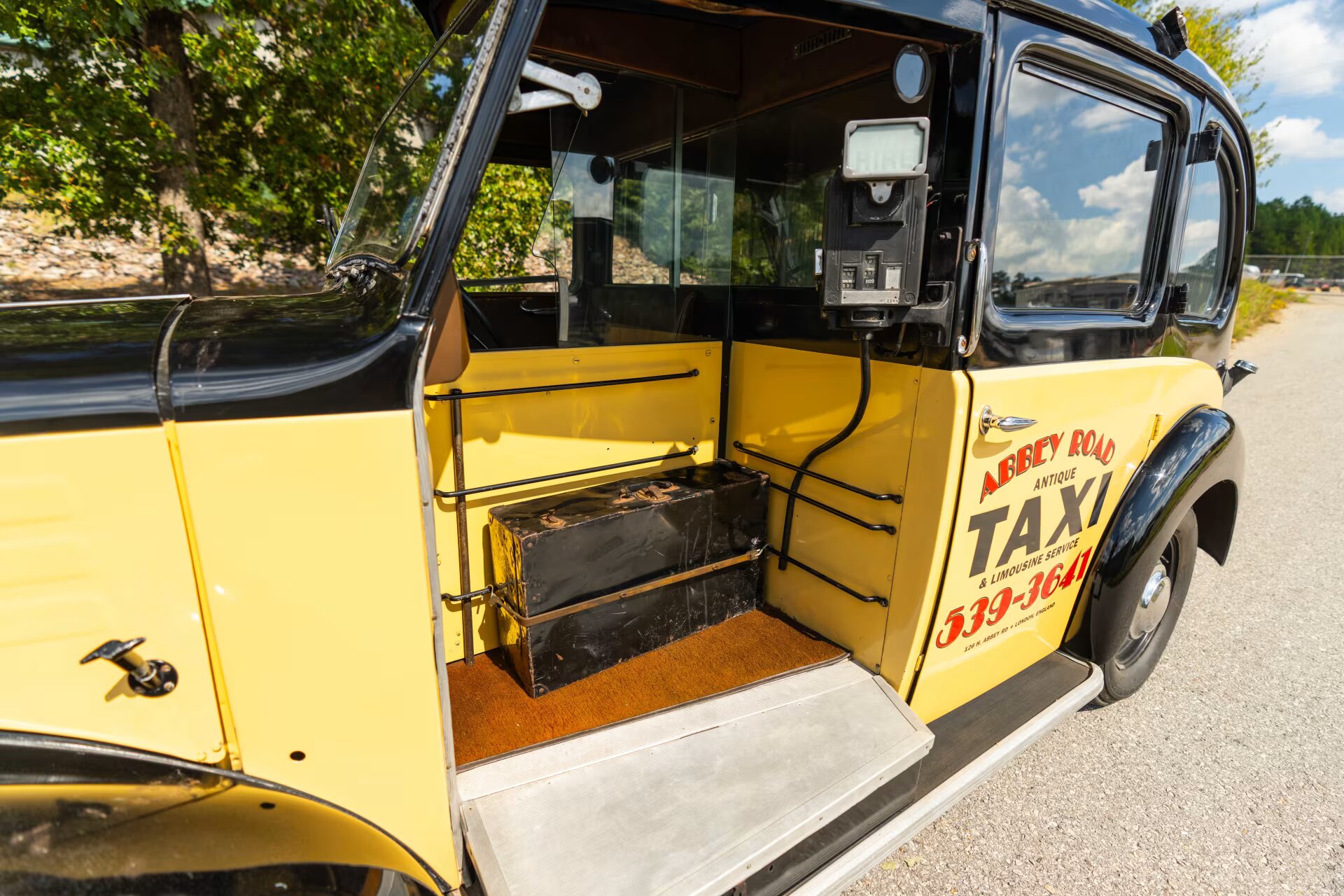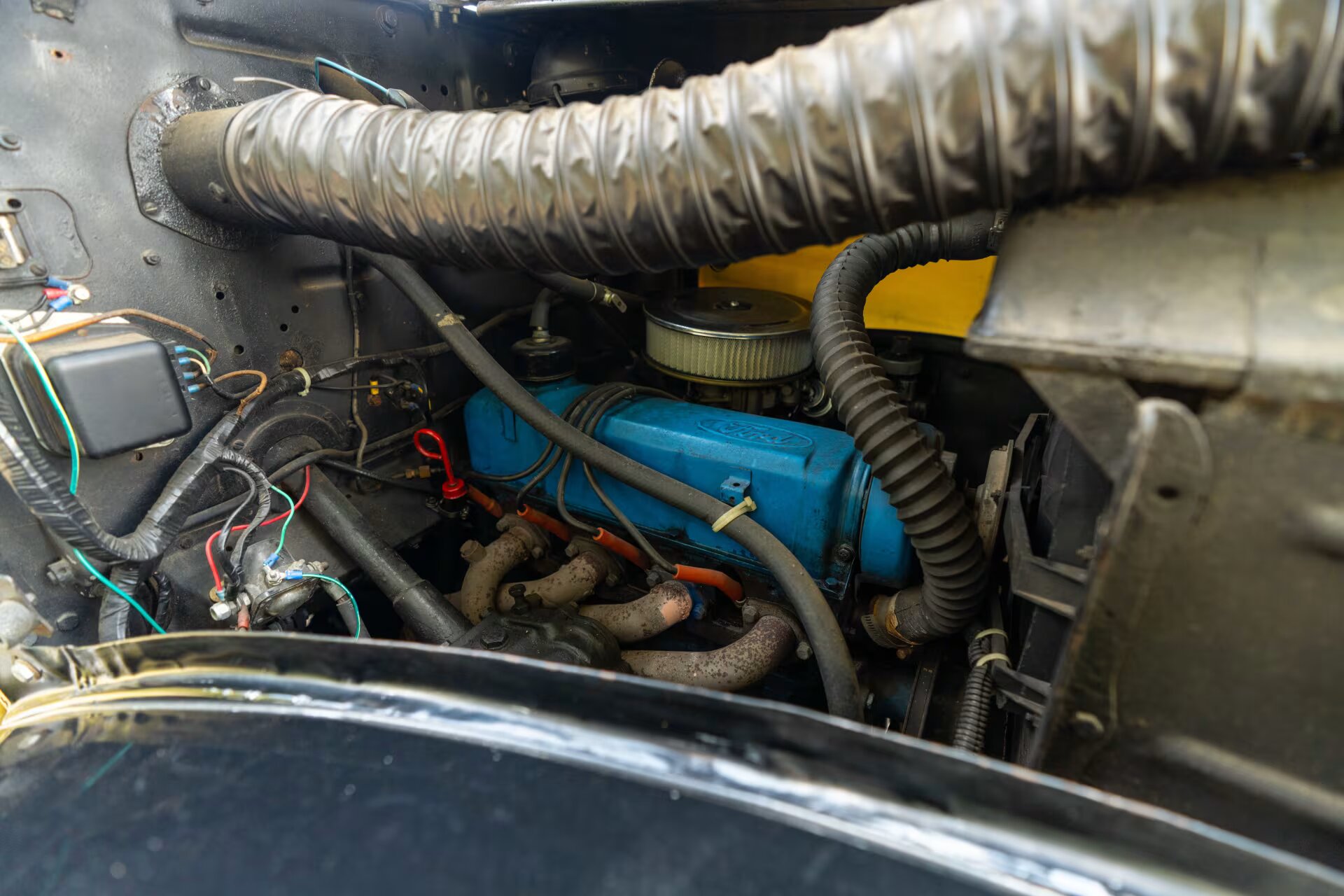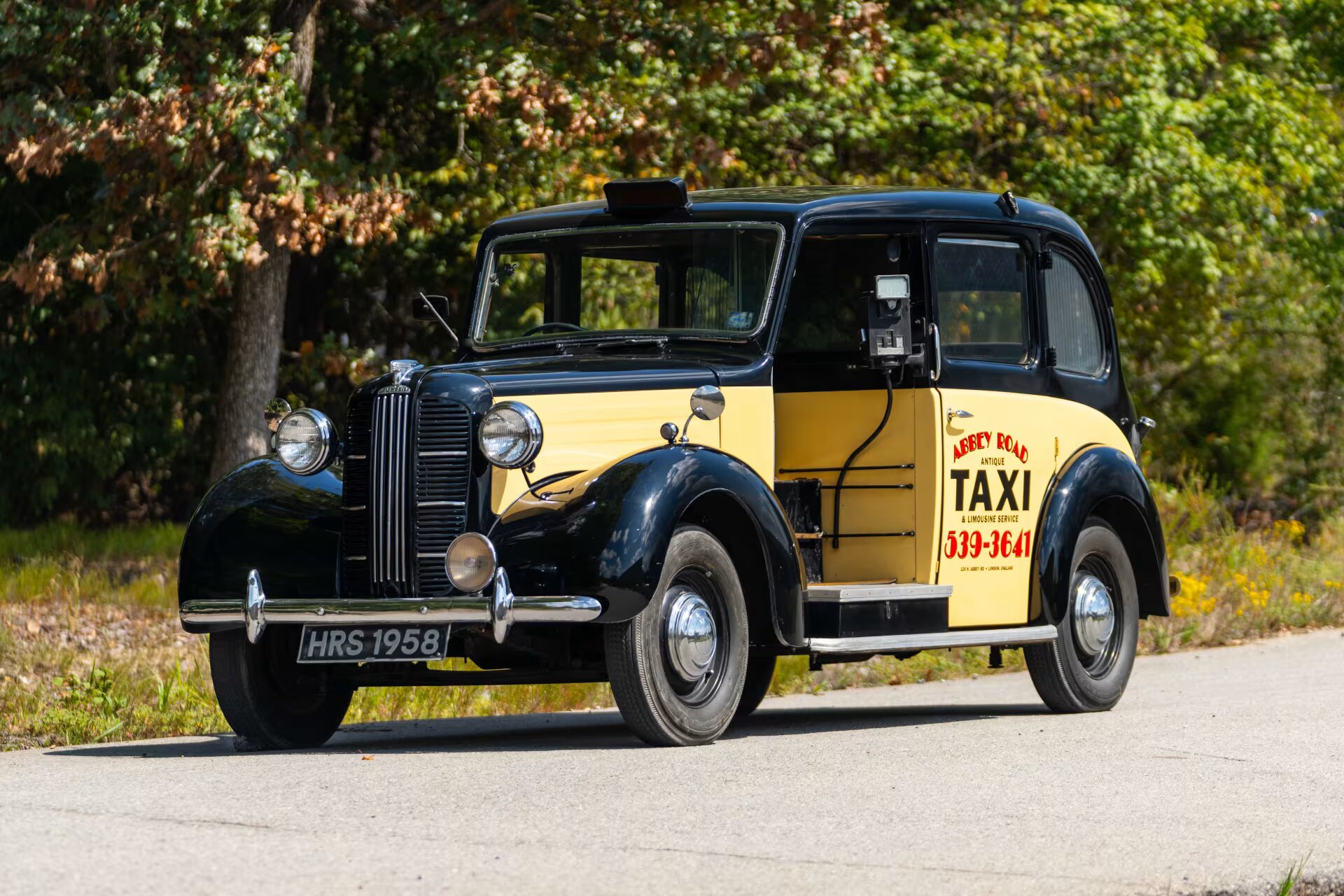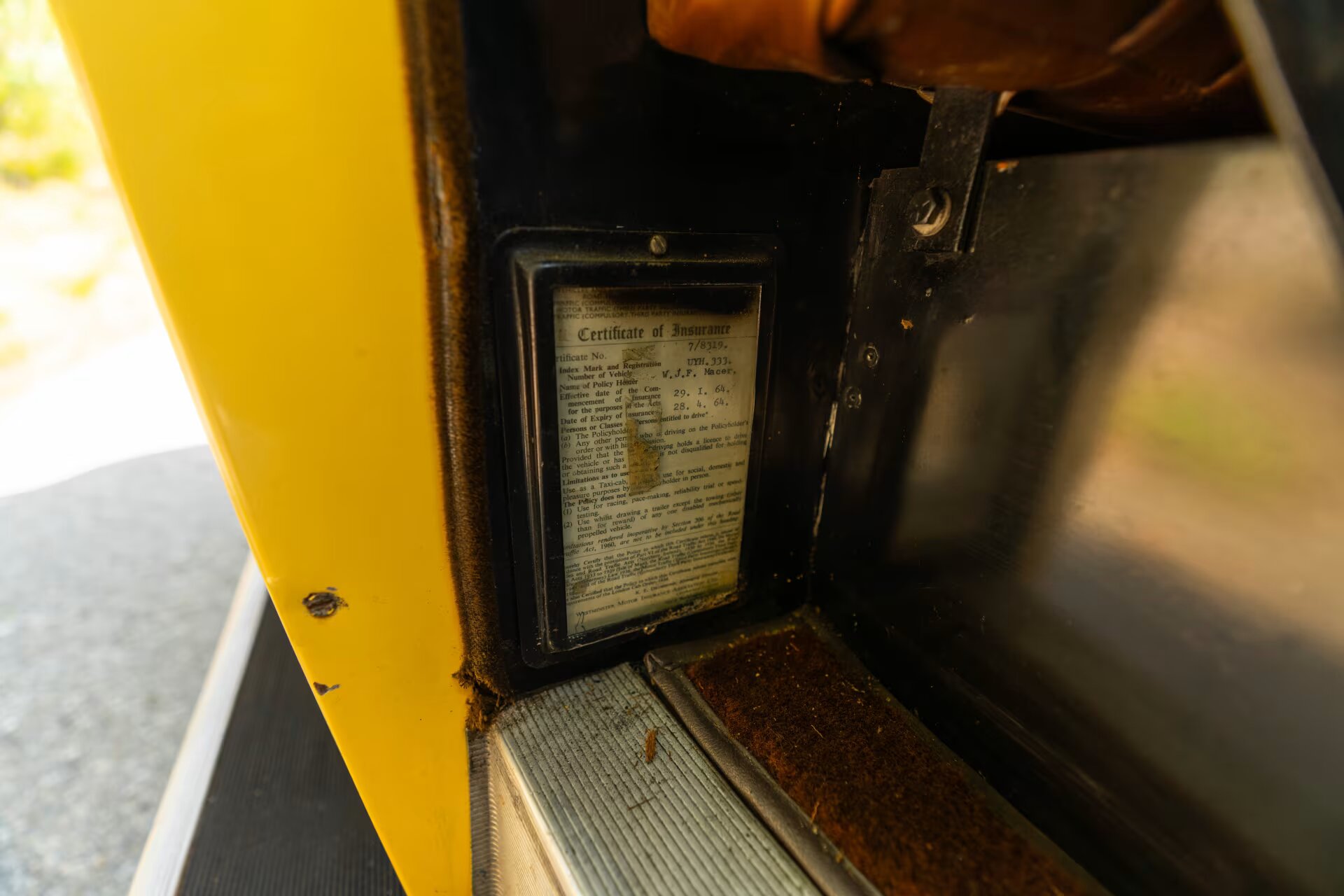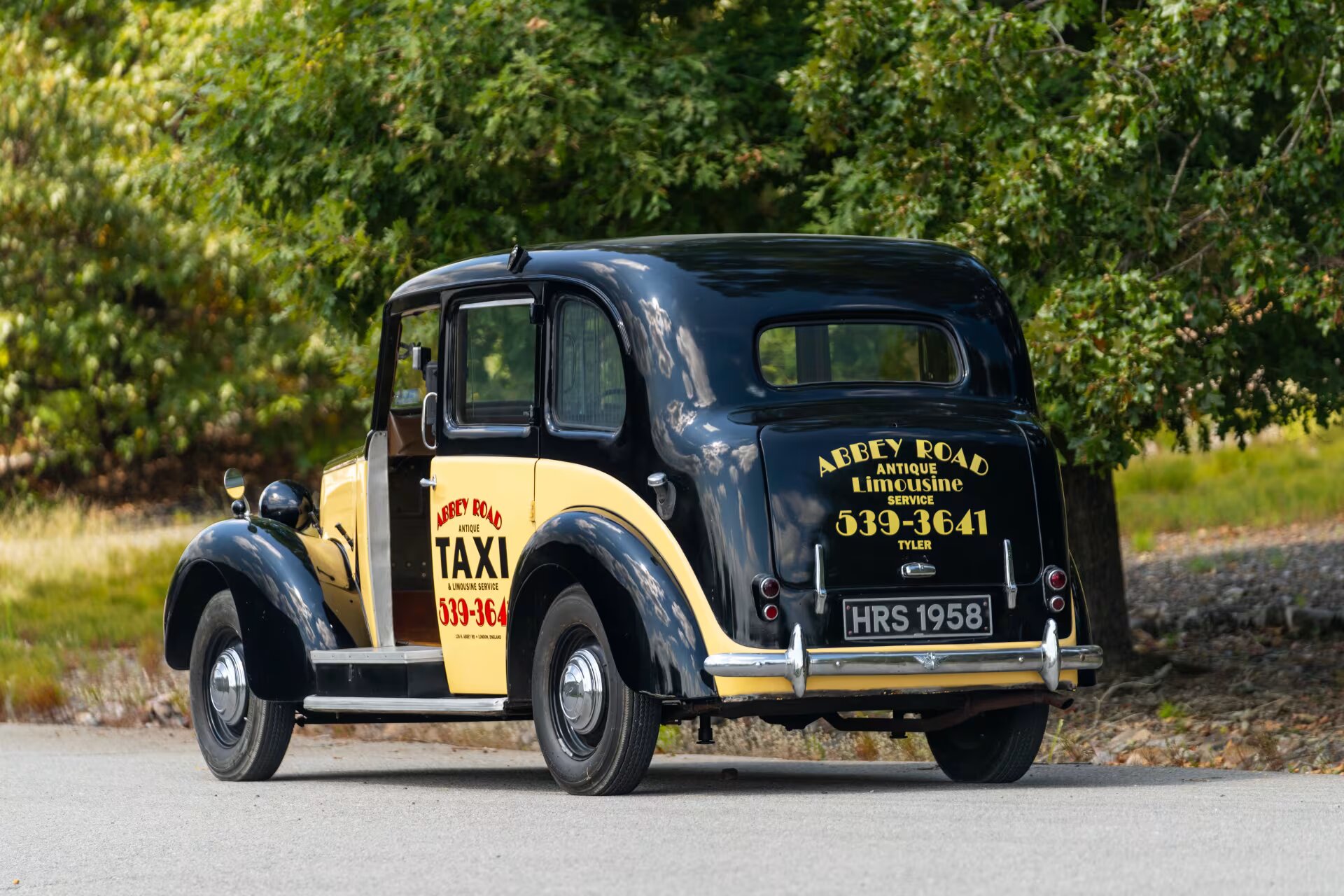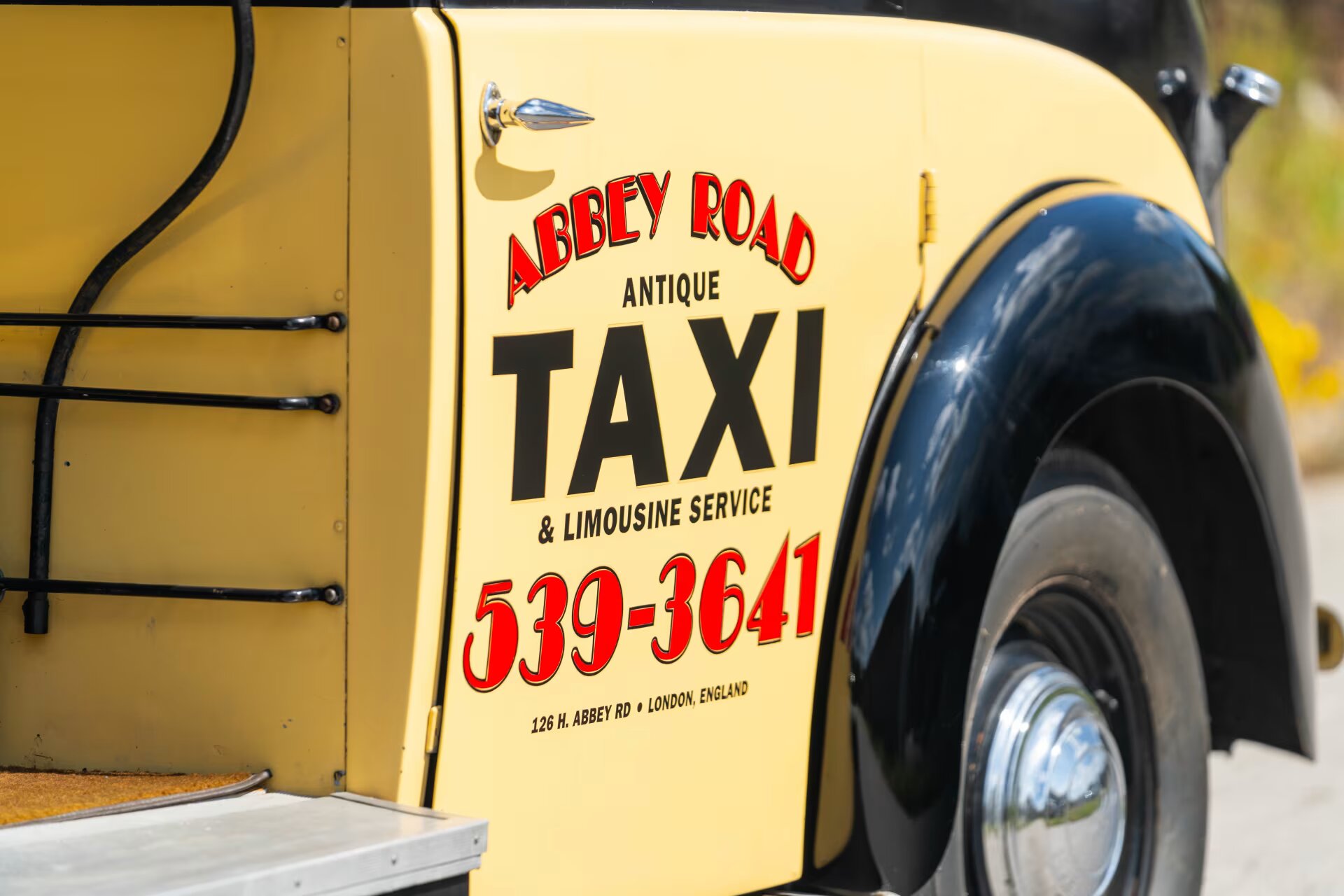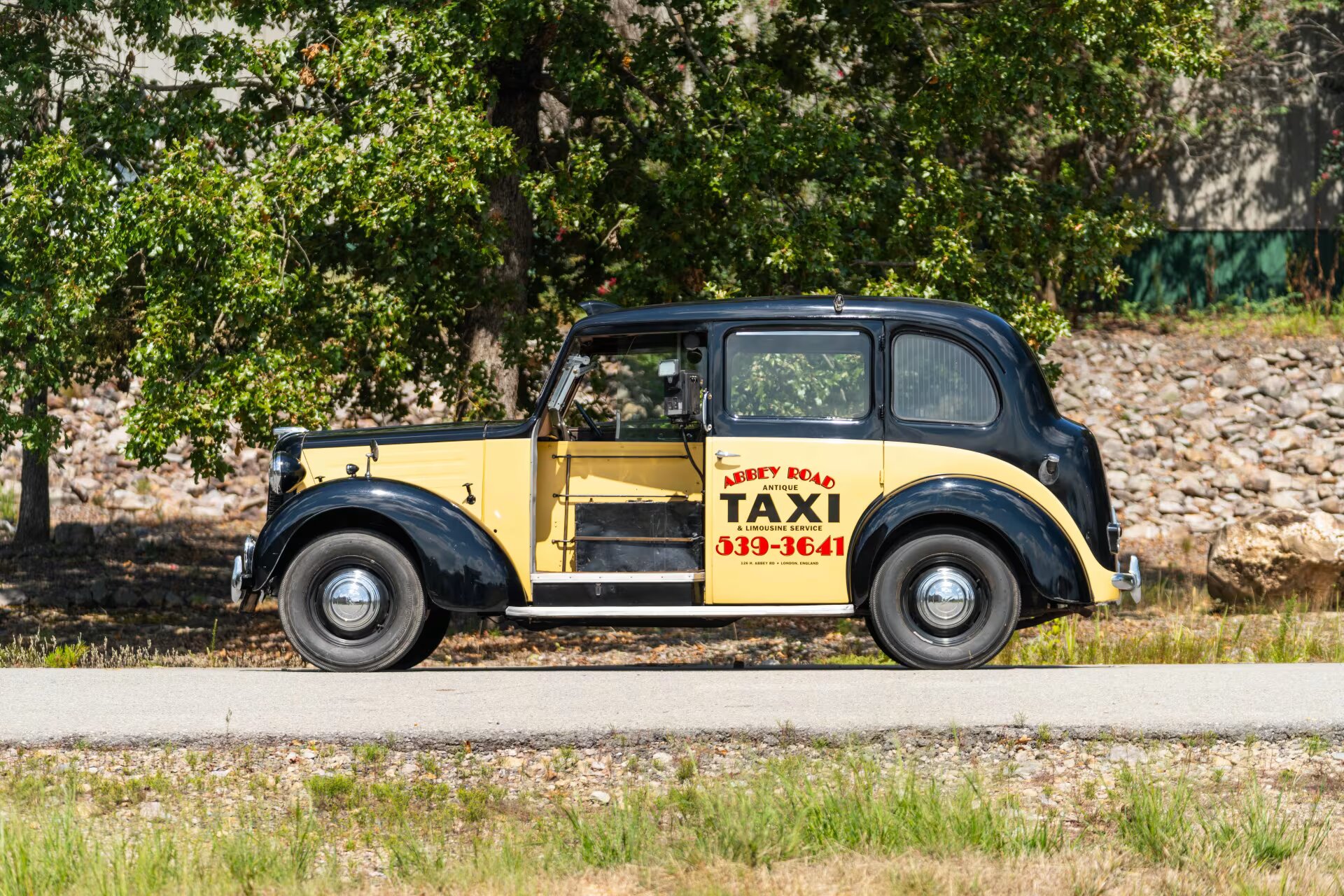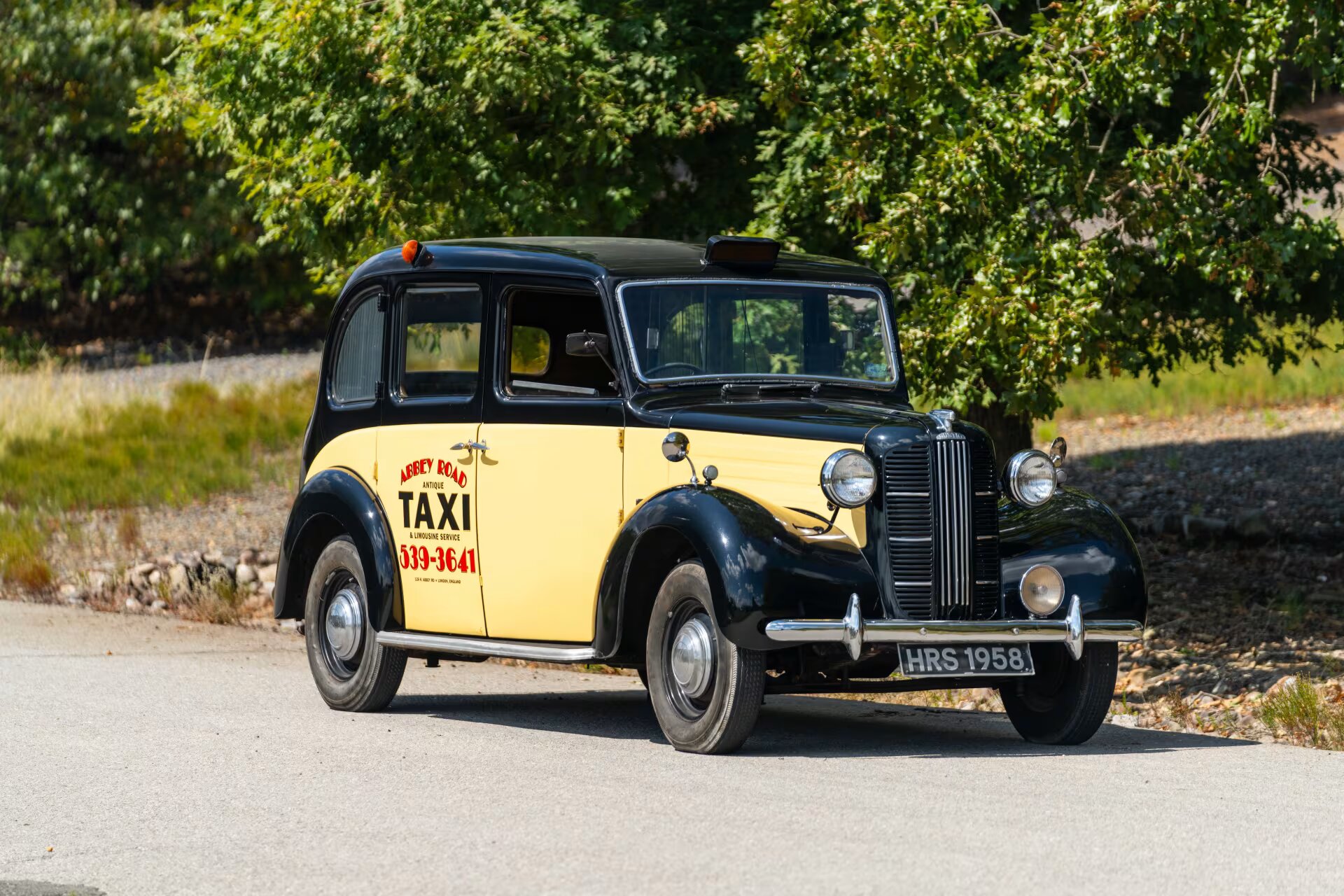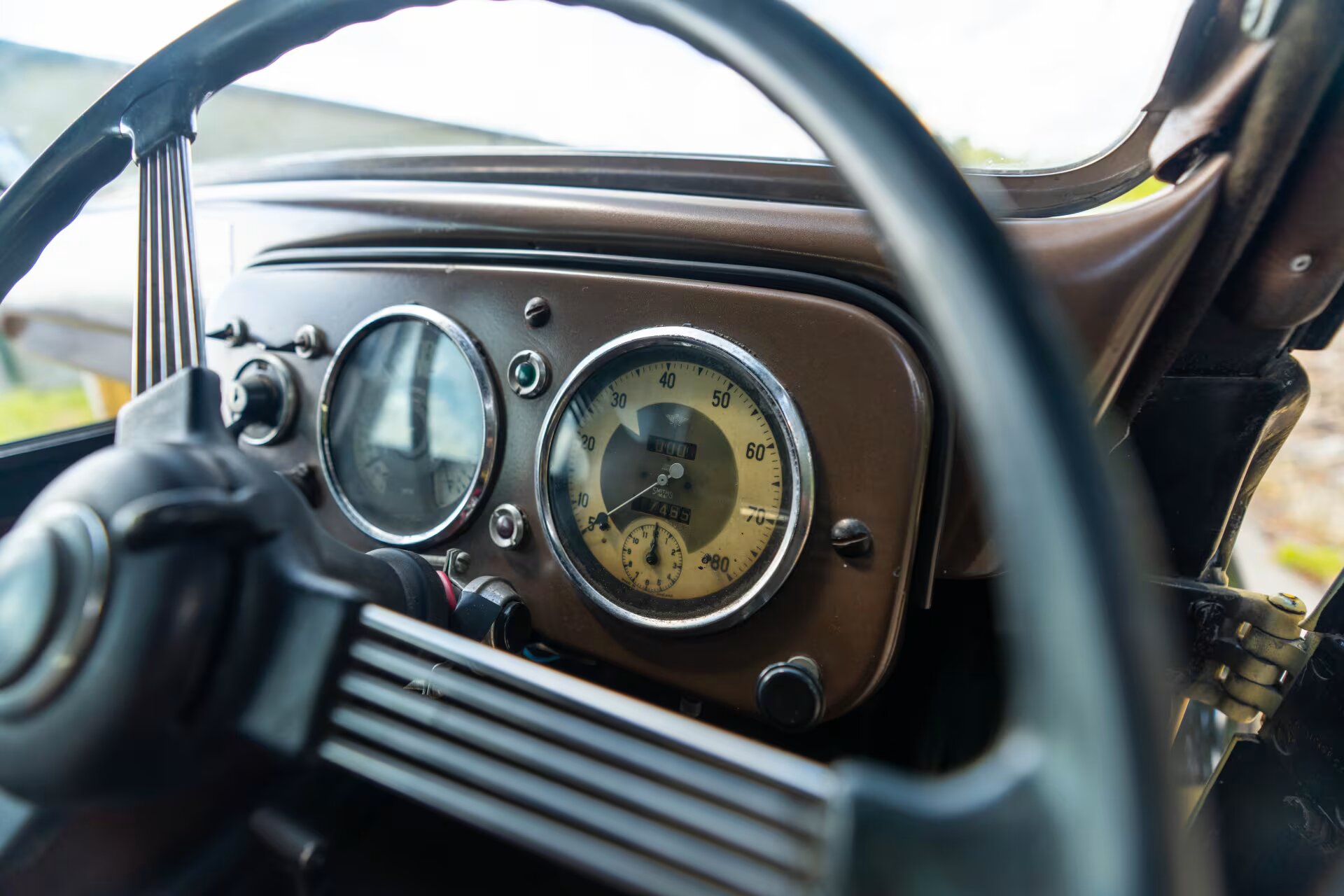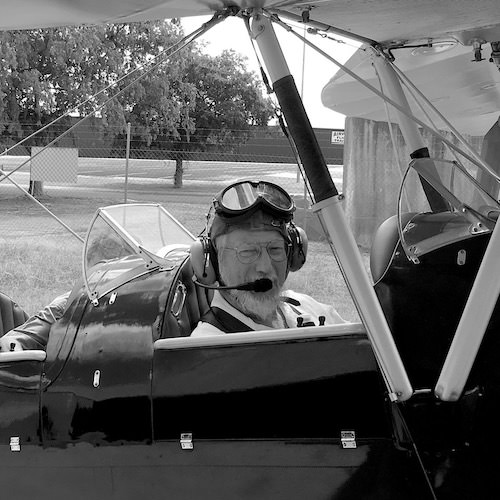 Jon Branch is the founder and senior editor of Revivaler and has written a significant number of articles for various publications including official Buying Guides for eBay, classic car articles for Hagerty, magazine articles for both the Australian Shooters Journal and the Australian Shooter, and he's a long time contributor to Silodrome.
Jon has done radio, television, magazine and newspaper interviews on various issues, and has traveled extensively, having lived in Britain, Australia, China and Hong Kong. His travels have taken him to Indonesia, Israel, Italy, Japan and a number of other countries. He has studied the Japanese sword arts and has a long history of involvement in the shooting sports, which has included authoring submissions to government on various firearms related issues and assisting in the design and establishment of shooting ranges.