The idea of using an eight wheeled vehicle to soak up bumps and potholes in roads or tracks is not new. The first person to create a car using this principle was an American named Milton Reeves who re-built an ordinary four wheeled Overland automobile into an eight wheeled car which he called the Octoauto. Although the idea did not prove popular at the time, its cost being high, the idea had merit and finished up being used in commercial vehicles such as trucks through to the present day.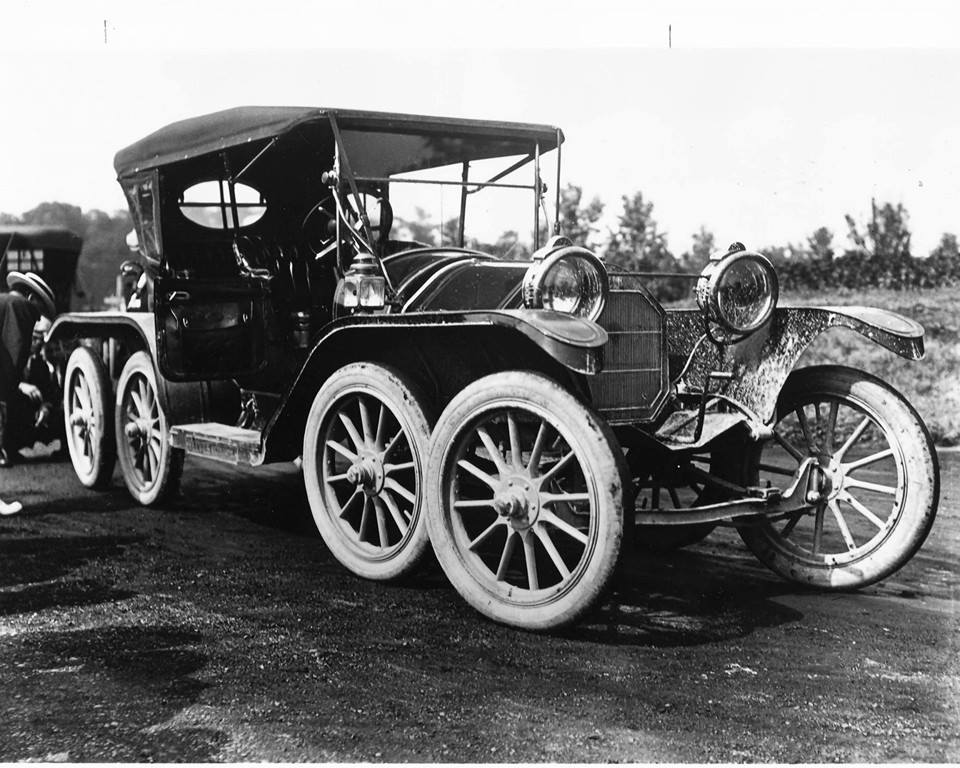 You'll find a detailed article on Milton Reeves and his Octoauto on Silodrome if you click here.
Milton Reeves originally got his idea of using eight wheels on a car from the Pullman railroad passenger cars that were providing smooth travel over America's rail networks. The Pullman cars used four wheeled bogies at each end of the passenger car with the effect of smoothing out the bumps, especially at the rail joints. When Milton Reeves applied this principle to his Octoauto it worked brilliantly, making the car vastly more capable of negotiating rough tracks whilst also making the ride much more comfortable. The two disadvantages of the eight wheeled vehicle were cost, and the additional length required to accommodate the additional wheels.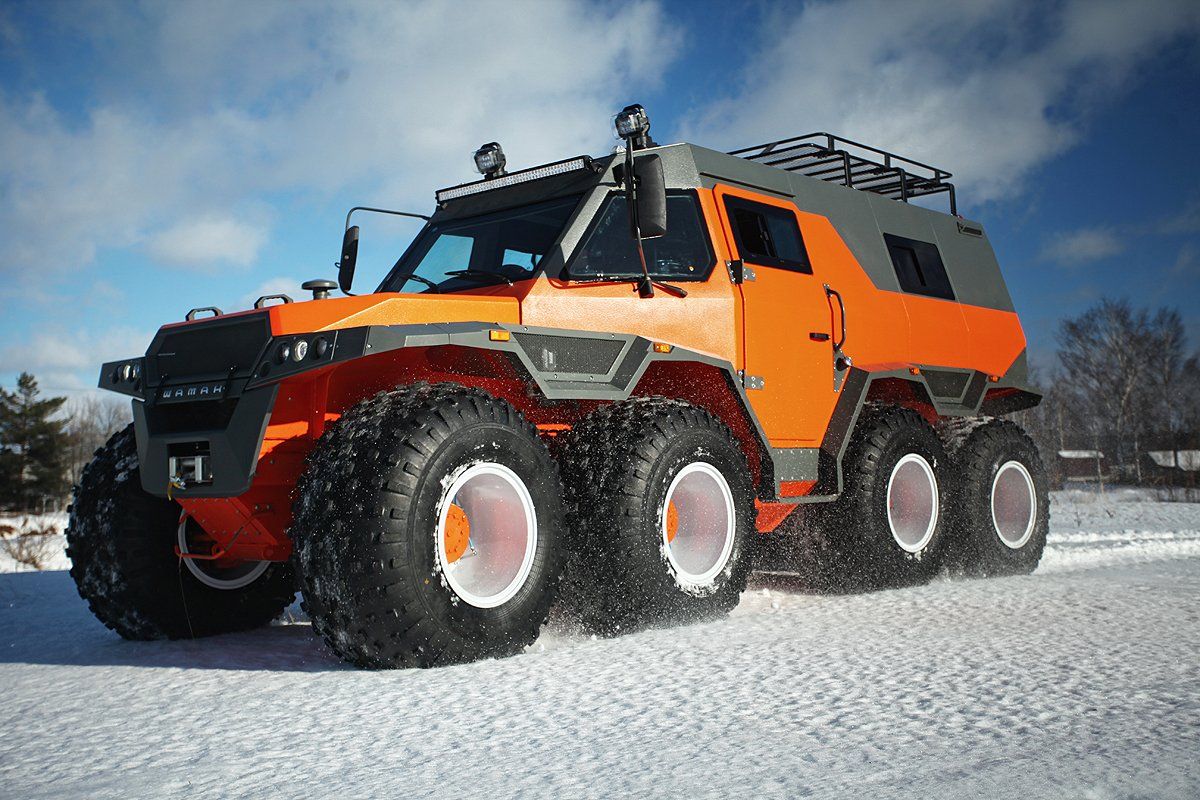 The advantage of using an eight wheel system on an all terrain vehicle remains true to the present day. If you want a wheeled vehicle that can negotiate almost all terrain and do it whilst providing a decent degree of passenger comfort then the eight wheel system remains the best choice. Recognizing this Russian company Avtoros has created an eight wheeled amphibious all terrain vehicle that is arguably as close to being a "go anywhere" automobile as one could get.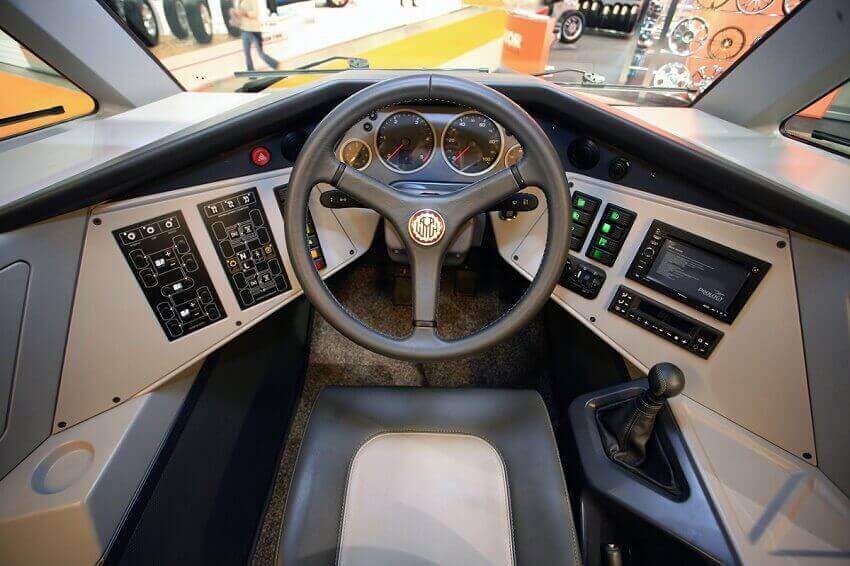 The Avtoros Shaman provides three main methods of steering to assist it in negotiating whatever it needs to both on land and in the water. The conventional steering setup is for the front wheels only to steer as would be the case for most twin-steer commercial vehicles such as trucks and buses. This is the preferred system to use when the vehicle is being used on roads as it provides the best stability at speed.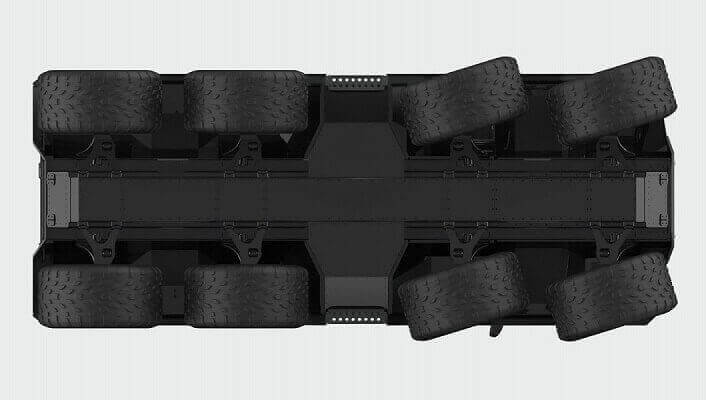 Back in 1911 Milton Reeves did not choose to only steer with the front wheels however but also incorporated rear wheel steering of the wheels on the rearmost axle. This front and rear steering makes for more positive directional control on slippery surfaces and in situations where getting and maintaining grip is more challenging. The second optional steering mode of the Avtoros Shaman is front and rear wheels steering.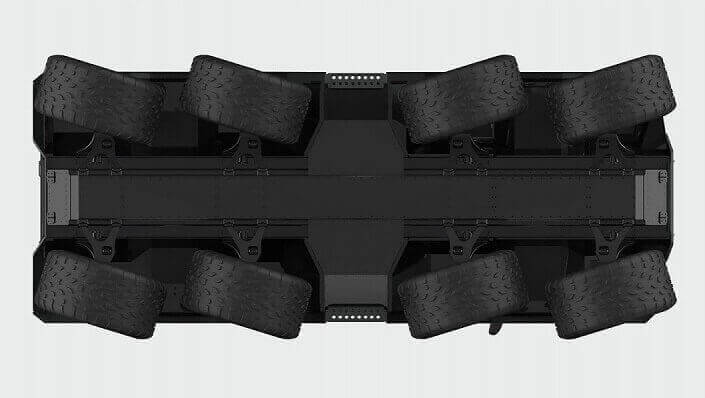 The Avtoros Shaman goes one step further in its steering options however providing a third steering method, crab mode.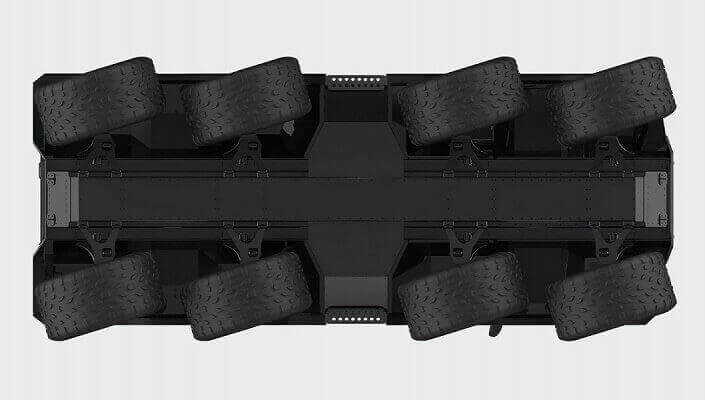 If you've been in a four wheel drive vehicle driving sideways on a slippery slope you will immediately see the sense in "crab mode". Using crab mode it is possible to maintain the vehicle in a line on a slippery slope for example.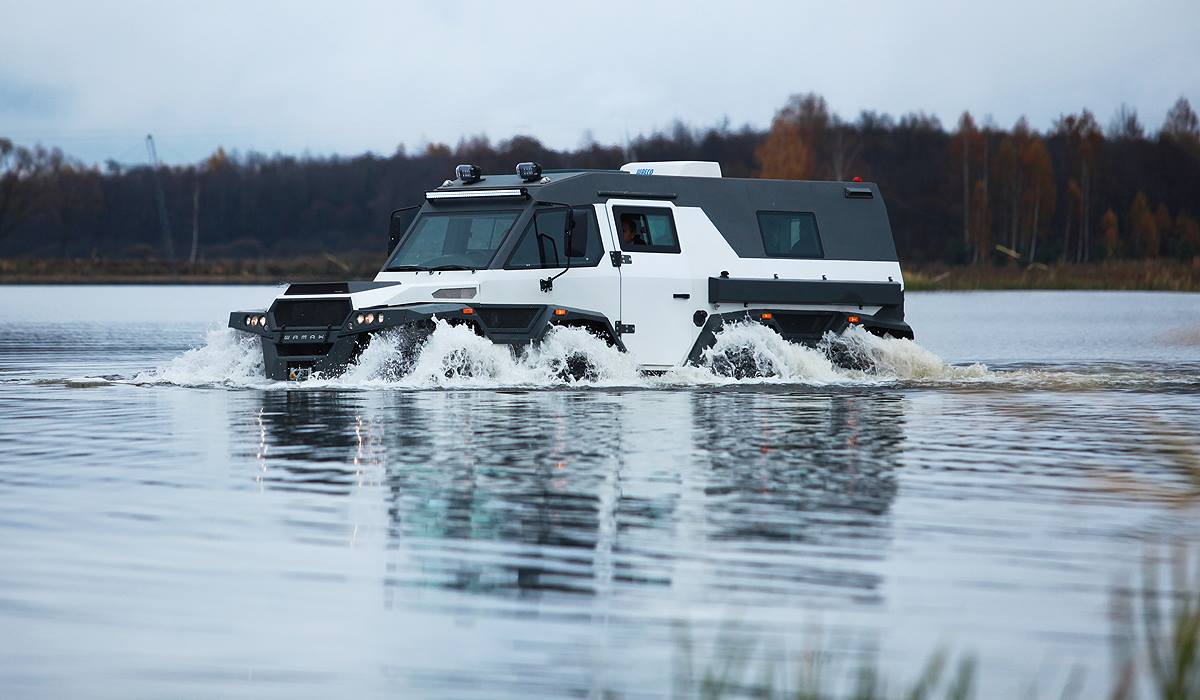 The Avtoros Shaman is powered by an IVECO F1C turbocharged four cylinder diesel engine of 3 liters capacity. This engine provides 170 hp with torque of 295 ft/lb (metric 107 kW power and 400 Nm torque) with the engine in its efficient band between 1,400-4000 rpm. The transmission of the Avtoros Shaman is first a manual ZF six speed gearbox, with an automatic transmission available as an option. The ZF gearbox is connected to a five shaft transfer box and thence to the drive system which incorporates a center differential which in turn can be connected to the four differentials connected to each pair of wheels. Additionally there is a power take-off fitted which allows the use of a range of equipment and which can also be used to setup a propeller to give the vehicle a better water speed of around 7 km/hr. On the water the Avtoros Shaman is no speed boat, but it is much better than paddling, and you can ride the water in air-conditioned comfort.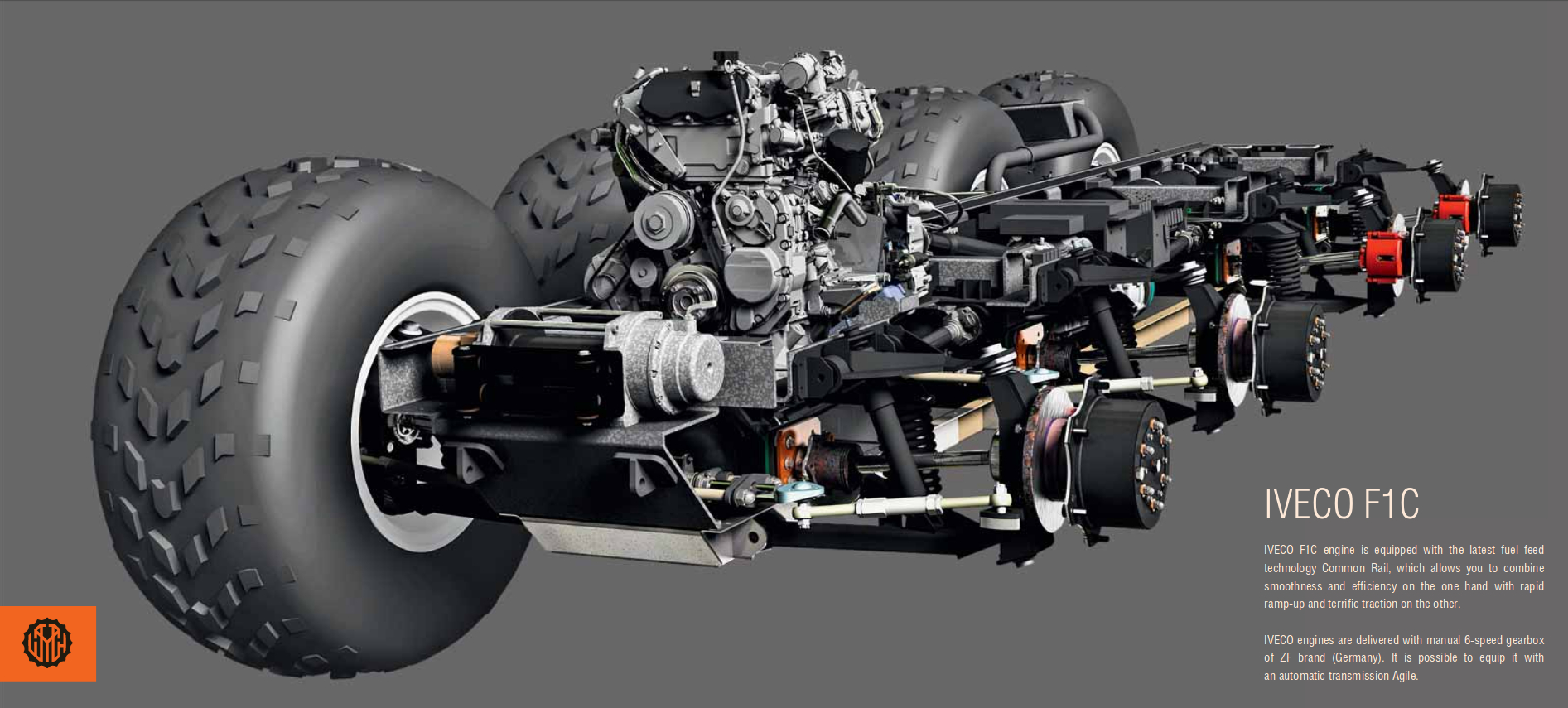 The suspension system of the Avtoros Shaman is of the hydro pneumatic type reminiscent of the French Citroën DS series. The system is adjustable so it can be adapted to the varying conditions the vehicle might be used in, from highway cruising to extreme rock climbing. The suspension is micro-processor controlled to optimize pressures in the various parts of the system depending on load distribution and operating conditions.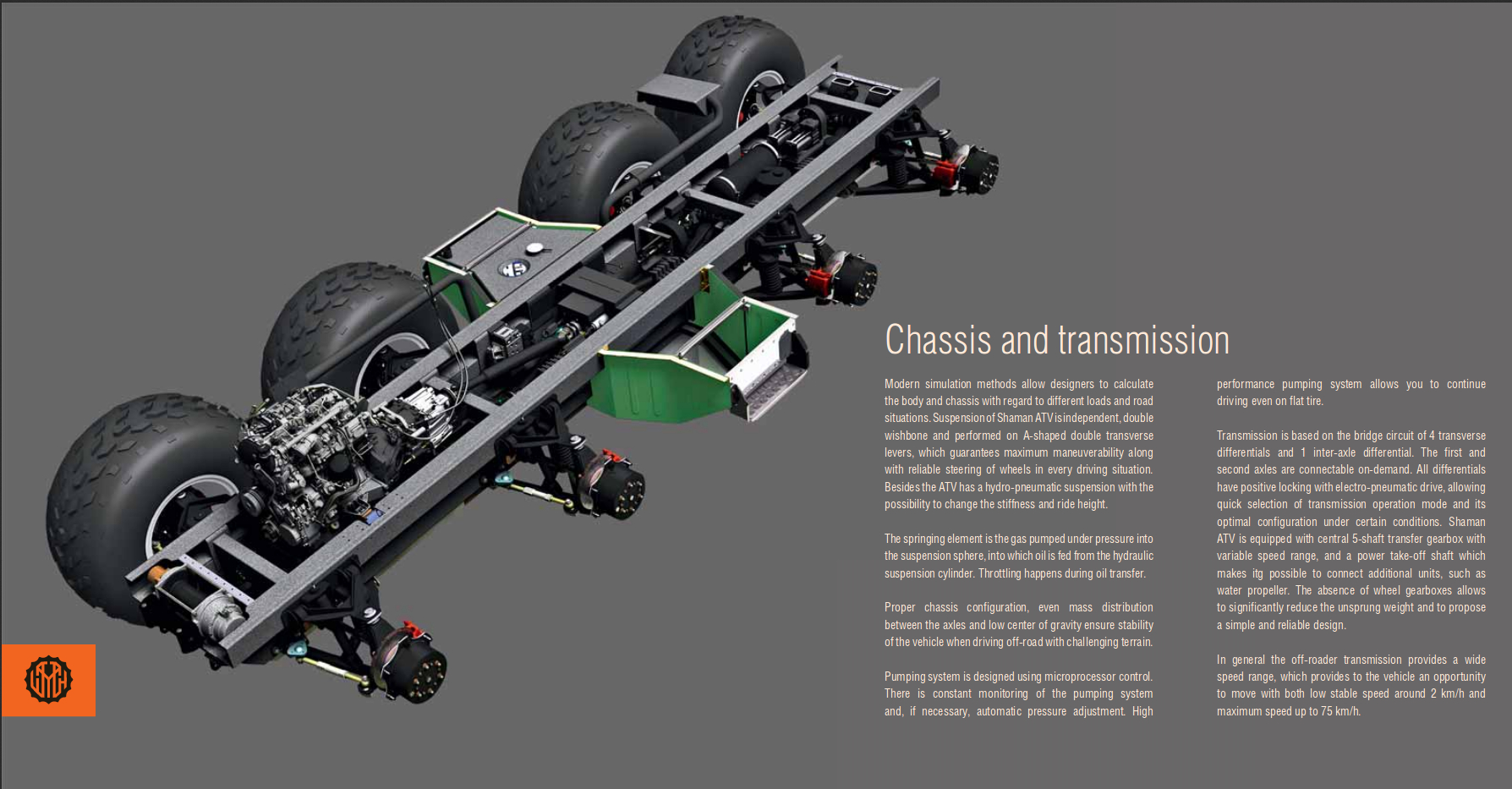 The Avtoros Shaman is a fascinating vehicle, far more complex than Milton Reeves Octoauto, but of course the Avtoros Shaman has all the advantages of twenty-first century technology. The Avtoros Shaman, like the Reeves Octoauto before it, is not a cheap vehicle. The base price listed on Avtoros web site at time of writing is €183,125, which is about USD$215,000, so, not as expensive as a genuine classic Shelby Cobra at auction, but still a chunk of change. That being said this is a vehicle that offers a lot of valuable features, and it would without doubt qualify as an ultimate hunting wagon.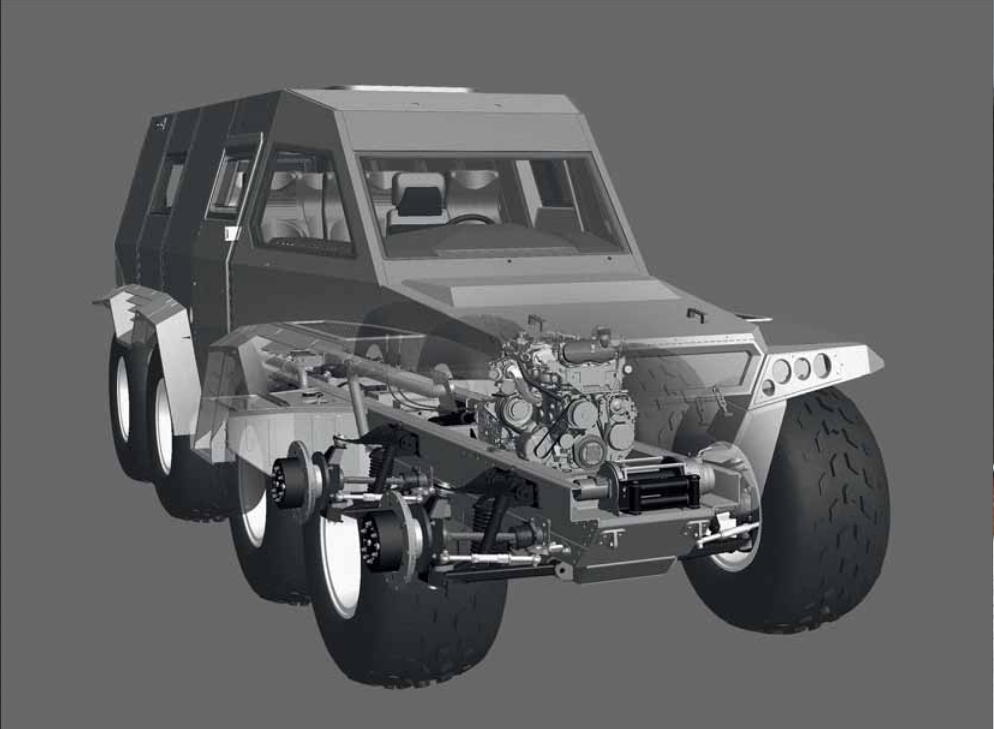 If you are interested in finding out more about the Avtoros Shaman you will find their website if you click here.
You can download the Avtoros Shaman catalog in PDF format if you click here.
You can use the Avtoros Shaman configurator to discover the various options available for the vehicle and how much your dream Avtoros Shaman might cost if you click here.
To give you a better impression of the Avtoros Shaman in action here is a video courtesy Review Machines Worldwide.
(All pictures of the Avtoros Shaman courtesy Avtoros).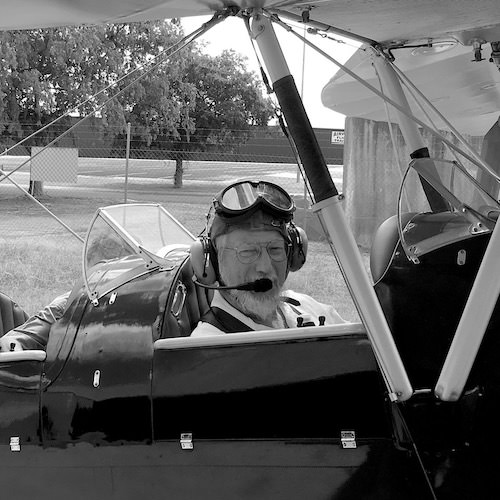 Jon Branch is the founder and senior editor of Revivaler and has written a significant number of articles for various publications including official Buying Guides for eBay, classic car articles for Hagerty, magazine articles for both the Australian Shooters Journal and the Australian Shooter, and he's a long time contributor to Silodrome.
Jon has done radio, television, magazine and newspaper interviews on various issues, and has traveled extensively, having lived in Britain, Australia, China and Hong Kong. His travels have taken him to Indonesia, Israel, Italy, Japan and a number of other countries. He has studied the Japanese sword arts and has a long history of involvement in the shooting sports, which has included authoring submissions to government on various firearms related issues and assisting in the design and establishment of shooting ranges.