Not everyone is a visionary, but George Bennie was one. Not everyone thinks that using a propeller to drive a land vehicle might just be a good idea, and indeed some of the designs for propeller driven cars would cause a modern Health and Safety professional to have an apoplexy. But to put things in perspective, in the early years of the twentieth century as air travel suddenly became possible and fashionable for those who could afford it a propeller driven vehicle brought with it the impression of speed and modernity.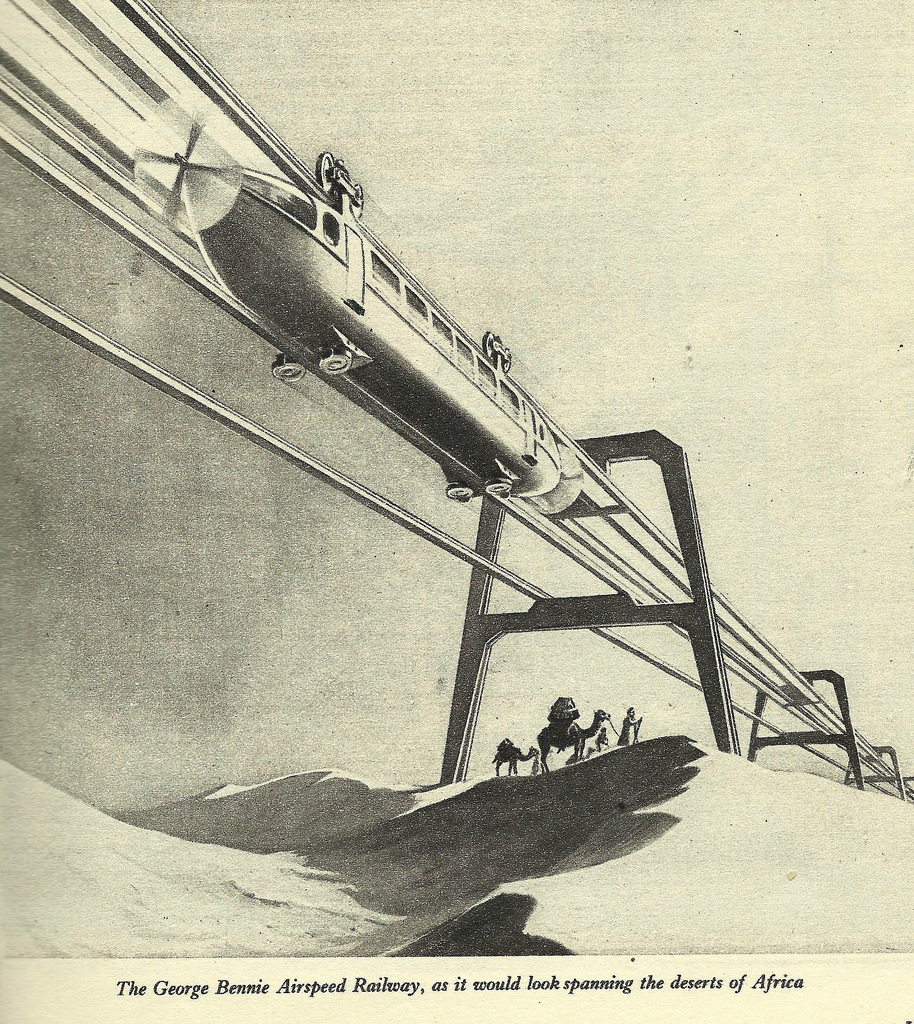 When we think of rail travel, by the 1930's steam trains were easily providing services that managed "a mile a minute" and steam locomotives were regularly achieving speeds of 100mph or more in regular service. The New York Central's "Water level route" was one such place where this was happening as was the London North Eastern Railway (LNER) in Britain. So the steam locomotive technology of the thirties was already providing reliable high speed train services despite the LNER being euphemistically referred to as the "Late Never Early Railway".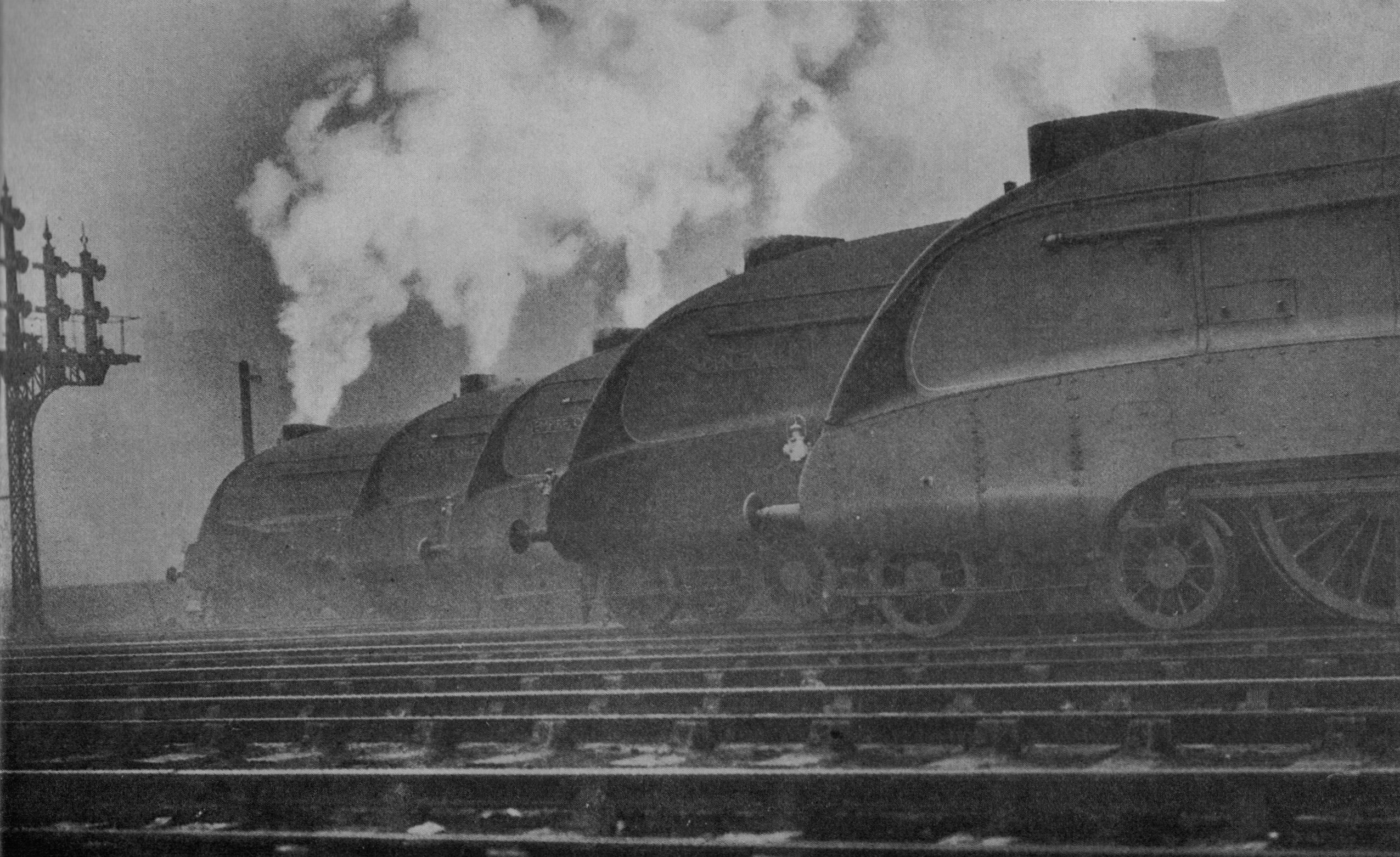 So when Scotsman George Bennie presented his idea for a high speed propeller driven transport system it needed more than the claim that it could provide 120mph transport. The LNER A4 steam locomotives could already do that. An LNER A4 locomotive set the world speed record for a steam locomotive of 125.88 mph (202.58 km/h) in 1938, and in the United States, although no formal attempt was made at a speed record there was no shortage of engineers seeing over 100mph speeds on their locomotive speedometers.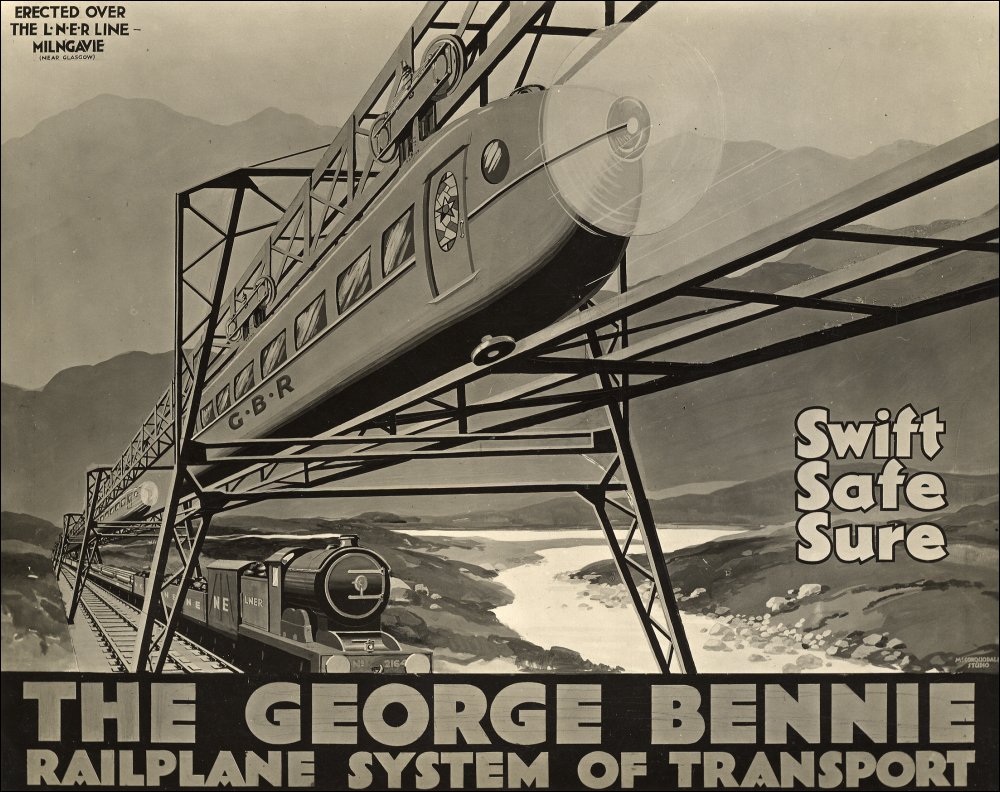 The picture in the poster above gives us and idea of George Bennie's sales idea. Railways (Railroads) make their money from freight. Passenger services tend not to be greatly profitable. George Bennie suggested that passenger traffic could be removed from interfering with freight traffic and made fast, fashionable and cheaper if his lightweight system were used.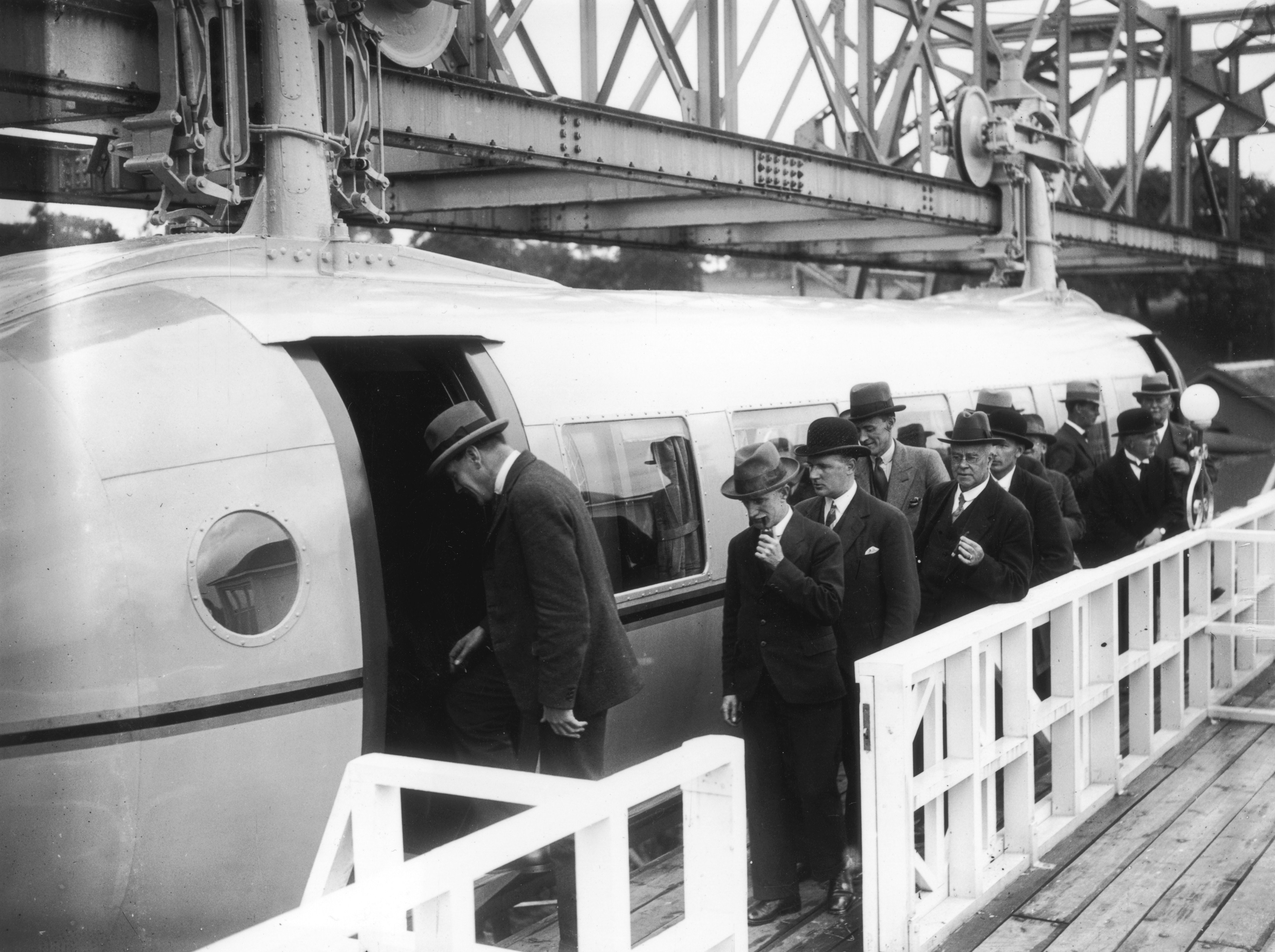 You will find a the complete documents in which George Bennie outlines his system and its advantages in PDF format (two documents available) at the National Archives of Scotland, for the first click here, and for the second  click here.
If you read through his arguments you will see Bennie was suggesting that these lightweight rail cars would be cheaper to operate than conventional trains. Capable of climbing and descending steeper grades than conventional trains and therefore able to be economically used to provide transport to locations where it would be too expensive to provide a conventional train service.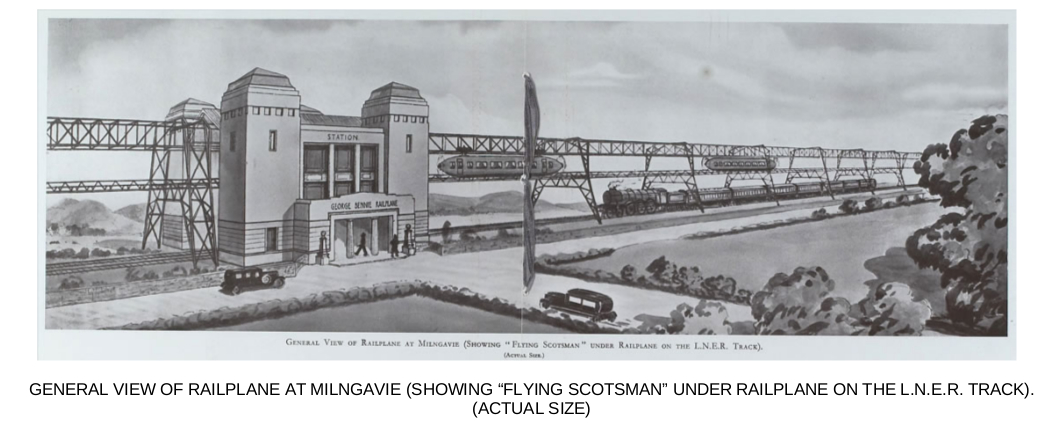 So why did George Bennie not succeed? In the twenties and the thirties the motor car and truck were already becoming increasingly popular. They were able to negotiate existing roads whether they were surfaced or not, and they could travel from door to door.
George Bennie's Railplane remains a nice idea. The monorails and elevated railways that exist around the world are testament to this. If you are in Kuala Lumpur for example try riding their elevated monorail. Getting into the station is quick and convenient, much more simple than getting down into London's Underground or Hong Kong's MTR; and the view from the monorail is a lot better than you get from any underground transport system. As it was George Bennie's Railplane may have been best used as a novelty ride in scenic spots, or in amusement parks such as Disneyland. But even though George Bennie tried both in Britain and in the Middle East to get someone to catch his vision none did and he was declared bankrupt in 1937. Not one to give up however he established two new companies in 1946 and 1951: the George Bennie Airspeed Railway Ltd and the George Bennie Airspeed Railway (Iraq) Ltd. His plan was to provide lines which would combine desert irrigation and a railplane service between the River Nile in Egypt and the Dead Sea in Palestine, and also between Baghdad and Damascus. Neither came to fruition and George Bennie passed away in 1957, the year after his test track over the LNER line at Milngavie was cut up for scrap.
There is a book on Amazon on the Bennie Railplane by William B. Black. It is titled "The Bennie Railplane" and you'll find it if you click here.
You can get colour posters which could add some "coolness factor" to your "gentleman's room" or "man lab" framed and unframed on Amazon also if you click here.
The following videos from British Pathé in 1929 show George Bennie and his Railplane in construction and in action. (These are original 1929 silent film footage). They give a fascinating insight into the system and the applied technology.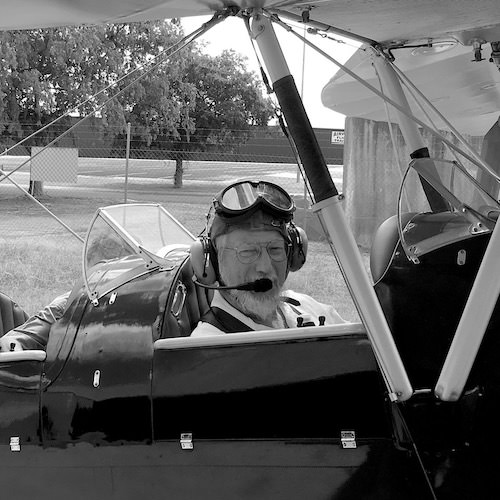 Jon Branch is the founder and senior editor of Revivaler and has written a significant number of articles for various publications including official Buying Guides for eBay, classic car articles for Hagerty, magazine articles for both the Australian Shooters Journal and the Australian Shooter, and he's a long time contributor to Silodrome.
Jon has done radio, television, magazine and newspaper interviews on various issues, and has traveled extensively, having lived in Britain, Australia, China and Hong Kong. His travels have taken him to Indonesia, Israel, Italy, Japan and a number of other countries. He has studied the Japanese sword arts and has a long history of involvement in the shooting sports, which has included authoring submissions to government on various firearms related issues and assisting in the design and establishment of shooting ranges.