Fast Facts
This Smith & Wesson No. 3 revolver has been confirmed as having been delivered to Theodore Roosevelt whilst he was in San Antonio in 1898 preparing his "Rough Riders" for the war in Cuba.
The revolver is chambered for the then U.S. Army standard caliber of 38 Long Colt.
After Roosevelt's death in 1919 the revolver was given to his valet/bodyguard.
Theodore Roosevelt might best be described as a "man's man" whose strength came not from his having natural physical strength, but as a man who grew up as no stranger to illness and physical weakness. But despite the physical challenges the young Theodore developed strength of will, self-discipline, and depth of character.
As a child I think he was in some respects rather like British explorer and big game hunter Frederick Courtenay Selous, after whom the Selous Game Reserve in Tanzania is named. As as boy young Frederick trained his body for hardship, and young Theodore did exactly the same, pushing himself to overcome childhood asthma. Once on a camping trip he was bullied by a couple of young thugs and so rather than being intimidated he took up boxing so he would be able to more effectively deal with such nuisances.
Theodore's father was a man who Theodore described thus:  "My father, Theodore Roosevelt, was the best man I ever knew. He combined strength and courage with gentleness, tenderness, and great unselfishness. He would not tolerate in us children selfishness or cruelty, idleness, cowardice, or untruthfulness."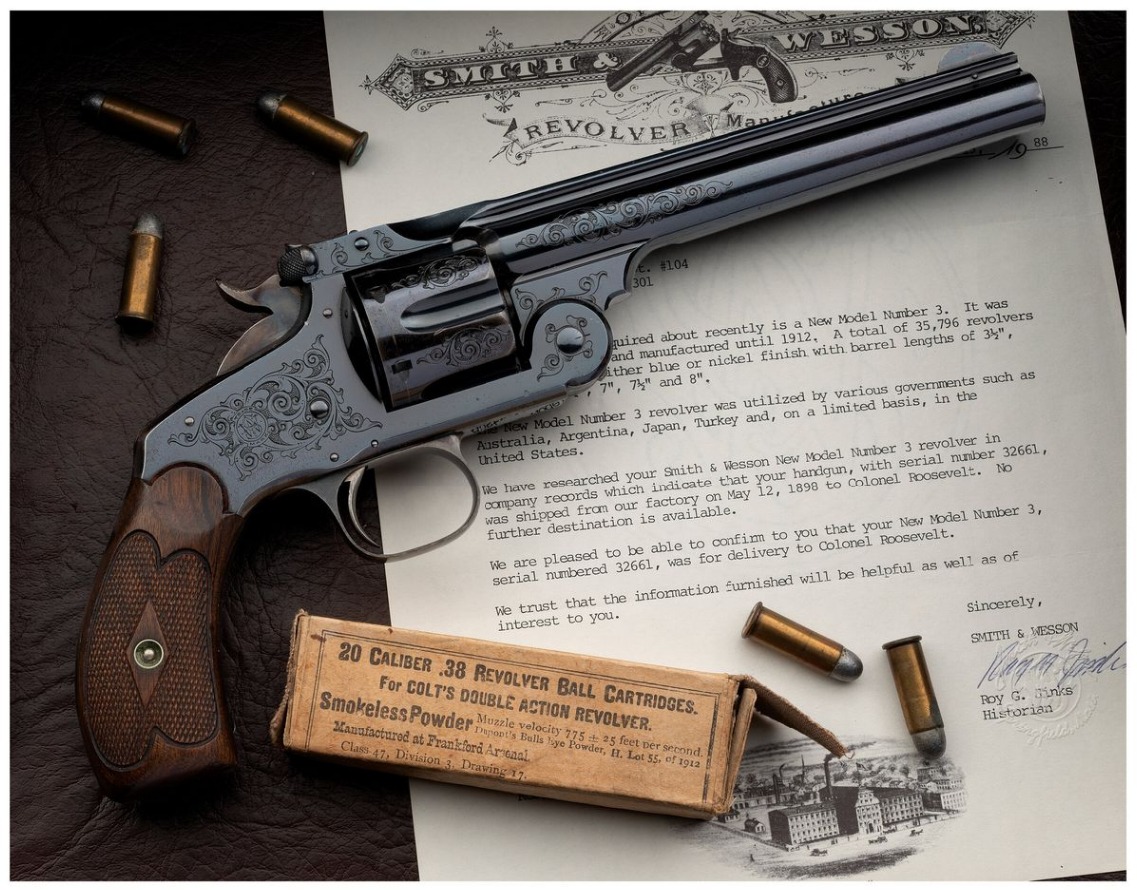 Although he did not know it in his childhood Theodore Roosevelt would go on to become one of a handful of men regarded as the most esteemed presidents of the United States, and his image would feature on Mount Rushmore along with George Washington, Thomas Jefferson, and Abraham Lincoln.
Back when I was living in China I was told that the Chinese have a curse that says "May you live in interesting times". Theodore Roosevelt indeed lived in "interesting times" throughout his life, but he turned those troubles and challenges from being a curse into character building blessings, typically at great personal cost.
After studying at Harvard, and then undertaking law studies at Columbia he entered politics as a Republican and published his first book "The Naval War of 1812" in 1882.
Roosevelt spent some years in politics and by 1897 had been appointed Assistant Secretary of the Navy. In April of 1898 the Spanish-American war broke out and Roosevelt resigned from his position and along with army Colonel Leonard Wood formed the first U.S. Volunteer Cavalry Regiment.
They were flooded with volunteers from all over the United States and the unit started being called the "Rough Riders" by the press.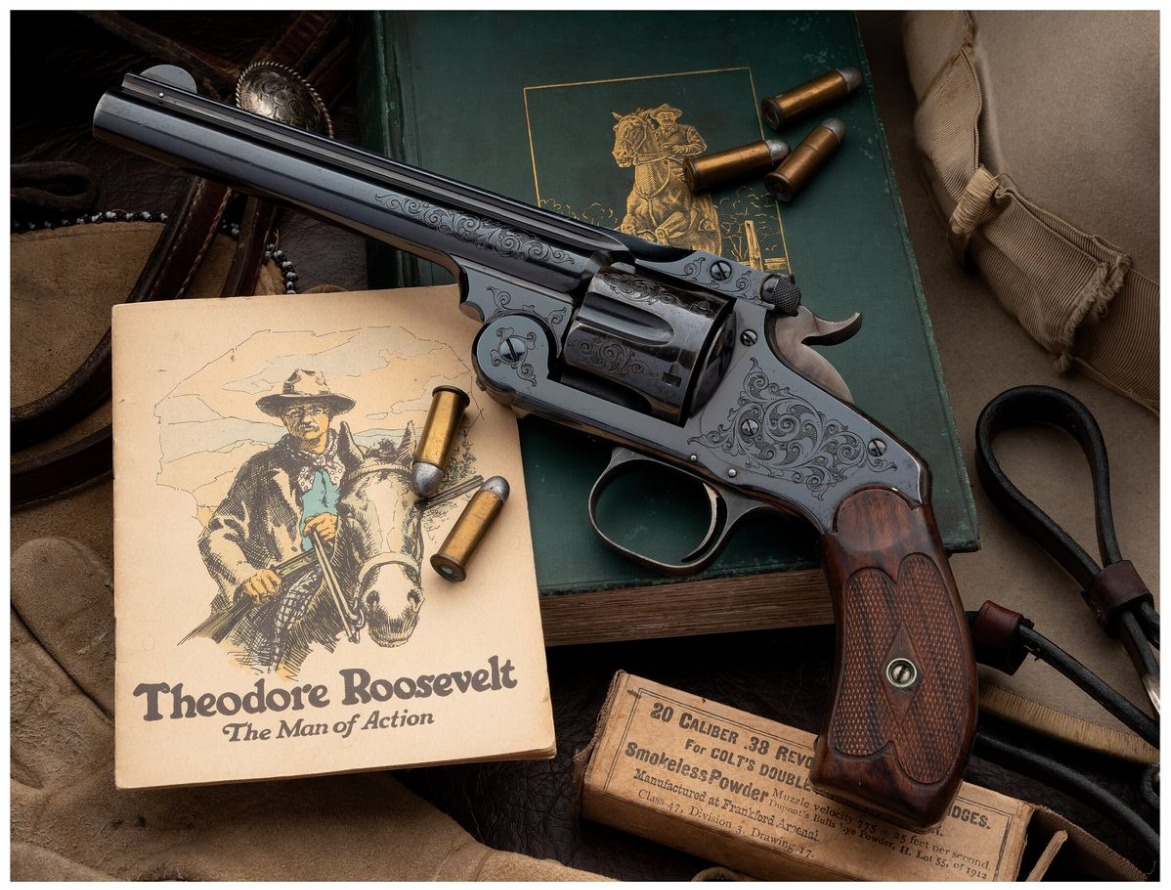 They assembled in San Antonio, Texas for training and it was during this time that Roosevelt took delivery of the Smith & Wesson No. 3 revolver featured in this post.
This revolver is one of only three or four made in the then standard army caliber of .38 Long Colt and is a rarity.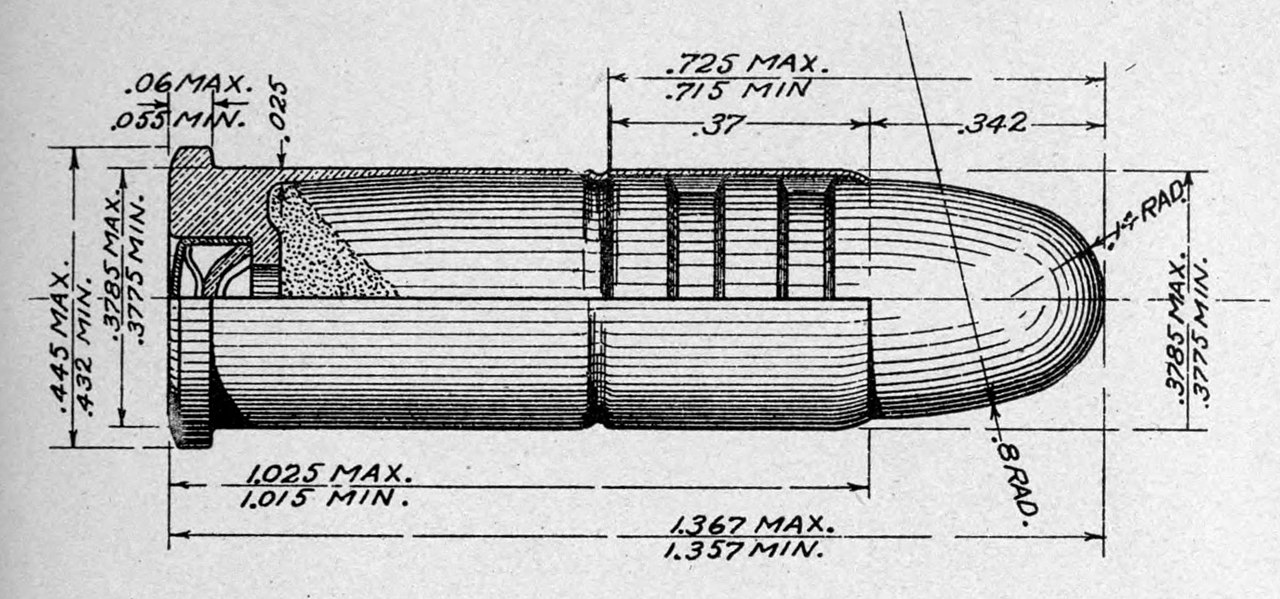 One of the four units of the Rough Riders arrived in Cuba on June 23rd, 1898 but had to leave their horses behind and go on to fight as infantry because sufficient transports were not available.
They initially fought the Battle of Las Guasimas on June 24th, and then went on to their most famous history making battle: the Battle of San Juan Hill, which included the taking and defending of Kettle Hill.
These events have been immortalized in various movies and docu-dramas such as "Rough Riders" part 1 and part 2.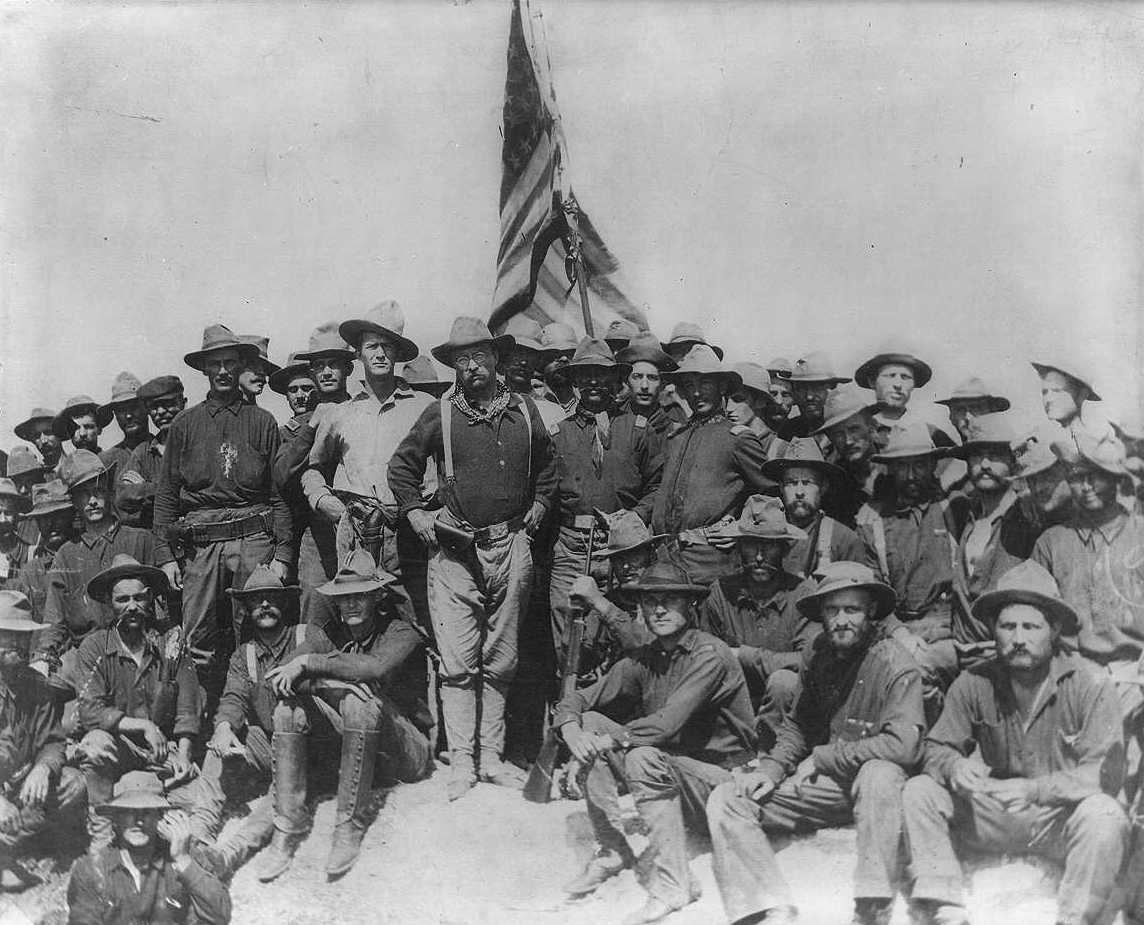 After the war Colonel Roosevelt returned to the United States and entered politics at a national level as as Republican becoming Vice-President to William McKinley in March of 1901, and then when he was assassinated on September 6th Roosevelt became President, and went on to earn a place as one of America's greatest presidents.
Roosevelt won a second term as President in 1904, the year the Russo-Japanese War began: and he played a significant role in bringing that war to an end in 1905: for which he was awarded a Nobel Peace Prize in 1906.
At the end of his political career in 1909 Roosevelt was able to pursue his love of nature and of big game hunting. One of his famous quotes is "… we love a great many things—birds and trees and books, and all things beautiful, and horses and rifles and children and hard work and the joy of life."
Roosevelt went big game hunting in Africa in 1909 with the Smithsonian-Roosevelt African Expedition led by R.J. Cunninghame and assisted at different times by Frederick Courtenay Selous who became a friend.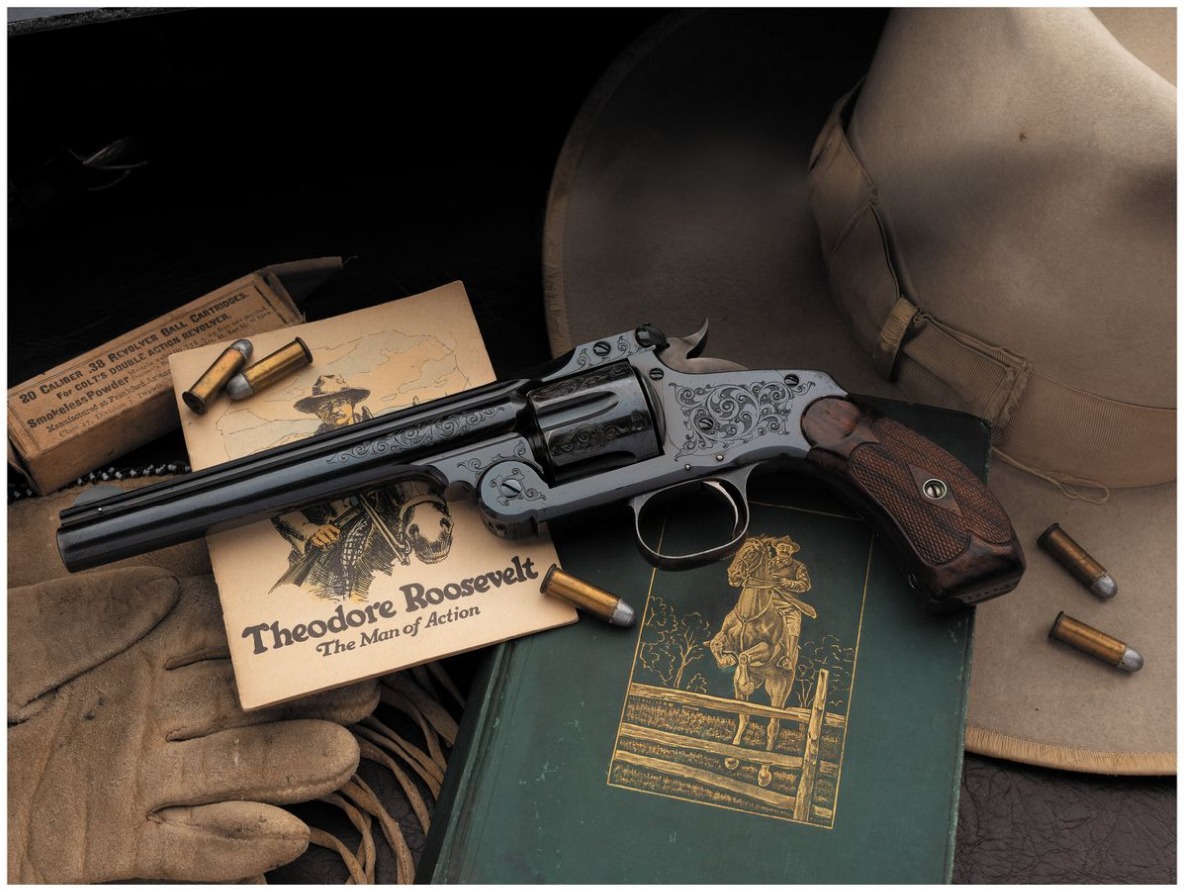 The Smith & Wesson No. 3 revolver has been thoroughly documented as having been delivered to Roosevelt just before he and the Rough Riders shipped out to Cuba for the Spanish-American War and that after he passed away in 1919 it was given to his bodyguard/valet, likely James E. Amos, who had become a friend of the ex-president and had assisted him with his gun collection.
This revolver is now coming up for sale by Rock Island Auction on December 9, 2022.
You will find the sale page for this important historical revolver here.
(All pictures of the Roosevelt Smith & Wesson Revolver courtesy Rock Island Auction)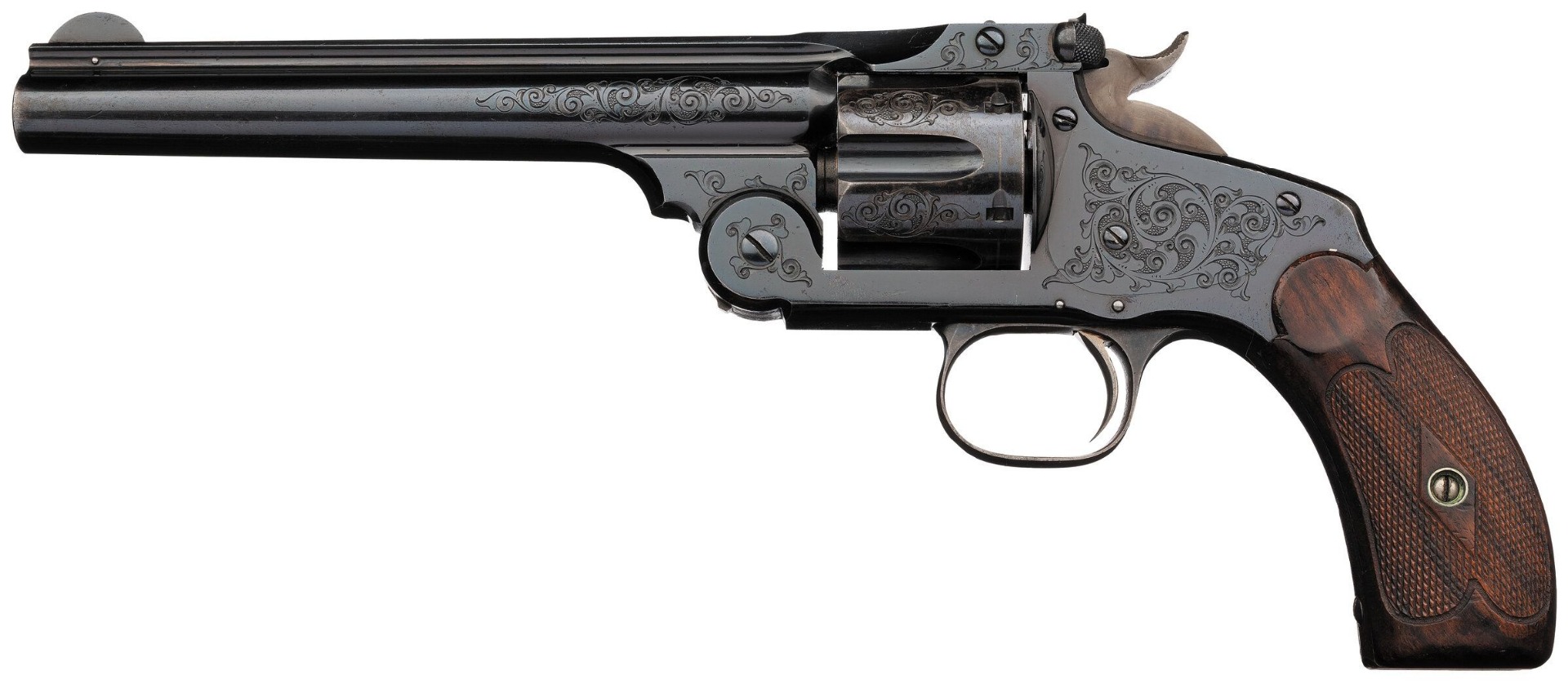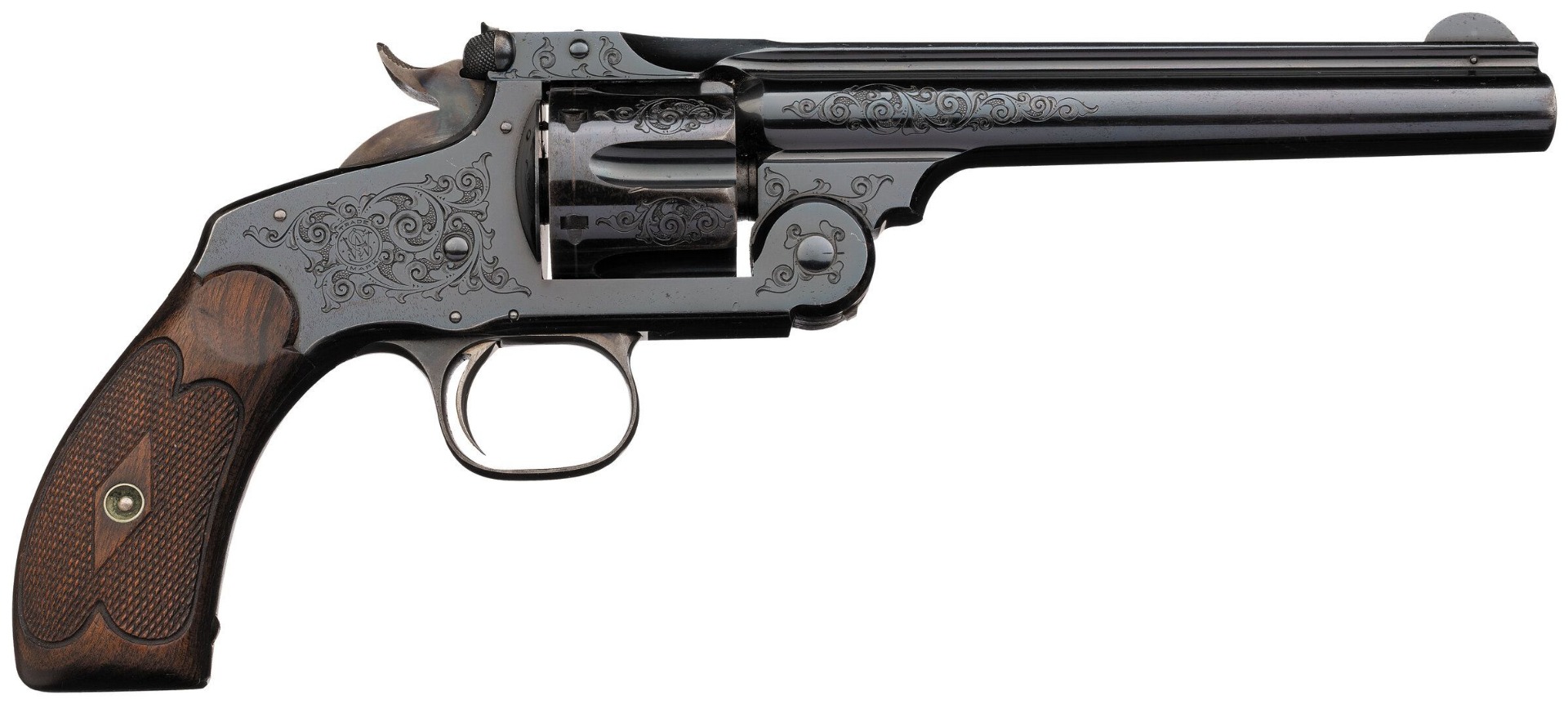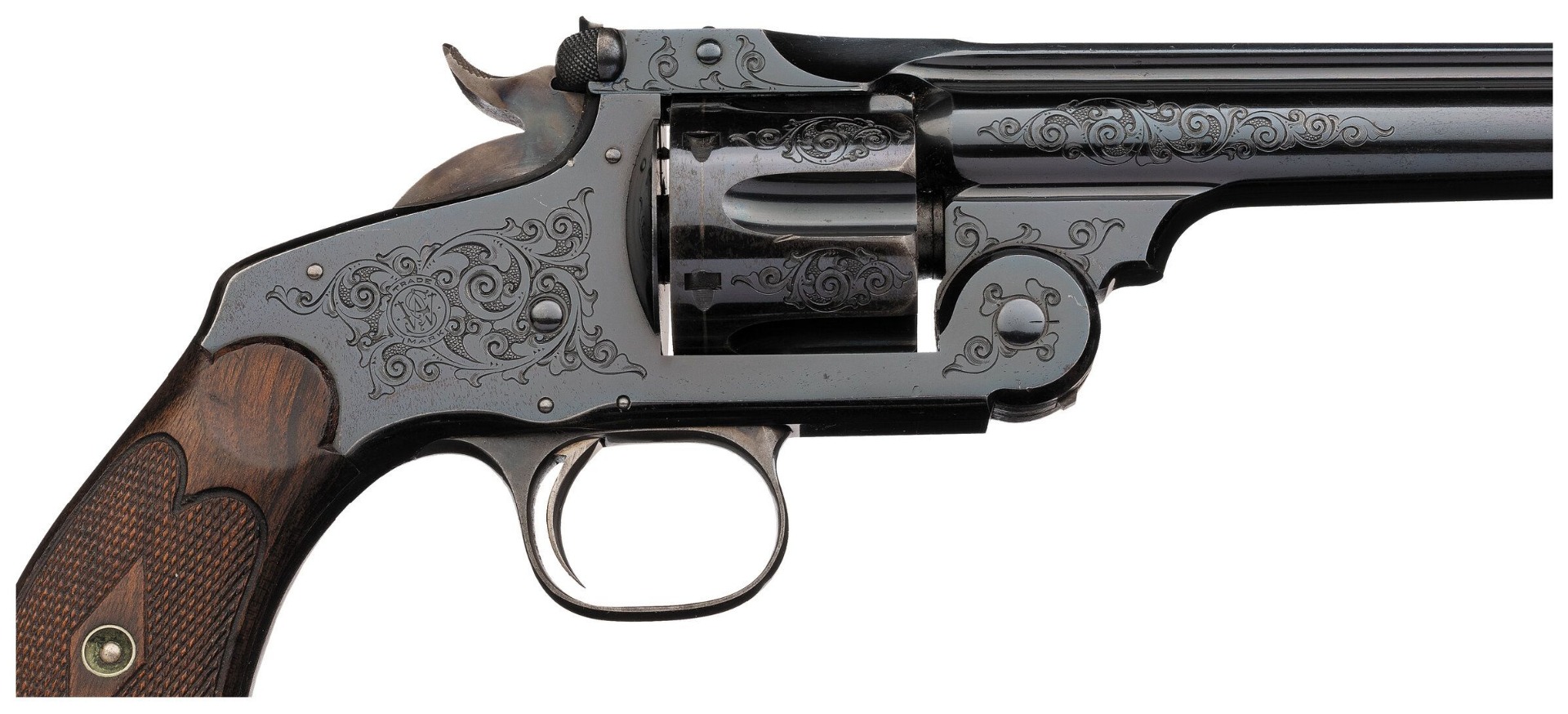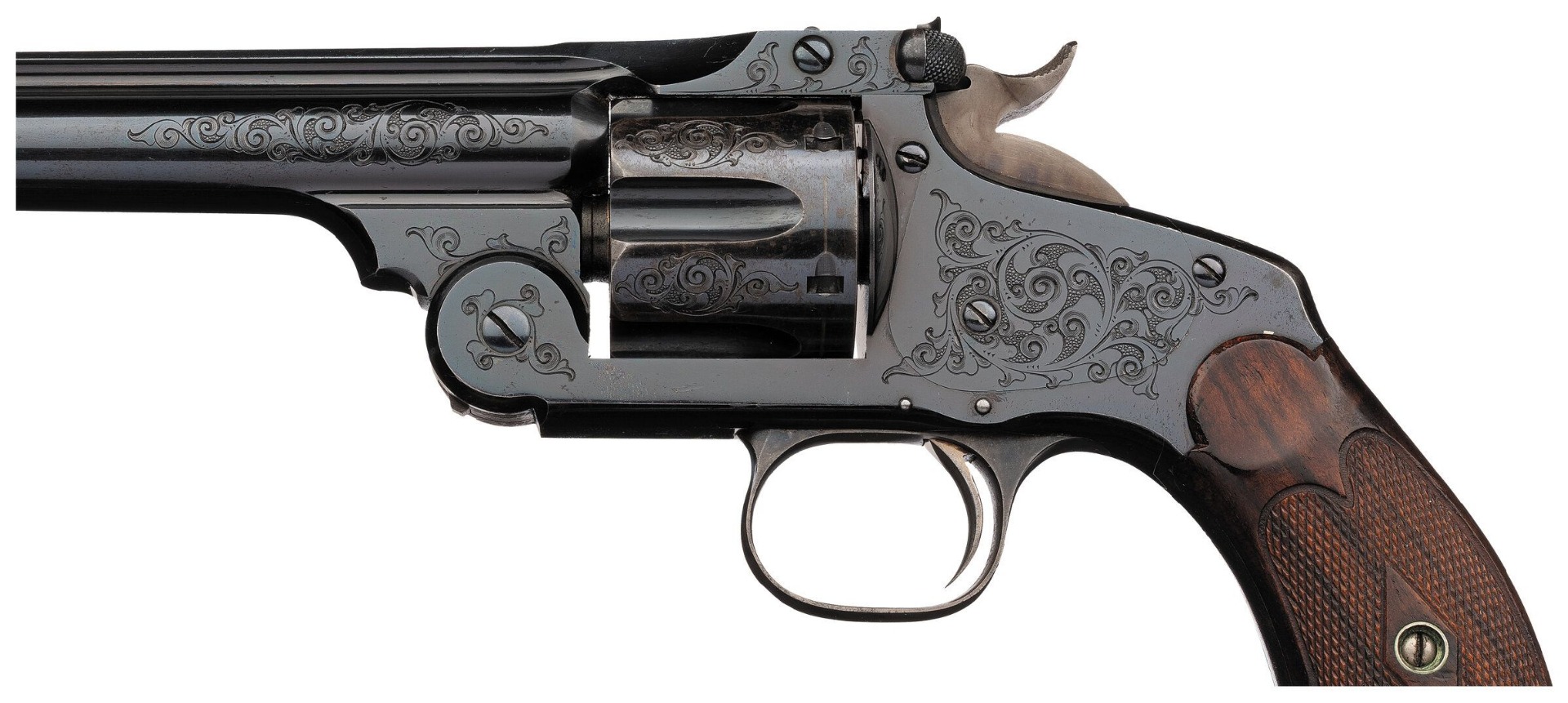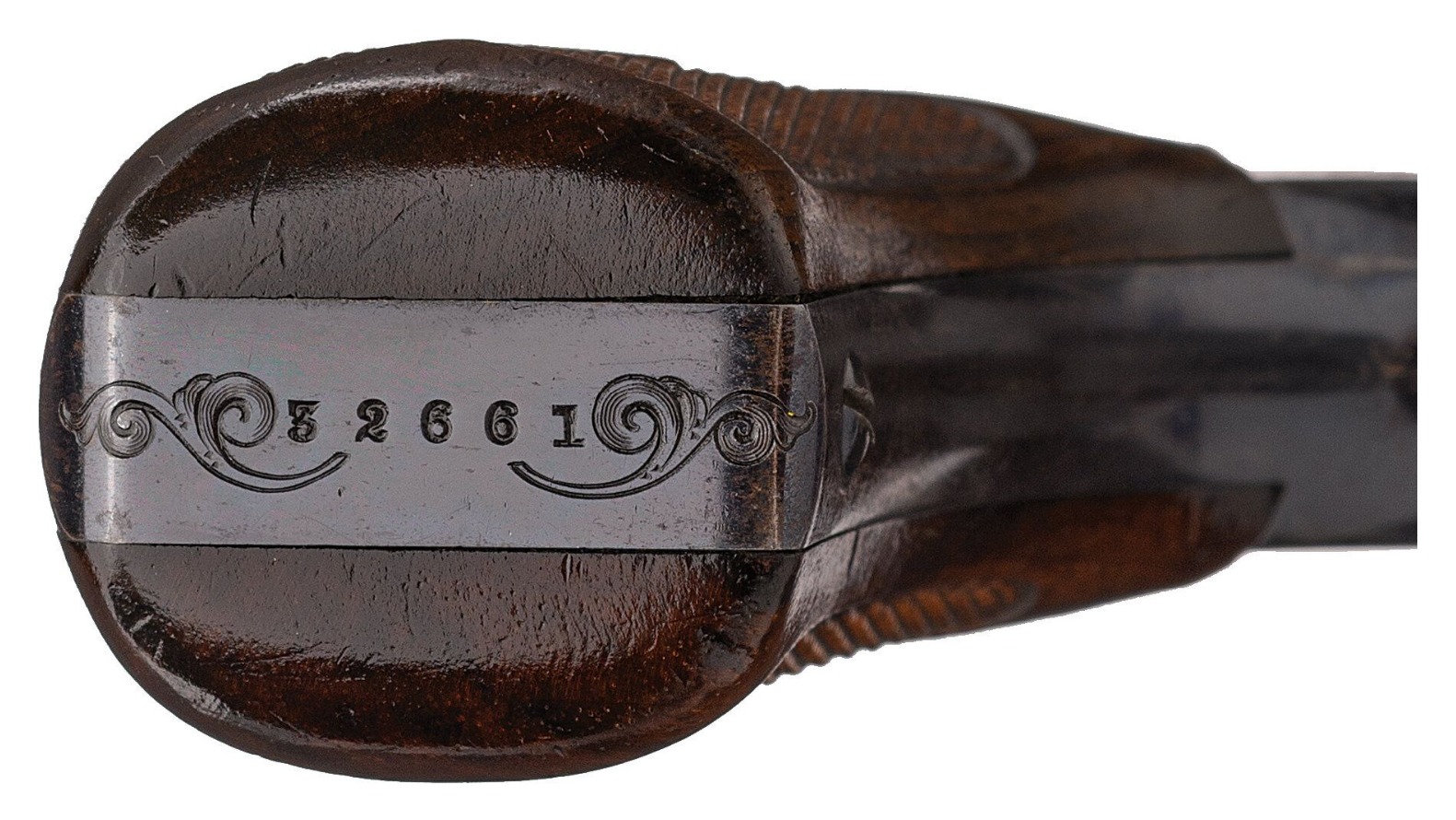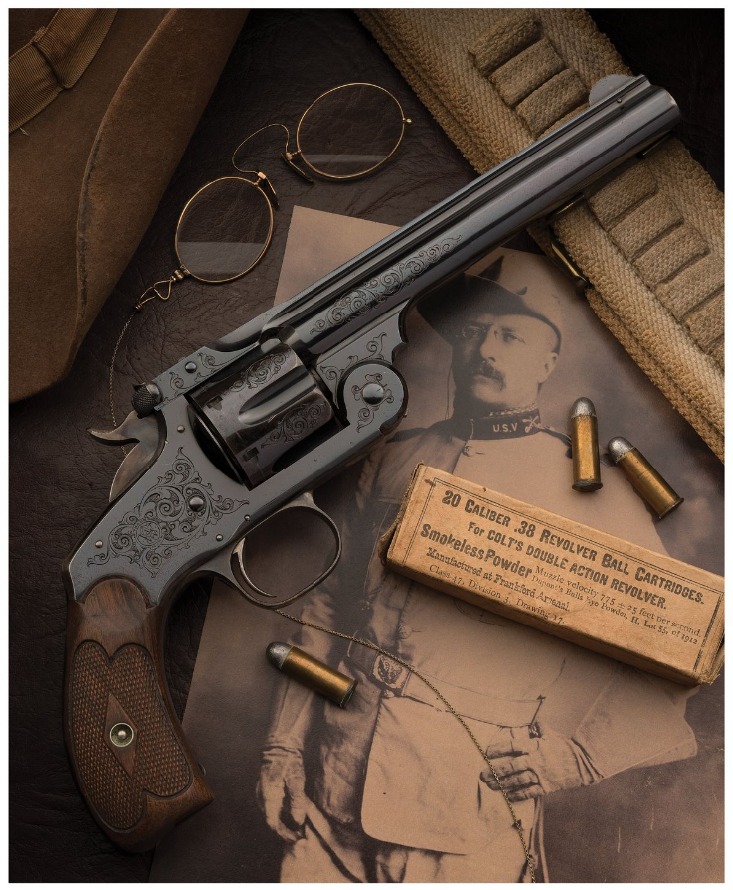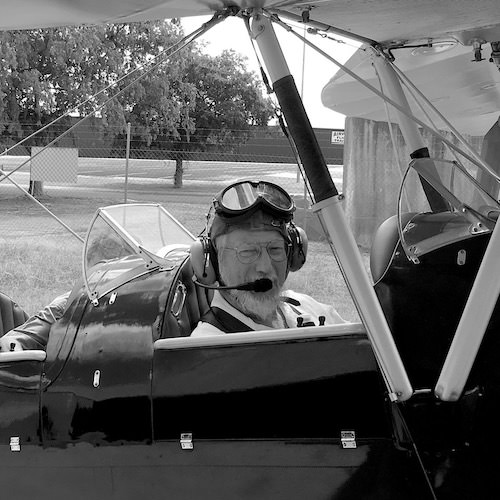 Jon Branch is the founder and senior editor of Revivaler and has written a significant number of articles for various publications including official Buying Guides for eBay, classic car articles for Hagerty, magazine articles for both the Australian Shooters Journal and the Australian Shooter, and he's a long time contributor to Silodrome.
Jon has done radio, television, magazine and newspaper interviews on various issues, and has traveled extensively, having lived in Britain, Australia, China and Hong Kong. His travels have taken him to Indonesia, Israel, Italy, Japan and a number of other countries. He has studied the Japanese sword arts and has a long history of involvement in the shooting sports, which has included authoring submissions to government on various firearms related issues and assisting in the design and establishment of shooting ranges.