Fast Facts
Brough Superior motorcycles were first created by George Brough who founded the company in 1919 and began motorcycle production in 1920.
George Brough wanted to appeal to the top end of the motorcycle market and so his motorcycles were designed using the most advanced technology available at the time.
So excellent were Brough Superior motorcycles that the press began calling them "The Rolls-Royce of motorcycles.
George Brough retired from motorcycle manufacture after the Second World War and the marque remained dormant until 2008 when it was first purchased by Mark Upham, who put a traditional Brough Superior SS101 back into production.
In 2013 the marque was sold to Thierry Henriette of Boxer Design who set about creating a new Brough Superior for the 21st Century.
The Boxer Design Brough Superior models are outstanding examples of the most technologically advanced motorcycles in the world today.
History
The name "Brough Superior" has been one of the most famous of British motorcycle makers, in fact they were once known as the "Rolls-Royce of motorcycles and rightly so. Brough motorcycles were designed to the most up-to-date technological standards and their quality control was superb.
The founder of Brough Superior was George Brough, who had been raised in a motorcycle manufacturing family. He left the family business in 1919 after an argument about the future direction of the family business. George's dad William Brough loved traditional style motorcycles using conservative horizontally opposed twin cylinder engines as exmplified by the British Douglas: whilst George wanted to go the way of the American style V-twins such as made by Harley Davidson and Indian.
By 1920 George Brough had established his workshop under the business name "Brough Superior". His father's motorcycle business was just named "Brough" and George's use of the name "Superior" prompted his father to say "I suppose that makes my motorcycles the "Brough Inferior".
George Brough went on to build his motorcycle business into one of the most respected in Britain and Europe. Brough Superior also became favoured by the wealthy and became a symbol of affluence and impeccably good taste, just as Rolls-Royce, Bentley and Lagonda did as motor car makers.
You can find our more detailed history of Brough Superior here.
Among George Brough's numerous celebrity customers was T.E. Lawrence: best known in history as "Lawrence of Arabia". Lawrence had achieved the status of a war hero thanks to his leadership in the First World War in the battles between the Arab tribes and the Ottoman Empire.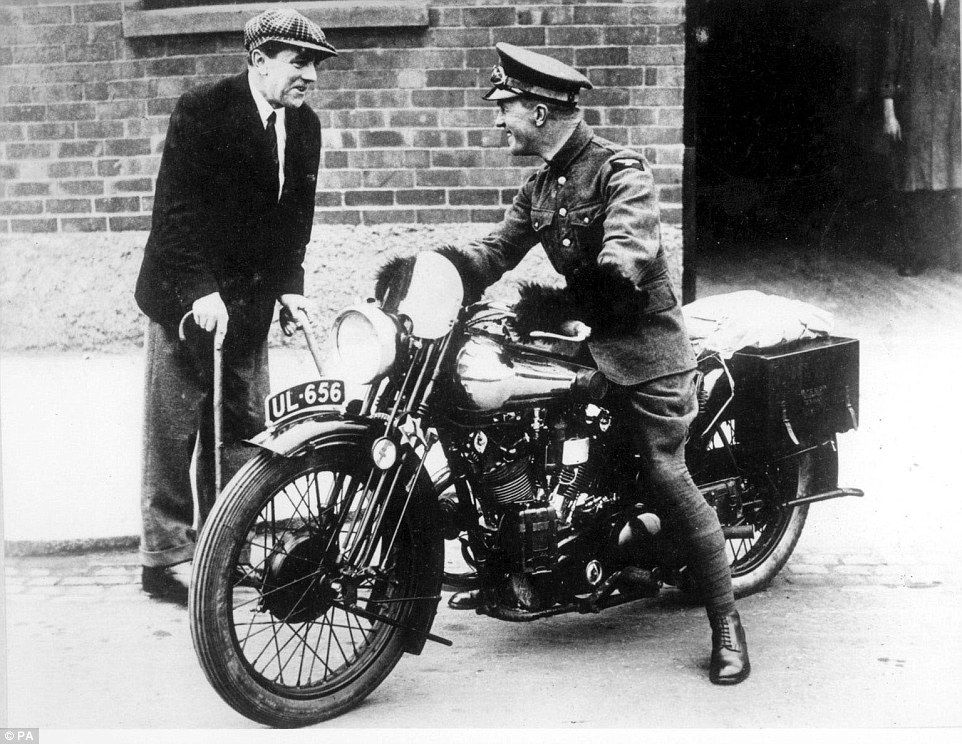 After the war Lawrence published his memoir about the war titled "Seven Pillars of Wisdom" (a reference to the Biblical verse Proverbs 9:1 "Wisdom has built her house, "She has carved out her seven pillars;" New American Standard Bible).
The book achieved best seller status as a result of Lawrence's fame, and Lawrence was provided with both the celebrity status and also income sufficient to purchase a succession of Brough Superior motorcycles, which proved to be a great joy to him.
Of all the celebrities who purchased Brough Superior motorcycles, a list that includes actor Orson Welles and playwright George Bernard Shaw, it was Lawrence who's name became most associated with the Brough Superior.
George Brough kept Brough Superior thriving up until the Second World War forced him to devote his factory to war production: the last ten bikes were made in 1940 and then Brough were kept busy making parts for the Rolls-Royce Merlin engines that powered such aircraft as the iconic Spitfires and Hurricanes of the Battle of Britain. But at the end of the war the world had changed and Britain entered into a period of post-war austerity. George Brough was no longer a visionary young man, and his body was showing the signs of both age and past injuries. So he decided that it was time to close the business, and retire.
This was not to be the end of Brough Superior however. George Brough had carved out a legacy of superb motorcycles and although the trade name lay dormant for decades there were many who wanted to see it brought back to life.
Brough Superior Resurrected
It was not until 2008 that a gentleman named Mark Upham acquired the trade name and set up a workshop in a 700 year old farmhouse up in the Alps where he began to build Brough Superior motorcycles the way that George Brough had been building them, thus disproving the theory that "They don't make 'em like they used to."
These bikes were called Brough Superior SS101 as they largely followed the design for the original Brough Superior SS100.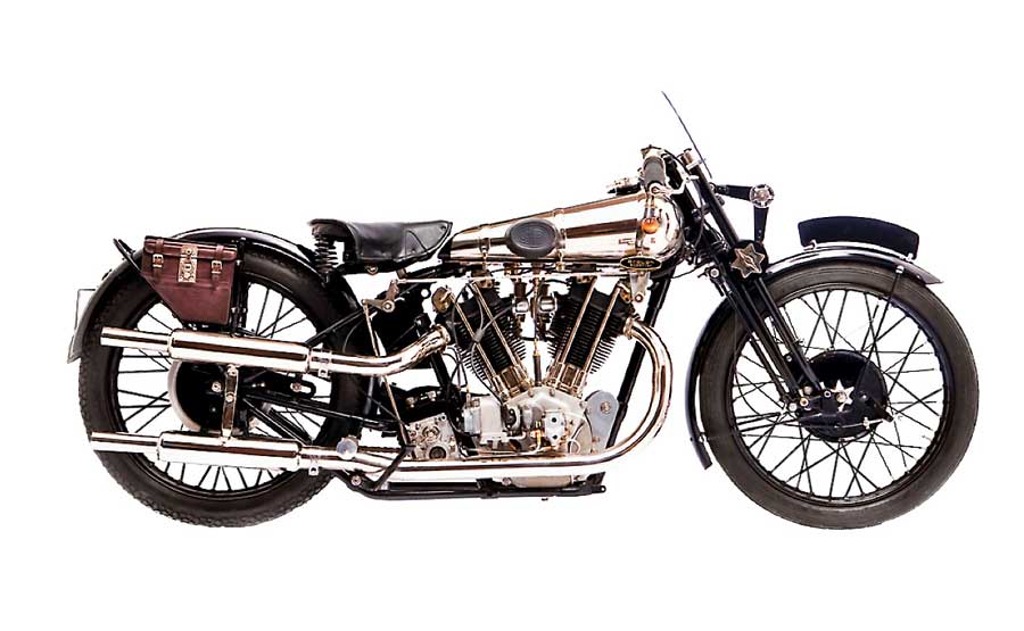 These bikes were however for a very limited clientele and cost around a quarter of a million US dollars.
Mark Upham soon realized that his business model was not going to prove to be the best option, but his business had aroused new interest from people wanting a Brough Superior. He was able to sell the Brough Superior name to Thierry Henriette and his business which is called Boxer Design.
Boxer design are famous for such modern motorcycles as the Aprilia Blue Marlin and Mondial Nuda, and they had a working relationship with the designer of the Fior suspension system, Claude Fior.
Whereas Mark Upham had intended to literally resurrect the Brough Superior SS100 of the 1930's Thierry Henriette had a vision that was much more in line with George Brough's: George Brough was not one for clinging to old technology, he always wanted the most modern and best performing technology for his motorcycles, and that combined with his eagle eye for quality control, was what made his motorcycles so desirable.
So it was that Boxer Design re-imagined the Brough Superior as a true 21st Century motorcycle, one that George Brough would have wanted to make, and one that T.E. Lawrence would have loved.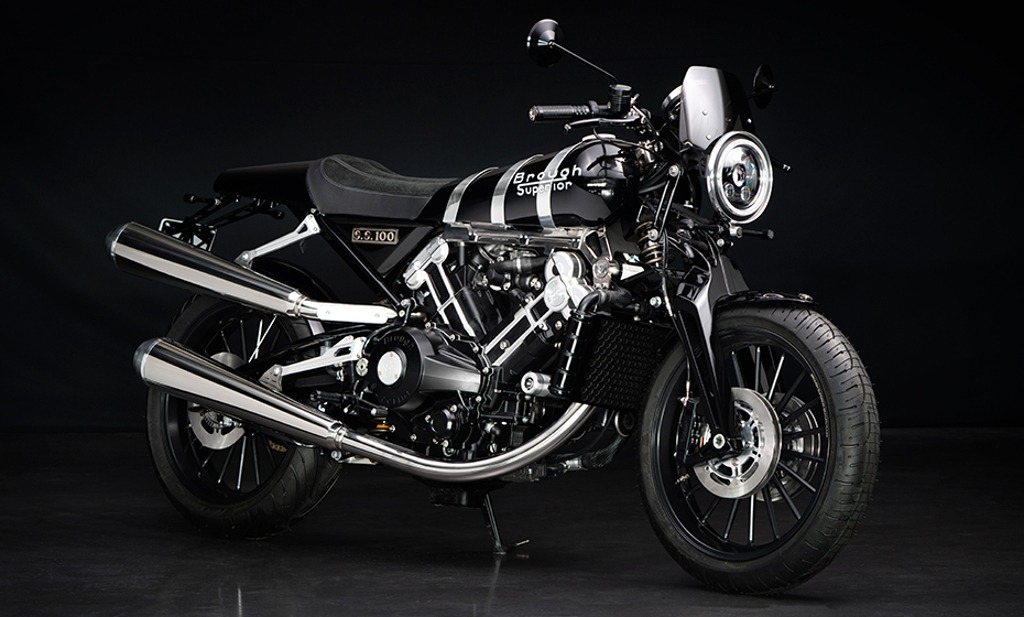 At the heart of this new Brough Superior SS100 was a custom designed 997cc 102bhp 88 degree V-twin engine with double valves. In the spirit of George Brough the chassis of the new Brough was of titanium, carbon fibre and aluminium with the engine used as a stressed member to assist in bringing the weight of the bike down to around 400lb dry.
The front forks were by Fior (of course) with an Öhlins shock absorber, and at the rear an Öhlins monoshock.
Brakes were by Beringer and featured four rotors to ensure balanced and durable braking, while the SS100's bodywork such as fuel tank, fenders, side panels and rear cowl were all of hand beaten aluminium with the fuel tank attached by three bands reminiscent of the original SS100 Pendine.
The new Brough Superiors were made in SS100, and Pendine models and were first shown at the Milan Motorcycle Show (EICMA) in 2013.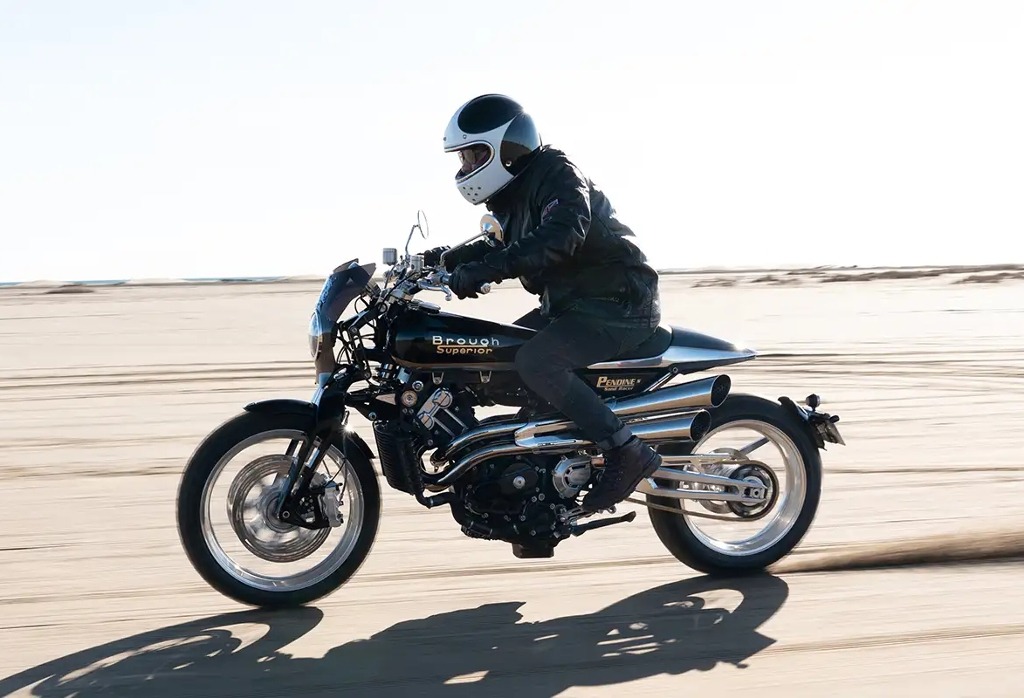 Since then other models have been added to the line-up including a track only bike made in collaboration with Aston Martin, and it is indeed a bike that James Bond might have found exceedingly useful.
New for 2023: the Brough Superior Dagger
The big news is that for 2023 Brough Superior will be adding a new model to their Lawrence series which was debuted in 2020.
The existing bikes in the Lawrence group are the Lawrence Original and the Lawrence Nefud, and for 2023 the new Lawrence Dagger is to be added.
The Lawrence Dagger is named after the Arabic dagger Lawrence wore as a part of his traditional Bedouin clothing.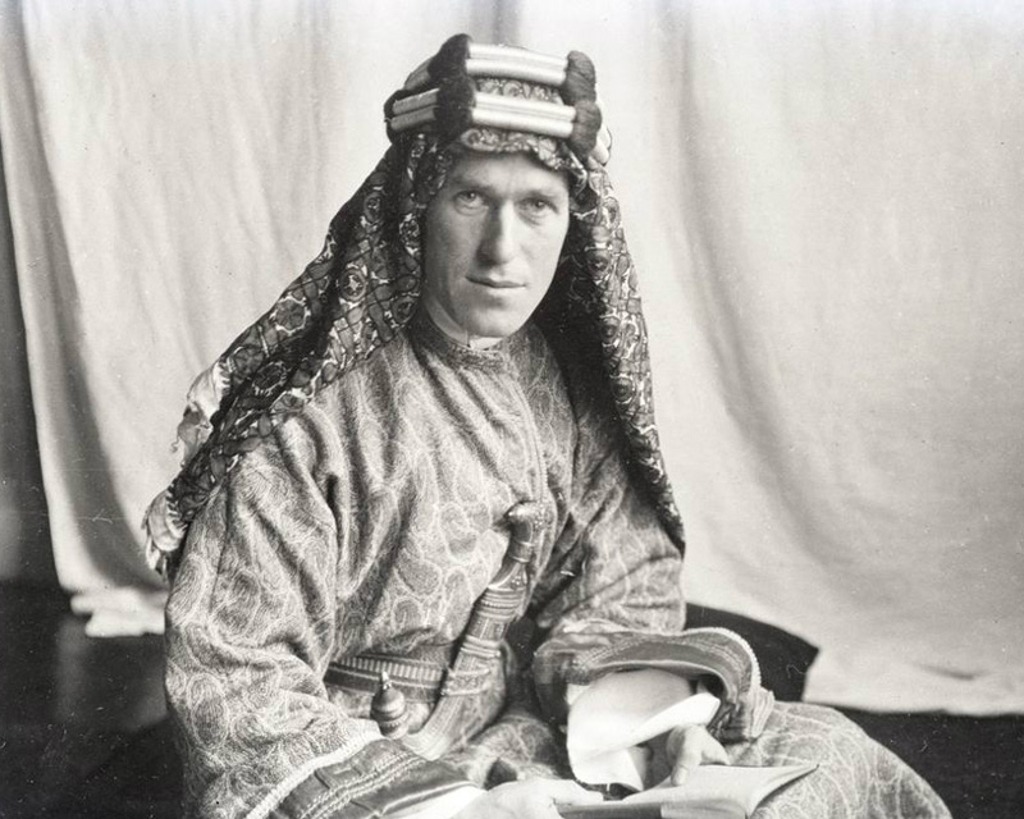 This type of traditional dagger is called a "janbiya" in Arabic and Lawrence was presented with the one he wears with Bedouin traditional dress after the taking of the city of Aqaba in 1917.
The new Boxer Design Brough Superior Lawrence Dagger motorcycle is fitted with the 997 cc Brough Superior V-twin double valve engine that meets Euro 5 standards.
The Lawrence Dagger model has graceful lines reminiscent of the Janbiya, and of the Arab horses that Arabia is famous for. The V-twin engine develops a useful 105 bhp and so gives a riding experience that is sort of like having the power of 105 of those Arab horses under your control as you are whisked across the desert on a two wheeled magic carpet ride.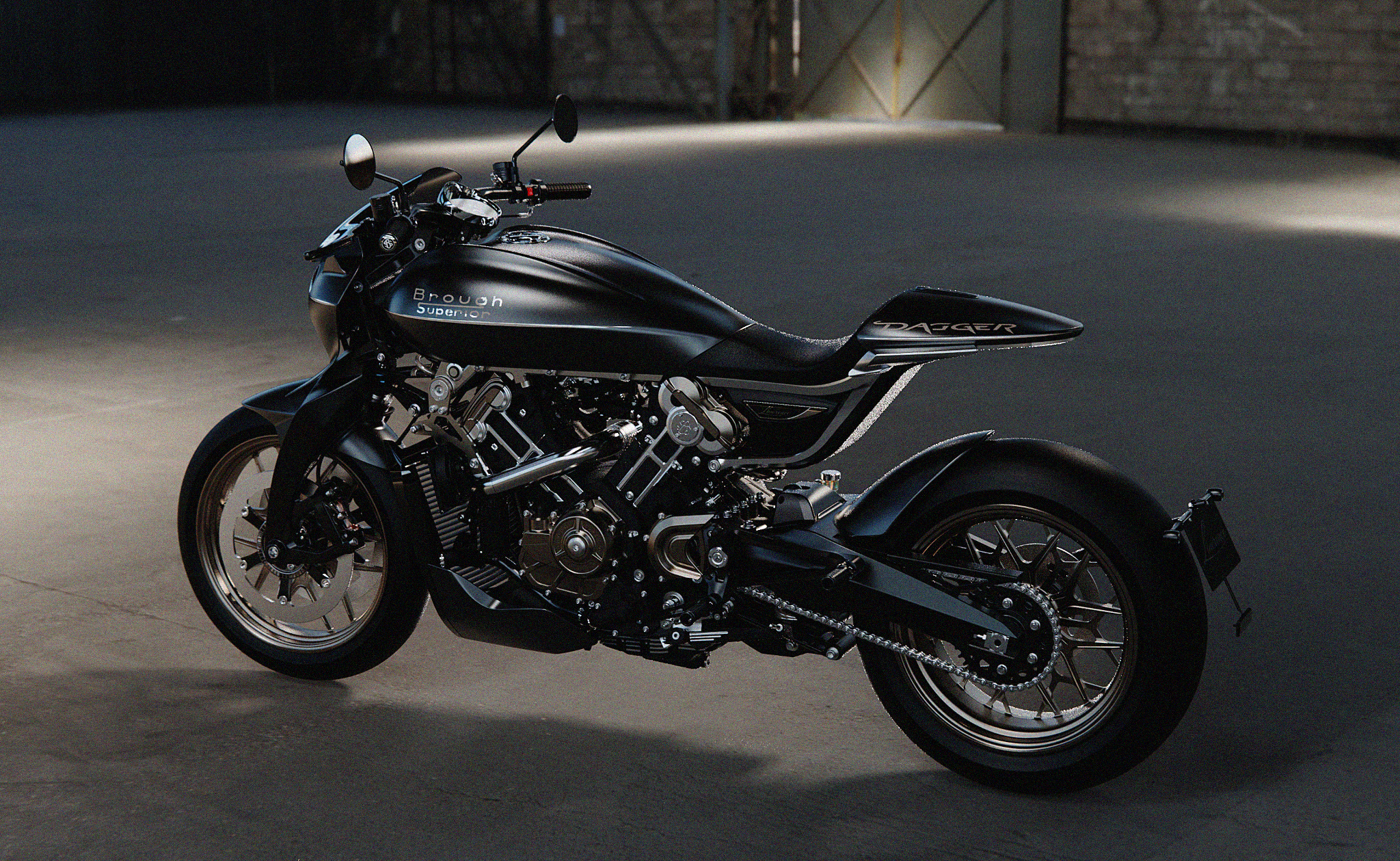 The chassis geometry of the Lawrence Dagger is made to provide lively and incisive handling and is fitted with 17×17 wheels, a first for a Boxer Design Brough Superior model.
Technical Specifications
| | |
| --- | --- |
| Length | 2240mm |
| Width | 920mm |
| Seat Height | 810mm |
| Wheelbase | 1540mm |
Engine
| | |
| --- | --- |
| Engine | 997cc watercooled dohc 88° V-twin four-stroke with four valves per cylinder and composite chain / gear cam drive |
| Dimensions | 94 mm x 71.8 mm |
| Power | 102bhp (75kW) at 9600rpm Euro 5 Homologation |
| Maximum Torque | 87Nm (64lb-ft) at 7300rpm |
| Compression Ratio | 11 : 1 |
| Fuel | Electronic fuel injection with Synerject ECU and 2 x 50 mm Synerject throttle bodies, each with a single injector |
| Tank Capacity | 17 L |
| Gearbox | 6-speed |
| Clutch | Multiplate oil-bath clutch with hydraulic operation |
Chassis
| | |
| --- | --- |
| Frame | Machined Titanium frame with Titanium subframe |
| Front Suspension | Fior-type fork CNC machined from solid aluminum with twin articulated triangular titanium links and Preload and rebound adjustable mono-shock with 120mm travel |
| Rear Suspension | Pivoting swingarm CNC machined from solid aluminum in engine crankcases, with mono-shock adjustable for preload and rebound damping and progressive rate link with 130mm travel |
| Head Angle / Trail | 24.6° with 108.3mm trail via 37.1mm fork offset |
| Front Brake | 2 x 320mm Beringer Stainless Steel discs with 2 x two-piston Beringer radial calipers |
| Rear Break | 1 x 230mm Beringer Stainless Steel disc with 1 x two-piston Beringer radial caliper |
| Wheels | Machined aluminum wheels (7 spokes) |
| Front Tire | 120/70 – 17'' on 3.50 inches |
| Rear Tire | 200/55 – 17'' on 6.25 inches |
| Weight / Distribution | 200 Kg (410 lb) split 50/50 |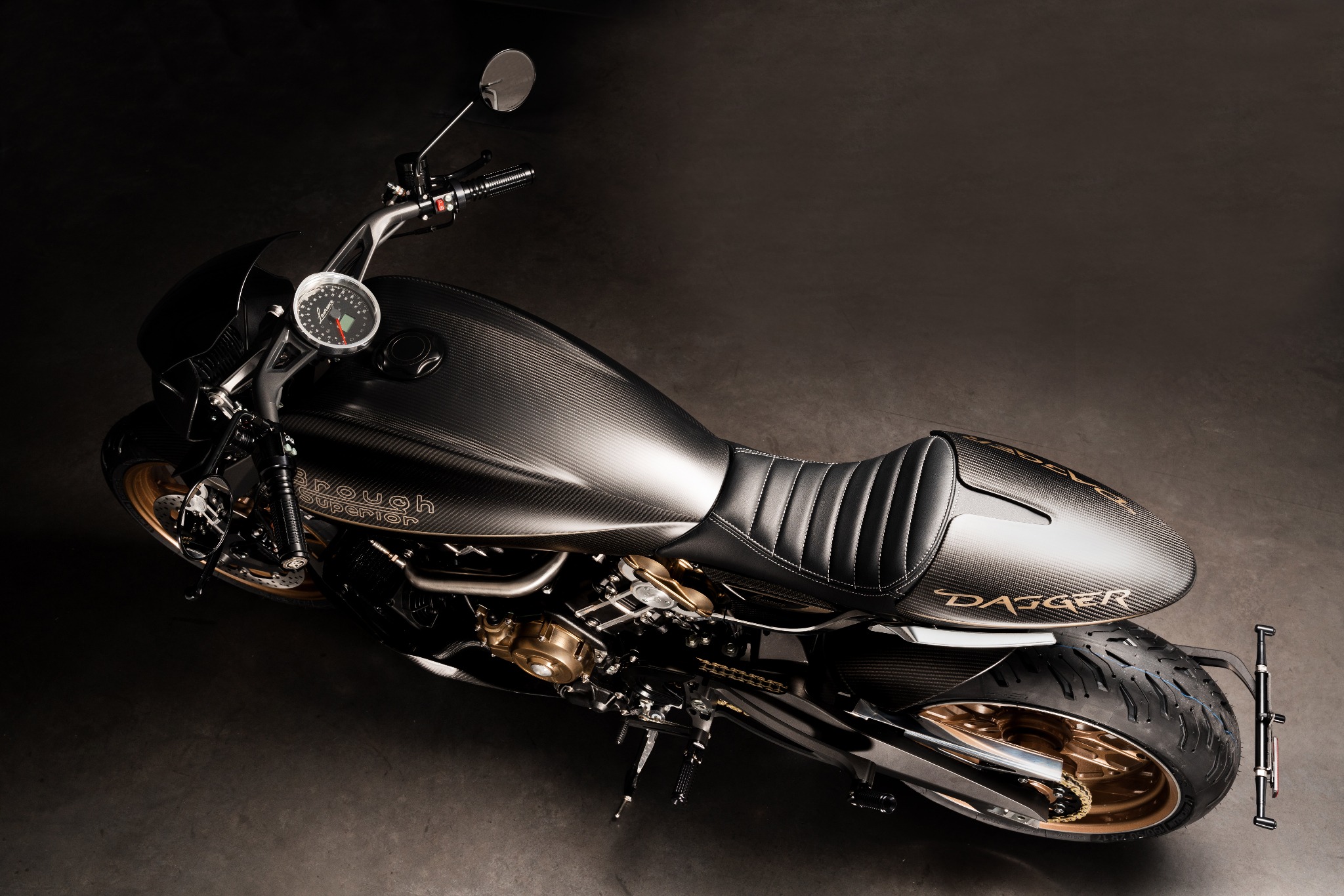 The Lawrence Dagger is the latest addition to the Boxer Design range of modern Brough Superior motorcycles. Each and every model is a thing of beauty, practicality, impeccable handling, and precision engineering.
To find out more its best to visit the Brough Superior website and spend some pleasurable time browsing what is on offer.
The website can be found here.

The Brough Superior Lawrence Dagger made its debut at the 2022 EICMA motorcycle show in Milan on November 8th 2022.
Credits: All pictures of the Boxer Design Brough Superior motorcycles and technical data courtesy Brough Superior.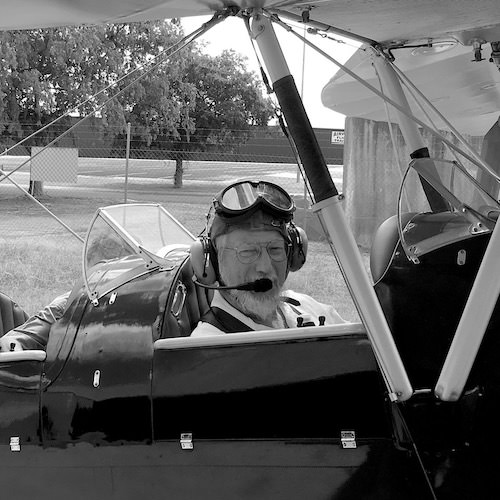 Jon Branch is the founder and senior editor of Revivaler and has written a significant number of articles for various publications including official Buying Guides for eBay, classic car articles for Hagerty, magazine articles for both the Australian Shooters Journal and the Australian Shooter, and he's a long time contributor to Silodrome.
Jon has done radio, television, magazine and newspaper interviews on various issues, and has traveled extensively, having lived in Britain, Australia, China and Hong Kong. His travels have taken him to Indonesia, Israel, Italy, Japan and a number of other countries. He has studied the Japanese sword arts and has a long history of involvement in the shooting sports, which has included authoring submissions to government on various firearms related issues and assisting in the design and establishment of shooting ranges.