The Men from Victor Sarasqueta
A few decades ago, in a time that feels like it was in another life, I had a work colleague who was also a shooter, and his pride and joy shotgun was his Victor Sarasqueta. My own shotgun at the time was a utilitarian BRNO side by side sidelock ejector which was my duck and bunny gun in addition to being a whole lot of fun busting clay targets. Victor Sarasqueta were among the best of the guns coming out of sunny Spain back then and had gathered quite a following in post war Britain: they were building guns based on the best of the British designs and were paying close attention to quality control, so their guns were excellent. The only downside was that Victor Sarasqueta didn't have quite the same brand prestige as "Purdey" or "William Evans", or even Thomas Bland & Sons.
The company that was to become Grulla Armas was formed in 1932 by a group of five gunmakers from Victor Sarasqueta. They originally called their new company Union Armera and chose a bird called a crane as their trademark. The Spanish name for a crane is "Grulla" and that would become the name the company would come to be known by. The five gunsmiths began their fledgling business making parts for other gunmakers and progressively moved into making complete guns under their own name.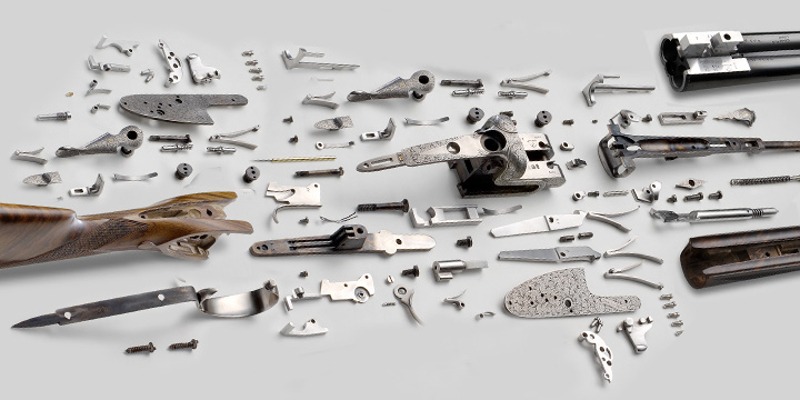 Things became rather difficult in 1936 however when the Spanish Civil War overtook them and they were caught in that confused war of socialist ideologies. British novelist George Orwell went to Spain to fight for the communists while Ernest Hemingway went as an adventurer journalist. The result was that among the few good things that emerged from that war was George Orwell's novel "Animal Farm", in which he demonstrates how idealistic communist socialism evolves into totalitarian fascist socialism, and Hemingway's "For Whom the Bell Tolls".
The men of Union Armera managed to keep their business intact through the conflict and despite the trade restrictions imposed on General Franco's fascist Spain the company was able to prosper both because of the Spanish domestic sporting gun market and also by making guns for export, notably for William Powell of Britain and Griffin & Howe of the United States.

By the 1970's, when my colleague mentioned previously purchased his Victor Sarasqueta side by side double, Spanish gunmakers were finding business to be difficult, and Spain had been pushing the idea of collectivization as a sensible strategy for businesses. The government formed the Desarrollo de Industrias Armeras (acronym: DIARM) in the early 1980's and encouraged gunmakers to give up their independent business and be merged into that collective. Union Armera wisely chose not to join and in 1983 changed their name to Grulla Armas. As it turned out in 1988 DIARM failed taking the gunmakers who had joined it into dissolution. Grulla Armas continued and prospered under the leadership of Jose Luis Usobiaga, who was Managing Director.
Only the Best Will Do
Jose Luis Usobiaga and the team at Grulla Armas decided that they would take the gamble of focusing solely on producing the best guns, and appeal to that expensive niche market. They ceased making lower quality utilitarian guns for other makers and instead developed and perfected their own sidelock side by side double guns. Their aim was to become like the "Holland & Holland" of Spanish gunmakers as mentioned by Terry Wieland, who is author of a number of books on quality guns and rifles, in an article in the "Shooting Sportsman" magazine.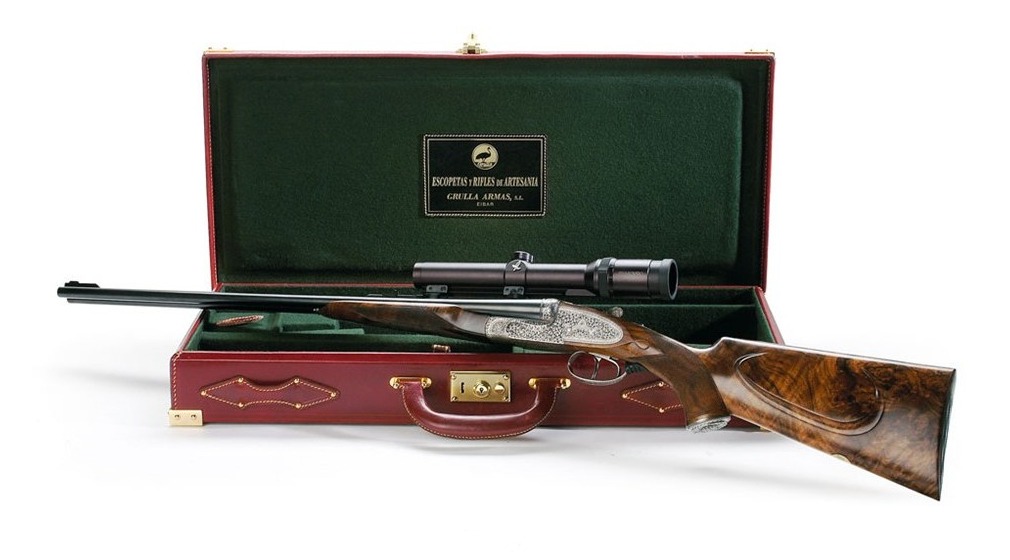 Grulla Armas succeeded in their quest to become very much like the "Holland & Holland" of Spanish gunmakers, and also developed the art of the double rifle. So if you've been thinking you'd like a Holland & Holland double rifle but never expect to have the money to do it, unless you win a rather large lottery jackpot, then Grulla Armas may be worth a look. Their rifles are not inexpensive, far from it, but they are not in the stratospheric price realm of some of the London "best" double rifle makers.
The Grulla E-95 Double Rifle
The Grulla E-95 is the result of the progressive development of Grulla guns and rifles that has been occurring since the company was founded in 1932, but especially since the company took the plunge and set out to build the best guns and rifles money can buy anywhere.

The Grulla Armas E-95 double rifle is built on a drop forged Holland & Holland style back spring sidelock action specifically made for double rifles. These rifles are fitted with double triggers, the front being articulated, and the strikers are disc set. The chopper lump barrels are made using Böhler Rasant steel and these rifles are equipped with automatic selective ejectors, an essential feature on a double rifle if you expect to be able get your third and fourth shots away briskly.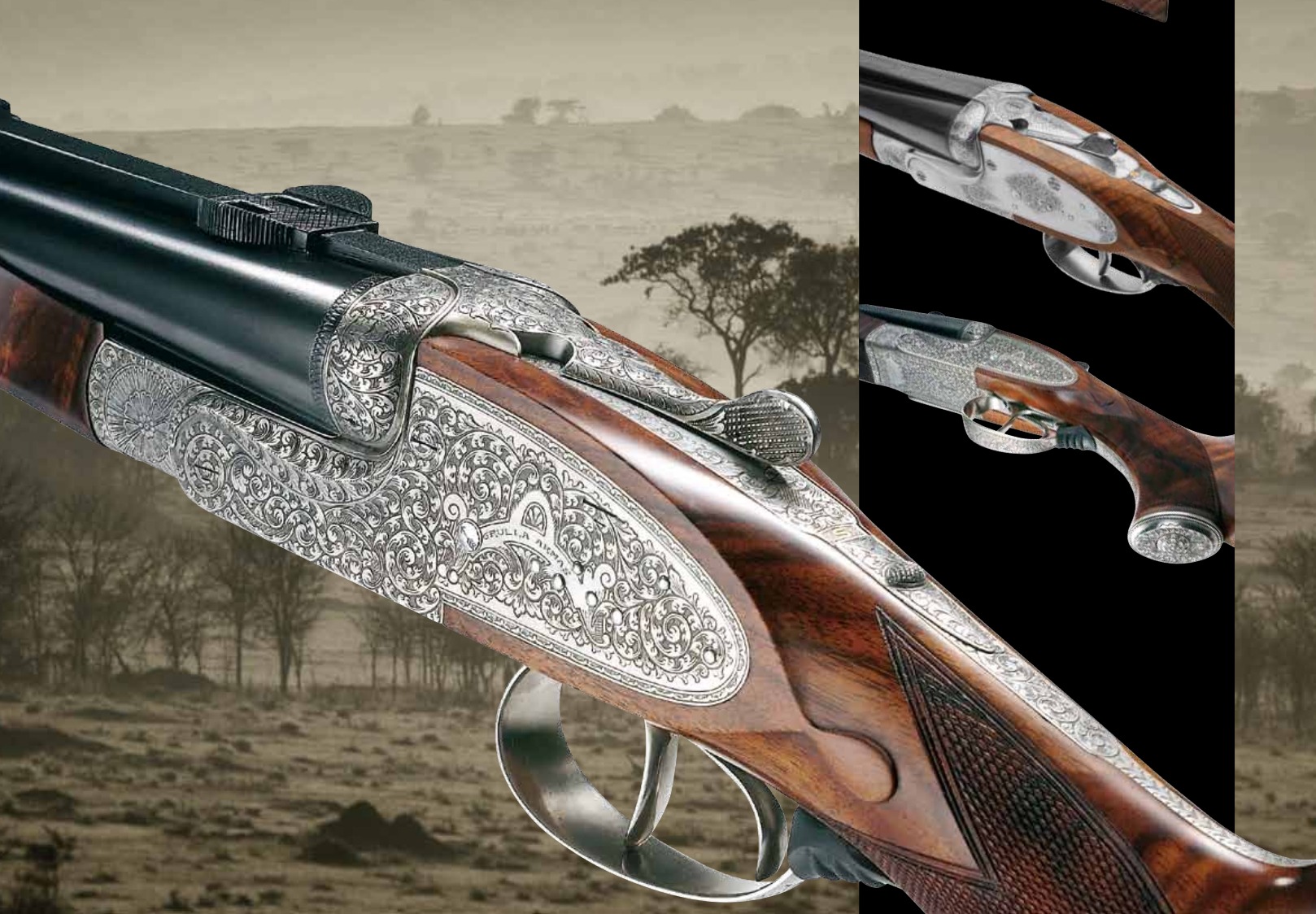 The stock of the E-95 is of exhibition grade walnut, oil finished, and made to fit the customer: Grulla double rifles are bespoke custom works of art.
The calibers available for the E-95 fall into two categories: calibers for "stalking double rifles" and calibers for "stopping double rifles', otherwise known as "dangerous game rifles".
Stalking double rifles are made in calibers suited to deer stalking or wild boar hunts, including driven wild boar, and are commonly fitted with a riflescope in quick detachable mounts. On a fast handling stalking double rifle the most appropriate type of riflescope will be one that offers 1x at its lowest setting, preferably not more than 1.5x, and those with an illuminated reticle can offer a significant advantage.
Grulla offers both European favorites and American so for stalking and general hunting the European  selection is 7x57R, 8x57JRS, and 9.3x74R. Note that these calibers have an "R" included in the end of the name. This means that the cartridge is rimmed, which is much better for a double rifle. These cartridges are also loaded to an appropriate pressure level for double rifles, which means a slightly reduced pressure level by comparison to standard rimless cartridges used in bolt action and straight pull rifles.
The American calibers available for the E-95 stalking double rifles are the .270 Winchester, 30-06, and .300 Winchester Magnum. These are higher pressure rimless cartridges and the E-95 is designed to manage them properly.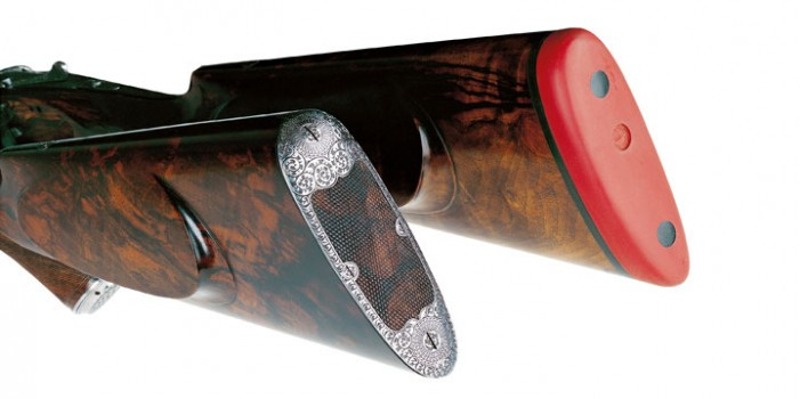 The dangerous game double rifle calibers available for the Grulla E-95 are .375 Holland & Holland Magnum, and .416 Rigby. Both of these are high pressure rimless cartridges. The European 9.3x74R can often be legally used on dangerous game but is not generally regarded as the best choice. (Note: If you intend to use a 9.3×74 R on dangerous game you should talk with your professional hunter. The Woodleigh Hydrostatically stabilized bullet is arguably the best choice for penetration on dangerous game: it is available in factory ammunition by Federal. Alternatively if a controlled expansion bullet is required then the 18.8g/290grain RWS EVO would be a good choice, or the loadings from Barnes Bullets). Given that double rifle actions are at their best with rimmed cartridges it would be good to see Grulla offering the .470 Nitro Express and the .500 Nitro Express: these are two of the best stopping double rifle cartridges. If you are thinking of purchasing one of their E-95 double rifles you may want to have some discussion with them on this topic.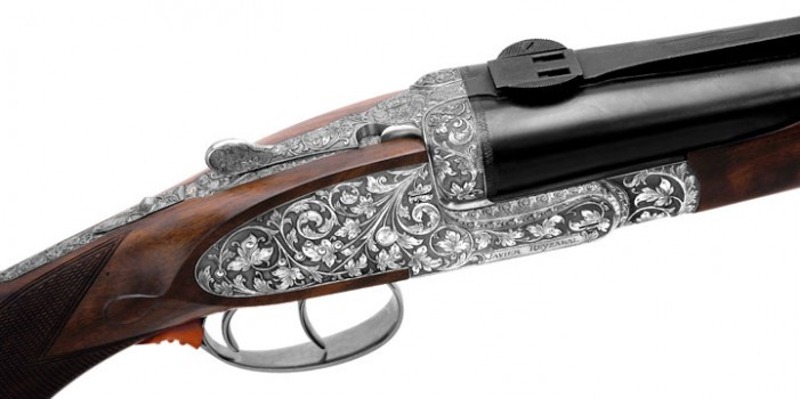 The C-95 Bolt Action Magazine Rifle
The Grulla Armas C-95 rifle is a classic bolt action magazine rifle built on a K-98 Mauser action with a drop magazine that holds four cartridges: meaning that the rifle's capacity is 4+1 (i.e. four in the magazine and one in the chamber). The C-95 is made in both right and left hand and features a safety catch in the much favored Winchester Model 70 style.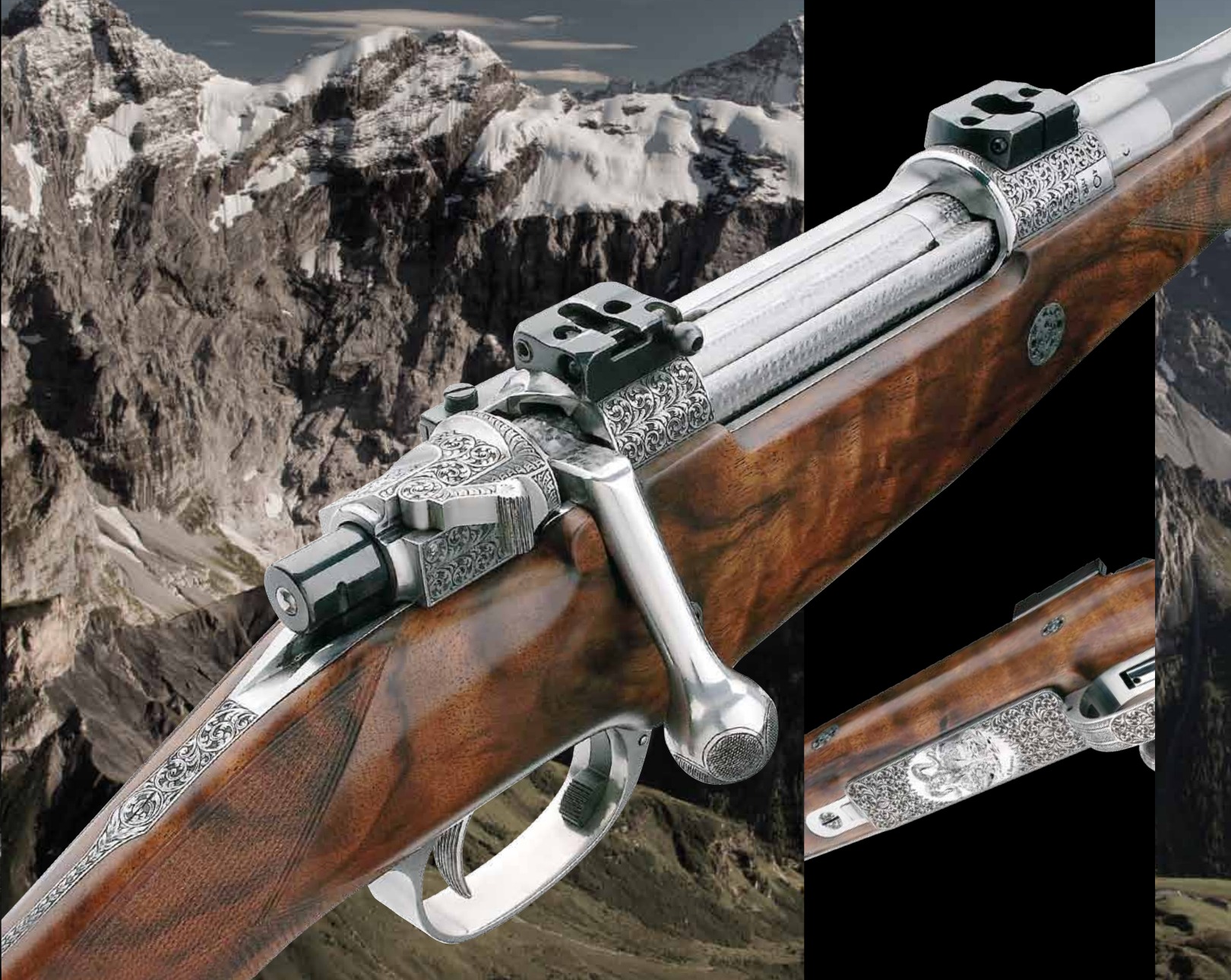 The Grulla Armas C-95 features either a round or octagon profile barrel made using Böhler Rasant steel. The rifles are available in a variety of sporting cartridges suitable for a range of sporting hunting situations. Caliber choices are .270 Winchester Magnum, 7mm Remington Magnum, .300 Winchester Magnum, .338 Winchester Magnum, .375 Holland & Holland Magnum, and .416 Rigby. About the only calibers not listed that potentially should be are the .458 Winchester Magnum, and/or perhaps the .458 Lott. The .458 Winchester Magnum is one of the most flexible cartridges for shooters who reload their own ammunition and only requires a standard length action.

The C-95 is intelligently designed with a near vertical bolt handle that keeps it accessible yet far enough forward of the shooter's trigger finger to avoid it hitting against it or abraiding it. The magazine release is conveniently placed inside the trigger guard, and the rifle is equipped with a fixed leaf rearsight, with two additional folding leaves. For the .375 H&H and .416 Rigby the customer will most likely prefer the front sling swivel base on a barrel band as illustrated: on the smaller calibers it may be preferable to have that forward sling swivel base on the fore-end so a tight sling can be used without putting unwanted pressure on the barrel. On a rifle of this quality we would also prefer to see the use of twin screw inletted sling swivel bases such as are found on the Winchester Model 70 Super Grade.
The C-95 can be mounted with the customer's choice of telescopic sights and bases.
Conclusion
Grulla Armas began with a group of gunsmiths leaving the well known firm of Victor Sarasqueta to set up a business of their own. They managed to keep their company running against the odds which included both political upheaval and the economic pressures that resulted from it. Today Grulla Armas is a testimony to the vision of Jose Luis Usobiaga and the team with him to literally become like the Holland & Holland of Spanish gun and rifle making. Their works are outstanding, and can nowadays be found in London, among the best guns and rifles at William Evans.
You will find the website for Grulla Armas if you click here.
You will find the complete Grulla Armas catalog if you click here.
You will find the UK web page for Grulla Armas if you click here.
In the United States their guns and rifles have been available via Pacific Sporting Arms.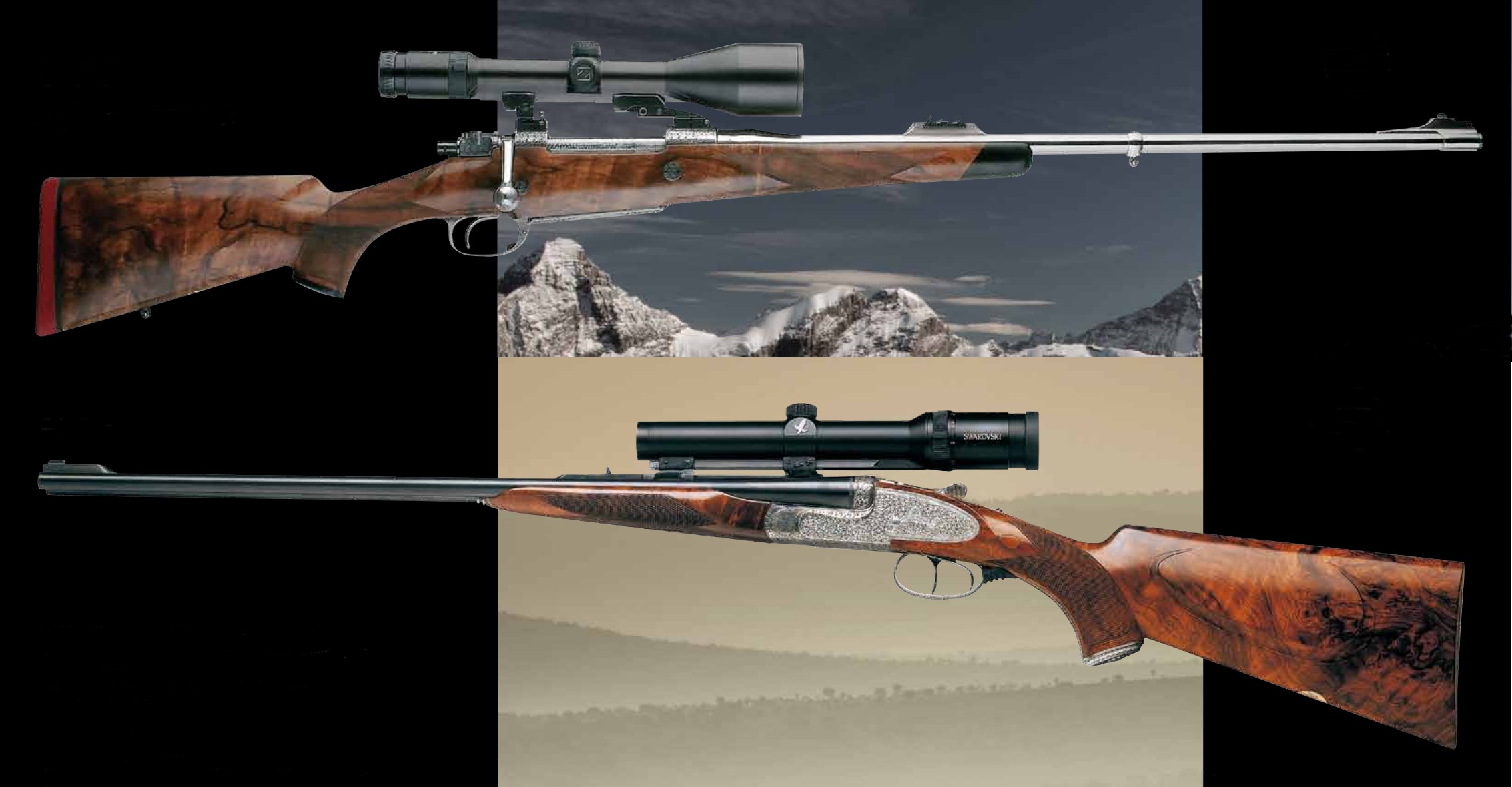 Picture Credits: All images courtesy Grulla Armas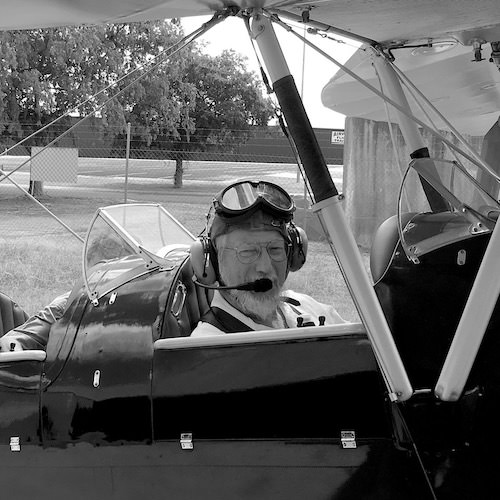 Jon Branch is the founder and senior editor of Revivaler and has written a significant number of articles for various publications including official Buying Guides for eBay, classic car articles for Hagerty, magazine articles for both the Australian Shooters Journal and the Australian Shooter, and he's a long time contributor to Silodrome.
Jon has done radio, television, magazine and newspaper interviews on various issues, and has traveled extensively, having lived in Britain, Australia, China and Hong Kong. His travels have taken him to Indonesia, Israel, Italy, Japan and a number of other countries. He has studied the Japanese sword arts and has a long history of involvement in the shooting sports, which has included authoring submissions to government on various firearms related issues and assisting in the design and establishment of shooting ranges.