The Colt Single Action Army is in all probability the most well known revolver on the face of the earth. It has been the star of almost every western movie Hollywood has created and it was the star of much of the history of the Wild West, and even of the British Empire of Victorian times. In one of Ian Fleming's novels James Bond even carries one. Of all the versions of the Colt Single Action Army the first generation revolvers are much sought after by collectors and aficionados alike. The first generation revolvers span the time from the Single Action Army's introduction in 1873 through to 1941.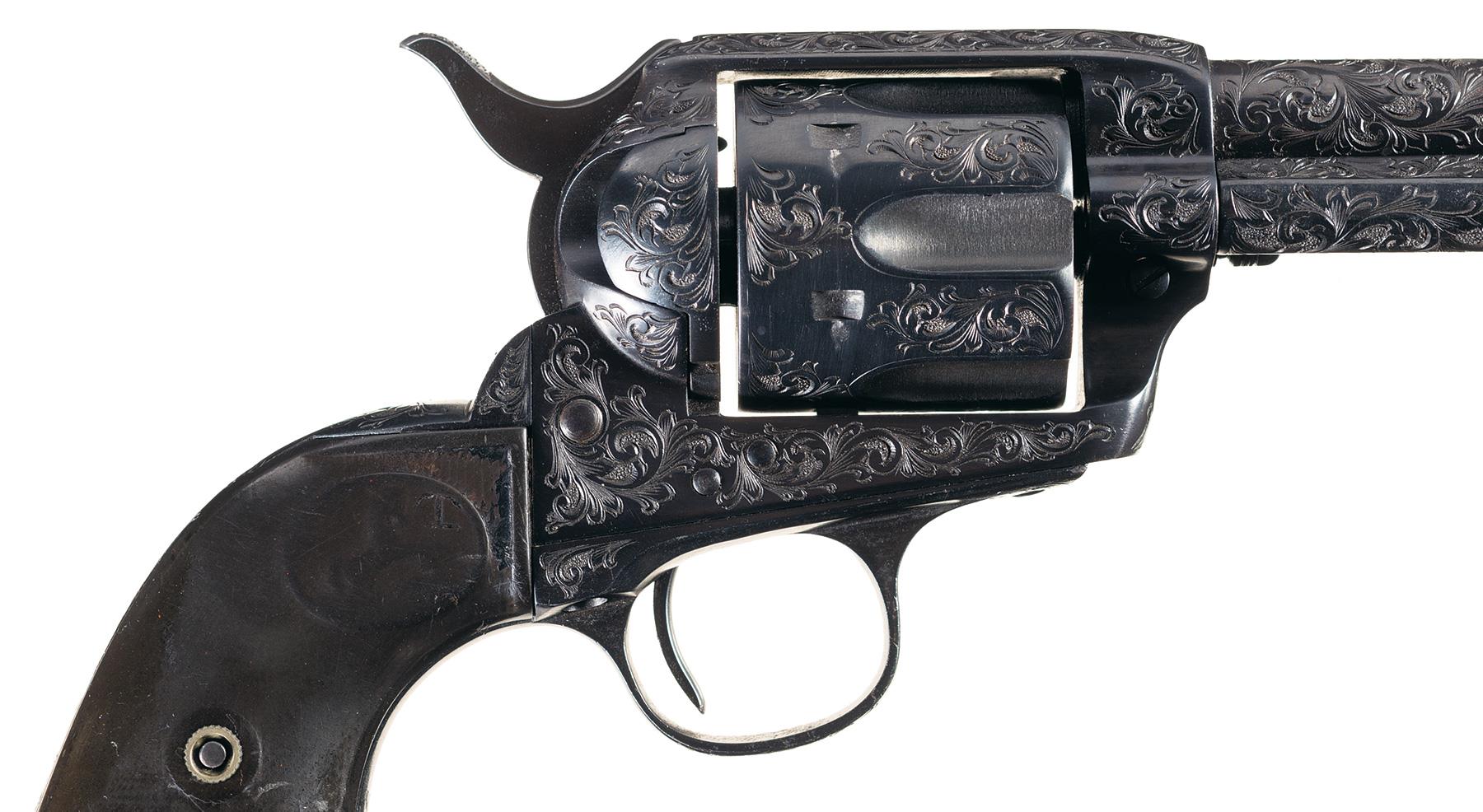 The Single Action Army was made in a wide variety of calibers including the .44 Henry Rimfire from 1875 until 1880 by which time the caliber and the rifle chambered for it faded into obsolescence. The main caliber for the Colt SAA was the classic .45 Colt but revolvers were also made in .41 Long Colt and others. In 1896 the cylinder pin retaining screw was updated to a spring loaded base pin latch to make field servicing easier without tools and then in 1900 at serial number 192,000 the Colt Single Action was certified for the new smokeless powders. Other than a change to the sights to make them more visible in 1920 the First Generation Colt SAA were unchanged up until production ceased during the Second World War. The end of production did not prevent General George Patton from acquiring a pair of Single Action Army revolvers as a part of his field equipment howerver.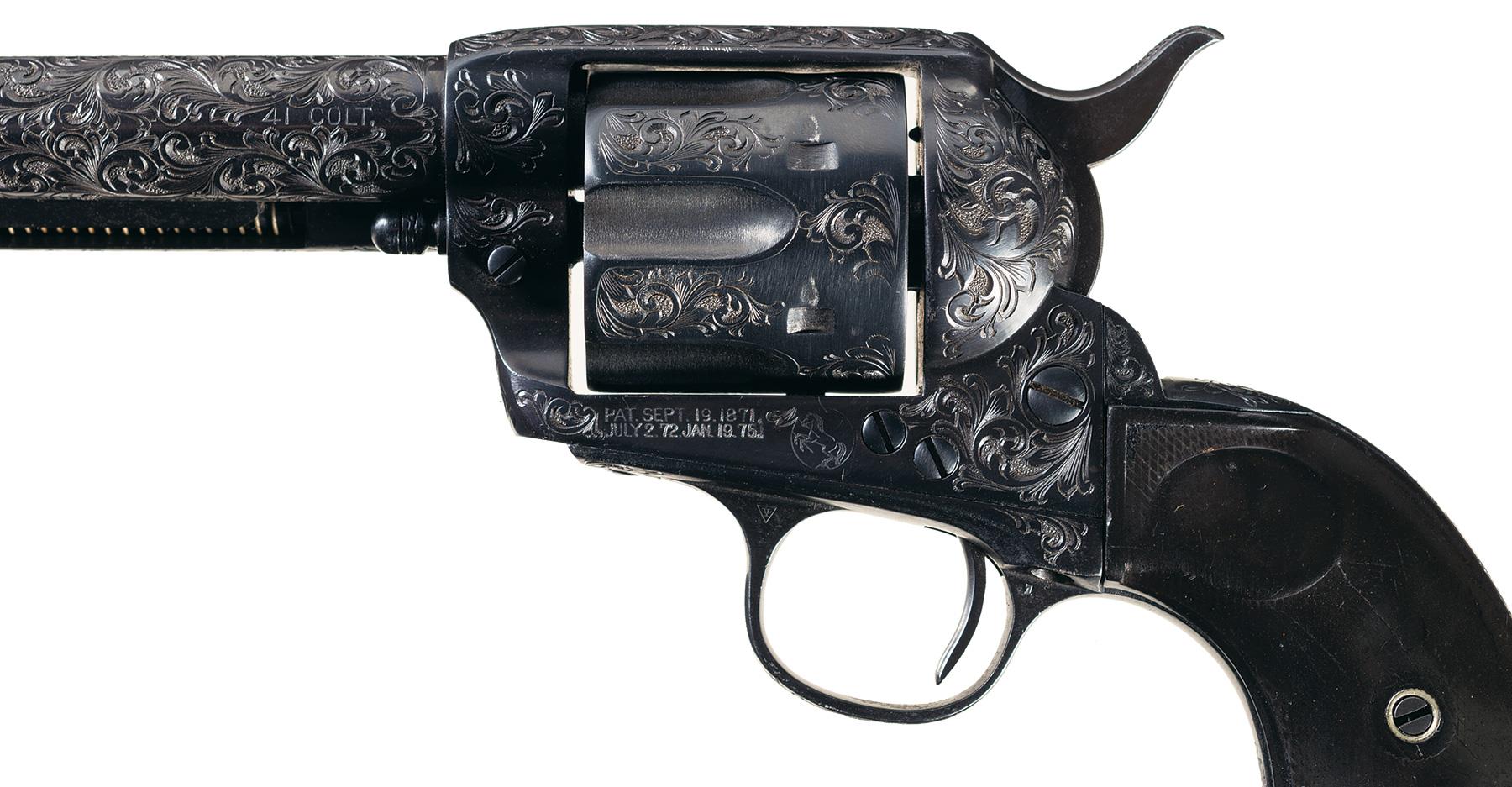 The engraved Colt Single Action Army in our pictures was manufactured in 1906 and it is a first generation, nitro proof, revolver in .41 Long Colt.
This revolver is coming up for sale by Rock Island Auction on February 16th 2017.
You will find the sale page for this delightful example of a first generation Colt SAA if you click here.
On-line bidding and sealed bids are permitted. This revolver is expected to sell for around USD$1,500-$2,750.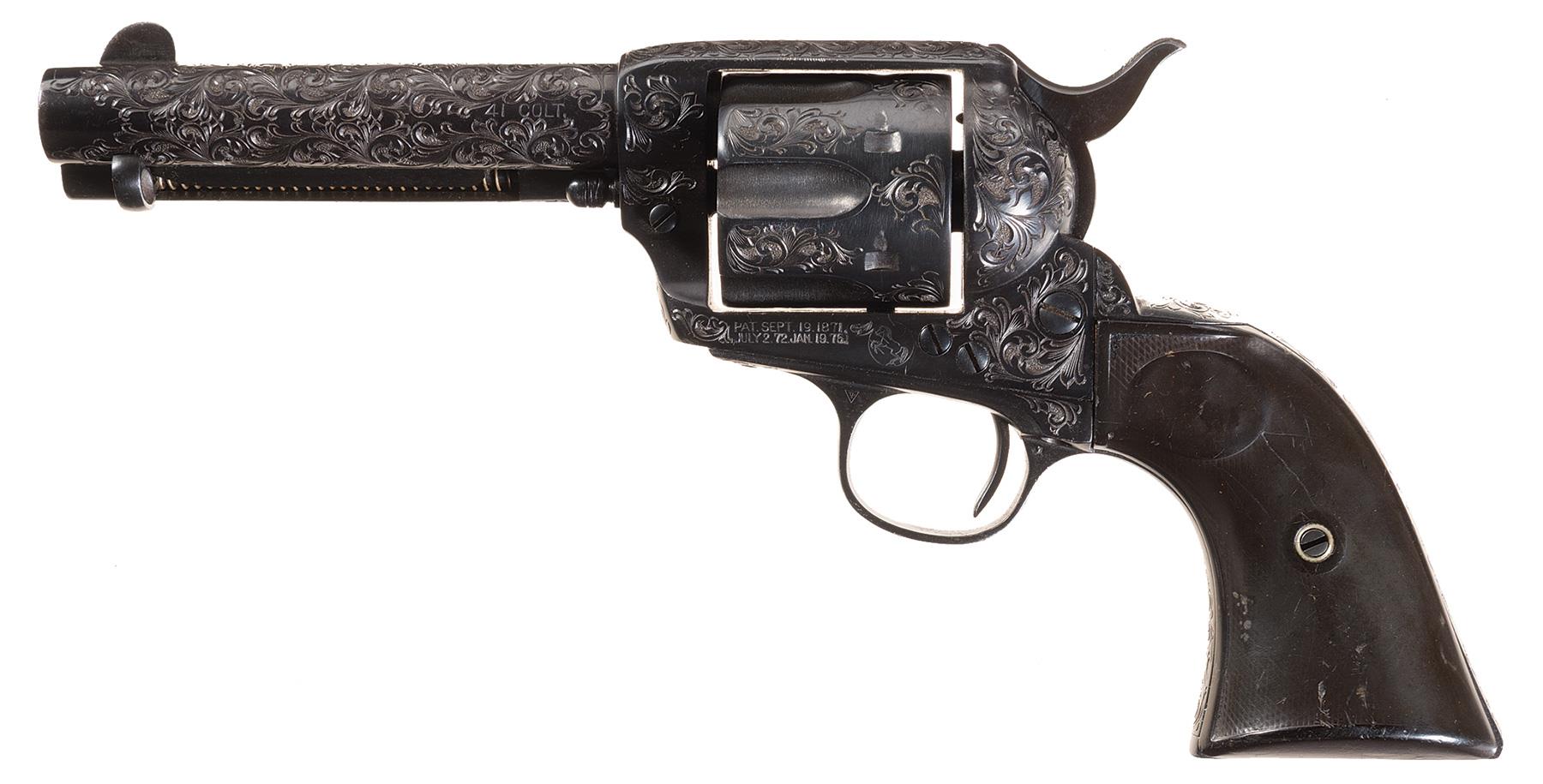 (All pictures courtesy Rock Island Auction).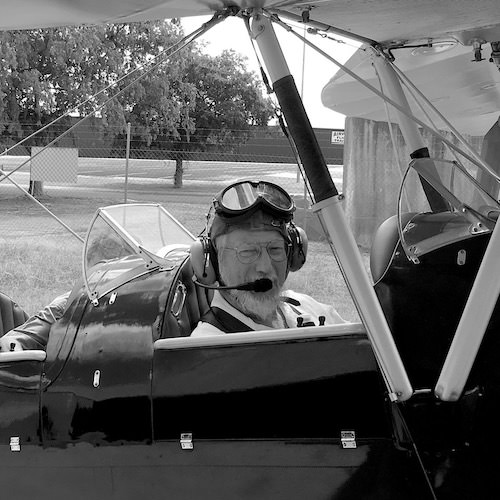 Jon Branch is the founder and senior editor of Revivaler and has written a significant number of articles for various publications including official Buying Guides for eBay, classic car articles for Hagerty, magazine articles for both the Australian Shooters Journal and the Australian Shooter, and he's a long time contributor to Silodrome.
Jon has done radio, television, magazine and newspaper interviews on various issues, and has traveled extensively, having lived in Britain, Australia, China and Hong Kong. His travels have taken him to Indonesia, Israel, Italy, Japan and a number of other countries. He has studied the Japanese sword arts and has a long history of involvement in the shooting sports, which has included authoring submissions to government on various firearms related issues and assisting in the design and establishment of shooting ranges.