A Classic Riflescope for a Classic Rifle
A few years ago as I was coming back into the shooting sports, having spent some years working overseas in a country that was not "gun friendly", I started looking for a suitable classic riflescope to suit the classic rifle I was planning to buy. As I looked for the sort of classic riflescopes I knew about in the past I quickly discovered that the majority of top shelf riflescope manufacturers had "moved on" and their new models were commonly loaded up with electronics (which I didn't want), and finding low powered riflescopes was actually a bit of a challenge. I wanted a top shelf 1.5-6×42 and eventually found a Kahles Helia C 1.5-6×42 at an outfitter in Spain, which is the riflescope I bought and subsequently fitted to by Winchester Model 70 Super Grade .300 Winchester Magnum.

Although I'm now a few decades old and so my tastes might be on the traditional side for some of the young shooters, my past experience has taught me that in most things in life, and especially riflescopes, the "KISS" principle is a good one to adhere to: "KISS" of course stands for "Keep It Simple Stupid". In a riflescope this means I will tend to avoid electronics and go for the best quality optics I can afford in a riflescope that will give a large field of view. For a medium to big game rifle this means something that offers the wide field of view of something around 1x – 2x at its lowest setting, and around 4x – 6x at its highest magnification combined with an objective lens size that provides about a 7mm exit pupil at its highest setting: a 7mm exit pupil being about what a typical human eye can get benefit from.
The "exit pupil" is best described as a measure of the sort of brightness you can expect the riflescope to deliver as light fades around dusk or in twilight. To find the "exit pupil" mathematically simply divide the objective lens diameter by the maximum magnification available on the riflescope: so for example a 1.5-6×42 has a 42mm objective lens and a maximum magnification of 6x. So if we divide 42mm by 6 we get 7mm, which is why the classic 1.5-6×42 riflescope is given a 42mm objective lens diameter.

There are more factors that determine just how clear and bright a riflescope will be than just the exit pupil size, but it is a foundational starting point. The other factors include the quality of the lenses and the types of coatings used, and it is for these reasons that we often spend more on a riflescope than we spend on the rifle we mount it on: you can't shoot what you can't see clearly.
Karl Kaps: Makers of Classic German Riflescopes
Karl Kaps GmbH & Co. KG was founded in 1946 and is a family business that started out making lenses for cinema projectors back in those days when cinema projectors used arc lamps to generate the brightness needed for movie projection. They later moved on to making laboratory equipment such as microscopes, moving into making riflescopes in 1955, then adding medical optical equipment for microsurgery in the 1970's with the first prototype surgical microscope being created in 1979. This background has ensured that Kaps has developed the expertise to create top quality products, and products that can be relied on.
Karl Kaps GmbH & Co. KG is now being run by the third generation of the family having been in business for seventy years and their focus is on providing high-spec optics in "made in Germany" quality: and whether one is buying medical optics or a riflescope that is exactly what we are looking for, all the more especially if Karl Kaps make riflescopes in the classic German style, which, happily, they do.
The Kaps "Classic Line" Riflescopes
Kaps make riflescopes and binoculars in their Sport Optics product range. The riflescopes are divided into the "Classic Line", "Illuminated Daylight Reticle", "Illuminated Reticle", and "Tactical Line". For this post we will look at the "Classic Line", which features traditional style German riflescopes which are made in Germany. These riflescopes are kept aesthetically minimalist while also offering top shelf quality, so they are perfect for a classic rifle whether it be a bolt action magazine rifle, a double rifle, single shot, or combination. The riflescope tubes are made of one piece aluminum alloy which makes them much stronger than riflescopes which have a multi-piece tube: this is important on a heavy recoiling rifle but it is also critical if you use quick detachable mounts.
Classic Line 1-4×22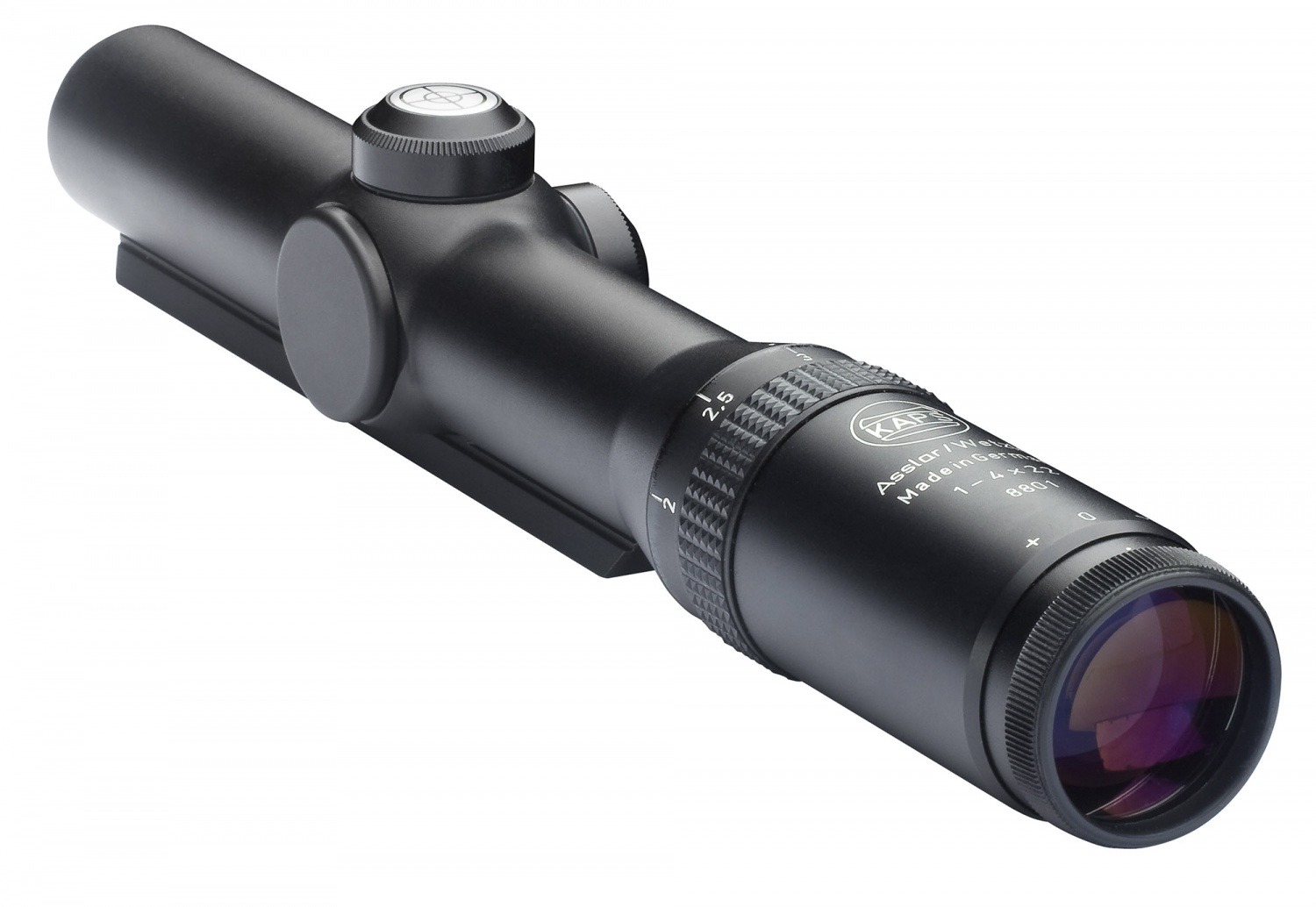 The Kaps "Classic Line" 1-4×22 is the perfect riflescope for most medium to big game hunting. At its lowest magnification it provides a 30 meter field of view at 100 meters which makes it perfect for both eyes open shooting including on moving game. The eye relief is 90mm which is good for heavy recoiling rifles up to such things as the .416 Rigby or .404 Jeffery, and the eyepiece is rounded so it wont produce the "cookie cutter" effect on your eyebrow if you happen to get your eye too close during shooting: so your dose of "magnum eyebrow" will not be as bad as it can be on some other riflescopes.
This riflescope is a perfect choice for a dangerous game rifle for a number of reasons; it gives the all important field of view yet also provides the ability to see into the bush to find a partially hidden animal. The straight tube design makes mounting the riflescope on a long "magnum" bolt action easier by making positioning the riflescope for the optimum eye relief less difficult. This is also a compact riflescope so if it is mounted in quick detachable mounts it can be removed and stashed in the pocket of a backpack easily also.
When thinking about the magnification you want to have its worth remembering that military snipers during the Second World War most commonly used from 2.5x up to 4x with a few going up to 6x. Equipped with a 4x a sniper was expected to be able to engage an enemy out to 400 meters. Military sniping and ethical hunting are different, and whereas in a military conflict wounding an enemy is considered to be an acceptable outcome, for the ethical hunter wounding a game animal is not an acceptable outcome. That being said having a 4x magnification available provides the ethical hunter with the tool he/she needs to make an accurate shot on big game out to 300 meters if the view of the quarry is clear: for example, in open country such as farmland, I tend to set my 1.5-6×42 on 3x or perhaps 4x, not normally resorting to winding it up to 6x. With a top quality riflescope the image clarity is a more important asset than just magnification.
Classic Line 2-8×42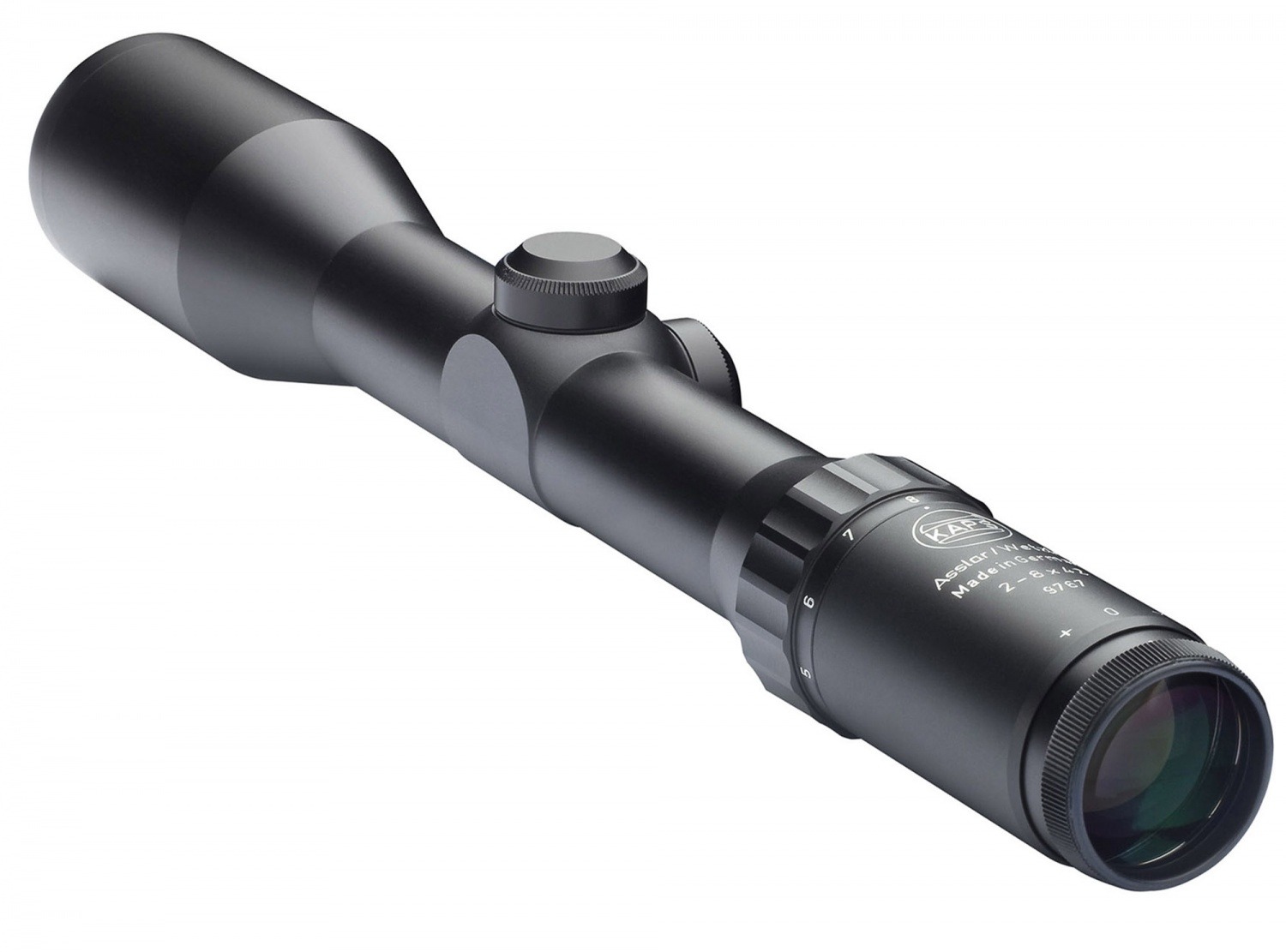 The 2-8×42 is the next step up in magnification in the Kaps "Classic Line". This is probably the best "all around" compromise choice for most medium to big game hunting situations providing a decent 17.3 meter field of view at 100 meters. For a deerstalking rifle this is a well balanced riflescope being quite compact and yet providing a full 42mm objective lens to assist in keeping the exit pupil big enough to keep the riflescope bright in fading light. On the maximum magnification the exit pupil is still 5mm which is typically enough for most people's eyesight.
This riflescope with its 42mm objective lens is small enough to enable mounting the riflescope low on the rifle. On my Winchester I use the American Talley quick detachable mounts, and the 42mm objective lens of my 1.5-6×42 is small enough that I've been able to use the "low" height rings rather than the "medium" or "high", as can be seen in the picture above.
Classic Line 2.5-10×50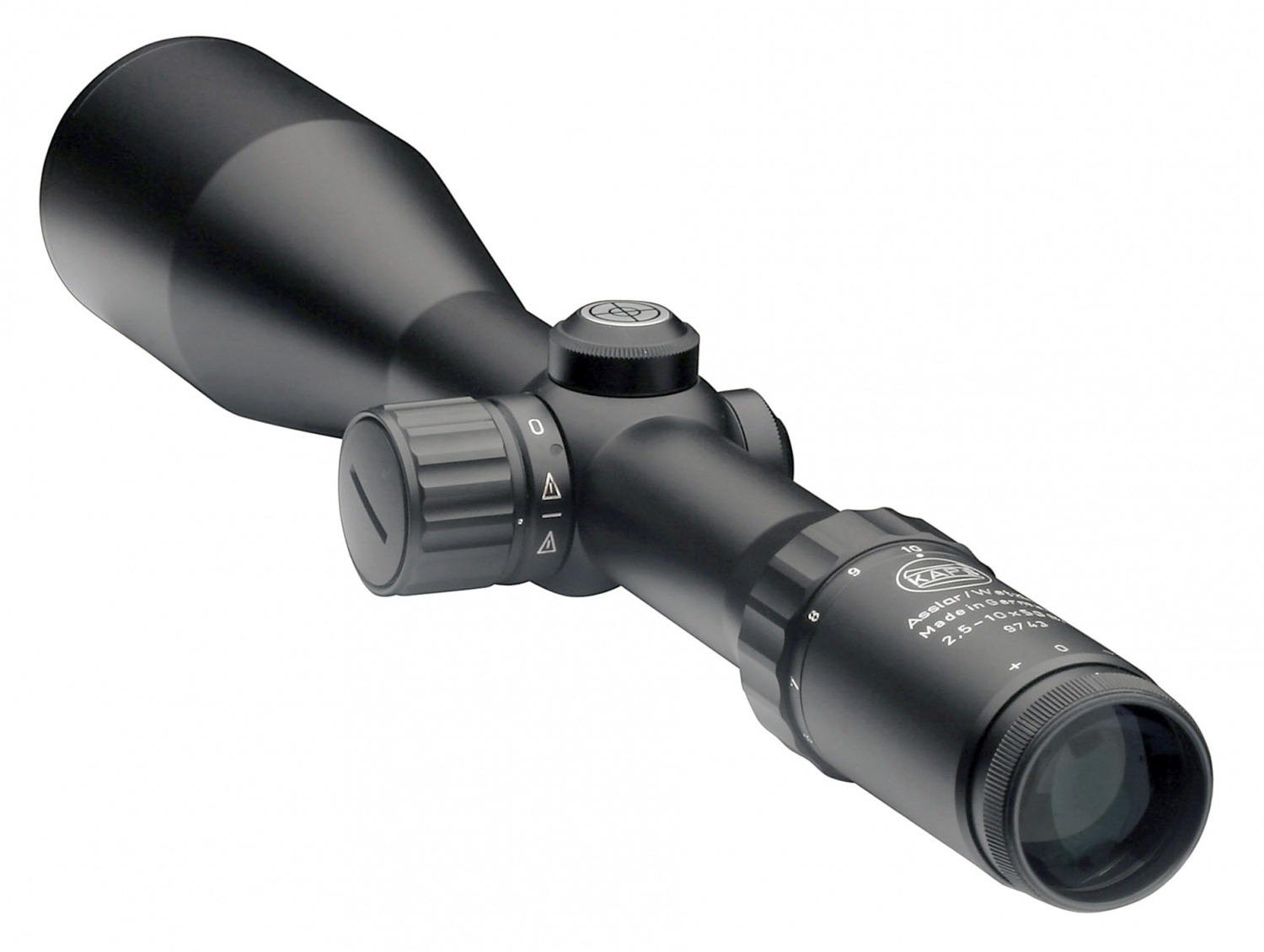 Kaps Classic Line riflescopes can be ordered with illuminated reticles and the picture above shows the 2.5-10×50 so fitted. The 2.5-10×50 offers less field of view but more magnification. The field of view on 2.5x is 12.4 meters at 100 meters. This sort of riflescope is at its best for shooting at standing game, and is also a great choice for a small game or vermin control rifle, as might be used for foxes or coyotes for example. The 50mm objective lens pretty much acts as a "vacuum cleaner" for light, drawing a large amount of available light to assist the shooter to see clearly in low light conditions. It will also really allow the shooter to look into the bush to find his/her quarry, remembering that you are probably only going to be able to see a part of your quarry, especially if you are deerstalking, and you will benefit from being able to see and identify a partially hidden animal clearly.
The larger objective lens diameter does have a cost however, that cost being in the overall weight of the riflescope and in it requiring either medium or high mounts depending on the mounts and rifle chosen.
Classic Line 2.5-10×56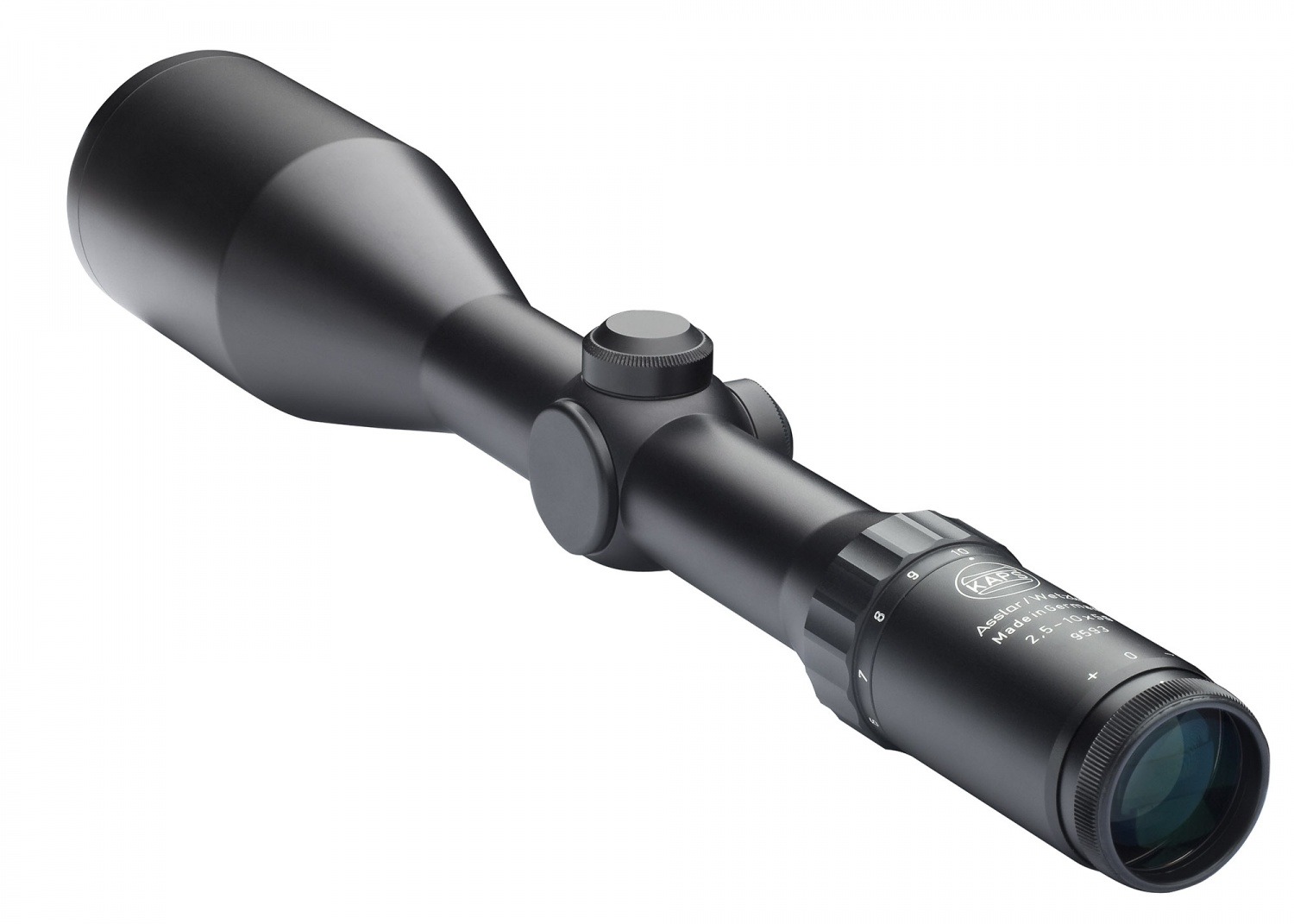 The Kaps 2.5-10×56 riflescope is much the same as its sibling with the 50mm objective lens but it provides a full 56mm objective lens for optimum poor light performance. This provides a very high level of optical performance but of course that performance comes at a price, and that price is in both the weight of the riflescope, its bulk, and the fact that it will need to be mounted in "high" mounts. The weight of this riflescope is quite likely to bring your overall rifle weight from the medium sporter to heavy sporter weight class.
Classic Line 4×36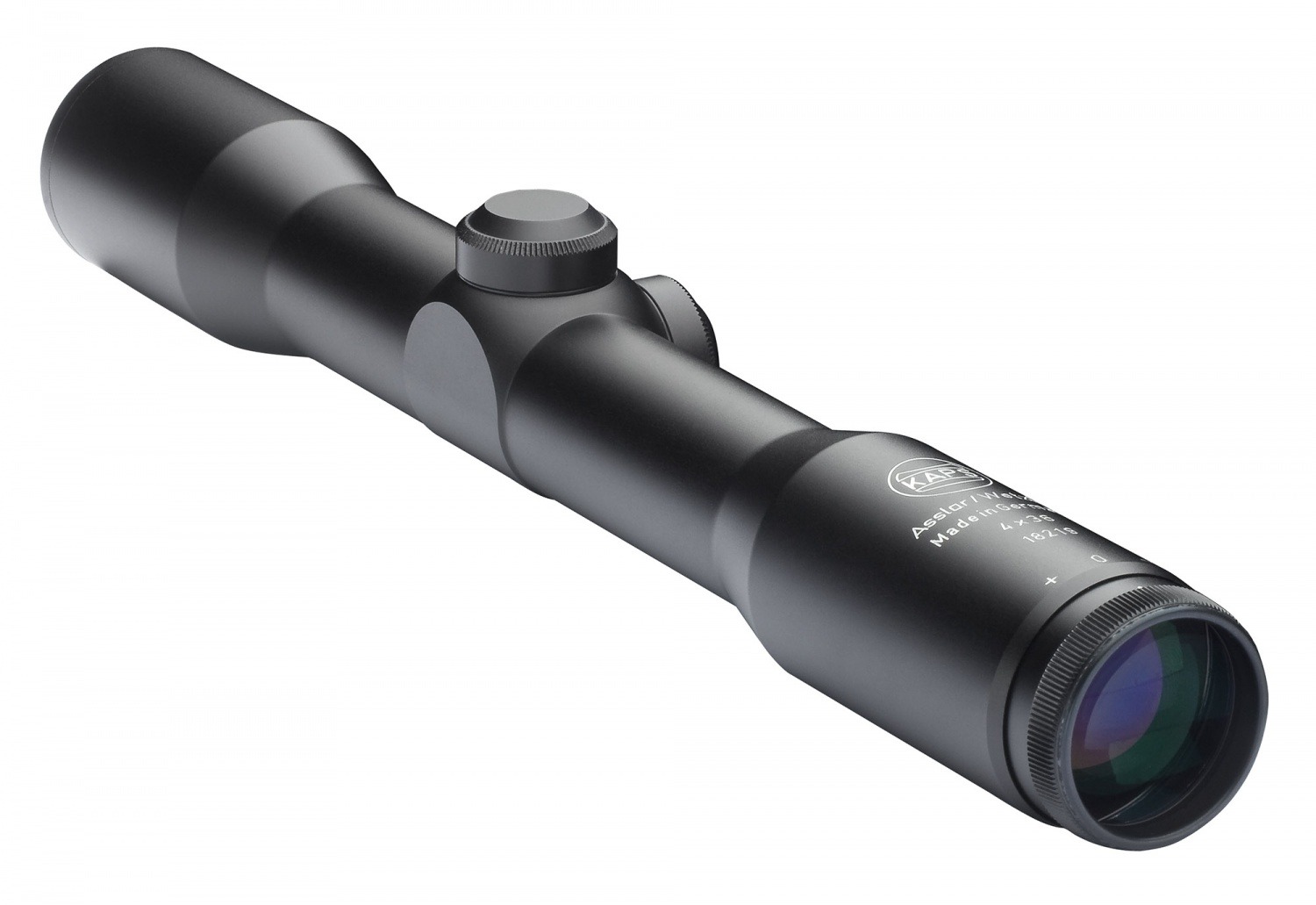 Back in the 1950's and 1960's a simple 4x was typically the most common riflescope you would find on sporting rifles. Although not a great choice for a running quarry the 4x were light, simple and reliable, and offered all the optical performance needed for a lot of hunting situations. I used to have a Mannlicher-Schönauer sporting rifle in 6.5×68 and I had two riflescopes for it, interchangeable in EAW mounts: one riflescope was a 3-12×56, and the other was a 4×32. I found that I used the 4×32 for general hunting frequently, it made the rifle lighter, and it proved a practical choice.
A simple fixed 4x such as the Kaps Classic Line 4×36 is a great riflescope for a lightweight stalking rifle.
Kaps Classic Line 6×42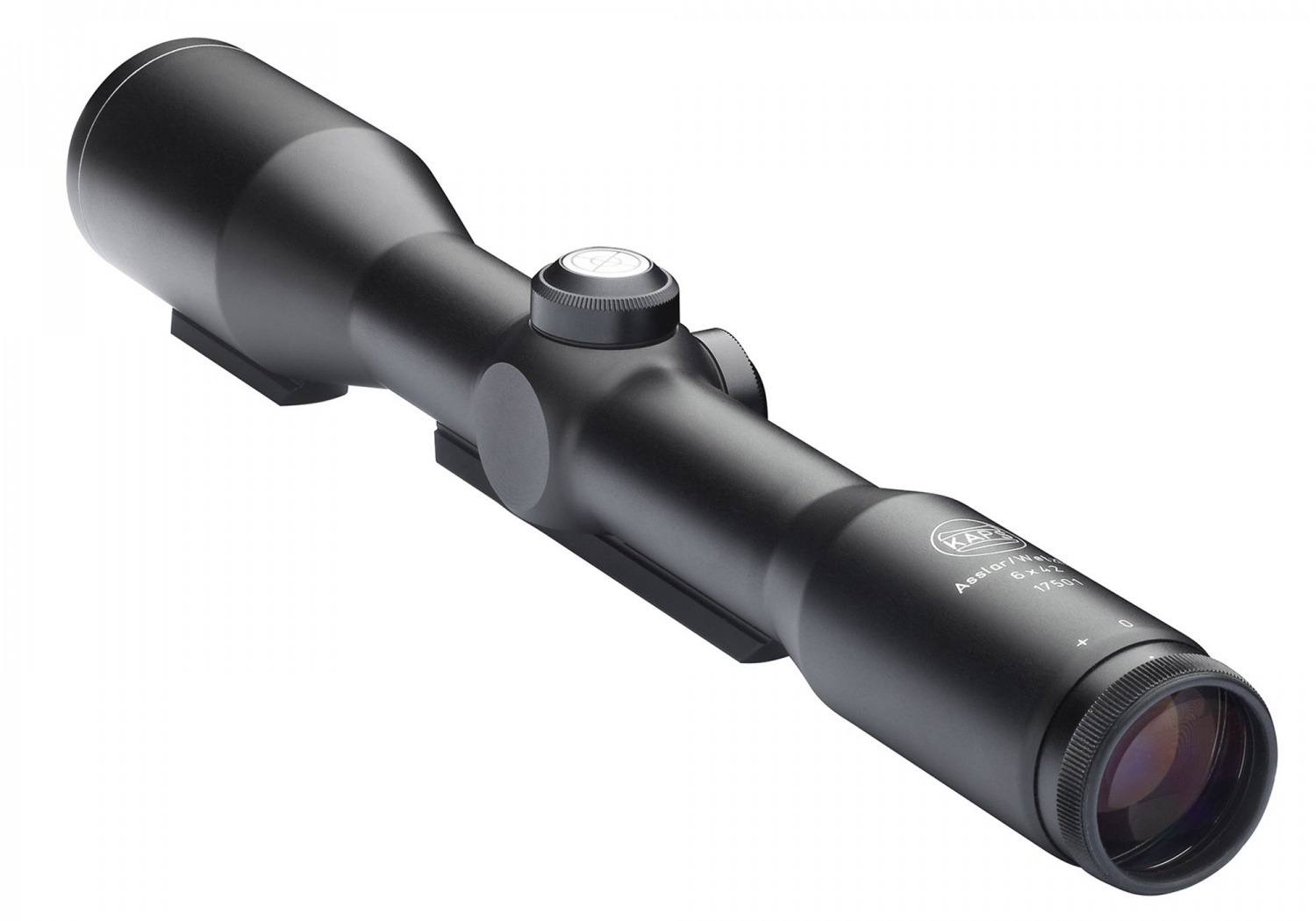 The 6×42 was probably the most common riflescope fitted to European hunting rifles in the 1960's and 1970's. It was perfect for shooting standing game and had excellent light gathering qualities. It was not popular in the United States or Australia where the 4x tended to be much preferred, or the 3-9x variable. A 6×42 can be a perfect riflescope on a fox rifle.
Kaps Classic Line 8×56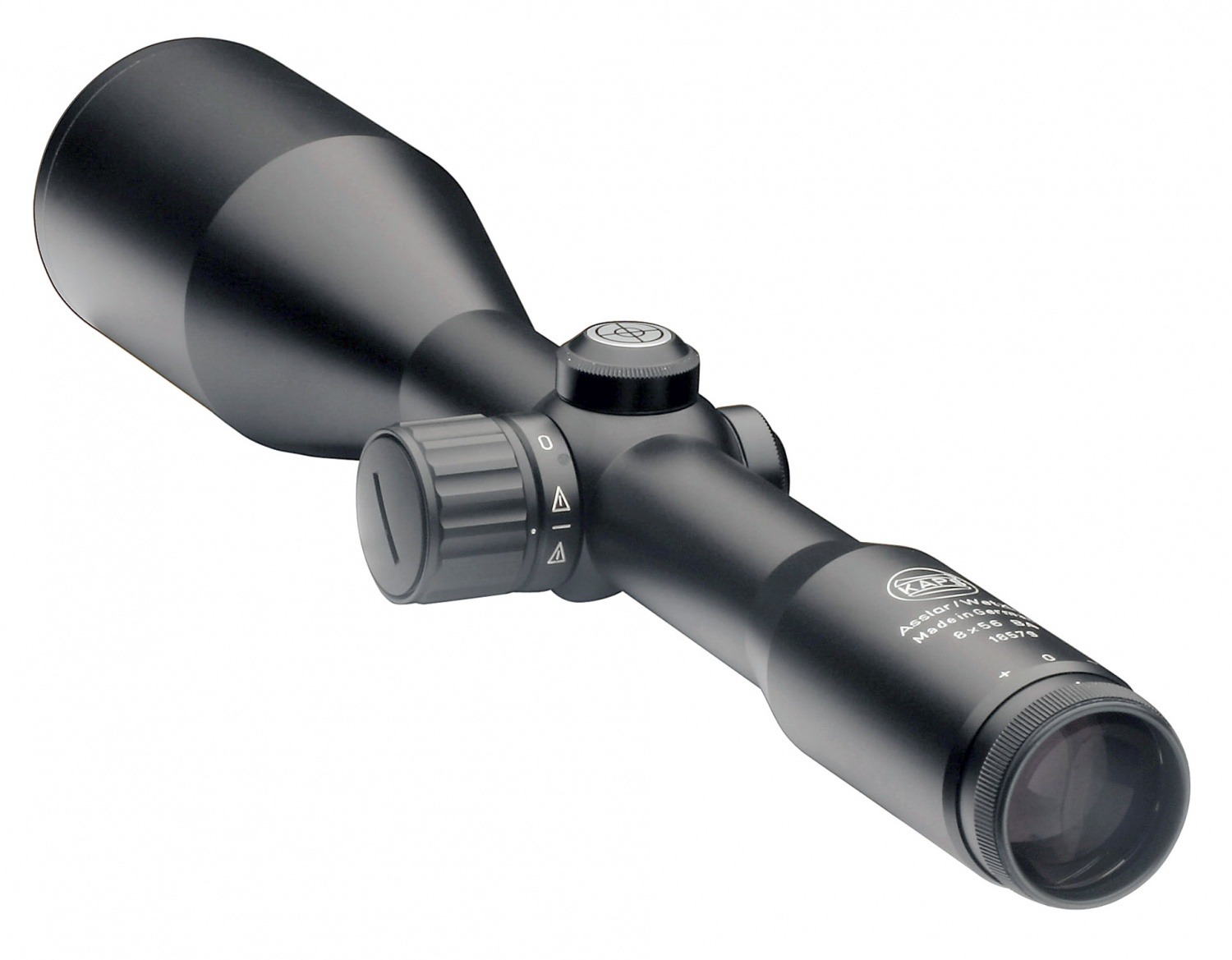 The largest of the Kaps Classic Line fixed power riflescopes is their traditional 8×56. These were a standard for fox rifles, and also for alpine hunting where the shots were going to be taken at standing game at extended distances. The light gathering power of a fixed 8×56 is as good as it gets and for low light shooting or even moonlight shooting these are an optimal choice.
Models and Specifications
(Note: To see images at full size simply click on the image: this will make reading the text much easier. Also note that a 1.5-6×42 model is featured in the Karl Kaps Classic Line catalog but it no longer appears on their website, so we assume that model has ceased production)
Variable Power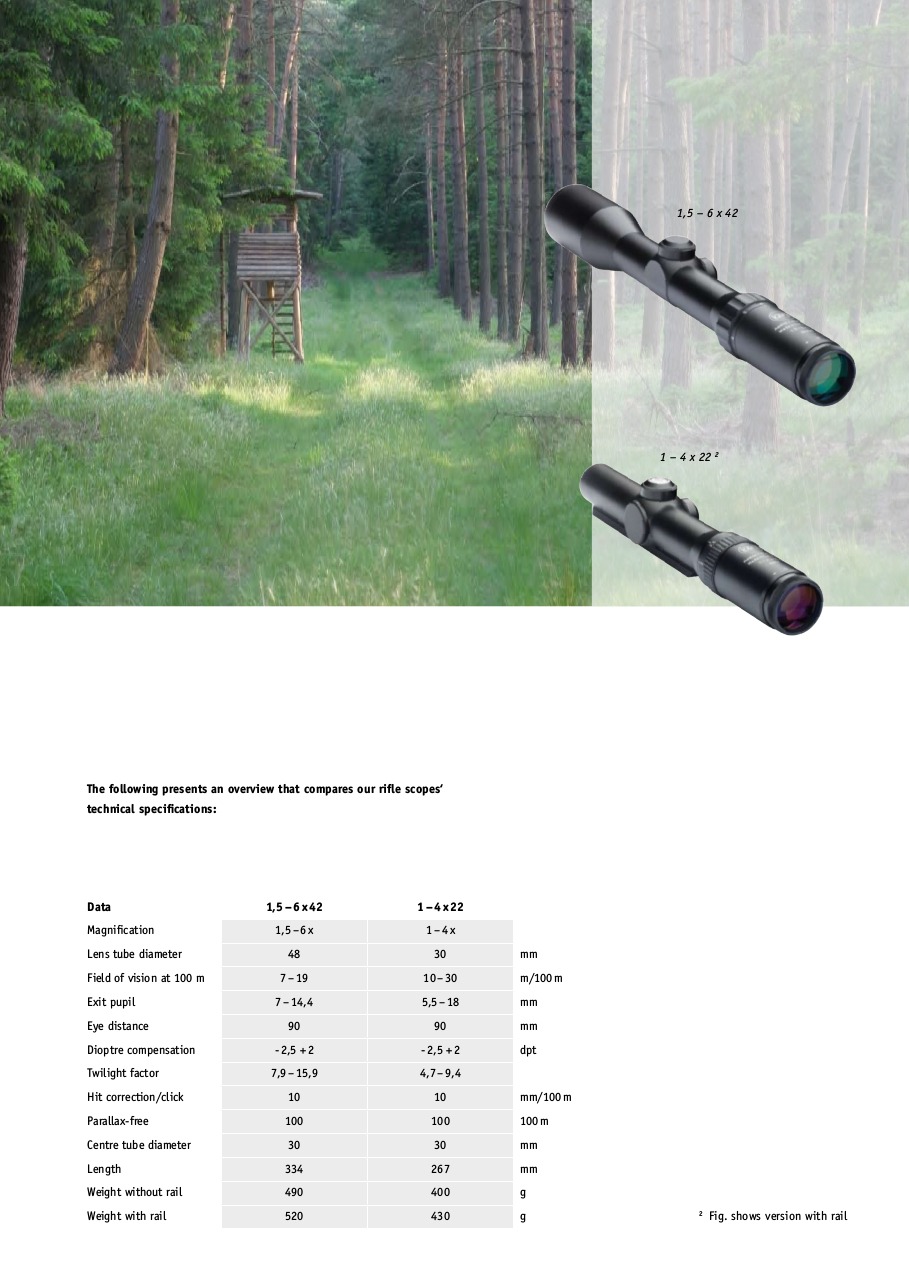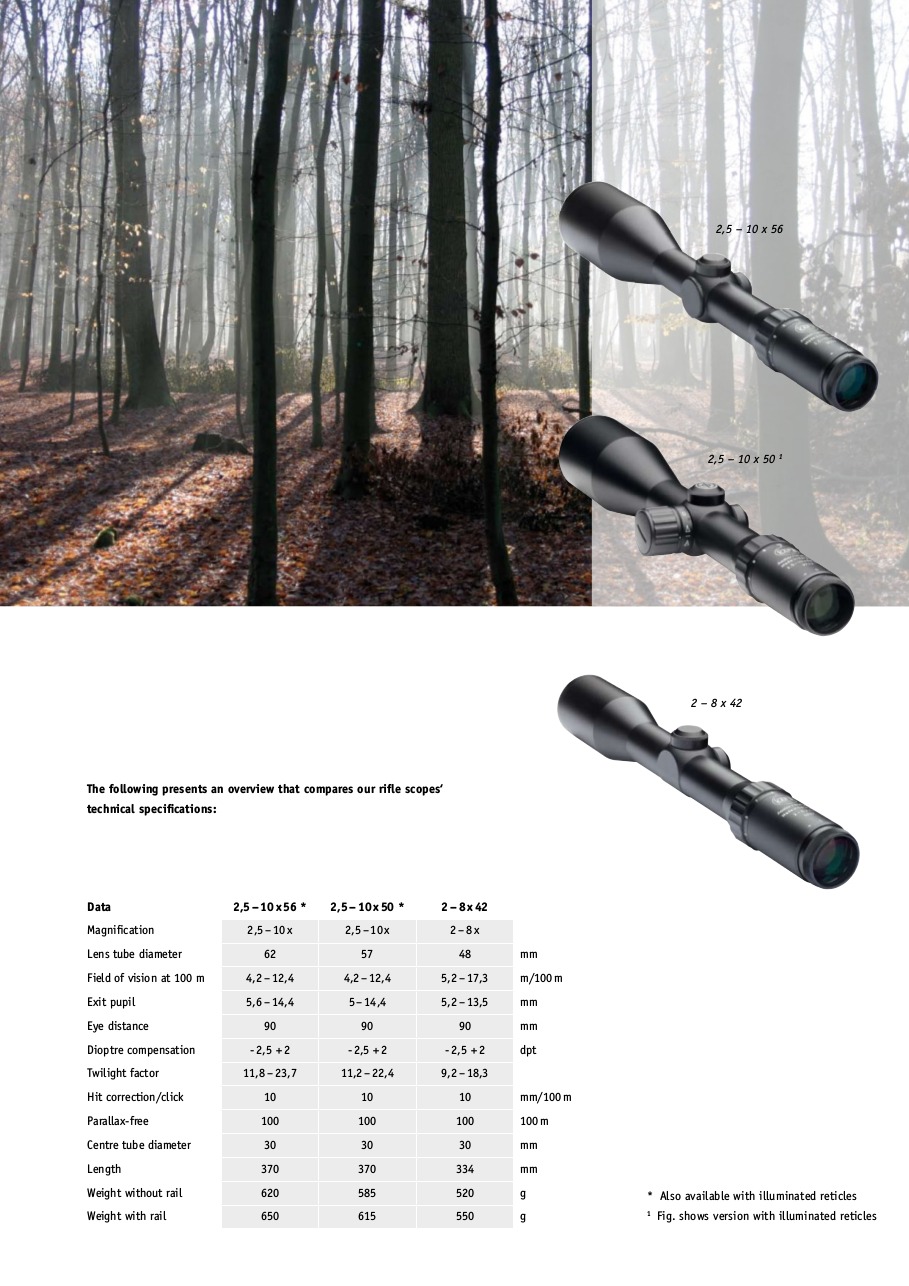 Fixed Power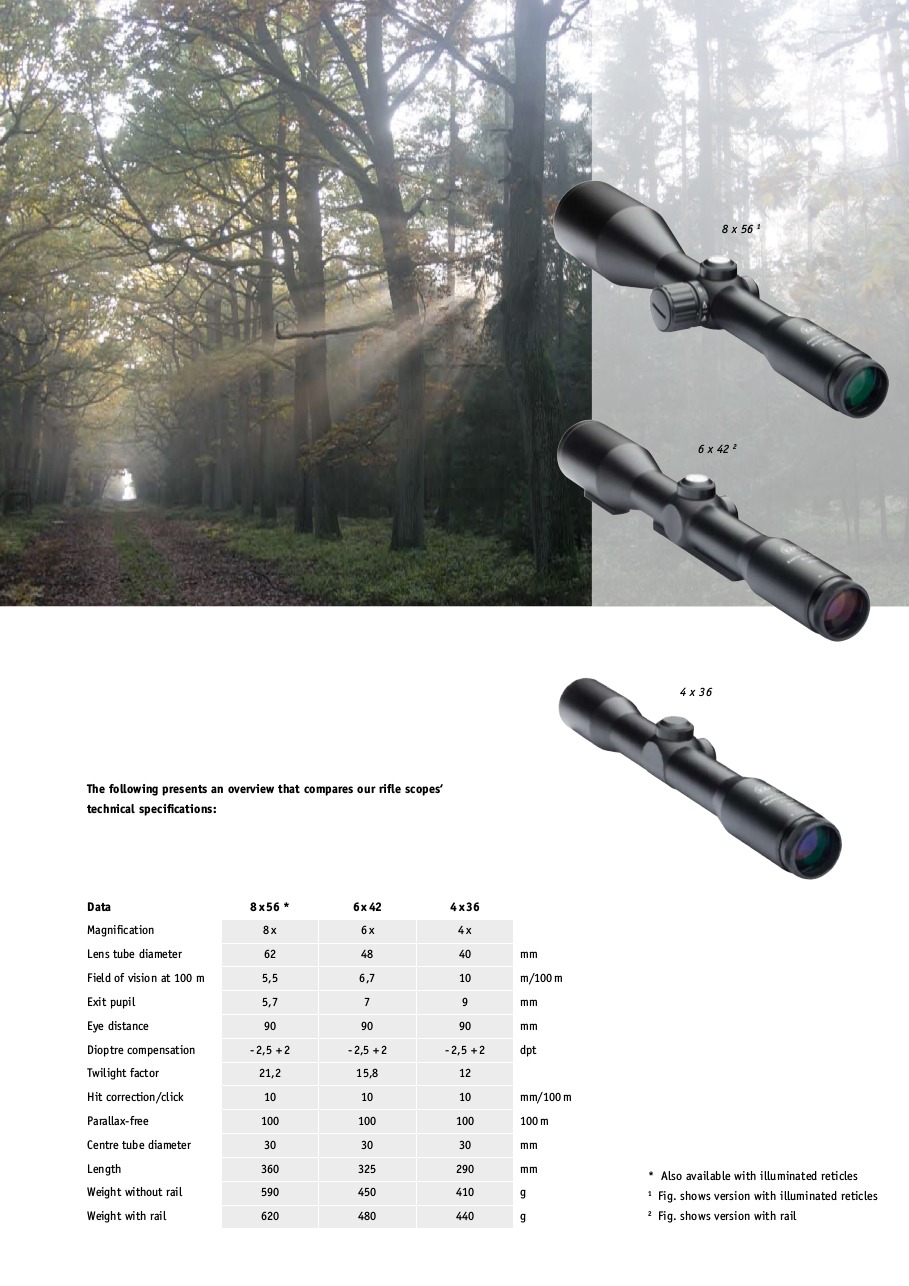 Conclusion
Kaps "Classic Line" riflescopes are made in the traditional classic German style, and they are made in Germany with German attention to quality control. They offer the choice of the reliability of a riflescope that does not have electronic systems, or you can choose to order your "Classic Line" riflescope with an optional illuminated reticle.
These riflescopes look classic, and they are a perfect choice for a classic rifle.
You will find the Kaps Classic Line riflescopes on their website if you click here.
Kaps publish their Classic Line catalog on-line and you will find it in English if you click here, and in German if you click here.
You will find all Kaps download documents if you click here.
To see the other products from Karl Kaps click here.
Karl Kaps riflescopes and binoculars are available directly from them for purchase on-line. You will find their prices to be quite reasonable for German made top shelf optics.
Picture credits: All pictures of Karl Kaps riflescopes courtesy Karl Kaps GmbH & Co.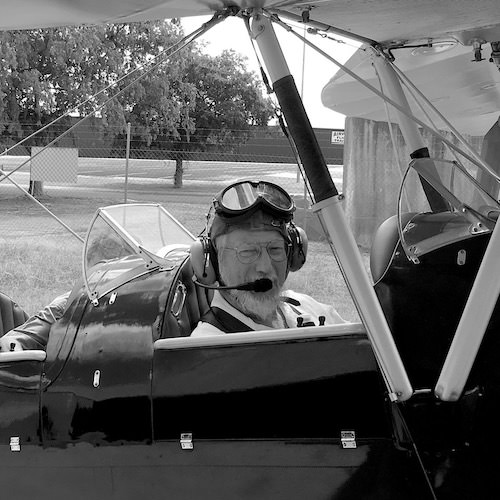 Jon Branch is the founder and senior editor of Revivaler and has written a significant number of articles for various publications including official Buying Guides for eBay, classic car articles for Hagerty, magazine articles for both the Australian Shooters Journal and the Australian Shooter, and he's a long time contributor to Silodrome.
Jon has done radio, television, magazine and newspaper interviews on various issues, and has traveled extensively, having lived in Britain, Australia, China and Hong Kong. His travels have taken him to Indonesia, Israel, Italy, Japan and a number of other countries. He has studied the Japanese sword arts and has a long history of involvement in the shooting sports, which has included authoring submissions to government on various firearms related issues and assisting in the design and establishment of shooting ranges.