Zane Grey was a man who loved America's west and the fishing and hunting adventures he could enjoy there. He became one of America's most influential authors in the Wild West and frontier genre in print, film and television.
Grey's preferred rifle was his Winchester Model 1895 which was chambered for the 30-06 cartridge. This rifle was engraved by John Ulrich and gold inlaid.
Fast Facts
Zane Grey is regarded as one of the most influential fathers of the Wild West genre in fiction, film and television.
Zane Grey was a keen fisherman and hunter: he loved the outdoors and the adventures that could be had in wilderness places. So he had genuine experience of the sorts of things he wrote about.
In 1919 when he was preparing for a fall hunt Grey decided he wanted a new rifle in the then quite new 30-06 chambering. Obtaining a lever action in 30-06 proved not to be easy, a bolt action would likely have been easily obtainable, but not a lever.
Grey finished up ordering Winchester Model 1895 rifles in 30-06 from no less than four suppliers which was his best bet at getting one. As it turned out all four arrived at the same time, so he kept two, and gave two away.
The most outstanding of those four has survived in beautiful condition to the present day and is coming up for sale by Rock Island Auction.

Zane Grey is thought of as one of the fathers of the American Western, in fiction, and in film. Like legendary character Doc Holliday of "Gunfight at the OK Corral" fame Zane Grey started out as a qualified dentist, but also as a man with a love of the outdoors, of hunting, but especially fishing. In fact he was said to have gone fishing for about three hundred days per year: so he was living proof of the saying "All times wasted that's not spent fishing".
He was also keen on hunting, so we lesser mortals are left wondering how he found the time to author so many books, and how he managed to work on so many Western movies over the course of his lifetime.
In 1872 Zane Grey was born named Pearl Zane Grey in the town named after his ancestor Ebenezer Zane – Zanesville, Ohio.
The Zane family became well known because of their role in settling Ohio in the period after the American War of Independence. One of Zane's ancestors, Elizabeth Zane, had made a bold journey in September 1782 to get gunpowder to replenish the stocks of Fort Henry in western Virginia while the fort was under attack by Indians. Running out of gunpowder whilst under attack by Indians was not a good scenario and Elizabeth Zane no doubt saved many lives through her heroism: guns work a lot more effectively if they have gunpowder and bullets in them.
Zane would immortalize this event in one of his novels "Betty Zane" which was published in 1903.

Zane Grey lived in a time and place which encouraged him to become adventurous and to enjoy fishing and hunting. He and his brother were also keen on sports, especially baseball, and Zane became fascinated by history and writing during his formative years. These interests would ultimately become central to his life, allowing him to give up his career as a dentist and replace it with a career as a writer.
That being said Zane Grey had to overcome some major obstacles to entering a writing career. He was an avid reader and loved adventure stories such as Daniel Defoe's "Robinson Crusoe" and "Leatherstocking Tales" by James Fenimore Cooper, along with stories about Buffalo Bill or Deadwood Dick – boys own tales full of the larger than life adventures of larger than life characters.
However when a fifteen year old Zane tried writing his first story his father was not at all happy and tore it to shreds, which was not exactly encouraging.
No doubt there are many who have to initially in life follow a path that would lead them into success in what their parents want for them, which in Zane's case was dentistry, and then once they are financially able to pursue their dream: and Zane's life was to follow that pattern.
Zane Grey graduated in dentistry from the University of Pennyslvania as Dr. Zane Grey in 1896 and established his dental practice in New York so he could be close to publishing houses. He did not experience immediate success but he had the maturity to persist and that persistence paid off.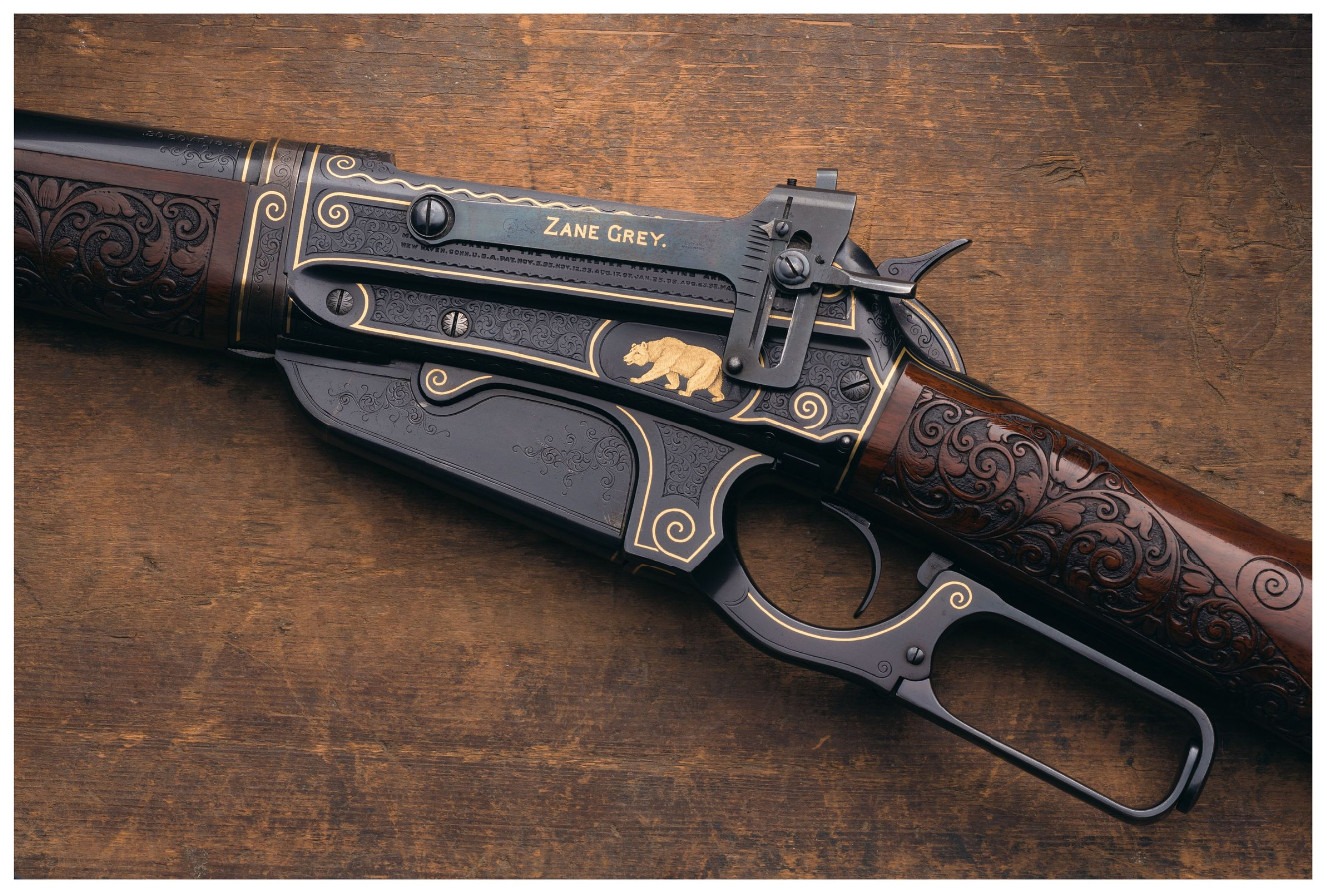 He married Lina Roth (Dolly) in 1905 and she had studied to become a school teacher. Dolly helped Zane with his writing, especially helping him improve his grammar and style. Slowly Grey's writing improved and as he put his heart for the American West into it his works began to be published. His first novel was "Betty Zane", based on the diary Elizabeth Zane had left, which he self-published in 1909. His most famous work was "Riders of the Purple Sage" which was published in 1912.
Zane Grey would go on to publish eighty five books including fiction. history, and fishing, and he was involved in film in its pioneering era and in television also.
Zane Grey's Winchester Model 1895
As a part of his preparations for a fall of 1919 hunt in Arizona Grey decided he wanted to get a Winchester rifle chambered for the then relatively new 30-06 cartridge. This was at that time described as the ".30 Govt. 06" and it had proved itself on the battlefields of the "Great War" during the time of American involvement 1917-1918.

Grey wanted a Winchester lever action and that meant he would want a Winchester Model 1895, a brilliant design by John Moses Browning.
Grey, like most American rifle hunters of the time, was most comfortable with lever action rifles and at the time he started the process of obtaining his new M1895 he already owned a Winchester M1894 and wanted an M1895 for its greater range and power.
The Winchester M1895 had by that time earned itself a great deal of respect, it had been used by many on international and American based hunts. American President Teddy Roosevelt had taken a couple of M1895's with him to Africa chambered for the .405 Winchester on the recommendation of Garrit Forbes, who had hunted with Scottish professional big game hunter W.D.M. Bell in Africa.
Teddy Roosevelt had great respect for the .405 Winchester in the M1895 and referred to it as his "medicine gun" for lion and other dangerous game: although on the sensible advice of his professional hunter he used his heavy calibre English double rifle for elephant.
But as it turned out despite his efforts to get an M1895 it turned into a quest filled with uncertainty: but Grey was determined to get what he wanted so he finished up ordering no less than four rifles so he could be confident of getting at least one.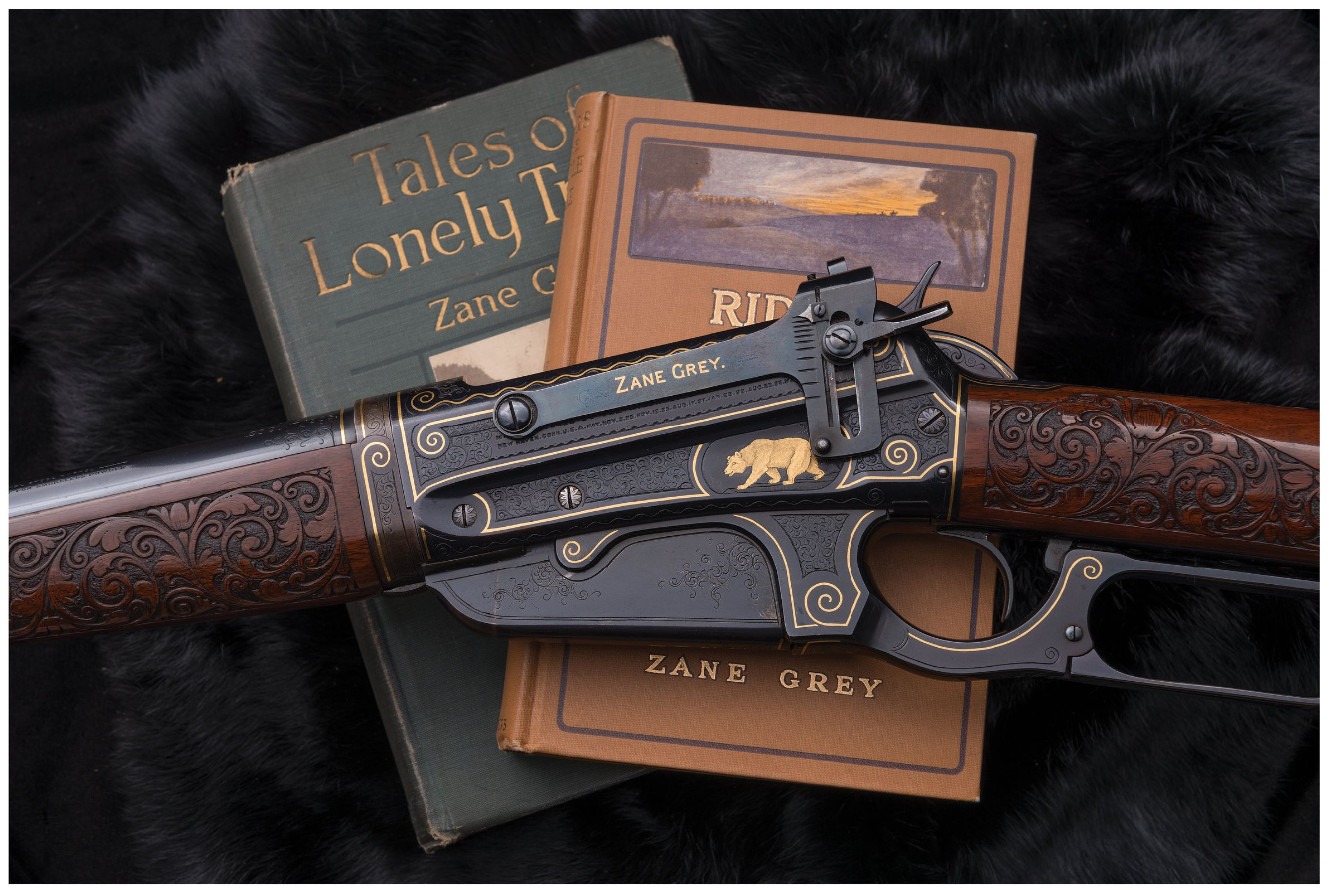 There were at that time a few options to get a rifle chambered for the 30-06. Remington was making sporting rifles based on the bolt action Enfield M1917 action and these were selling well, and would have been an available option. But they were not Winchesters, and they were not lever action.
At Winchester most could see that there was a strong future for a Winchester bolt action rifle but this idea was strongly resisted by Winchester Vice President Frank G. Drew who was so opposed to this that he managed to halt production that had already started on a new Winchester Model 51 "Imperial" rifle based on the M1914 Enfield action.
So as we see from Frank G. Drew's attitude there was a strong preference for the lever action among American sportsmen, although there was a new and young population of men who had come back from Europe ready to embrace the bolt action rifle and the 30-06 as their hunting rifle of choice.
But Zane Grey was not among them.
Zane Grey's strategy of ordering multiple rifles was successful – but it resulted in him buying four M1895 rifles – all in 30-06.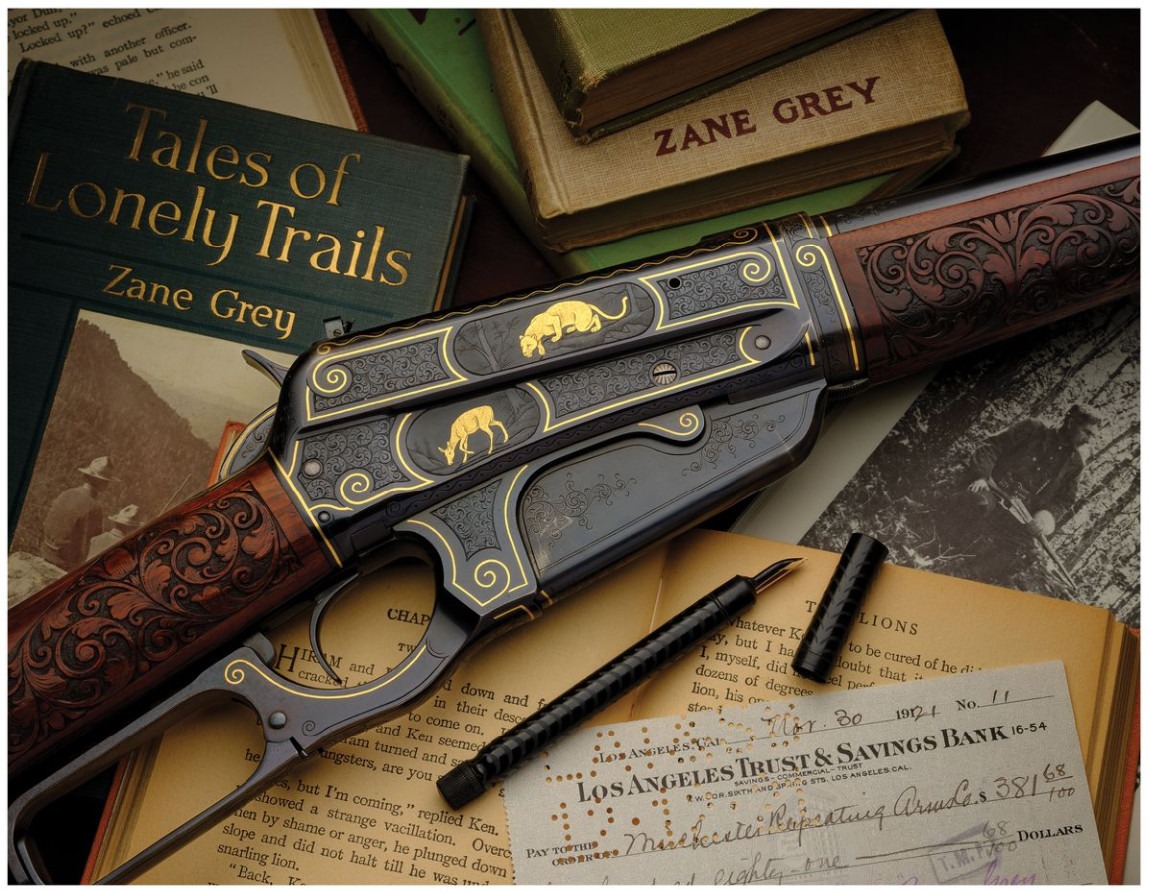 The four rifles each had a different character. Grey says of them "One was beautifully engraved and inlaid with gold-the most elaborate .30 Gov't the Winchester people had ever built. Another was a walnut-stocked shot-gun butted fancy checkered take-down. This one I presented to R. C. The third was a plain ordinary rifle with solid frame. And the last was a carbine model, which I gave to Nielsen."
So Grey kept the engraved and inlaid with gold M1895, and the plain M1895 with a "solid frame", which he used for vermin shooting and target practice.
Interestingly the "solid frame" M1895 rifles are quite rare and have become valuable collector's items.
Zane Grey's Model 1895 accompanied him on many hunts and adventures. Zane was a friend of Elmer Keith and in his book "Keith: An Autobiography" Elmer Keith relates a time with Zane Grey and his brother "R.C."
They were using the M1895 and trying to hit a rock a distant 400 yards away, and trying without success.
Amused by this Keith says he lay down and got a good rest on a log and with his Colt revolver in .44 Special proceeded to hit the rock repeatedly: no doubt to Keith's satisfaction, and Zane and RC's bemused chagrin.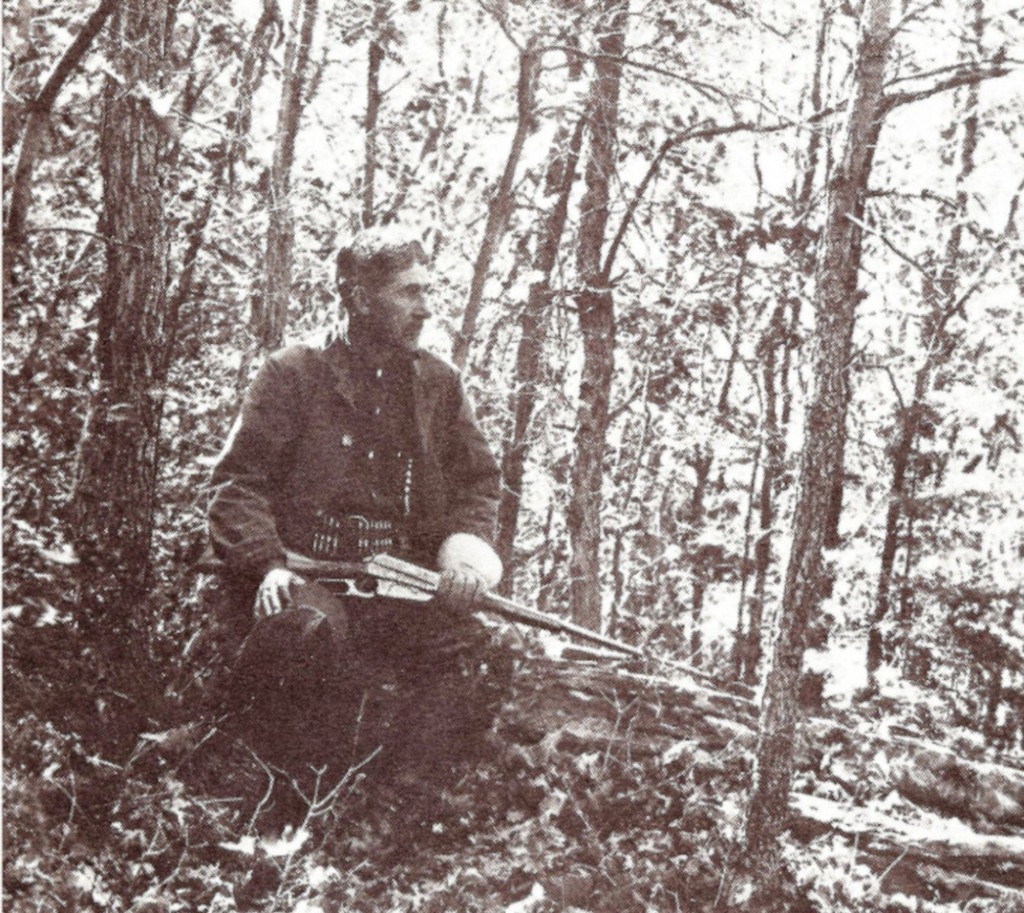 Zane Grey's Model 1895 Coming Up for Sale
That engraved and gold inlaid Winchester Model 1895 that Zane Grey obtained back in 1919 has survived through to the present day in beautiful condition, despite being used as a hunting rifle and 400 yard rock whacker.
This rifle is a superb example of Winchester craftsmanship and showcases John Ulrich's artistic abilities.
Finished in blued steel with gold inlay this take-down rifle has a 24 inch round barrel and is chambered for the 30-06 cartridge.
The primary sight on the rifle is an adjustable aperture rear sight which provides quick adjustability. The rifle is also fitted with a conventional folding rear sight.
Rock Island Auction will be offering this rifle for sale at their Premier Firearms Auction to be held on May 19, 2023.
You can find the sale page with full details here.
Rock Island Auction describe this rifle as follows: "Excellent, retaining 95% plus bright original high polish blue finish overall, the majority of the finish loss appears at the takedown joint which is a mottled patina. The engraving is crisp. The wood is also excellent with some minor handling marks, numerous scattered scratches, most of the original varnish remaining and a crisp carving. Mechanically excellent. Factory engraved, gold inlaid Winchesters rank are the pinnacle of 19th century fine arms collecting. This rifle's beauty, importance, and rarity are further compounded by its original owner: American West icon Zane Grey. This rifle is an absolute National Treasure worthy piece of American history."
Picture Credits: All pictures courtesy Rock Island Auction.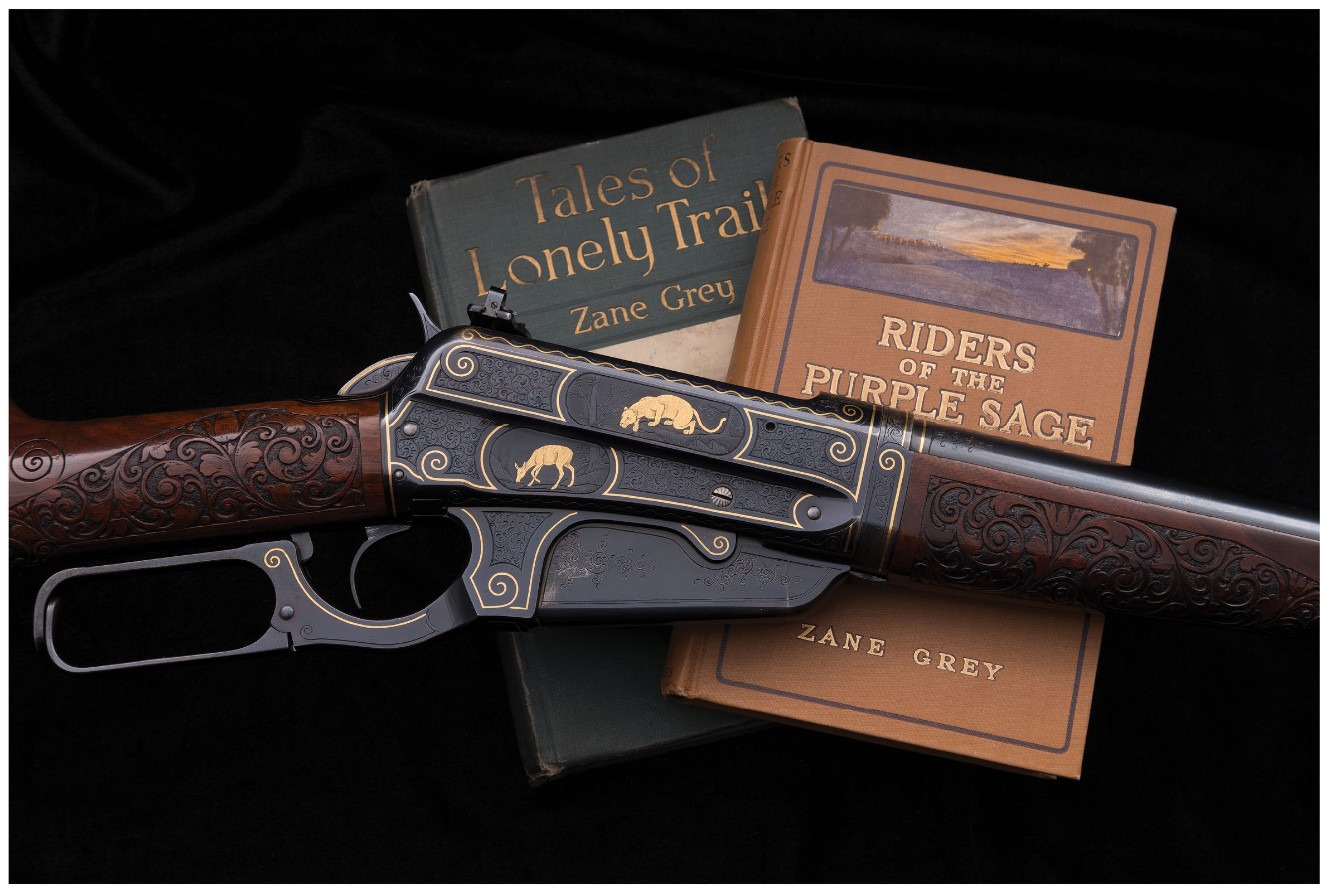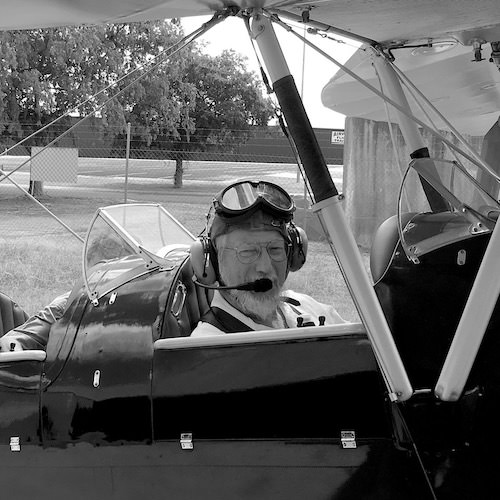 Jon Branch is the founder and senior editor of Revivaler and has written a significant number of articles for various publications including official Buying Guides for eBay, classic car articles for Hagerty, magazine articles for both the Australian Shooters Journal and the Australian Shooter, and he's a long time contributor to Silodrome.
Jon has done radio, television, magazine and newspaper interviews on various issues, and has traveled extensively, having lived in Britain, Australia, China and Hong Kong. His travels have taken him to Indonesia, Israel, Italy, Japan and a number of other countries. He has studied the Japanese sword arts and has a long history of involvement in the shooting sports, which has included authoring submissions to government on various firearms related issues and assisting in the design and establishment of shooting ranges.