Fast Facts
The RWS 10.3×68 Magnum was created in 2017 to provide a practical hunting rifle calibre that would suit an international hunter and that would meet calibre requirements for all African states where big game is hunted, and the Swiss canton of Graubünden.
The foundational case for the 10.3×68 is the common Holland & Holland belted magnum that formed the foundation for the vast majority of current belted magnums such as the 7mm Remington Magnum and the 300 Winchester Magnum.
RWS describe the 10.3×68 as a "SmartMagnum" and offer it in four loadings to make it suitable for medium to large and dangerous game.
In its lighter bullet high velocity loadings the 10.3×68 Magnum is capable of being used at long range and is capable of taking game out to 300 metres.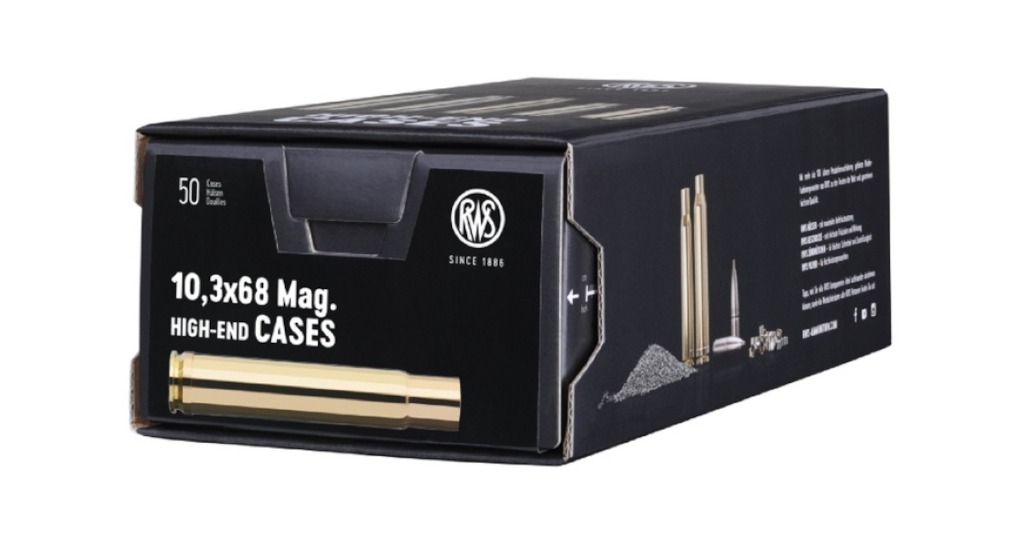 The 10.3×68 is a relatively new cartridge introduced by German ammunition maker RWS in 2017. It is based on the Holland & Holland belted magnum cartridge case that originated as the foundation for the .375 Holland & Holland Magnum, and then the .300 Holland & Holland Magnum. This basic case was then adopted by wildcat cartridge creators such as P.O. Ackley, and rifle makers, notably  Roy Weatherby who used it for his original line of Weatherby magnum cartridges, Remington for their 7mm Remington Magnum, and Winchester for their 458, 338, 300 and 264 Winchester Magnums.
So the RWS 10.3×68 Magnum uses this very common belted magnum cartridge case necked to take 10.3 mm bullets, and trimmed to a length of 68 mm.
For those familiar with the .416 Taylor the dimensions of the 10.3×68 Magnum will sound a bit familiar.
The RWS 10.3×68 Magnum is similar to, but not identical with, the wildcat .416 Taylor. It's case length is slightly longer and its overall cartridge length is 91.44 mm (3.6 inches), which is too long for a standard (i.e. 30-06) length action which is limited to 3.34 inches (Note: the .416 Taylor is designed to be short enough to fit a standard length action and yet deliver about the same the performance as the .416 Rigby).
For the bullet diameter RWS chose not to simply go with a .416″ projectile but instead chose to use a .414″ bullet (actually .4137″).
This set of decisions prompts those of us living outside Europe to wonder why RWS would design this cartridge this way: they chose to use a quite standard belted magnum cartridge case which would have made it easy for handloaders to make cases for it, but then chose an odd diameter bullet that is almost identical to the more standard .416″, but 0.0023″ smaller.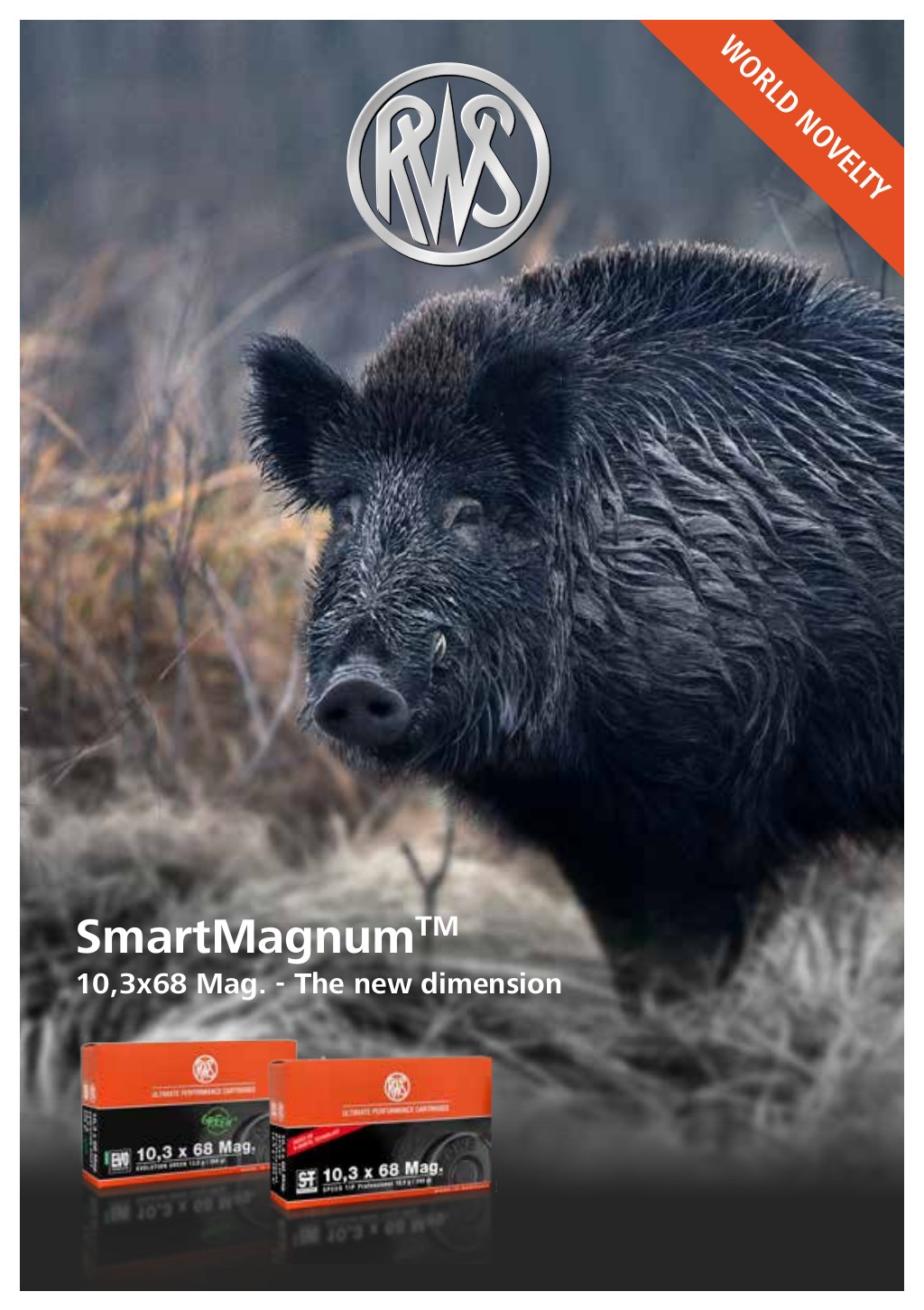 In designing this cartridge RWS had parameters in mind that are unique to Europe, but with global application.
One of the driving forces for the creation of the 10.3×68 mm was the regulation in the Swiss canton of Graubünden: who specify that hunting rifles for use on hoofed game must be of 10.2 mm bullet diameter or larger.
For those of us who use much smaller calibre rifles for hoofed game this might seem a bit of an odd regulation, given that such smaller cartridges as the popular 30-06 have a long history of excellent performance, as long as the hunter chooses the right bullet for the job and puts it in the right place.
Looking at this ruling I'm reminded of a farmer I knew decades ago down in Australia. He was convinced that to humanely cull kangaroos the most suitable cartridge was the 458 Winchester Magnum. He said that if a kangaroo was hit by a lesser bullet it would crawl away and die slowly: but with the 458 an instant painless expiry was assured.
I wasn't going to argue with him – he wanted instant one shot humane kills and the 458 Winchester Magnum delivered them.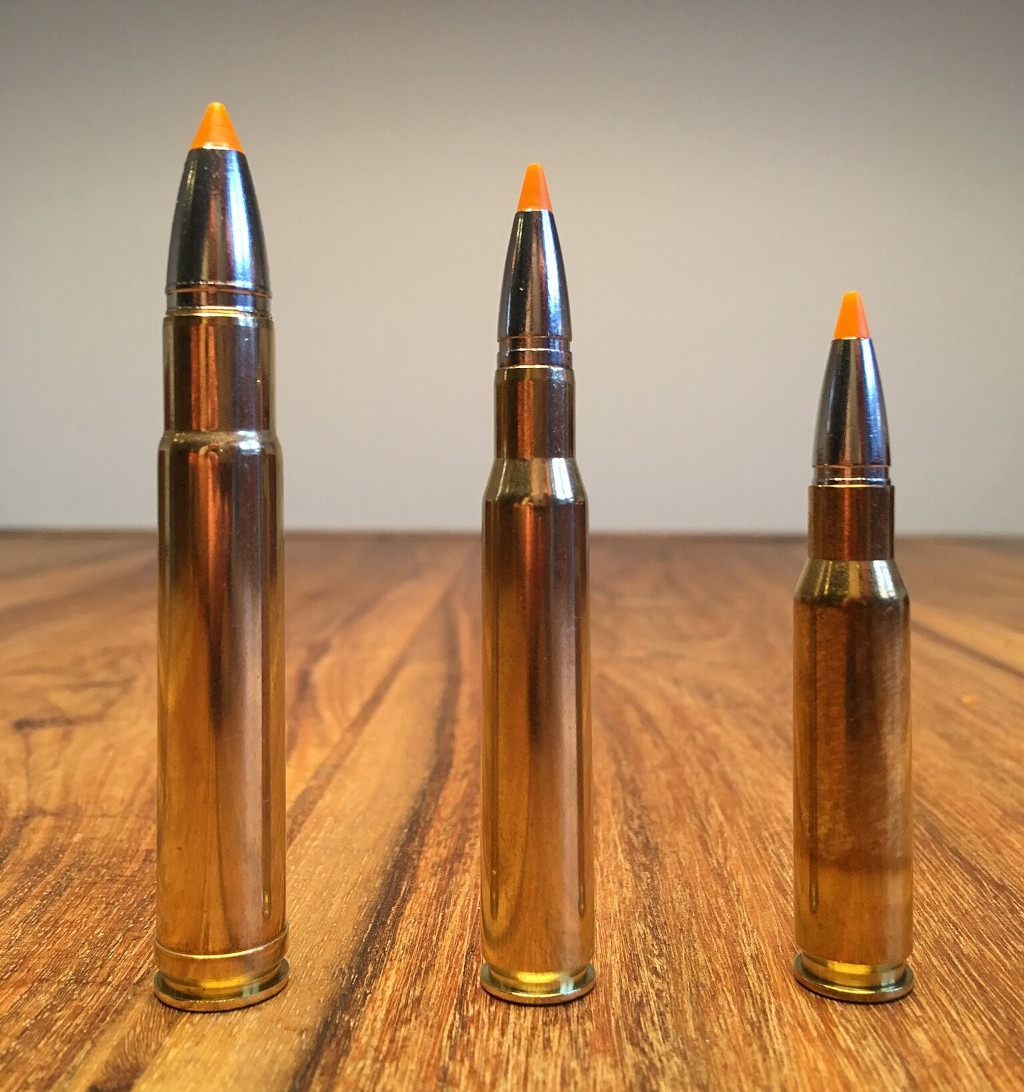 The advantage provided by the medium and big bore rifles, such as those in the .40″ up to .45″ bullet diameter range, is their large frontal area which gives them a good reputation for creating a large wound channel in game, and their providing substantial "knock down" power.
So I would not argue with the regulators of Graubünden, a bullet with a large frontal area is going to create a large entry wound and if it fully penetrates the game a large wound channel and exit wound. This was the Elmer Keith philosophy, he very much favoured medium and large bores with substantial quantities of nitro-cellulose propellant behind them.
In view of these things the 10.3×68 Magnum makes a lot of sense. As factory loaded the 10.3×68 Magnum lives up to RWS marketing for it, which describes it as a "SmartMagnum"; able to be used on small, medium and big game, and dangerous game, be it boar, bear or buffalo.
When it was introduced the 10.3×68 Magnum was made in four bullet styles: the 13 gram/200 grain Hit bullet with a muzzle velocity of 905 m/sec (2,969 fps), a 13.5 gram (208 grain) Evo Green bullet with a muzzle velocity of 900 m/sec (2,953 fps), the 18.5 gram (285 grain) Speed Tip Pro at 800 m/sec (2,625 fps), and the buffalo stopping 25.9 gram (400 grain) Teil Mantle Bonded at 710 m/sec (2329 fps), that last loading being comparable to the highly regarded British 404 Jeffery and 416 Rigby.
With these four different loadings the 10.3×68 Magnum provides suitable ammunition for hunting in the bullet weight and velocity range of such cartridges as the 300 and 338 Winchester Magnums with bullets around 200 grains, up to the .416 Rigby and .416 Remington with bullets of 400 grains, and all the shades in between.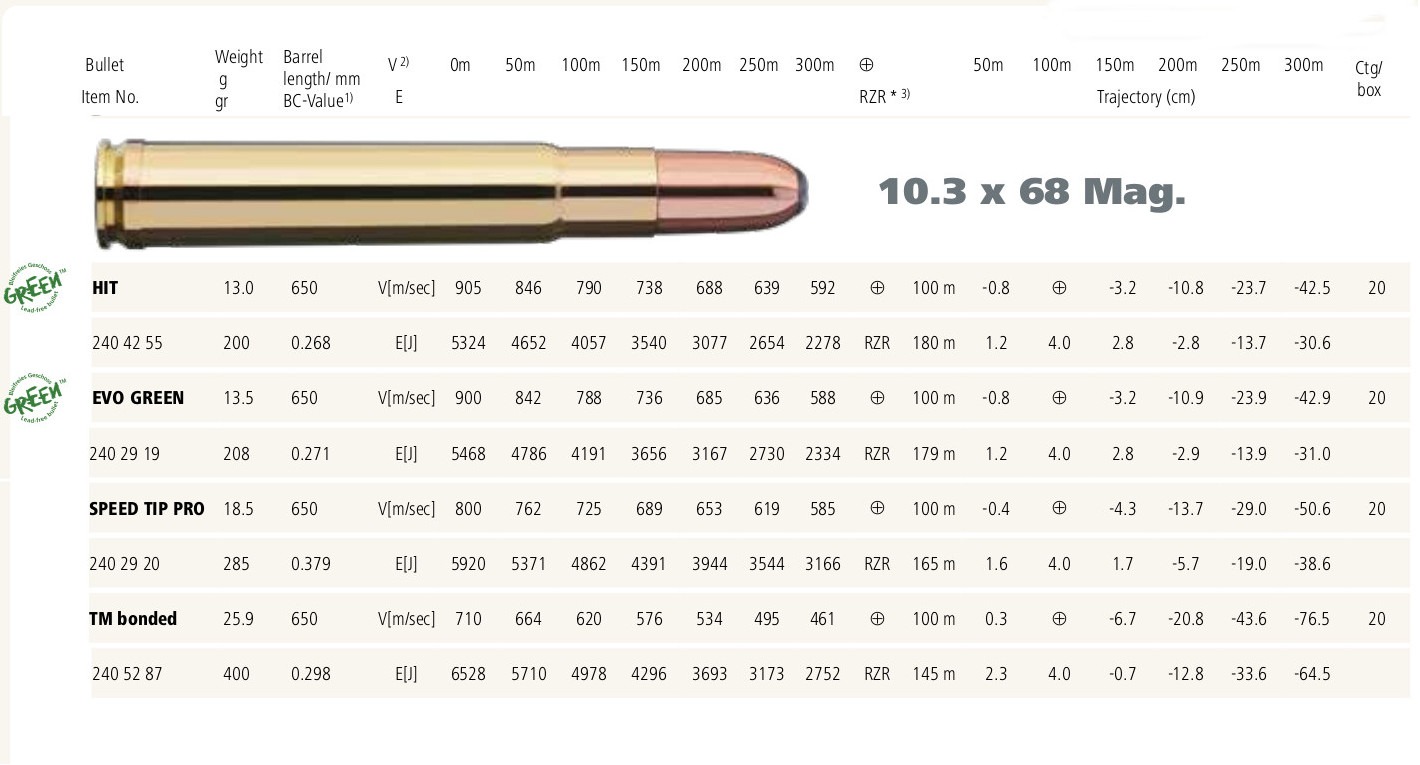 This range of factory loadings made the 10.3×68 Magnum a very flexible cartridge, and provided that flexibility for shooters who do not reload their own ammunition.
This RWS offering is however not for hunters on a budget. RWS ammunition is of superb quality, but that quality comes at a price. In the case of the 10.3×68 Magnum boxes of 20 cartridges tend to sell north of €100.00 depending on the bullet loaded, and a box of 50 empty cases sells for around €115.00.
Rifles chambered for the 10.3×68 Magnum are also unusual. The Sauer 404 is currently listed with this chambering and would bring out the best in it.
So if you are looking for a rifle and cartridge combination for general hunting in Europe, Asia, and/or the Americas, and one that will be both legal and adequate for an African safari, then the 10.3×68 could be the right rifle for you.
RWS do not state that the 10.3×68 Magnum is suitable for elephant, only up to buffalo. They don't offer a solid bullet loading that would enable the cartridge to be used on pachyderms, and very few hunters have the finances or opportunity for that most dangerous of pursuits: and those that do can no doubt afford a double rifle in 470 or 500 Nitro Express.

Recoil of the 400 grain loading in a Sauer 404 with open sights and weighing about 7.5 lb is around 63 ft/lb – which is recoil in the same league as the 416 Rigby – as we would expect it to be.
Loaded with the 285 grain (18.5 grams) Speed Tip Pro recoil comes down to around 49.75 ft/lb.
Loaded with the 200 grain (13 grams) Hit bullet the recoil is 38 ft/lb which puts it in the same league as the 375 Holland & Holland Magnum, and a tad more than the typical 30 ft/lb – 35 ft/lb of a 300 Winchester Magnum.
These recoil figures will of course be reduced if the hunter has a rifle-scope mounted on the rifle as it will add weight and thus tame down the recoil.
High quality German and Austrian rifle-scopes tend to be quite large and heavy, and so European rifle-makers often make their rifles to be as lightweight as is practicable to keep the total weight of rifle and rifle-scope down to a comfortable level.
So when RWS described this cartridge as a "SmartMagnum" they were right in that it crosses a wide spectrum of hunting situations. As a rifle for a world wide one rifle hunter this would indeed fit the bill.
With the lighter bullets able to be zeroed at 165 metres the 10.3×68 mm could be used comfortably out to 250 metres, at which point the 285 grain Speed Tip Pro bullet has a drop of 19 cm. With the lighter bullets it would be entirely reasonable to zero at a greater distance than that. Using the Oehler Ballistic Explorer software the calculated Maximum Point Blank Range for the 285 grain Speed Tip loading is 202.8 metres. For the 200 grain (13 gram) Hit bullet the Maximum Point Blank Range is calculated as 216.9 metres.
The 10.3×68 Magnum is certainly not a rifle for everyone, but for a hunter who wants a rifle that will handle everything from fallow deer to wild boar, and the big bears to African Cape Buffalo, then it could be a great choice: and combined with a Sauer 404 rifle wrapped around it a joy to own and use.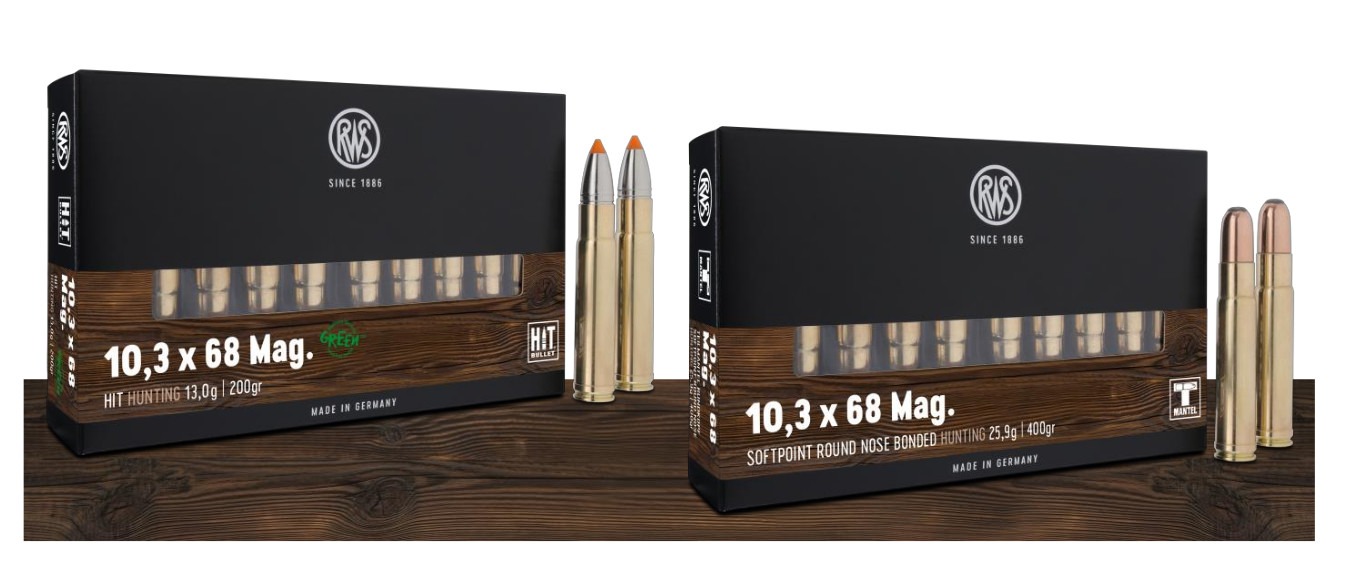 Picture Credits: Feature image at the head of this post courtesy RWS-RUAG. Others as individually credited.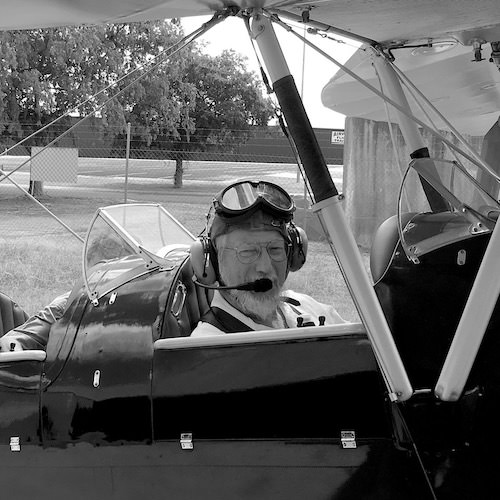 Jon Branch is the founder and senior editor of Revivaler and has written a significant number of articles for various publications including official Buying Guides for eBay, classic car articles for Hagerty, magazine articles for both the Australian Shooters Journal and the Australian Shooter, and he's a long time contributor to Silodrome.
Jon has done radio, television, magazine and newspaper interviews on various issues, and has traveled extensively, having lived in Britain, Australia, China and Hong Kong. His travels have taken him to Indonesia, Israel, Italy, Japan and a number of other countries. He has studied the Japanese sword arts and has a long history of involvement in the shooting sports, which has included authoring submissions to government on various firearms related issues and assisting in the design and establishment of shooting ranges.