Although it is often thought that a double-rifle is such an expensive item that it's not possible for the vast majority of shooters to own one, there is a good selection of double-rifles available from a number of makers that are both affordable and excellent: and when we say excellent we mean that their functionality and ergonomics are often the equal of any double-rifle at any price. So if you are yearning for a double-rifle, and especially if you are planning on a buffalo hunt in Africa or Australia's Northern Territory, then you are going to be able to find a double-rifle that will be an affordable and excellent choice.

Whilst a double-rifle from one of the British "best gun" makers such as Holland & Holland, Purdey, Westley Richards, Rigby, or the James Bond choice Anderson Wheeler, is going to cost almost as much as a modest house, and at least as much as an exotic automobile, you don't need to be prevented from owning a top-rate double-rifle. One of the best of the more affordable double-rifles are those made by Krieghoff in Germany: and  the Krieghoff Classic and  Krieghoff Classic Big Five double-rifles offer some unique features that the high-priced London guns don't.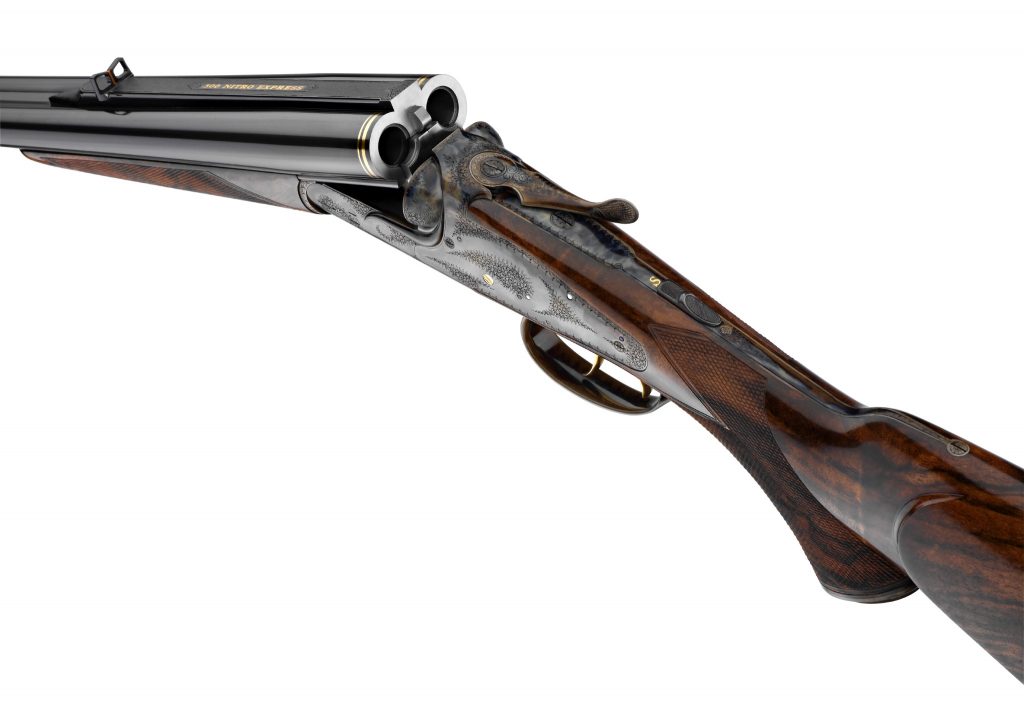 A double-rifle is normally thought of as purely a dangerous game rifle because it provides a swift sure second shot in case a situation turns into "a bit of a sticky wicket" as the British would say. A friend had such an experience not long ago on a buffalo hunt in northern Australia. At the time he did not own a double-rifle and was armed with a heavy caliber bolt action. However when a "dead" buffalo unexpectedly "woke up" and decided to be really unfriendly it was the member of the shooting party armed with a heavy caliber double-rifle who was able to decisively drop the buff in his tracks with two very quick well placed shots. As a result of his experience my friend sold a dozen of his guns so he could afford a decent double-rifle.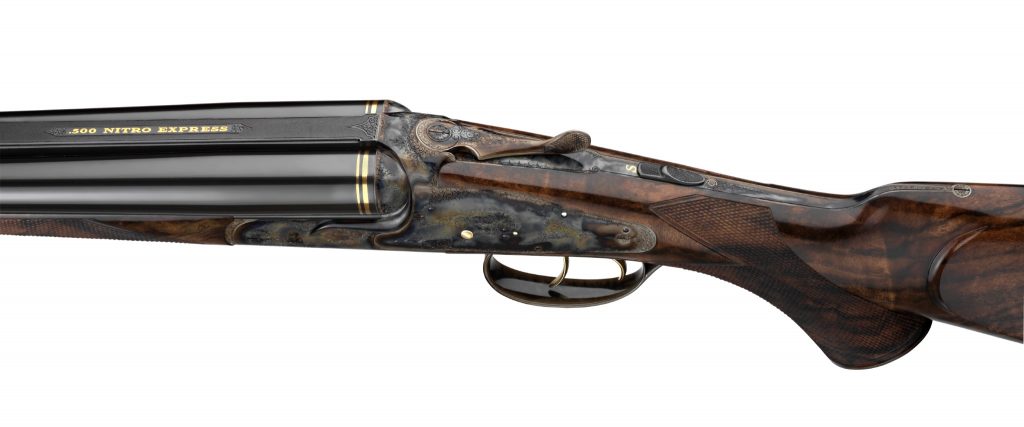 A double-rifle is not limited to being just a dangerous game rifle however. In his book "African Rifles and Cartridges" professional hunter John Taylor tells us his idea of the perfect choice for the "one rifle, world-wide hunter" would be a double-rifle chambered for the .375 Flanged Magnum Nitro Express (i.e. the rimmed version of the .375 Holland & Holland Magnum), fitted with a 2.5x rifle-scope in quick detachable mounts. Such a rifle would be capable of fulfilling most hunting situations, from being an excellent deer and wild boar rifle, to dangerous game rifle, and, used as a single-shot with one of its barrels zeroed with the rifle-scope, capable of taking shots out at 300 yards if after wild sheep or antelope in mountainous or open country. A double-rifle opens up a range of hunting options, and if it is provided with a couple of barrel sets can be even better. With two barrel sets one could choose to have one in .375 Holland & Holland Magnum and the other in .500 Nitro Express, an ideal combination.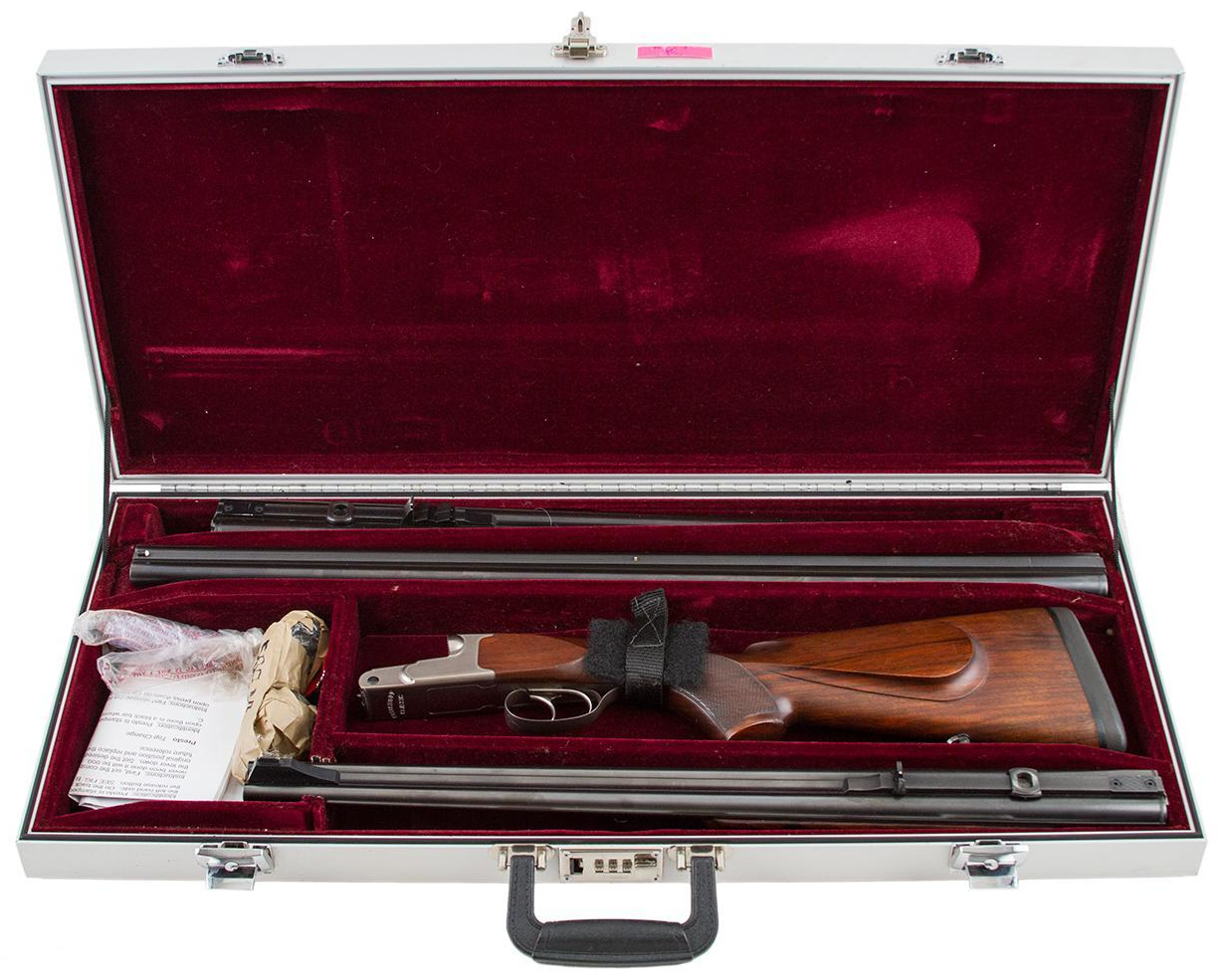 Note: you will find the above pictured rifle/gun set for sale at Guns International if you click here).
Overview
Krieghoff offers three double-rifle models and three double-rifle drilling models: the Classic Big Five, which is a classic dangerous game double-rifle chambered for dangerous game cartridges: The Essencia Side-lock Big Five which is a classic dangerous game rifle with a side-lock action: the Classic Double-Rifle, which is a traditional stalking double-rifle chambered for standard hunting rifle cartridges; The Trumpf Double-Rifle Drilling, which has side by side double-rifle barrels above a single shotgun barrel: the Optima Big Five Double-Rifle Drilling, which is chambered for dangerous game cartridges; and the Optima Double-Rifle Drilling, which is chambered for common stalking rifle cartridges.
The Krieghoff Combi-Cocking Safety Cock/De-cock System
The Krieghoff Classic and Classic Big Five double-rifles have an unusual "Combi-Cocking" safety cock/de-cock system instead of a conventional safety catch. Instead of having to carry the rifle with the hammers cocked but blocked by the safety mechanism, the Krieghoff Classic double-rifles enable the rifle to be carried un-cocked in what is arguably an even more safe condition.
When the rifle is first opened with the cocking/de-cocking switch in its rear/de-cocked position the hammers are not cocked. The sliding switch on the tang is not a safety catch but a cocking/de-cocking switch: this means that the rifle can be carried in complete safety in an un-cocked condition and it cannot fire. When the shooter needs to take the shot he/she simply pushes the cocking switch forward just as if they were pushing a safety catch forward: this cocks the hammers and the rifle can be immediately fired. This cocking action is not needed for subsequent shots because, when the cocking switch is in the pushed forward position, the rifle is cocked by a tumbler system when the barrels are dropped open, so the shooter can simply load and fire as quickly as they need as often as they wish. To manually de-cock the hammers the shooter simply pushes the cocking switch forward and eases it back. If the rifle is opened whilst the cocking/de-cocking switch is in its rear/de-cocked position the tumbler system does not cock the hammers and so the rifle remains safe. In this video the selective ejectors are also demonstrated so you can appreciate just how intuitive and easy to use the system is.
This video by Krieghoff UK courtesy alanrhone media demonstrates the Combi-Cocking system clearly.
Krieghoff Classic Big Five Double-Rifle

The Krieghoff Classic Big Five double-rifle is made in .375 Flanged Magnum Nitro Express, .375 Holland & Holland Magnum, .450/.400 Nitro Express, .500/.416 Nitro Express (3 ¼"), .470 Nitro Express, .500 Nitro Express (3″) using 24″ barrels. The rifle weighs 10-10.5lb depending on the caliber and the wood density, 10.5lb being a good manageable weight for a .500 Nitro Express 3″.
Amongst the standard features of the Big Five double-rifle are:
Twin-hammer action with Universal Trigger System and Combi-Cocking Device
Articulated front trigger without set trigger device
Slim compact steel action with reinforced sidewalls for extra strength
Small Arabesques engraving
Ergonomically shaped Kickspanner manual cocking device providing safe and simple operation
Automatic hammer safety to prevent the Classic from firing unless it is fully closed
Short opening angle for fast, easy loading
Purdey style extension between the barrels and the face of the standing breech to withstand lateral bending forces
Virtually horizontal firing pin placement for error-free firing and fast lock-time
Sliding, self-adjusting wedge for durable secure bolting
Broad, massive underlugs to withstand wear and provide optimal seating of the underlug in the action
Steel trigger floor plate and steel trigger guard
Nickel plated receiver finish
Special weighted stock-bolt for optimum weight and balance
V-Shaped rear sight with bead front sight
Quick detachable sling swivels
Right-handed "Big Five" stock including "Old English" rubber recoil pad in black and "Schnabel" forearm
Delivered in fitted hard case.
Additionally, for the .375 Holland & Holland Magnum and the .375 Flanged Magnum Nitro Express the rifle can be ordered either with standard soldered barrels or with adjustable barrels so the owner can regulate them as desired.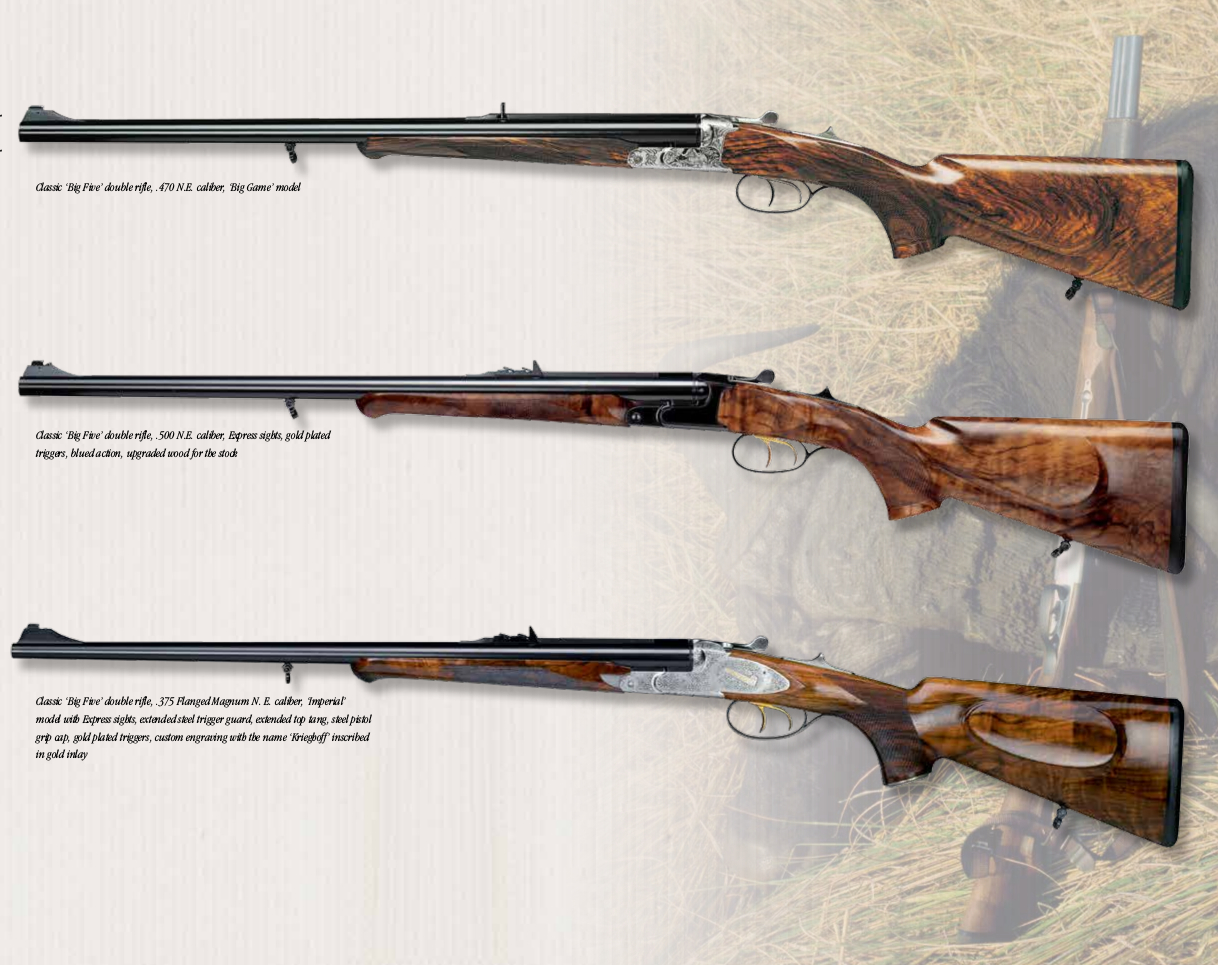 There are optional features that can be ordered with your rifle to further enhance it. These include:
Intelligent Ejector System (IES)
Krieghoff see through sight (i.e. the skeletonized sight visible in the picture of the Essencia double rifle earlier in this post).
Folding and express sights
Spring loaded extractor claws for rimless rifle cartridges
BreaKO recoil reducer
Rifle-scope mounts
"PH-ProCoating" (corrosion resistant Ilaflon-Coating for barrel)
Interchangable barrels: Double rifle, "Big Five" double rifle, side-by-side rifle/shotgun combination and side-by-side shotgun
Blued or nitrided action finish
You can also order custom features such as:
Standard engravings with or without side plates
Stocks: Upgraded wood, hand made custom stock, special stock design and different recoil pads
Exclusive Options: Façon Exclusive, hand-rubbed stock finish and stock carvings
Monograms: Can be engraved into a separate steel plate, which is fitted into the pistol grip of the rear stock or the monogram can be integrated into the top lever or the trigger guard
Internal lock parts nickel plated or gold plated, trigger gold plated or trigger titanium nitrated (gold color appearance)
You will find the price list including pricing for the various options if you click here.
Krieghoff Essencia Side-Lock Big Five Double Rifle

The Krieghoff Essencia Big Five double-rifle features a side-lock action that features a conventional automatic safety catch system as opposed to the cocking/de-cocking system used on the Classic and Classic Big Five: so if you prefer that type of system then this is more likely the rifle for you. The side-lock Essencia Big Five is a graceful rifle with lively handling. The aesthetics are superb featuring a case hardened finish with gold inlaid features including the double gold bands visible in the pictures above and below.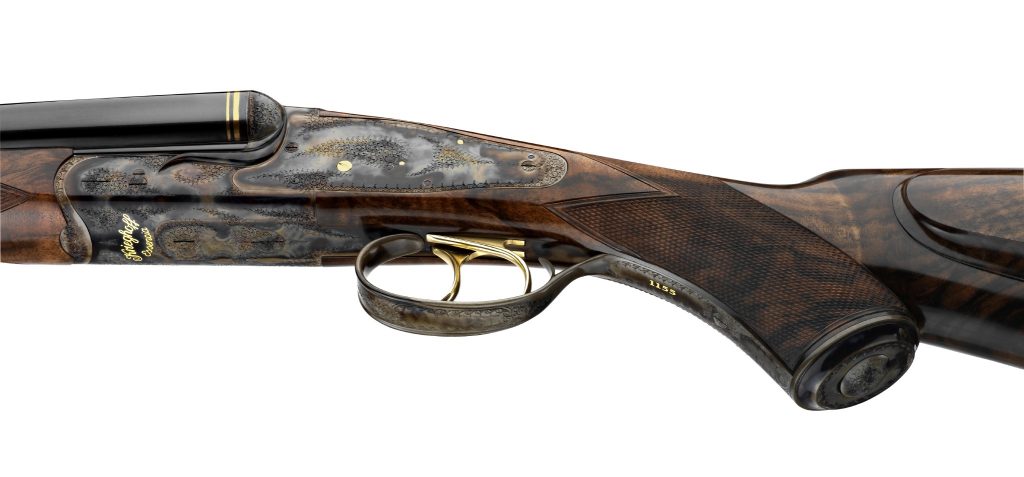 The Essencia Big Five is only made chambered for the .500 Nitro Express 3″ and has 25″ barrels. The action is built on a modified 12 gauge shotgun frame with Purdey lock-up, and ejectors, so the rifle can also be ordered with shotgun barrels of your choice making this a highly adaptable arm.
You will find the Price List and full list of options if you click here.
Krieghoff Classic Double-Rifle

The Krieghoff Classic double-rifle is essentially the same as the Classic Big Five, but made in smaller calibers suitable for deer, antelope, and wild boar. The standard features are the same as for the Classic Big Five, but the Classic is made in 7x57R, 7x65R, .308 Win., .30–06, .30R Blaser, 8x57IRS, 8x75RS, 9,3x74R. As a consequence of being made for less powerful cartridges the Classic is a lighter rifle, tipping the scales from 8.75lb – 9.25lb. Standard barrel length is 24″ but to make this rifle even lighter and more compact it can be ordered with 22″ barrels.
Both the Classic and the Classic Big Five rifles can be ordered with interchangeable barrels in any of the calibers listed for both models, and also with 20 gauge shotgun barrels of your choice.
You will find the price list including pricing for the various options if you click here.
Krieghoff Trumpf Double-Rifle Drilling

The Krieghoff Trumpf double-rifle drilling is a true three lock action fitted with a Blitz lock system for the upper barrels and the same cocking/de-cocking system as found on the Classic double-rifles for the lower barrel.
A drilling is a three barreled combination gun most commonly found with side by side double shotgun barrels at the top and a single rifle barrel underneath. The origin of the English word "drilling" for this type of sporting arm comes from the German word for three "drei", hence "dreiling" becomes drilling in English.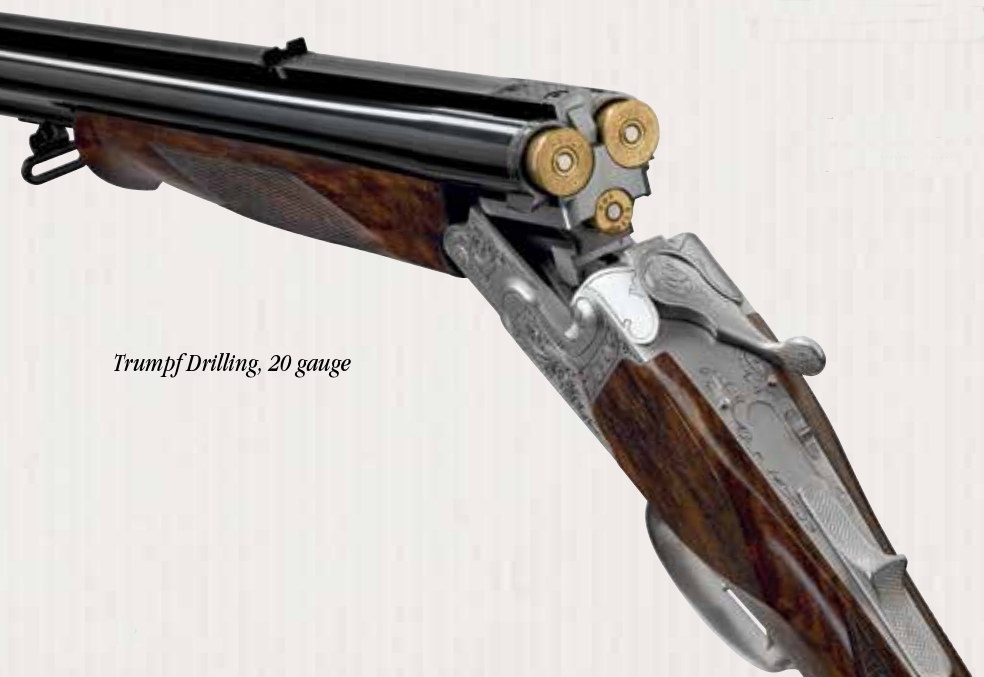 The Krieghoff Trumpf double-rifle drilling features the opposite of the gun pictured above: in the double-rifle drilling there are two rifle barrels above a single 20 gauge shotgun barrel. This means the rifle has the added advantage of having a shotgun barrel instantly available. For the European hunter this means that if one comes across a rabbit or hare on one's gentile meanderings it can be harvested for the pot. For the hunter in such wild places as Africa or Australia this also means that if the he/she encounters a quick moving venomous snake it can be happily dispatched with the shotgun barrel if it poses a danger.
The Krieghoff Trumpf double-rifle drilling is available in 7x57R, 7x65R, .308 Winchester, .30–06, .30R Blaser, 8x57IRS, 8x75RS, 9,3x74R. The two rimless cartridges require the use of a spring loaded extractor whilst the others are all rimmed and can use a conventional extractor.
The standard Trumpf double-rifle drilling comes fitted with a set trigger mechanism for the front trigger in the standard European style. To activate it the trigger is pushed forward and it then has a very light release. Amongst the optional extras available for the Trumpf double-rifle drilling is an additional set trigger for the rear trigger.
Other available optional extras include:
Krieghoff see through sight
BreaKO recoil reducer
Interchangeable choke tubes
Insert barrel Krieghoff "KS"
Proofing for steel shot (Fleurs de Lys), except 12 gauge Dural
Shotgun barrels sighted-in with slugs according to "Langenhagener Norm"
Rifle-scope mounts
Interchangeable barrels: Drilling Thermo Stable, double rifle traditionally soldered (only Trumpf 20) and drilling traditionally soldered
Blued or nitrided action finish
The Trumpf double-rifle drilling can be ordered with upgraded walnut wood and with a variety of engraving styles.
Krieghoff Optima Big Five Double-Rifle Drilling

The Krieghoff Optima Big Five double-rifle drilling looks similar to the Trumpf but has a distinctly different action. The Optima uses a two hammer system with the patented Krieghoff Combi-Cocking system used both for the upper side by side rifle barrels and the lower shotgun barrel. Depending on one's tastes this is probably the preferable system to that of the Trumpf for a double-rifle drilling. The Optima Big Five double-rifle drilling is made in .375 Flanged Magnum Nitro Express, .450/.400 Nitro Express, .500/.416 Nitro Express (3 1/4″), and .470 Nitro Express. Note that these are all rimmed cartridges. the single shotgun barrel is a 20 gauge with 76mm chambers.


The Optima Big Five double-rifle drilling is available in a variety of custom grades from the affordable base model up to rather more expensive levels of walnut and engraving.
Krieghoff Optima Double-Rifle Drilling

The twin to the Optima Big Five double rifle is the Optima double-rifle drilling which is made in the same caliber range as the Trumpf double-rifle drilling; 7x57R, 7x65R, .308 Winchester, .30–06, .30R Blaser, 8x57IRS, 8x75RS, and 9,3x74R, with a 20 gauge 76mm chamber shotgun barrel underneath. For these smaller calibers one has the choice of either a traditionally soldered barrel set or the Krieghoff Thermo TS Stable system which enables the owner to adjust the point of impact for the rifle barrels to best regulate them. The Thermo TS Stable system not only provides for adjustment but it also tends to be more stable with less movement of point of impact as the barrels warm up with repeated shooting.

The Optima double-rifle drillings and Optima Big Five are part of a family of Optima drillings and the table below from the Krieghoff catalog gives some idea of options and models available.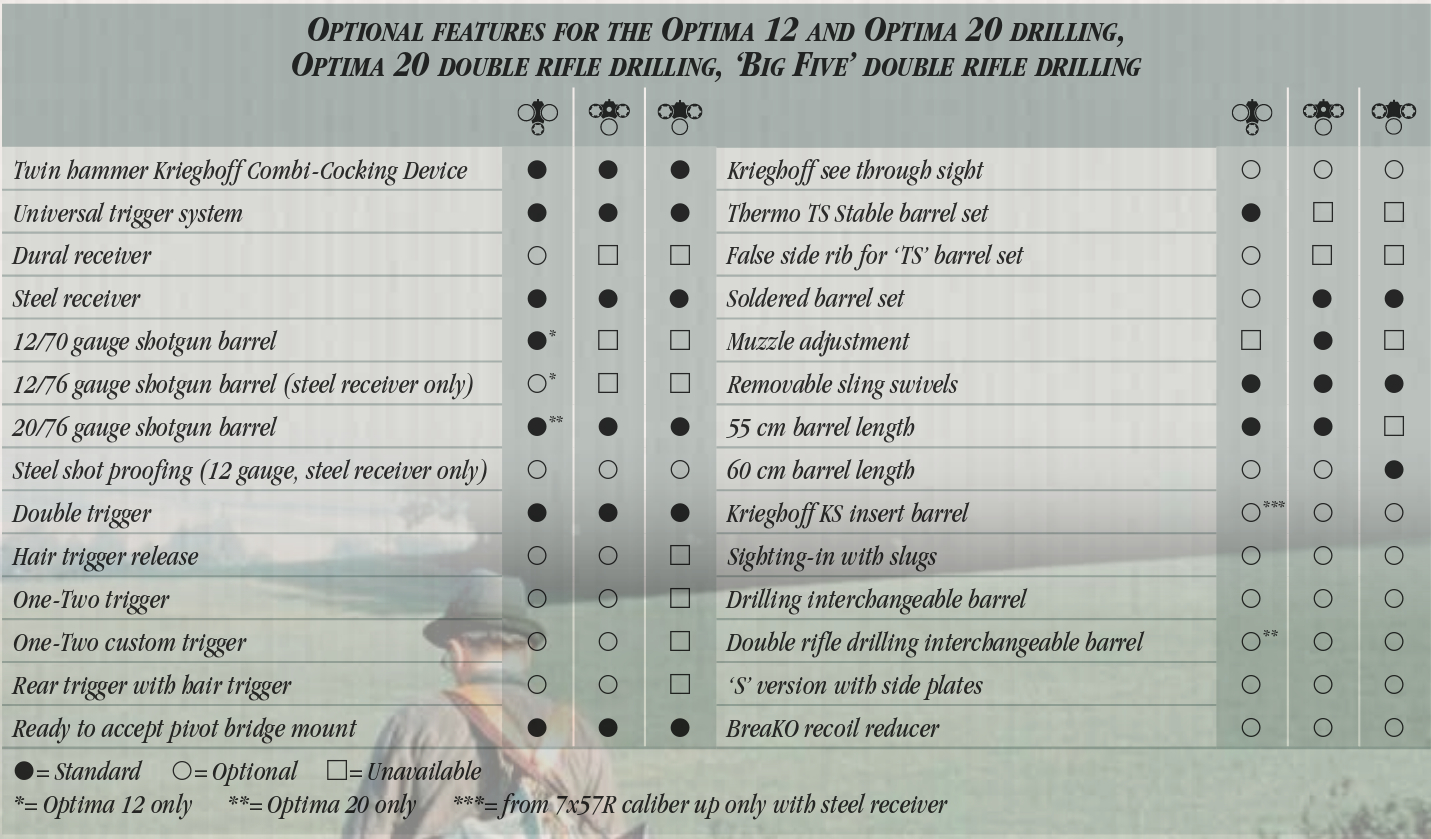 Conclusion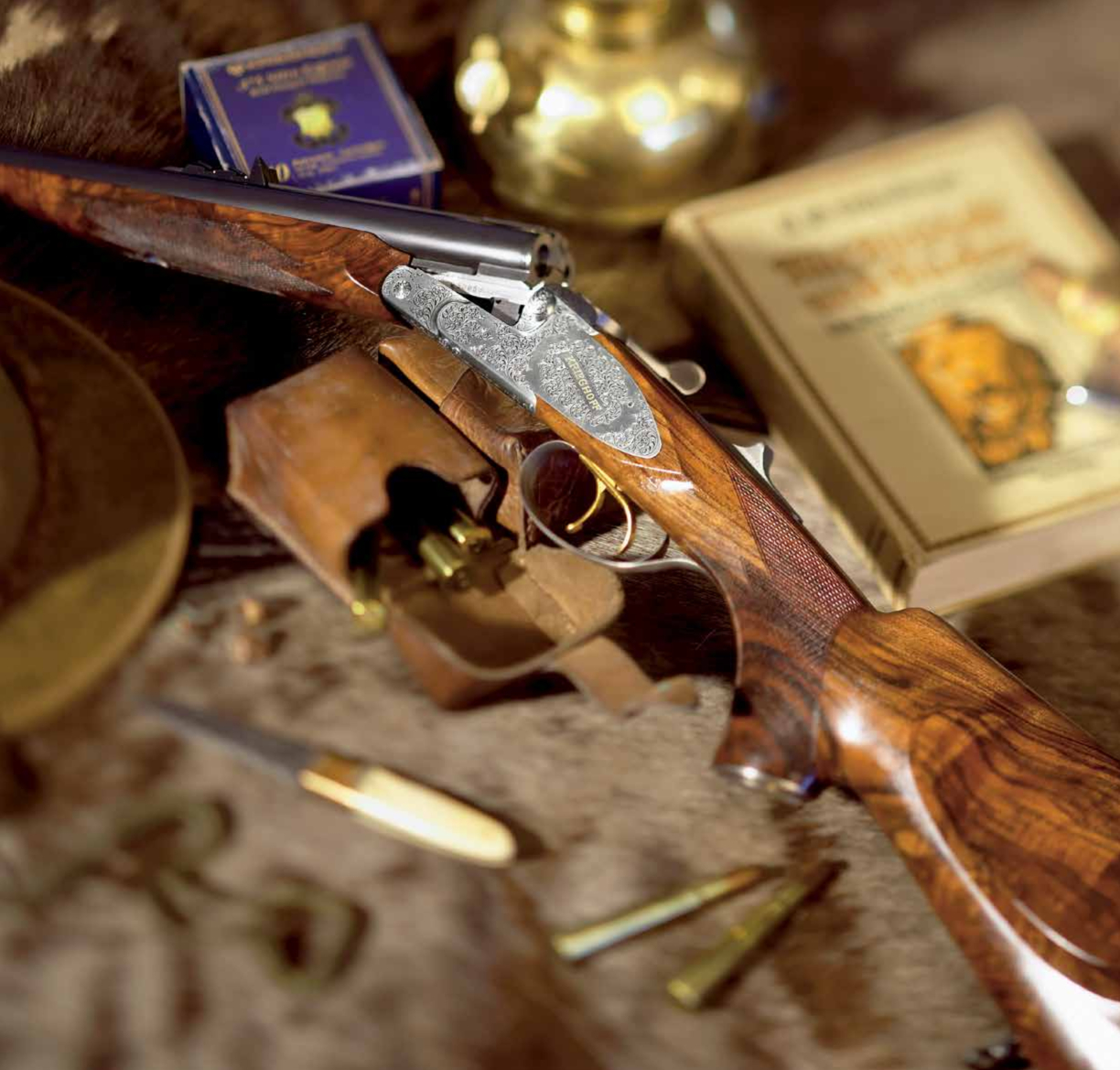 If you are planning on a dangerous game hunt then the majority of experienced hunters will tend to advise you towards choosing a decent double-rifle and to learn to shoot it well and instinctively. In any hunting situation there is no substitute for having practiced so much with your chosen rifle that its use is near reflexive. With a double rifle you effectively get two rifles in one so that in the event of a misfire or hang-fire you have a high probability that the second barrel will go off as planned: you are also able to open the rifle and easily see if a bullet is lodged in the bore. The double-rifle is similarly one of the best choices as a general hunting rifle as well and they can be had in a good variety of standard cartridges such as the .308 Winchester and the 30-06. Standard caliber double rifles are physically shorter in length than a comparable bolt-action or lever-action chambered for the same cartridge and with the same length barrel. They're handy, easy to use, and very safe.
The Krieghoff Combi-Cocking system makes an already safe rifle design arguably even safer still and so the Krieghoff Classic and Classic Big Five are amongst the best hunting rifles in the world. Prices are much higher than a standard bolt action but are much lower than a London "best gun". Krieghoff use high-tech machinery, including CNC machines, which enable them to ensure the best quality yet keep their rifles affordable. If you can afford an exotic dangerous game hunt in Africa then you can probably afford a Krieghoff double-rifle.
The choice between a double-rifle or a double-rifle drilling is a matter of personal taste. The drilling action has to be a bit more complex and introduces an extra switch to operate, thus complicating things a little more for the user. My personal thoughts are to adopt the K.I.S.S. principle (i.e. Keep It Simple Stupid) and choose the double-rifle over its three barrel stable-mate. But that being said the double-rifle drilling has that handy snake or leopard stopping shotgun barrel which you might just want to have.
As we mentioned earlier, a double-rifle can be used at longer ranges: out to around 300 yards or 300 meters. At such long distances the left and right barrels may not be shooting closely enough to each other to enable both barrels to be used together. The double-rifle can still be used for such distances but it requires that the rifle-scope be set for one barrel and the rifle used primarily as a single-shot. Different rifles will perform differently and so time at the range will be needed to determine how your double-rifle performs at such distances. Nonetheless, a double-rifle's strong suit is not long distance hunting and so it is much better to have a good bolt-action rifle as a specialist long range rig. This is in part because of the fact that the two barrels of a double-rifle can only shoot to a common point of impact at one range. With a double it is better to have the barrels shoot closely parallel and to know what your dispersion is at each of the ranges you intend to shoot at. The other issue that makes a double-rifle less than ideal for long range shooting is the fact that it has two barrels connected together, and shot by shot as these barrels heat up, so they act to influence each other. With repeated shooting the heat of a double-rifle's barrels builds up quickly and when we're shooting them a lot, such as in a big game rifle competition, it is important to wear a decent glove on the hand that's in contact with the barrels.  A bolt action has just the one barrel and is not affected by barrel heating in the same way.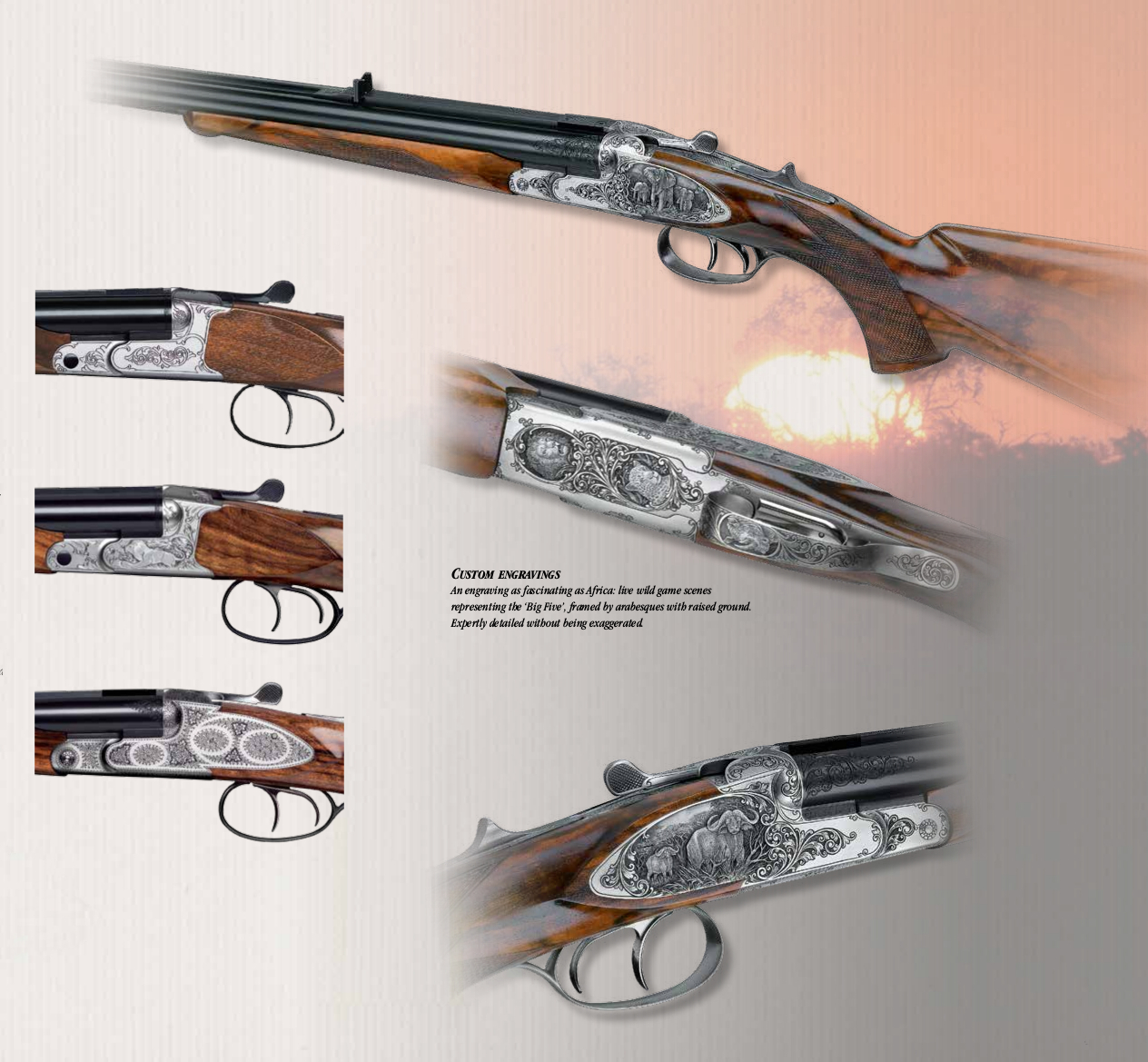 All that being said, dangerous game is not shot at long range, and a double-rifle is in its element where the shots are going to be at around 100 yards or so and where that swift sure second shot might just make the difference between a successful hunt and one that's the cause of much wailing and gnashing of the teeth. If you're going after something that might bite, stomp or gore then the double-rifle is just about the best life insurance you can choose. If you're after non-dangerous game then a double-rifle can make the difference between venison in the freezer or a lost opportunity.
If you're thinking "double-rifle" then Krieghoff is one of the best places to start looking.
You'll find the Krieghoff hunting gun catalog if you click here.
You'll find all Krieghoff catalogs and price lists if you click here.
(Feature image at the head of this post courtesy Rock Island Auction Company. You will find the sale page for that rifle if you click here).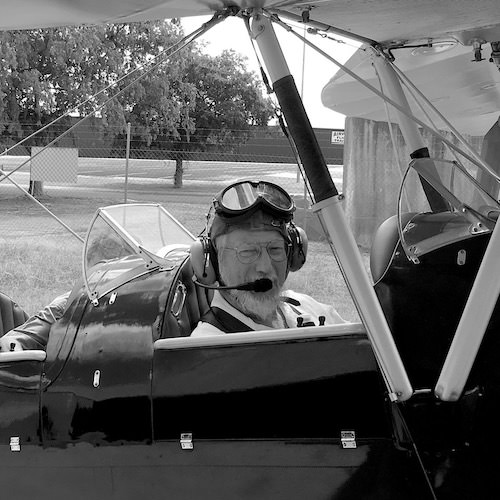 Jon Branch is the founder and senior editor of Revivaler and has written a significant number of articles for various publications including official Buying Guides for eBay, classic car articles for Hagerty, magazine articles for both the Australian Shooters Journal and the Australian Shooter, and he's a long time contributor to Silodrome.
Jon has done radio, television, magazine and newspaper interviews on various issues, and has traveled extensively, having lived in Britain, Australia, China and Hong Kong. His travels have taken him to Indonesia, Israel, Italy, Japan and a number of other countries. He has studied the Japanese sword arts and has a long history of involvement in the shooting sports, which has included authoring submissions to government on various firearms related issues and assisting in the design and establishment of shooting ranges.