The new announcement from Magnum Research, makers of the iconic Desert Eagle handgun, is that the model XIX is now being offered in a case hardened finish. This makes the old classic take on a new look and the case hardened finish seems to suit the Desert Eagle completely.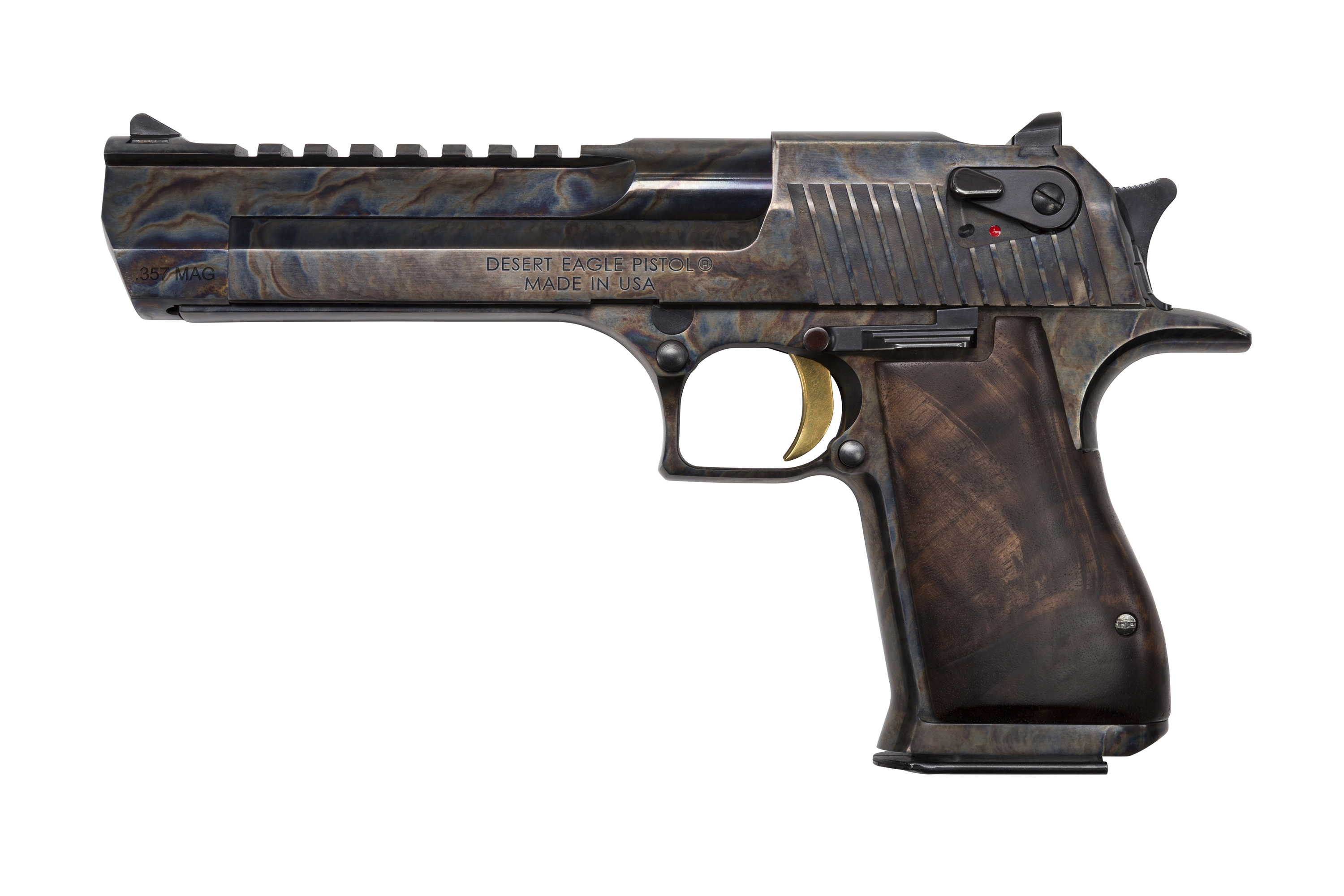 The case hardened finish on these new Desert Eagles not only looks wonderful but it is made even more durable by a clear coat protective layer over the case hardening which serves to both make it more durable but also seems to add a bit more depth to the case hardening; an effect like placing a photograph under glass.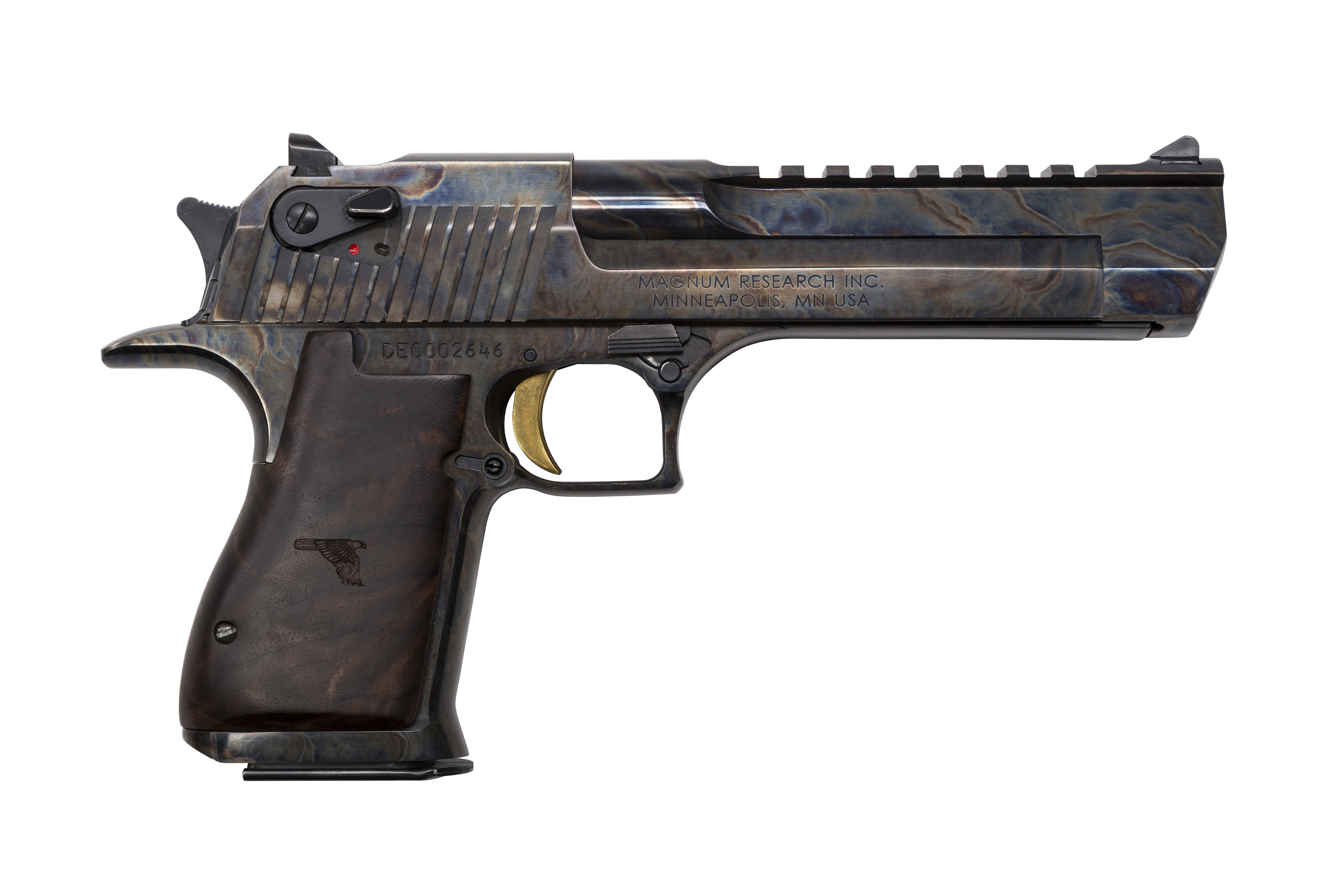 This new model is being offered in three calibers; the DE357CH in .357 Magnum, the DE44CH in .44 Remington Magnum, and for those who really like "instant feedback" when they press trigger, the DE50CH in .50AE.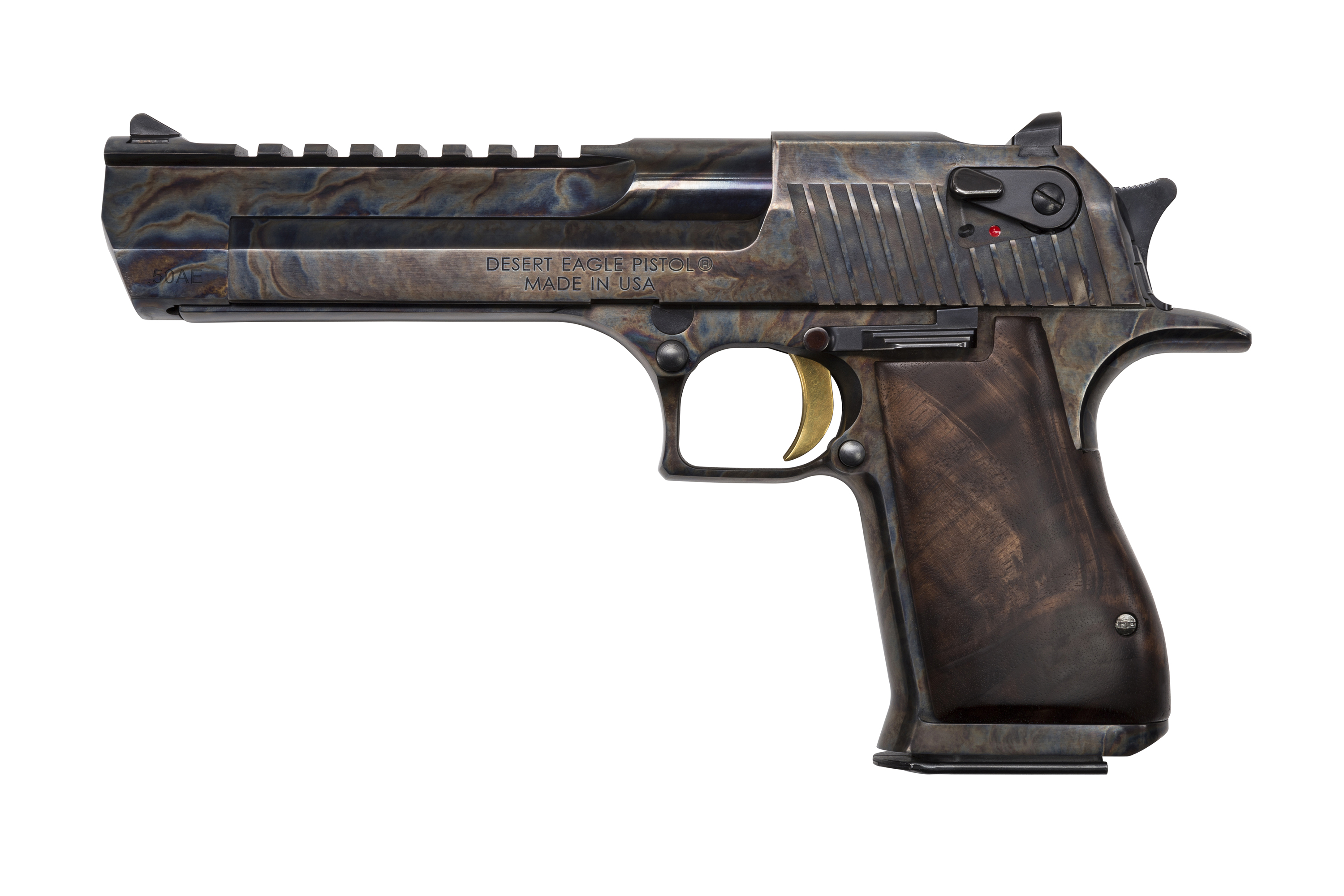 All three of the case hardened finish models have a six inch barrel giving them an overall length of 10.75″. Height of these pistols is 6.75″ and weight is 71.4oz (i.e. 4.6lb with an empty magazine). These are a big heavy pistol not exactly what you might choose for concealed carry but certainly what you might choose as a hunting handgun or for enjoyment out on the shooting range.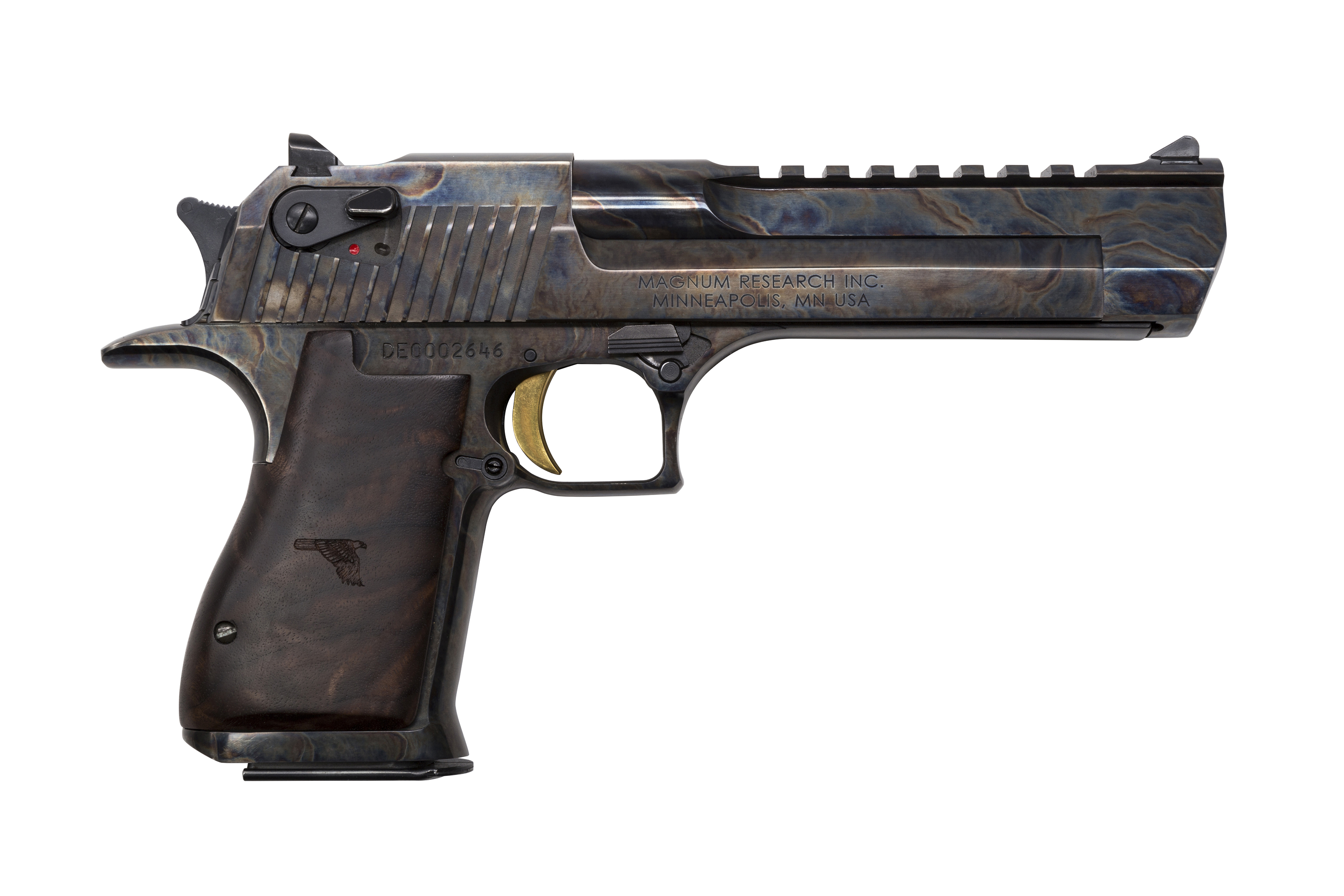 These Desert Eagle pistols are made in Minneapolis, Maine, USA so you get both American quality and you also get the satisfaction of knowing that by buying American you have contributed to providing jobs for American workers. The pistols are made on state of the art CNC (Computer Numerical Controlled) machines with some parts precision cast and machined from high quality carbon steel.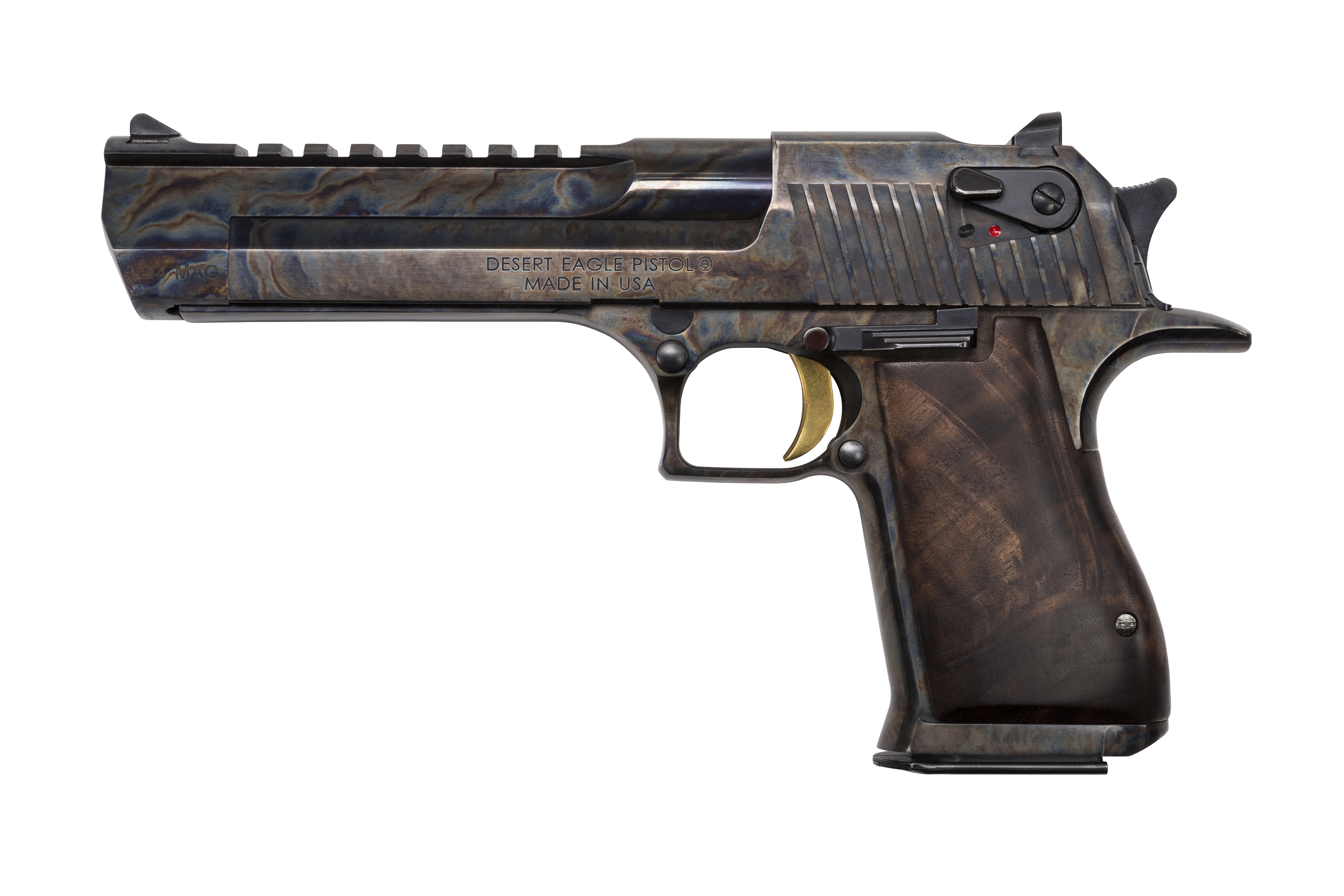 Technical Specifications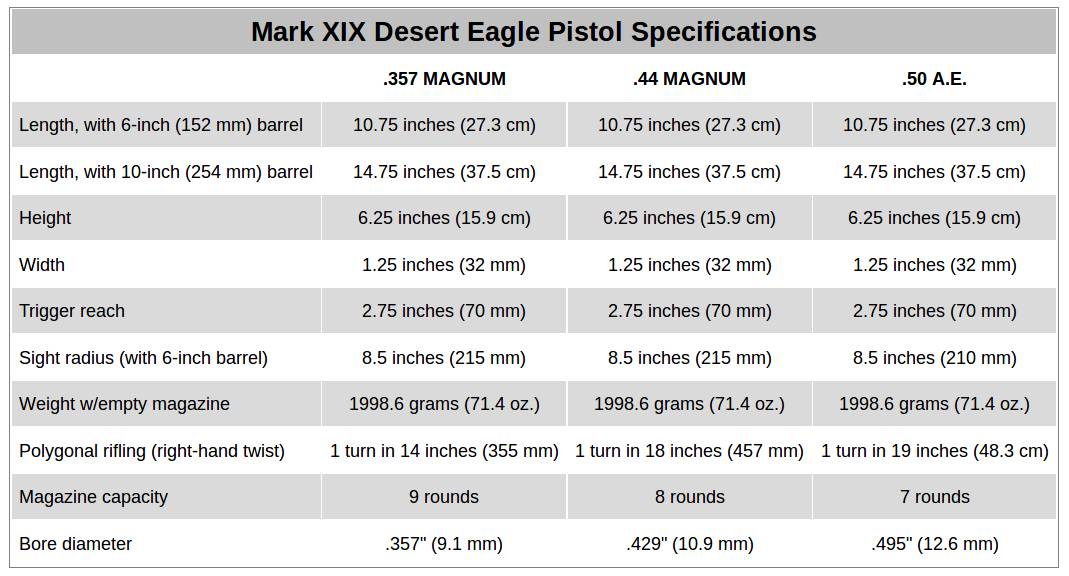 The Desert Eagle XIX is a gas operated pistol which uses a rotating three lug bolt. This means the barrel remains fixed like that of an automatic rifle which ensures a better accuracy potential than a pistol using a tip barrel locking system for example. The rifling of the Desert Eagle XIX is polygonal which makes it hard wearing and easier to clean and the gun is fitted with an ambidextrous safety so it can be easily used from either right or left hand.
The top of the barrel is fitted with an integral Weaver style rail for mounting optics if the owner so desires.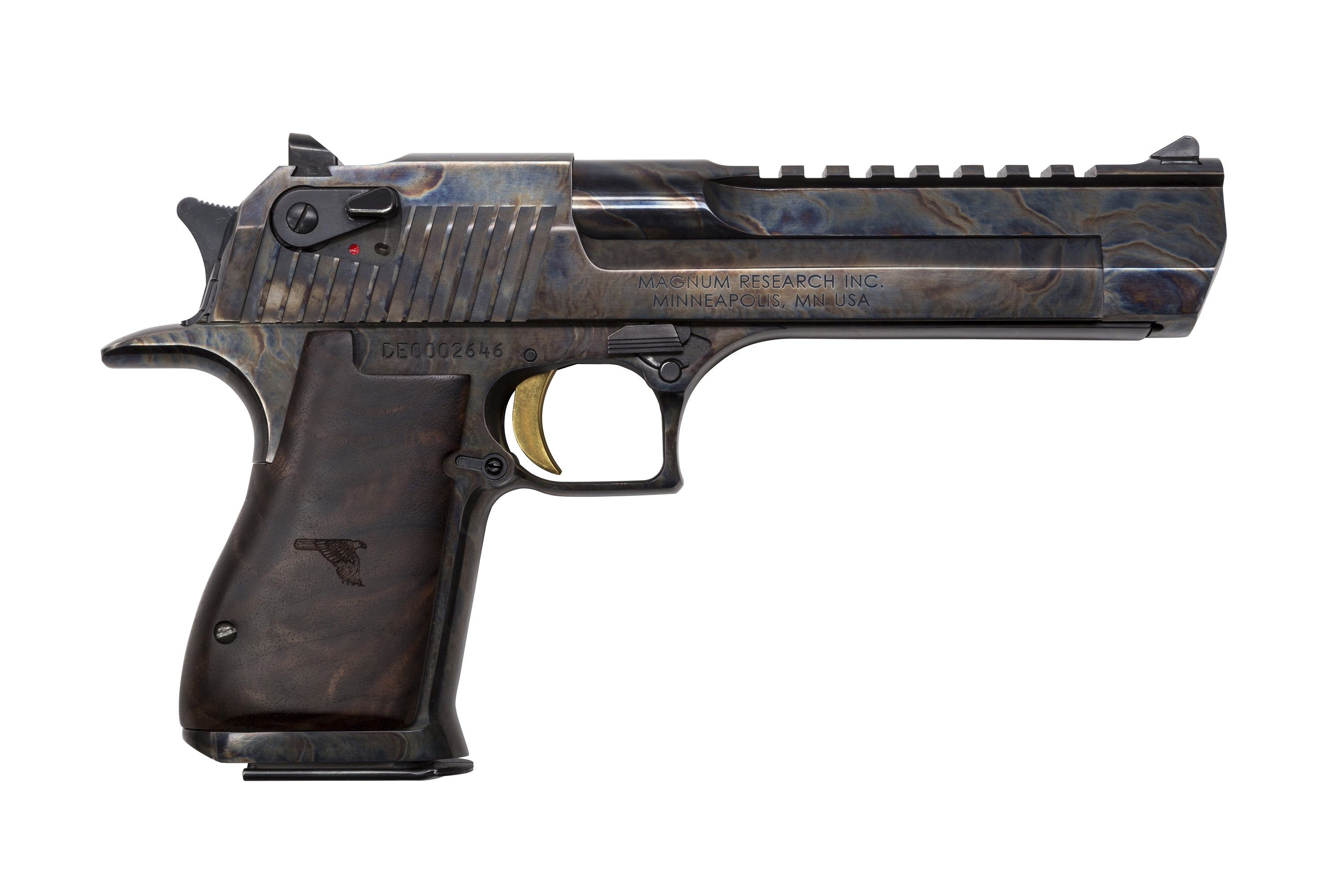 The grips of the Desert Eagle are ergonomically shaped to optimize user comfort and control and this new case hardened version is supplied with two sets of grips; a rubber set for those who prefer that, and a set of wood grips with the Magnum Research logo laser engraved for those who favor the beauty of a nice piece of timber to compliment that gorgeous case hardened finish.
Recommended retail price of these new case hardened Desert Eagles is USD$2,278.00.
You will find the new case hardened version of the Desert Eagle at Magnum Research's website if you click here.
This new version of the Desert Eagle looks to be the prettiest we've ever seen and they're made in the USA so we can be confident that quality control will be at Magnum Research's high standard.
We hope this new finish proves to be popular and that Magnum Research find it is viable to use it on some of their other models such as the classic Desert Eagle 1911.
(All pictures courtesy Magnum Research. Pictures are high resolution).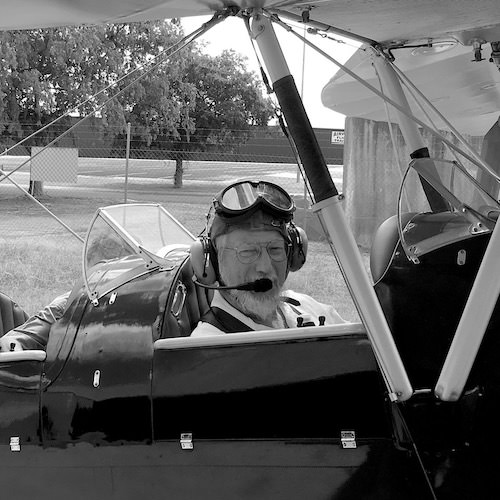 Jon Branch is the founder and senior editor of Revivaler and has written a significant number of articles for various publications including official Buying Guides for eBay, classic car articles for Hagerty, magazine articles for both the Australian Shooters Journal and the Australian Shooter, and he's a long time contributor to Silodrome.
Jon has done radio, television, magazine and newspaper interviews on various issues, and has traveled extensively, having lived in Britain, Australia, China and Hong Kong. His travels have taken him to Indonesia, Israel, Italy, Japan and a number of other countries. He has studied the Japanese sword arts and has a long history of involvement in the shooting sports, which has included authoring submissions to government on various firearms related issues and assisting in the design and establishment of shooting ranges.