This Siata-Ford 208S Cabriolet Speciale is a one off automobile unique in the world. It was originally commissioned by Jimmy Mulgrew of Euclid Ford in Euclid, Ohio who intended to use the car as a promotional display and demonstrator. To make the car something that would not only look unique but also perform like the sports car it was intended to be Jimmy Mulgrew sought assistance from racing driver Dick Irish who managed a class win in the 1952 12 Hours of Sebring.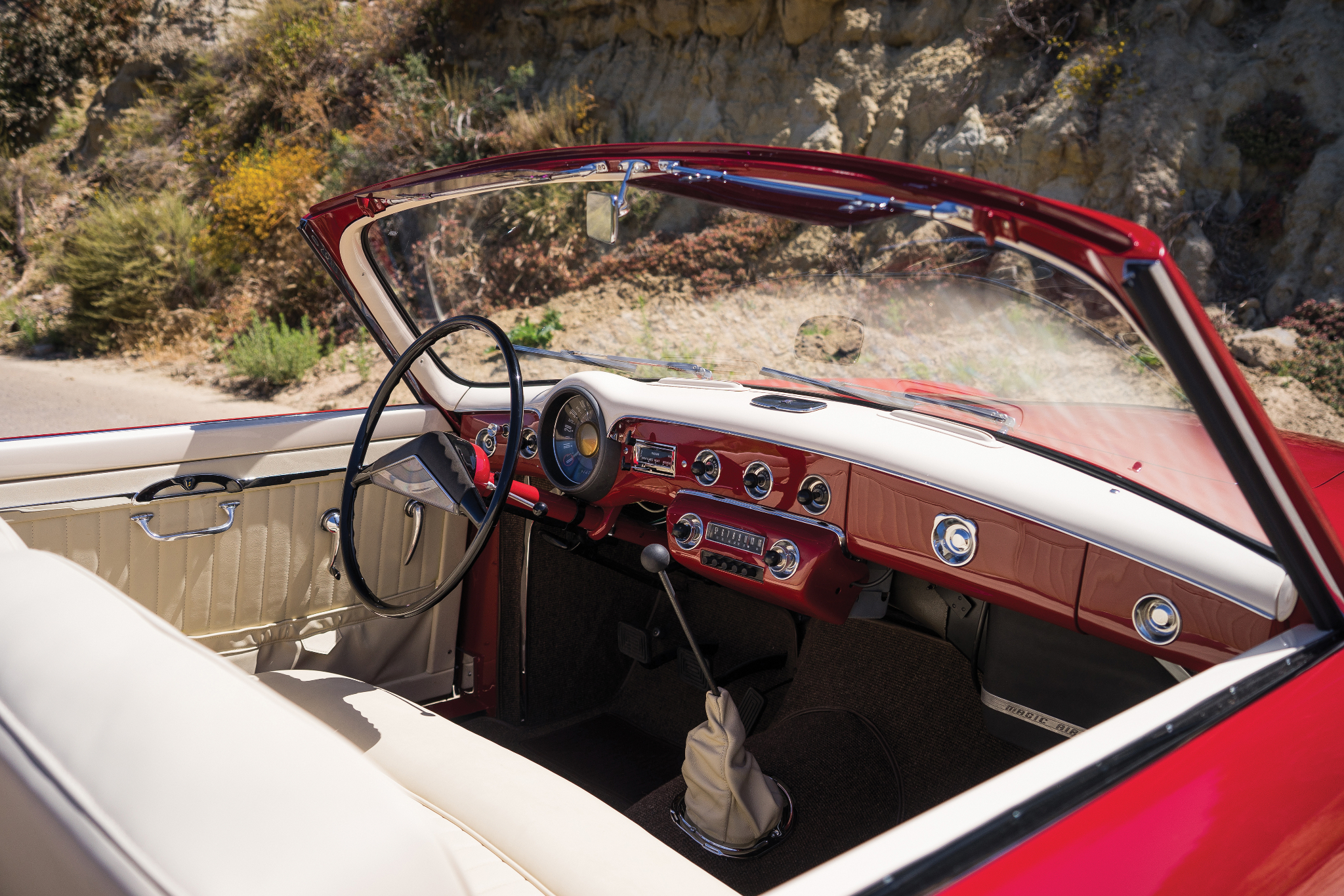 Jimmy Mulgrew and Dick Irish initially wanted to base the car on a Ford "Police Special" but Ford, possibly not wishing to upset the constabulary by selling their special cars to ordinary civilians, refused to supply one. This would arguably prove to be advantageous as it ensured that a custom chassis would be created for the car in Italy which would provide a better handling Italian thoroughbred foundation. Jimmy Mulgrew purchased a stock 1951 Ford sedan and it is not known if he shipped the whole car off to Siata or stripped it for its major components and just sent those. The probability is that only the major components of the car were shipped to Italy. Siata stands for "Società Italiana Auto Trasformazioni Accessori" which translates into English as the "Italian Car Transformation Accessories Company"; appropriate for Jimmy Mulgrew's project.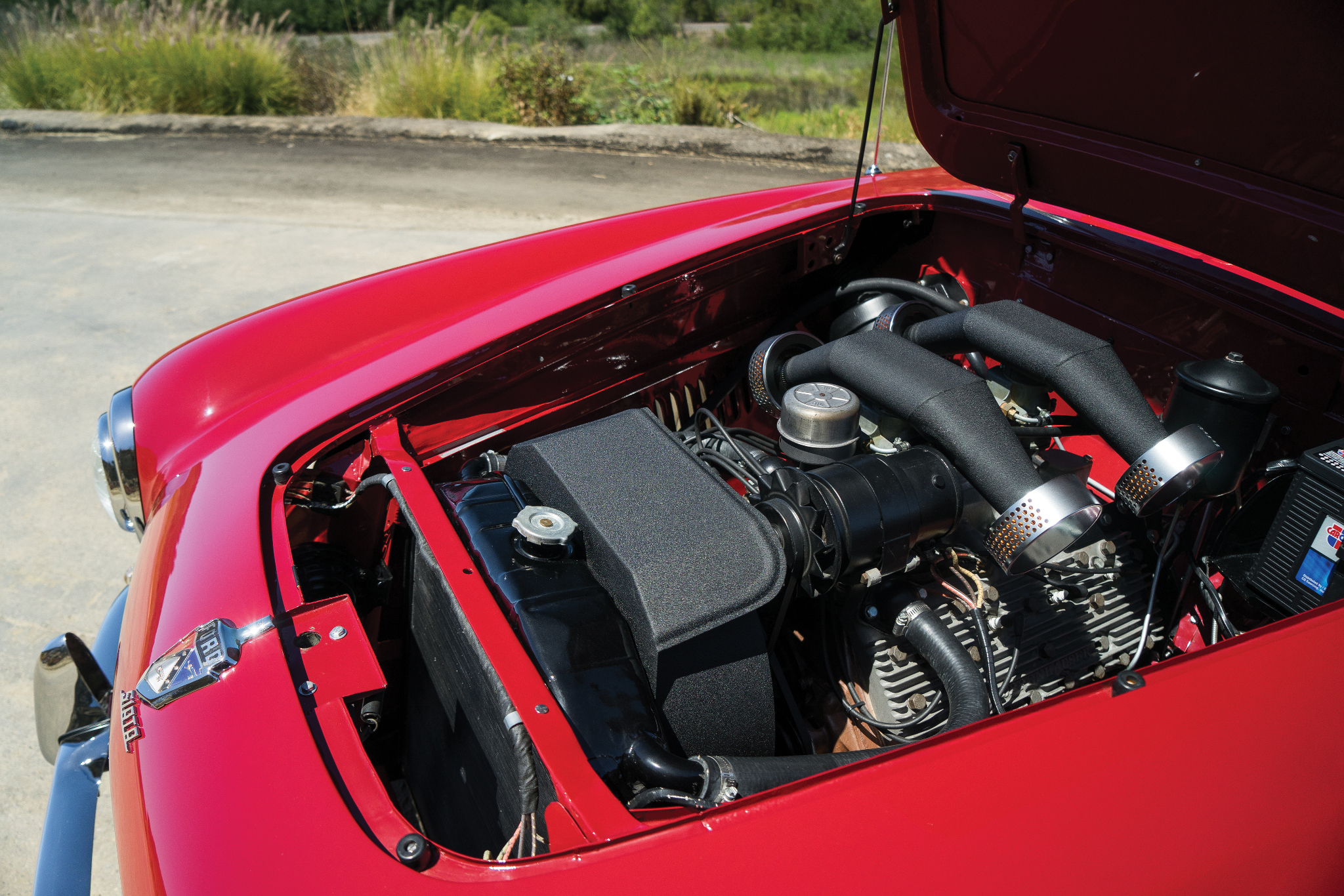 Jimmy Mulgrew's project car may well have proved inspirational for Siata who created the chassis to accommodate the Ford mechanicals and had the aluminum coachwork created by Stabilimenti Farina. Jimmy Mulgrew's custom car is named a 208S and Siata went on to create their own Siata 208S which was based on a Fiat Tipo 104 alloy 8V 125 bhp, 1,996 cc OHV 70-degree alloy V-8 engine with twin Weber 36DCZ carburetors mated to a five-speed manual transmission in a chassis that provided four-wheel independent suspension with coil springs and shock absorbers, and four-wheel finned alloy drum brakes. It was a car that was so interesting Steve McQueen purchased one and referred to it as his "little Ferrari".
You will find an example of the all Italian Siata 208S on RM Sotheby's if you click here.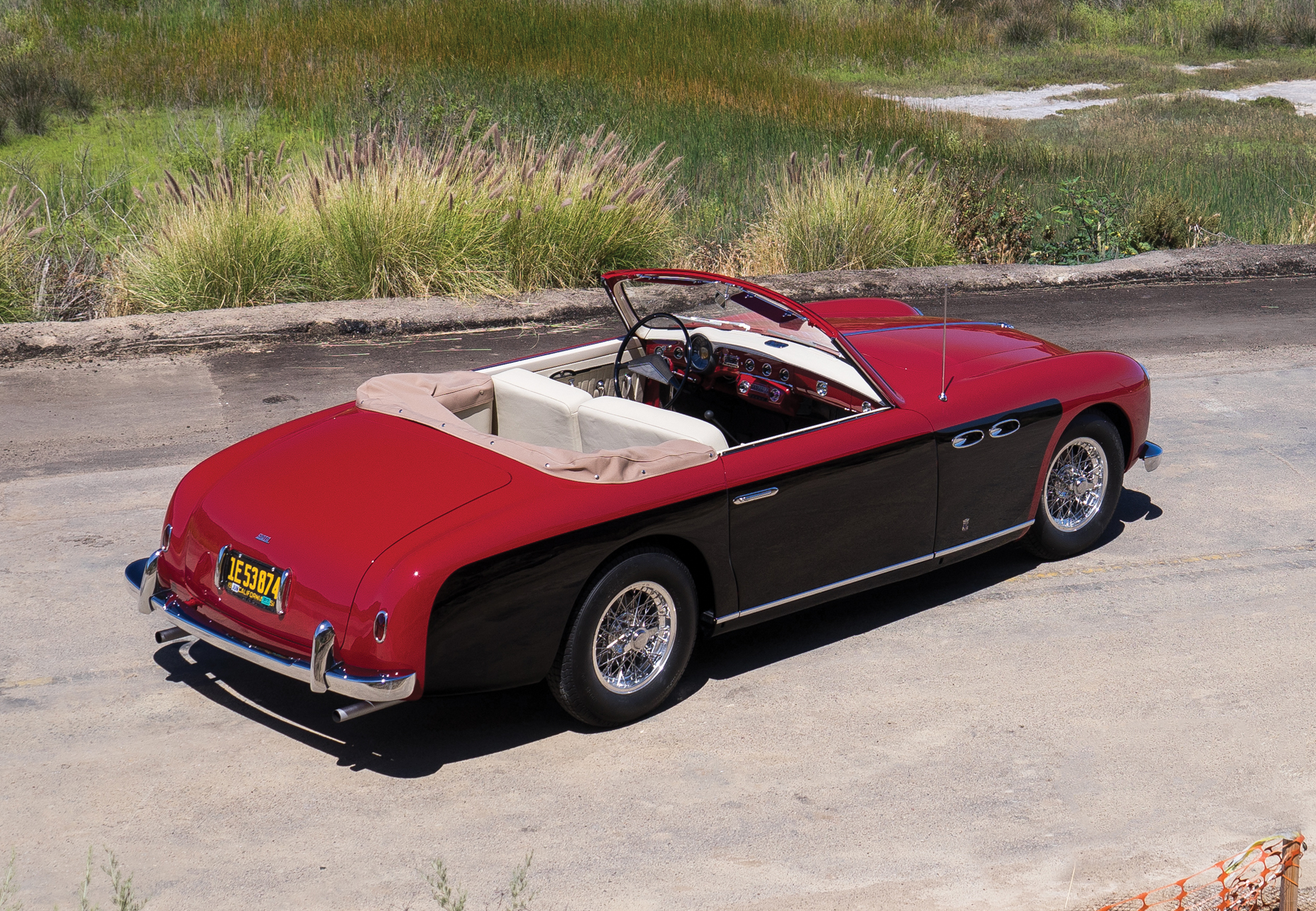 Jimmy Mulgrew's custom car is no less interesting combining Italian chassis design and coachwork with solid American Ford mechanicals including the flathead V8 engine. The car without doubt performs well, handles well, and sounds like only a V8 can, making it a blending of the things that most of love in an automobile.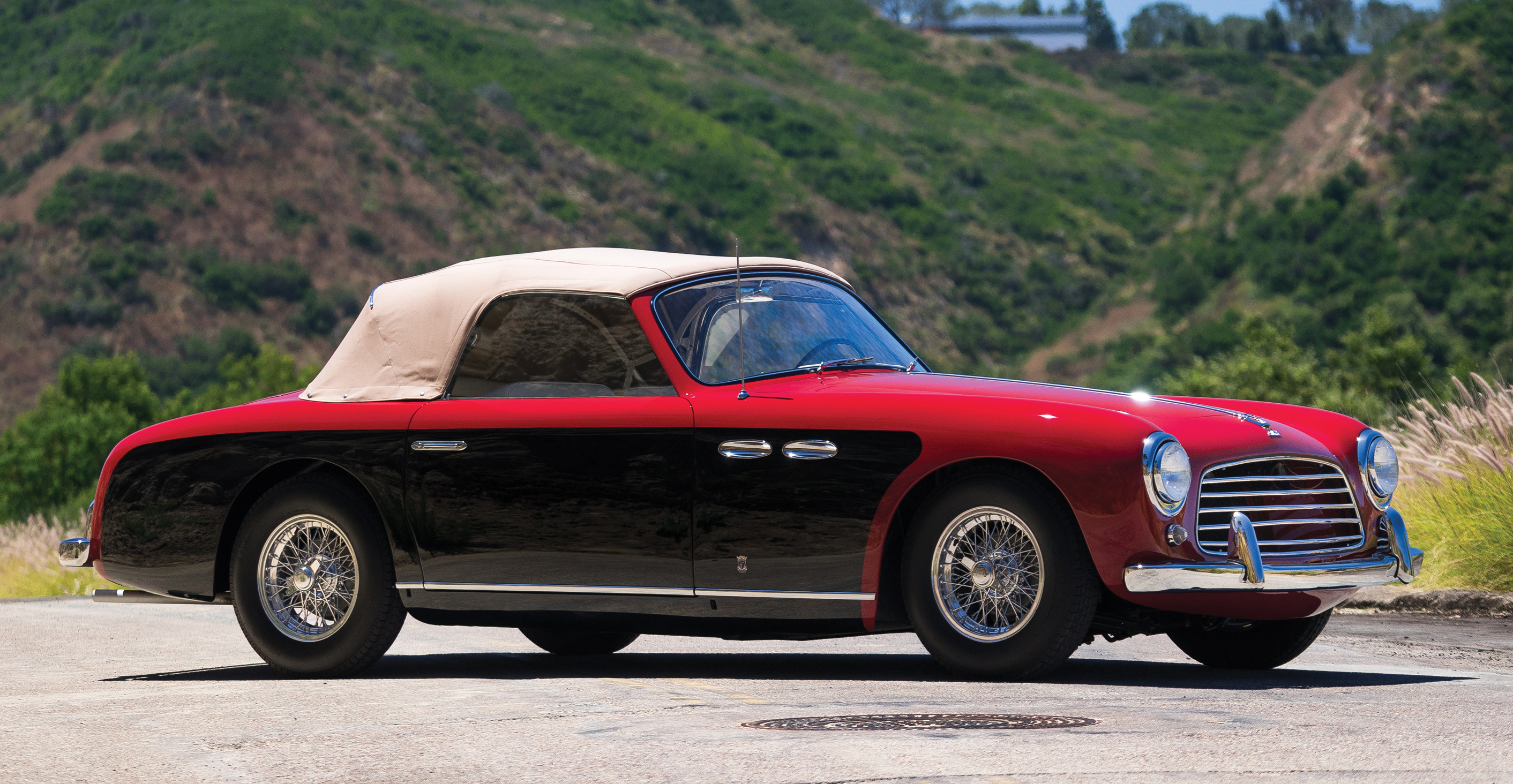 Jimmy Mulgrew sold the Siata-Ford 208S Cabriolet Speciale in 1955 and it went through a series of owners before being re-discovered and restored beginning in 1988, and then again in 2005 when the aluminum coachwork was professionally restored by German shop Bernhadt Karosseriebau. The car was then sent to Absolute Engineering of Goleta, California for mechanical restoration bringing it up into the immaculate condition it is in today.
This car is coming up for sale by RM Sotheby's at their Monterey sale to be held over August 18th-19th, 2017.
You will find the sale page for this car if you click here.
This is an opportunity to own a unique thoroughbred sports car that blends Italian and American engineering in a beautifully artistic package.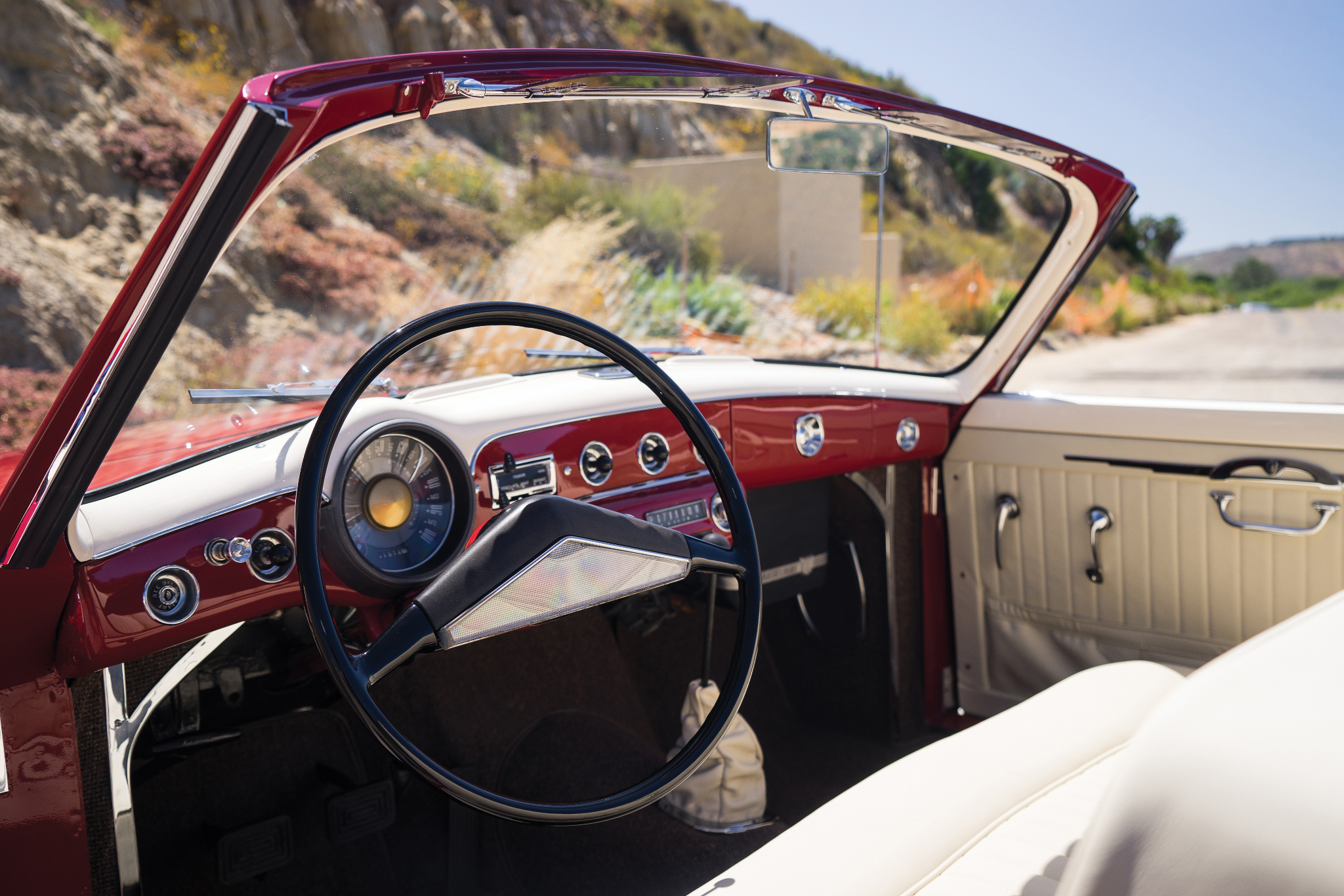 (Photo Credit: Karissa Hosek ©2017 Courtesy of RM Sotheby's)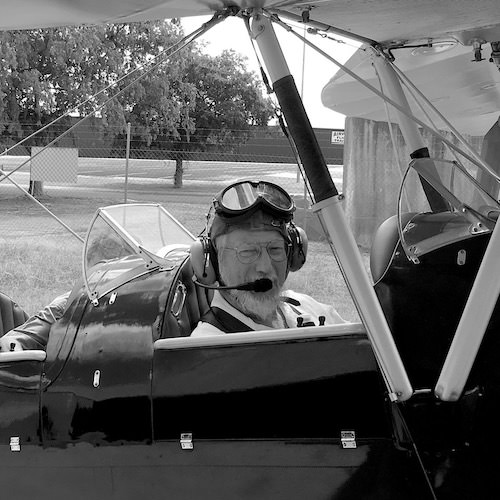 Jon Branch is the founder and senior editor of Revivaler and has written a significant number of articles for various publications including official Buying Guides for eBay, classic car articles for Hagerty, magazine articles for both the Australian Shooters Journal and the Australian Shooter, and he's a long time contributor to Silodrome.
Jon has done radio, television, magazine and newspaper interviews on various issues, and has traveled extensively, having lived in Britain, Australia, China and Hong Kong. His travels have taken him to Indonesia, Israel, Italy, Japan and a number of other countries. He has studied the Japanese sword arts and has a long history of involvement in the shooting sports, which has included authoring submissions to government on various firearms related issues and assisting in the design and establishment of shooting ranges.