Whether or not you happen to own a Rigby rifle there is a nice selection of shooting accessories available from Rigby that are amongst the best that one could hope to get. The British are good at quality and at creating gear that is practical and even stylish. When we're going out hunting we are best off with gear we can depend on, especially if things get difficult, and the accessories from Rigby are made to be dependable, and to last so well that your heirs may just finish up arguing over them when you are dead and gone.
Shooting Jacket by Hoxleigh of London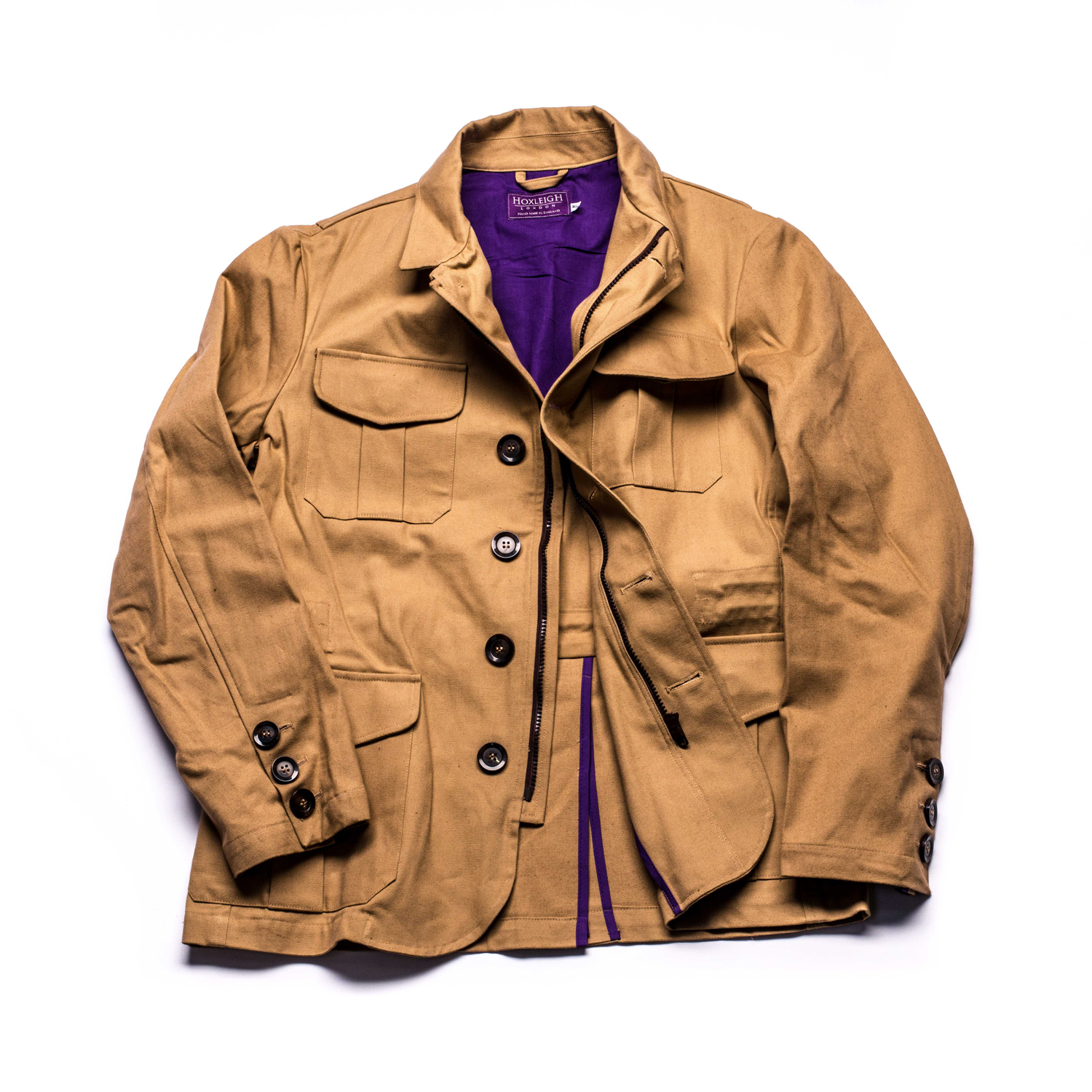 The shooting jacket by Hoxleigh of London is a traditional style safari jacket of the sort you may see in old photographs of people like Elgin Gates or Jack O'Connor. This jacket is currently on sale for £124.17 which is about half its previous price. It features four external and two internal pockets and an inner drawstring if it needs to be worn snug. Available in "safari green" or "sand" colors it can of course be worn on safari, and anywhere else a jacket might be needed.
You will find the Rigby shooting jacket by Hoxleigh of London if you click here.
Standard Ammunition Pouch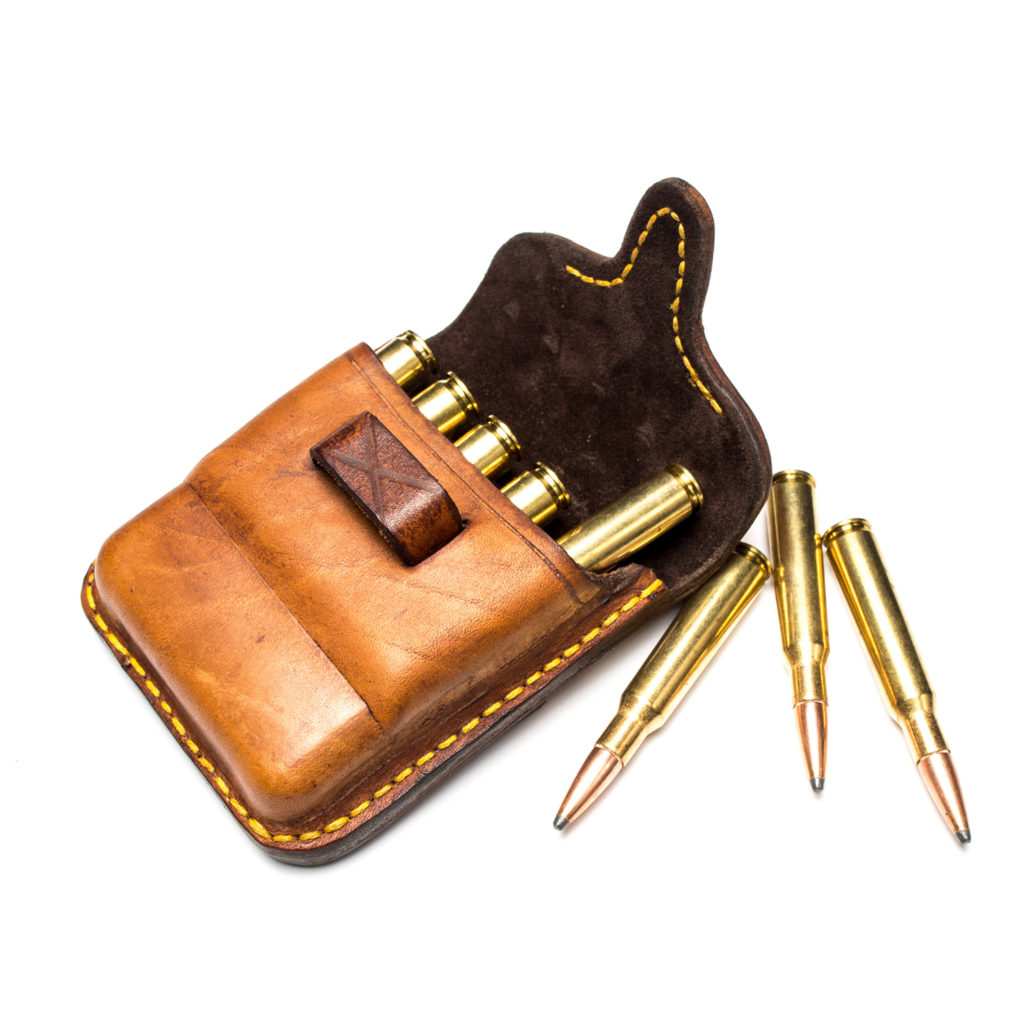 Rigby ammunition pouches are exceedingly sturdy and are hand made for Rigby in South Africa.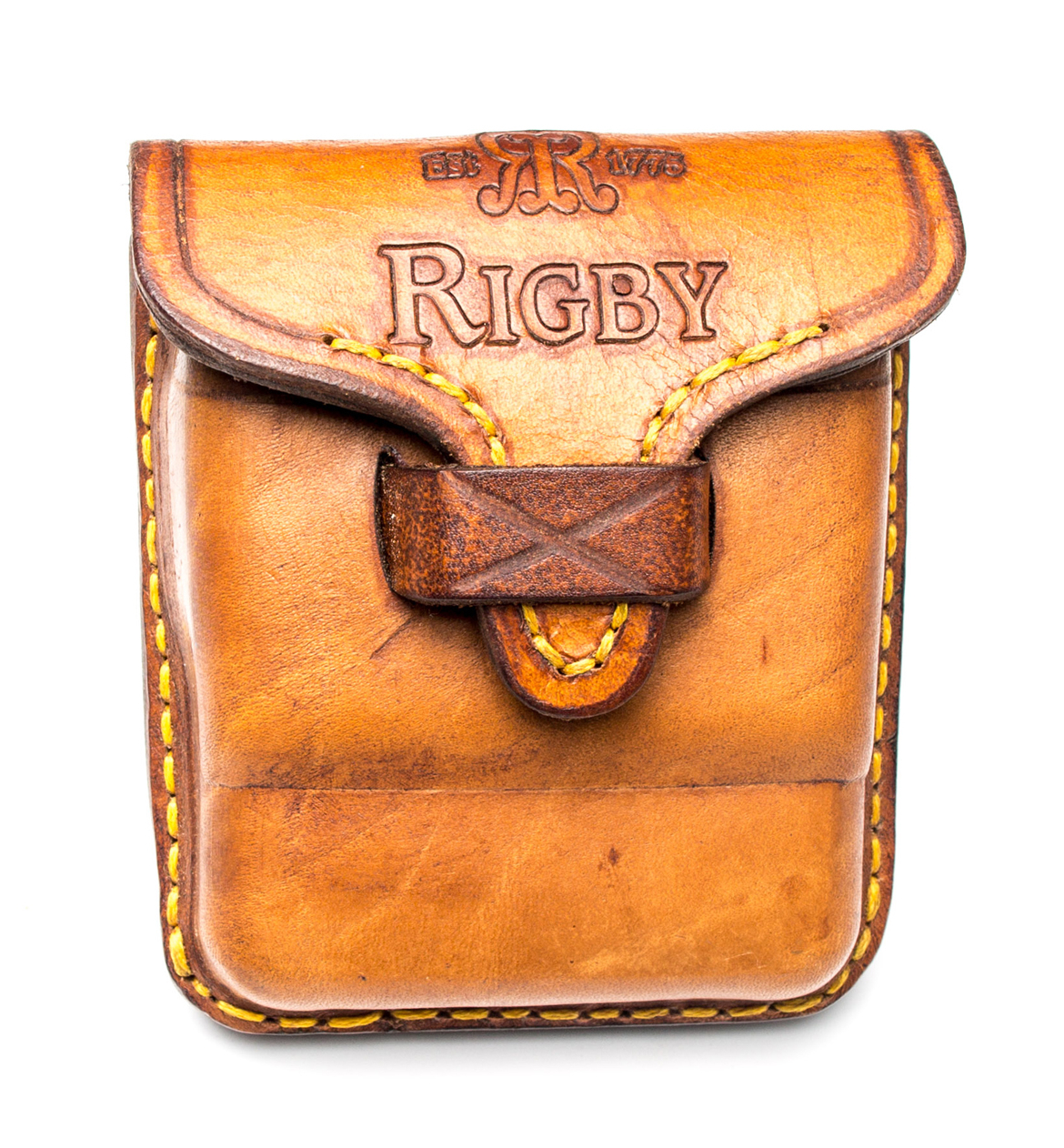 They are embossed with the Rigby double "R" logo and hold five cartridges.
You will find the Rigby Standard Ammunition Pouch if you click here.
Magnum Ammunition Pouch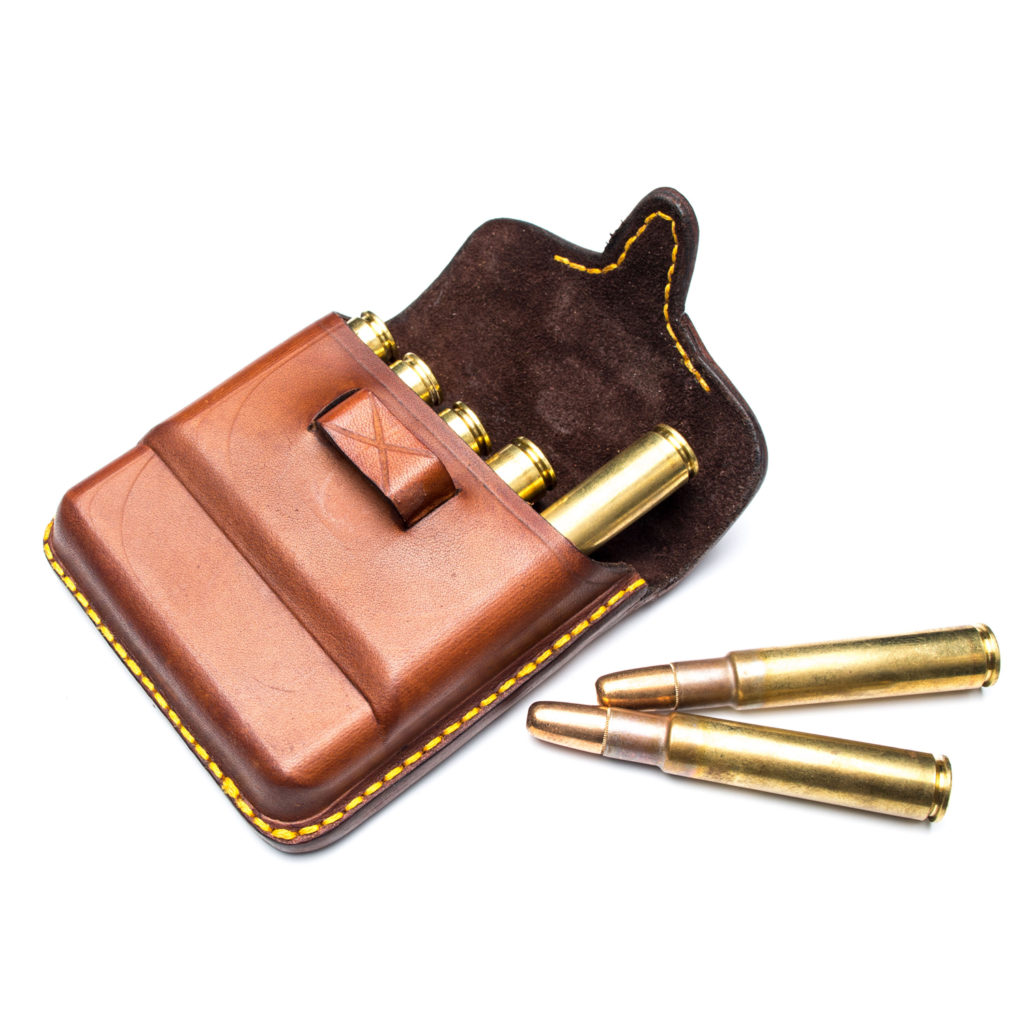 The Rigby magnum ammunition pouch is made suitable for magnum calibers such as Rigby's own .416. It is also hand made in South Africa for Rigby.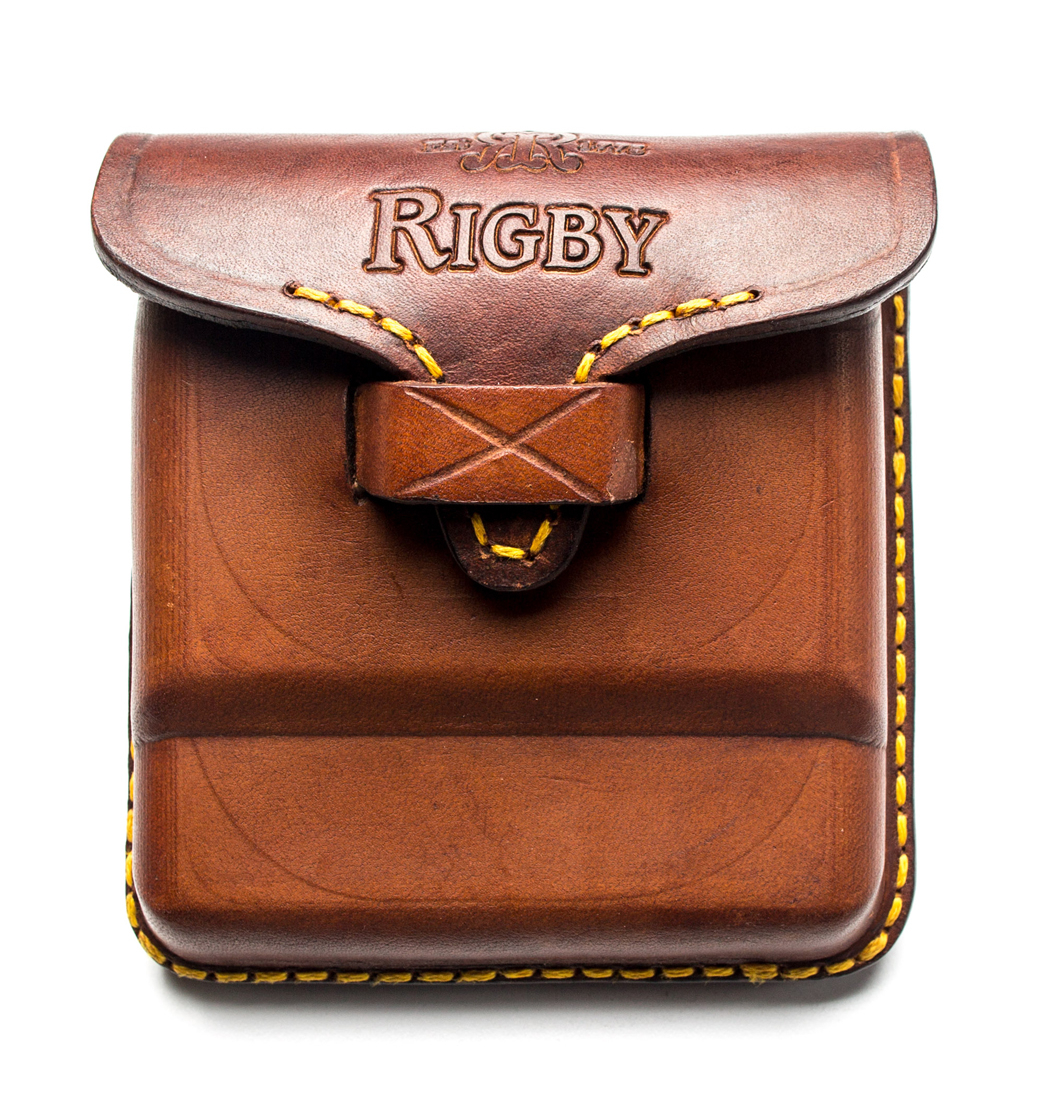 You will find the Rigby Magnum Ammunition Pouch if you click here.
Quick Load Magnum Leather Ammunition Pouch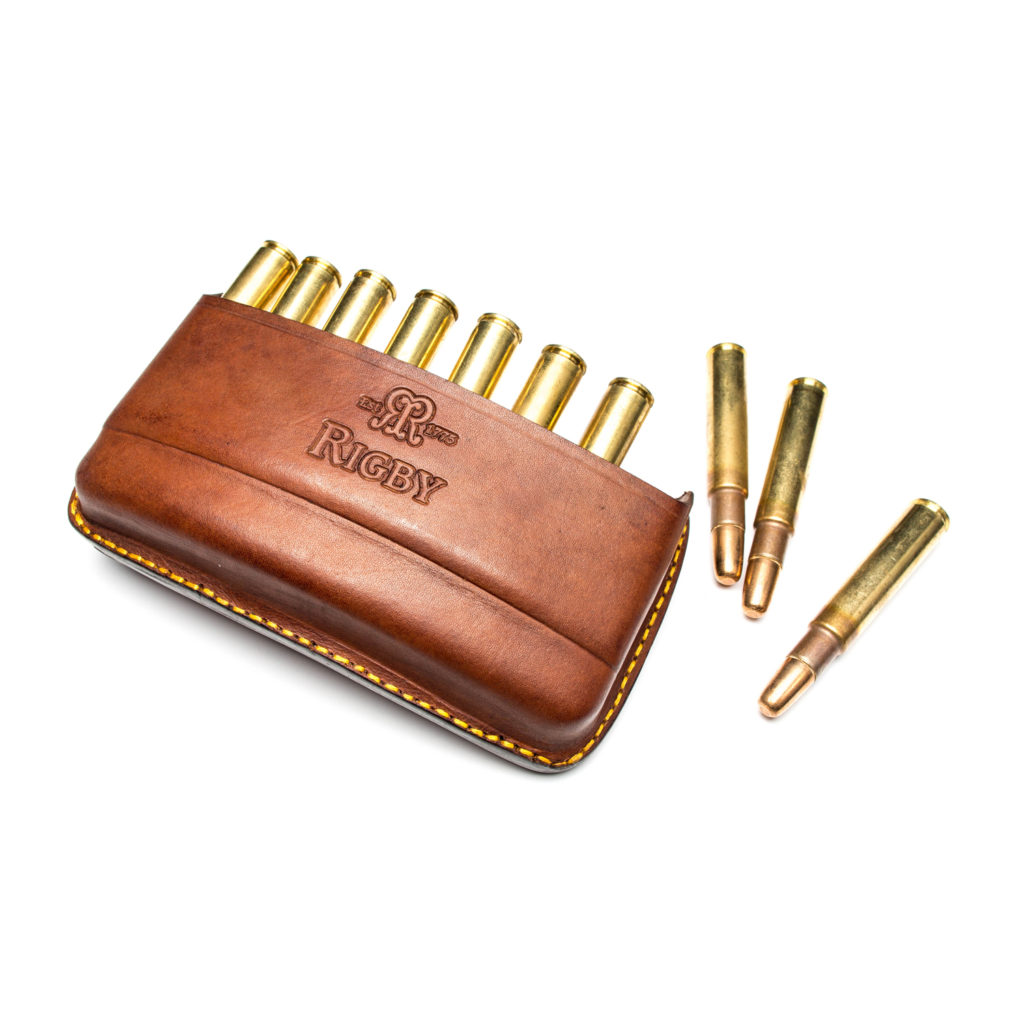 The Rigby Quick Load magnum ammunition pouch is open topped so that cartridges are instantly available just in case of close encounters of the unfriendly kind that might make fast access to cartridges a life saving feature.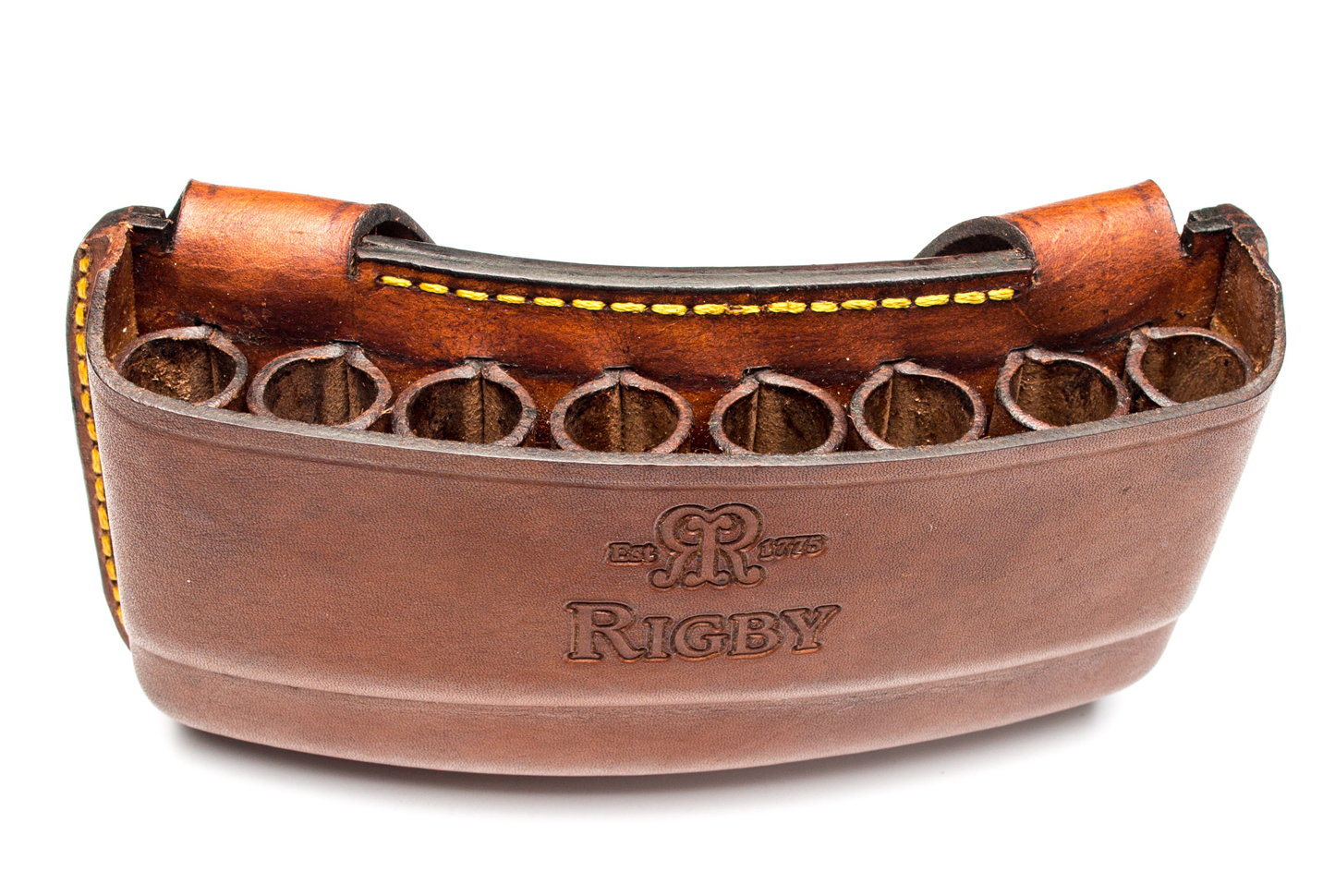 The Quick Load style of pouch is normally worn at the front of the belt to make it easily accessible.
You will find the Quick Load Magnum Ammunition Pouch if you click here.
Rigby Canvas and Leather Hunting Belt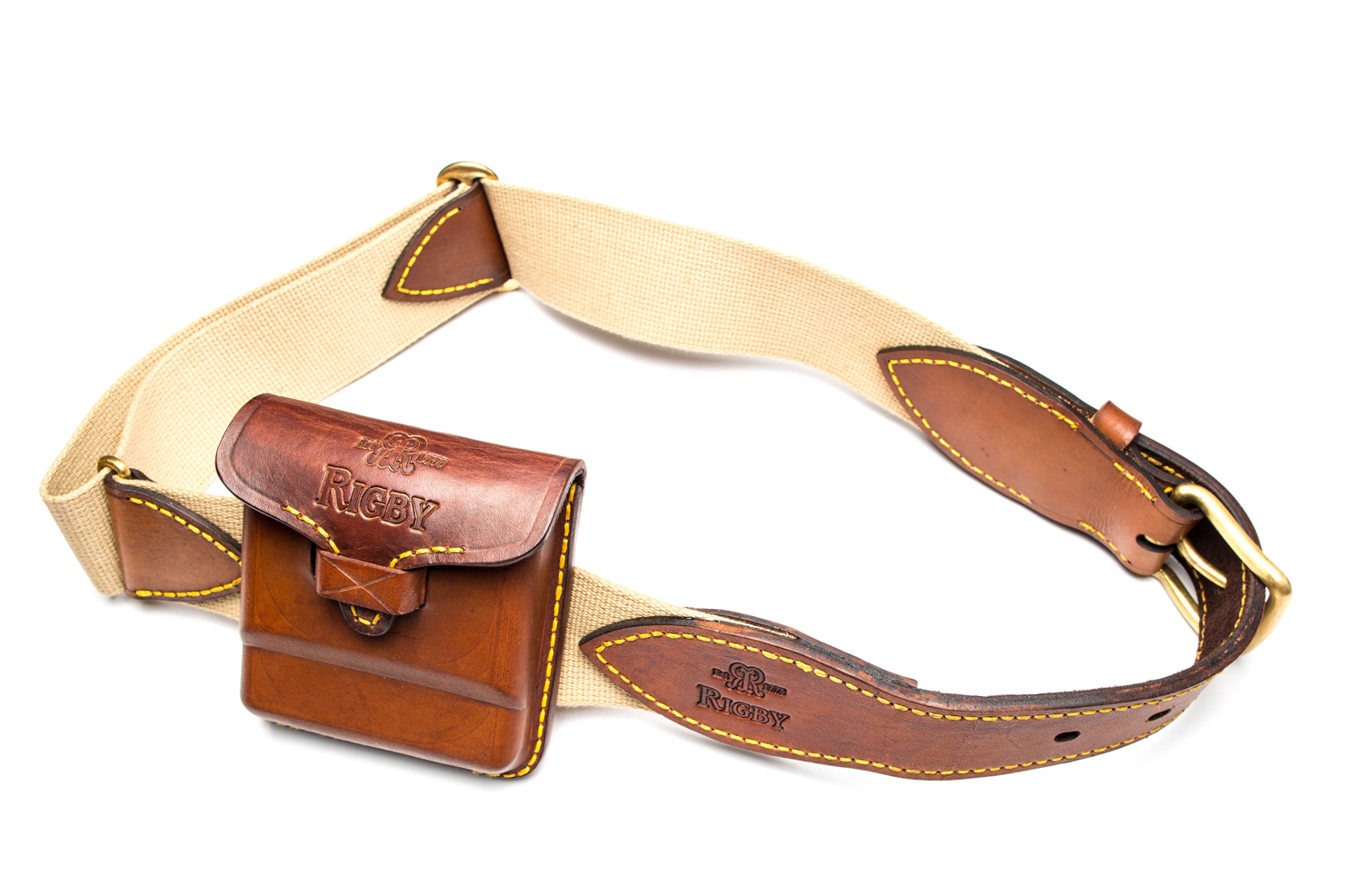 The Rigby canvas and leather belt is the perfect companion to the Rigby ammunition pouches and is made in traditional British style.
You will find the Rigby Canvas and Leather Hunting Belt if you click here.
Rigby "Kruger" Knife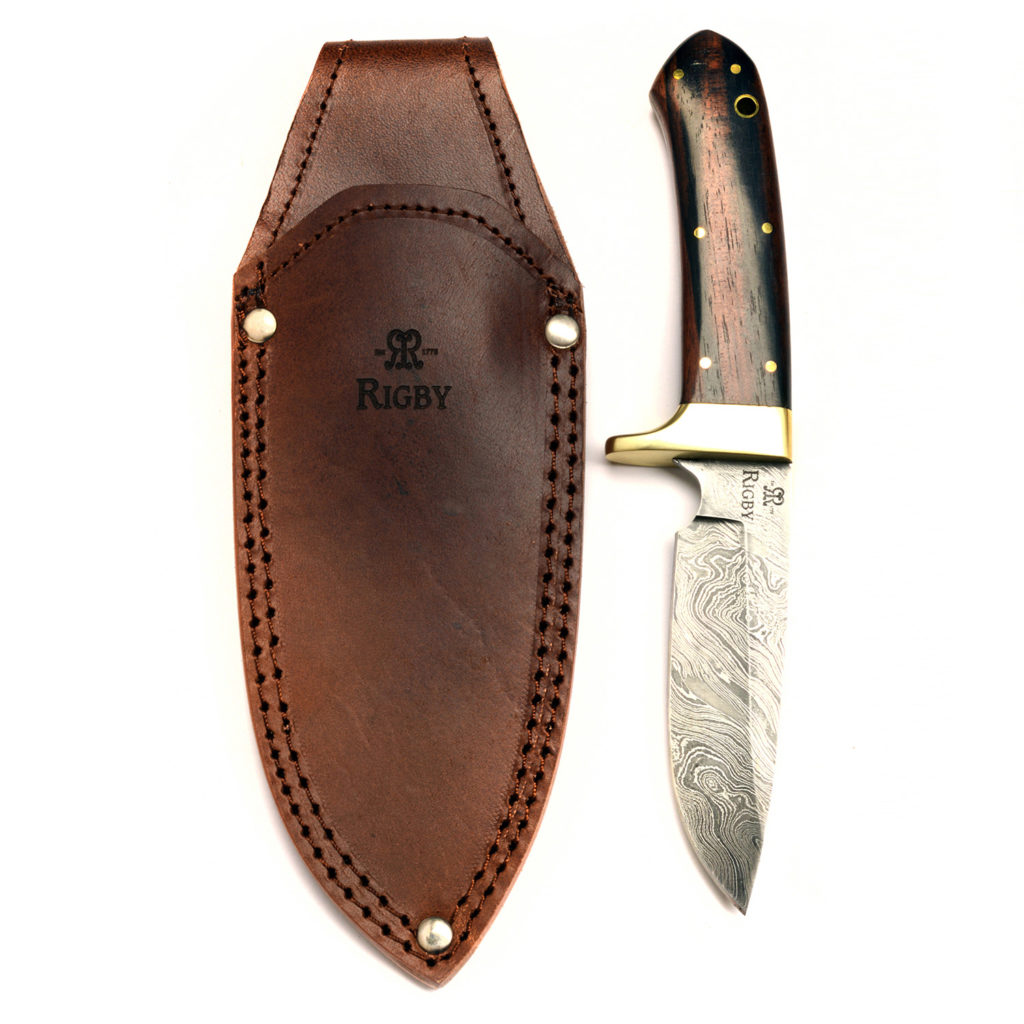 The Rigby "Kruger" knife features a very attractive Damascus blade and is made in the semi drop point style which is so practical for field dressing game. It comes in a double stitched leather pouch suitable for left or right hand use.
Priced at £165.83 this is an affordable top quality knife and would make a great gift for someone who is a hunting enthusiast.
You will find the Rigby "Kruger" knife if you click here.
Rigby Silent Sling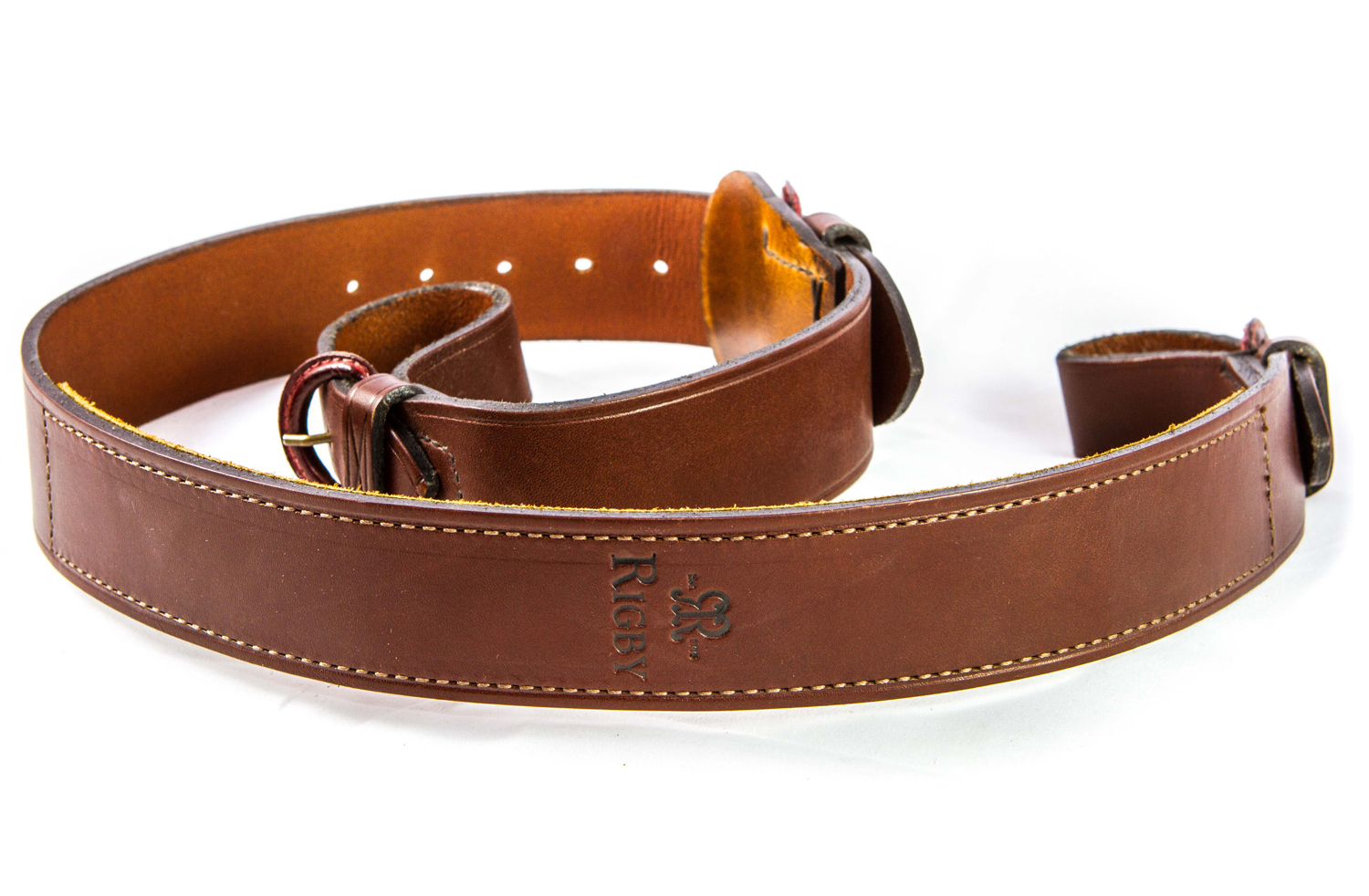 The Rigby Silent Sling is designed to be as simple as one could possibly desire and yet absolutely dependable.
You will find the Rigby Silent Sling with loop ends if you click here.
Rigby Gunpowder Gin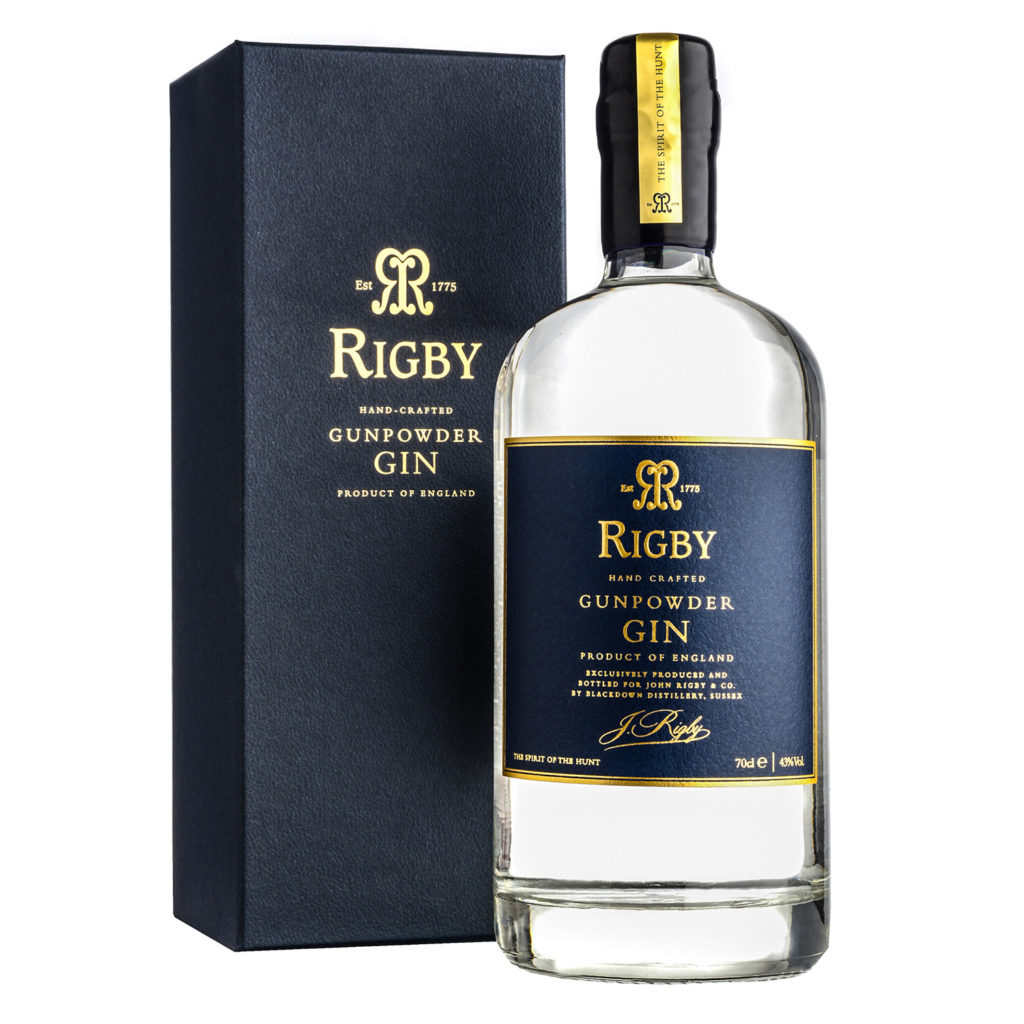 Finally, what better conclusion to a day out hunting than Rigby's unusual Gunpowder Gin. This gin is made exclusively for John Rigby & Co. by Blackdown Distillery. Blended with pure Sussex spring water and distilled in traditional copper pot stills, what sets this gin apart is the use of Japanese green gunpowder tea which gives it a unique and fascinating character.
You will find Rigby Gunpowder Gin if you click here.
Conclusion
John Rigby & Co. make some of the finest rifles in the world but they also provide some of the nicest accessories that add to the joy of hunting and shooting. If you are someone who appreciates the best quality conservatively styled equipment that will likely last more than one lifetime then John Rigby & Company's line of accessories are well worth investigating.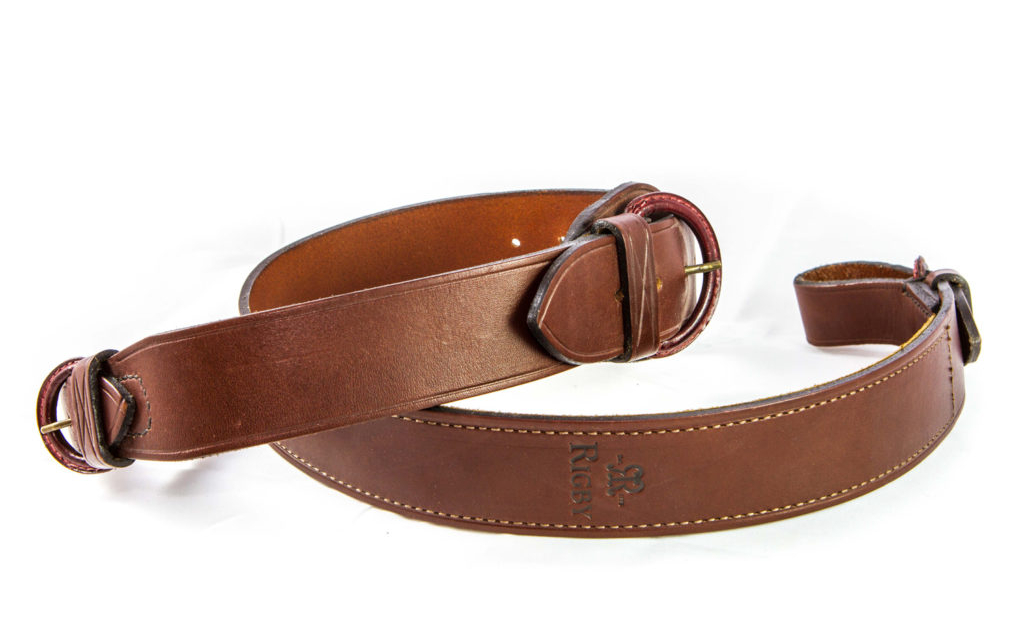 (All pictures courtesy Rigby).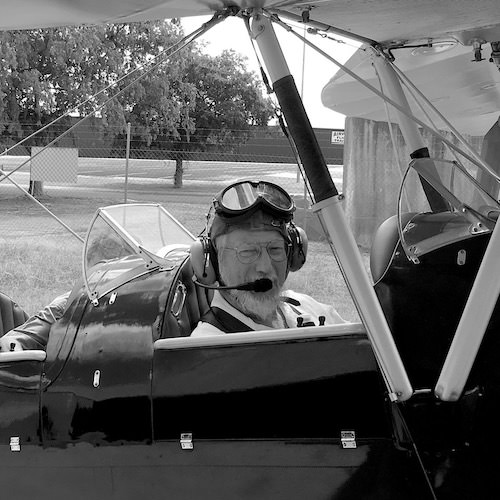 Jon Branch is the founder and senior editor of Revivaler and has written a significant number of articles for various publications including official Buying Guides for eBay, classic car articles for Hagerty, magazine articles for both the Australian Shooters Journal and the Australian Shooter, and he's a long time contributor to Silodrome.
Jon has done radio, television, magazine and newspaper interviews on various issues, and has traveled extensively, having lived in Britain, Australia, China and Hong Kong. His travels have taken him to Indonesia, Israel, Italy, Japan and a number of other countries. He has studied the Japanese sword arts and has a long history of involvement in the shooting sports, which has included authoring submissions to government on various firearms related issues and assisting in the design and establishment of shooting ranges.