Introduction
The British gunmaking trade was primarily concentrated in the cities of London and Birmingham during the 1800's and 1900's. Some gunmakers produced complete guns in-house exclusively but many purchased either component parts such as actions and barrels from other makers and finished them in their own workshops. Other companies did not make guns or rifles at all but had them made by others who would also put the name of the company buying the guns onto them. For example the guns and rifles branded "Army and Navy Store" were made by various gunmakers of the trade but branded as being by "Army and Navy Store".
This does not mean that such guns and rifles were of inferior quality, quite the reverse, they were commonly well made by craftsmen who took a pride in their work. One of the reputable houses who ceased making guns of their own early in their history and instead had them made by others of the gun trade was R.B. Rodda, of London, Birmingham and Calcutta.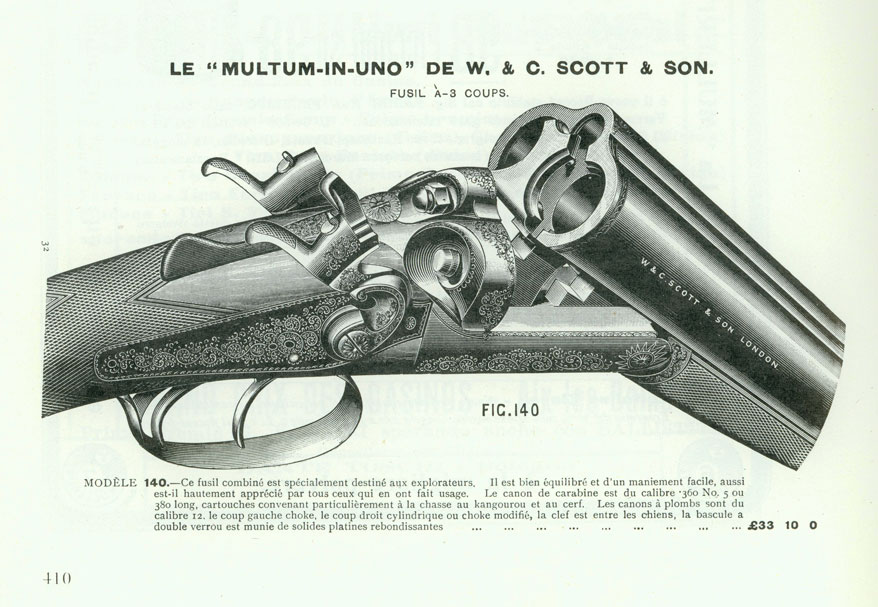 R.B. Rodda, a Potted History
R.B. Rodda claimed to have been established in 1830 although in reality it traces its roots much further back than that, to around 1805, originally trading as Brown and Cooper. This was the company that Richard Burrows Rodda joined in 1830, and although the history is a bit sketchy the company name probably became Brown, Cooper and Rodda at that time. In 1846 Brown left the company and it became Cooper and Rodda, and the following year in 1847 Cooper also departed leaving R.B. Rodda as the sole proprietor. Rodda renamed the company R.B. Rodda & Co. based at 36, Piccadilly, London.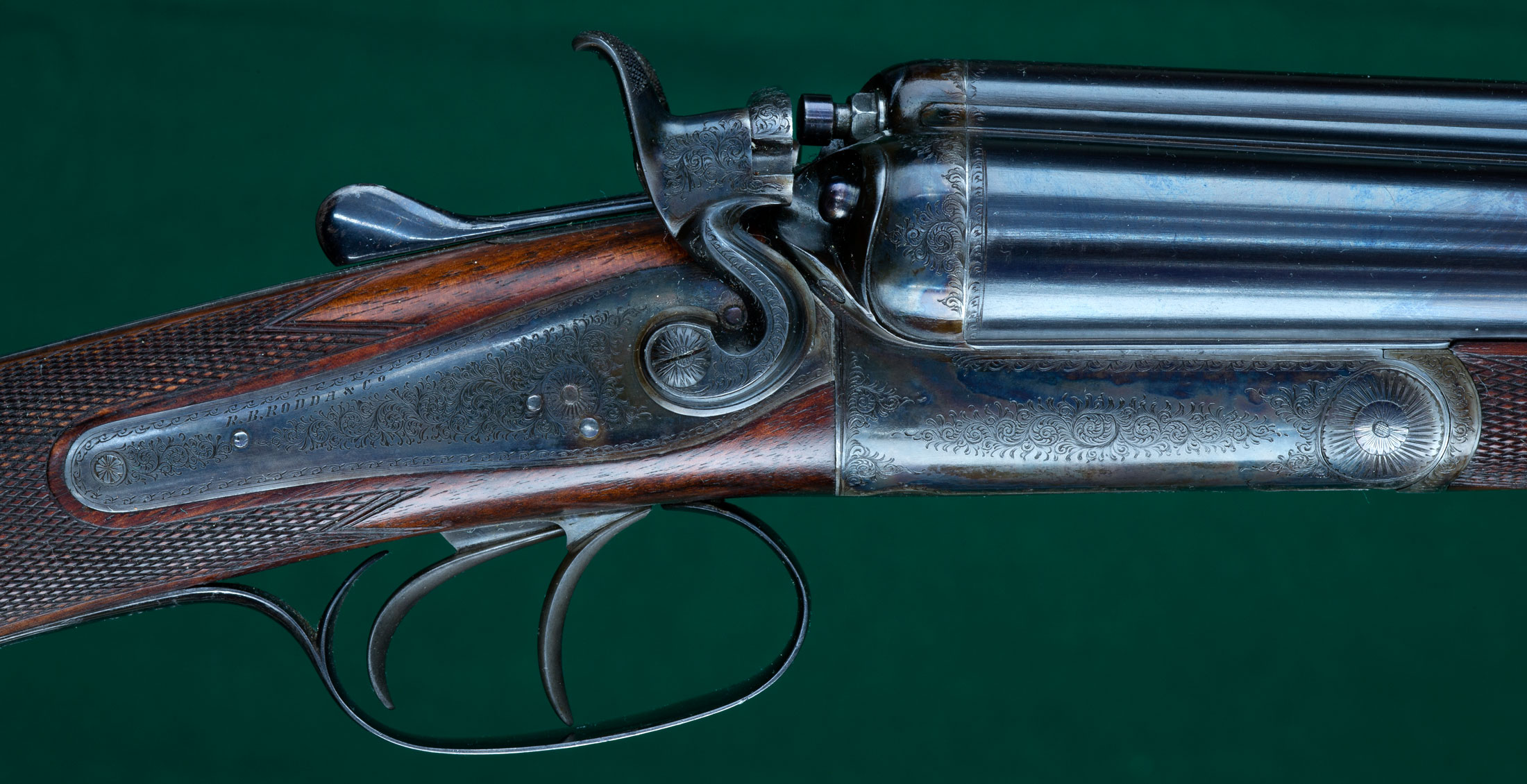 (Note: you will find the page with information about the above pictured R.B. Rodda & Co. Multum-In-Uno combination gun if you click here).
About three years after this R.B. Rodda & Co. opened another shop, this time in the Indian city of Calcutta at 5 1/2 Tank Square, a place that would be renamed Dalhousie Square in 1872, with the result that the address of the company would become 7 & 8 Dalhousie Square. Prior to that however, around the time of the Indian Mutiny in 1857 Richard Burrows Rodda left India and migrated to the United States with most of his extended family. Sadly Rodda passed away that year and so the company was taken over by William Henry Taylor, who was the brother of Rodda's brother in law.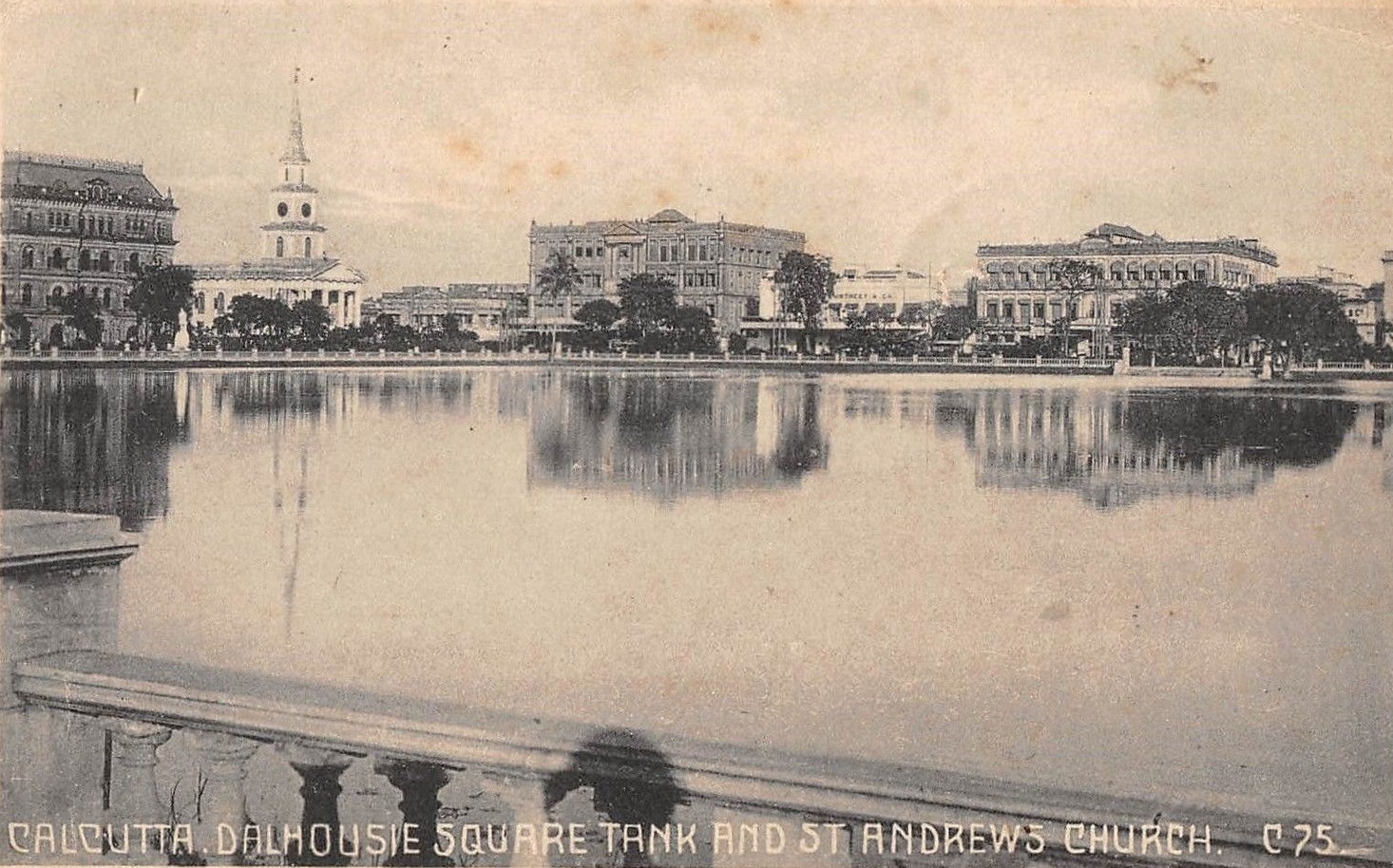 The story of the company becomes increasingly complex after that time but it kept its business in Calcutta and the British business moved to the city of Birmingham by 1903, at 50, Stafford Street.
R.B. Rodda & Company became primarily exporters/importers of guns and rifles based out of their Calcutta premises throughout the period up until Indian Independence in 1947, at which point the business was sold to Indian industrialists who diversified it away from the gun trade and into marine and other engineering work.
During the period in which they were trading R.B. Rodda & Co. became well respected for the quality of the guns and rifles they sold, and their guns came to be used not only in India but throughout the European colonies such as the Dutch East Indies (Indonesia), Malaya (Malaysia), and French Indo China (Vietnam, Laos, Cambodia), and Burma (Myanmar). The R.B. Rodda guns and rifles were made by the Birmingham gun trade, often by W.&C. Scott of Birmingham and London.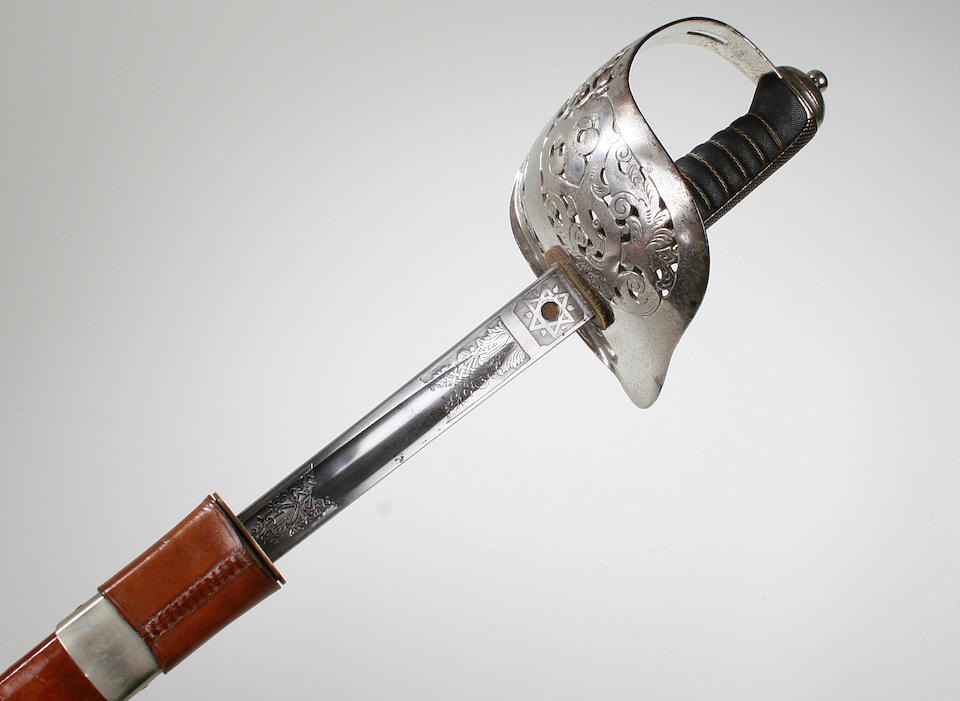 R.B. Rodda were in fact ideally placed as a gun dealer in that part of the world during that period of the first half of the twentieth century. The colonies of East Asia and South East Asia were places where guns and rifles were in demand for sport shooting/hunting, control of dangerous animals such as man eating tigers, and pistols and swords for personal protection and/or ceremonial use. R.B. Rodda is also famous as the victim of the 26 August 1914 arms robbery when a consignment of Mauser pistols and ammunition were stolen by members of the Anushilan Samiti revolutionary group.
Not only was the Calcutta base strategic insofar as being in good proximity to customers was concerned, but it also helped insulate the company from some of the effects of the First World War, and the Great Depression.
R.B. Rodda Double Rifles

(Note: you will find the page with full details of the above rifle if you click here).
R.B. Rodda began supplying double rifles to India and Asia during the black powder era and so their early double rifles were often made in 4 bore. The jungle in which a hunter would commonly have to take a tiger, gaur or elephant would be thick, necessitating the use of the heaviest bullet: but hunting was usually carried out while sitting in a howdah on the back of an elephant. This meant that gun weight was not a great problem as the rifle did not have to be carried, thus a 4 bore was a perfectly sensible choice. Its worth mentioning here that a 4 bore rifle cartridge is sufficiently big that it looks like a small artillery shell: and if you were going into the jungle to deal with a creature that was likely to do you much nastiness then the 4 bore rifle and cartridge would help instill some faith in its ability to prevent your being masticated, stomped or gored, as long as you did your part and put that rather large 4 bore bullet where it needed to go.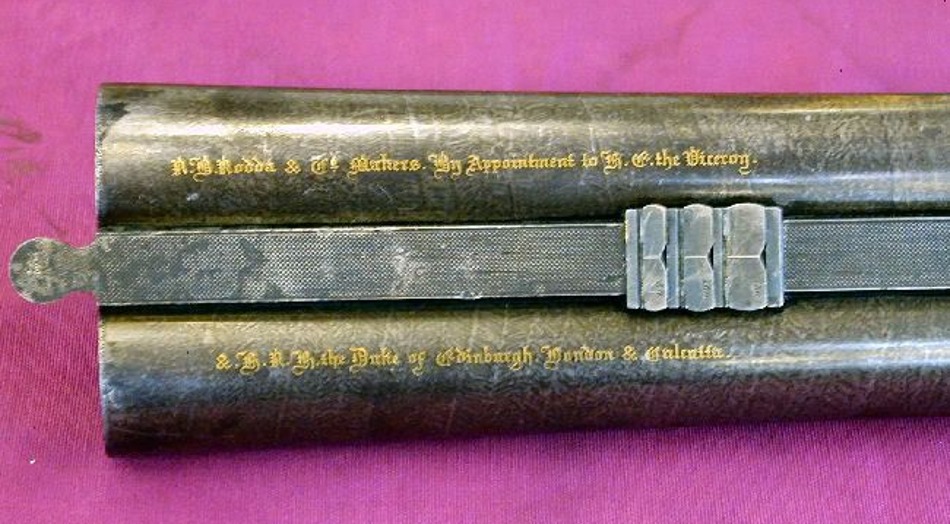 Rodda Double Rifles of the Nitro Era
In the period around the turn of the nineteenth to twentieth century both military and sporting arms made a quite rapid transition from the black powder of old to the new and much superior nitro powders made possible by Alfred Nobel. This led to a whole new class of nitro sporting rifles that were able to be made lighter and yet significantly more powerful, with much better range: not only that but they were much easier to clean also.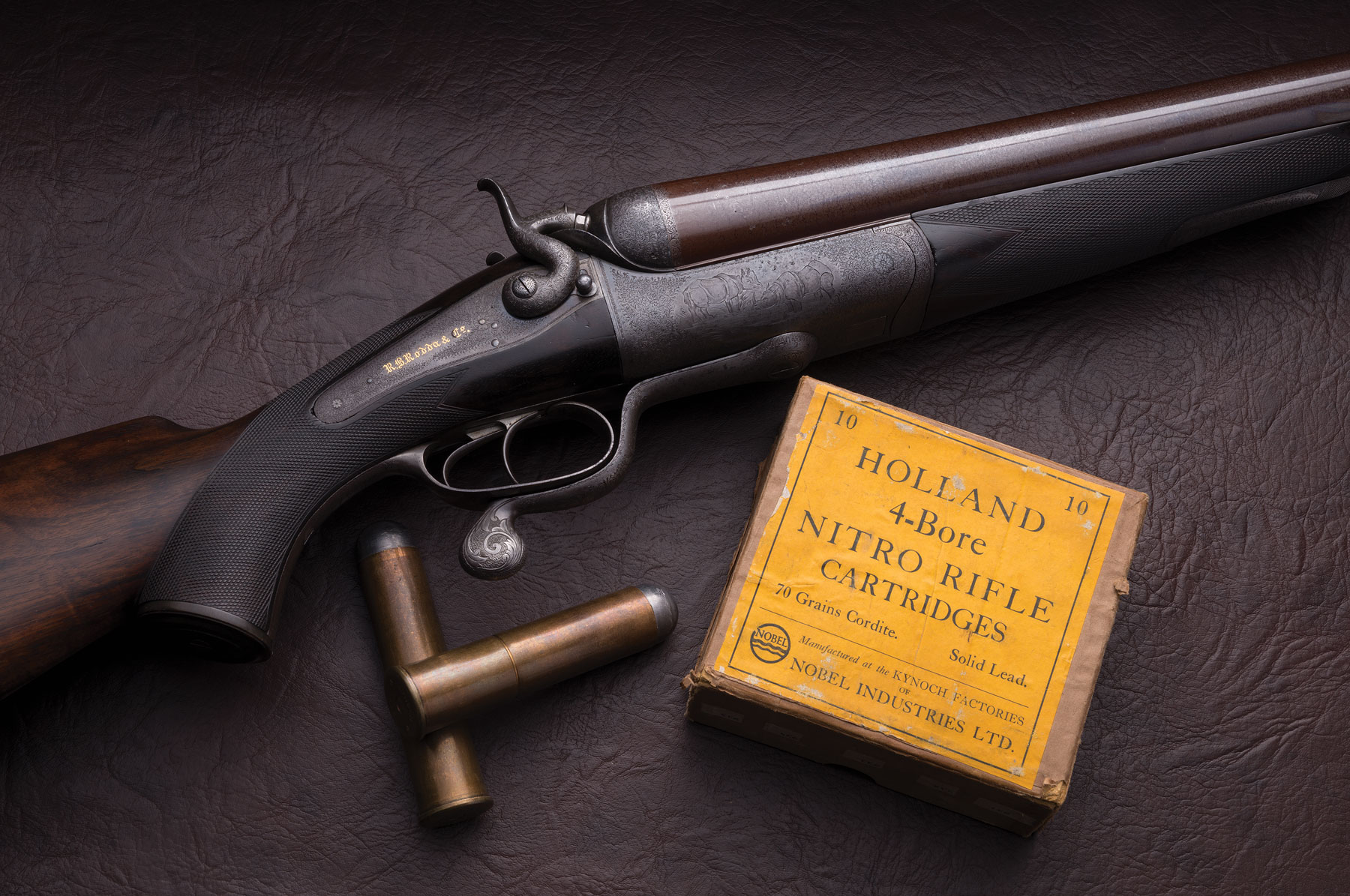 British gun and rifle makers recognized the business potential in having lots of people upgrading to nitro arms and so this began something of a golden age of double rifles. Some of the old black powder cartridges were upgraded to cleaner nitro and were referred to as "Nitro for Black Powder" cartridges while there was a whole new crop of "Nitro Express" cartridges created in that period before the First World War. For double rifles some of the most popular were the 450-400 Nitro Express, 470 Nitro Express and the 500 Nitro Express: with the 450-400 becoming so popular that one is more likely to come across an old double rifle in one of the 450-400's nitro chamberings than in any other caliber.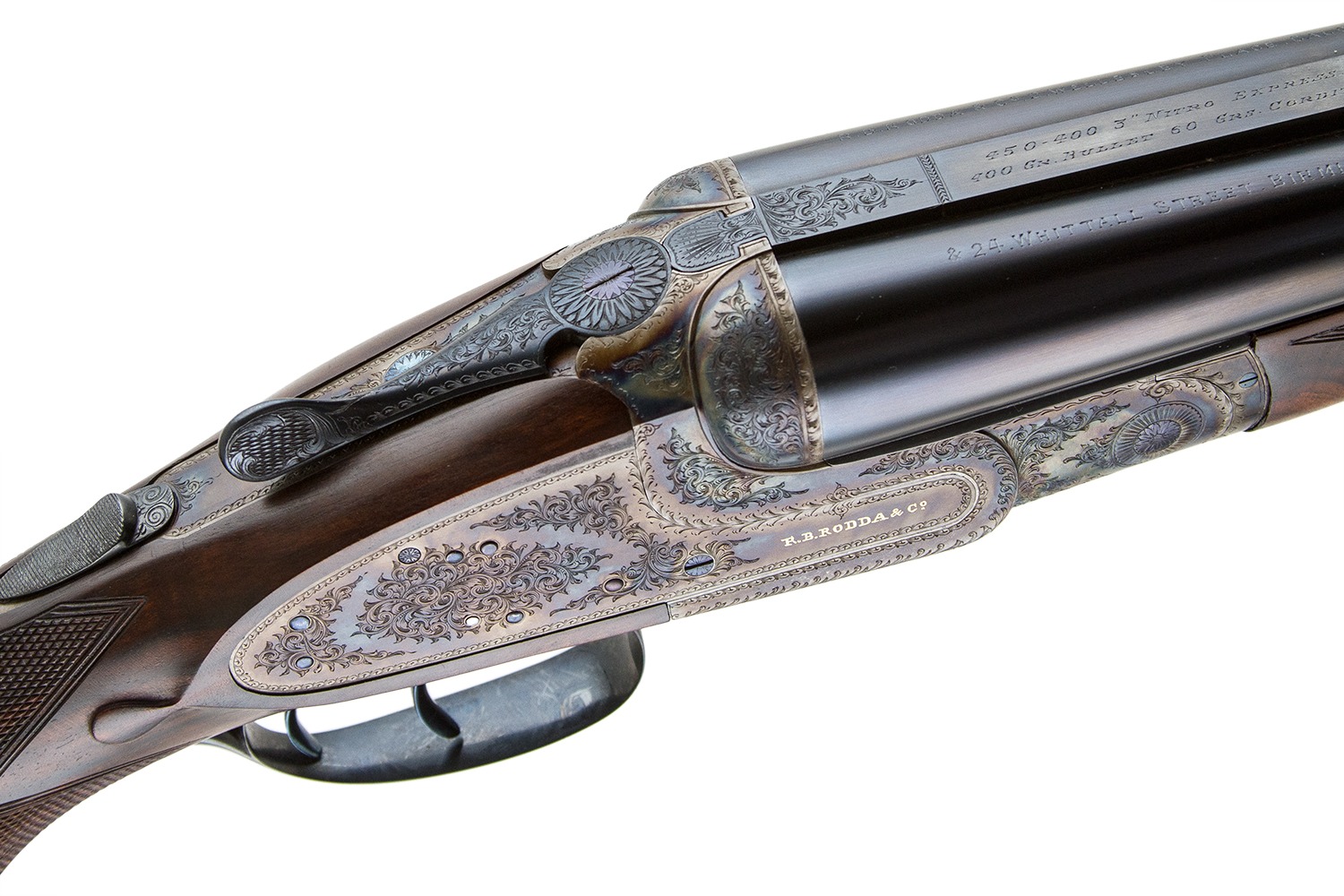 The 450-400 3″ was developed by W.J. Jeffery in 1902 and it was basically a shortened 450-400 3¼" Black Powder Express made with a thicker rim for more reliable extraction for the higher pressures of nitro powder. The 450-400 3″ became so popular that Graeme Wright in the Woodleigh Bullets Reloading Manual says "The 450-400 (both versions) was a very popular cartridge and was the "all rounder" before the 375 came onto the market. In fact there were probably more 400's made than all the other caliber double rifles, all put together."
The popularity of the 450-400 was earned by good reason, it packed plenty of punch and could be used with confidence against any game, yet recoil is more of a "long firm push" rather than "sharp jolt" so rifles in this caliber are typically enjoyable to shoot. That being said the modern Ruger No.1 in 450-400 3″ was made in both light barrel and heavy barrel versions. If you are shooting one of the light barrel ones make sure you mount the rifle properly, otherwise it may not be such an enjoyable experience. Mounted properly the very light and compact No.1 is pleasant to shoot and the cartridge has a reputation for brilliant performance on everything from deer in the woods to large creatures of a dangerous kind.
Some Examples of R.B. Rodda Nitro Express Double Rifles
R.B. Rodda Nitro Express double rifles turn up for sale occasionally and there are a few advertised at time of writing. Of the four currently available three were originally made in 450-400 NE while one was a 275 Rigby (i.e. metric 7x57R), which is the same caliber as used by Jim Corbett for his man eating tiger control shooting.
R.B. Rodda 450-400 3″ with additional 470 Nitro Express Barrels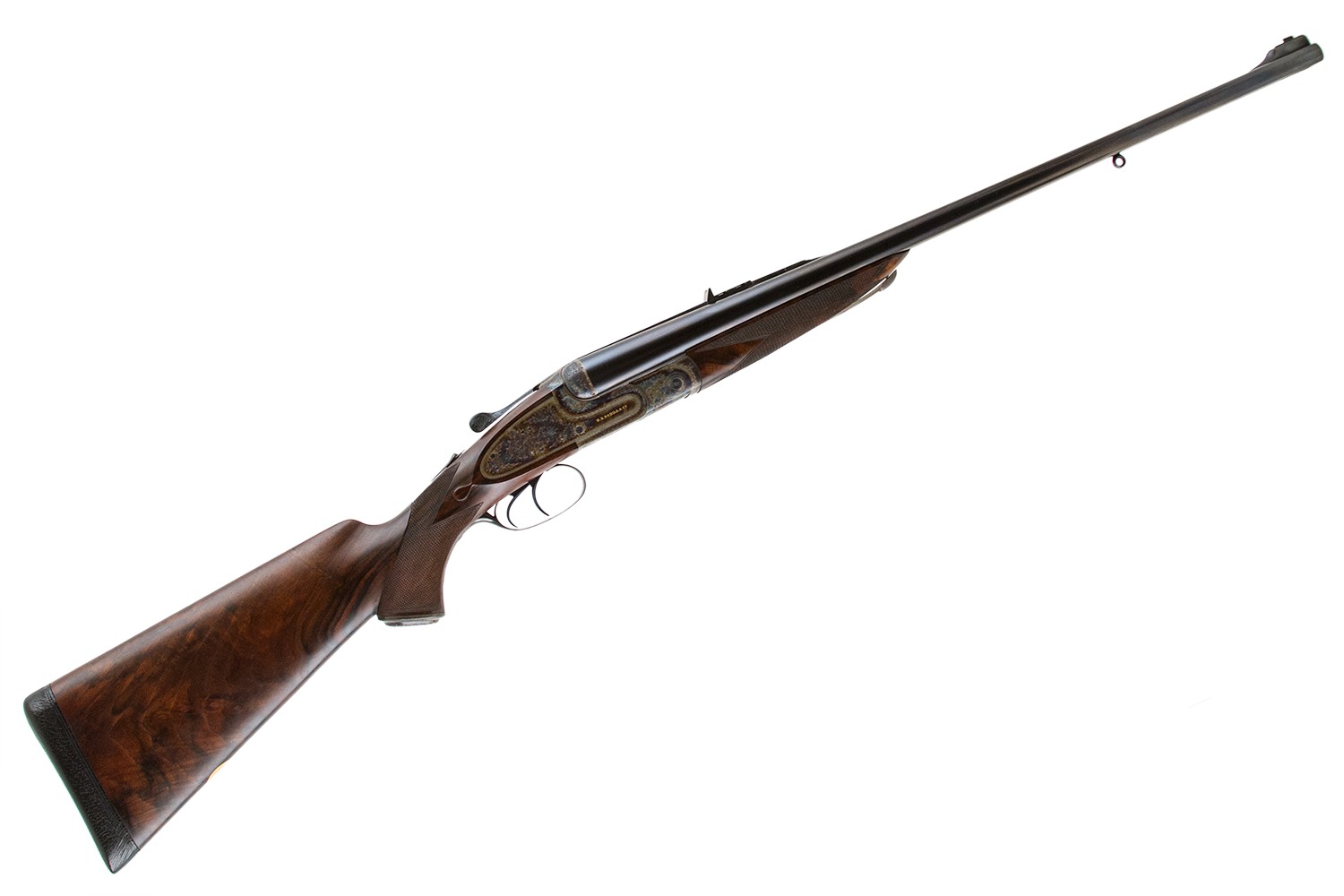 This rifle has been fully restored in Britain by Chris Soyza and has its original 450-400 3″ barrels plus an additional set of 470 Nitro Express barrels by Hauptman. The 450-400 3″ barrels are regulated for the standard 60 grains of Cordite loading for the 400 grain bullet as opposed to the more popular "Tropical Load" of 55 grains of Cordite.
Both the 450-400 3″ and 470 Nitro Express barrels are 24″ long and have a quarter rib mounted rear sight with the traditional and practical one standing and two folding blades. The foresight is a ramp with bead, and the rifle weighs 11lbs with either barrel set fitted. This means that the feel and balance of the rifle remain the same regardless of the barrels fitted.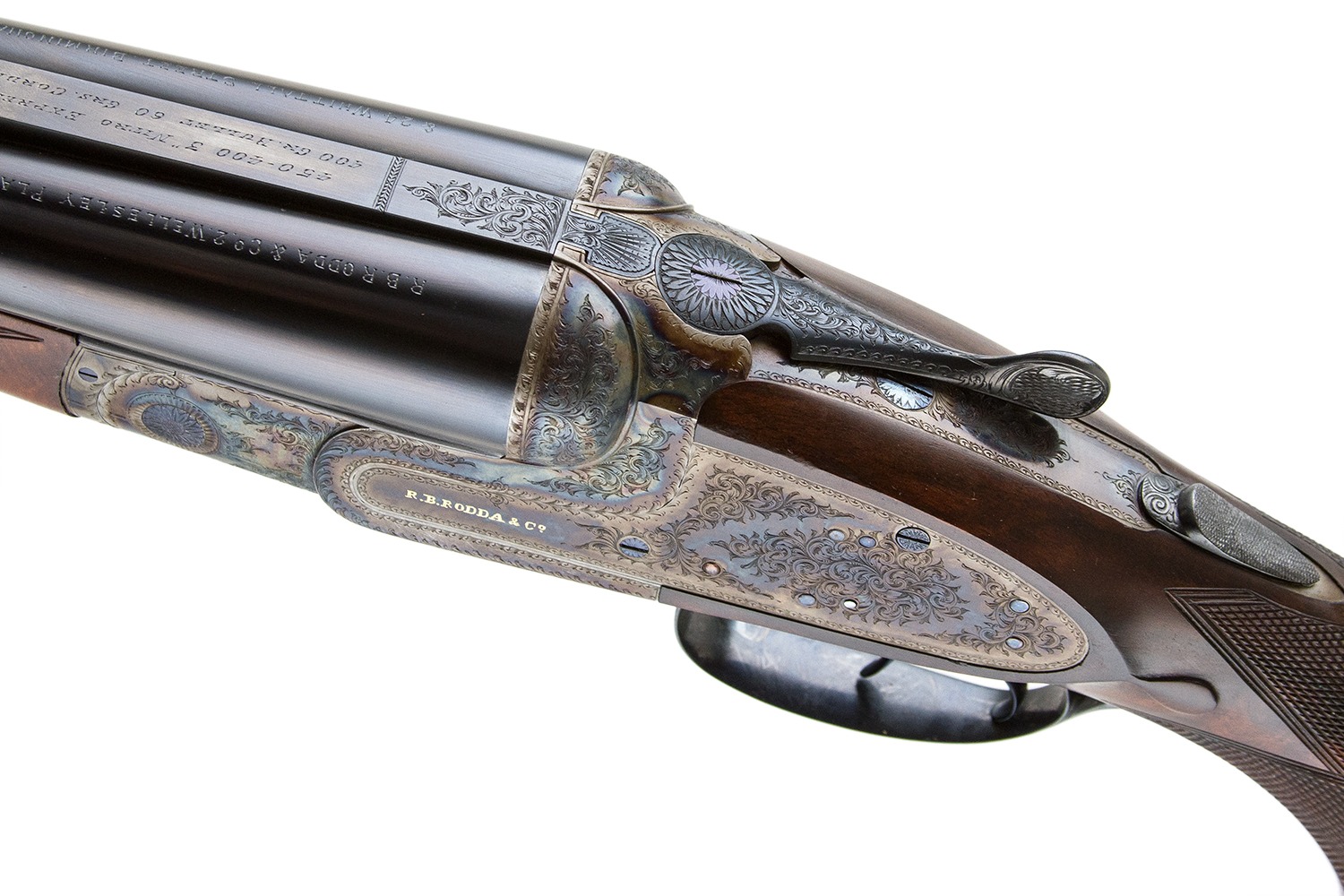 This rifle is provide in a fully fitted case with provision for both barrels. The length of pull is 15″ which is sensibly on the long side. With its 11lb weight and length of pull this should be a very comfortable rifle to shoot whichever set of barrels are in use.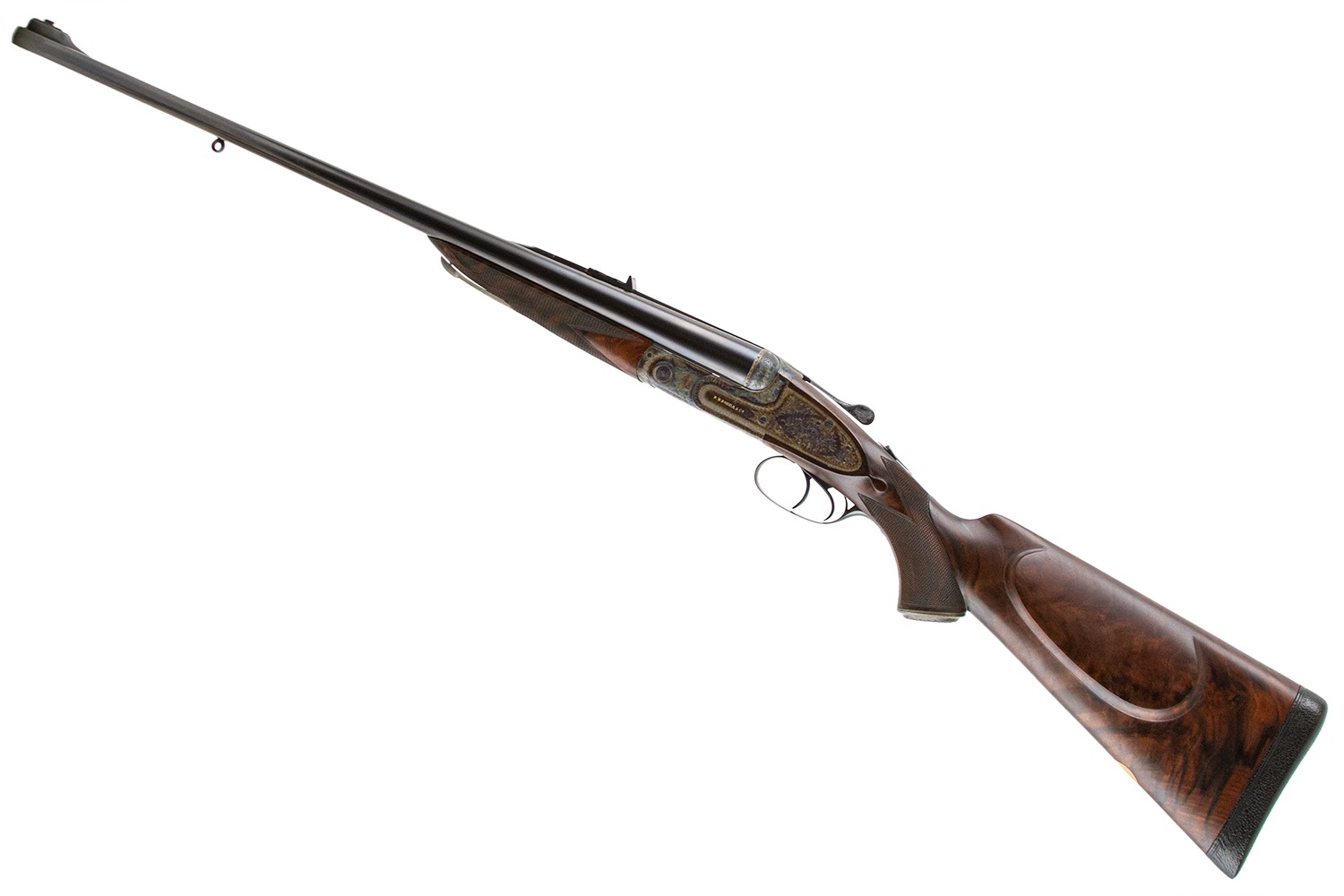 The 470 Nitro Express delivers significantly more recoil than the 450-400 3″ but this rifle is intelligently set up to make that a pleasant experience. The rifle has ejectors making it perfect as a dangerous game double as well as for woods deer stalking or running wild boar.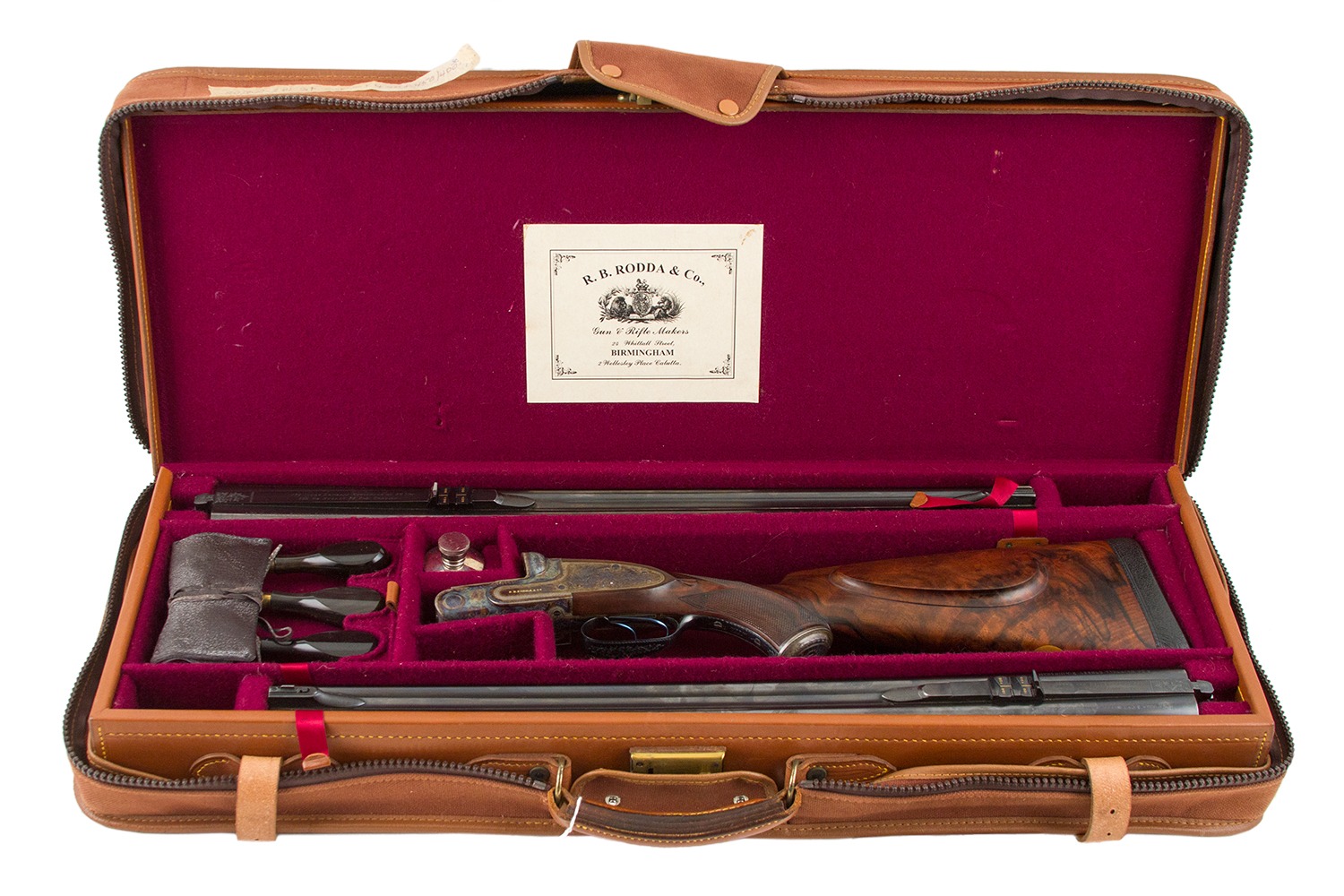 You will find the sale page for this rifle if you click here.
R.B. Rodda 450-400 Sidelock with additional 500 Nitro Express Barrels
This is another very attractive R.B. Rodda double rifle also fully restored by Chris Soyza. This sidelock rifle comes with two barrel sets, a 450-400 set with a Swarovski 1.25-4×24 riflescope mounted on it in quick detachable mounts, and a 500 Nitro Express barrel set which does not have optical sight bases, and on a 500 Nitro Express one would in all likelihood not want a riflescope fitted.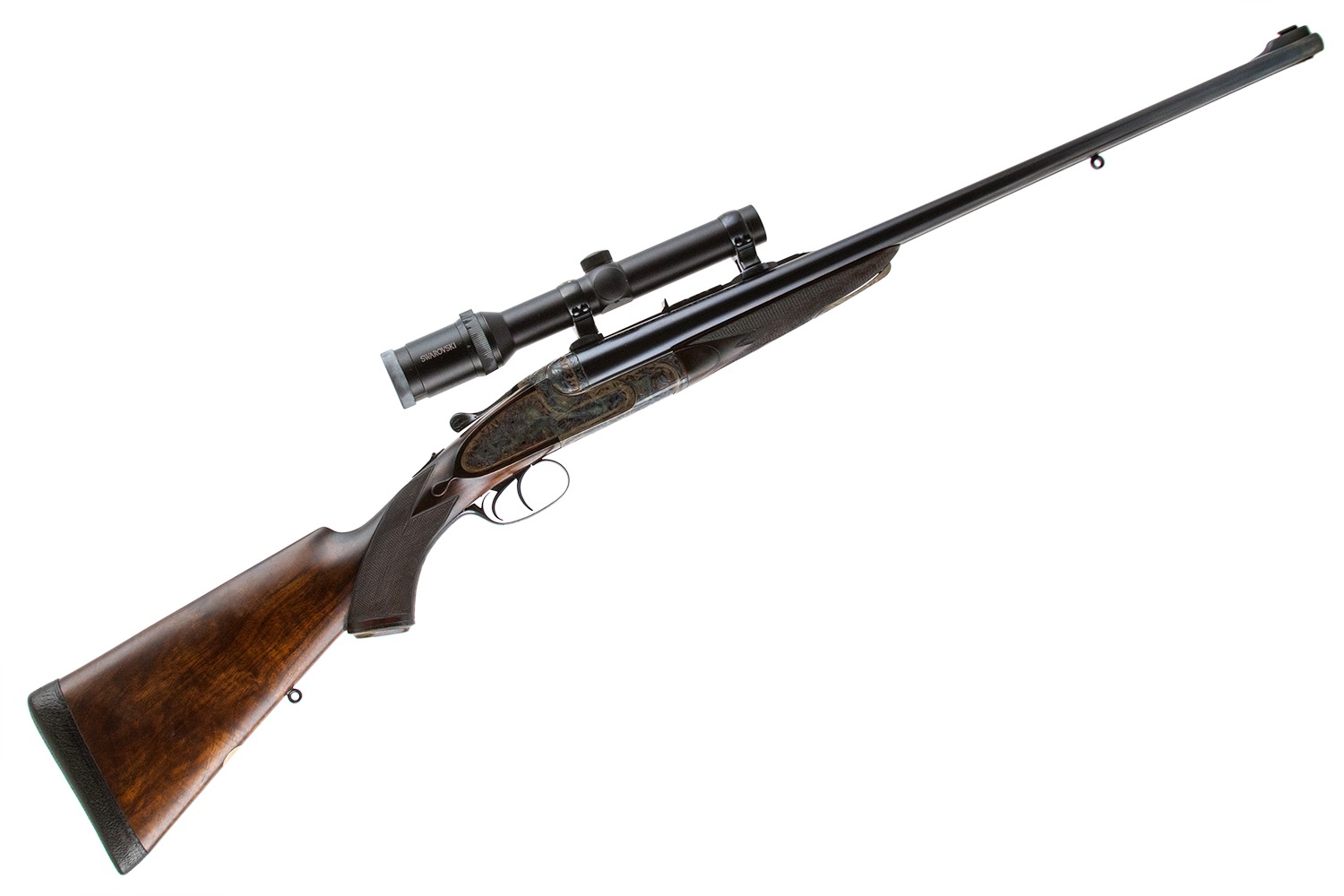 As with the previous rifle both barrel sets that come with this rifle are 24″ long and feature quarter rib rear sights with one standing and two folding leaves. The foresight is of the bead type and is mounted on a front ramp.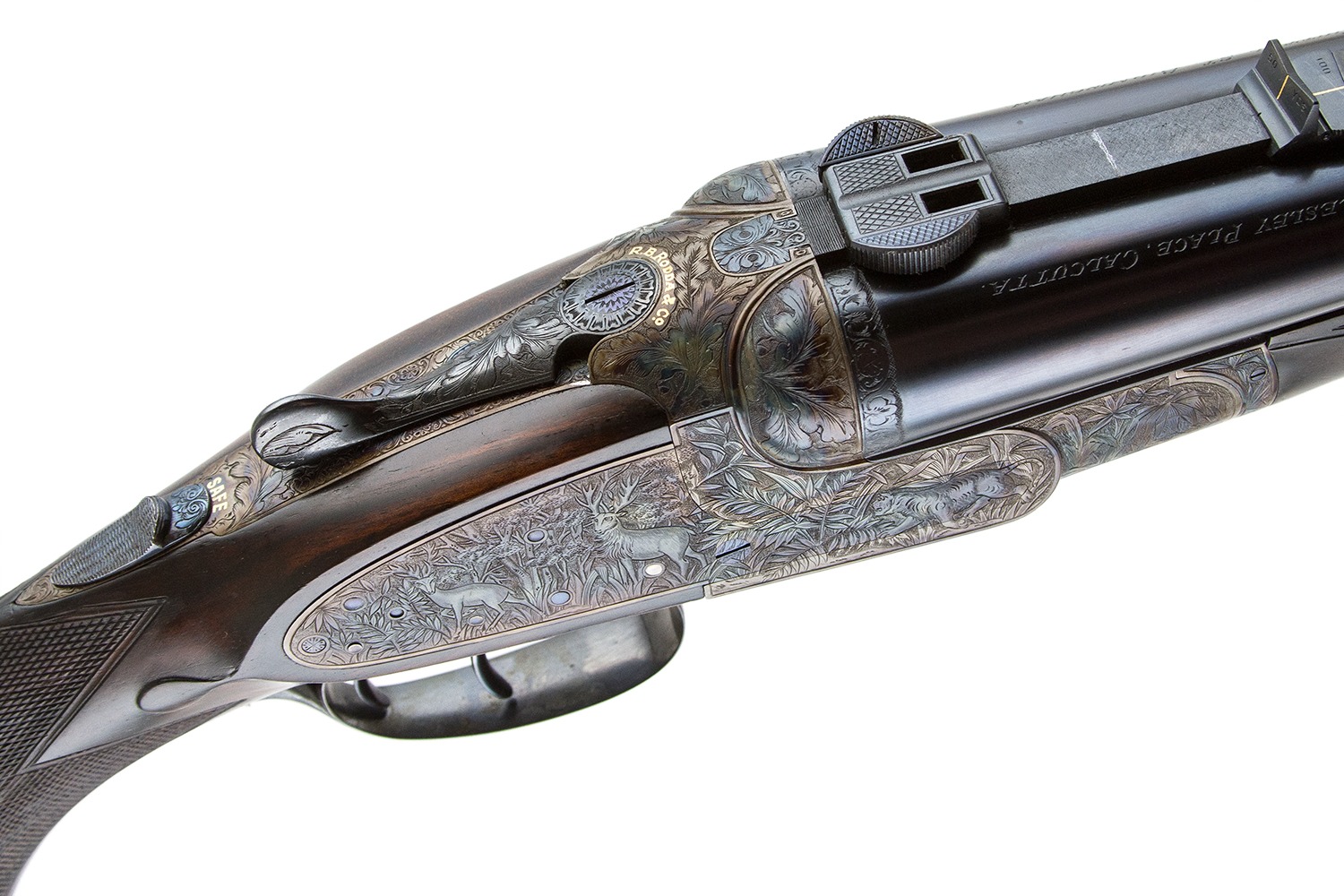 This rifle also comes with a fitted leather case with provision for both barrel sets, so the whole is very practical for travel, and is beautifully presented.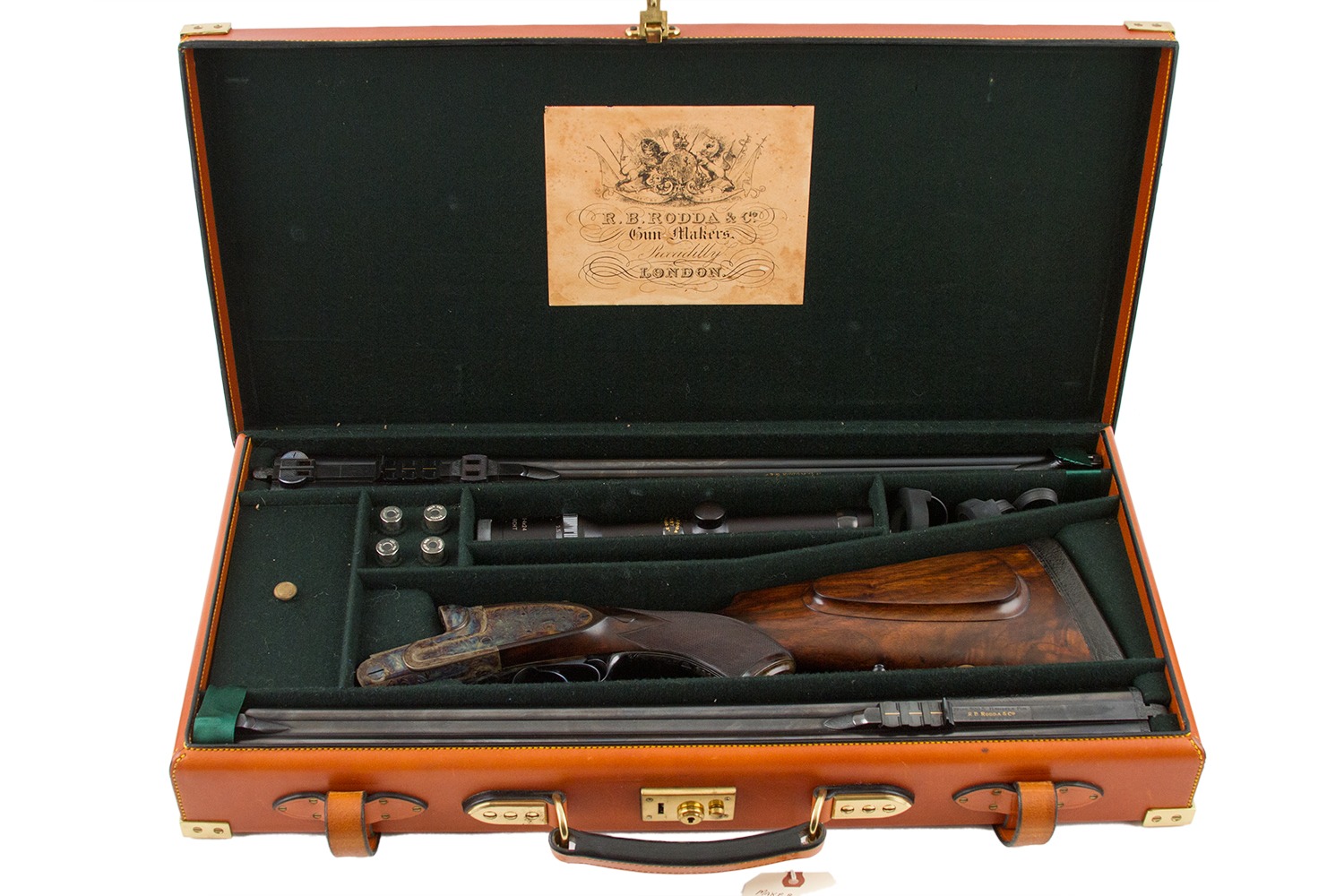 Being made for a heavier caliber, 500 Nitro Express, the rifle with the 500 Nitro Express barrels fitted is made to weigh 11½lb, which is a perfect weight for this caliber. The 450-400 barrels with riflescope attached bring the rifle weight to 12lb, and with the riflescope detached should be near identical to the weight when the 500 NE barrels are fitted. Length of pull is 14½".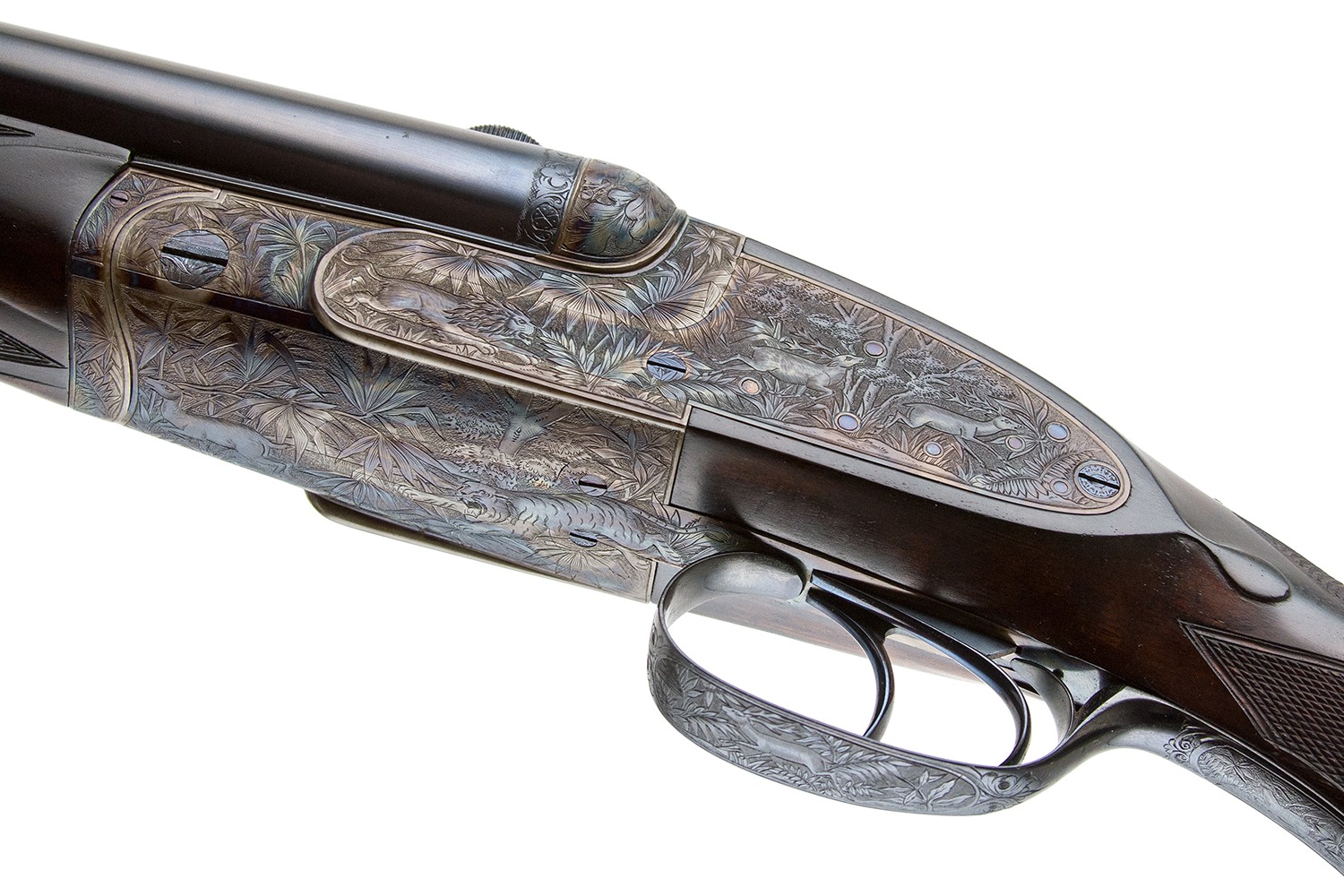 You will find the sale page for this rifle set if you click here.
R.B. Rodda 275 Rigby Sidelock with additional 470 Nitro Express Barrels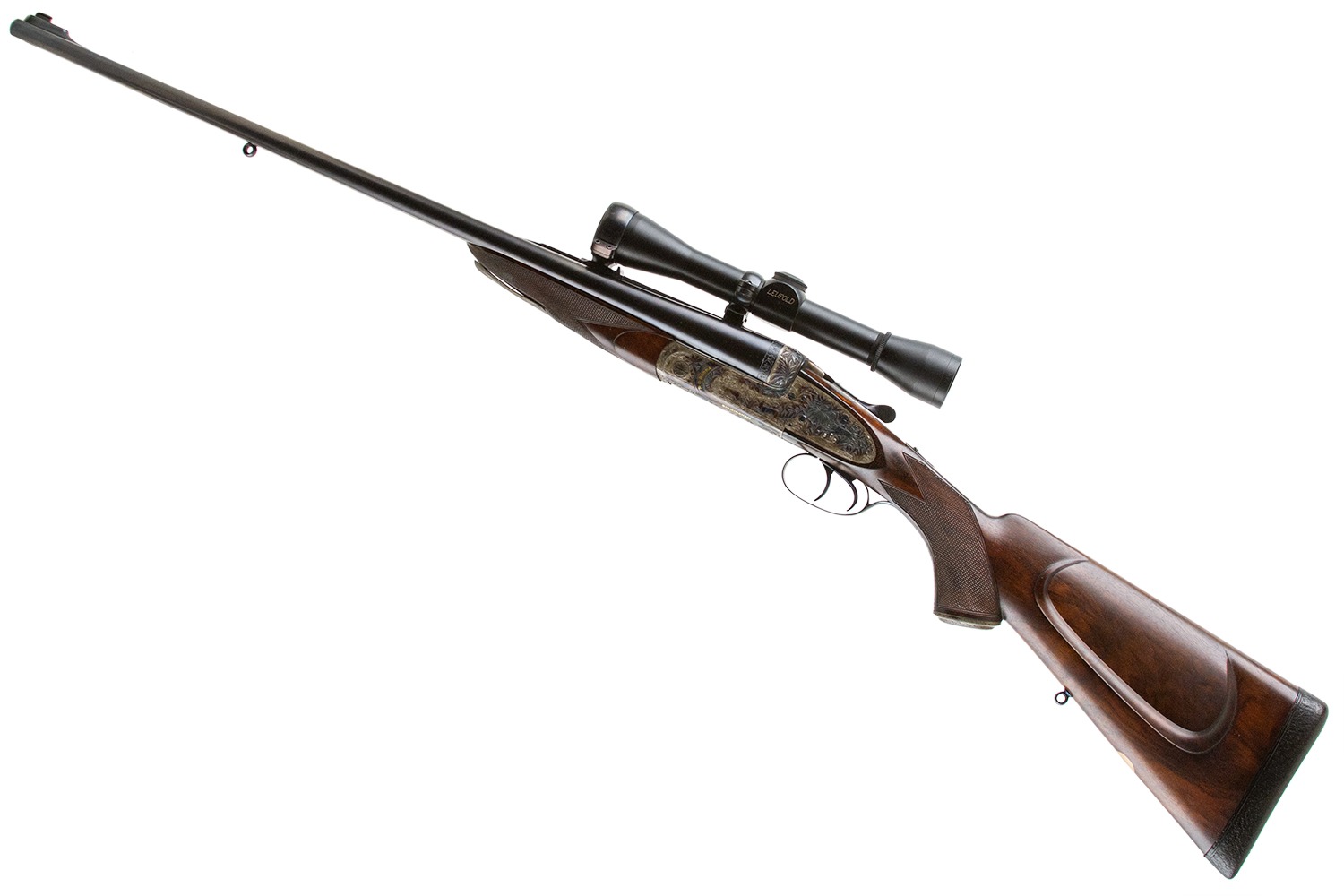 This set provides a small caliber 275 Rigby (7x57R) barrel set complete with Leupold 4x riflescope, a perfect deer-stalking double rifle. The quarter rib rear-sight ramp is fitted with bases for swing-off mounts to make removal and replacement of the riflescope a quick and simple undertaking.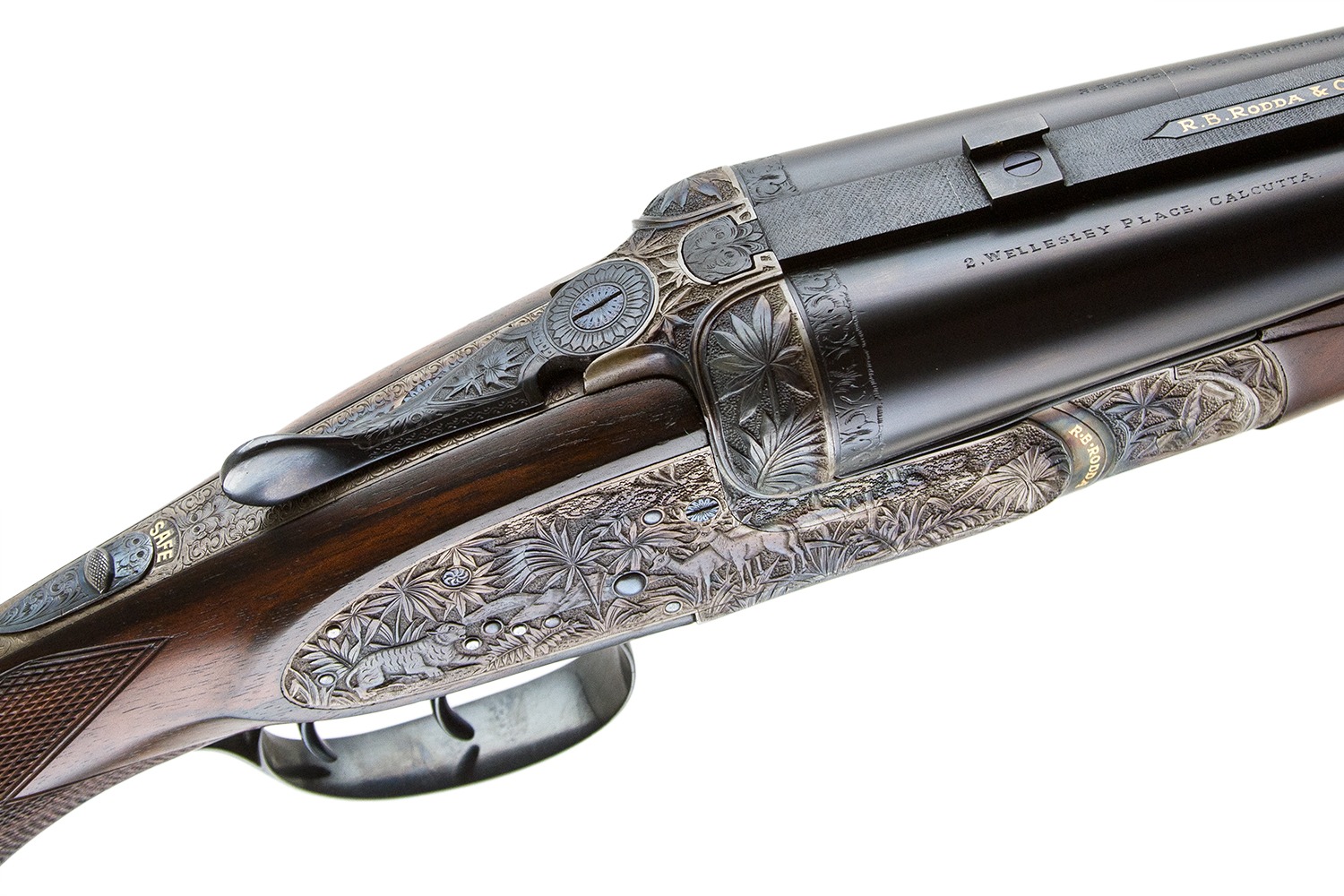 This rifle is fitted with ejectors and was also refurbished in Britain by Chris Soyza. The quality of his work is evident in the photographs.
With this rifle also comes an added set of barrels in 470 Nitro Express, so this rifle can be rapidly converted from being a stalking double rifle, perfect for deer, to being a dangerous game rifle perfect for Africa for all game up to and including elephant.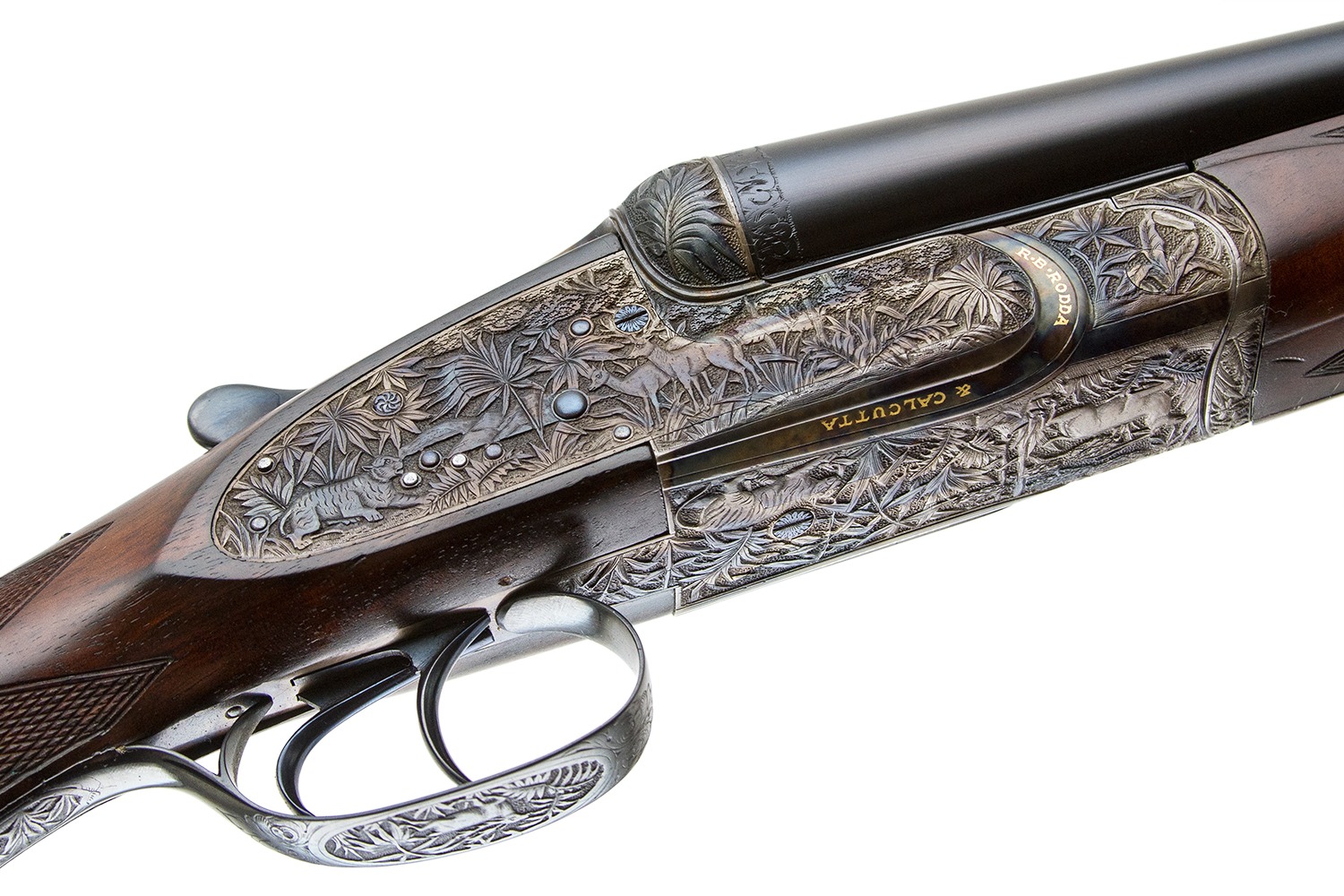 This rifle with the 275 Rigby barrels and riflescope fitted weighs 10lbs 8oz and with the 470 NE barrels 11lbs 4oz: so with the 470 NE barrels the recoil promises to be comfortable, and with the 275 Rigby barrels and riflescope it should prove to be as gentle as a maiden's caress.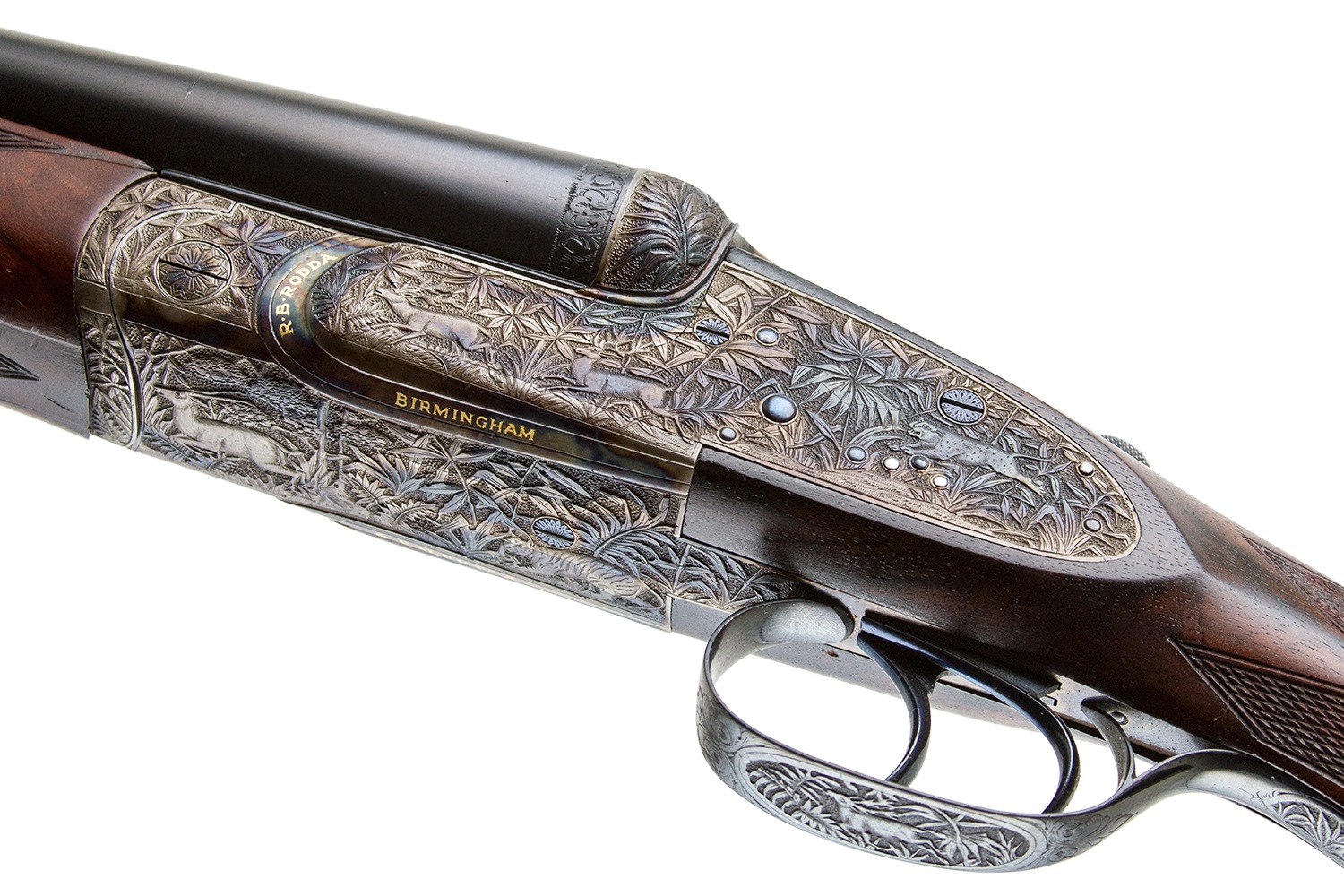 This rifle comes complete with both barrels and riflescope in a fitted leather case, making storage and transportation easy. Length of pull is 14¾" while the 275 Rigby barrels are 24½" long. The additional Hauptman 470 NE barrels are also 24½" long keeping the weight and balance of the rifle much the same regardless of which is fitted.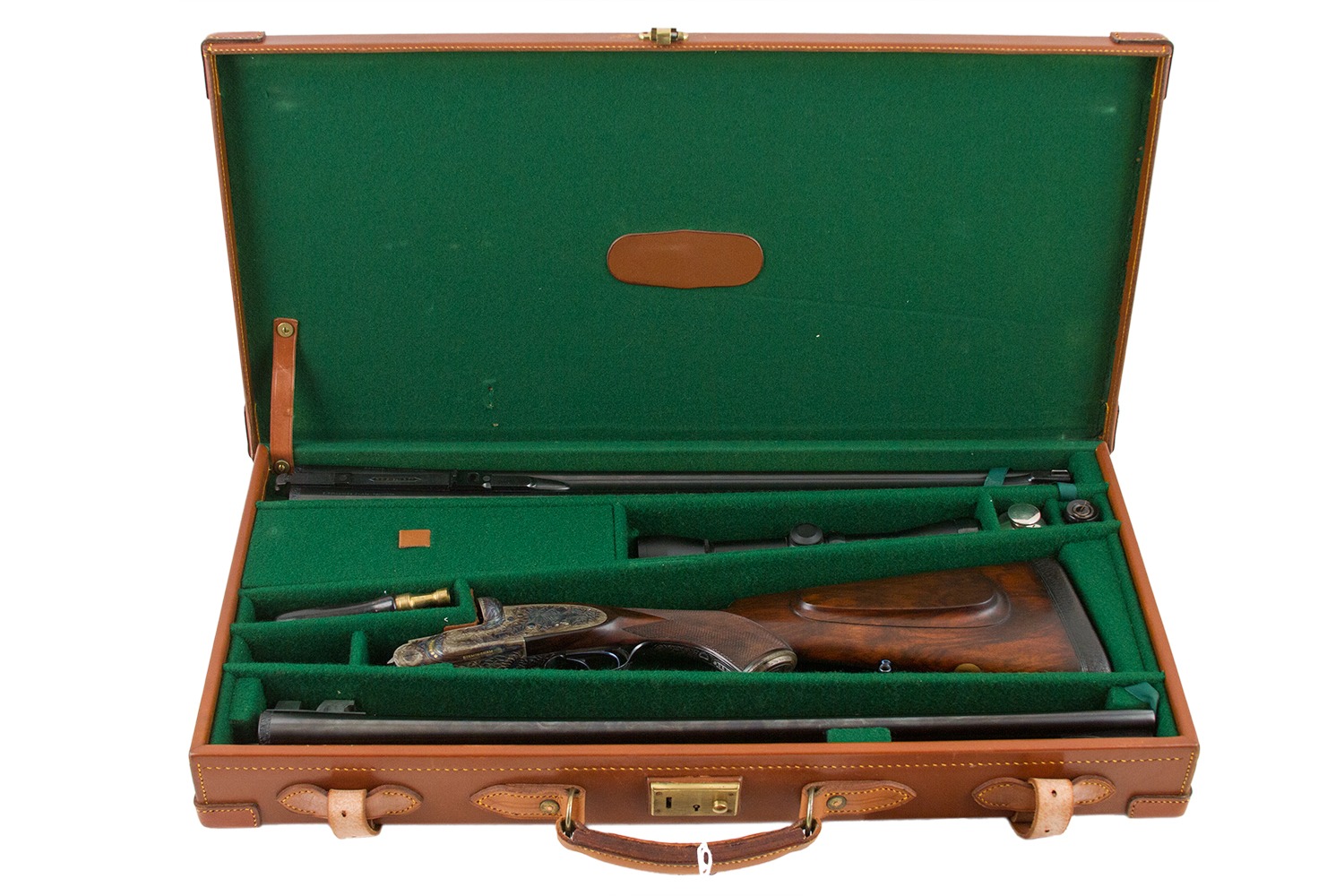 You will find the sale page for this rifle if you click here.
R.B. Rodda De-luxe SLE 450-400 Nitro Express Double Rifle Made for the Maharaja of Panchkote in 1920
This rifle is a collector's item with a historical connection to Indian royalty. R.B. Rodda provided rifles to people of many walks of life and included were people of high station.

This rifle is also chambered for the popular 450-400 Nitro Express and wears an original Karl Kaps 2x riflescope in quick detachable mounts. Although Karl Kaps may not be familiar to most shooters the company is very much in business and is still making riflescopes in addition to medical optics.

This rifle is fitted with typical 1920's style open sights with one standing and three folding open "V" type rear sights graduated for 100, 200, 300, 400 and 500 yards.

This rifle weighs 10lb 10oz and is in excellent condition.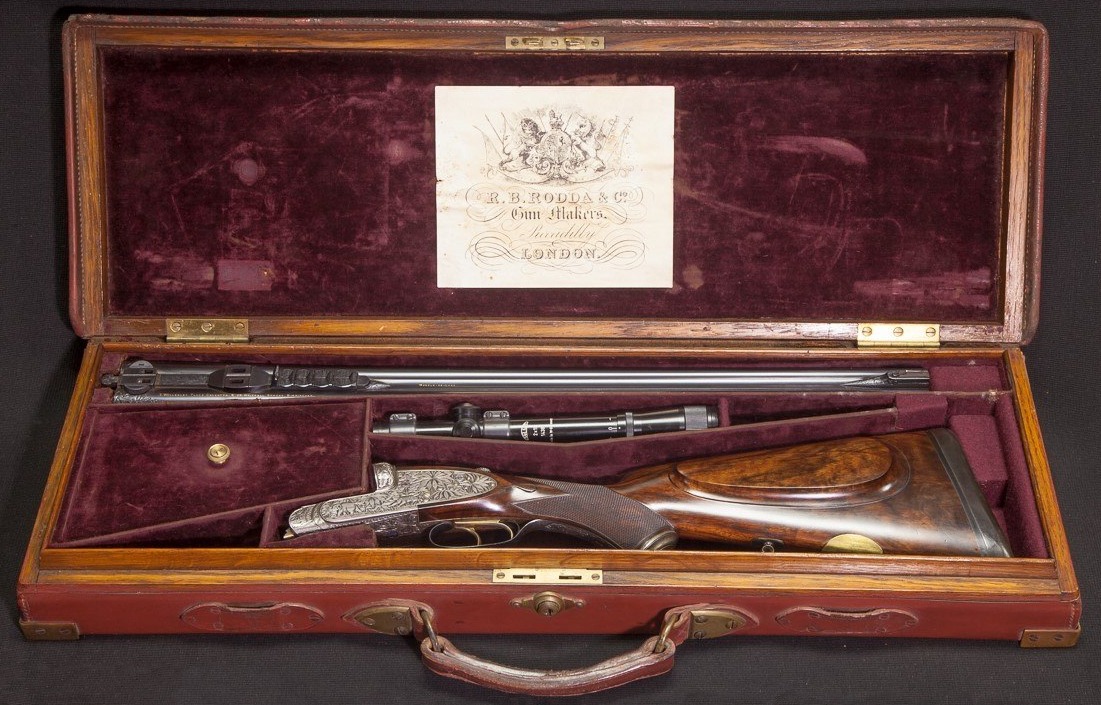 You will find the sale page for this rifle at Guns International if you click here.
Conclusion
R.B. Rodda & Co. of London, Birmingham and Calcutta were one of the notable suppliers of arms during the years of the British "Raj" in India and elsewhere in Asia. No doubt there are still Rodda guns and rifles scattered around the region, some in good condition, and some in pretty awful condition given the "interesting" political upheavals that have torn nations apart in the years after the Second World War.
Their guns and rifles were normally made by others, but the quality was superb as you have been able to see from the small number of Rodda rifles we have looked at. If you have one in your "I've got this old gun…" closet then you might want to get it out and either clean it up and take it shooting, or look to sell it through someone who knows the value of these things so it will move on to a good home where, we hope, it will be looked after for future generations.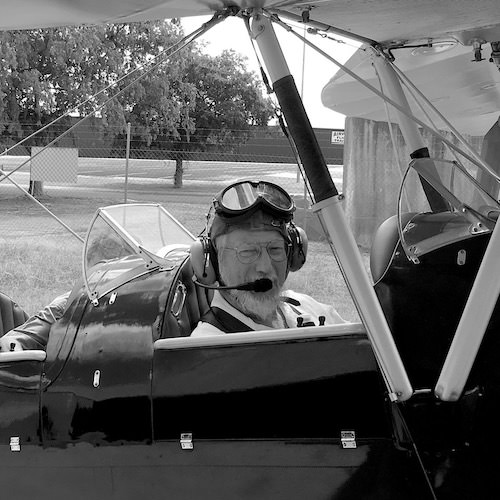 Jon Branch is the founder and senior editor of Revivaler and has written a significant number of articles for various publications including official Buying Guides for eBay, classic car articles for Hagerty, magazine articles for both the Australian Shooters Journal and the Australian Shooter, and he's a long time contributor to Silodrome.
Jon has done radio, television, magazine and newspaper interviews on various issues, and has traveled extensively, having lived in Britain, Australia, China and Hong Kong. His travels have taken him to Indonesia, Israel, Italy, Japan and a number of other countries. He has studied the Japanese sword arts and has a long history of involvement in the shooting sports, which has included authoring submissions to government on various firearms related issues and assisting in the design and establishment of shooting ranges.