(Note: This post was updated with additional information on 7th April 2015).
The 9.3x64mm Brenneke is, in my mind at least, one of the top two cartridges for the "one rifle world wide hunter". There are only two factors that put it in second place to the 375 Holland and Holland Magnum. The first being that there are a small number of African nations where the .375″ bullet is the legal minimum for large dangerous game: The second being that both ammunition and re-loading information for the 375H&H Magnum is much more common than for the 9.3×64 Brenneke.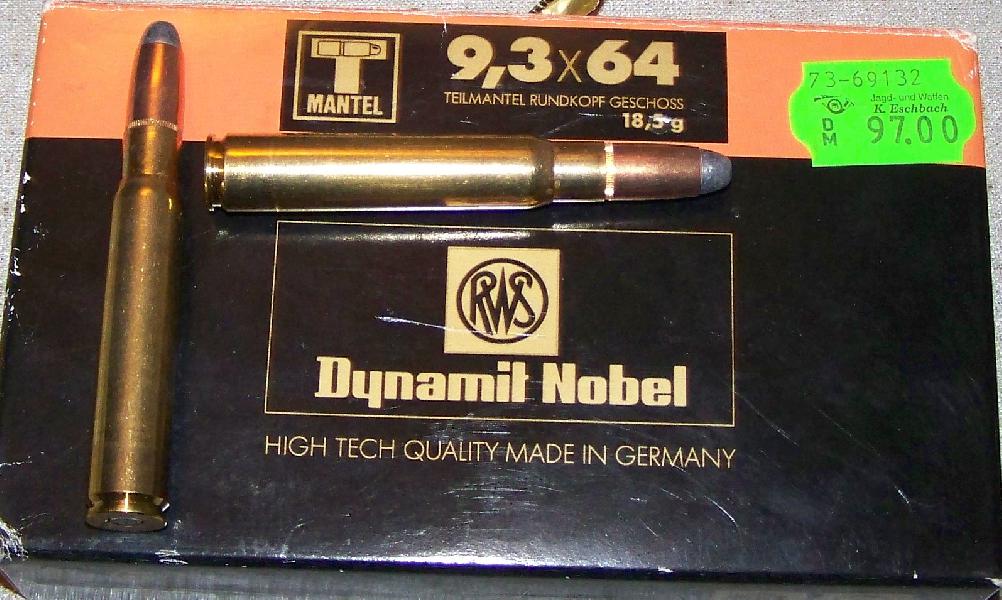 Nonetheless the 9.3×64 Brenneke is by no means either an obsolete or a rare cartridge on the world stage, although it is likely to be uncommon in the United States. In fact two Steyr Mannlicher Model S rifles I had the pleasure of examining in a gun shop in Jakarta in 1975 were both chambered for the 9.3×64 Brenneke and the rifles were intended to be used for deer stalking. So, although the caliber might be less common in the USA, Nosler provide excellent loading data for use with their 250 grain "AccuBond", 286 grain Spitzer Partition, and 286 grain Solid bullets.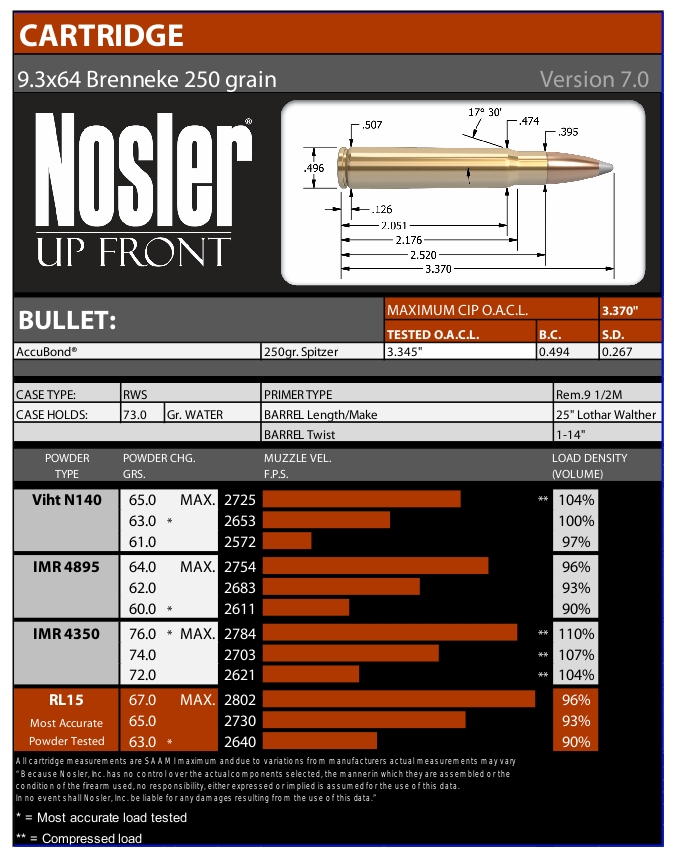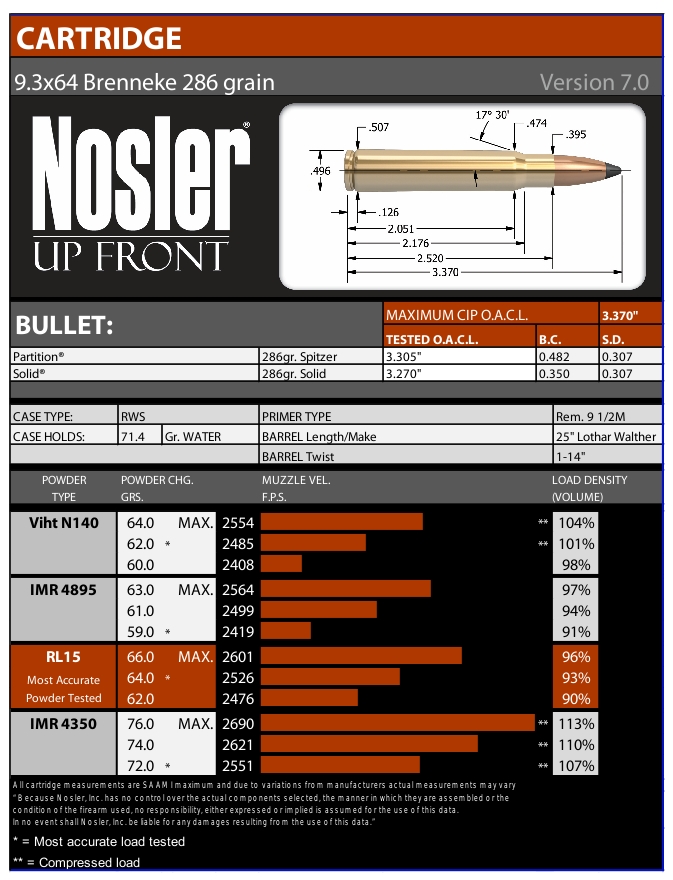 Nosler's web site is well worth visiting; they provide re-loading data on-line and free. The data can be downloaded in PDF format and/or printed so you have a permanent record, and, of course, Nosler bullets are second to none in the world. You can find this data for the 9.3×64 Brenneke if you click here. Linked to that page are all the calibers for which Nosler provide free re-loading data.
Just that set of loading data for the superb Nosler bullets would really be enough to tackle pretty much anything from deer on up on planet earth with a 9.3×64 Brenneke, but additional data is out there. There is additional free re-loading data available for those interested in searching the web for it. Additional data can be found on an Italian language site here for example. Just be aware that re-loading data found on unknown web sites needs to be checked for reliability against other sources. Data from a company such as Nosler however can be trusted as reliable. This makes the data above as published by Nosler particularly valuable.
Another reliable source of data is the web site of Brenneke Ammunition GMBH who provide both loaded ammunition and bullets for Wilhelm Brenneke's original cartridges plus some others more familiar to those in the USA and Canada such as the 7mm Remington Magnum, the 300 Winchester Magnum and the 375 Holland and Holland Magnum. Brenneke Ammunition GMBH also provide factory reloading data including for the 9.3×64 Brenneke.

You will find information on the cartridges Brenneke make if you click here.
You will find reloading data for Brenneke cartridges and for a number of calibers familiar to USA and Canada shooters if you click here.
The data and brochures are in PDF format and you can download them freely if you click here.
How does the 9.3×64 Brenneke stack up against the 375 Holland and Holland Magnum? Does it really deserve equal status with the 375H&H Magnum? To answer that let's look at the entries for both cartridges as published by RWS of Germany.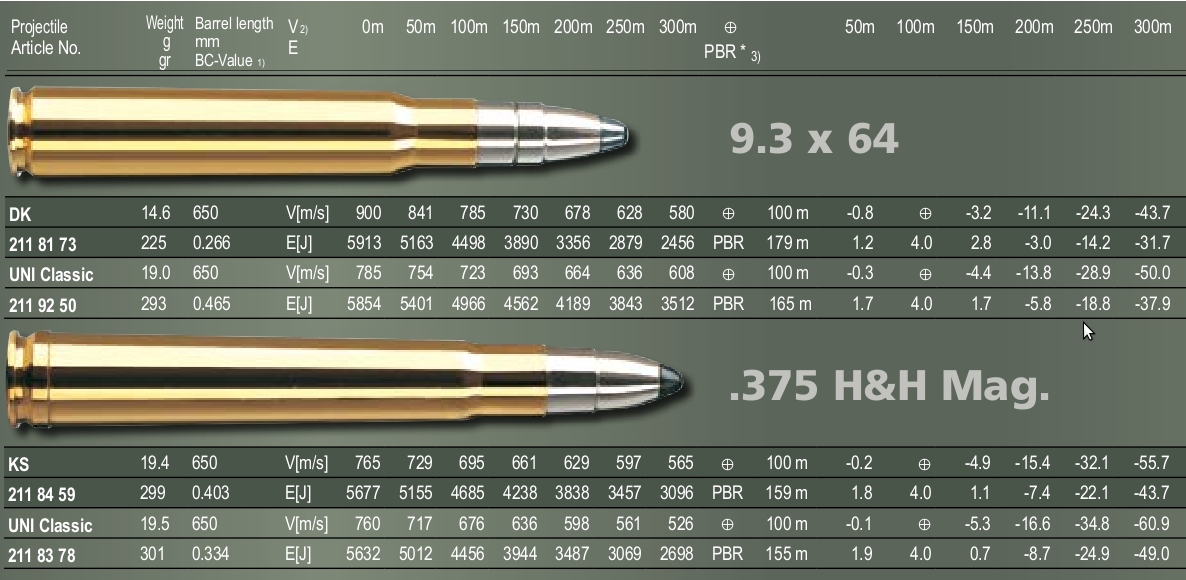 As you can see from the above data the 9.3×64 Brenneke drives a 293 grain Uni Classic bullet at 2575fps (785m/s) by comparison with the 375 Holland and Holland Magnum which drives a 301 grain Uni Classic bullet at 2493fps (760m/s). Thus the 9.3×64 Brenneke starts out a near equal bullet weight, with a much higher Ballistic Coefficient, at slightly higher muzzle velocity, to deliver more energy at the muzzle, and as we move downrange to 300 meters the difference becomes even more marked in the 9.3×64 Brenneke's favor. The two cartridges are very closely matched in performance. I'd feel adequately equipped to face any game animal on earth armed with a rifle chambered for either one of them.
The 9.3x64mm Brenneke is one of those lesser known but absolutely superb calibers that deserves to be far more popular than it currently is. It is most commonly found chambered in top quality European rifles and is, as I said in the beginning of this post, one of my top two cartridges for the "world wide one rifle hunter". What you choose may ultimately depend on what is available in the rifle of your choice.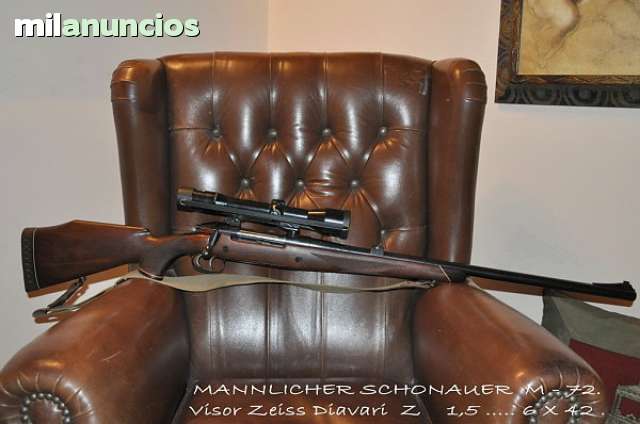 (Our feature image at the top of this post is courtesy of neconos.com)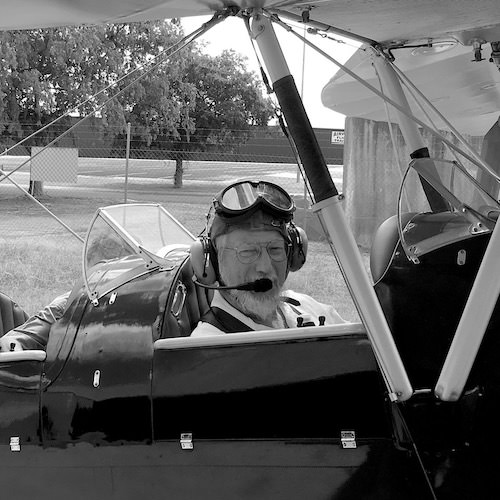 Jon Branch is the founder and senior editor of Revivaler and has written a significant number of articles for various publications including official Buying Guides for eBay, classic car articles for Hagerty, magazine articles for both the Australian Shooters Journal and the Australian Shooter, and he's a long time contributor to Silodrome.
Jon has done radio, television, magazine and newspaper interviews on various issues, and has traveled extensively, having lived in Britain, Australia, China and Hong Kong. His travels have taken him to Indonesia, Israel, Italy, Japan and a number of other countries. He has studied the Japanese sword arts and has a long history of involvement in the shooting sports, which has included authoring submissions to government on various firearms related issues and assisting in the design and establishment of shooting ranges.