A Blend of Two British Icons
For car aficionados the name Land Rover needs no introduction, and their top of the line model, the Range Rover will be familiar and in all likelihood lusted after by many. The British however are a nation of many talents, some of which are largely hidden from the view of many, but well known to those who's interests take them on a quest to seek out the best that can be found anywhere on earth. For those whose interest is in the finest sporting guns and rifles that money can buy then there are a few gunmakers, mostly in the capital city, London, who will make you a sporting gun or rifle that will be a flawless blending of art and the gunmaker's craft.
So what would happen if Land Rover got together with one of these "best" London gunmakers to build a Range Rover that married together the luxury and practicality of the Range Rover with the tradition, art, and craftsmanship of the London gun trade? We find the answer in the Range Rover made in collaboration with historic gunmaker Holland & Holland.
Land Rover and the Range Rover: Background
The Land Rover was a car that was never intended to be: it was made in the aftermath of the Second World War as a stop-gap design built by luxury car maker Rover to provide a British made "Jeep" for the many tasks that needed to be done for the re-building of Britain and Europe, and the Commonwealth countries of Africa and Asia. The first prototype had been built on a Jeep chassis and it used war surplus materials as far as possible: the body panels were made of an aluminum alloy called "Birmabright" not because the designers preferred it, but because it was plentiful and cheap in post-war austerity Britain. Similarly the first Land Rovers were painted in "bomber cockpit green" military surplus paint.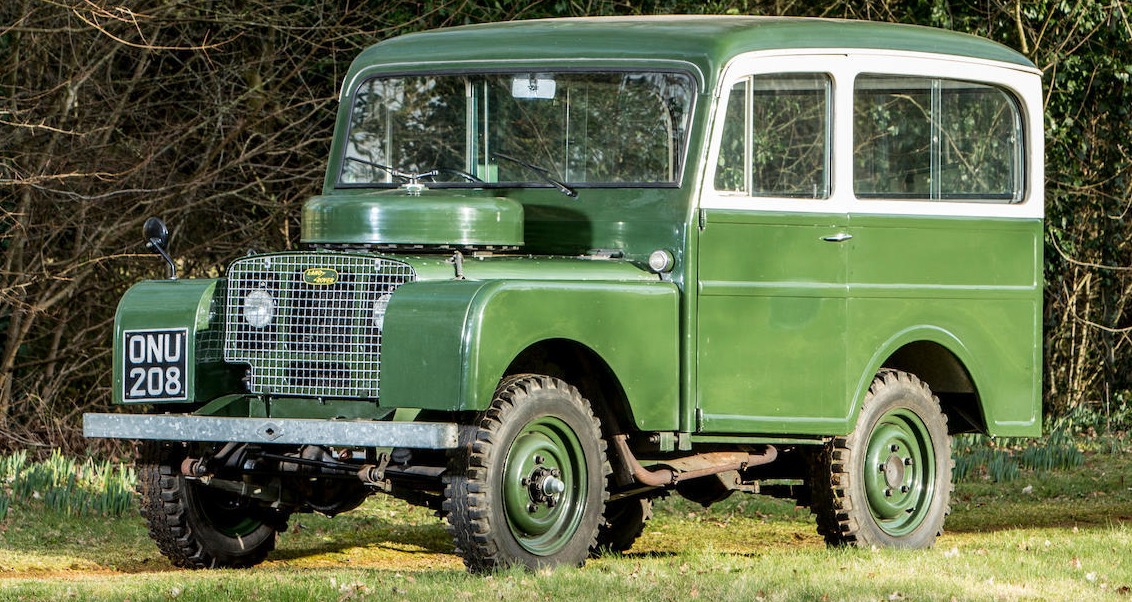 Rover had been a luxury car maker before the war however and they were determined to remain so, with the result that by 1970 Rover, by that time under the British Leyland banner, blended the utility of the Land Rover with a luxury car V8 engine, coil spring suspension, and appointments to create the Range Rover, a four wheel drive with both the show and the go to match.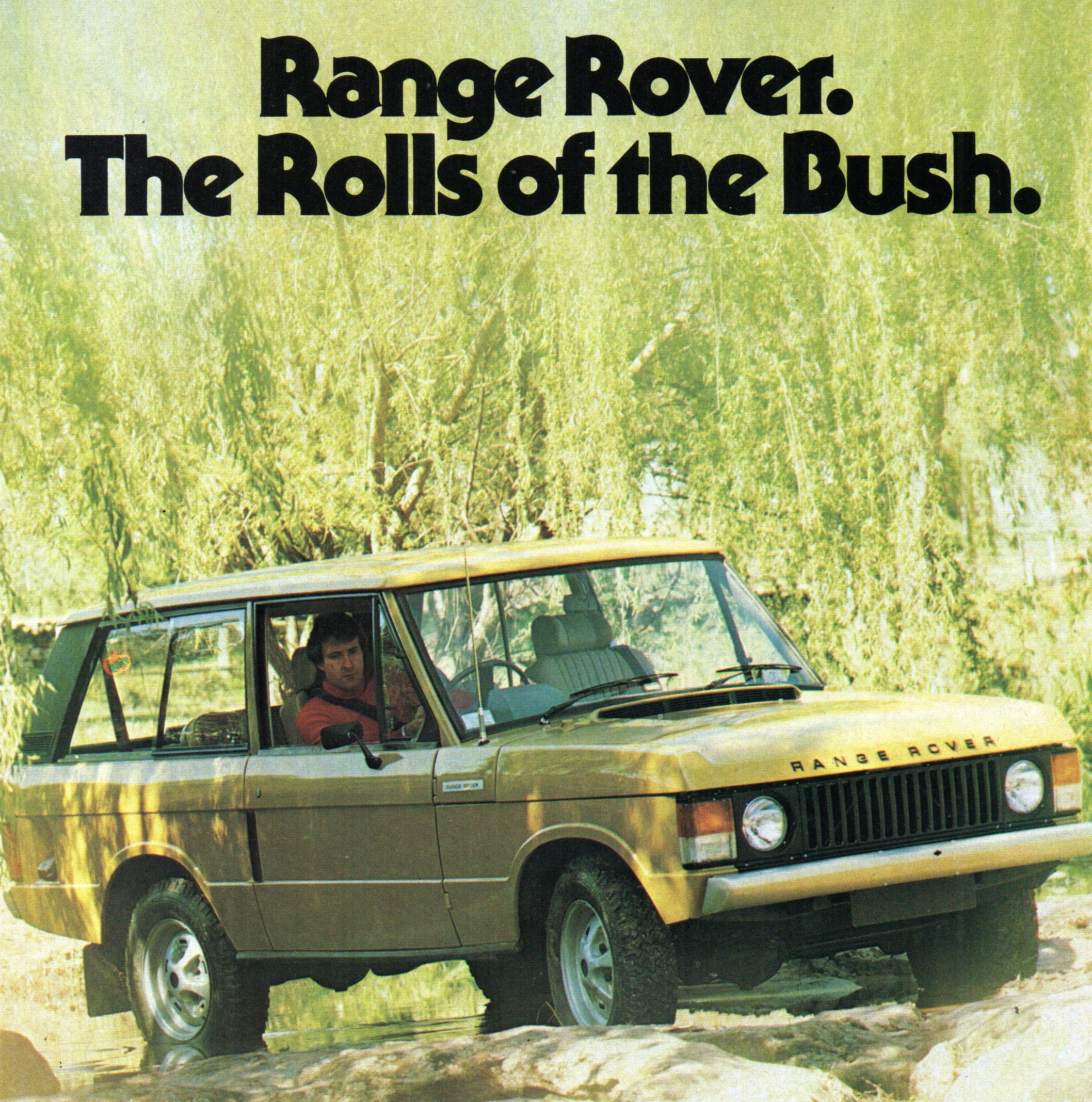 The Range Rover was designed to be not only more luxurious than the Land Rover, but to be more capable in all aspects, including both on and off road performance. This was in some respects a bit paradoxical: the Land Rover was totally utilitarian and so when you scratched or dented it going into interesting places then that was just something you expected. On the other hand the Range Rover was expensive, pretty like a road car, and not a vehicle that you would necessarily want to scratch or dent while going where there is no path to get to your favorite fishing or hunting spot.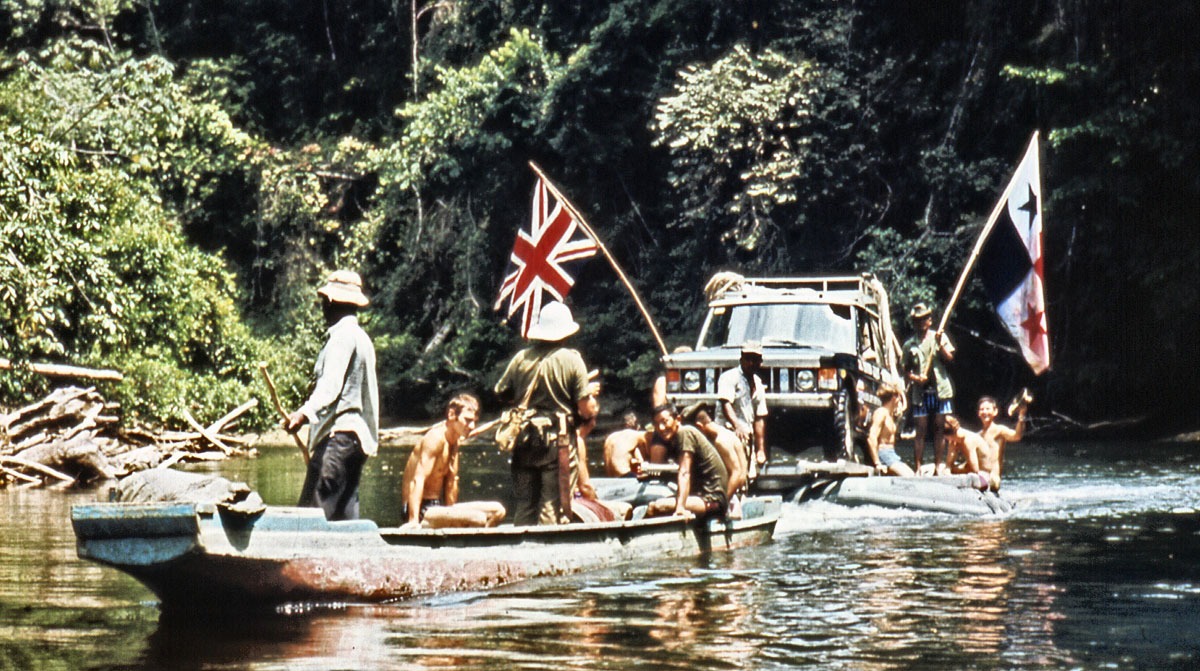 Rover/Land Rover made the point of demonstrating the capability of the Range Rover in doing the 1971-1972 British Trans-Americas Expedition, which involved traversing America from Alaska to Cape Horn, including literally going where there was no road through the Darién Gap, between Yaviza in Panama, and Turbo, Colombia. So, despite the pretty bodywork and nice comfy interior, the Range Rover was and is a superlative on and off road vehicle, as one might discover if willing to get it a bit scratched or dented in traveling into difficult places.
Holland & Holland: Background
British sporting gunmaker Holland & Holland had their beginnings back in 1835 under the ownership of Henry Holland. Henry Holland invited his nephew Henry Holland to join him in the business in 1875 and the name Holland & Holland was in use from that time on. Eight years later Holland & Holland entered the sporting arms trials of 1883 organized by "The Field" magazine and won all the rifle categories. This was quite sufficient to raise the name Holland & Holland into high esteem, especially as a rifle maker.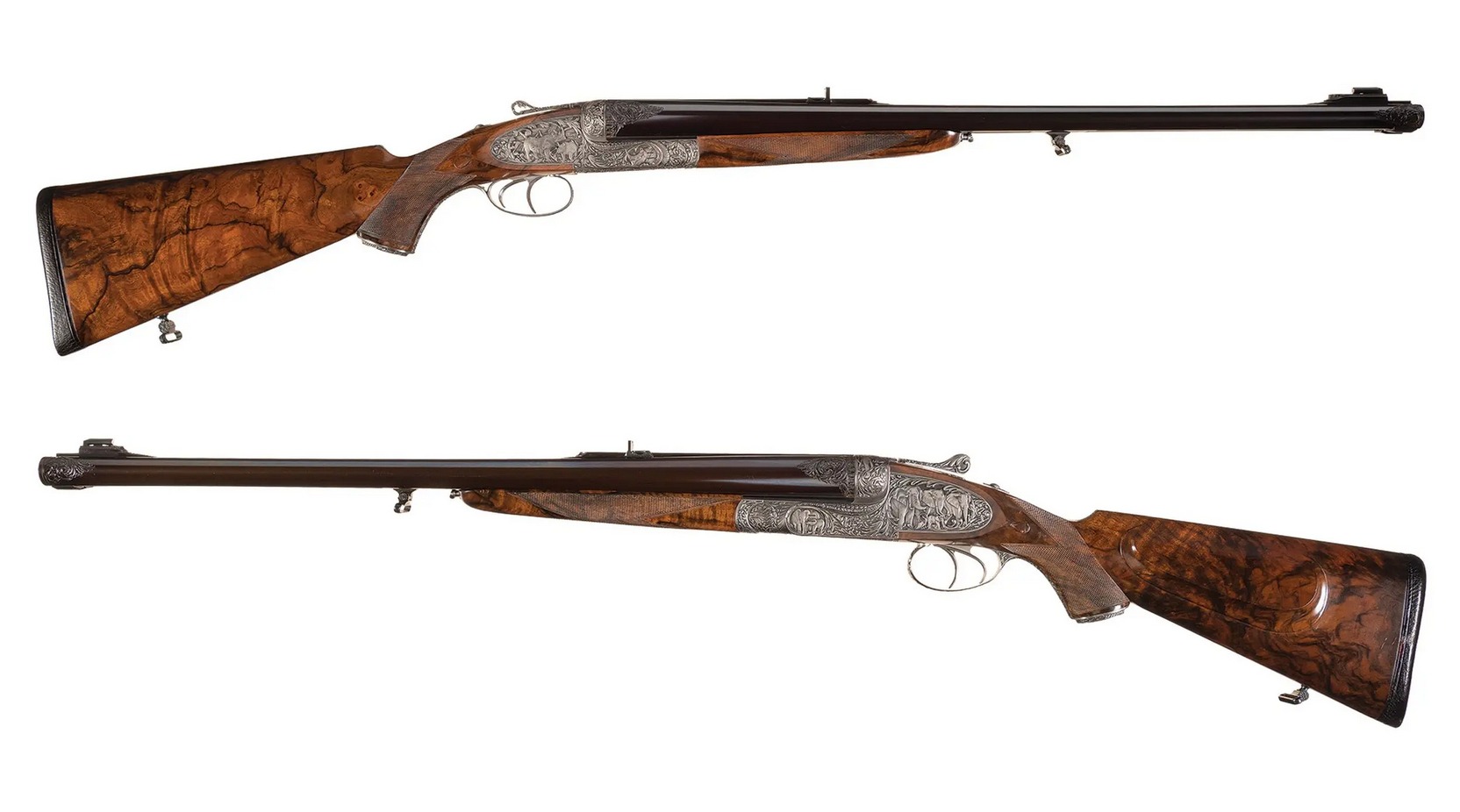 When we think of the term "rifle maker" we should remember that from the late nineteenth century up until the outbreak of the Second World War was the golden age of the British Empire and also the golden age of big game hunting. Therefore the rifles Holland & Holland became especially renowned for were their dangerous game rifles, both double barrel, and bolt-action "magazine" rifles, that were used by professional hunters, dedicated sportsmen and women, and royalty, notably in India. Movie buffs might think of the rifles used in "Out of Africa": Finch-Hatton uses a British double rifle while Karen Blixen has a bolt action magazine rifle.
The Holland & Holland double rifles were especially prized: when you are in a situation where your quarry is quite likely to kill or maim you if you get things wrong then a side-by-side double rifle provides a swift sure second shot in a rifle that handles with the speed and instinctiveness of a well fitted double barrel shotgun. The Holland & Holland "Royal" double rifles featured an assisted opening mechanism, normally in conjunction with ejectors that would clear the breech for speedy reloading. Part of the point of the side-by-side double rifle was that it provided two barrels and two independent firing mechanisms so that, in the event of an ammunition or mechanical failure, the hunter would still have a functioning single-shot rifle to give him/her the best chance of un-mauled survival.

Not only have Holland & Holland made elegant and functional shotguns and rifles, they have a long history of making shotguns and rifles that are works of art: in part because of the form and function of the gun or rifle itself, but also because of the extraordinary engraving work that adorns these guns and rifles in a way that coordinates the aesthetic form, engraving, and function into a complete whole. These truly are works of art, not just "tools".
The Holland & Holland Range Rover
Beginning in 2014 Land Rover teamed up with Holland & Holland to bring together two things that the British do exceptionally well, luxury cars, and luxury sporting arms. If ever a four wheel drive was going to outclass a Rolls-Royce or Bentley this was going to be the vehicle to do it. Land Rover's Special Vehicle Operation (SVO) were given the task of collaborating with Holland and Holland to perform the necessary surgery to transform an already luxurious Range Rover Autobiography Black into a vehicle worthy of having the Holland & Holland name tastefully emblazoned on it, and both standard and long wheelbase versions were offered.
The Range Rover Autobiography Black's features already included 18 way power bucket seats in the front, and in the rear not only bucket seats, but bucket seats with power reclining to 17 degrees, and leg rests just as one might find on one of those rather expensive custom living room chairs in the long wheelbase model. Not content with that the rear seat passengers were provided with 10.2″ screens so that one could wile away the idle hours as one's chauffeur drives to the hunting or shooting destination.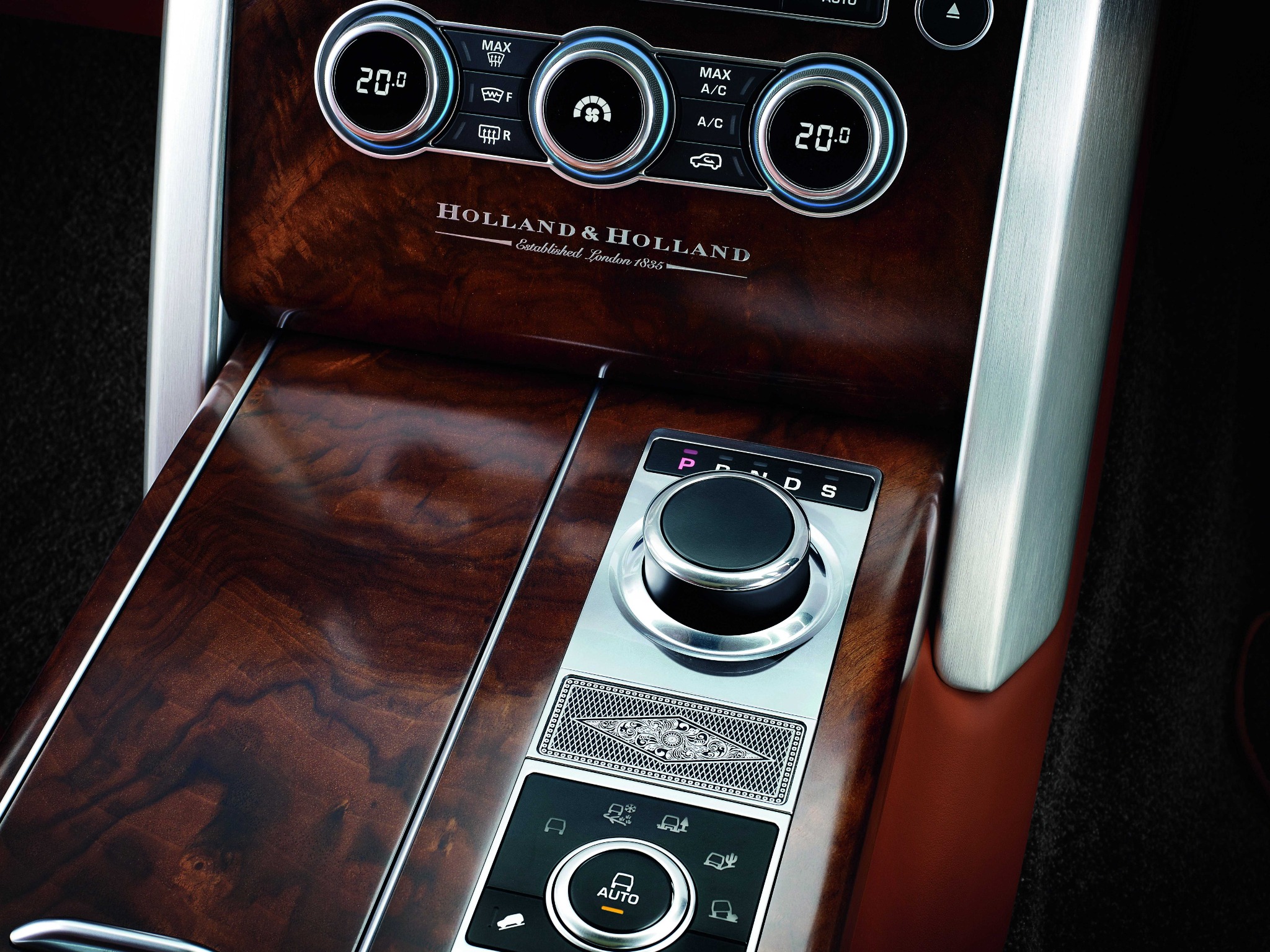 The Holland & Holland model added to these features by providing an interior upholstered in fine espresso tan leather with Holland & Holland embroidery on the front seats and a Holland & Holland logo on the center console. A real British luxury car of course features walnut veneer trim and the Range Rover Holland & Holland has French Walnut cut from a single 1,500×500 mm piece to ensure all the wood on the car matches and coordinates.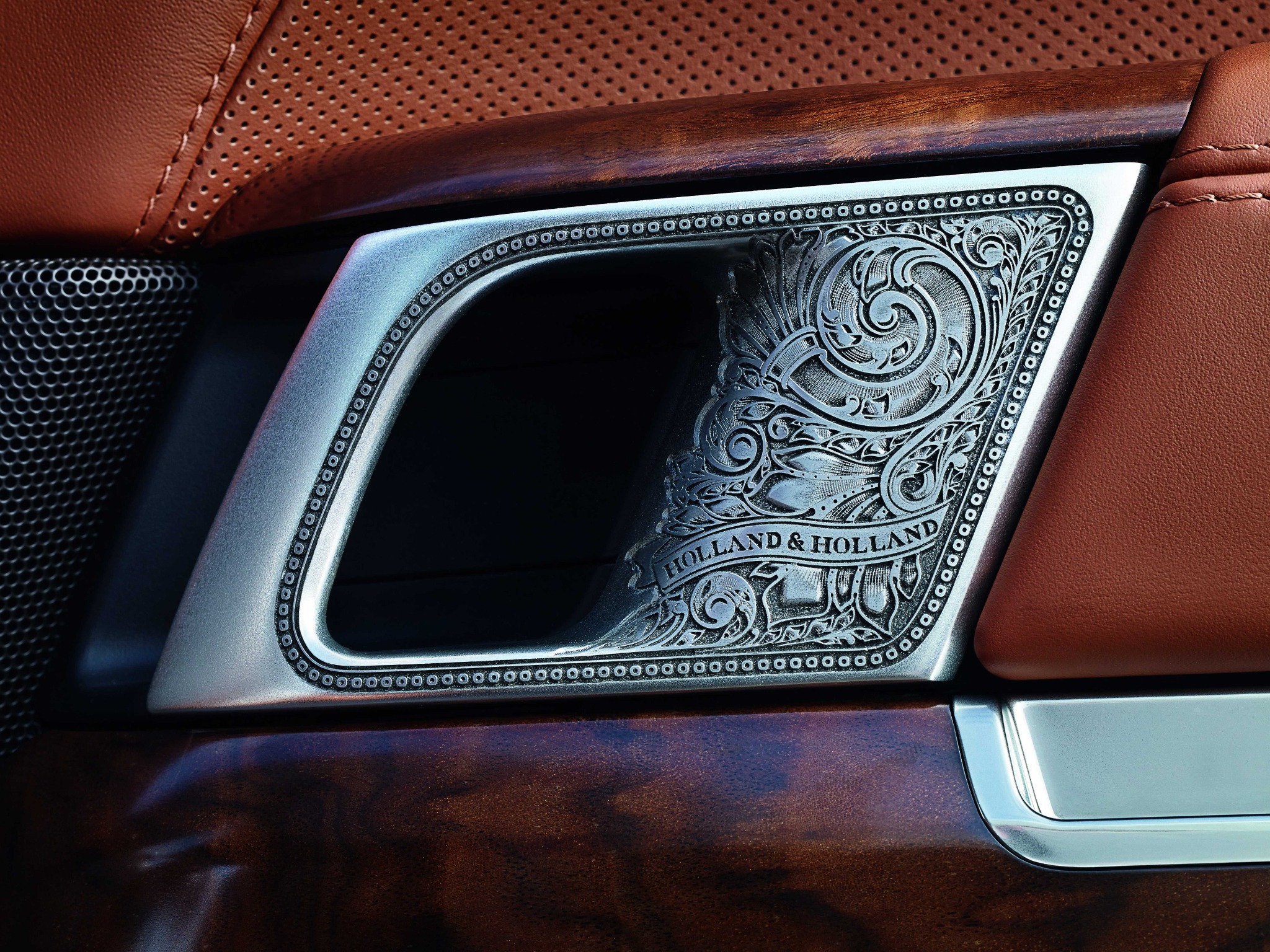 Interior metal fittings feature Holland & Holland's signature Acanthus style engraving while the fascia letterbox panels are checkered, just like the checkering used on the pistol grip and fore-end of a classic gun or rifle.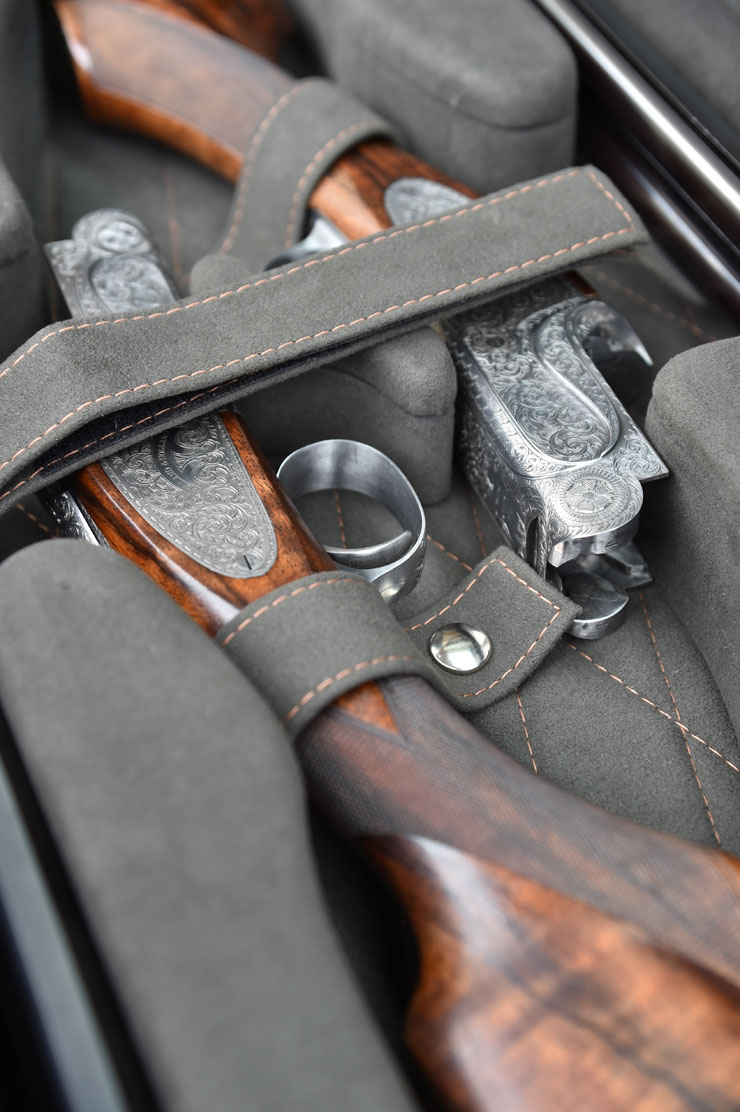 The piece de resistance of the Holland & Holland Range Rover, as one might expect, is the fitted gun/rifle case in the rear. This leather trimmed load cabinet with espresso Alcantara trim is debossed with the Holland & Holland logo, the whole thing made to be a perfect way to securely transport a pair of Holland & Holland double shotguns, or a double rifle or two if heading out for a spot of deer stalking.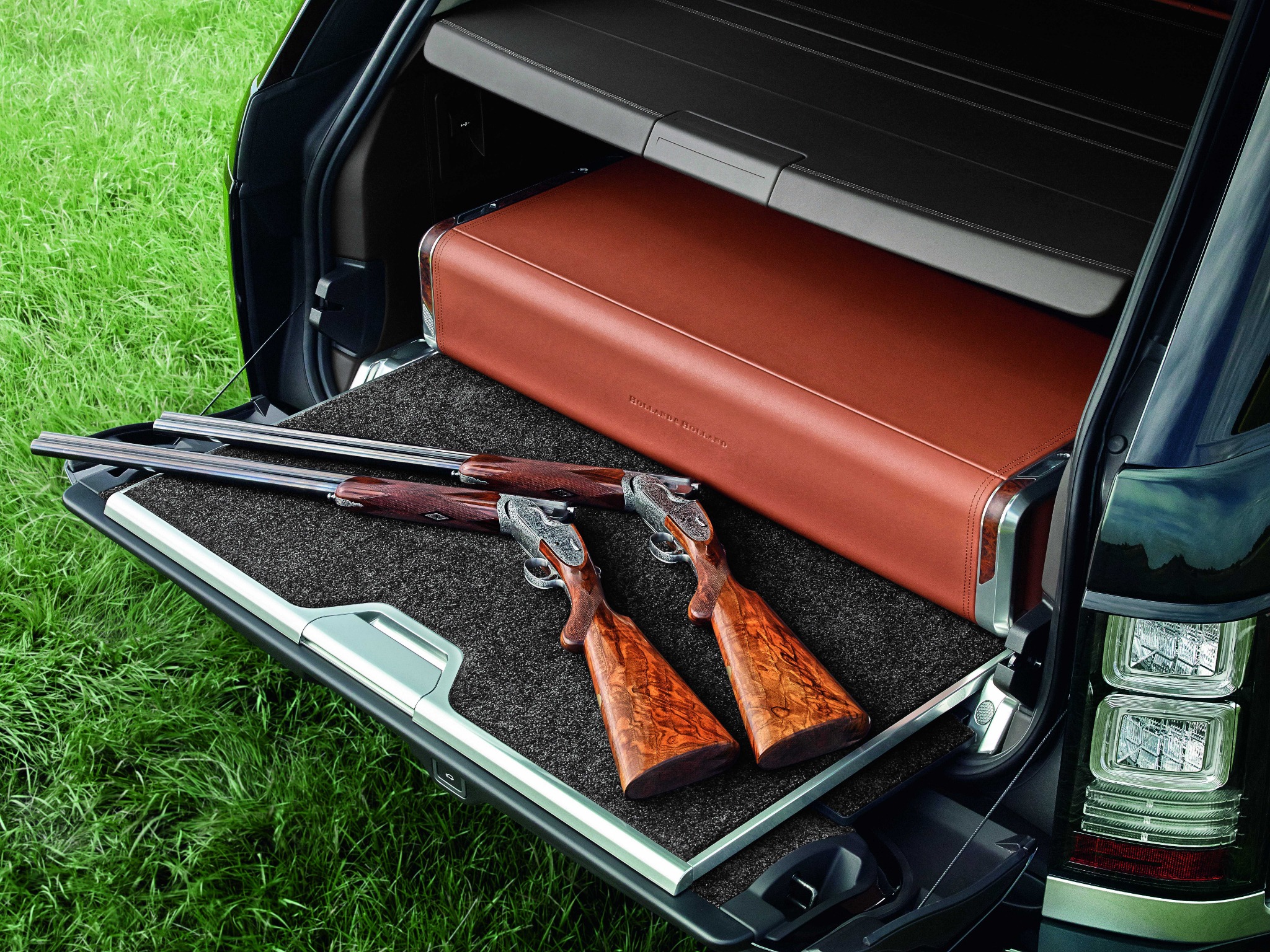 Engines for the Holland & Holland Range Rover are either the 4.4 liter V8 diesel SDV8 producing a nicely adequate 339 hp or, for those who prefer life in the even faster lane, the 5.0 liter petrol/gasoline Supercharged V8 generating 510 hp of neck straining power with a top speed of 155 mph when fitted with the optional 22 inch wheels: a speed which is just a little north of that accomplished by the Jaguar E-Type back in the 1960's. Both engines deliver their considerable power outputs through an eight speed automatic transmission.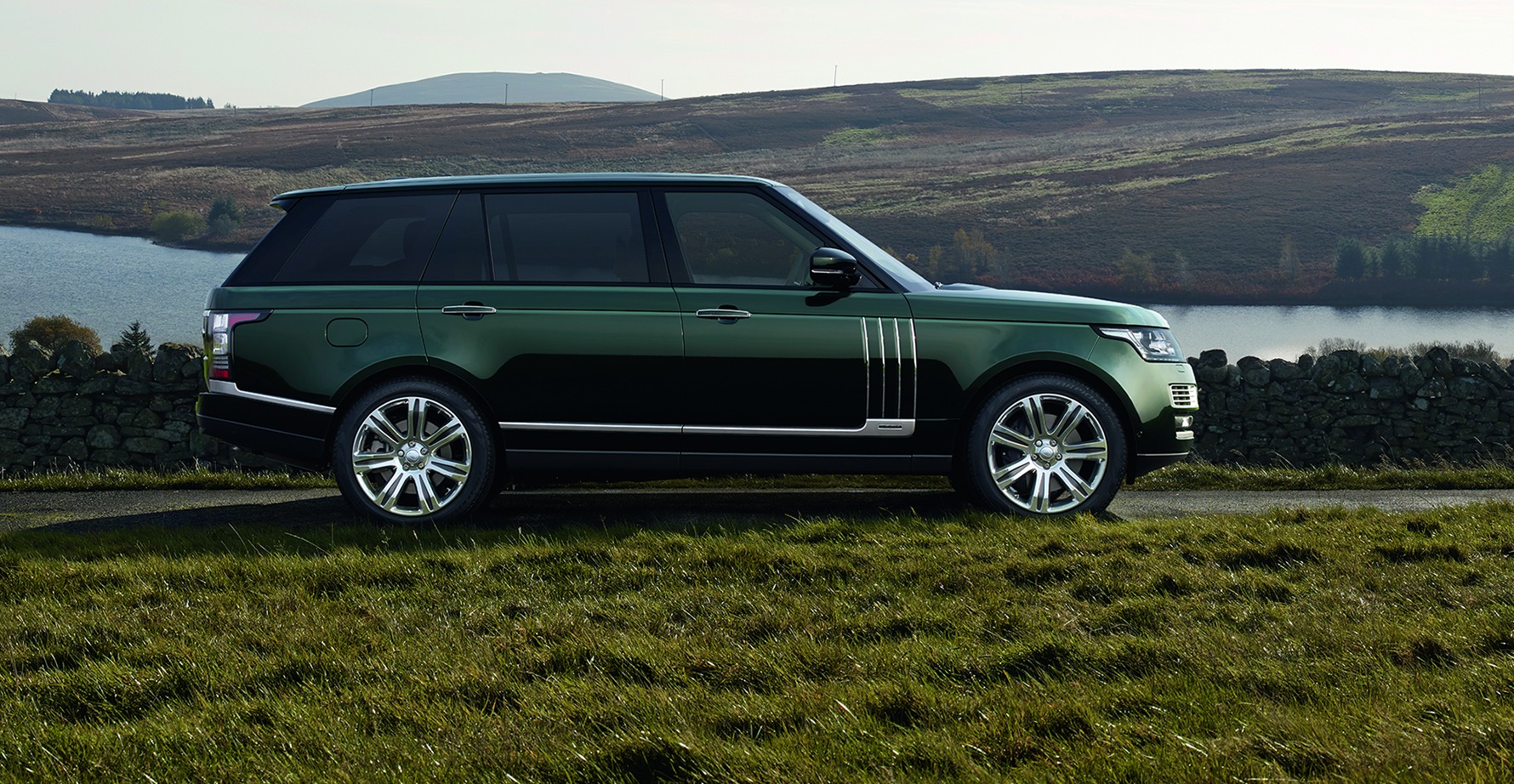 The Holland & Holland Range Rover comes painted in a deep green reminiscent of the baize lining of Holland & Holland gun cases, although also perhaps also reminiscent of the "bomber cockpit green" that the original Land Rover Series I cars were painted in.
Conclusion
The Holland & Holland Range Rover is a limited edition and Land Rover's SVO unit makes just forty of them per year. The price is quite similar to that of a Holland & Holland "Royal" double rifle, which tend to be in the six figure realm of nice crisp British pound notes. For current pricing and options you will find a contact form at the bottom of the Holland & Holland Range Rover page on their website if you click here.
This vehicle brings together two of Britain's most famous names, one of Britain's most outstanding automobile makers, with one of Britain's most famous makers of fine sporting guns and rifles. No doubt in the future the value of both the car and the rifles could be expected to prove them to be good investments.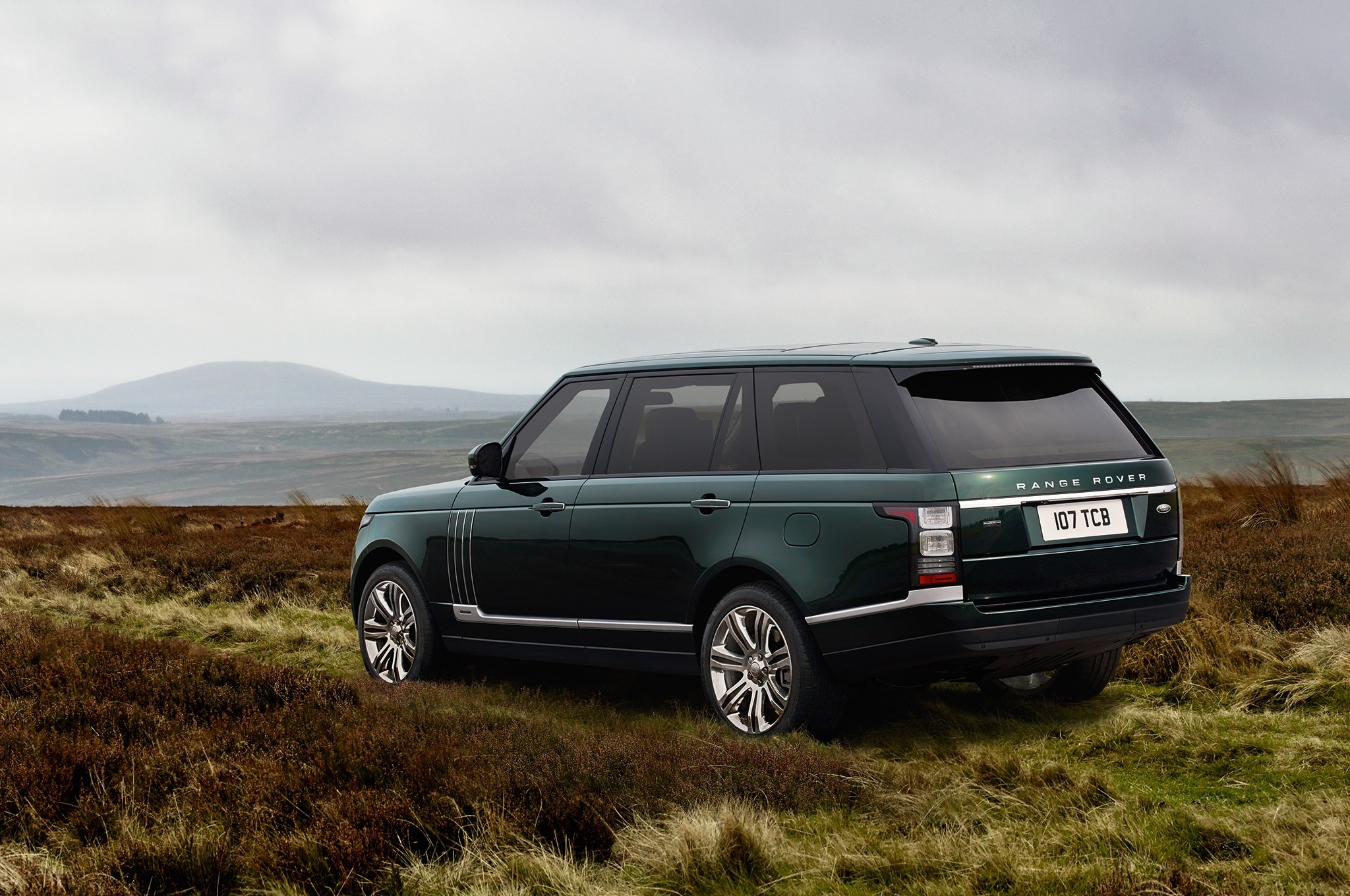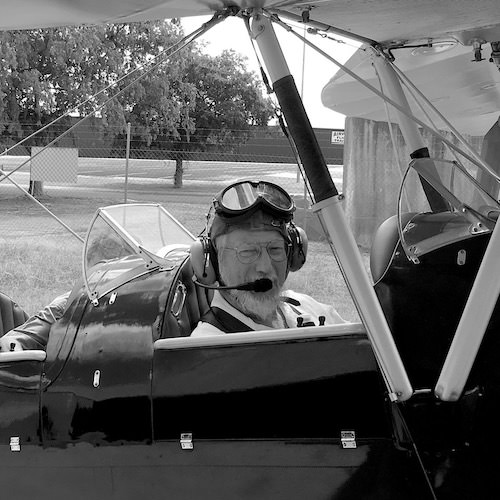 Jon Branch is the founder and senior editor of Revivaler and has written a significant number of articles for various publications including official Buying Guides for eBay, classic car articles for Hagerty, magazine articles for both the Australian Shooters Journal and the Australian Shooter, and he's a long time contributor to Silodrome.
Jon has done radio, television, magazine and newspaper interviews on various issues, and has traveled extensively, having lived in Britain, Australia, China and Hong Kong. His travels have taken him to Indonesia, Israel, Italy, Japan and a number of other countries. He has studied the Japanese sword arts and has a long history of involvement in the shooting sports, which has included authoring submissions to government on various firearms related issues and assisting in the design and establishment of shooting ranges.