(Updated with additional reloading data including data from RWS on 11th December 2015)
The 8x68S is one of the finest hunting calibres for big game on planet earth. In terms of size it sits between the likes of the various .300 magnums and the .338 Winchester Magnum and can realistically do anything any calibre in that range can do.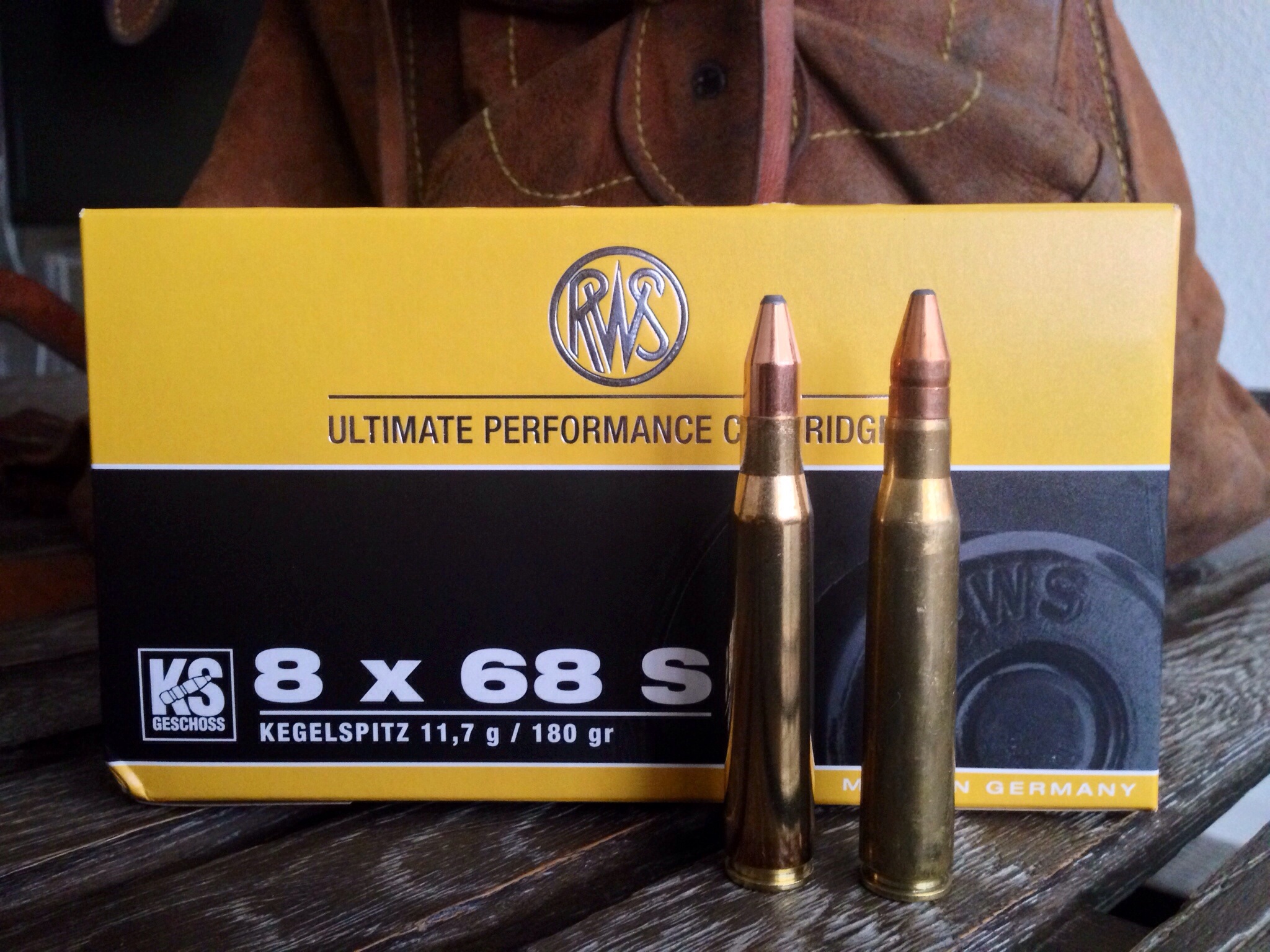 The 8x68S began life back in the late 1930's, most sources say it was created along with its parent, the 6.5×68 around 1939 by August Schüler, a gunsmith whose business was named August Schüler Waffenfabrik, Suhl. The 6.5×68 is commonly referred to as the 6.5×68 Schuler whereas the "S" on the 8x68S does not refer to Schuler but instead denotes that the calibre uses the later and slightly larger diameter 8mm bullet of .323″.
The 8x68S was created in the environment of Hitler's Third Reich just as the Volkswagen was. As the cartridge was almost certainly created the same year World War II began it is surprising that it survived the war and went on to become as popular as it is. That both the 6.5×68 and the 8x68S have survived and prospered is an indicator that, just like the Volkswagen and the Porsche 356, these designs were superb and that ensured their survival.
As you can see from the picture above and from the diagram at the head of this post the 8x68S is a rimless cartridge but it is larger in diameter than the 7x64mm and 30/06 class of cartridge. These are a true magnum capacity cartridge made all the better because they don't have a belt, a belt being generally unnecessary on a bottle-neck cartridge case. In fact the 6.5×68 and the 8x68S are not the same as any other calibre but have unique dimensions. About the only thing that comes close to any other calibre is the rim size, which at .511″ is almost the same as the .44 Remington Magnum's .514″. So you can use the same shell holder in your reloading press for both.
Back in the days when these cartridges were loaded with berdan primers the primers themselves were a unique size not shared by anything else. They were .238″ in diameter. Nowadays factory cases all use standard "American" style boxer primers so they are easy to get primers for.
But it is not just the design features of August Schüler's cartridge case that makes the 8x68S so good. It is the bullets that are made for it. Let's start by having a look at the German RWS factory loadings for it.

As you can see from the table above RWS loads the 8x68S with the Kegelspitz (Cone Point) bullet in two weights, 180grain and 224grain. The Kegelspitz is, in my experience, the best general purpose bullet. The Doppelkern (Dual Core) which is similar to the Kegelspitz but with a soft front core which is intended for expansion and a hardened rear core for penetration. Next is the H-Mantle (HMK) which is an old but proven design providing an expanding front core and a hard rear core. The H-Mantle has a copper cover over its hollow point to increase its ballistic coefficient whilst having a hollow point style of front core expansion. The 200grain EVO bullet is intended for bone smashing penetration on big game. The illustration from the RWS catalogue shows its construction clearly, see below.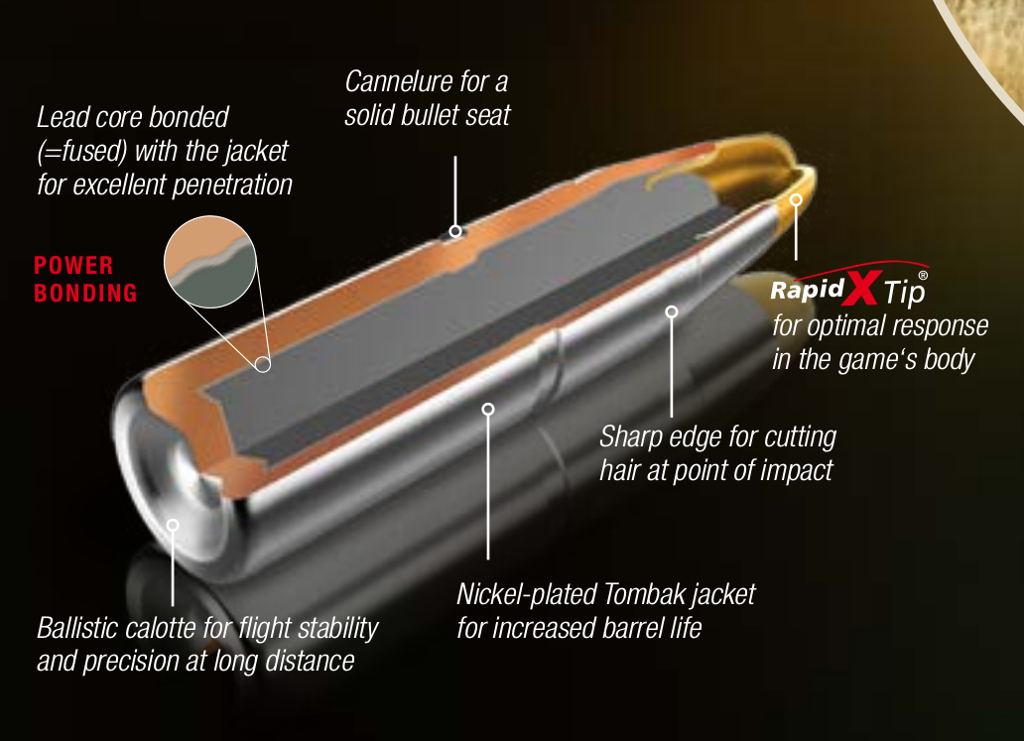 RWS are not the only ones who manufacture ammunition for the 8x68S:
Ammunition is available from Norma. You will find their loading for the 8x68S if you click here.
Swiss Arms load the 8x68S. You will find their loading if you click here.
Blaser load the 8x68S also.
Brenneke load the 8x68S. To see their page click here.
Reloading for the 8x68S is well catered for as far as empty cases, dies etc. is concerned. You'll find a page for the 8x68S on MidwayUSA if you click here.
Reliable reloading data for the 8x68S however has been a bit more challenging to find. Hornady have included it in their reloading manuals from the 6th edition onwards so adequate reloading data is easy to obtain.
The current Hornady® Reloading Handbook: 9th Edition has load data for the 8x68S (but not for the 6.5×68)

You can purchase this from Hornady if you click here.
You can purchase this from Amazon if you click here.

Brenneke provide loading data for the 8x68S. To see it click here. (Note: there are a few pages you can download. All pages are in metric measures so you need to convert if you want to use more familiar American measures).
Australia Defence Industries list the 8x68S in their reloading manual on page 167. To see it click here.
Hodgdon also publish data for the 8x68S for their powders H4350 and H4831 in association with Australia Defence Industries. To see their data for Hodgdon powders click here.
All of the above are free to download in PDF format.
RWS provide load data for the 8x68S in their reloading manual. The manual is in German and the load data provides powder charges in both metric measures in grams and American measures in grains. Load data taken from the RWS manual uses RWS Rottweil powders. The data is reproduced below with kind permission from RWS.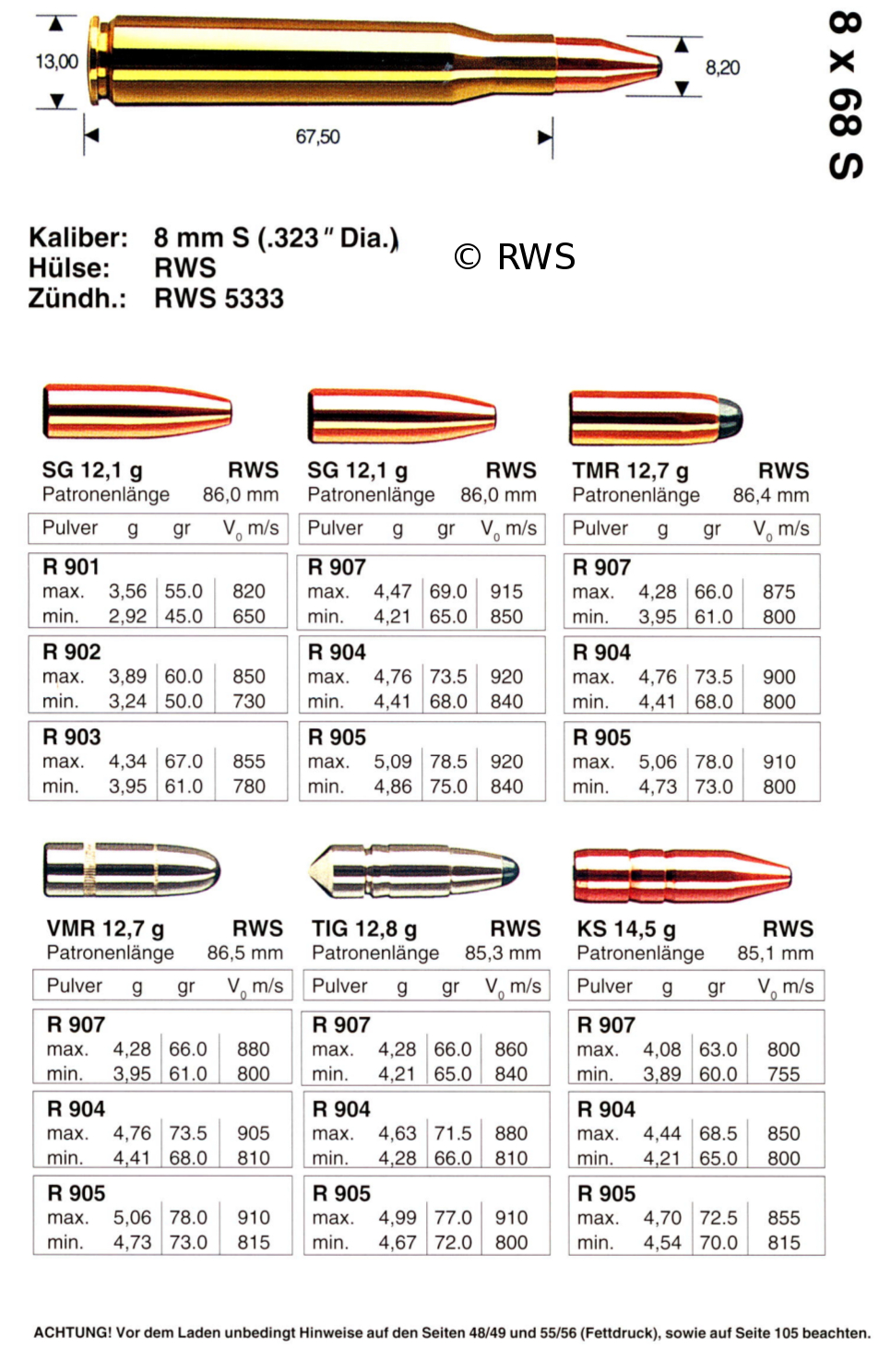 Curiously Norma load factory ammunition for the 8x68S but don't publish loading data for it in their current reloading manual.
I've been told that Vihtavuori published reloading data for the 8x68S and the 6.5×68 in the third edition of their reloading manual. However I don't have a copy of the third edition to check on that so I can't verify whether or not that is the case. The Vihtavouri 3rd Edition Reloading Manual is available on Amazon for a fairly hefty price if you click here. However, I can't be certain that the 8x68S reloading data is in it for sure. If it was cheap I'd just risk it and buy one. But at US$115.00 on up it isn't something I'm going to gamble on.
So there is some reloading data out there but it isn't nearly as adequate as we would like.
The 8x68S is a fabulous cartridge. Back when I owned a rifle in its parent calibre, the 6.5×68, I wanted to create a wildcat by necking the 8x68S up to 9.5mm/.375″. That was back in the 1980's and at the time family and mortgage ensured that the wildcat 9.5x68mm was never born. Someone else eventually got around to it in 2007 so nowadays there is a 9.5x68mm officially called the .375 Hölderlin and there is also a .338 version called the 8.5×68mm Fanzoj which was created in 2012. It was an obvious idea and I'm sure lots of other people thought of it but didn't have the spare cash and time to make it happen. Its good to see both wildcats finally in circulation.
If you find a rifle you really like in 8x68S then I'd say don't hesitate. Jump in and buy it. I think it will become a rifle you will use and enjoy more than most others you might own just as my 6.5x68mm was for me.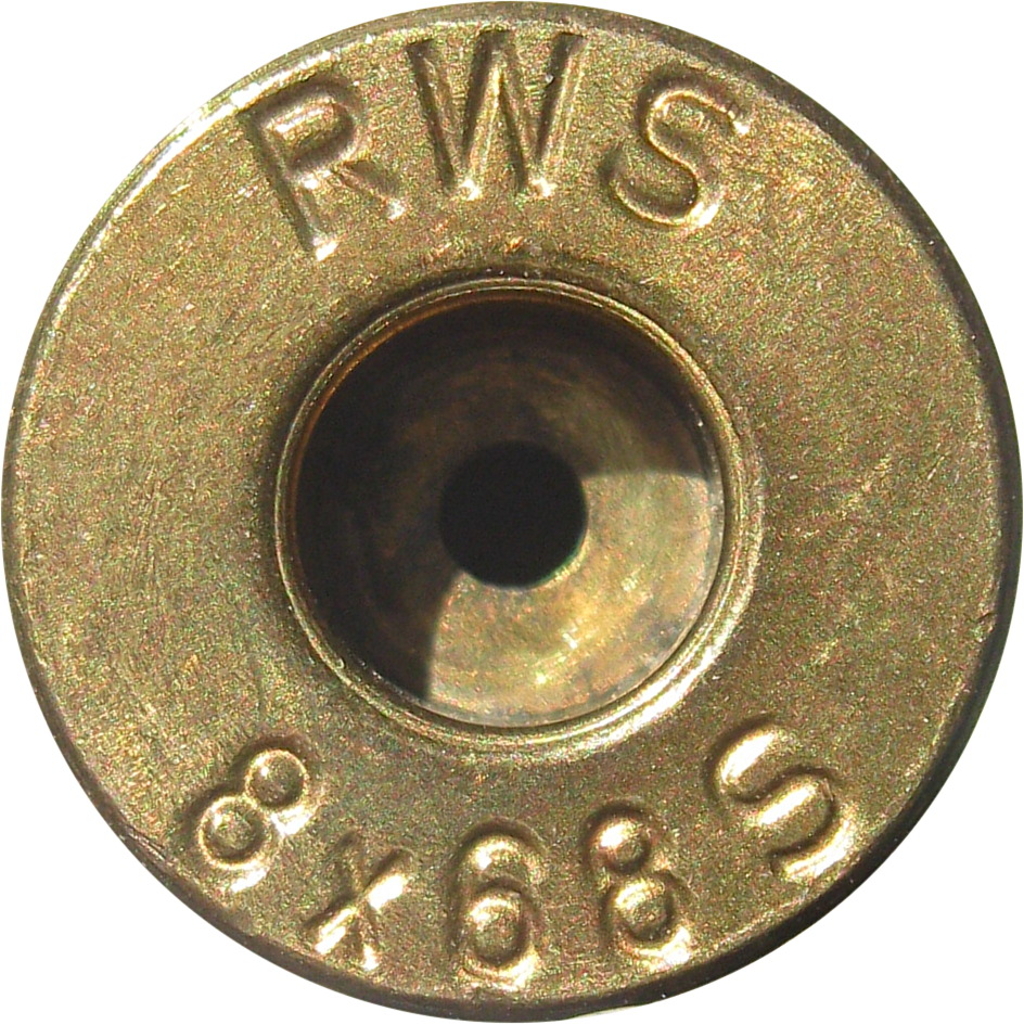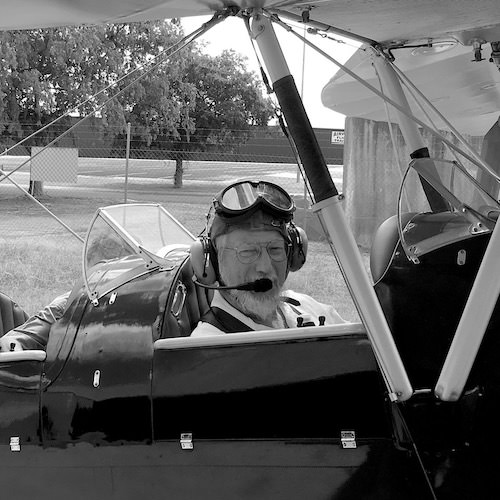 Jon Branch is the founder and senior editor of Revivaler and has written a significant number of articles for various publications including official Buying Guides for eBay, classic car articles for Hagerty, magazine articles for both the Australian Shooters Journal and the Australian Shooter, and he's a long time contributor to Silodrome.
Jon has done radio, television, magazine and newspaper interviews on various issues, and has traveled extensively, having lived in Britain, Australia, China and Hong Kong. His travels have taken him to Indonesia, Israel, Italy, Japan and a number of other countries. He has studied the Japanese sword arts and has a long history of involvement in the shooting sports, which has included authoring submissions to government on various firearms related issues and assisting in the design and establishment of shooting ranges.