To Build a Car Americans Would Love
The Austin A90 Atlantic was Britain's plan for a car for America. This was to be the car that would take the United States by storm and become a "must have" fashion icon. There was just one teensy weensy little problem with that, the Americans didn't want it.
What was going on in Austin of England's thinking when they planned this car is not so difficult to fathom. In the post World War II years Britain was still going through its Austerity period in which food and such things as gasoline/petrol were rationed. Car styling was also undergoing a dramatic change with the move to all enclosed and streamlined bodywork, a trend that had begun in the United States in the pre-war years but which the British only really began to embrace after the war.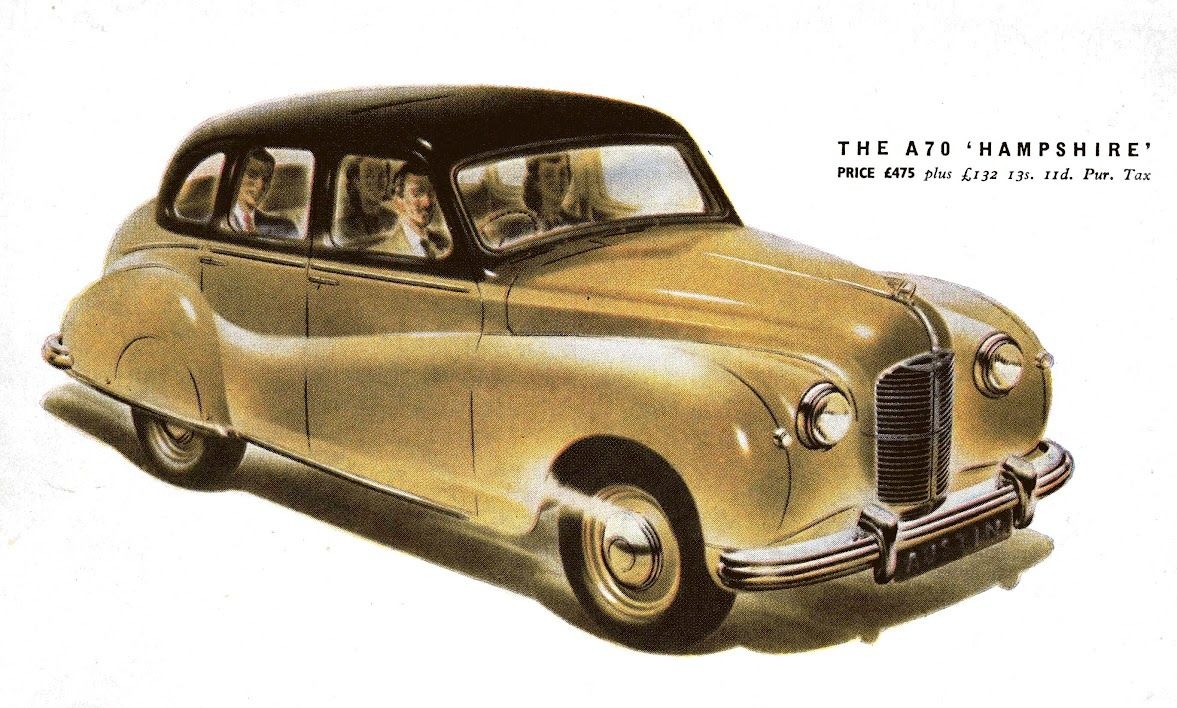 So in Austin's thinking was the idea that the Americans, just like the British, would be attracted to a luxurious and stylish car with a sufficiently powerful and economical four cylinder engine. This car should be able to break some speed and endurance records and yet be easy to drive and park. It needed to be a car that would appeal to women as well as men, and as Americans liked power accessories the car needed to have power windows and the convertible needed a no-fuss power convertible top. Austin wanted to build this new export model on the rolling chassis of the Austin A70 Hampshire four door saloon.
The Search for Ideas and the Pinin Farina Anti-Salon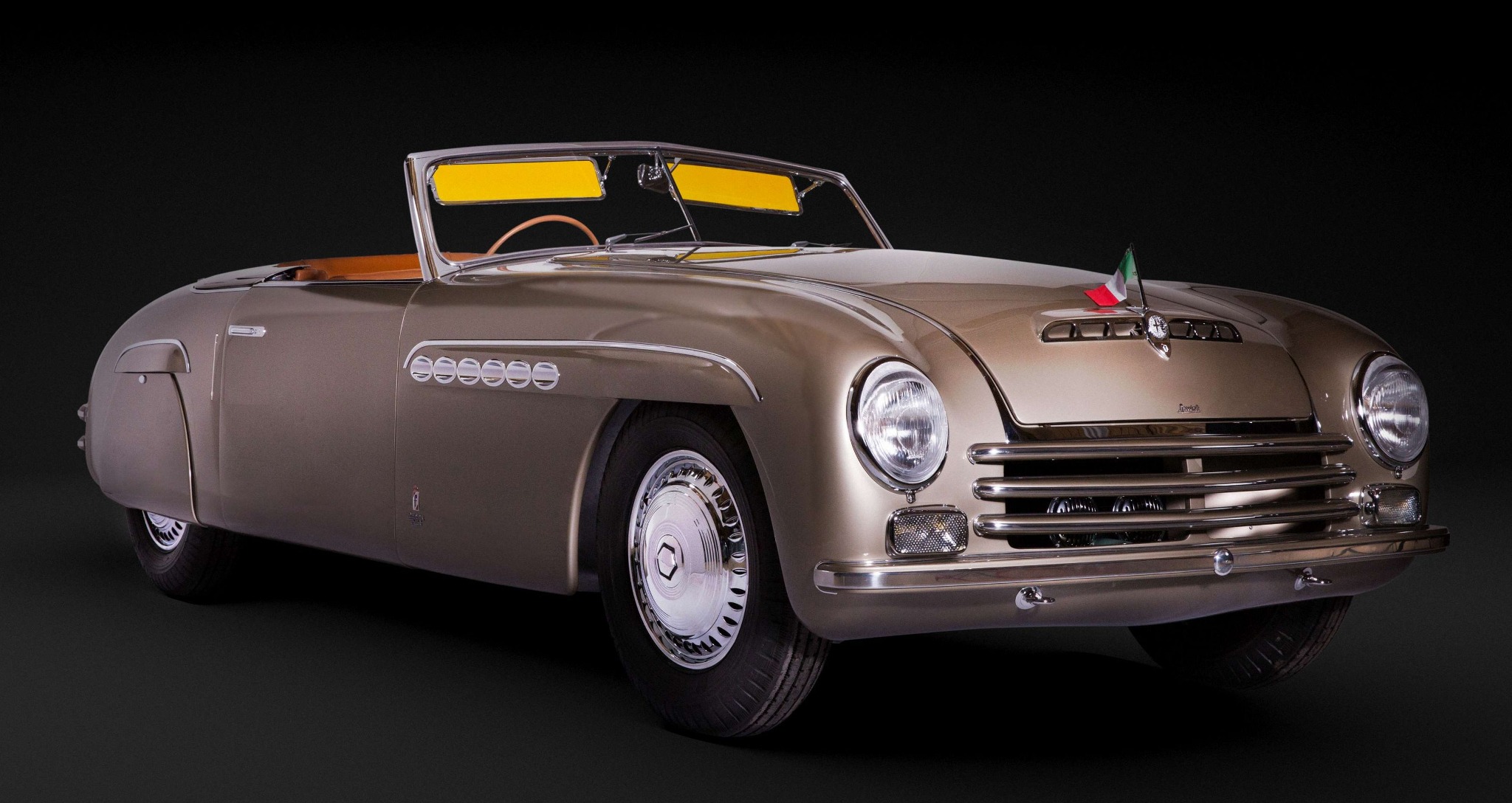 One of the most important factors in selling a car is its appearance and so Austin's boss, Leonard Lord, went looking for ideas for this car which was mission critical for his company's future prosperity. The car that grabbed Leonard Lord's imagination was Pinin Farina's Alfa Romeo 2500 cabriolet which he was banned from showing at the European car shows because he was Italian and there was a lot of anti-Mussolini and anti-Italian sentiments at that time. So Pinin Farina decided to do his own "anti-Salon" exhibition beginning at the Paris Auto Salon of 1946 where he parked his Alfa Romeo 2500 cabriolet design across the street from the main entrance thus ensuring everybody would see it.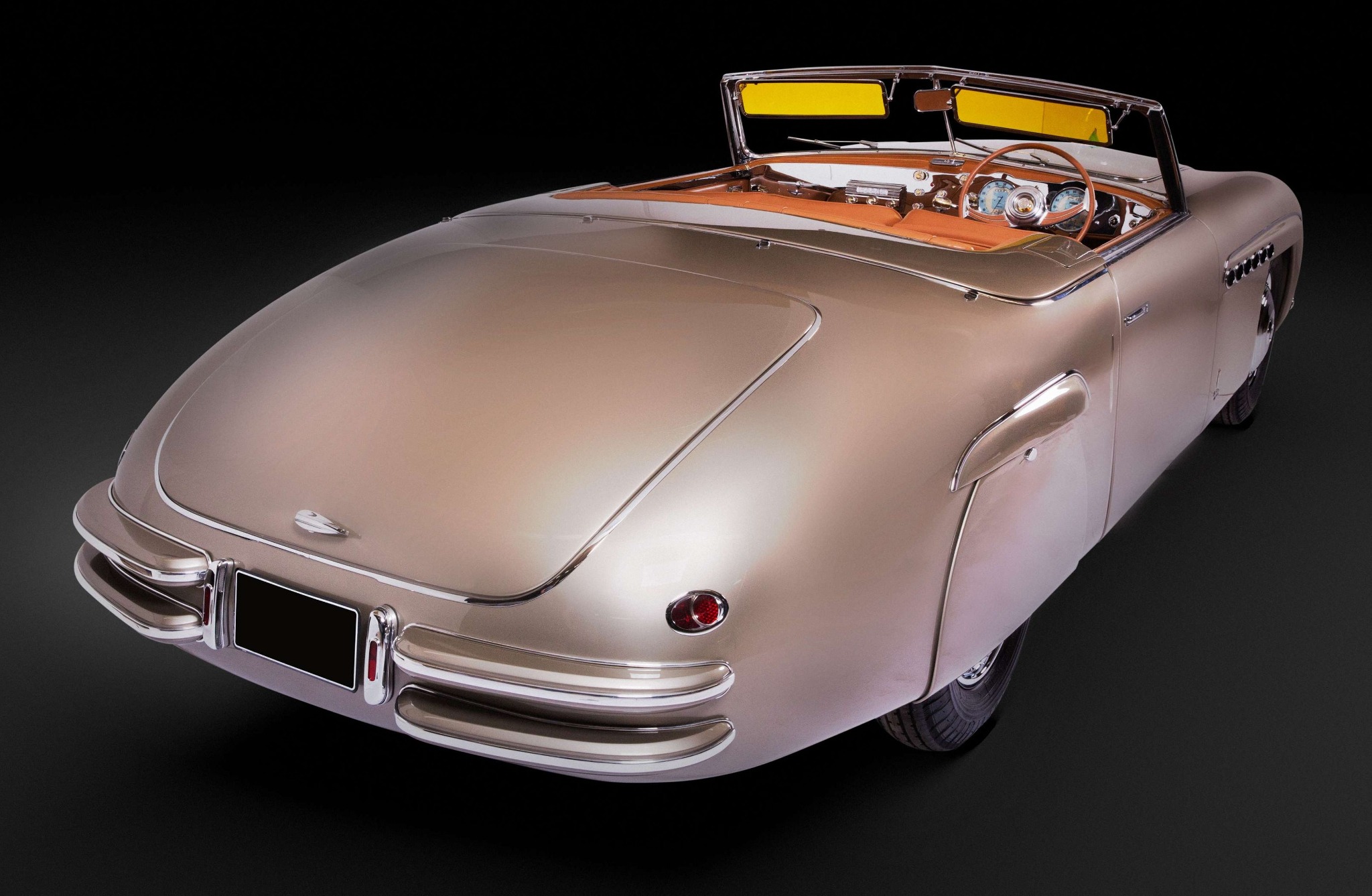 The Paris Salon organizers got a bit miffed at this and so they asked him to remove his car, which he did, and proceeded to drive it around so it remained visible. The following day Pinin Farina parked the Alfa Romeo 2500 cabriolet outside the Paris Salon's entrance door and refused to move it until the police arrived and insisted he had to. He and the car got lots of lovely publicity and so his mission was accomplished. He then proceeded to use the same strategy for the Geneva Auto Salon which is where Austin's Leonard Lord first saw the car and decided that the car he wanted for the American market should look like that.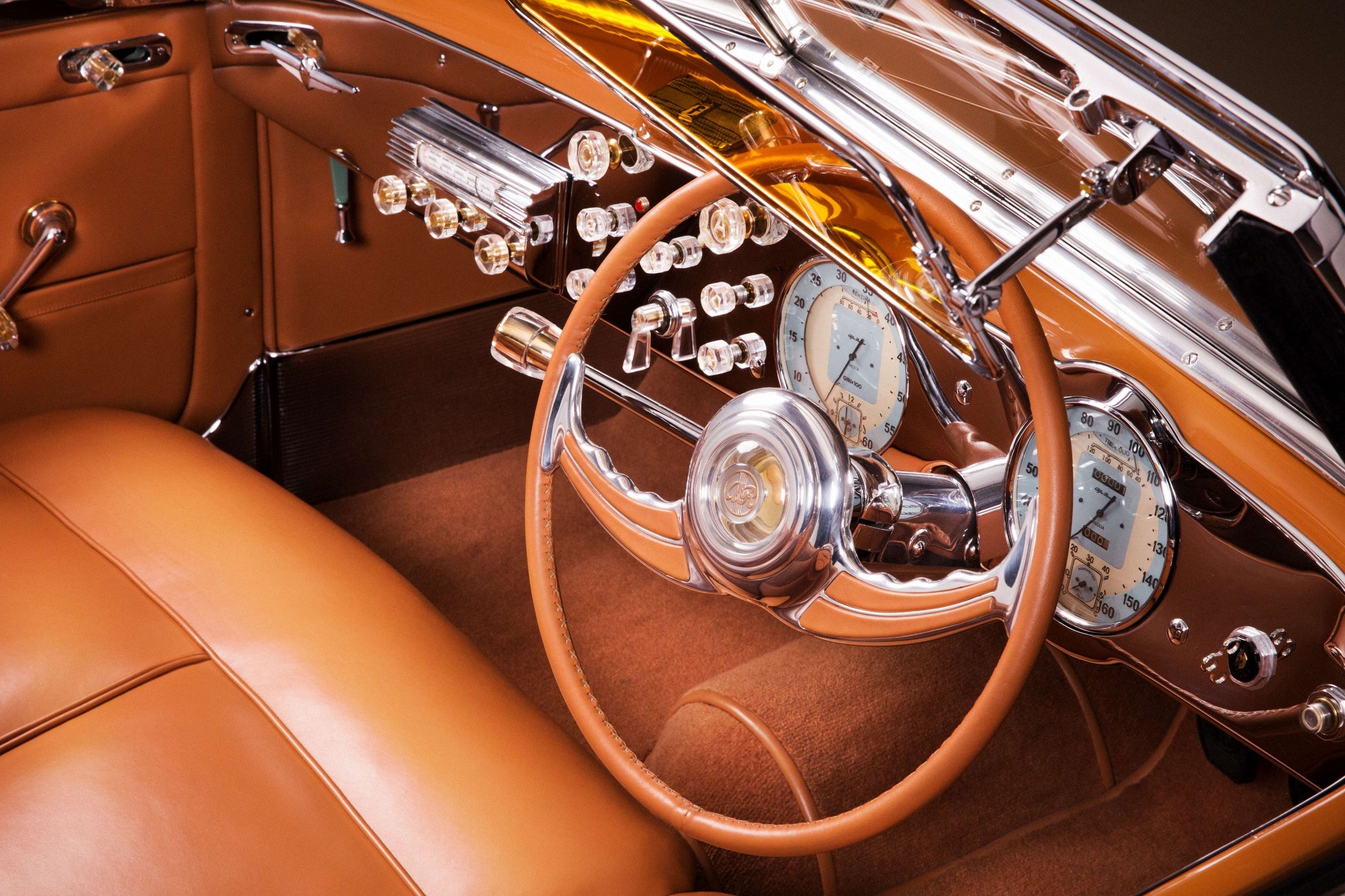 In Leonard Lord's mind the Alfa Romeo 2500 was fitted with a 2.5 liter engine and Austin had their A70 fitted with a four cylinder 2.2 liter engine that could be bored out to 2.6 liters. So it appeared to be a viable plan to use the Austin A70 rolling chassis as the basis for his new car for the American market, all it needed was a stylish body equipped the way Americans liked and "viola", the cars should sell like hotcakes.
Leonard Lord managed to purchase Pinin Farina's rather gorgeous Alfa Romeo 2500 through an intermediary and he had it brought back to Austin's factory at Longbridge where he gave the task of designing the new export model Austin to his head designer, Argentinian Dick Burzi who had previously worked for Lancia in Italy during the 1920's but found that he needed to leave in a hurry when some of his cartoons upset socialist dictator Benito Mussolini, who had a nasty propensity for sending his "black shirts" muscle men around to rough up or murder people who'd irritated him. So Dick Burzi escaped to nice safe England where no-one would dream of sending black shirted thugs to beat up their political opponents: such a thing would be regarded as cowardly and "just not cricket"!
From Prototype to Production
Dick Burzi got to work and by March of 1948 he and the team had hand-built a prototype.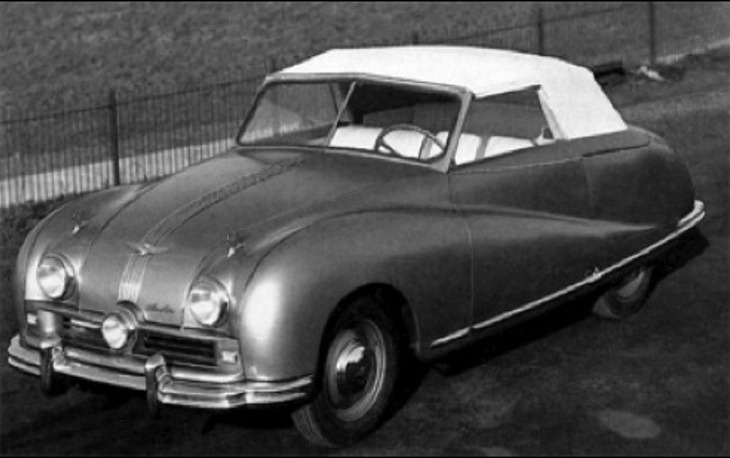 The prototype A90 Atlantic was pretty much the production prototype and very little would be changed. The prototype featured a centrally split windscreen, just like the Pinin Farina Alfa Romeo, but for the production car it was decided to do away with that and use a three piece windscreen comprising a one piece flat glass center section screen complimented with curved sections at the left and right ends.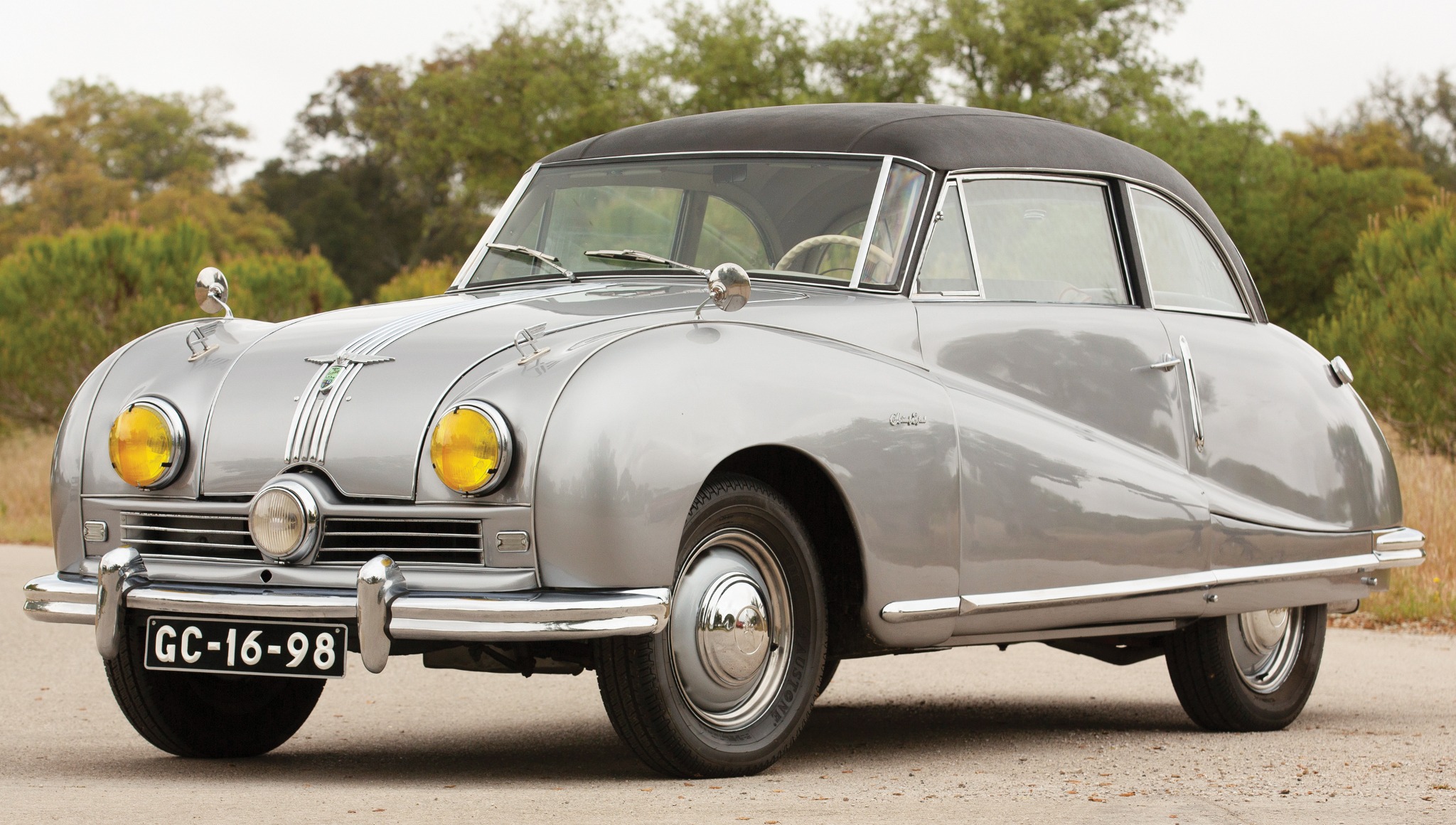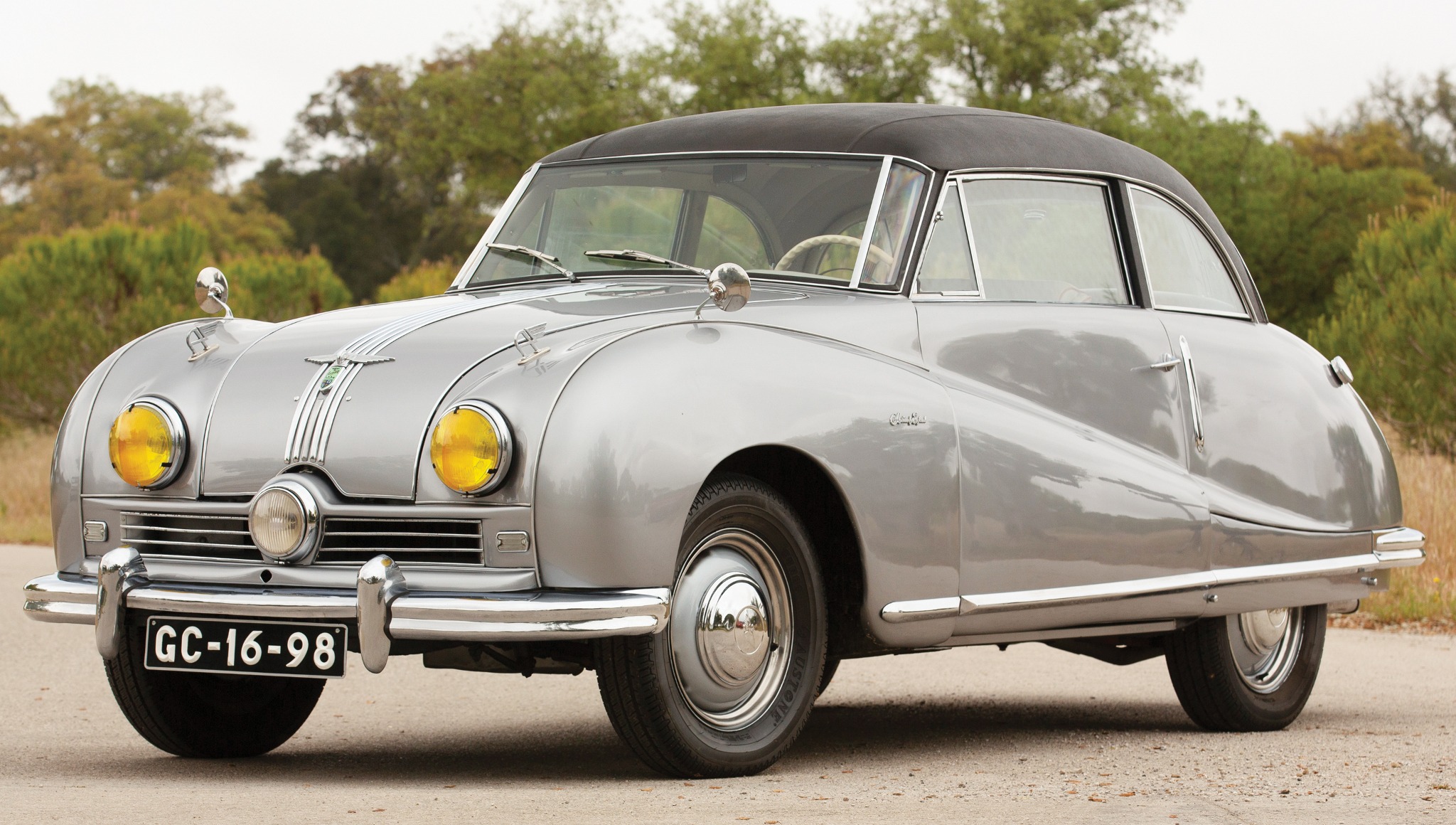 The curved side sections produced a degree of distortion, much as would be later seen on other cars with sharply curved "wrap-around" windscreen sections into the late 1950's.
Also changed from the prototype was the foot operated doors, which were changed to conventional handles.
The engine used for the A90 Atlantic was the 2.2 liter OHV engine from the Austin A70 bored out to increase its capacity to 2,660cc (162 cu. in.). This engine was fitted with twin SU carburetors in place of the single Zenith used in the smaller capacity Austin A70 engine, and was fitted with a new design air cleaner to ensure the bonnet/hood line could be kept as low as possible. This engine produced 88bhp @ 4,000rpm with torque of 140lb/ft @ 2,500rpm and its compression ratio was 7.5:1.
This engine would later be fitted to the car that rendered the Austin A90 Atlantic obsolete: the Austin-Healey 100.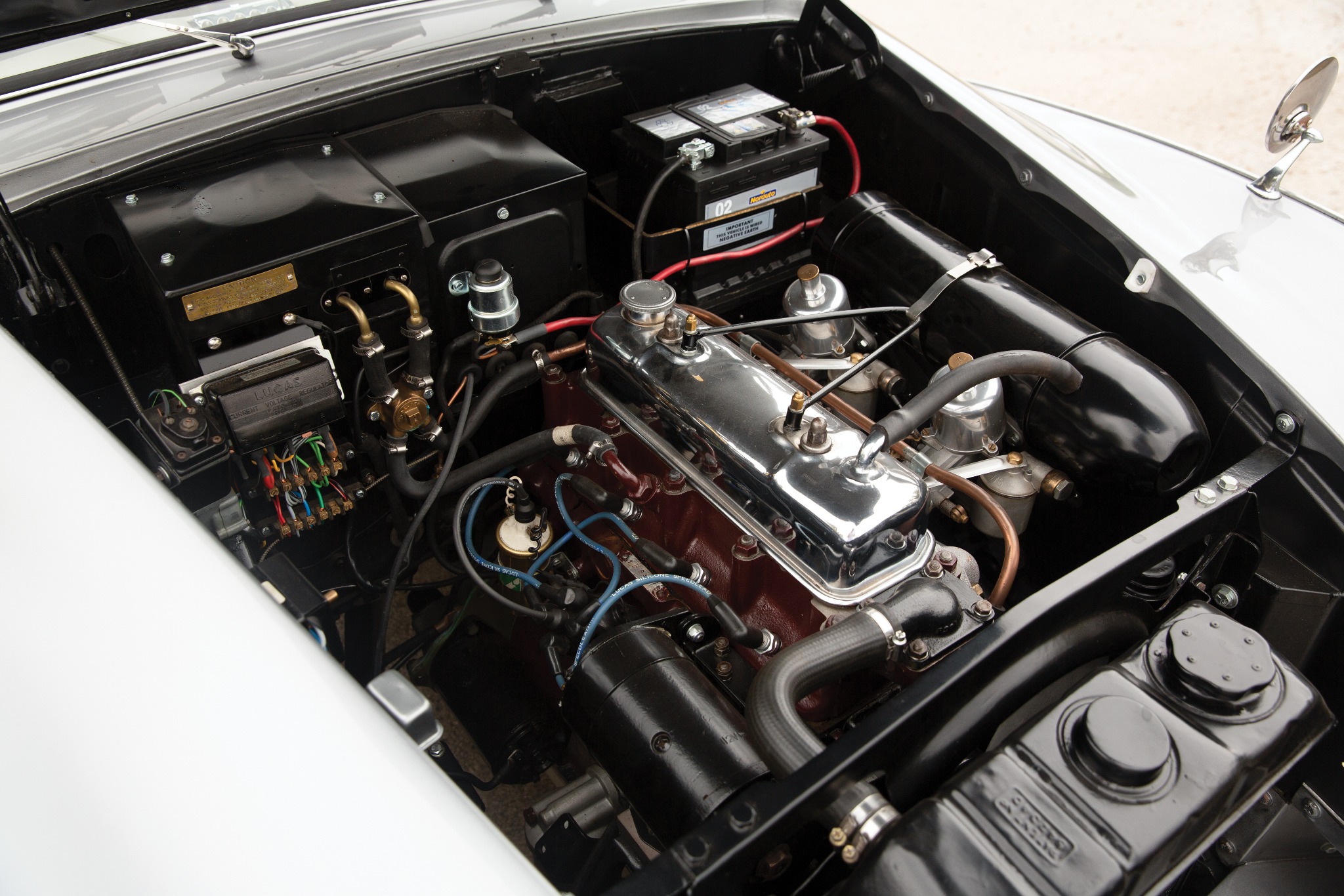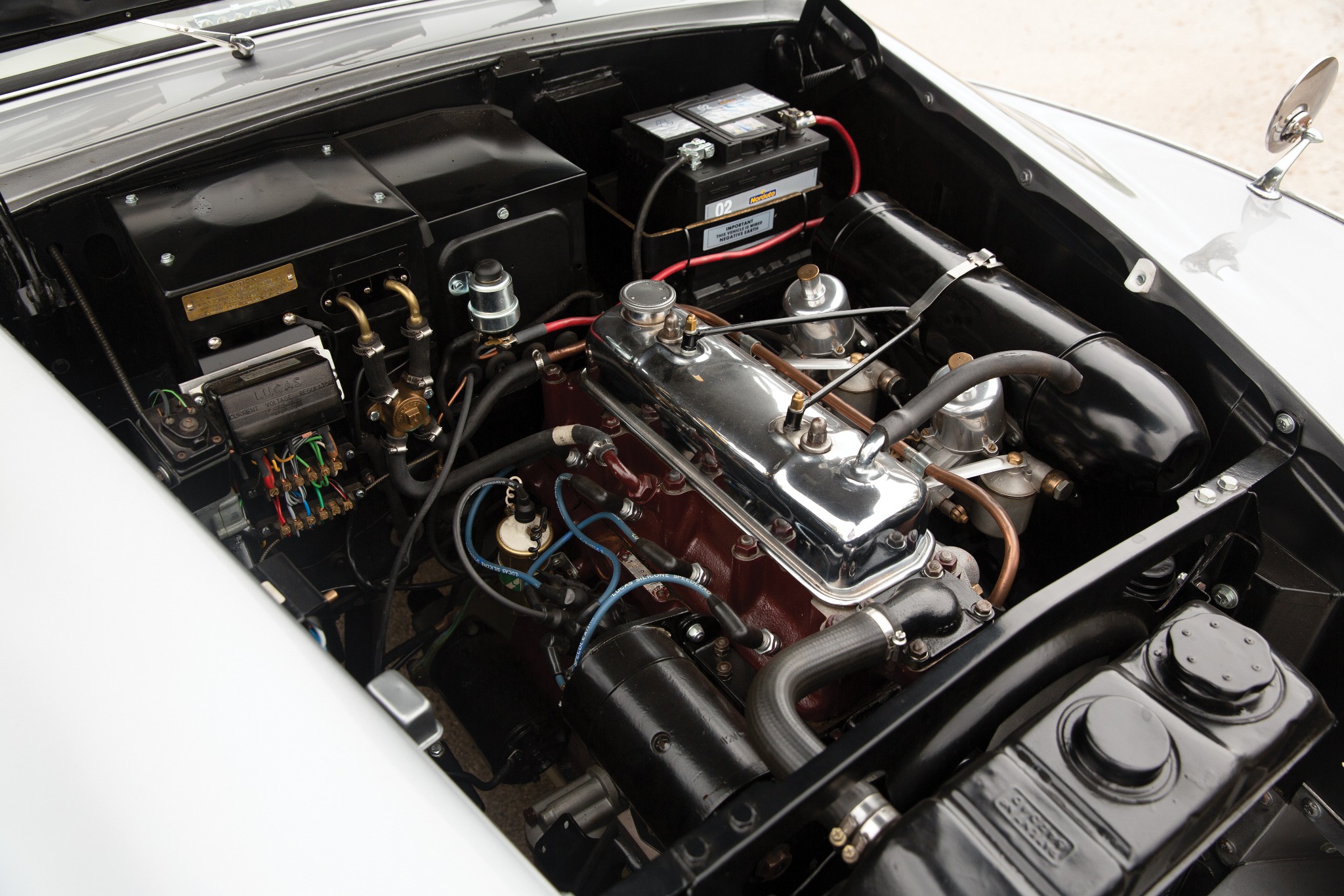 This engine was mated to the standard four speed manual gearbox via a 9″ Borg & Beck dry plate clutch and had synchromesh on the top three gears: the British motor industry seems to have had a near religious determination not to provide synchromesh on first gear and even the first model of the Jaguar E-type did not have it. This gearbox was operated by a column mounted gear lever, just as the Pinin Farina Alfa Romeo had.
From the gearbox drive to the rear axle was by a Hardey-Spicer propeller shaft with needle bearings.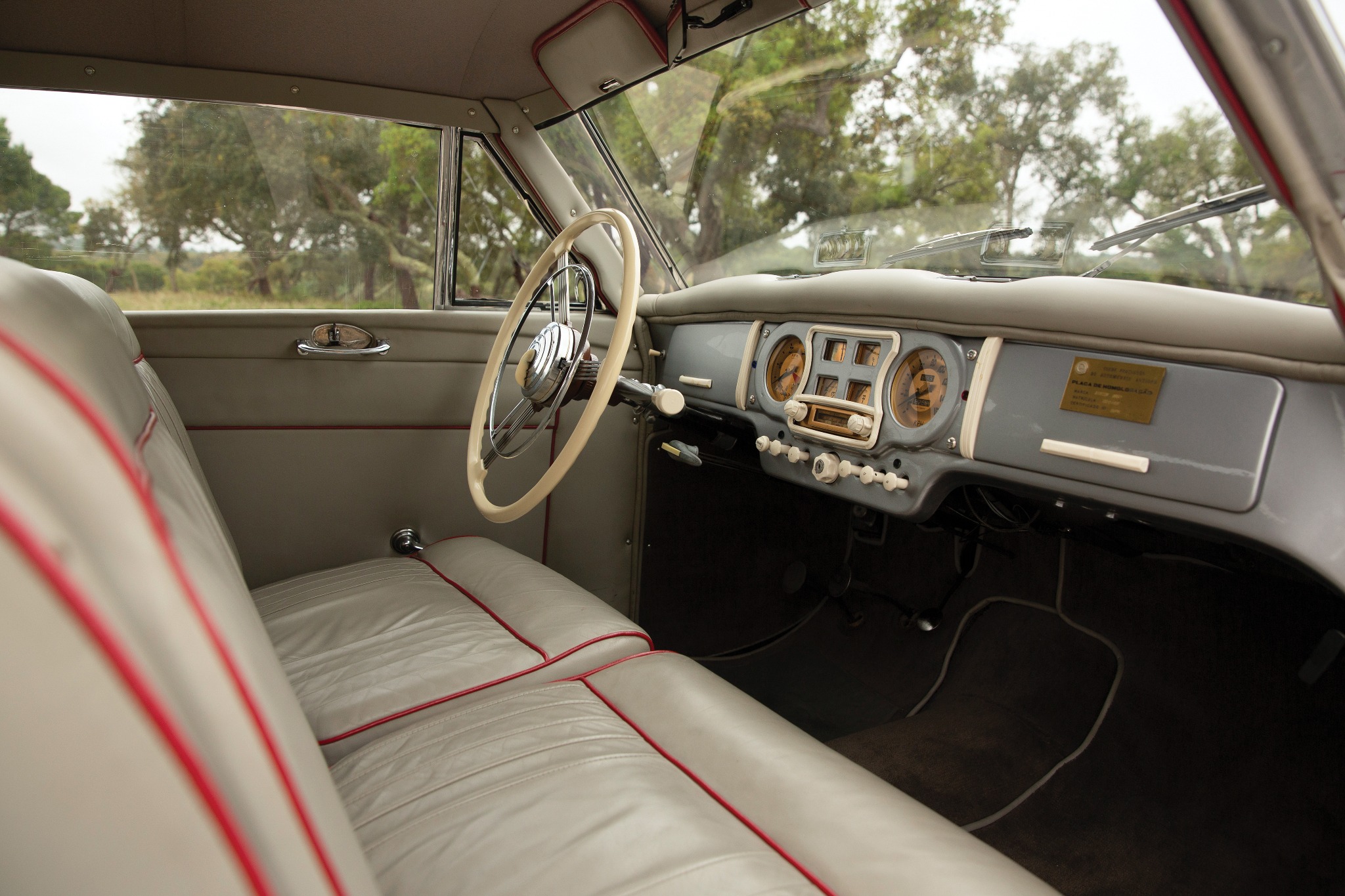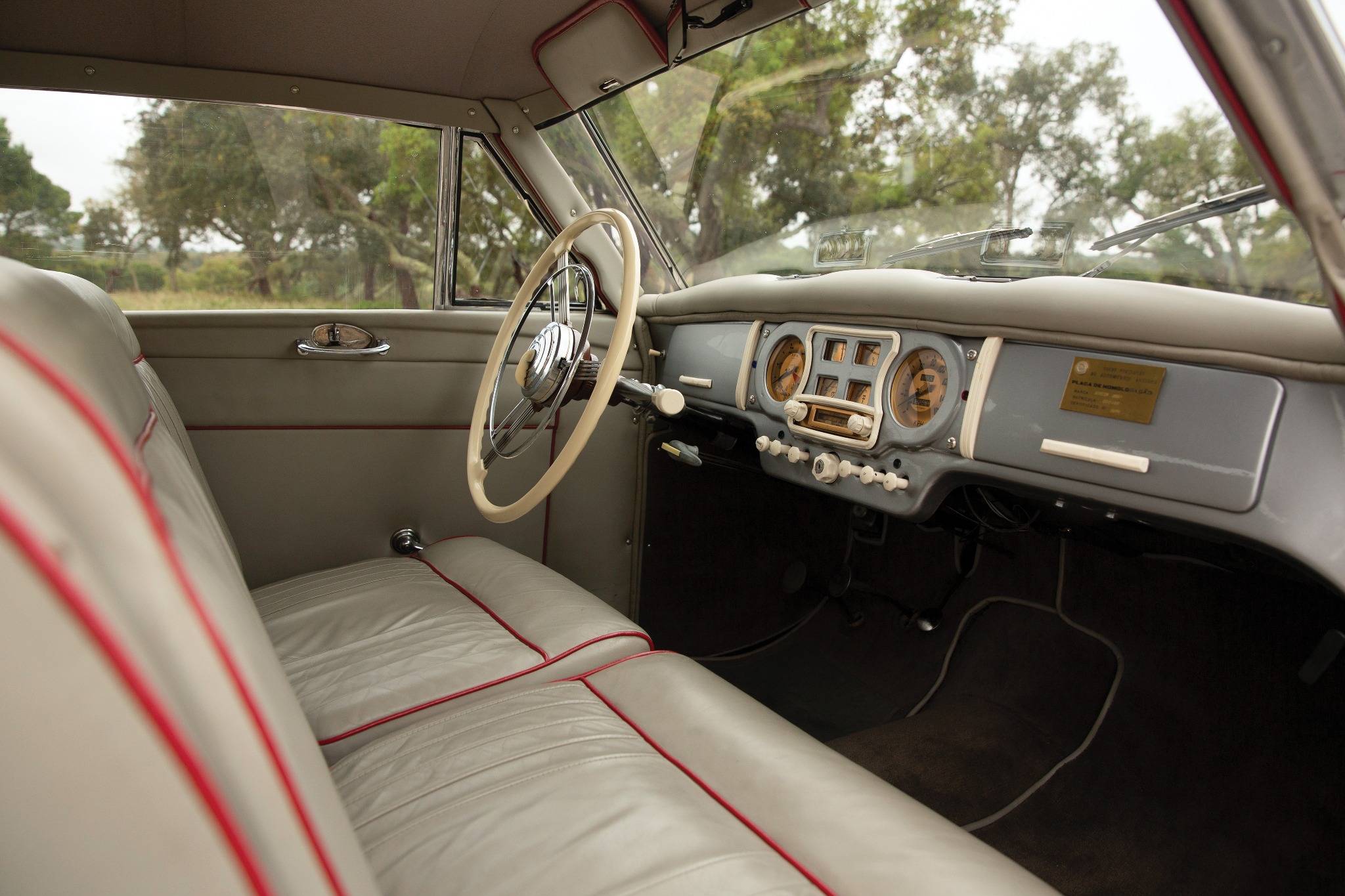 The first model made was the convertible which made its debut at the London Earls Court Motor Show of 1948. It had a front bench seat that could accommodate three people, and a smaller rear seat for two more. Although this was described as a five seater in reality the rear seat was sufficiently cramped that it would have been better to describe it as a "3+2". To keep the bench seat fully usable a riding crop handbrake lever was fitted. Windows were hydraulically power operated and the convertible top was powered by an electro-hydraulic Wilmot-Breeden pump so it would raise or lower in just over 22 seconds. The A90 Atlantic also boasted a heater and an EKCO radio. In short this was a near perfect car in which to take one's wife or girlfriend out to the drive-in movies.
In the film clip from the 1948 London Earls Court Motor Show from British Pathe you can find footage of the Austin A90 Atlantic convertible hood being operated if you go to 1'47" and watch through to 2'16".
The convertible was followed by a hard top coupe called the "sports saloon" in 1949. It was made by welding a pressed steel hard top onto the body. The coupe featured much better space for the rear seat passengers and also had a roll down rear window operated by a handle mounted at the top center of the windscreen. The car was featured in a Top Gear episode years ago and the rear window operation is shown in that video (Courtesy celticmadliam).
The suspension of the car was sufficiently sophisticated. At the front fully independent with rubber mounted wishbones and coil springs while at the rear a standard leaf spring and live axle setup. The steering wheel was adjustable for reach and was of a "cam type". Shock absorbers/dampers were of the lever friction type. Brakes were 11″ drums all around as was standard at the time with the front brakes being hydraulic and the rear mechanical. This was a sensible setup as the hydraulic system could fail while the mechanical rear brakes were seen as being more reliable. From 1951 onward the hard top coupe was fitted with hydraulic brakes front and rear and the drums themselves were finned and complimented by vented wheels. The car was also fitted with the convenience of built in Stevenson jacks on the right and left sides operated by a wheel-brace from the inside of the car to lift either side for changing a flat tire.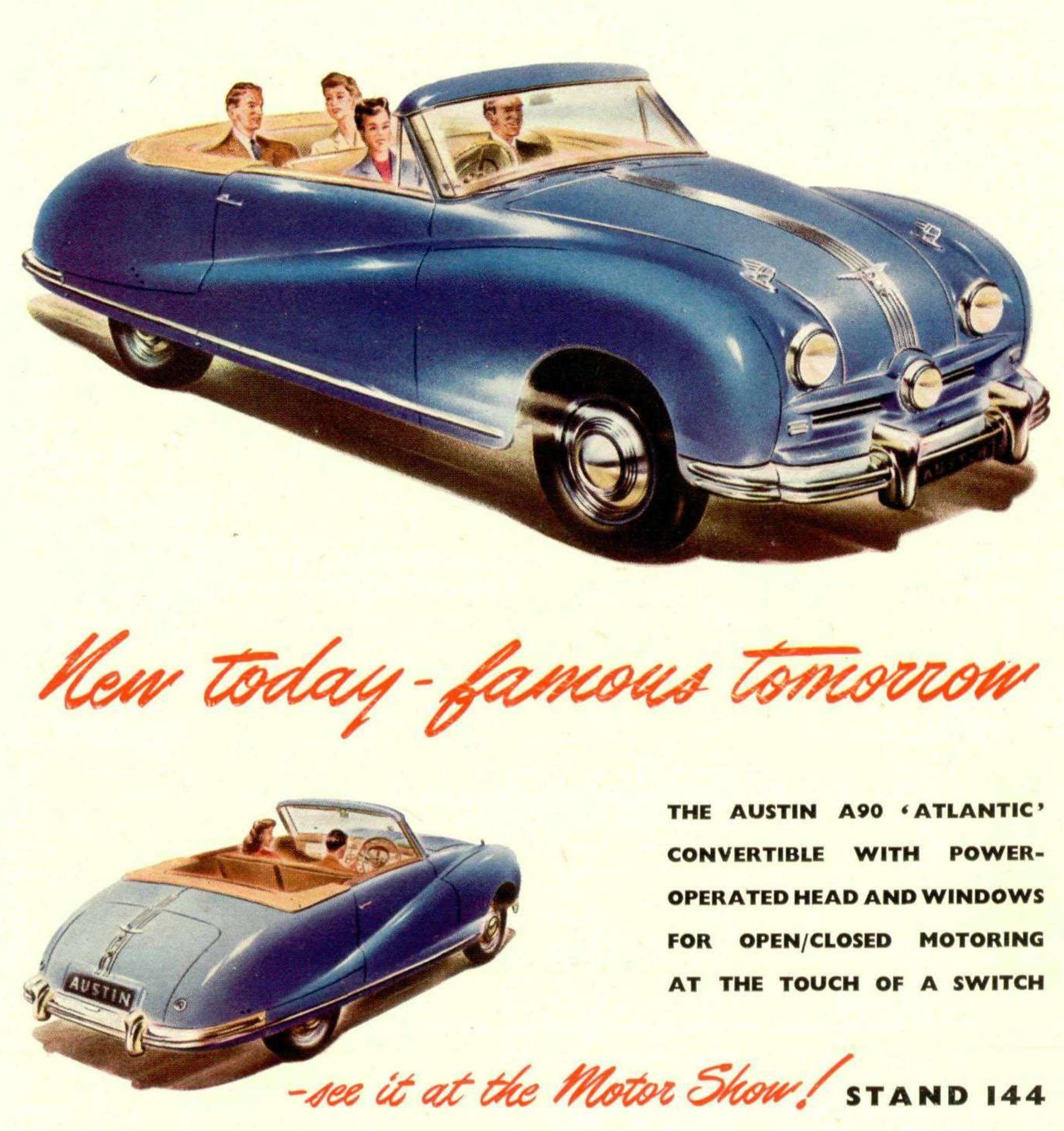 As one would guess from its appearance and quite modest 88bhp engine power the Austin A90 Atlantic was not a neck muscle straining sports car. However it did possess decent performance for its era having a top speed in excess of 90mph if fitted with the 3.67:1 ratio differential as the convertibles were. The coupes were fitted with a 4.125:1 rear axle and so had less long legs but were good in hill country or mountain roads.
On test with Britain's "The Motor" magazine in 1948 the car managed a top speed of 91mph and acceleration from standing to 60mph in 16.6 seconds. This made the A90 Atlantic significantly faster than an MG TD, and the MG T series sports cars had become very popular in the United States because of the driving experience they delivered. Fuel consumption was a reasonable 21.7 miles to the Imperial gallon (18.1 mpg US, 13 liters per 100km). The weight of the car was 2,918lb (1,323.64kg).
The A90 Atlantic was billed as a car with sports car performance and saloon car comfort, and it delivered both.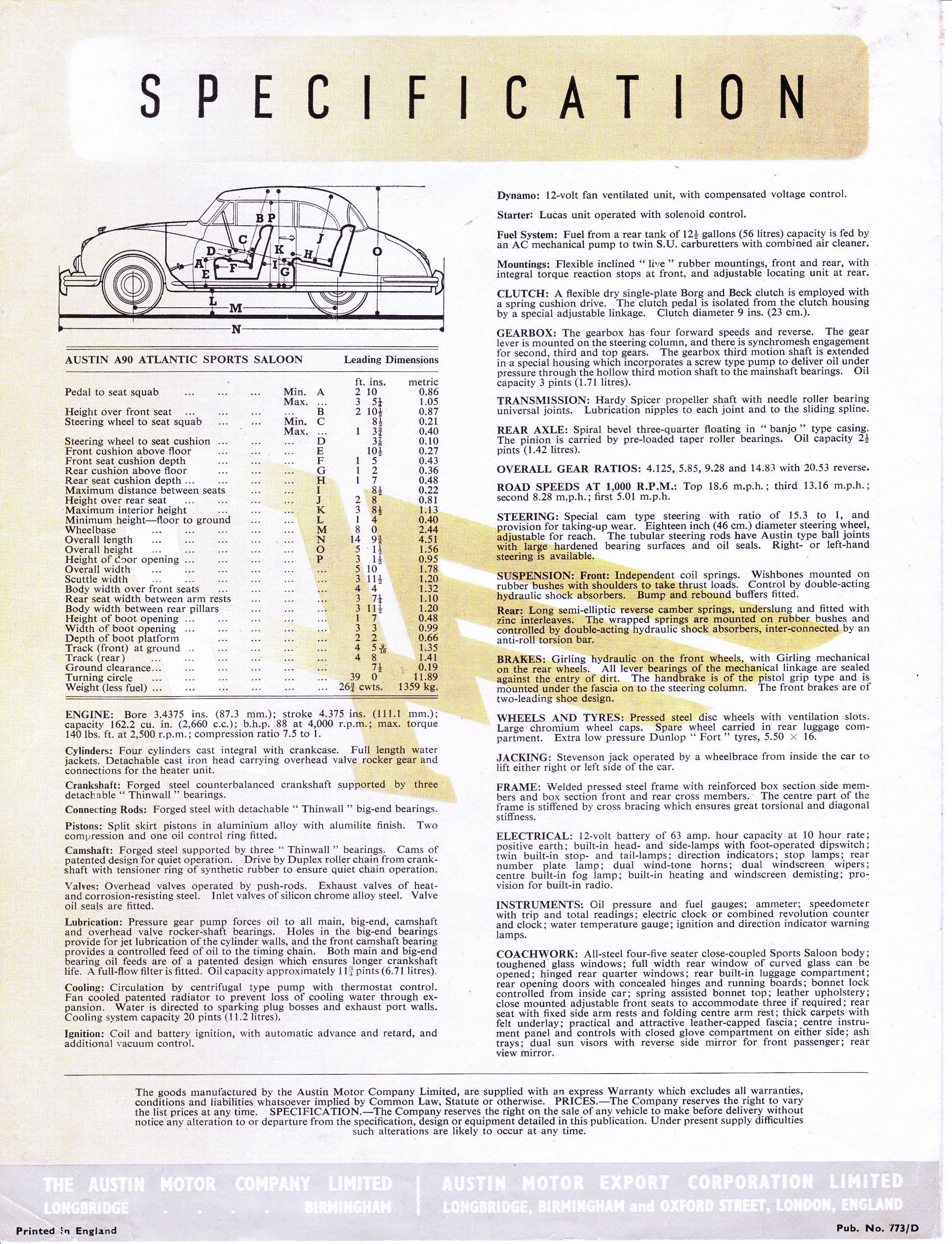 The A90 Atlantic crosses the Atlantic to go to the Indianapolis Speedway
In order to get a significant amount of publicity in the 1940's one had limited options but for a car maker one of the best sources of free publicity was to set some performance records. And so it was Austin put together a team with an A90 Atlantic and headed off across the Atlantic Ocean to do some record setting at the Indianapolis Speedway racing circuit. The intention was to show the Americans that this four cylinder car could hold its own against the six cylinder cars that were popular in the States.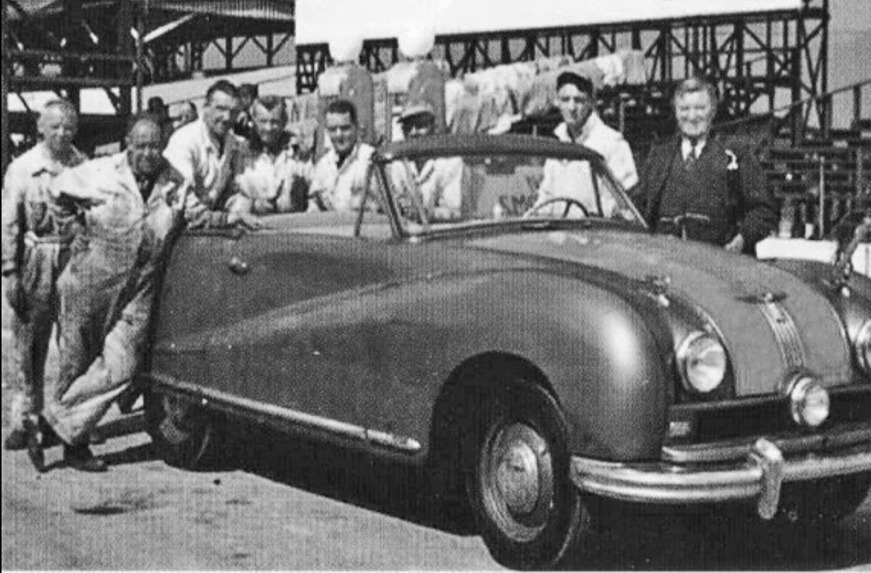 The plan was to have a crack at some American Stock Car speed and endurance records and so the A90 Atlantic was run just as fast as it could go for seven days and seven nights straight from April 12th-19th, 1949. Driven in turn by Alan Hess, Charles Goodacre, and Dennis Buckley the car achieved 63 American Open Model Stock Car speed records; 47 in Class D and 16 in the Unlimited Class. The car averaged 70.54mph for the seven day run. This was a great result and no doubt the team finished up feeling pretty good about their performance.
The Disappointing US Sales
Being an imported car the Austin A90 Atlantic was expensive by comparison with the American cars it had to compete with: it was more expensive than a Pontiac Chieftain for example. Added to that was the American people's preference for American made goods at that time: people understood the importance of "buying American" for their nation's sake: to provide jobs for Americans, and to ensure she had the industries and expertise she needed strategically, these had been things that had played a vital role in the victories in the Second World War. In this environment, despite all their efforts and planning, Austin only managed to sell 348 A90 Atlantics in the United States, and that was even despite cutting the price of the car by US$1,000.00.
The problem facing the Austin A90 Atlantic was not just one of price or engine size however: the A90 Atlantic was simply not a car that movie stars would drive. The original Pinin Farina Alfa Romeo was, but the A90 Atlantic was not. Realizing the nature of the problem Leonard Lord started looking for an alternative strategy and he found it at the London Earls Court Motor Show of 1952. While wandering from stand to stand Leonard Lord came to the Healey Motor Company and there he found a thing of style and beauty, and it was built using predominantly Austin parts, and parts from the A70 and A90 as a real bonus. That car was the Healey 100 and Leonard Lord and Donald Healey got together over dinner: an agreement was made, and the Austin-Healey was born. Movie stars did drive Austin-Healeys and so did many others, they sold like hotcakes and moved into the annals of sports car history.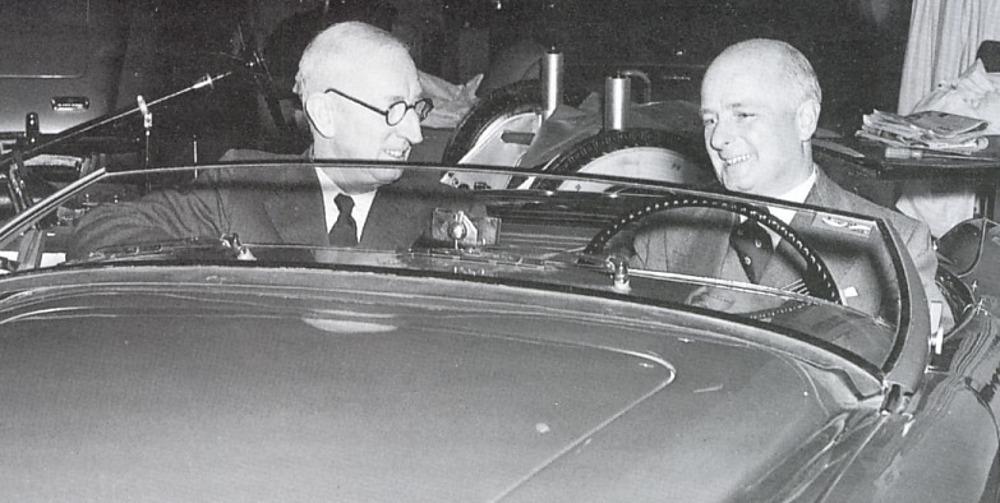 Suffice to say that 1952 was also the year production of the Austin A90 Atlantic ceased, with 7,981 having been produced. 1952 was also the year Austin joined the BMC merger bringing together Austin, Morris, MG, Riley, Wolseley and Vanden Plas under the one company. Of interest is that a "Vanden Plas" version of the A90 Atlantic turned up in New Zealand in recent years before heading to Canada and then Portland in the United States.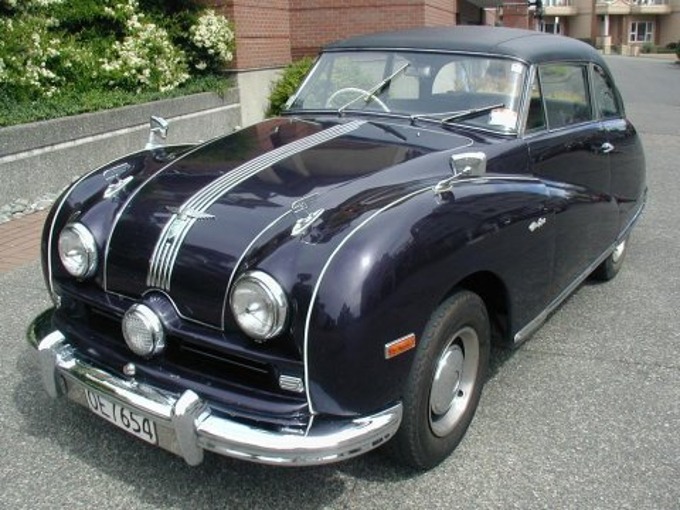 The "Vanden Plas" car features a unique interior with what appears to be a traditional British wood dashboard and a floor shift which was described as a three speed with overdrive: this being a common way some British car makers renamed a four speed gearbox which was mated to a tall geared rear axle intended for country driving.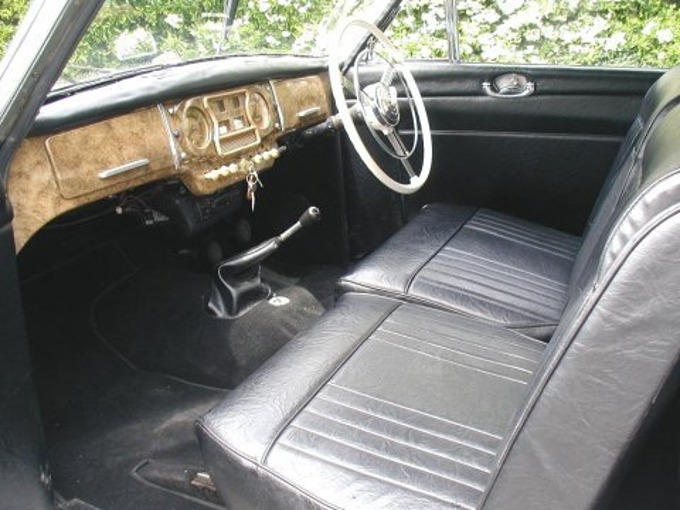 The Vanden Plas car also features a "Vanden Plas" badge on the rear right side of the boot/trunk and to the left an "Overdrive" badge. Unlike the standard A90 Atlantic this "Vanden Plas" car is also fitted with twin fuel filler caps, one on the left and one on the right. The customizing work on this car appears to be subtle but well thought through and professionally done.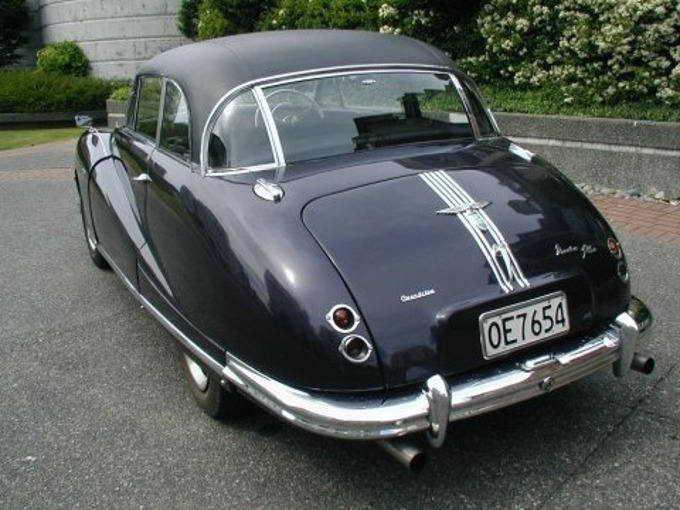 This car may have been a factory one-off prototype, it may have been a dealer prepared special order car, or it may have been a rebuild done by its previous owner. It certainly looks like a perfect car in which to do a road trip through the majestic scenery of New Zealand's South Island "Lord of the Rings" country.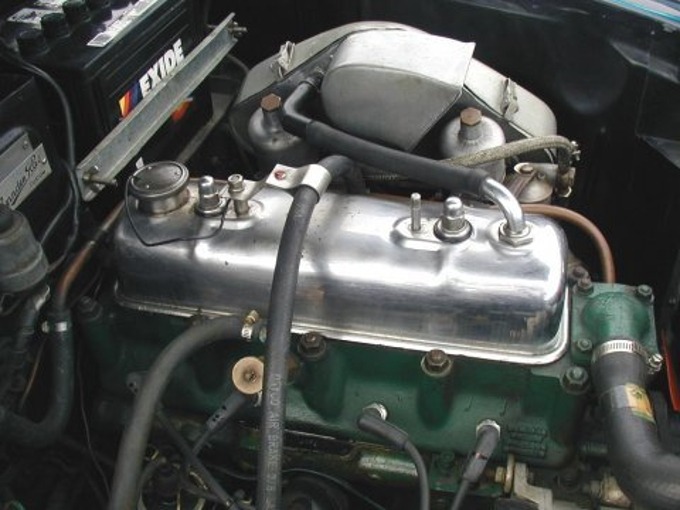 You'll find the Bring A Trailer page for this car as offered for sale in 2010 if you click here.
If anyone can throw light on the history of this car we would love to hear from you so we can amend this article with more detailed information.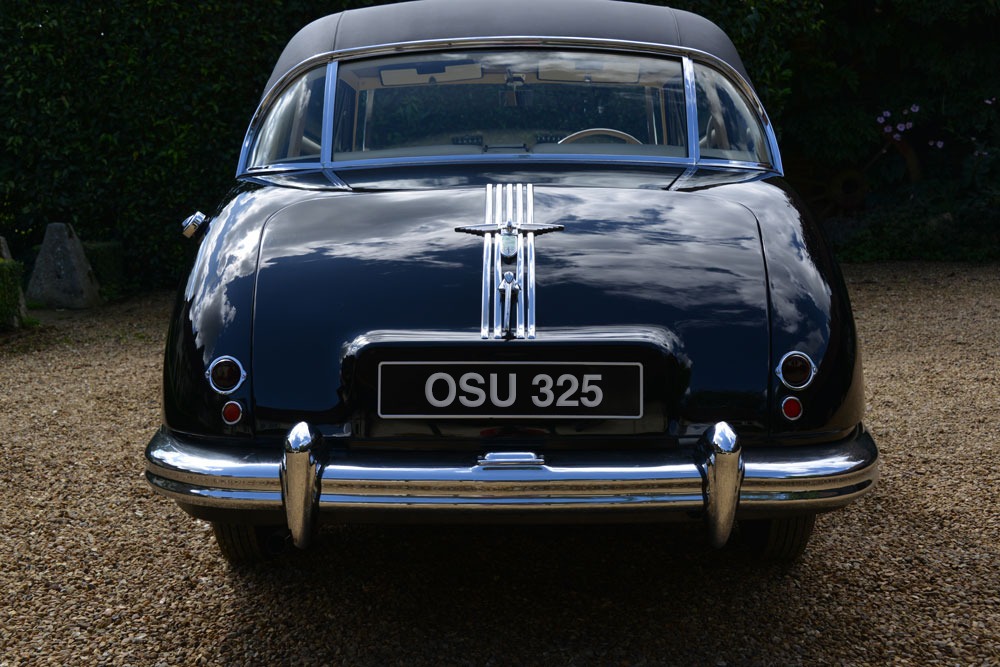 The Austin A90 Atlantic in Britain, Europe, Australia and New Zealand
While the Austin A90 Atlantic proved not to be to American tastes it did catch on with people in Britain and the British Commonwealth, and in Europe. So in places where an economical four cylinder engine of decent power was a valued thing because fuel prices were rather higher than in the United States, and in places where licensing and taxes were lower on cars with lesser engine capacities, the A90 Atlantic made sense. Maintenance was also familiar and easy in those countries where Austin had a strong dealer support network.
Among the export markets Australia was a strong buyer with 821 being snapped up. For life in 1950's Australia the A90 Atlantic convertible was a great car: just imagine what it would have been like to drive across the Sydney Harbour Bridge on your way to the beaches of Bondi or Manly in one.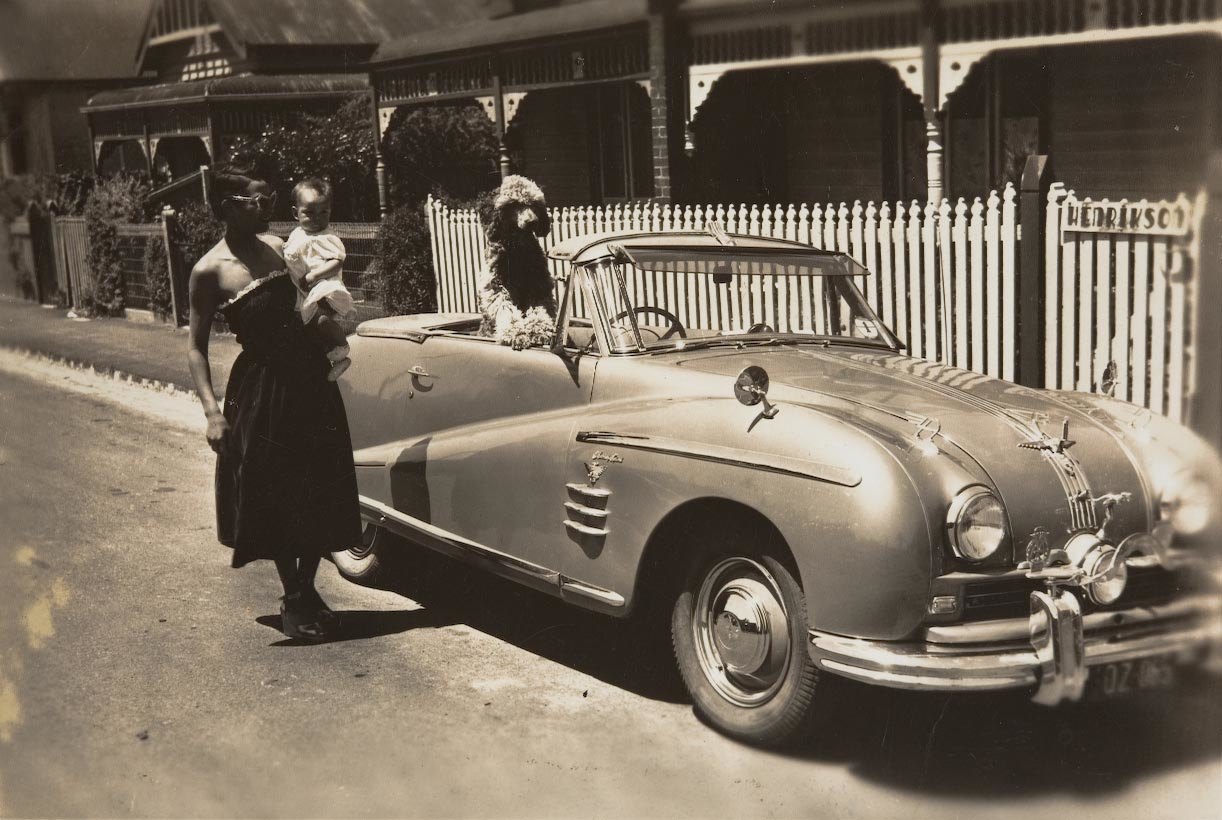 For the British market the A90 Atlantic "sports saloon" coupe was the best seller because in Britain it tends to rain rather a lot, even when you go for a day at the beach, and the comforts of the closed car were much more practical. These "sports saloon" hard tops featured a fabric covered roof which made them look as if they were a sporty convertible, but they were a "faux convertible" as the top was steel and welded in place.
Conclusion
The Austin A90 Atlantic proved to be an attractive car to pretty much everybody around the world except the people it was designed for, the Americans. Happily for Leonard Lord and Austin Motor Company the problem was quickly understood and the cars still sold well on both the domestic British market and in Europe and British Commonwealth countries such as Australia. Happily the Austin A90 Atlantic also achieved something that no-one involved in its creation could ever have envisioned: it created the need for Leonard Lord to get into a partnership with Donald Healey and the Austin-Healey 100 was born.
Having been made in the post war years the A90 Atlantics were solidly built but rustproofing was done in such an inadequate way that although the cars looked like a million dollars when new they went to rust rather quickly. The end result of this was very few of the A90 Atlantics surviving anywhere in the world, making them a rather rare motor car. In Britain it is estimated that there are less than 60, and of those no more than 30 roadworthy.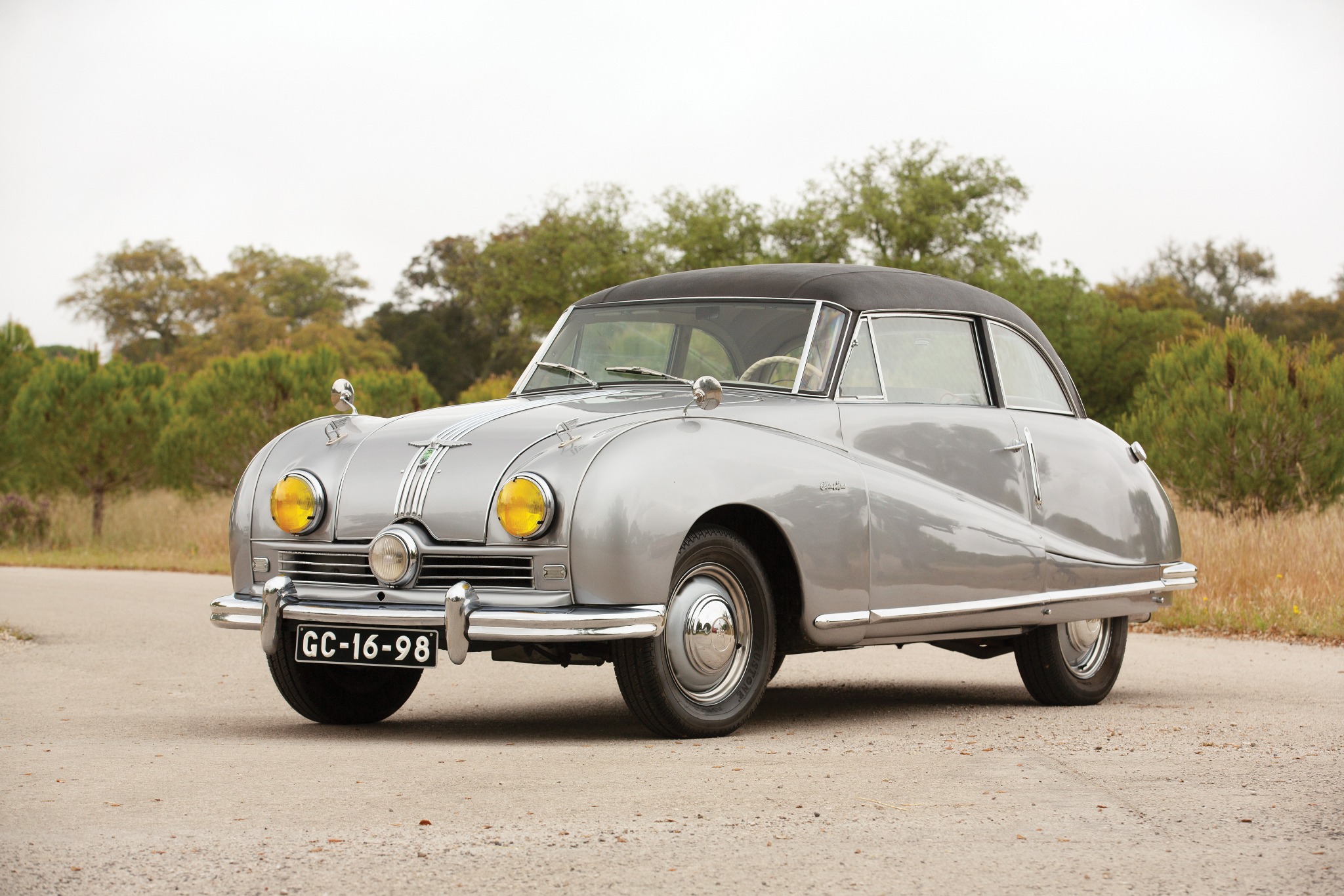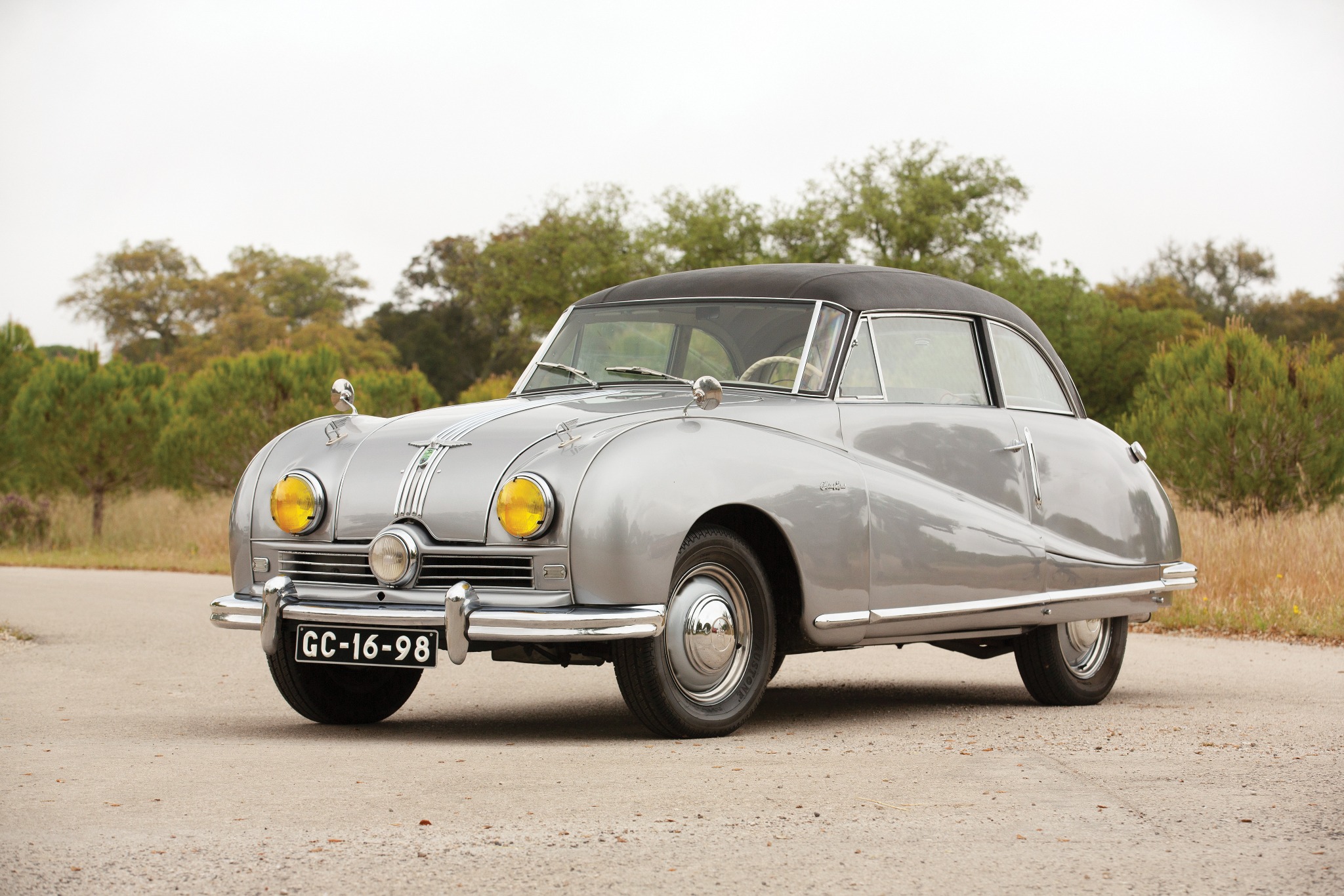 Sometimes these cars do turn up in unexpected places, perhaps in awful condition, but occasionally in excellent condition. At the time of writing one is coming up for sale by RM Sotheby's at their The Sáragga Collection sale, which will be held from September 20th-21st, 2019.
You will find the sale page for this car if you click here.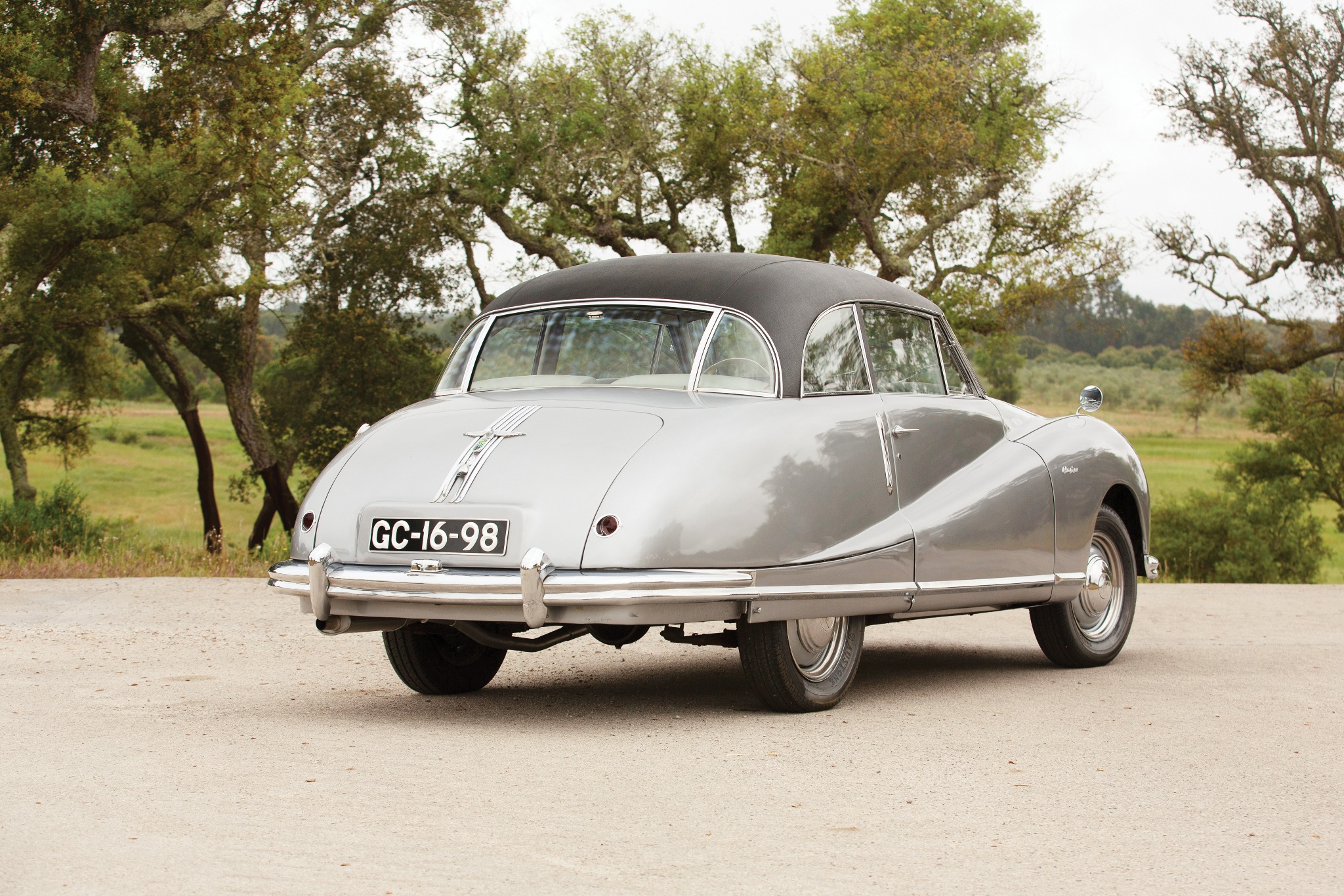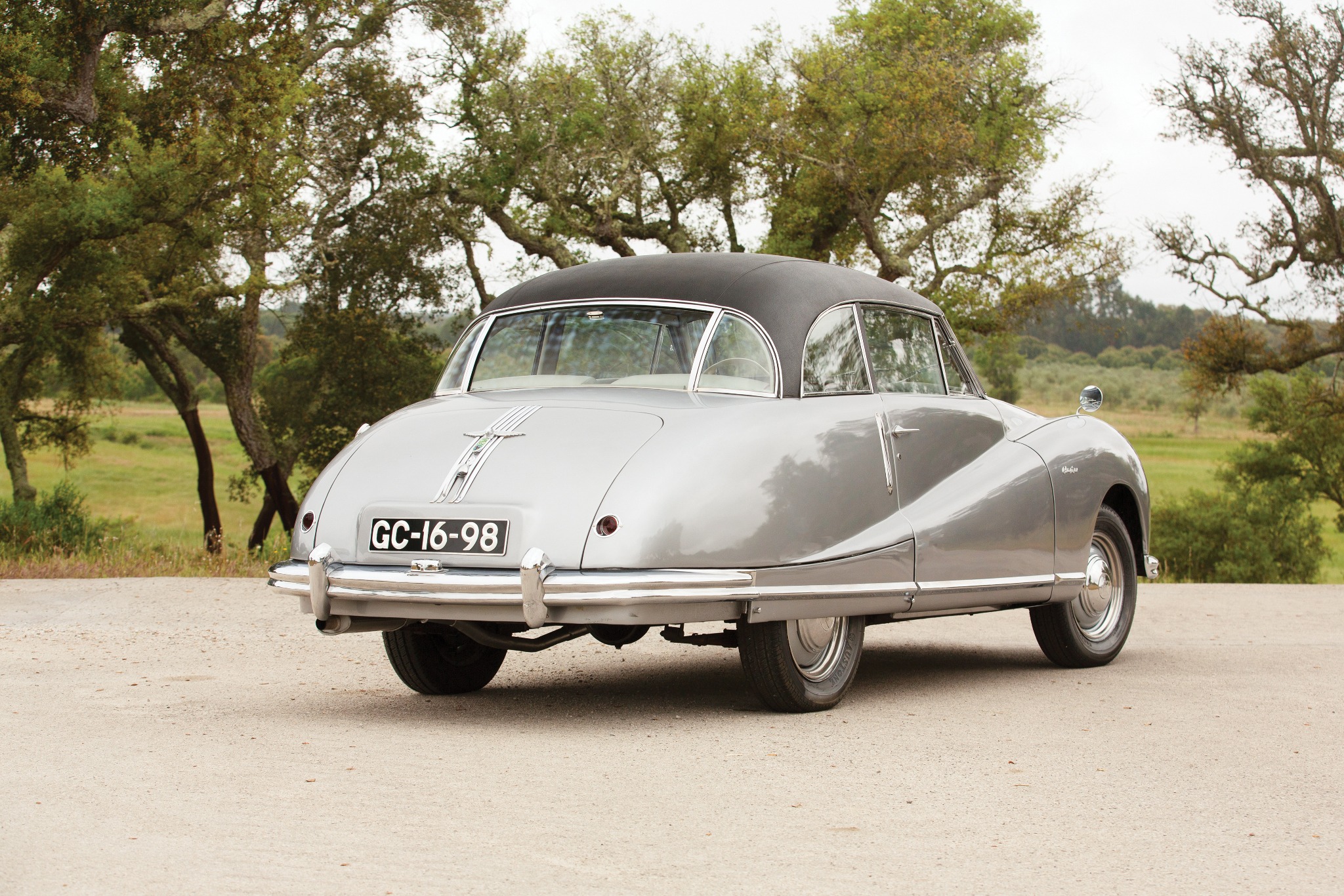 It is rare to encounter an Austin A90 Atlantic with a known history but this car is one of those. It was restored approximately twenty years ago and looks to be in excellent shape.
The Austin A90 Atlantic was a great idea that did not find its niche in the country its creators intended. But it was much appreciated elsewhere and for a collector or enthusiast these cars are actually not difficult to restore and maintain mechanically. The body panels are a challenge to find so if you find one of these cars in a barn or lock-up and its relatively rust free in the bodywork then you may well have a restorable gem, that's worth something to someone.
These cars may not have offered the sort of adrenaline pumping driving experience of the big Austin-Healeys but instead they provide quite adequate performance and a decent classic driving experience. As a touring car they check all the right boxes: and if you have the opportunity to drive across the Sydney Harbour Bridge in a convertible you'll enjoy a great 1950's style experience.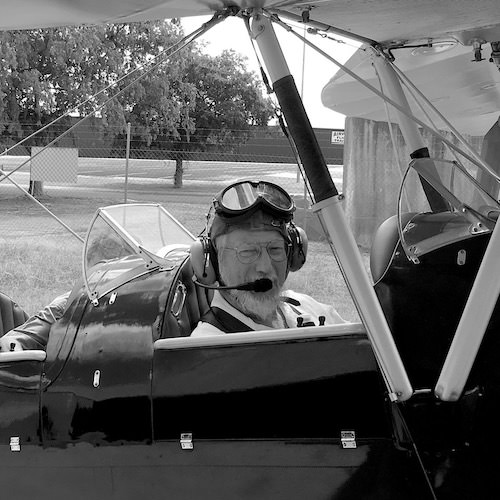 Jon Branch is the founder and senior editor of Revivaler and has written a significant number of articles for various publications including official Buying Guides for eBay, classic car articles for Hagerty, magazine articles for both the Australian Shooters Journal and the Australian Shooter, and he's a long time contributor to Silodrome.
Jon has done radio, television, magazine and newspaper interviews on various issues, and has traveled extensively, having lived in Britain, Australia, China and Hong Kong. His travels have taken him to Indonesia, Israel, Italy, Japan and a number of other countries. He has studied the Japanese sword arts and has a long history of involvement in the shooting sports, which has included authoring submissions to government on various firearms related issues and assisting in the design and establishment of shooting ranges.