The Volkswagen was not created simply as a commercial product. It was created for consumers, but it was created because of a political and social vision, not just a commercial one, and its that political and social vision that is usually not discussed when people talk about the car. It was refreshing some years back during a discussion on the Top Gear program that someone referred to the Volkswagen as being associated with "flower power" and the hippy movement to which Jeremy Clarkson was quick to retort that no, the Volkswagen has nasty Nazi associations. It seems ironic that the car that perhaps more than any other has become the motoring icon of the twentieth century was created because of the vision of a man the world came to hate, Adolf Hitler. In fact in Britain and Australia garage mechanics commonly refer to the Volkswagen as "Hitler's revenge".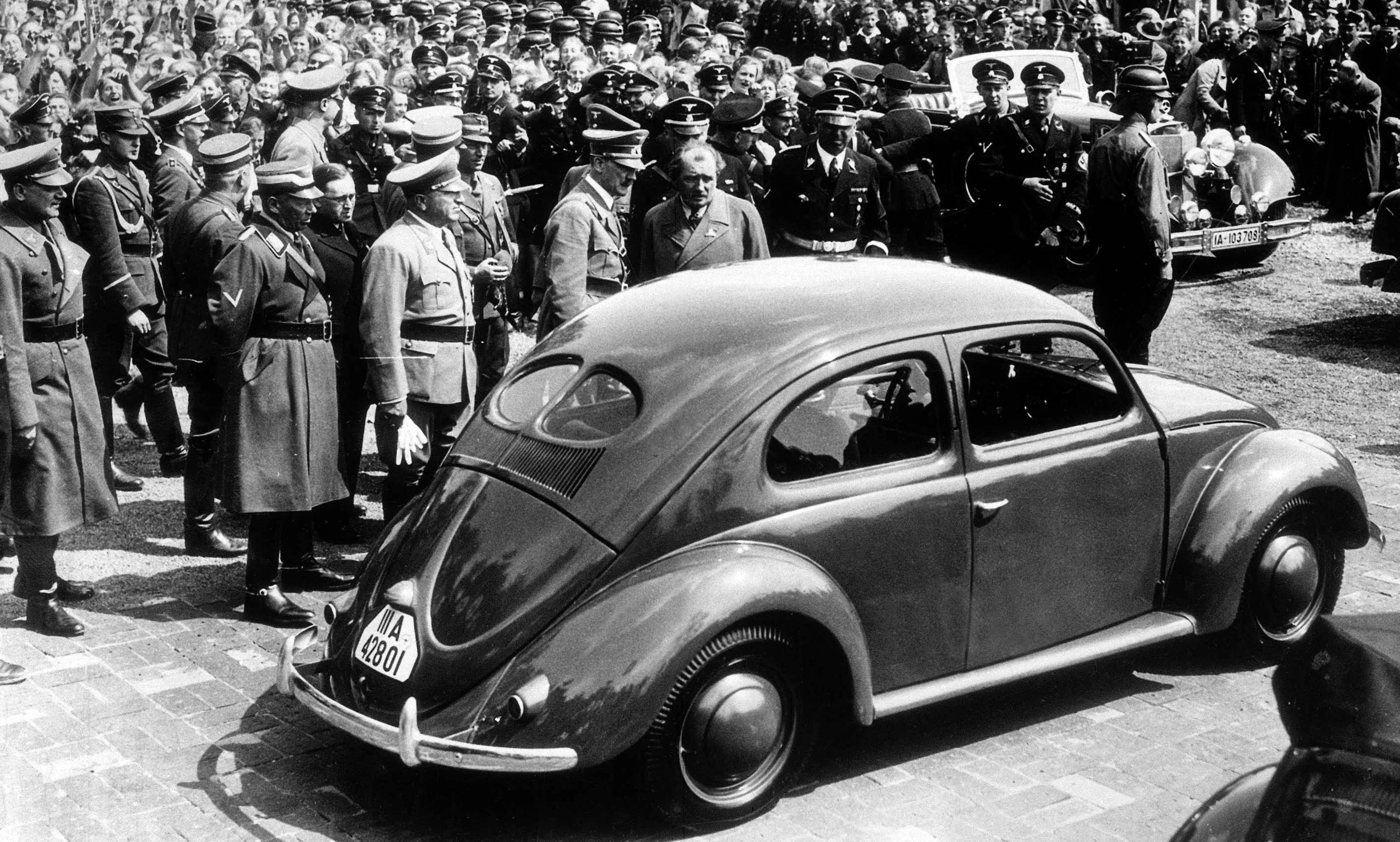 It is instructive to consider what the world thought of Adolf Hitler and his National Socialist government before he plunged the world into the Second World War. He was Time magazine's Man of the year in 1938 for example. Prior to his invasion of Poland government leaders, such as Neville Chamberlain the Prime Minister of Great Britain, were trying to see Hitler's positives whilst those who challenged this were derided. Winston Churchill was on the receiving end of derision in parliament, until he was proven to be right about Hitler and the Nazis.
No-one who has studied the Second World War can escape understanding that Hitler's militarism was based on the notion of creating a "Super Race", and that "Super Race" needed living space which would be acquired militarily. This is the theme of a Walt Disney wartime propaganda film "De Fuehrer's Face" starring Donald Duck. See below.

Hitler once said, "The law of selection exists in the world, and the stronger and healthier has received from nature the right to live. Woe to anyone who is weak, who does not stand his ground! He may not expect help from anyone."
This "Law of selection" Hitler refers to is of course Charles Darwin's notion of "natural selection" summed up as "survival of the fittest". In his second book, "The Descent of Man" Charles Darwin applies this theory of natural selection to human beings and says "At some future period, not very distant as measured by centuries, the civilized races of man will almost certainly exterminate and replace throughout the world the savage races". Hitler and the Nazis had built upon Darwin's theory of evolution as applied to human beings, and were intent on bringing this vision about believing that the survival of the human race depended on it.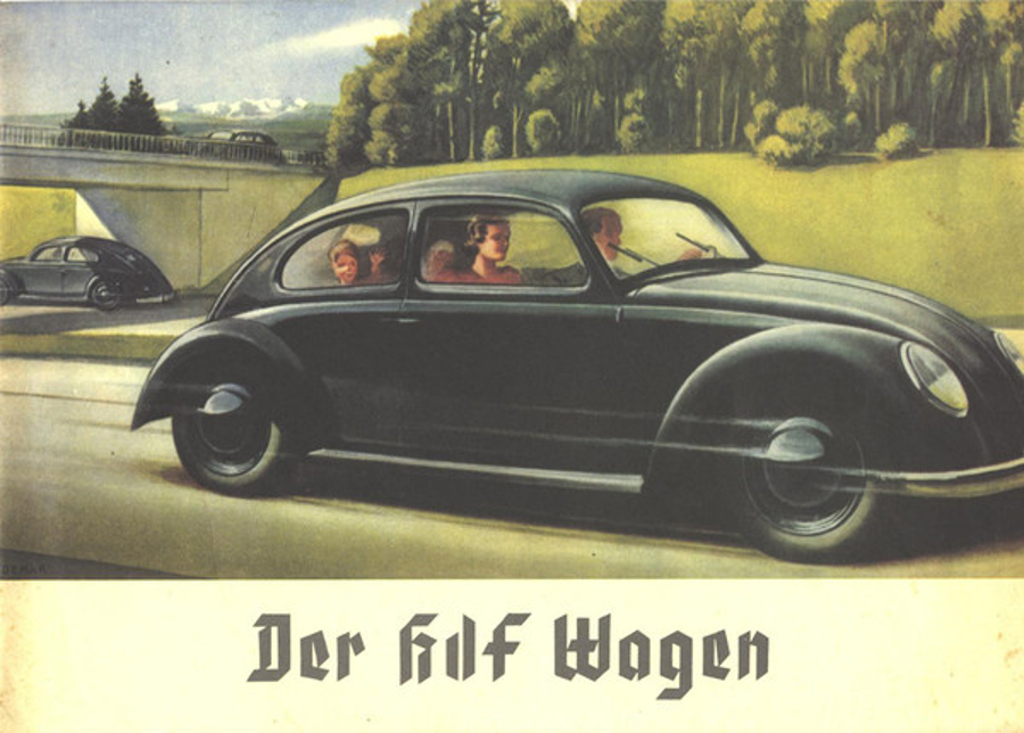 So the Nazis wanted living space for their strong and healthy race to flourish in, and they wanted their people to have the comforts of  a modern civilized society, and that meant families having home, a job, and a car, a "people's car" – the VolksWagen – which translates into American as "Folks Auto". They wanted Germans to be just as well off as Americans.
As you can see Jeremy Clarkson was right.
The history is telling because it illuminates Dr. Ferdinand Porsche's design brief, and his design brief was very different from the modern commercially driven manufacturing mindset. In post Great Depression Germany it was not typical for people to own a car unless they were rich enough to afford such an extravagance, and only about one in fifty did. So to most people a car was a desirable but out of reach luxury. Secondly we need to realize that when people have experienced poverty they do not take material possessions for granted. A major purchase, such as a car, would be expected to be affordable to maintain, to be able to be maintained by its owner, and to last not just for a few years, but for decades. Dr. Porsche created a car that ticked all those boxes and a few more. The Volkswagen was designed to be as excellent in hot climates as one might find around the Mediterranean, including northern Africa, as it was in freezing cold climates such as one might find in northern Germany, or Russia. Hence Dr. Porsche chose to use a simple air cooled engine such as one might find on a motorcycle except a bit bigger, so there would be no water filled radiator to leak or to freeze. Using that air cooled engine made it possible to use the air that had been used for engine cooling to heat the car. I don't know if you've ever had the opportunity to experience a Volkswagen heater turned up full. It is so hot one could get significant burns from it.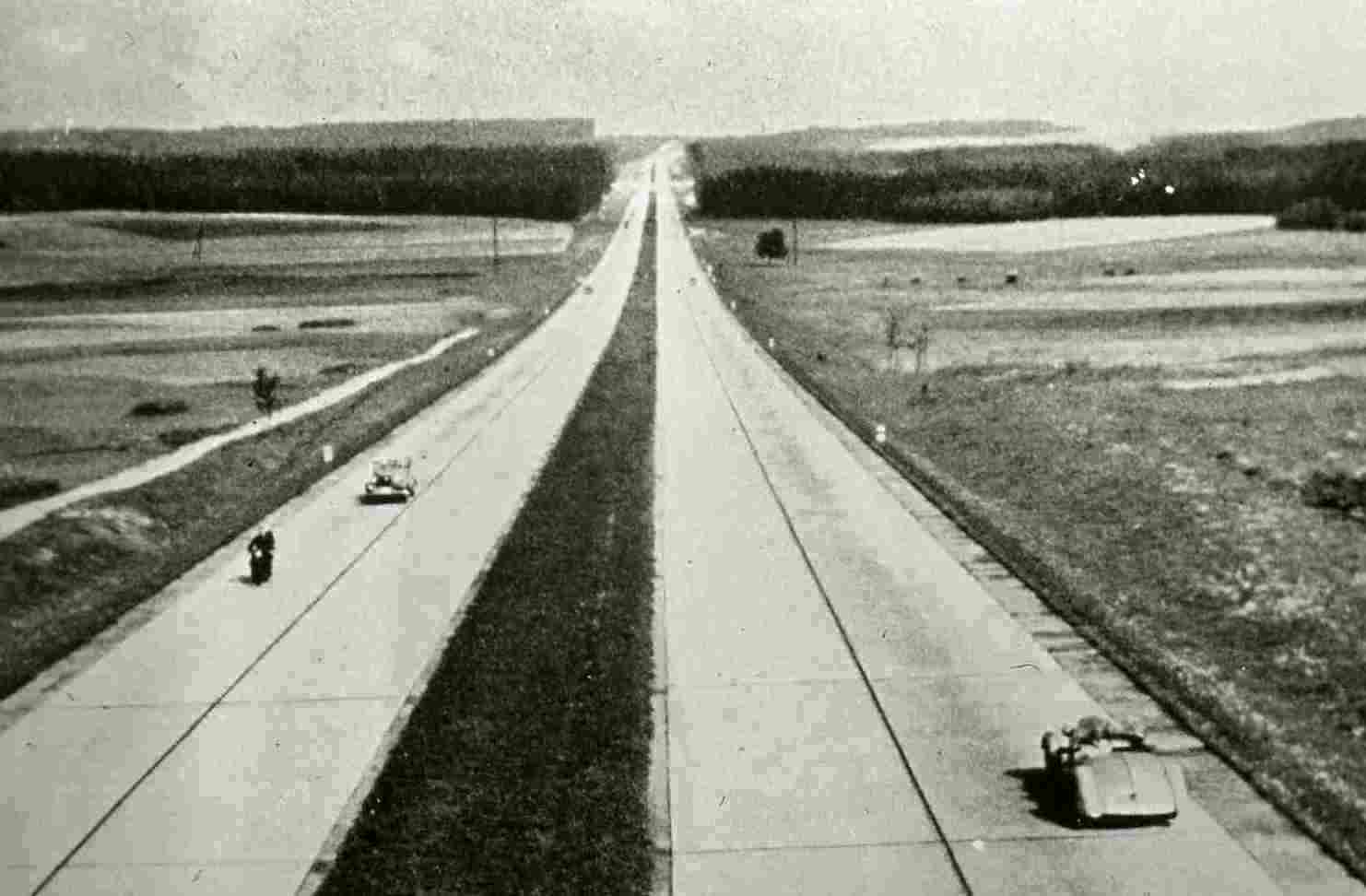 Dr. Porsche did not just build an agricultural "practical" car. He used his knowledge of sports and competition car design and incorporated handling and performance features into the Volkswagen. The car featured a fully independent suspension with the front having two tubes containing torsion bars. The torsion bars themselves being made up of a pack of leaf springs that provided the springing for the car by their being twisted.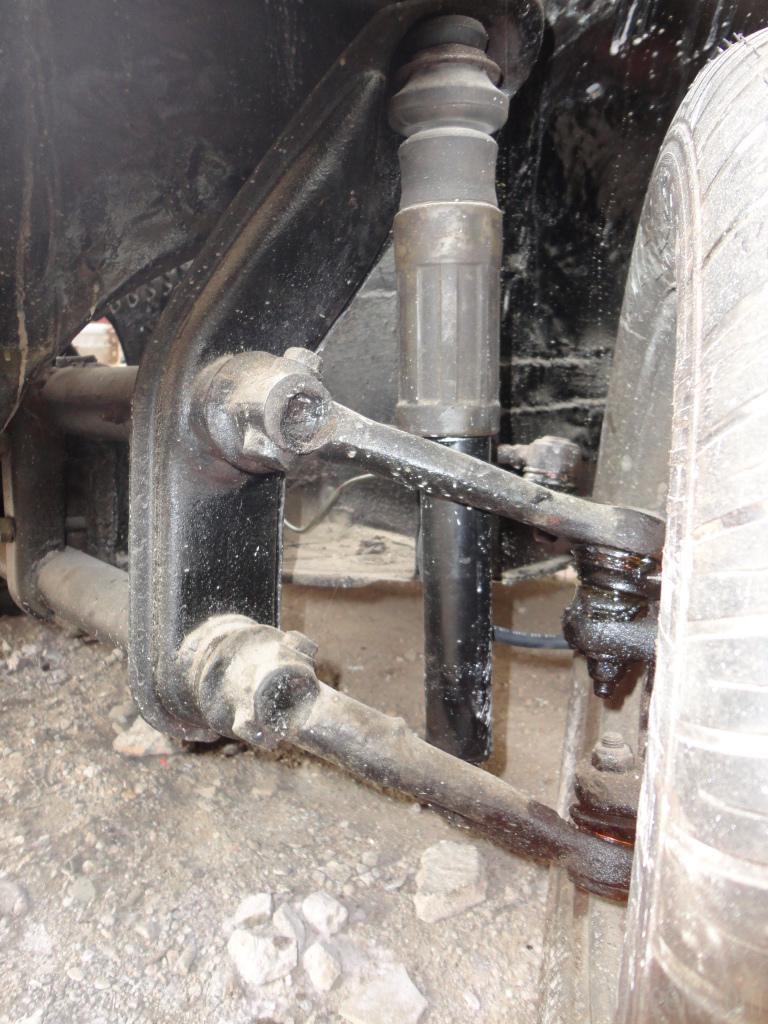 This use of agriculturally solid assemblies was intended to minimise the potential for failure. The rear suspension was also independent again using a torsion bar with trailing arms and swing axles.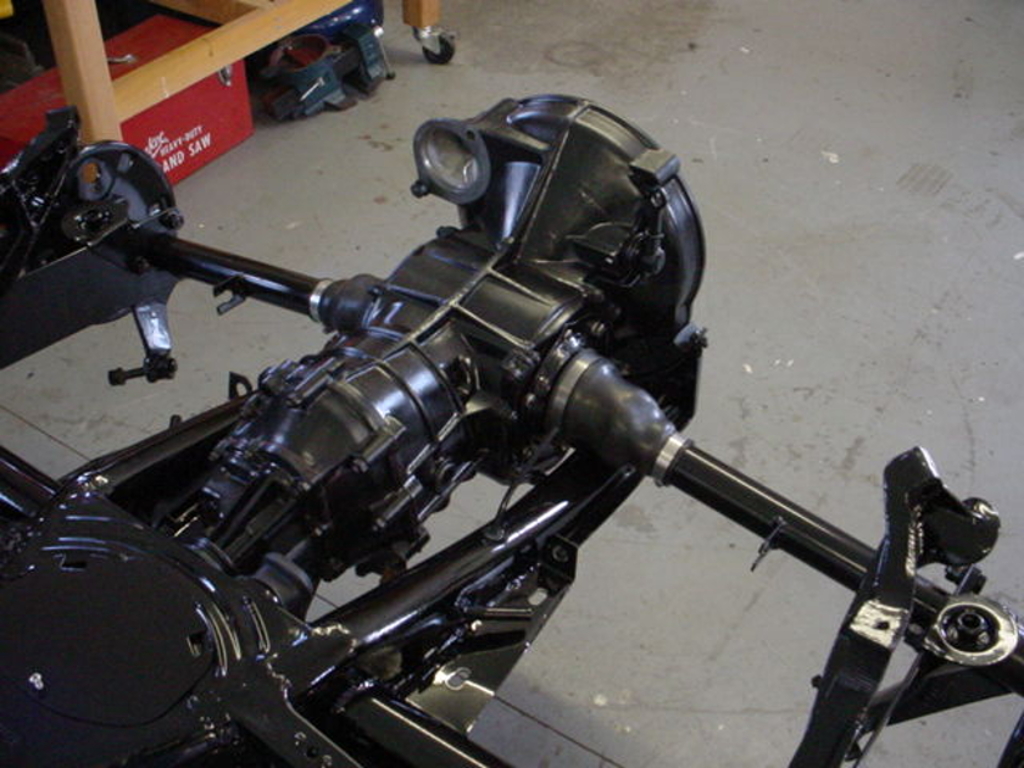 The engine was an air cooled, horizontally opposed four cylinder with a single dry plate clutch and a four speed gearbox. The engine was rear mounted, meaning it hung out behind the line of the rear axle and was bolted to the gearbox/differential and clutch assembly. Removing the engine can be done by supporting it with a kerb jack and then simply undoing the mounting bolts then lowering it out of the engine bay. So servicing the clutch is relatively easy. In fact the engine, clutch and gearbox/differential are all quite easy to remove and replace. Easier, in my experience at least, than on a conventional front engined car that drives the rear wheels, although I much prefer to own and drive a conventional car with a front engine driving the rear wheels. The rear engine layout was space saving and good for maintenance, but is not so good for handling despite it being the preferred layout on Porsches and Abarths. As the Volkswagen combined the rear engine with swing axles they had a nasty habit of becoming unbalanced in a corner if the driver tried braking whilst cornering.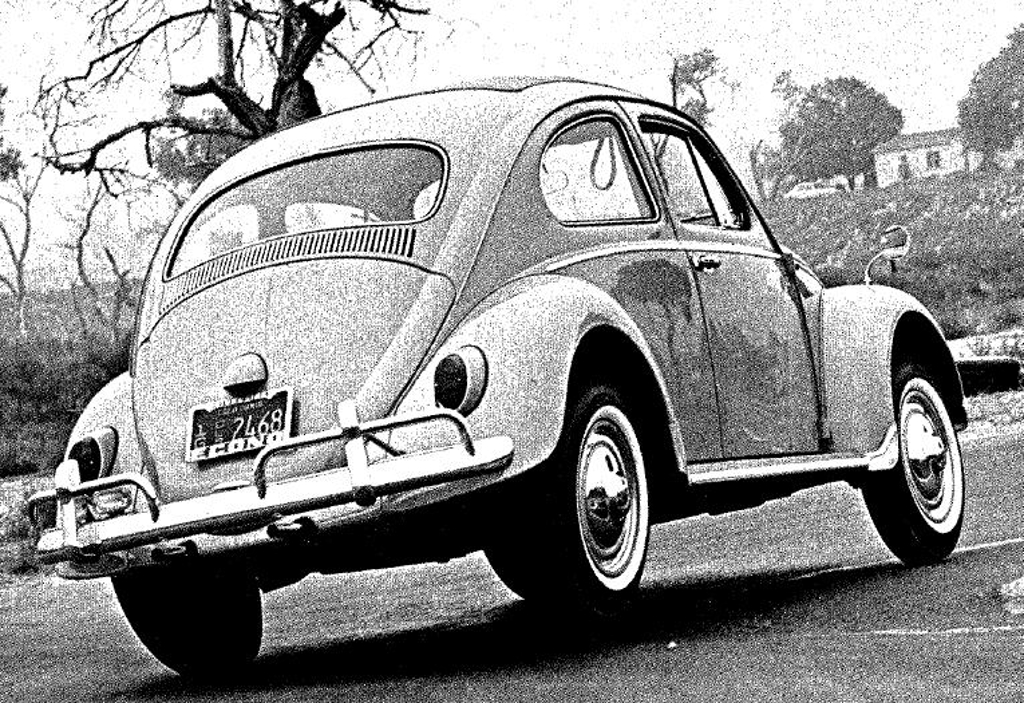 So when driving the Volkswagens prior to the creation of the "Superbug" which replaced the swing axles with a proper independent rear suspension, one needed to remember to keep one's dainty right foot on the accelerator in a corner – its better to spin than to roll over!
The other disadvantage of the rear mounted engine was that the gear shift linkage had to be long and so was a bit rubbery. This was not a big deal on the Beetle, but on the Kombi vans the linkage was even longer and more rubbery so the gear shift was a bit vague. But I guess as these Kombi vans were the common "hippymobile", if you are on LSD then I guess your whole world will seem a bit vague.
In our next part in this series we will look at the Volkswagen's competitors in Hitler's Germany and compare them with the car that survived and prospered, Dr Porsche's "People's Car".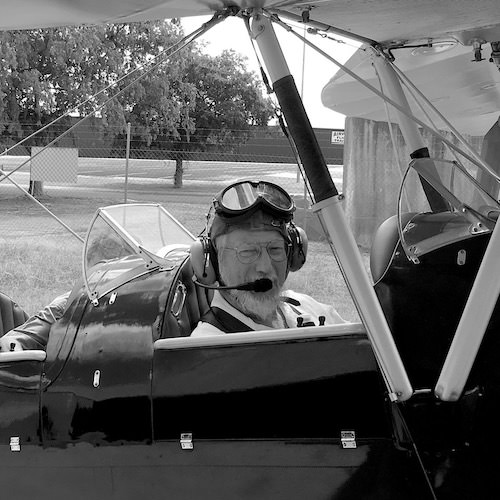 Jon Branch is the founder and senior editor of Revivaler and has written a significant number of articles for various publications including official Buying Guides for eBay, classic car articles for Hagerty, magazine articles for both the Australian Shooters Journal and the Australian Shooter, and he's a long time contributor to Silodrome.
Jon has done radio, television, magazine and newspaper interviews on various issues, and has traveled extensively, having lived in Britain, Australia, China and Hong Kong. His travels have taken him to Indonesia, Israel, Italy, Japan and a number of other countries. He has studied the Japanese sword arts and has a long history of involvement in the shooting sports, which has included authoring submissions to government on various firearms related issues and assisting in the design and establishment of shooting ranges.