The story of the Triumph Trident is one of the saddest in British motorcycle manufacturing history. It was a design that had the potential to be the salvation of the financially troubled BSA/Triumph company and yet management decisions that seem to be lemming like in their lack of forward vision doomed the Trident to oblivion. This is all the more sad because the design is one of the best to come out of Britain in the sixties and a sorted out Triumph Trident nowadays is one of the more desirable of the classic British bikes to own and ride.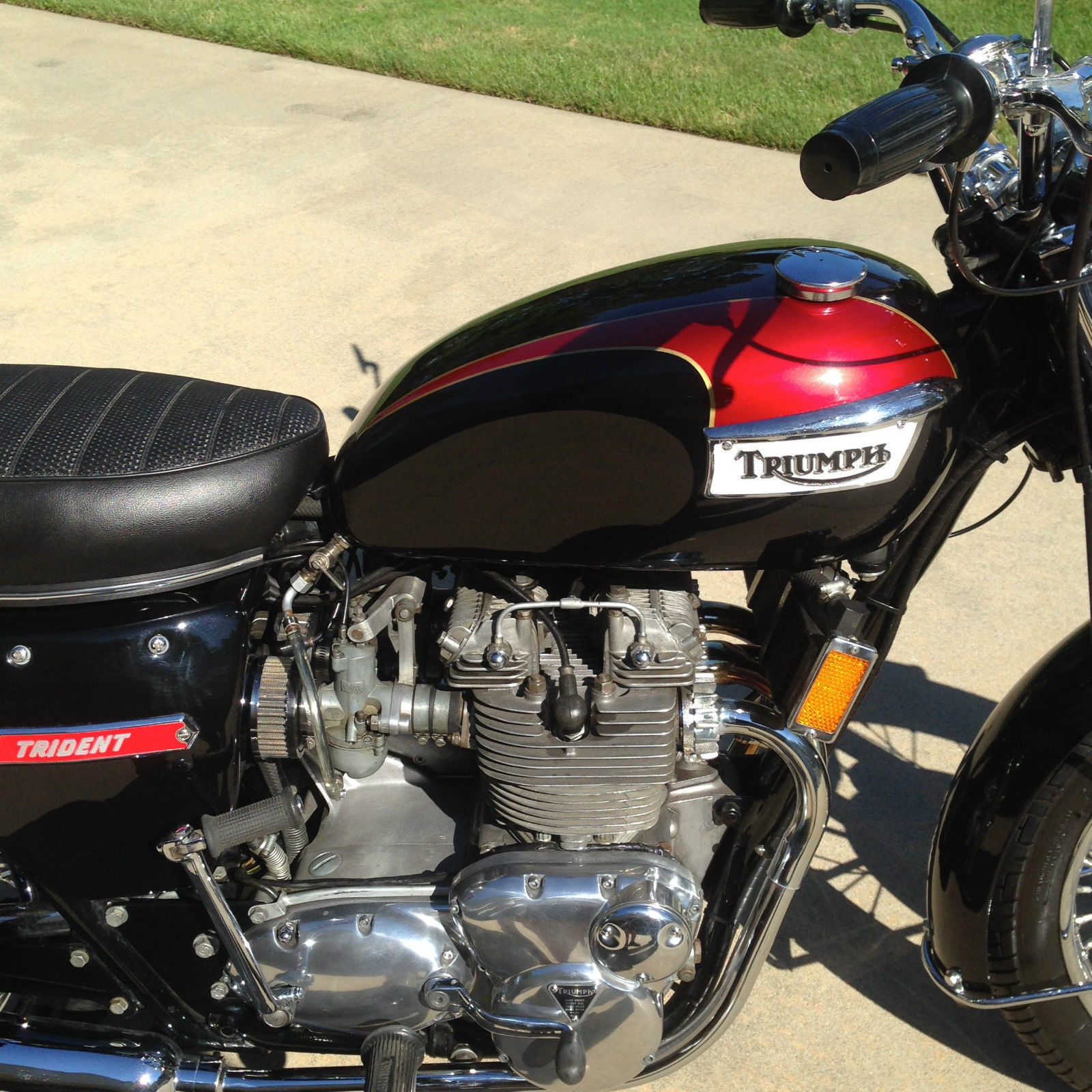 Back well before the Japanese created their Honda CB750, which was a bike capable of causing extreme terror for pillion passengers, Triumph were creating their own 750cc bike. The motorcycle Triumph began working on back in 1962 was to be a 750cc to take motorcycle performance to the next level. Had it been developed the way it could have been it would have been the bike to beat the Honda CB750. British bikes of that era were typically singles or twins with 360° crankshafts. But engineers Bert Hopwood and Doug Hele reasoned that creating a three cylinder engine with the cranks offset 120° would create a superbly balanced engine. A balanced engine not only sounds smooth but it delivers its power and torque smoothly keeping that abundance of horsepower controllable and usable.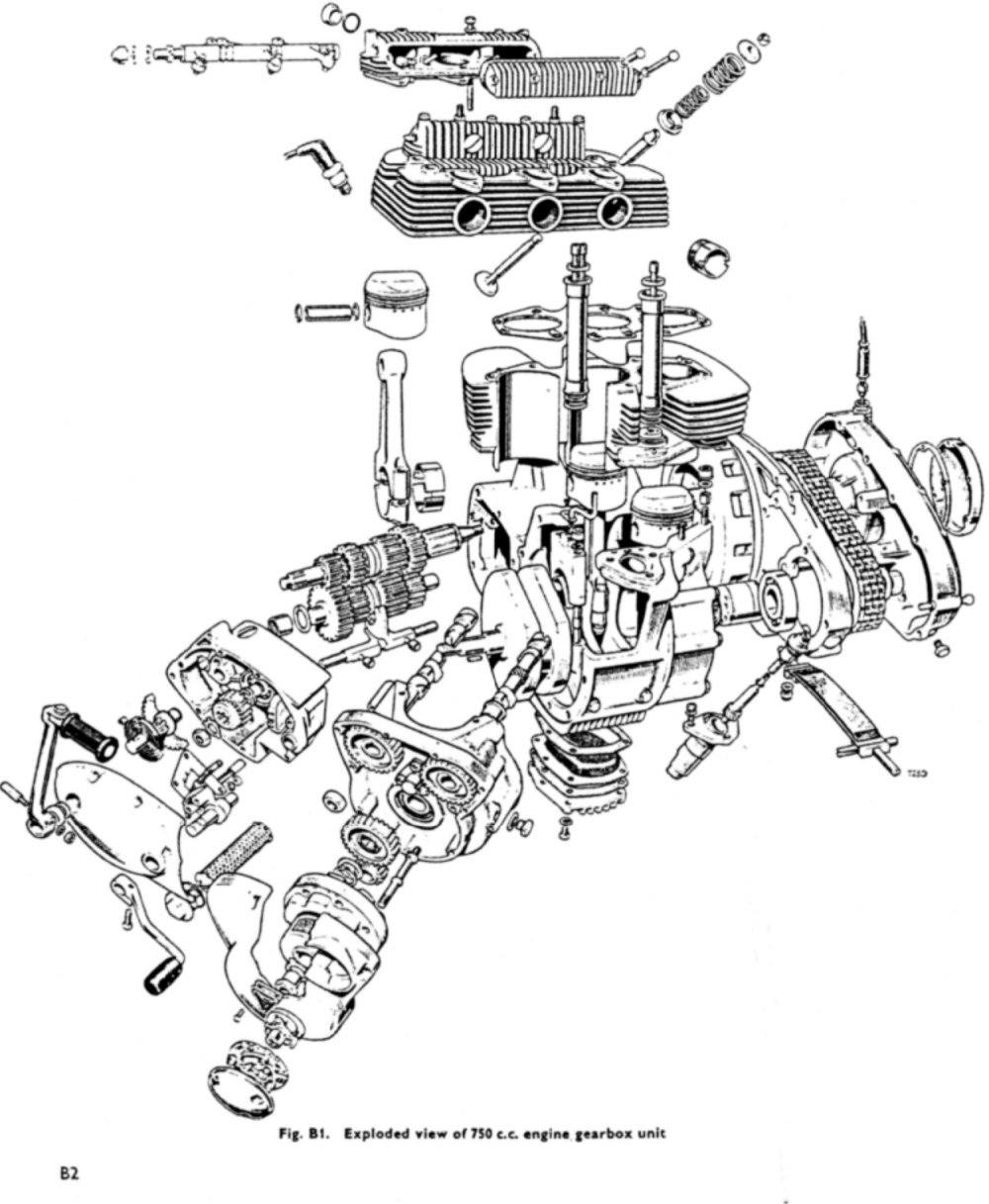 Creating a new and well balanced engine was a high priority for Bert Hopwood and Doug Hele. They had already tried increasing the capacity and power of the existing Triumph twin cylinder engine and found that they were not "picking up good vibrations" but quite the reverse. A new engine with near perfect balance was what was called for. For a four stroke engine perfect balance is achieved with three cylinders or multiples of three. This is the reason that four and eight cylinder engines have a bit of an uneven note about them, its what makes V8 engines sound so interesting, whereas three, six and twelve cylinder engines have an even note and tend to be smooth to drive. By 1965 Bert Hopwood and Doug Hele had a running prototype installed in a Triumph Bonneville 650 frame.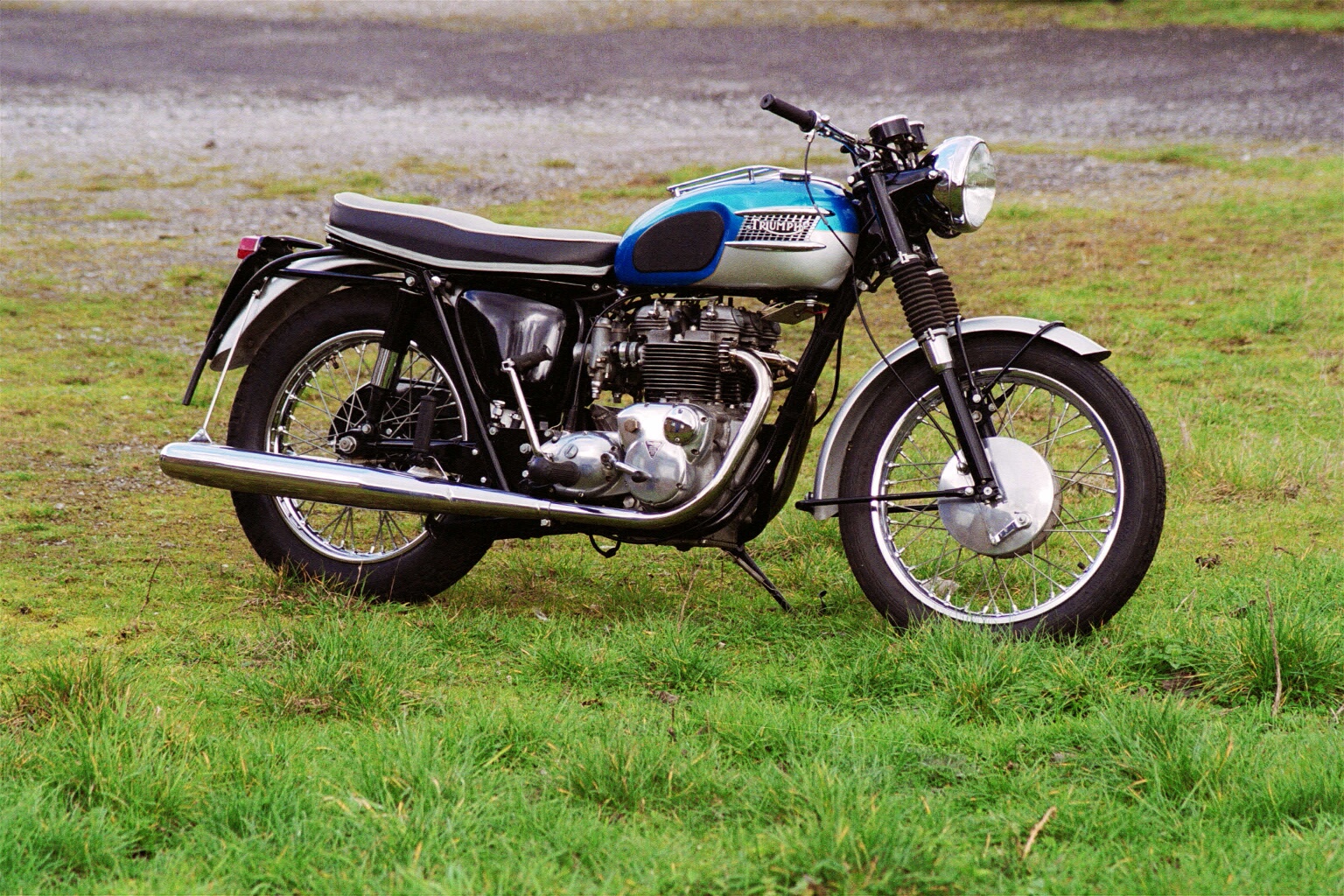 All that would seem to be needed was to put the bike into production and get American actor and Triumph enthusiast Steve McQueen to do some promotional work and it would be "move over Harley-Davidson". But sadly it just didn't happen that way. Internal rivalry between Triumph and BSA management meant that if there was to be a fantastic new Triumph then of course there also had to be a fantastic new but different BSA – "you can't have one without the other". So instead of putting this world beater into production work began on a BSA triple using a modified version of the same engine, set at an angle to make it look different. In life however just when you think things can't get any worse they somehow manage to do just that and lo and behold management decided that this bike needed "modern styling". So instead of talking with Steve McQueen they went to a British industrial design house called Ogle Design Limited. Ogle Design Limited had never designed a motorcycle before. The closest thing they had designed to a motorcycle was the three wheeler car the Reliant Robin.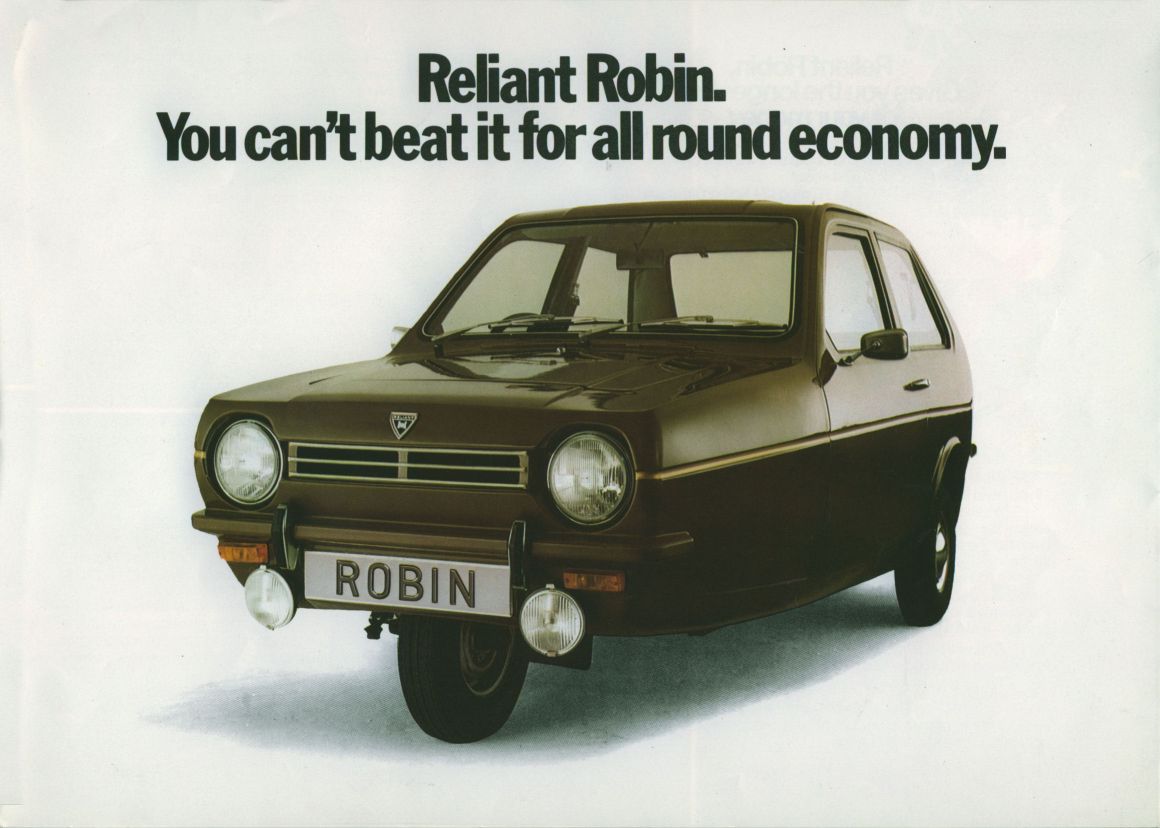 Ogle design appears to have applied Reliant Robin "modern styling" to the Triumph Trident and the end result was a bike that no motorcycle enthusiast could love. There is little doubt that although Steve McQueen loved Triumph motorcycles that even he did not love this one.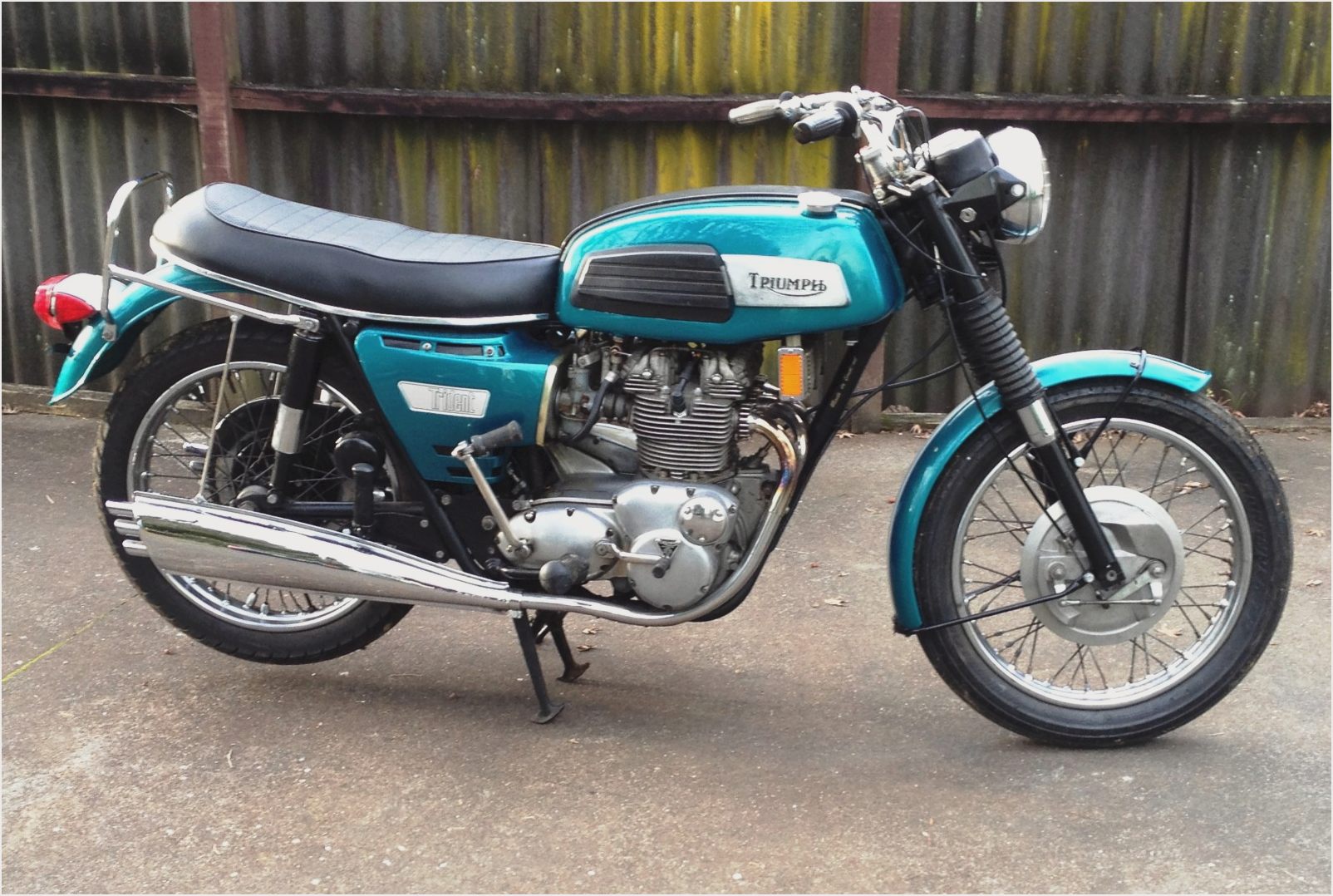 The BSA version which was called the BSA Rocket looked equally awful and in fact did not look a lot different to the Triumph Trident.
Another key item that Triumph/BSA steadfastly refused to implement was provision of an electric starter. This was to remain a kick start only motorcycle until 1975. Honda provided electric starters on their bikes and so their bikes sold like veritable hot cakes as Triumph/BSA dived into inexorable decline.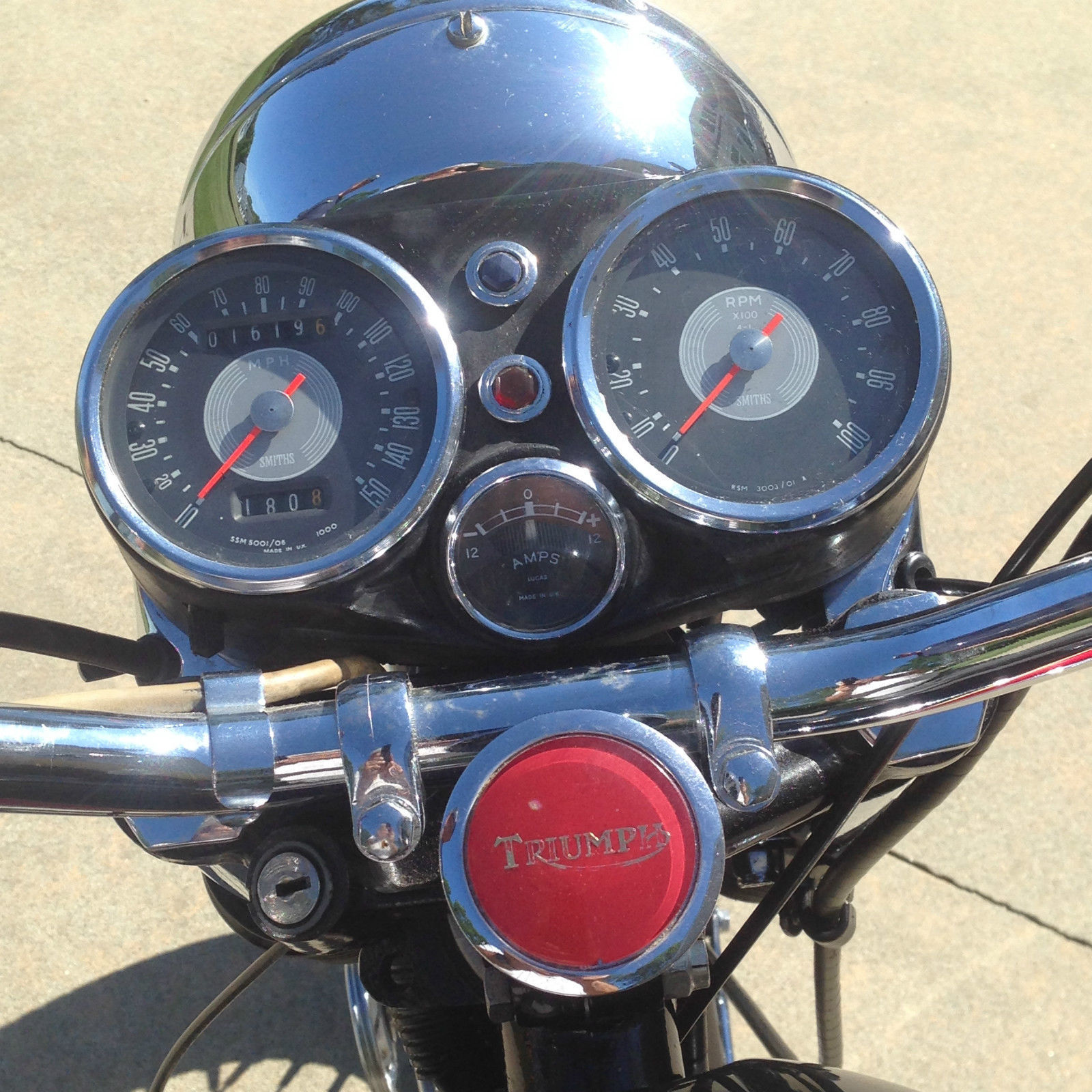 With all the delays the Triumph Trident and its BSA sibling the Rocket were introduced in 1968. A month later Honda debuted their CB750. The Honda had an electric starter, five speed gearbox (as opposed to the Triumph's four speed), and an engine that didn't leak oil (The three piece crankcase of the Trident engine was difficult to assemble and seal properly and so it did leak oil).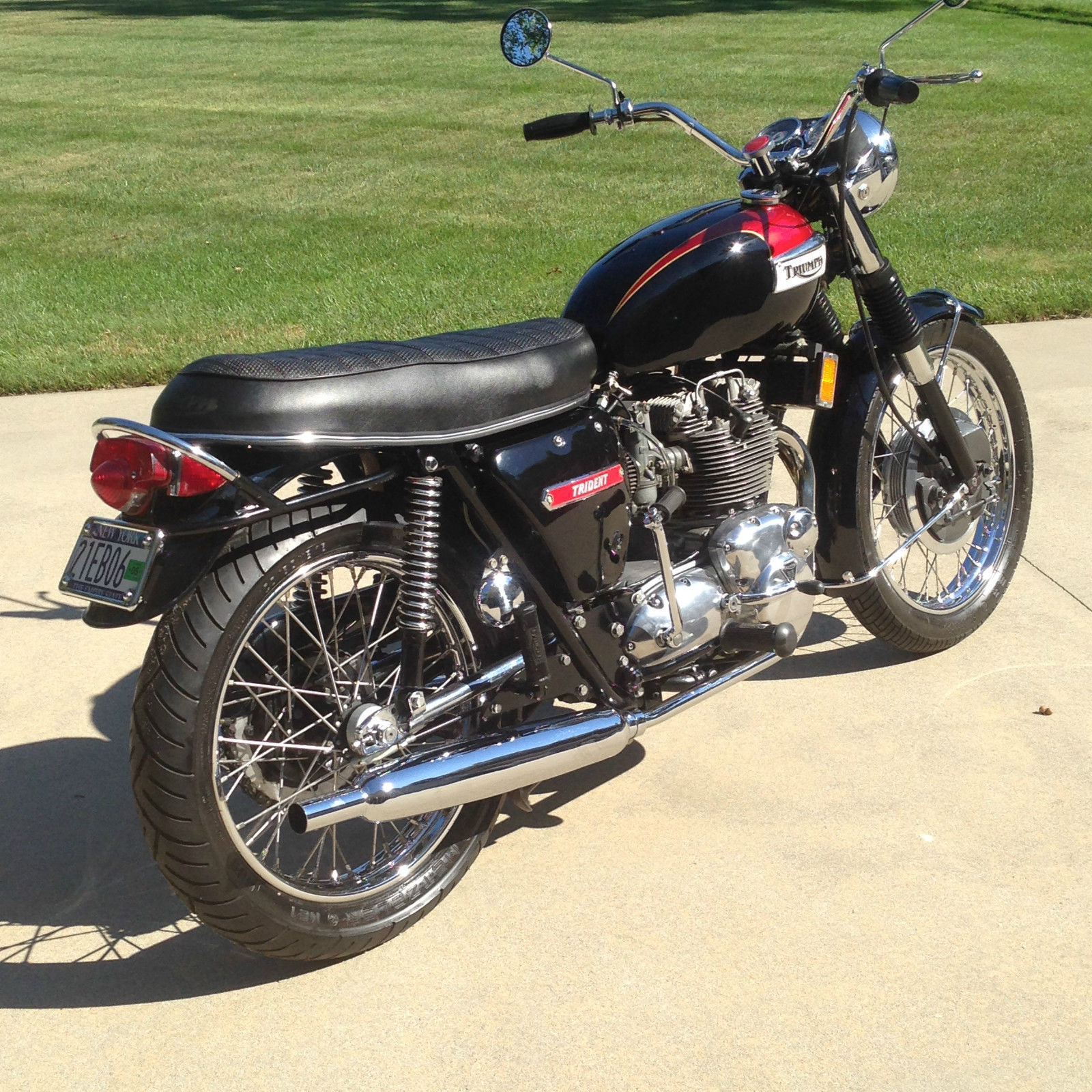 The Ogle styling was done away with in 1970 for the export market and replaced with more traditional Bonneville styling. In 1973 Triumph upgraded the Trident with a front disc brake and five speed gearbox. Finally in 1975 the bike gained an electric starter and even acquired a rear disc brake, making it able to match the specifications of the Honda CB750, at long last becoming all it should have been back in 1965 when it could have been a world beater.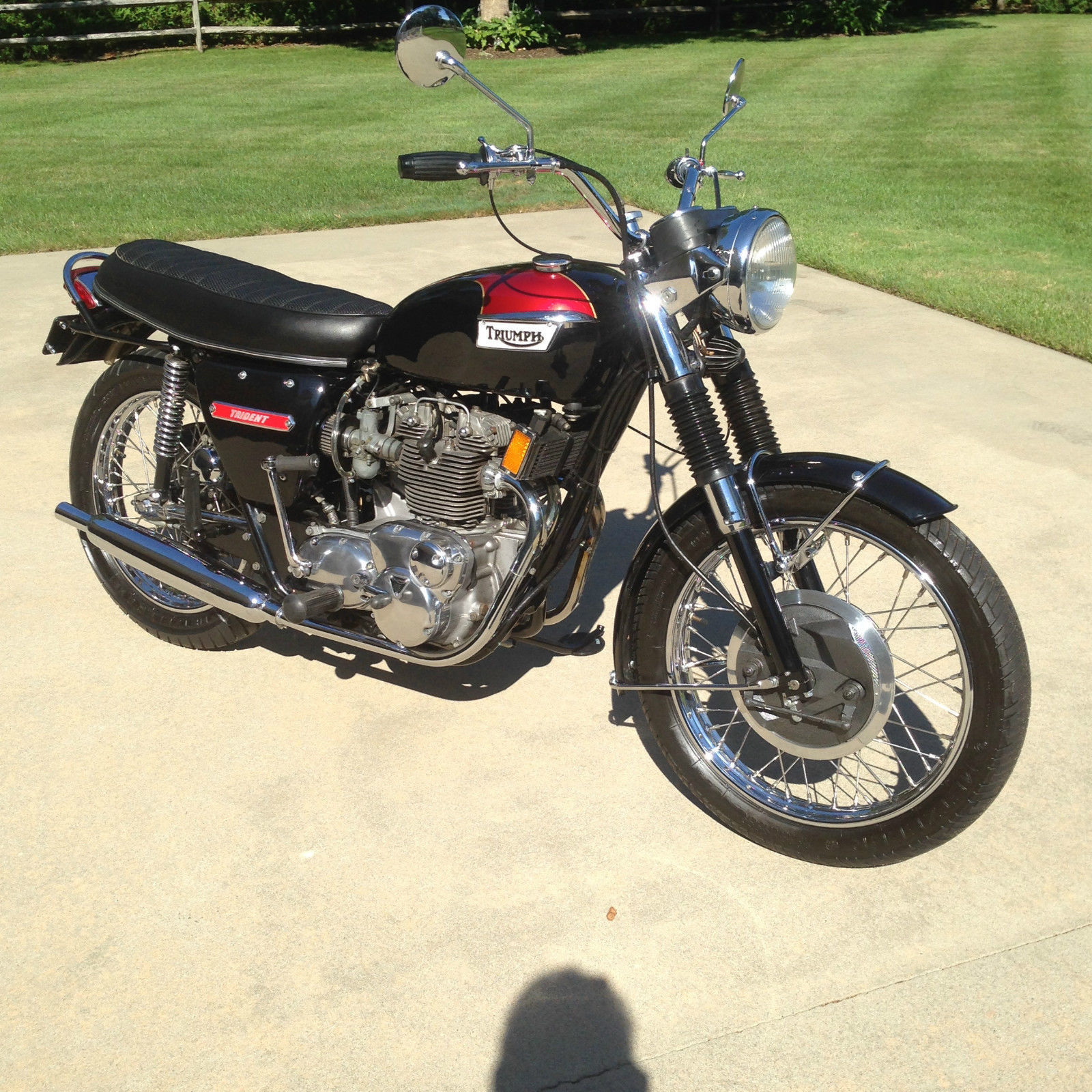 The Triumph Trident could have been a world beater. The design is excellent despite the engine retaining the pushrods of Edward Turner's Speed Twin of the thirties and the fact that the complex three piece crankcase is difficult to seal perfectly. The build quality of British cars during the seventies became progressively more and more awful and that awfulness also infected Triumph/BSA at that time. Nonetheless a bike that was built forty years ago that has been re-built once or thrice will have those build quality issues well and truly sorted out and is near guaranteed to be a far better bike today than it was when it left the factory. A Triumph Trident that has been properly re-built becomes the bike that Bert Hopwood and Doug Hele designed it to be. They look and ride like the classic thoroughbred they are and that three cylinder engine sounds like nothing else. It is a characteristic exhaust note that catches the attention of a knowledgeable enthusiast.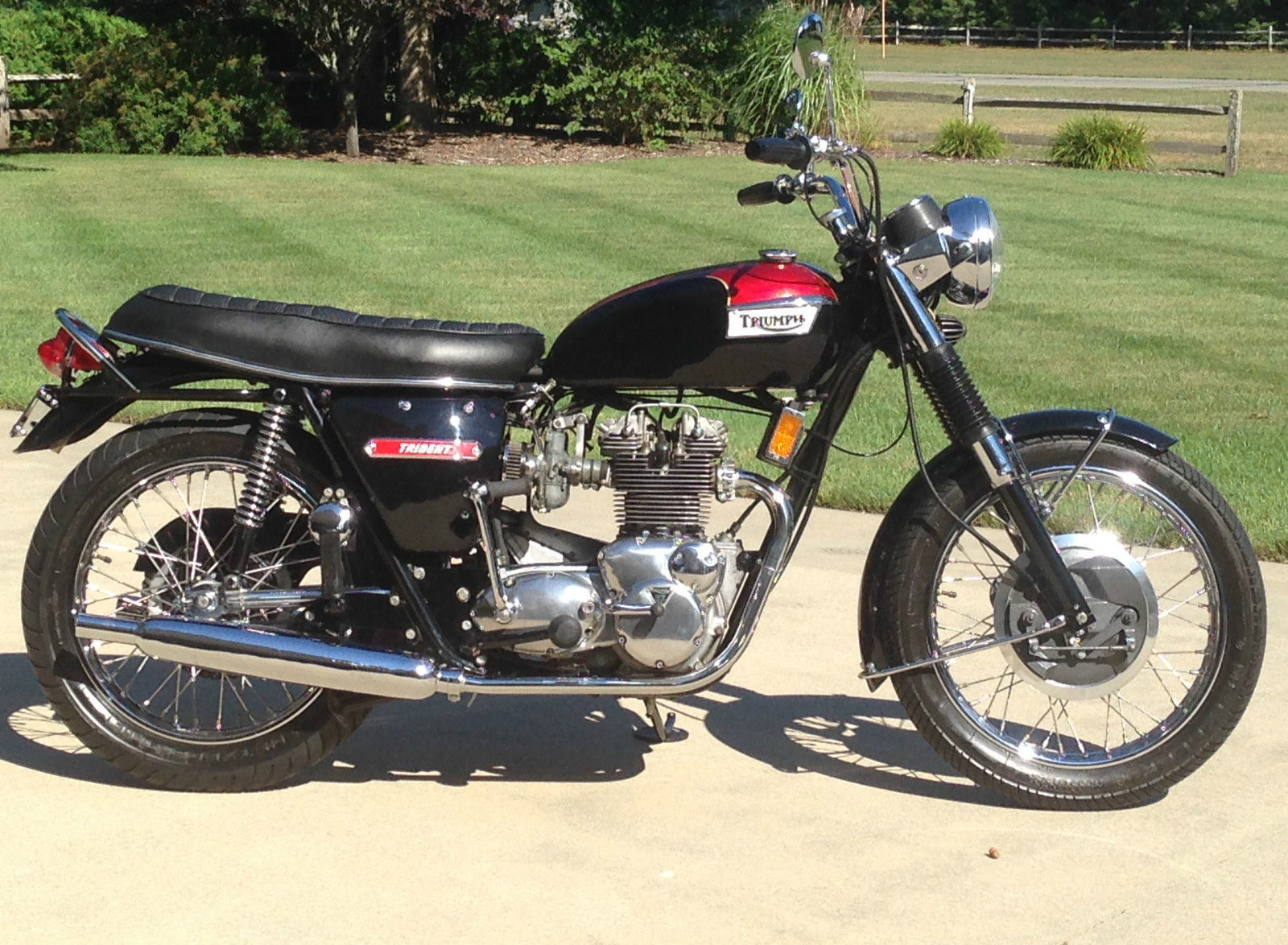 A 1970 Triumph Trident that has been subject to a nice looking restoration has just been re-listed on eBay. The bike is described by the vendor as "I have had this bike for over thirty five years. this machine was meticulously restored with a complete engine overhaul by a factory trained technician. New paint, re-chromed parts, new wheels (UK) with Stainless Steel Spokes, new Metzeler tires,new complete exhaust system and much more. This machine has been in storage in a climate controlled enviroment.  Mileage since restoration 1619." and in the pictures it certainly looks the part.
The bike is wearing New York plates and if you are looking for what might be one of the best classic British motorcycles to own this might just be the one for you.
You will find the eBay sale page if you click here.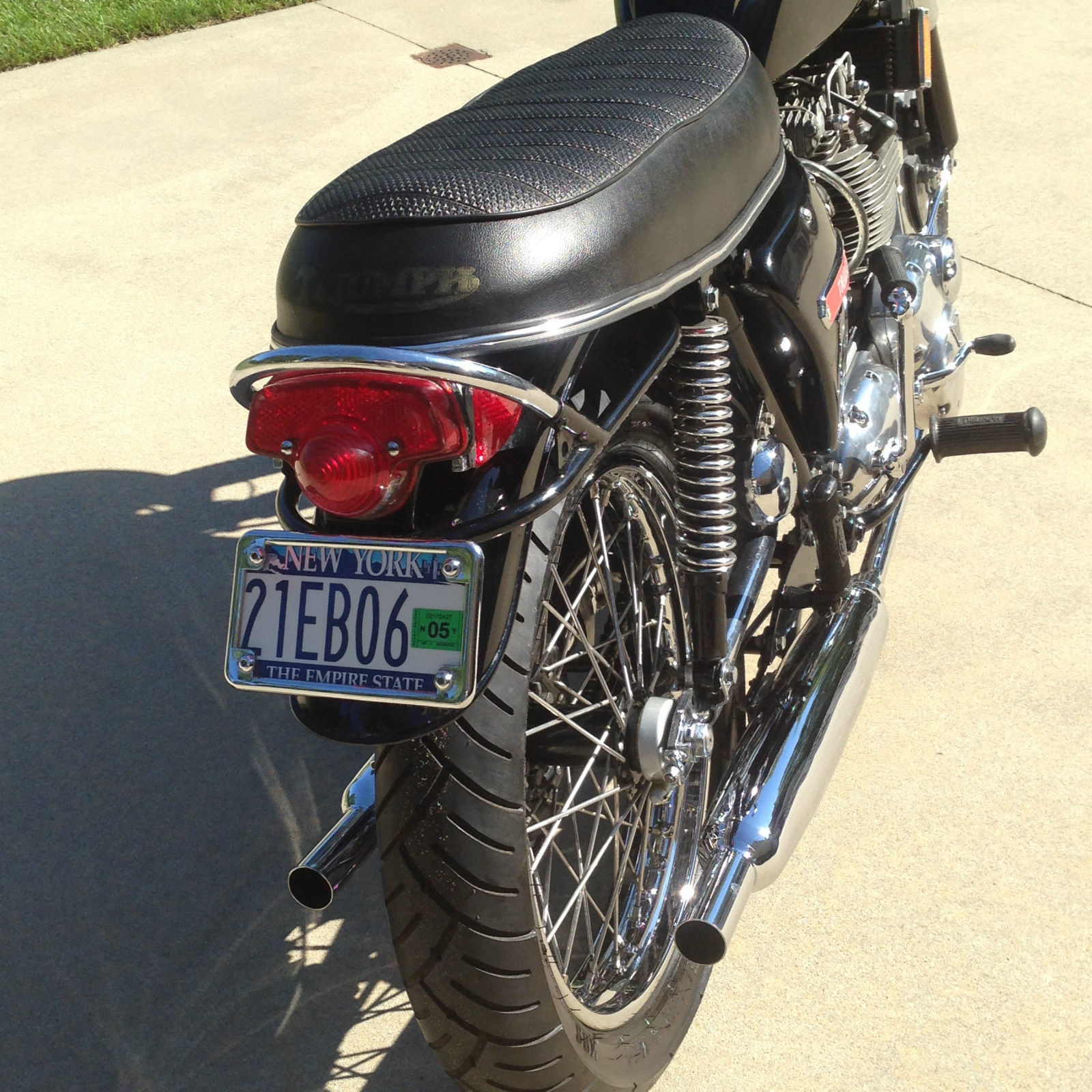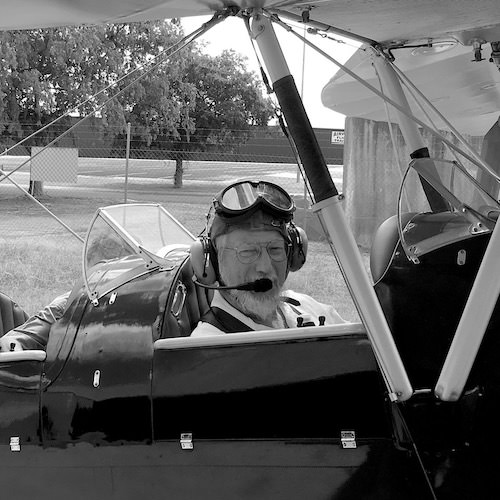 Jon Branch is the founder and senior editor of Revivaler and has written a significant number of articles for various publications including official Buying Guides for eBay, classic car articles for Hagerty, magazine articles for both the Australian Shooters Journal and the Australian Shooter, and he's a long time contributor to Silodrome.
Jon has done radio, television, magazine and newspaper interviews on various issues, and has traveled extensively, having lived in Britain, Australia, China and Hong Kong. His travels have taken him to Indonesia, Israel, Italy, Japan and a number of other countries. He has studied the Japanese sword arts and has a long history of involvement in the shooting sports, which has included authoring submissions to government on various firearms related issues and assisting in the design and establishment of shooting ranges.