The Type 57 Bugatti was built from 1934 through to 1940 and then again as the Type 101 in 1951 and 1952 as Bugatti tried to re-start in the aftermath of World War II, with one final surviving chassis being completed with coachwork in 1965. The Type 57 is then the last example of a car that Ettore and Jean Bugatti designed prior to each of them passing away.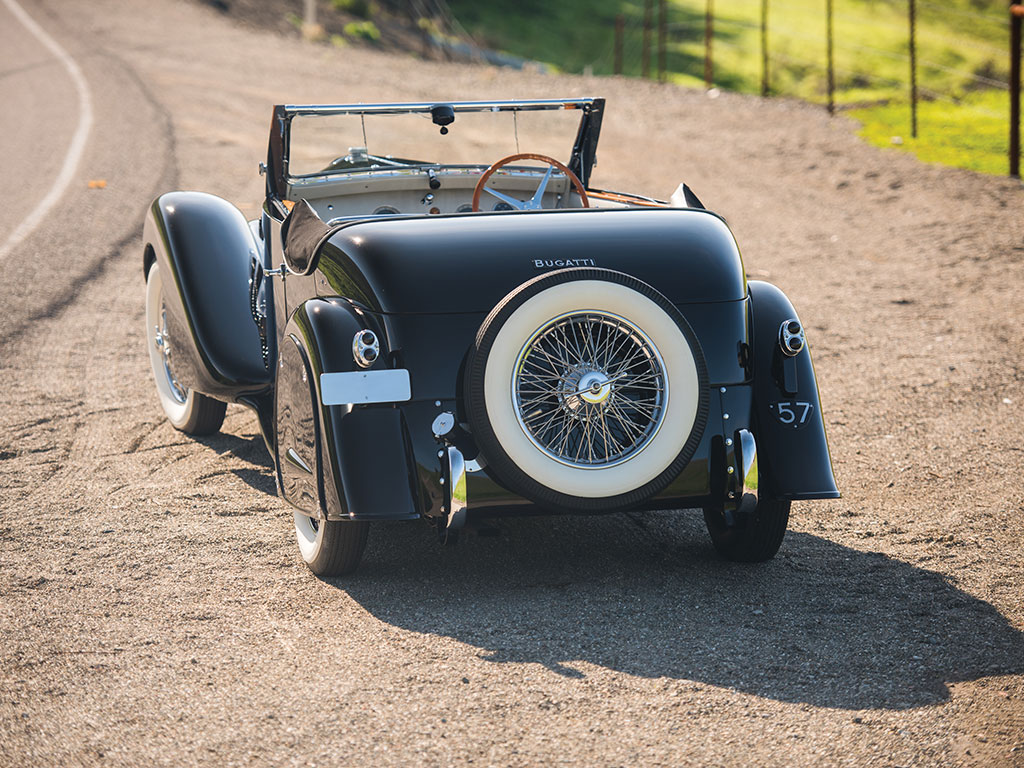 That makes the Type 57 something of a special Bugatti, a legacy left behind by two men whose impact on motor car design has lasted and whose designs are admired as works of art and engineering melded together.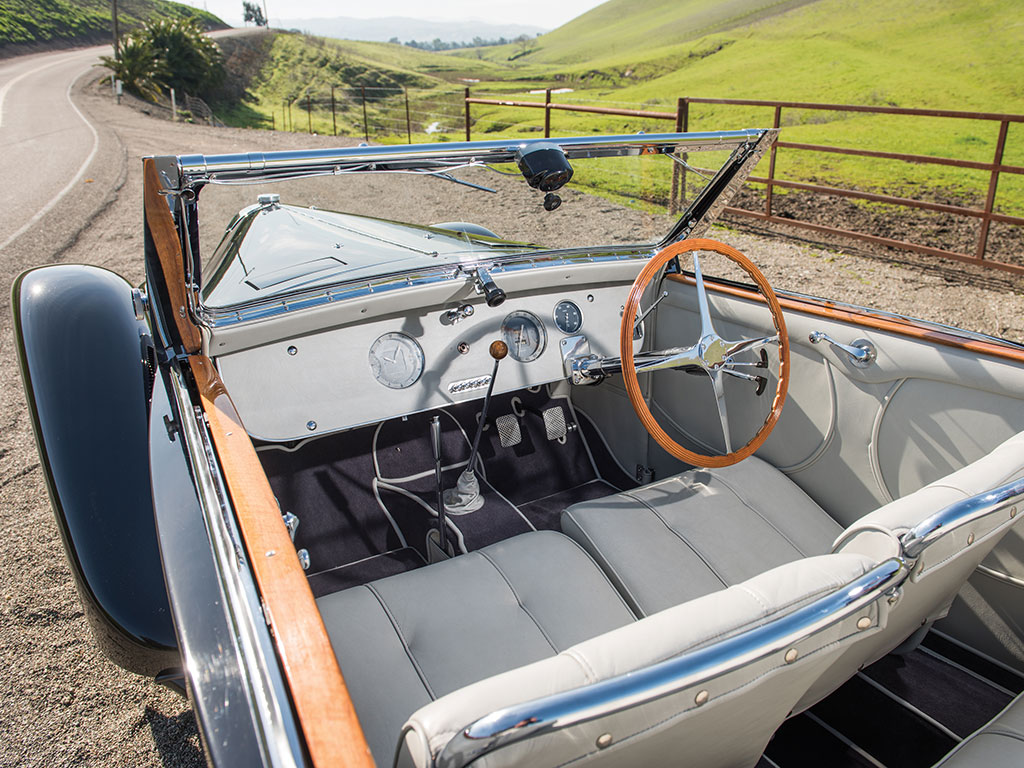 The Type 57 Bugatti include a number of variants including the Aérolithe, Atlantic and Atalante. The car we are featuring is a Stelvio with its traditional styling characteristic of the cars that Ettore and Jean Bugatti are perhaps most remembered for. A style of car that enthusiasts will most likely conjure up in their minds when the name Bugatti is mentioned.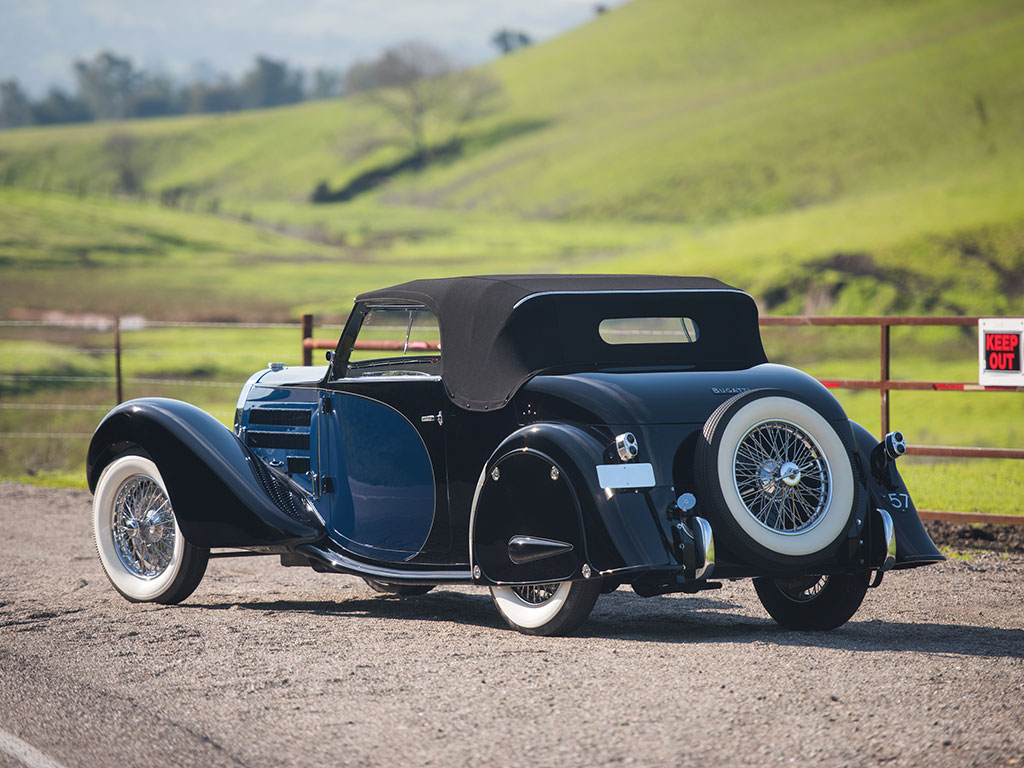 The Stelvio almost looks a small car until we realise that it houses a 3,257 cc straight eight double overhead camshaft engine producing a healthy 135bhp. Type 57 Stelvio can come equipped with either a conventional four speed manual gearbox or a 4-Speed Cotal Pre-Selector Manual Transmission, the car we are featuring having the conventional gearbox.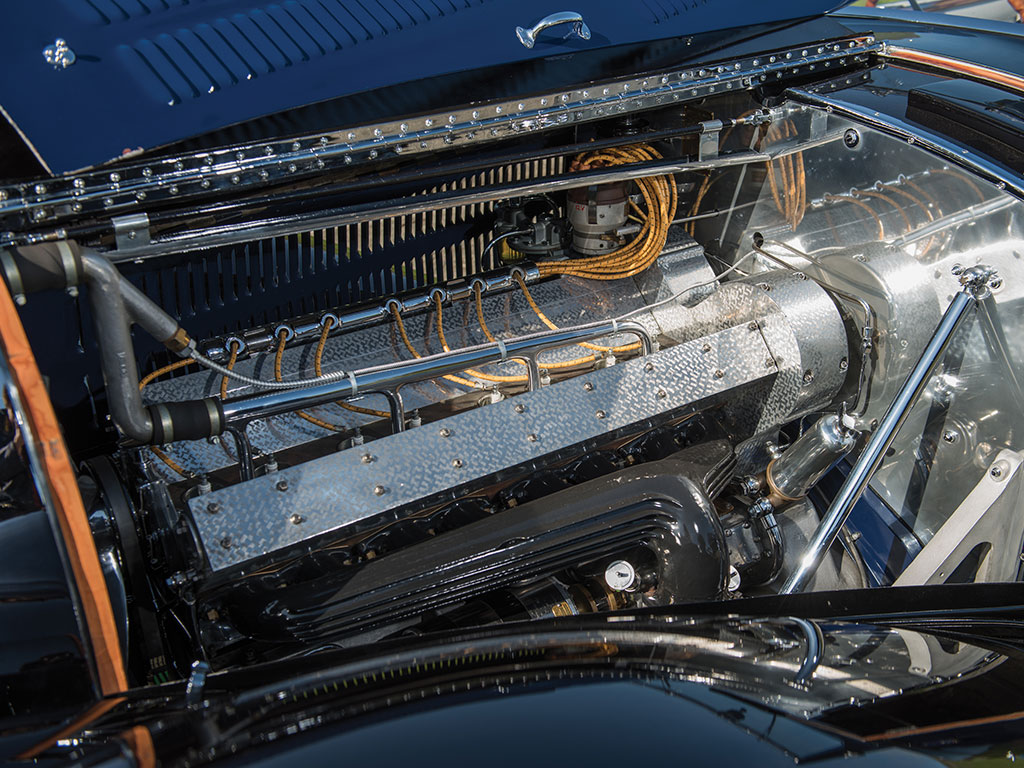 As Bugatti Type 57 were custom built or improved to customer requirements models will be found with either cable or hydraulic drum brakes. Suspension being by leaf springs all around and beam axles front and rear.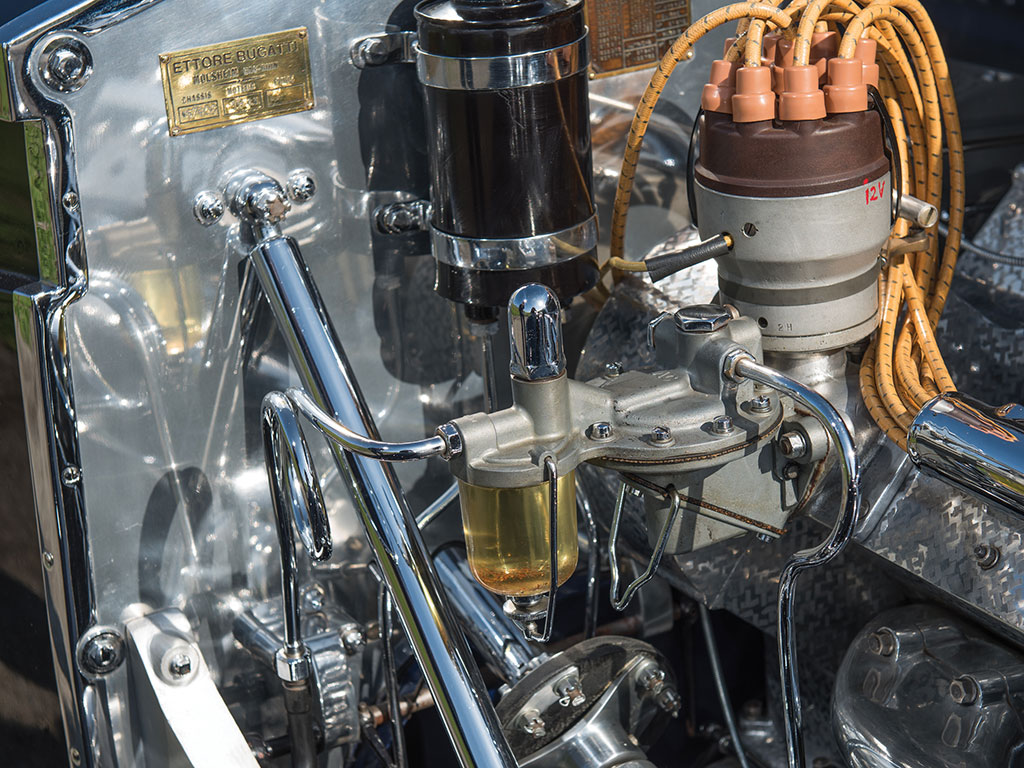 Thus no two Bugatti Type 57 Stelvio are likely to be identical to each other but there will be subtle variations reflecting the personality of the customer and the development of the thinking of the designer. This 1936 example already having rear end styling very similar to that which would later appear on the Atalante.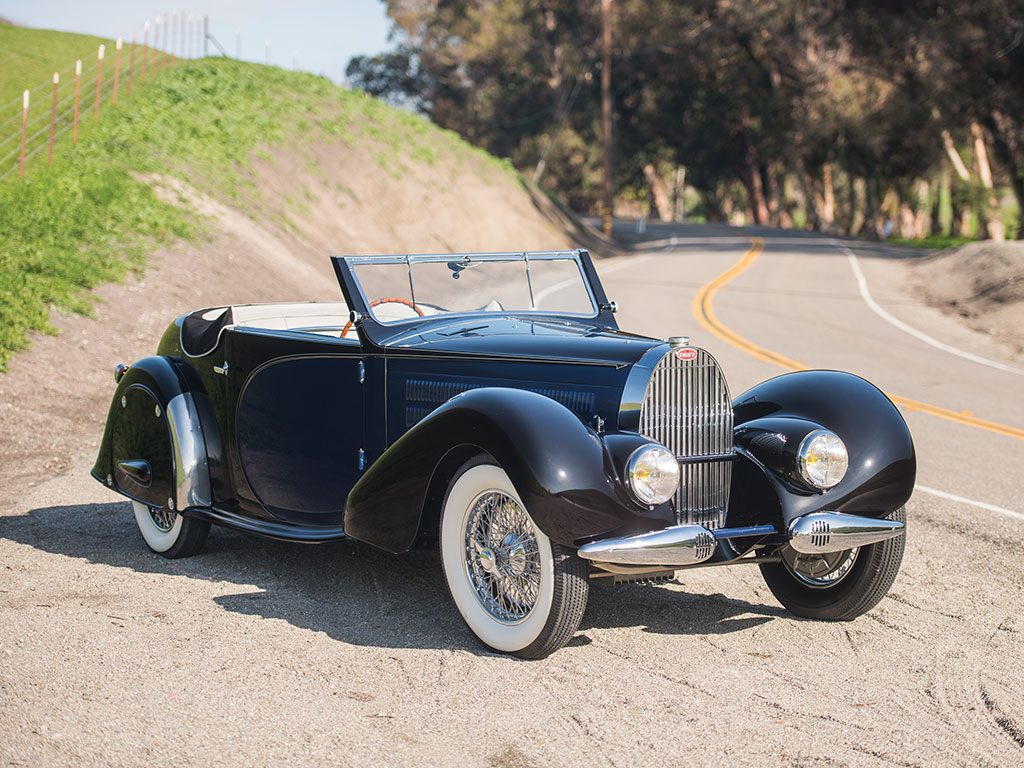 The car we are featuring has been upgraded and improved over the years with the fitting of its hydraulic braking system, the spats over the rear wheels and the "moustache" front bumpers. This work was done early in the car's life and appears to have been done at the Bugatti factory or by a Bugatti agent.
The car is coming up for auction at the RM Sotherby's Amelia Island auction on 12th March 2016.
You will find the auction page with a detailed history of the car's ownership if you click here.
This is a stunning example of a Bugatti Type 57 Stelvio.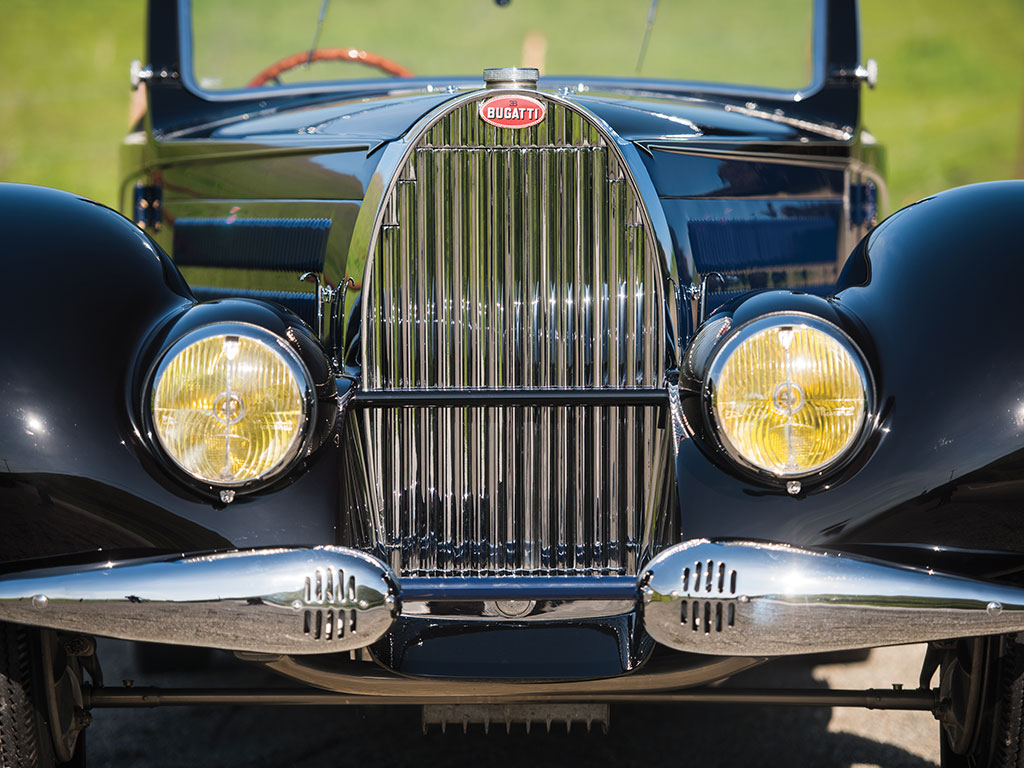 A.B. Price's book "Bugatti Type 57: The Last French Bugatti" is a definitive resource on the Type 57. You will find it if you click here.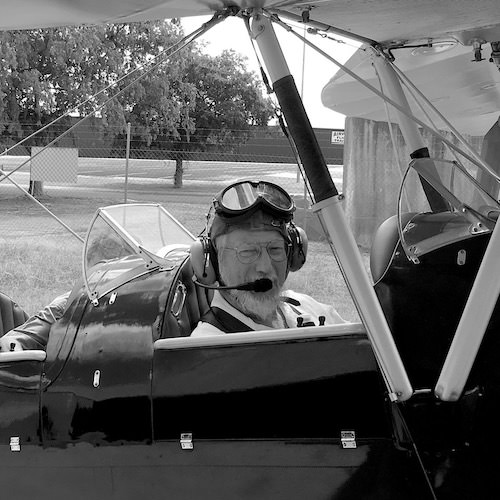 Jon Branch is the founder and senior editor of Revivaler and has written a significant number of articles for various publications including official Buying Guides for eBay, classic car articles for Hagerty, magazine articles for both the Australian Shooters Journal and the Australian Shooter, and he's a long time contributor to Silodrome.
Jon has done radio, television, magazine and newspaper interviews on various issues, and has traveled extensively, having lived in Britain, Australia, China and Hong Kong. His travels have taken him to Indonesia, Israel, Italy, Japan and a number of other countries. He has studied the Japanese sword arts and has a long history of involvement in the shooting sports, which has included authoring submissions to government on various firearms related issues and assisting in the design and establishment of shooting ranges.