What do you do if you have an old Sunbeam motorcycle and you feel like it needs a bit more umpfh? Easy, you take out the Sunbeam engine and fit a Porsche car engine!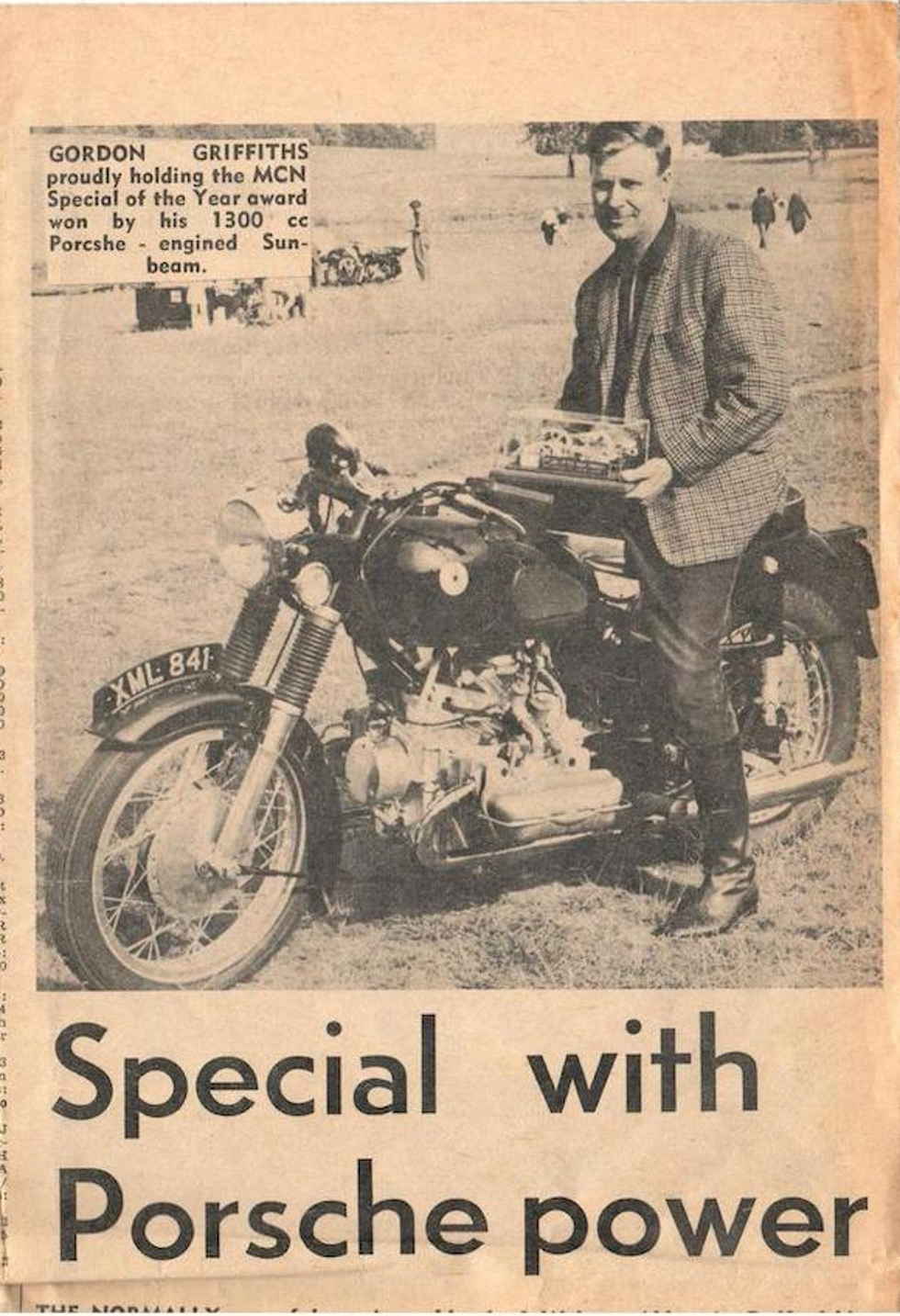 Gordon Griffiths was a builder of special motorcycles and back in 1969 an old 1952 Sunbeam S8 came into his possession. The Sunbeam was already a bike with a large 487cc two cylinder engine so there was room in that frame for something decently big. The Sunbeam S8 also had a shaft drive. Harley Davidson were fitting 1200cc V twin engines in their bikes. Indian had fitted an in-line four cylinder into one of theirs. As it happened Gordon Griffiths was able to get hold of a 1200cc Volkswagen horizontally opposed four cylinder from an old Beetle.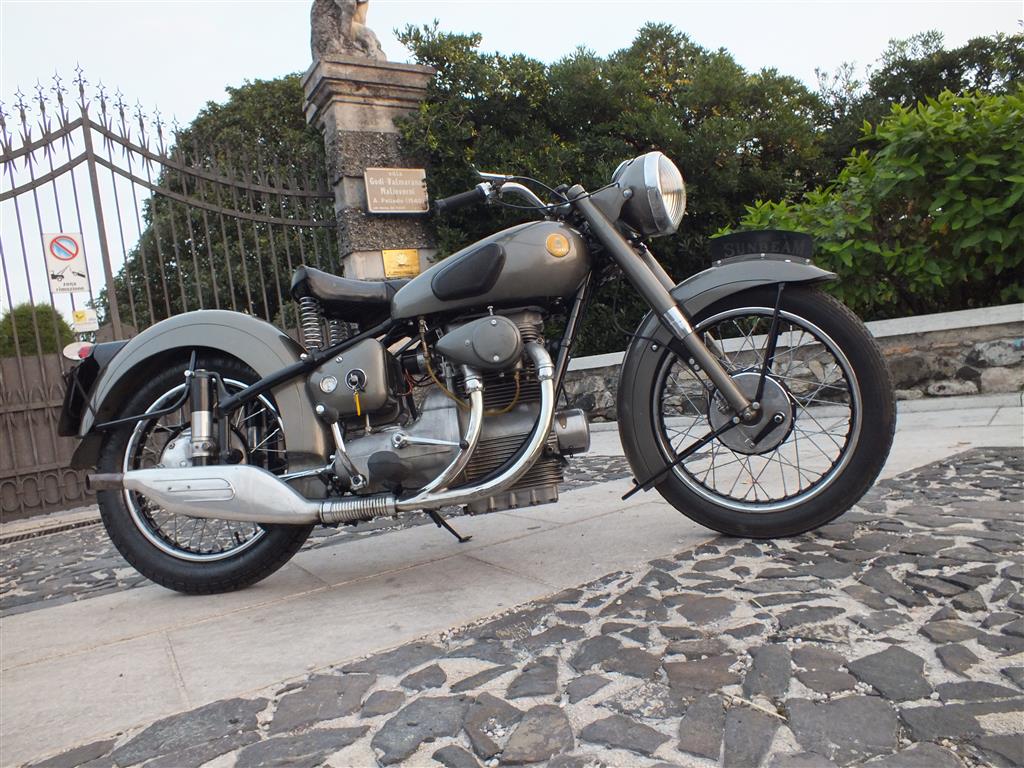 So, out came the orgininal two cylinder Sunbeam engine and, with a bit of engineering, in went the Volkswagen engine snug as a bug in a Sunbeam.
But something was not quite right. The bike had more power, and the Volkswagen engine was reliable, but something was just not quite right. And the problem was that although the engine was as big as the V twin in a Harley-Davidson it still looked like a Volkswagen, and it sounded like a Volkswagen, because it was a Volkswagen. A Volkswagen really has no actual coolness factor unless you happen to be a hippy with flowers in your hair and saying "cool man" rather a lot. Motor cycle aficionados do not wear flowers in their hair – the flowers tend to get squashed under one's crash helmet. Even Janis Joplin did not drive a Volkswagen. She drove a Porsche 356 complete with psychedelic paint job. So if a Volkswagen engine was not going to cut it what would? As Janis Joplin used to sing "Oh Lord, won't you buy me a Mercedes Benz, my friends all drive Porsche's, I must make Amens…", a Porsche engine was what was chiefly required for the power, the sound, and for a dose of coolness that the humble Volkswagen could never deliver.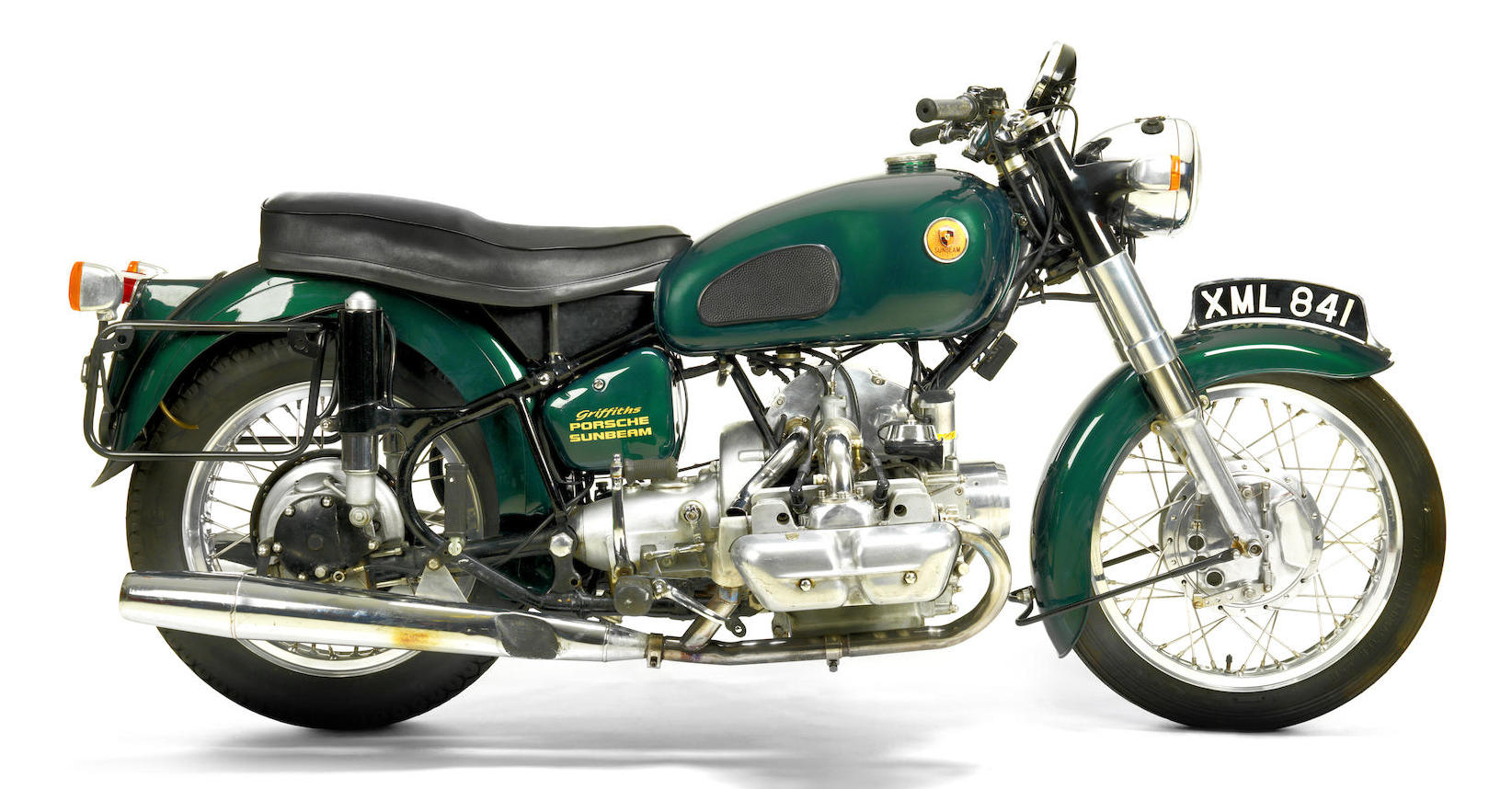 A 1300cc 1955 Porsche A Series engine was duly acquired and it required some engineering to fit it into the Sunbeam. A cast aluminium bell housing had to be created and the pressed steel rocker covers of the Porsche were replaced with custom cast aluminium ones. In 1970 the bike became something of a show stopper when it debuted at the BMF Rally. The bike passed to a second owner in 1992 who replaced the Sunbeam fuel tank with a BMW one and modified the rear and front suspension which included the fitting of Norton 'Roadholder' forks. As a piece de resistance an original Vincent Black Shadow speedometer replaced the Sunbeam original.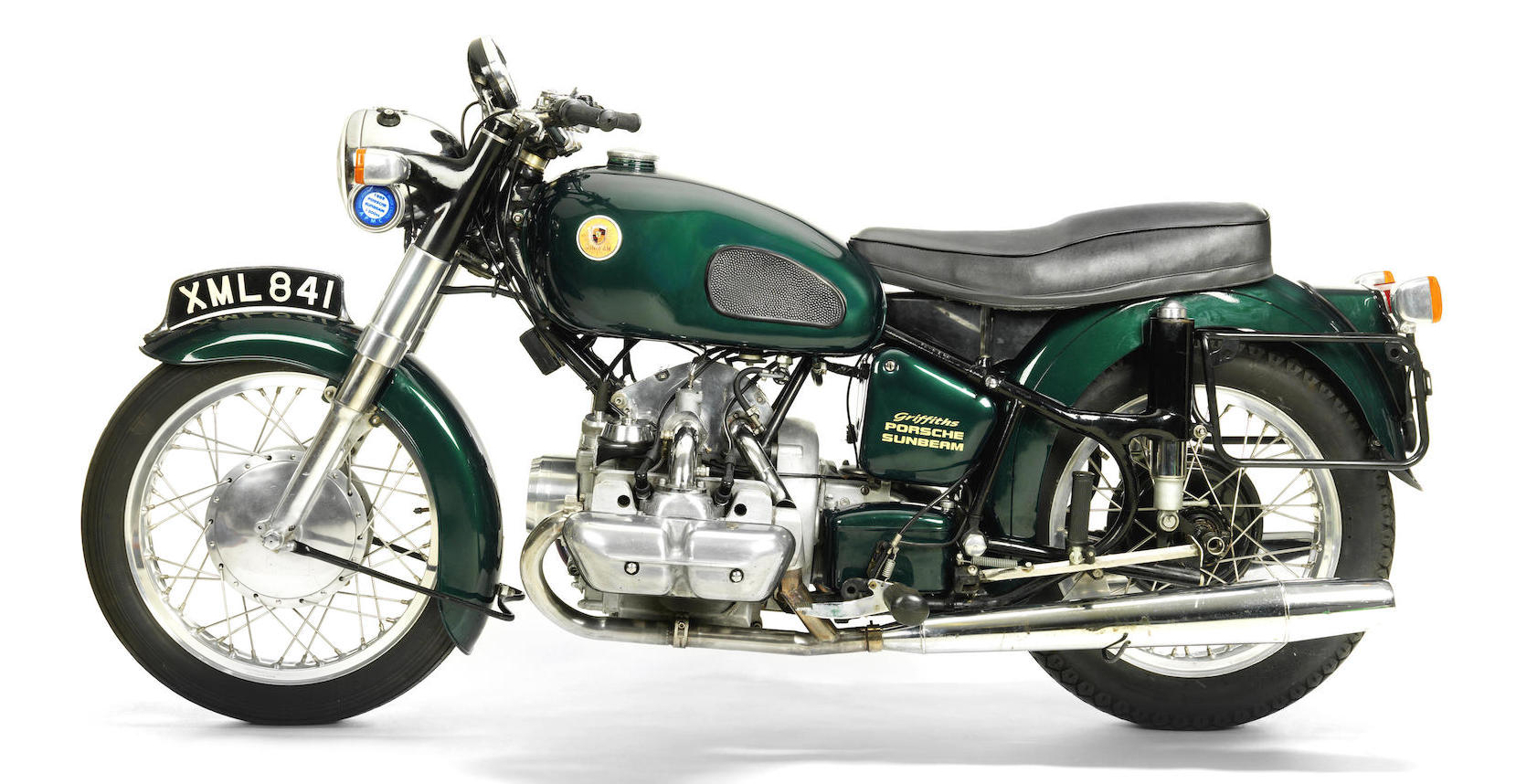 This unique motorcycle is to be auctioned by Bonhams at their Les Grandes Marques du Monde au Grand Palais on 4th February 2016.
You will find the Bonhams auction page for this one of a kind motorcycle if you click here.
Expected selling price is estimated to be in the range €8,000 – €11,000, so this is a very affordable motorcycle as well as being a unique one.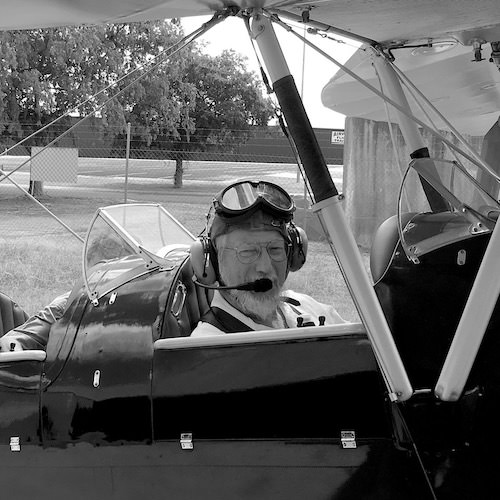 Jon Branch is the founder and senior editor of Revivaler and has written a significant number of articles for various publications including official Buying Guides for eBay, classic car articles for Hagerty, magazine articles for both the Australian Shooters Journal and the Australian Shooter, and he's a long time contributor to Silodrome.
Jon has done radio, television, magazine and newspaper interviews on various issues, and has traveled extensively, having lived in Britain, Australia, China and Hong Kong. His travels have taken him to Indonesia, Israel, Italy, Japan and a number of other countries. He has studied the Japanese sword arts and has a long history of involvement in the shooting sports, which has included authoring submissions to government on various firearms related issues and assisting in the design and establishment of shooting ranges.