Argentinian Alejandro De Tomaso's first entry into road car production was the Vallelunga Coupé, named after a racing circuit at which he had much success and much enjoyment, the Autodromo di Vallelunga. The Vallelunga has been described as the first ever production mid-engine GT road car having been shown at the Turin Motor Show in 1964 and thus beating the Lamborghini Muira and the Ginetta G12 by two years. In fact all of them were beaten by Mercedes-Benz who put a mid-engine Grand Touring car into production in 1934. It was designated the Mercedes-Benz 150 and you'll find it in a post we published recently if you click here.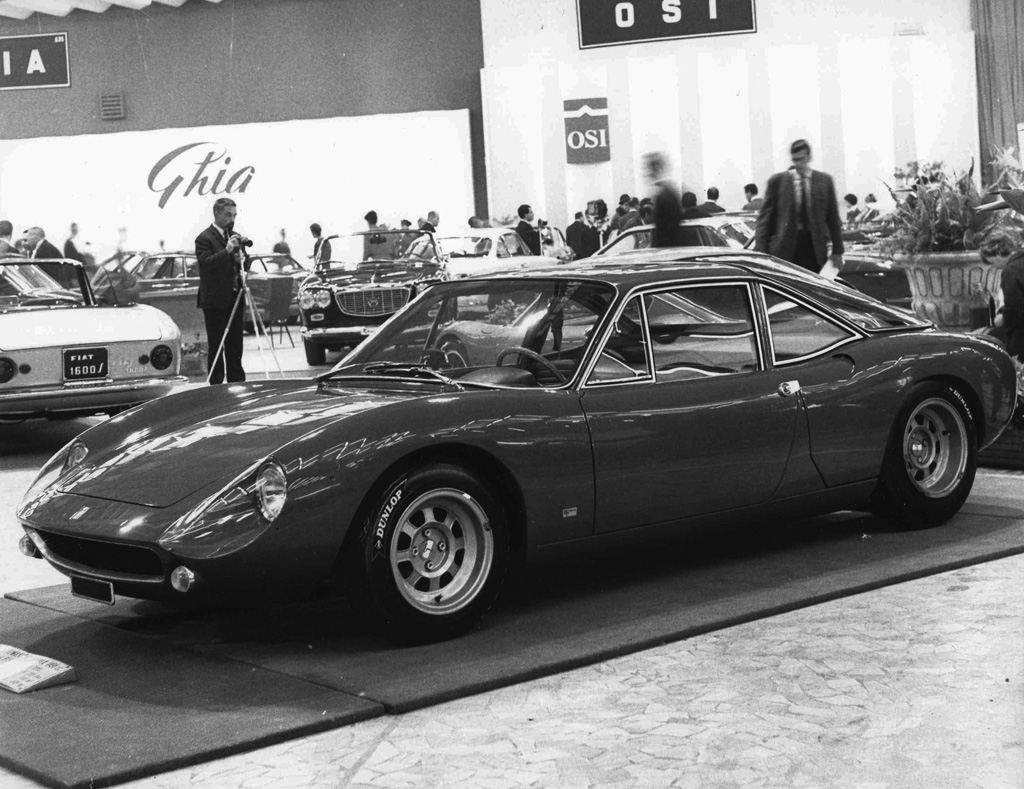 The De Tomaso Vallelunga Coupé was and is an excellent little car inspired by the move to mid-engine racing cars that had been happening in the fifties and sixties, but let us not forget that before the Second World War Auto Union were successfully racing mid engined racing cars. The De Tomaso Vallelunga was the first post war road going GT to appear with a mid-engine.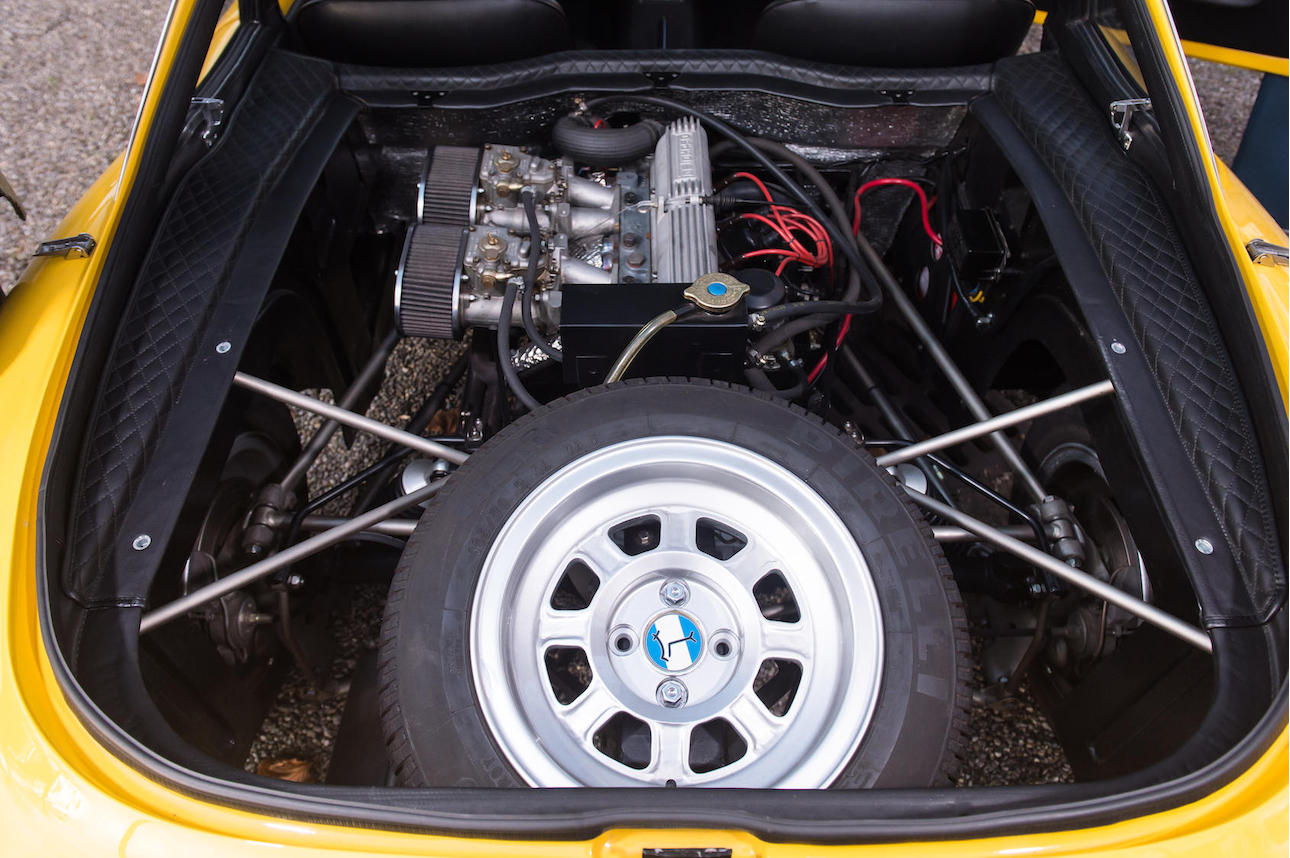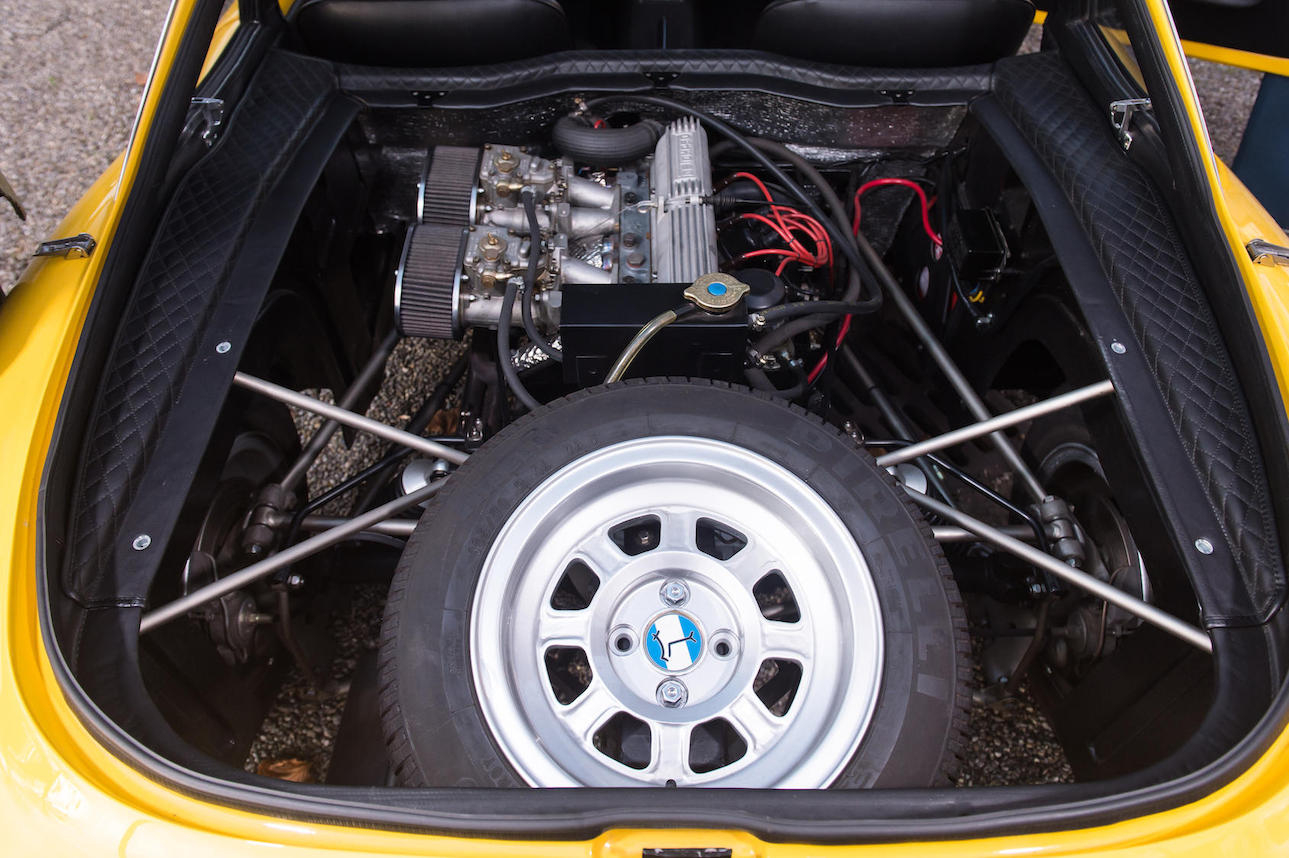 Designed by Carozzeria Fissore with body design by Giorgetto Giugiaro the De Tomaso Vallelunga featured a backbone chassis welded to a tubular steel frame on which the suspension and engine were mounted. De Tomaso looked for someone who would be interested in making the Vallelunga but initially there was scant interest in this little car. In 1965 Ghia were persuaded to put the car into production with the combination backbone and tubular steel chassis but with a fibreglass body instead of the alloy body of the 1964 show car. It is interesting to compare the De Tomaso Vallelunga with the Ginetta G12 that entered production in 1966. Both feature a four cylinder Ford engine, the Vallelunga having a Volkswagen gearbox and differential with Hewland gears. Both cars having suspension sourced from British manufacturer Triumph. Both cars having fully independent front and rear suspensions using wishbones and coil springs and rose joints used in both. Both cars having four wheel disc brakes and both cars using perspex windows. It's a case of parallel development rather than cross fertilization or imitation. The Ginetta G12 with its full tubular steel frame chassis proved to be the superior car. The De Tomaso suffered rigidity problems particularly where the backbone chassis was welded to the tubular steel frame as the welds had a propensity for failing.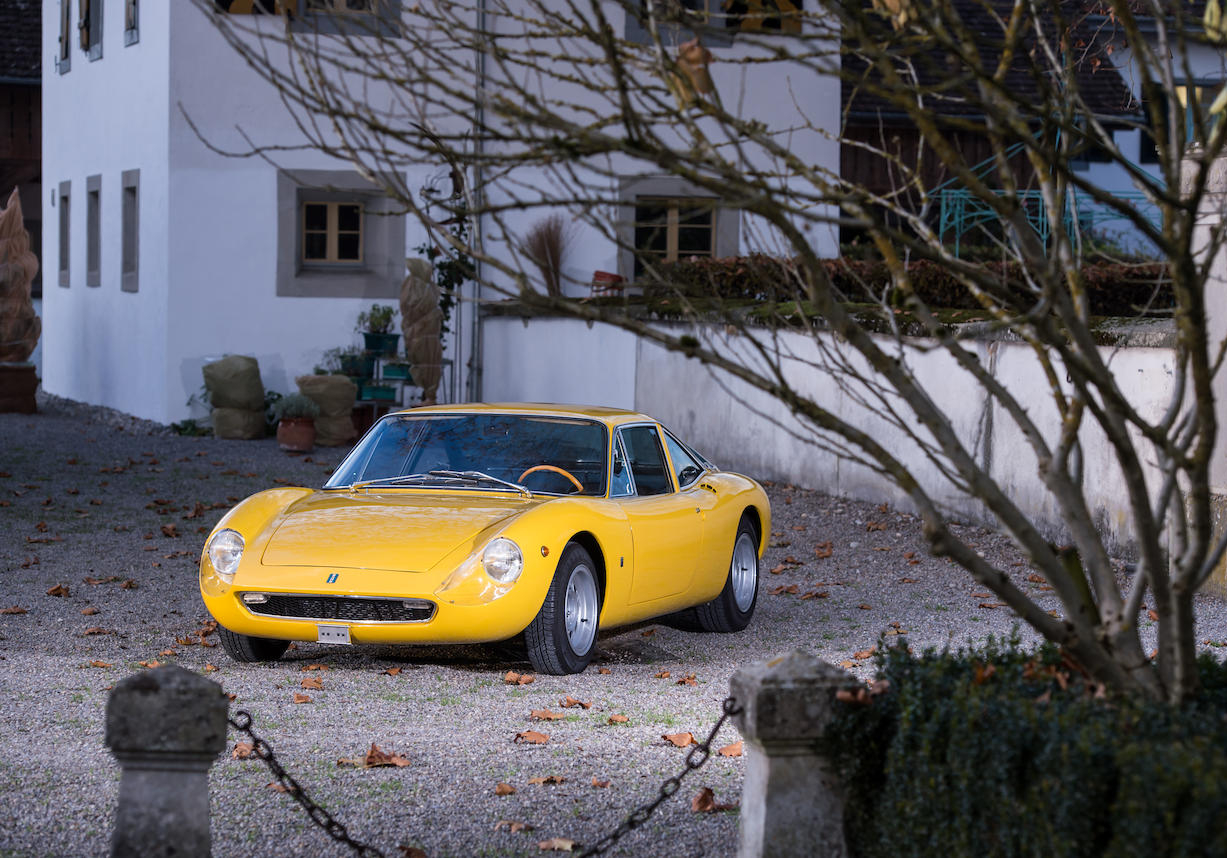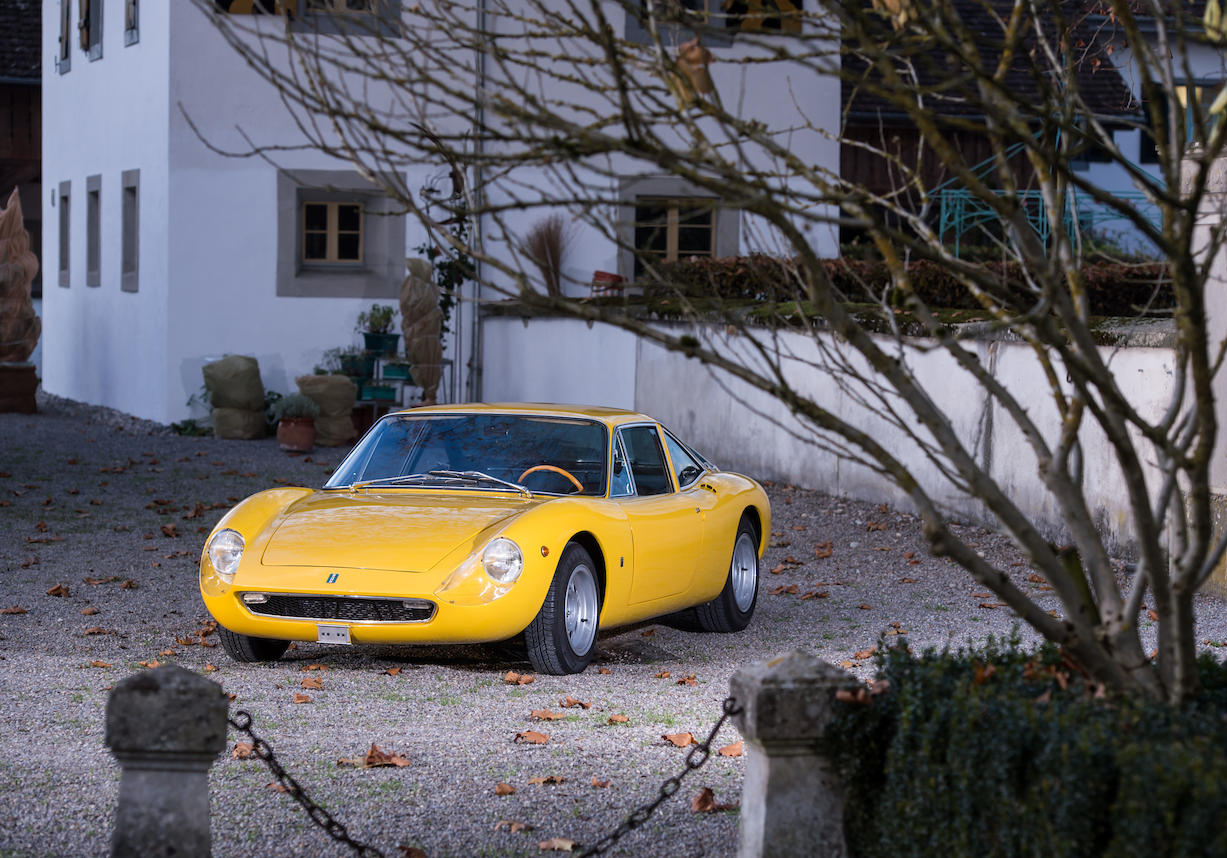 The reliability problems resulted in the Vallelunga becoming a rare car indeed. The number produced between the start of production in 1965 until the end of manufacturing in 1968 was up to fifty three cars if we include the three alloy bodied early prototypes. A number of these cars were crashed including one that was crashed by Dean Martin's son Dean Paul. The car had actually belonged to Dean Paul's brother Ricci and Ricci's mother went through great lengths to obtain another Vallelunga for him as the cars were already a rarity even then.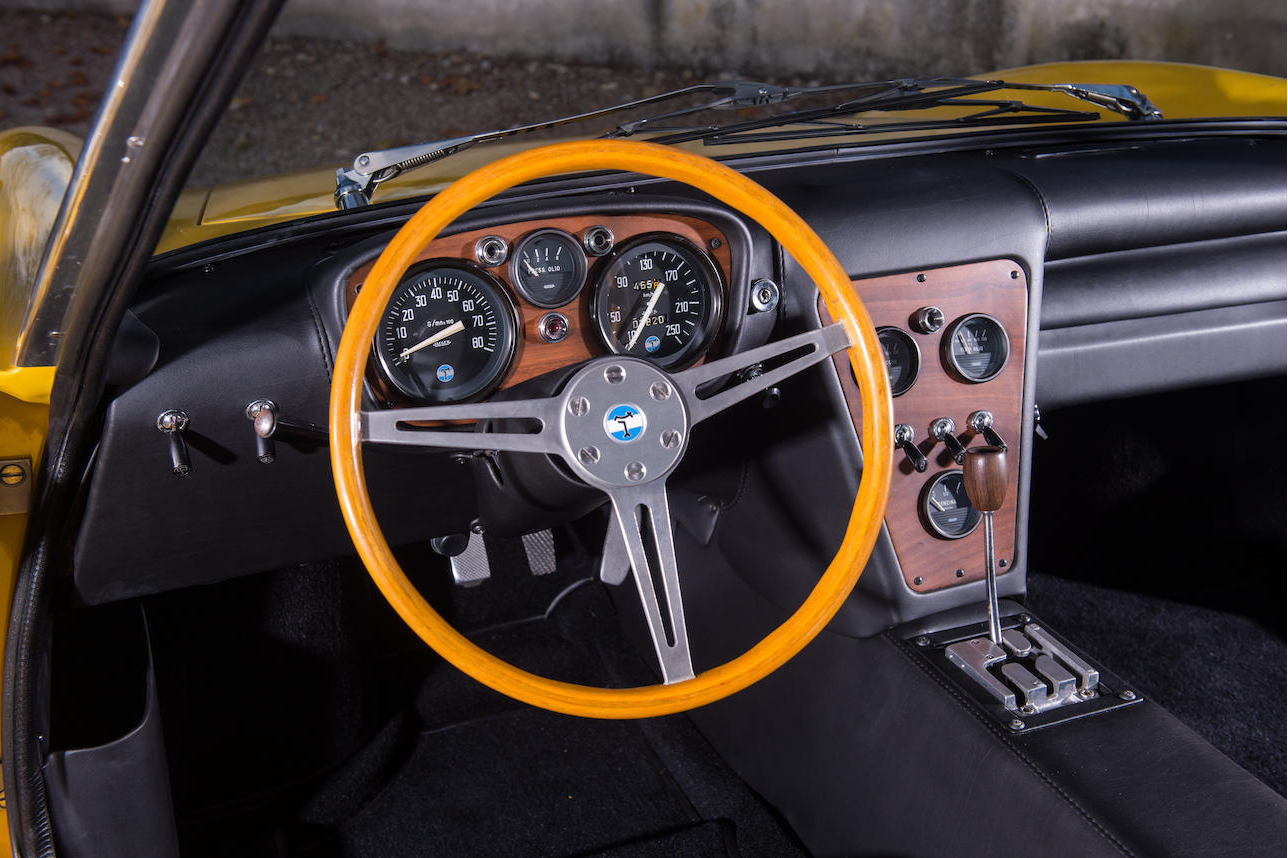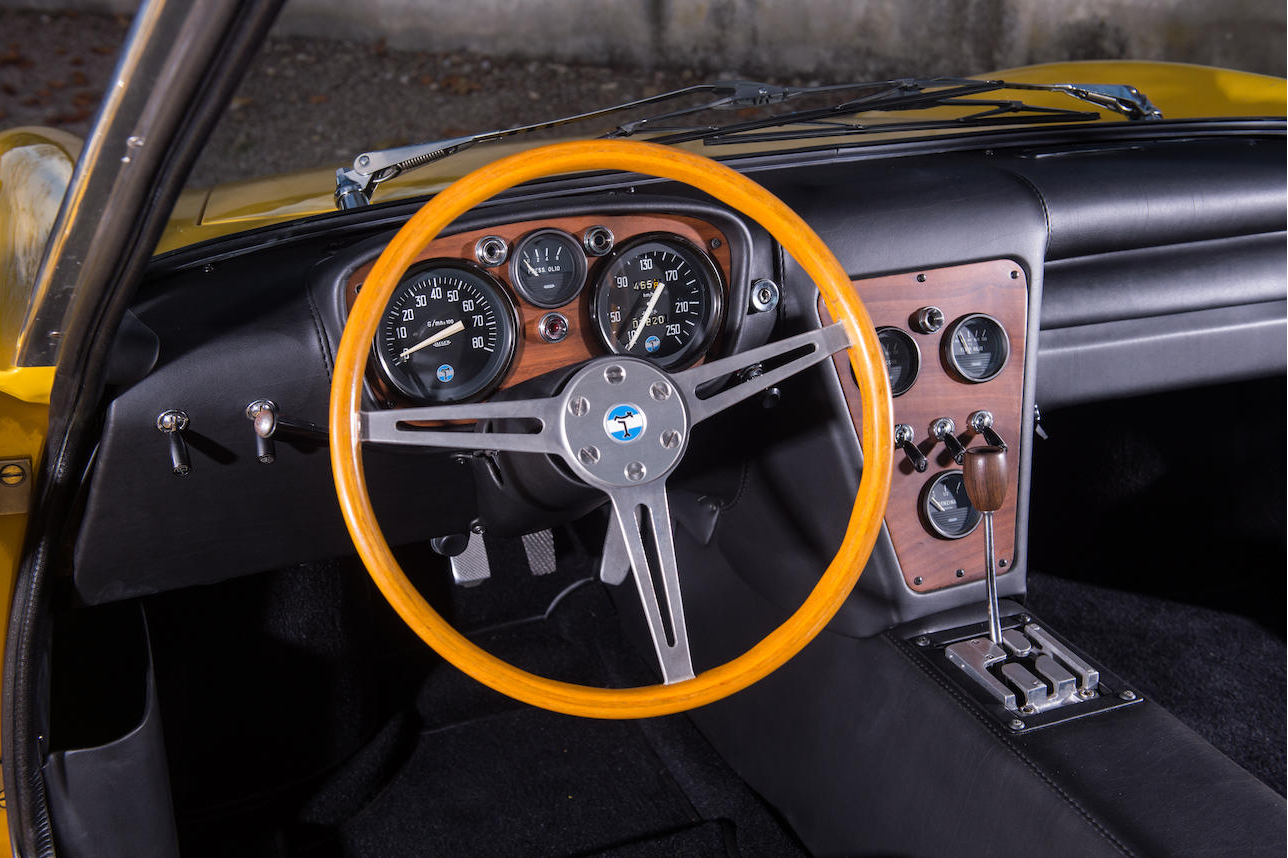 Notwithstanding the structural issues with the car Alejandro De Tomaso was a racing driver and car enthusiast who understood what was needed to create an exciting and fast sports car. At a first glance into the cockpit there is a sense that this is a car designed by someone who knew what would work and who did a superb job of both the ergonomics and the spartan aesthetics. Everything from the proper gate for the gear shift, the tactile toggle switches and the simple and clear instrumentation exudes intuitiveness and purposefulness. Even the layout of the pedals shows thoughtfulness and an understanding of what a driver looks for in a driver's car.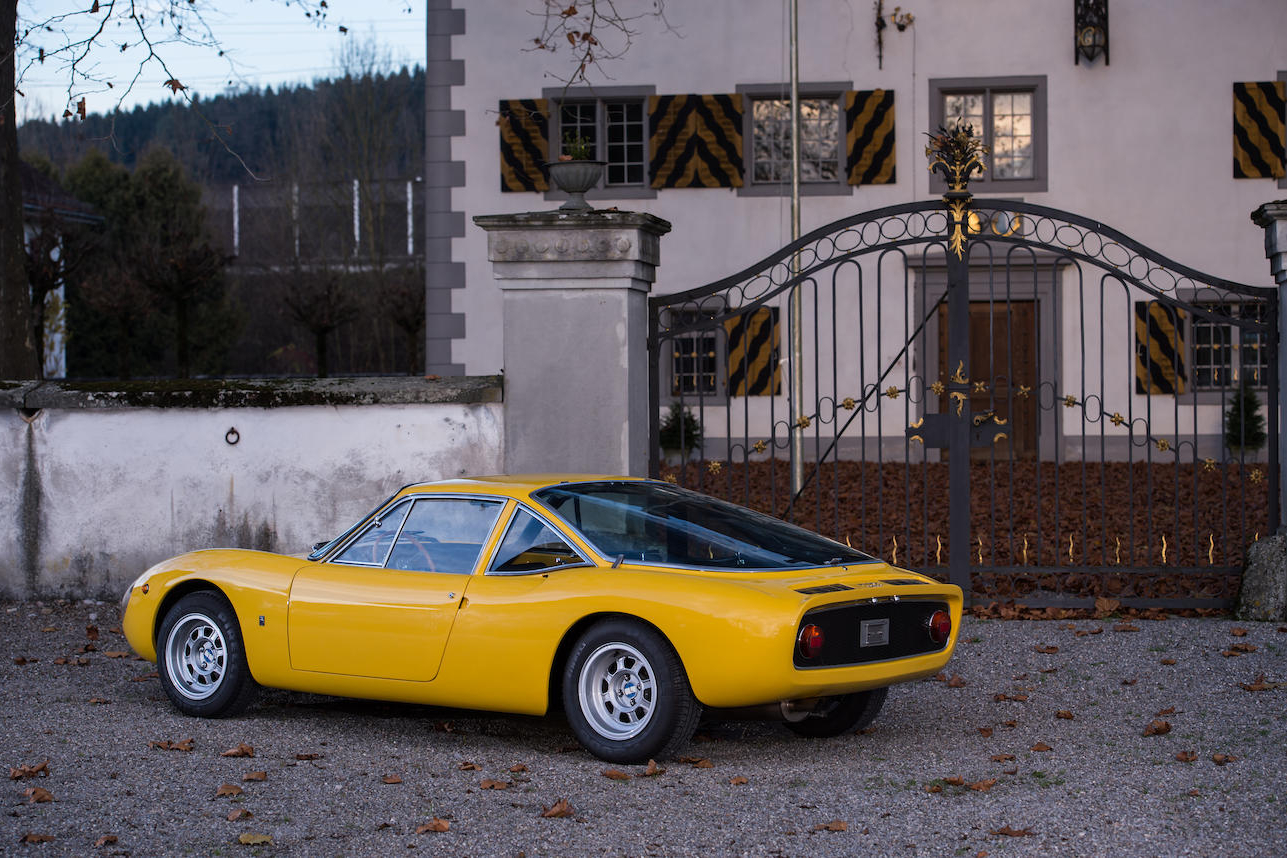 We've likened the Vallelunga to the Ginetta G12 and in truth the De Tomaso Vallelunga could have been produced as a budget priced kit car as the Ginetta cars were. In terms of structure and engineering there is really not that much difference between the two cars. But as it was the De Tomaso Vallelunga's purpose was to establish the De Tomaso name prior to his creation of his masterpiece; the De Tomaso Mangusta.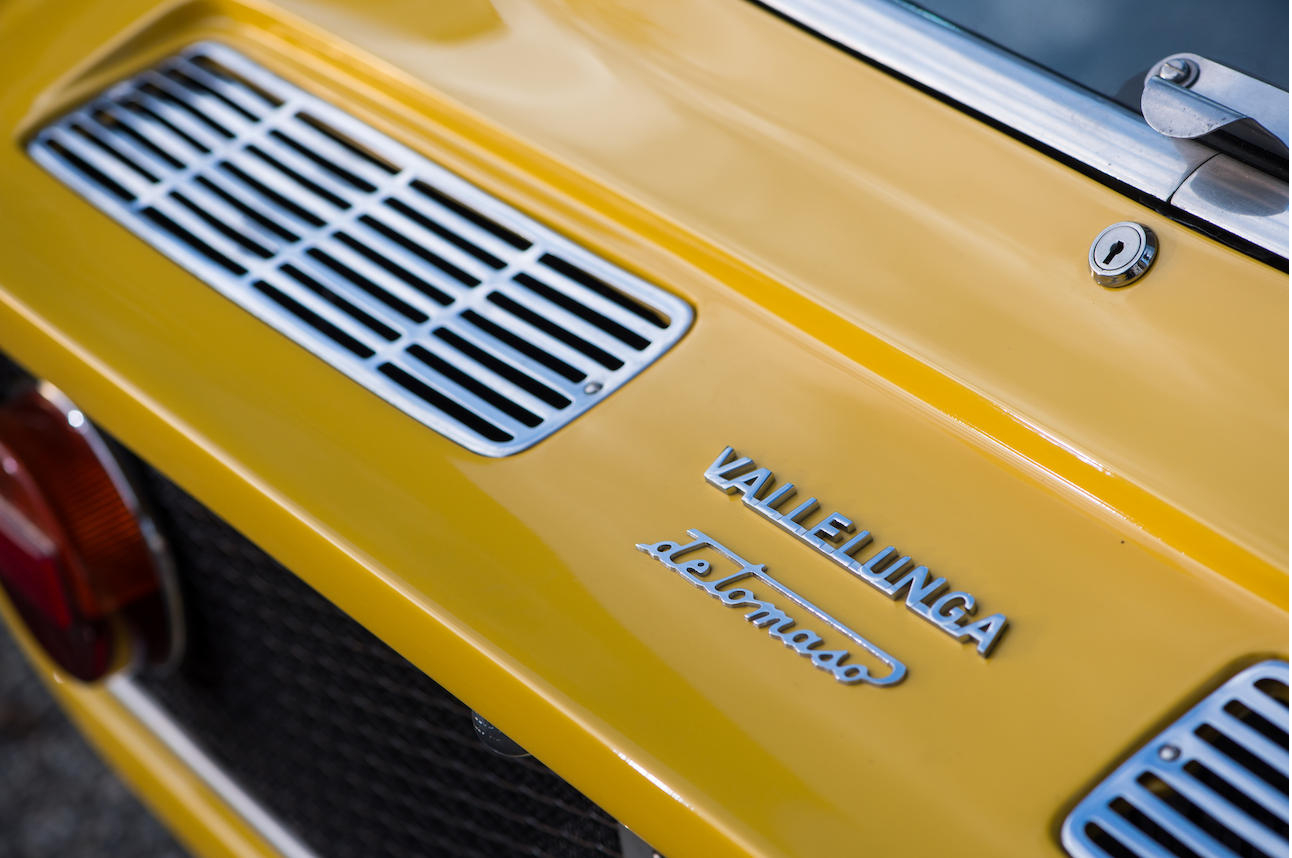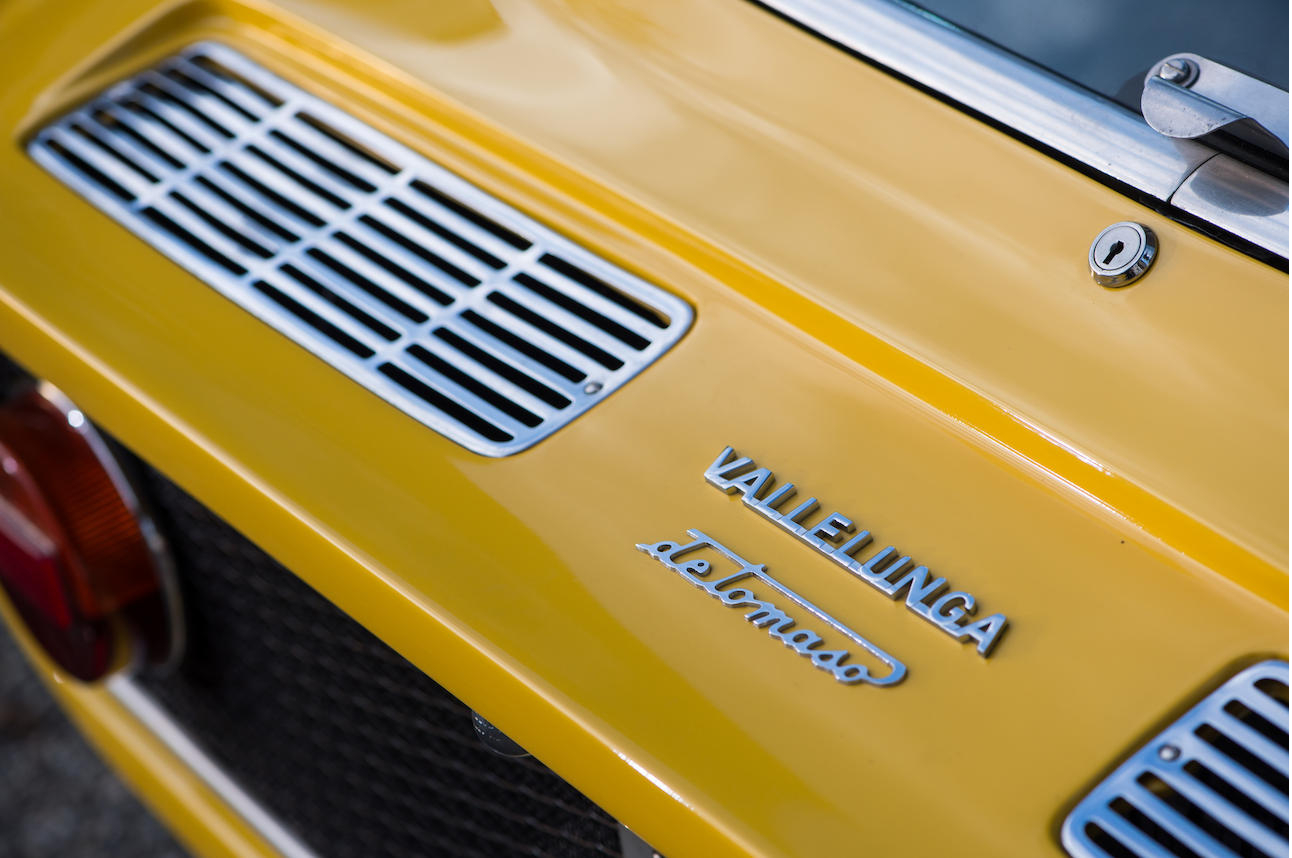 De Tomaso Vallelunga are a rare car and they don't appear for sale often. For someone who is a De Tomaso collector one's collection is going to be incomplete without one.
The car we are featuring is an example of one of the last De Tomaso Vallelunga ever made as it was made the year after the Mangusta was created. The car is to be auctioned by Bonhams and the auction is scheduled for 13th May 2016. We are featuring this car early as it is expected to sell in the range €320,000 – €360,000 and in order to attract that sort of price word of it's upcoming sale will need to get out to De Tomaso collectors and those with the interest to shell out that kind of money for this rare little fibreglass bodied car.
You will find the Bonhams auction page for this car if you click here.
The Bonhams auction is the Monaco Sale 'Les Grandes Marques à Monaco' on 13th May 2016.
For those looking for a fast and exciting car of a similar concept to the Vallelunga that is not a high priced collector's item, the Ginetta's G12 is currently being made in a modified and improved form and is available from Design and Research Engineering (DARE). You will find the current production G12 if you click here.
The De Tomaso Vallelunga was a delightful concept. It is a shame there isn't a modern day improved version available at an affordable price for enthusiasts, as Alejandro De Tomaso was, to drive and enjoy.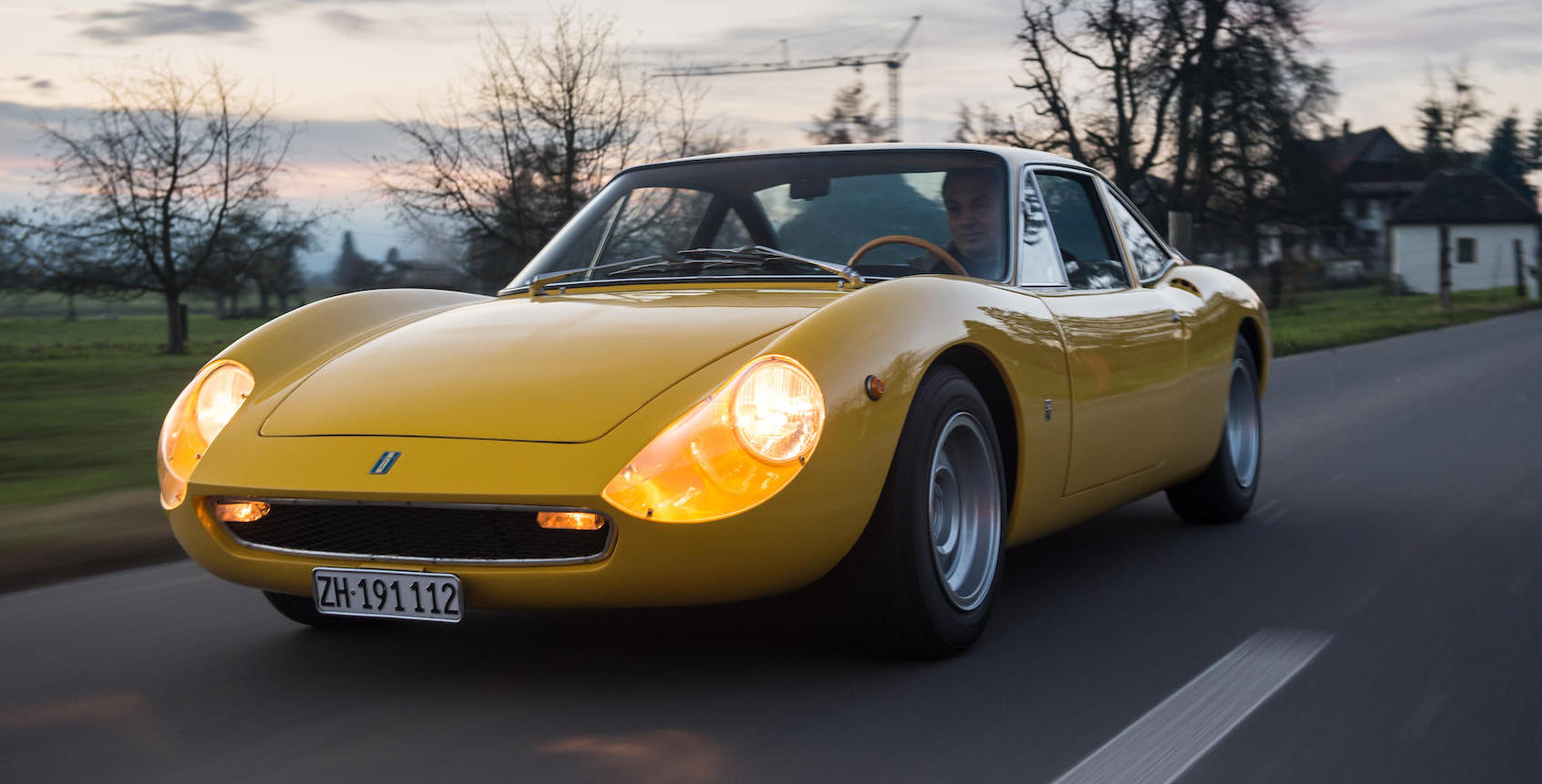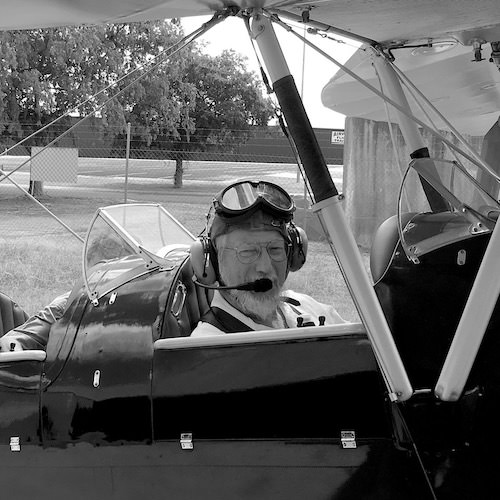 Jon Branch is the founder and senior editor of Revivaler and has written a significant number of articles for various publications including official Buying Guides for eBay, classic car articles for Hagerty, magazine articles for both the Australian Shooters Journal and the Australian Shooter, and he's a long time contributor to Silodrome.
Jon has done radio, television, magazine and newspaper interviews on various issues, and has traveled extensively, having lived in Britain, Australia, China and Hong Kong. His travels have taken him to Indonesia, Israel, Italy, Japan and a number of other countries. He has studied the Japanese sword arts and has a long history of involvement in the shooting sports, which has included authoring submissions to government on various firearms related issues and assisting in the design and establishment of shooting ranges.