George Gibbs is one of the most famous of British rifle makers and perhaps his most well known cartridge is the .505 Gibbs of 1910. Based originally in Bristol in Britain Gibbs was closely associated with William Ellis Metford who designed the Metford rifling used in the early Lee-Metford rifles. Amongst Gibbs loyal customers was Frederick Courteney Selous who favored the Gibbs Farquharson falling block rifle for his African hunting.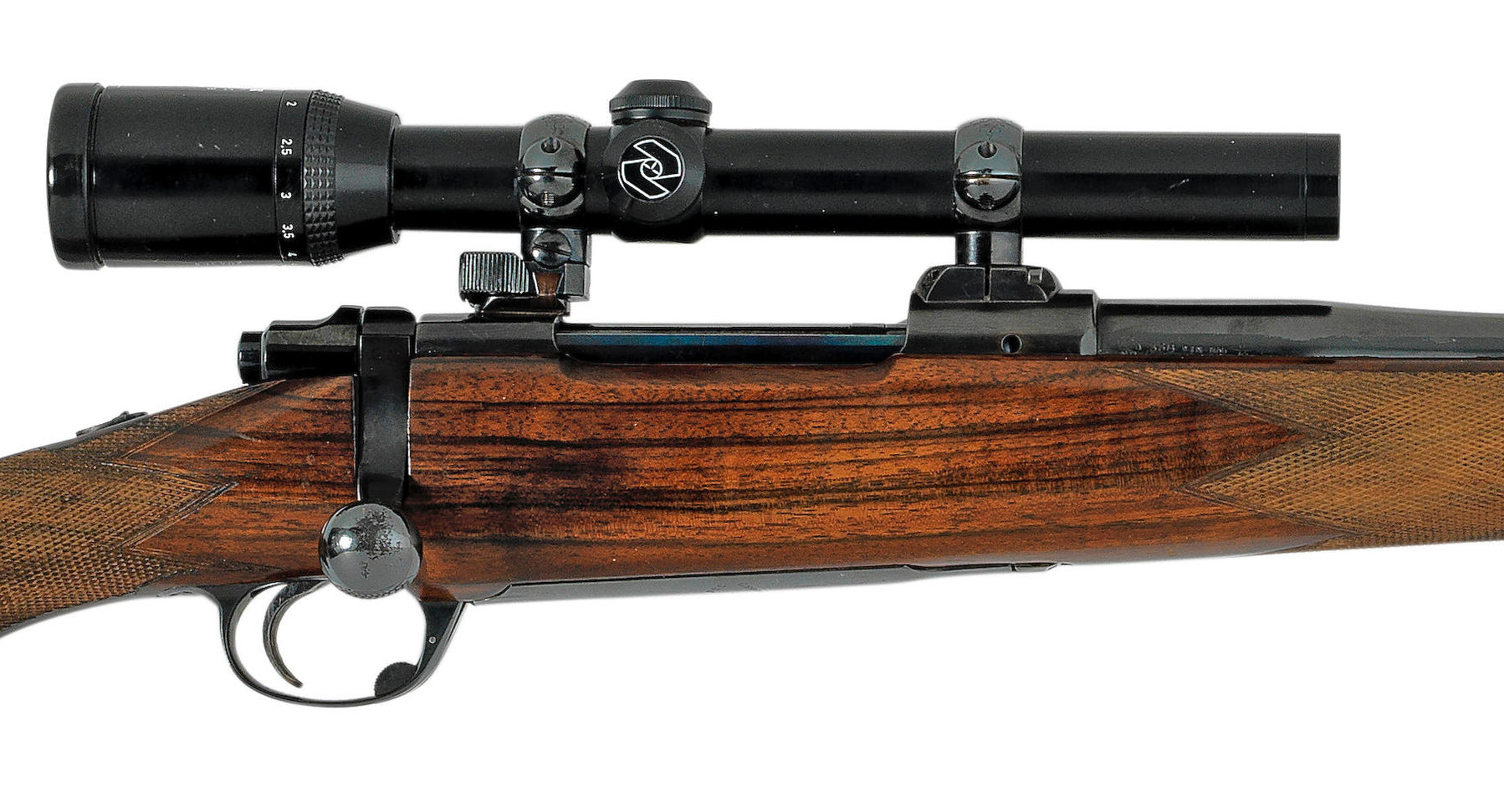 Gibbs is probably best known for his Farquharson falling block action rifles and for his bolt action magazine rifles. He is usually associated with heavier caliber rifles for African use although he also designed the .256 Gibbs Magnum in 1913.
Coming up for sale by Bonhams on 18th May 2017 is a Gibbs bolt action magazine rifle in .338 Winchester Magnum which is one of the most flexible calibers a hunter could choose providing enough stopping power for most of the quarry likely to be hunted combined with the ability to choose to load it with high ballistic coefficient bullets at velocities that make it an excellent long range cartridge.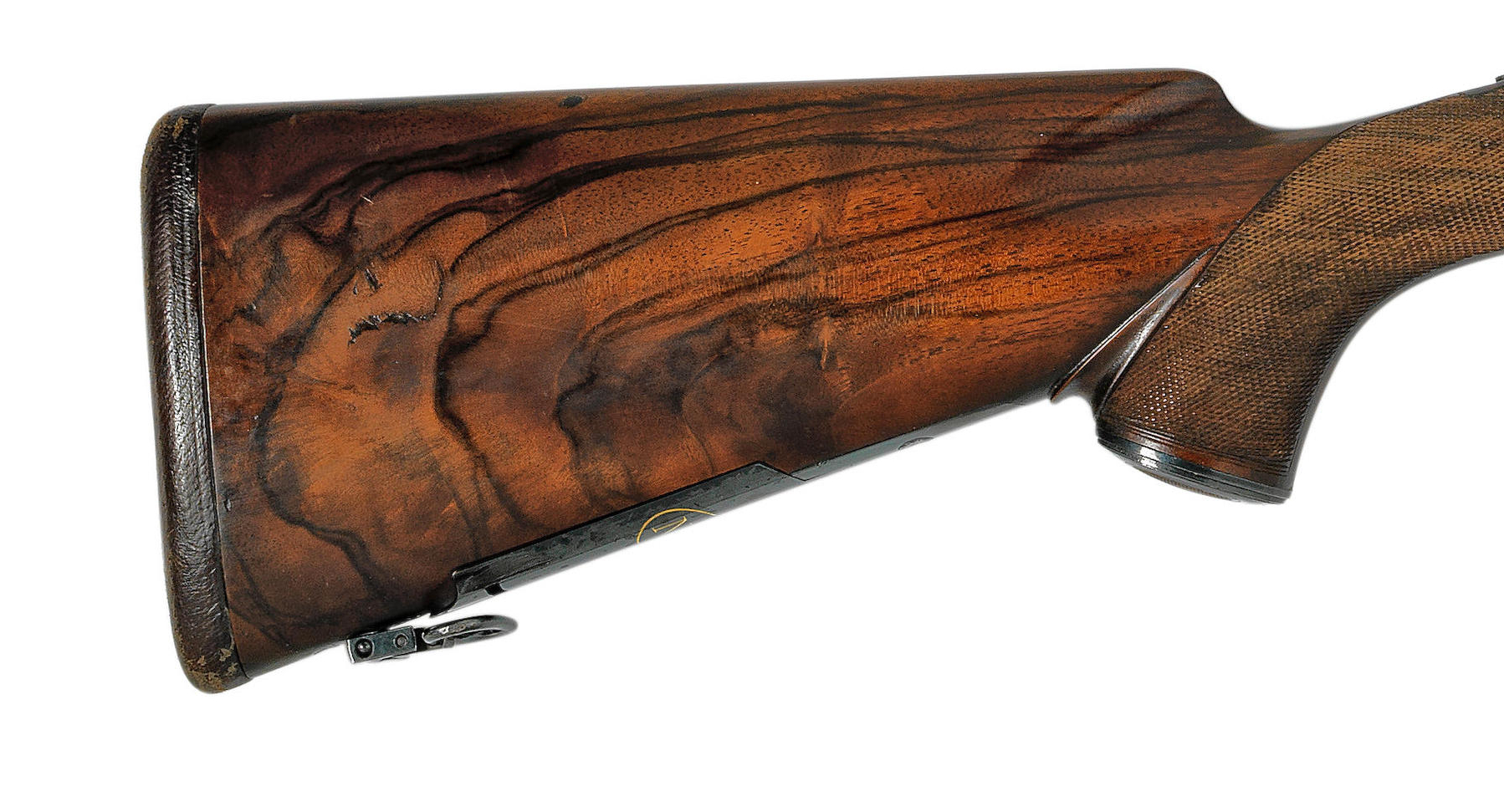 The rifle is fitted with a Zeiss Diavari-C 1.5-4.5×18 rifle-scope which is an excellent choice for a rifle of this type and caliber, and that rifle-scope is mounted in German Akah mounts. The Akah mounts used on this rifle are pivot mounts which I think are a preferable style compared with other alternatives. The front base is adjustable for fit and tension of the front ring dovetail foot, whilst the rear mount has provision for windage adjustment. Removal of the rifle-scope on this type of mount normally involves pulling the catch on the rear mount towards the rear of the rifle and then pivoting the rifle scope to the right 90° to remove it.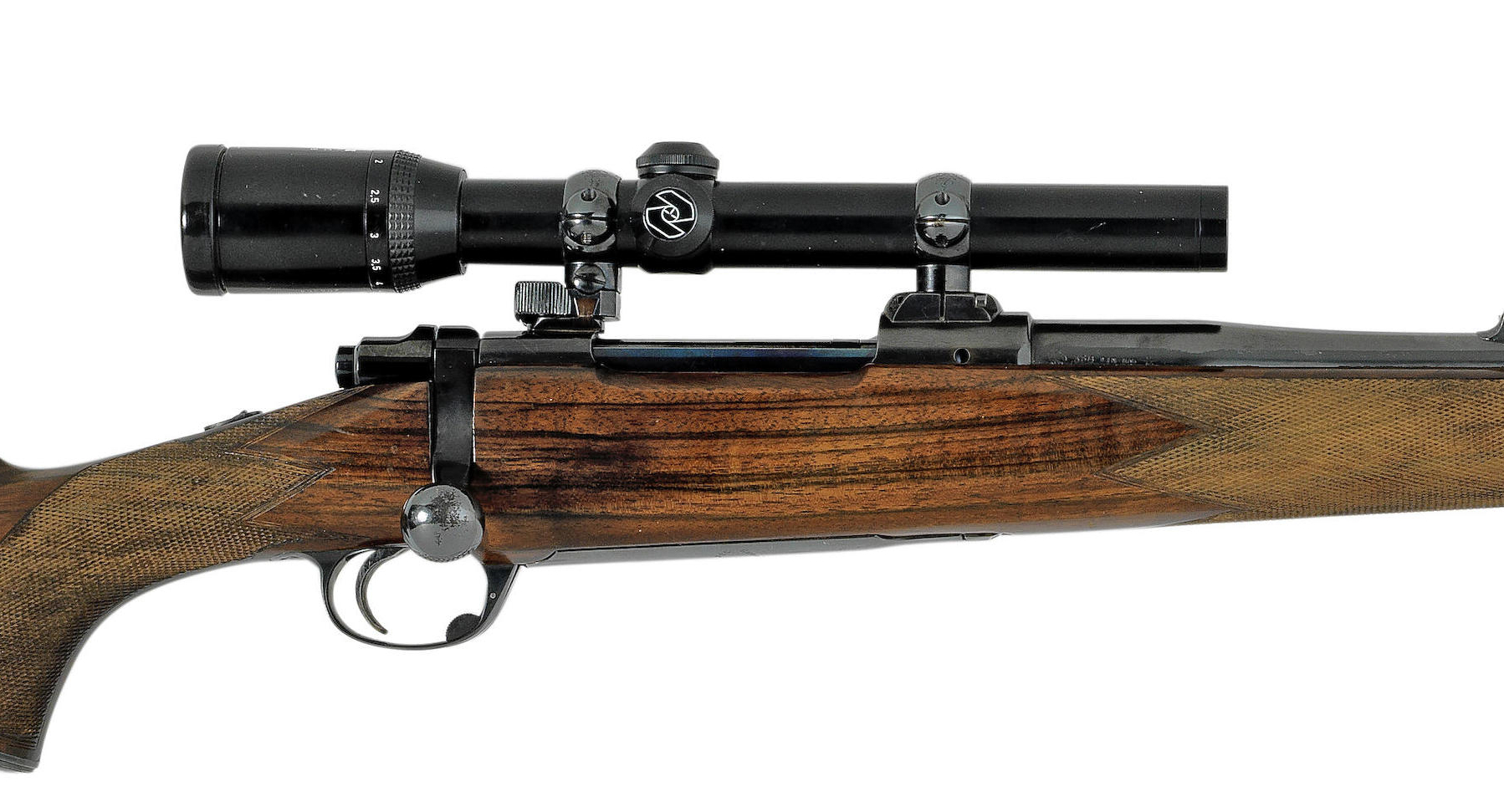 This rifle looks to be a very desirable piece and its being in a commonly available and very flexible caliber makes it doubly attractive. The rifle is coming up for sale by Bonhams at their Modern Sporting Guns auction to be held in London, Knightbridge, on 18th May 2017.
You will find the sale page for this rifle if you click here.
Bonhams describe this rifle as follows:-
"A fine .338(Win Mag) bolt-magazine sporting rifle by George Gibbs, no. 7933
Shotgun-style safety, the hinged magazine-floorplate engraved George Gibbs .338″ Win. Mag., the well-figured stock with pistolgrip, pistolgrip-cap, cheek-piece, sprung trap with space for four rounds and leather-covered recoil-pad, sling-swivels with leather sling carved depicting a Rhino, capped forestock, the barrel engraved George Gibbs (Est. Bristol 1830) 37 Broad St., Bath, England, with block-mounted gold-inlaid open-sights for 100 yards engraved Sighted For 200 Gr Bullet and ramp-mounted bead-foresight with folding matt-protector, the receiver mounted with a Zeiss Diavari-C 1.5-4.5×18 telescope-sight in Akah mounts
Weight 9lb. 13oz. (including 'scope), 14¼in. pull (13½in. stock), 24in. barrel, London nitro proof"
Expected sale price is in the range £1,500-£2,000.

(All pictures courtesy Bonhams).
George Gibbs gunmaker is still in business and you will find their website if you click here.
Note: For those interested in the Akah rifle-scope mounts you will find an old catalog on germansportingguns.com if you click here.
You will find the current Akah website if you click here.
They do not appear to make their quick detachable pivot mounts any more but sell similar mounts by Rusan which you will find if you click here.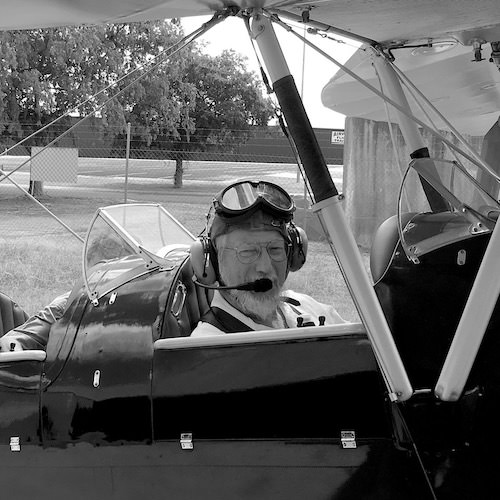 Jon Branch is the founder and senior editor of Revivaler and has written a significant number of articles for various publications including official Buying Guides for eBay, classic car articles for Hagerty, magazine articles for both the Australian Shooters Journal and the Australian Shooter, and he's a long time contributor to Silodrome.
Jon has done radio, television, magazine and newspaper interviews on various issues, and has traveled extensively, having lived in Britain, Australia, China and Hong Kong. His travels have taken him to Indonesia, Israel, Italy, Japan and a number of other countries. He has studied the Japanese sword arts and has a long history of involvement in the shooting sports, which has included authoring submissions to government on various firearms related issues and assisting in the design and establishment of shooting ranges.