The Bentley 4¼ liter engine was created initially in March of 1936 by simply enlarging the Bentley 3½ liter. The 3½ liter engine's bore was increased to 3½" (88.9mm) which gave the engine a capacity of 259 cu. in. (4,257cc). These Bentleys were made after Rolls-Royce acquired Bentley in 1931 so they were effectively badge engineered Rolls-Royces. Although the fictional character James Bond is said to have much preferred his old Cricklewood built pre-takeover supercharged Bentley 4½ liter over his Rolls-Royce era replacement, yet the real world creator of the Bentley, W.O. Bentley himself, said of the Rolls-Royce era 3½ and 4¼ liter cars that he would "rather own this Bentley than any other car produced under that name." Whom to believe, the fictional character or the real life engineer? I think I'll trust the engineer. James Bond's taste in pistols is similarly curious. He uses a German Walther PPK instead of a British M1913 Webley pocket automatic such as carried by Winston Churchill and his bodyguard. A British secret agent should have been carrying a British pistol just like Winston did should he not?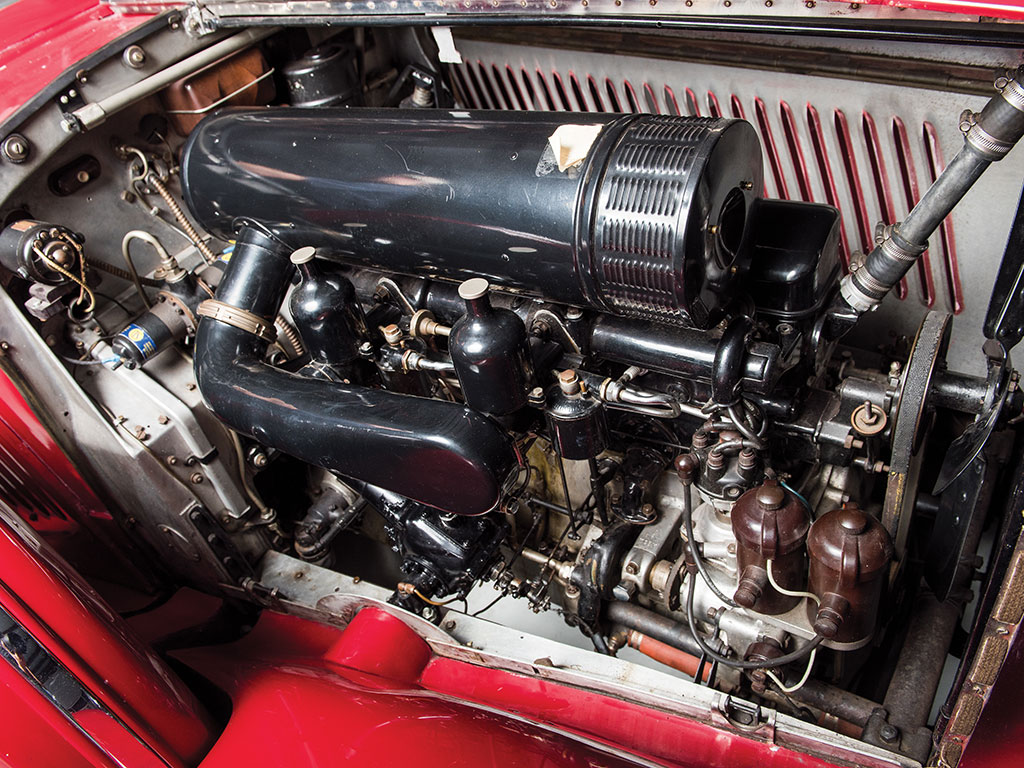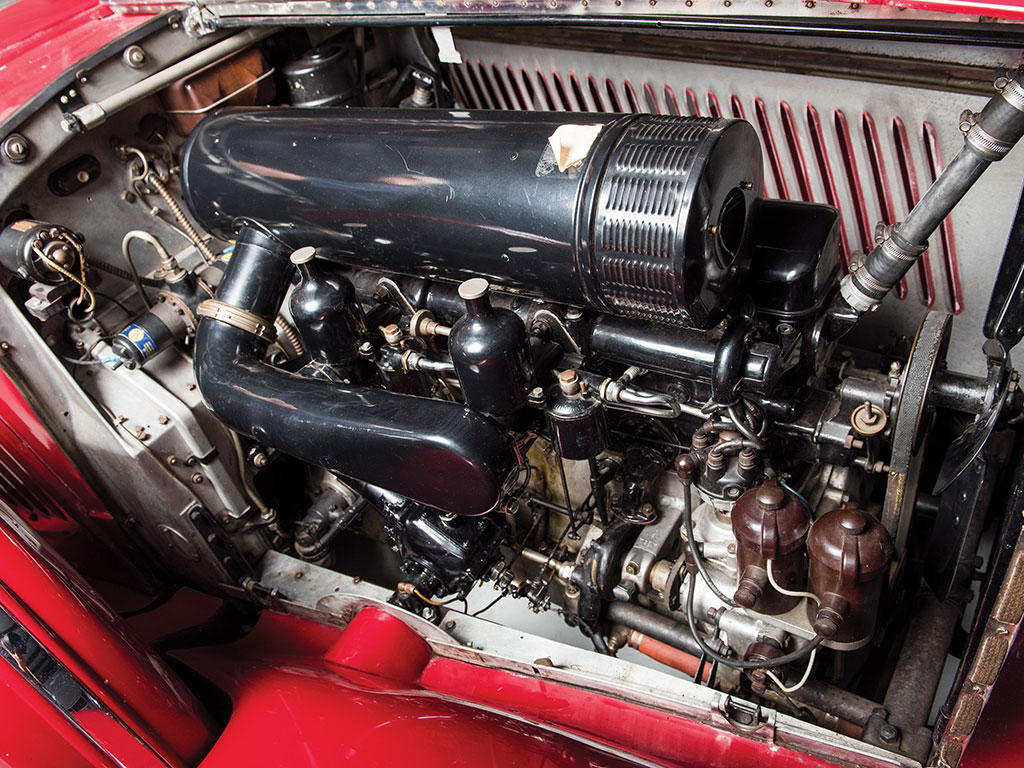 The 4¼ liter in-line six cylinder engine produced 126bhp and was mated to a four speed gearbox with synchromesh on the top two gears. Suspension was by semi-elliptic leaf springs front and rear with hydraulic shock absorbers, and the four wheel drum brakes were cable actuated and servo assisted. This model Bentley was touted as the "silent sports car" and was sold from the factory as a rolling chassis leaving the purchaser to have the bodywork of their choice created by the coach-builder they preferred.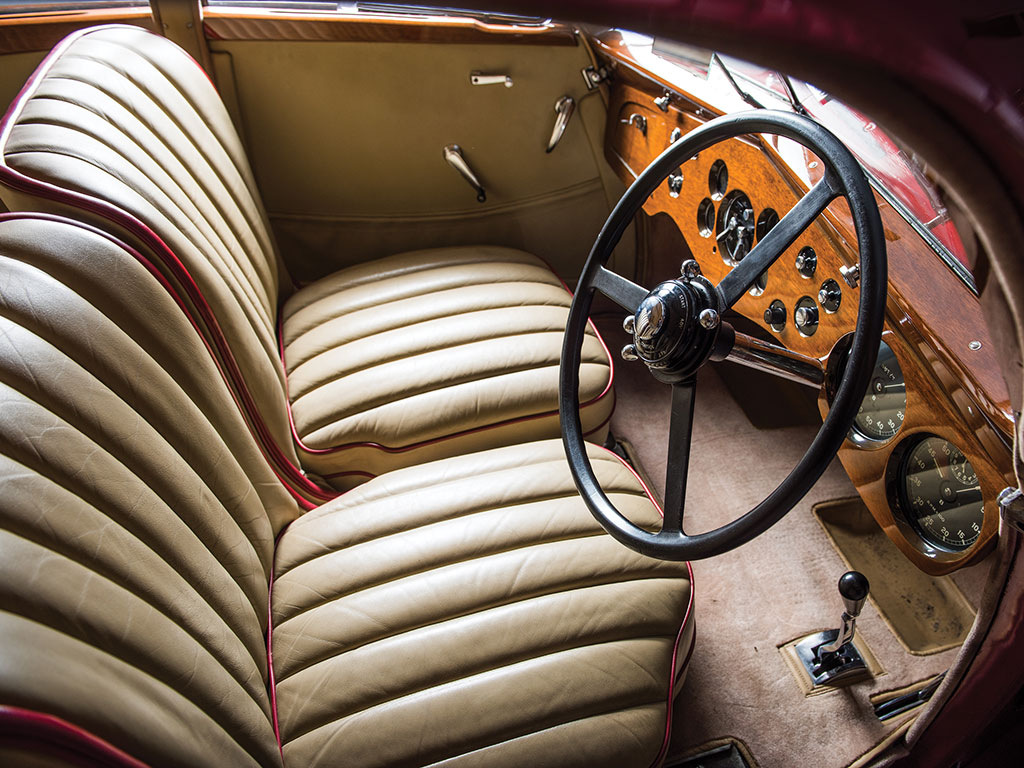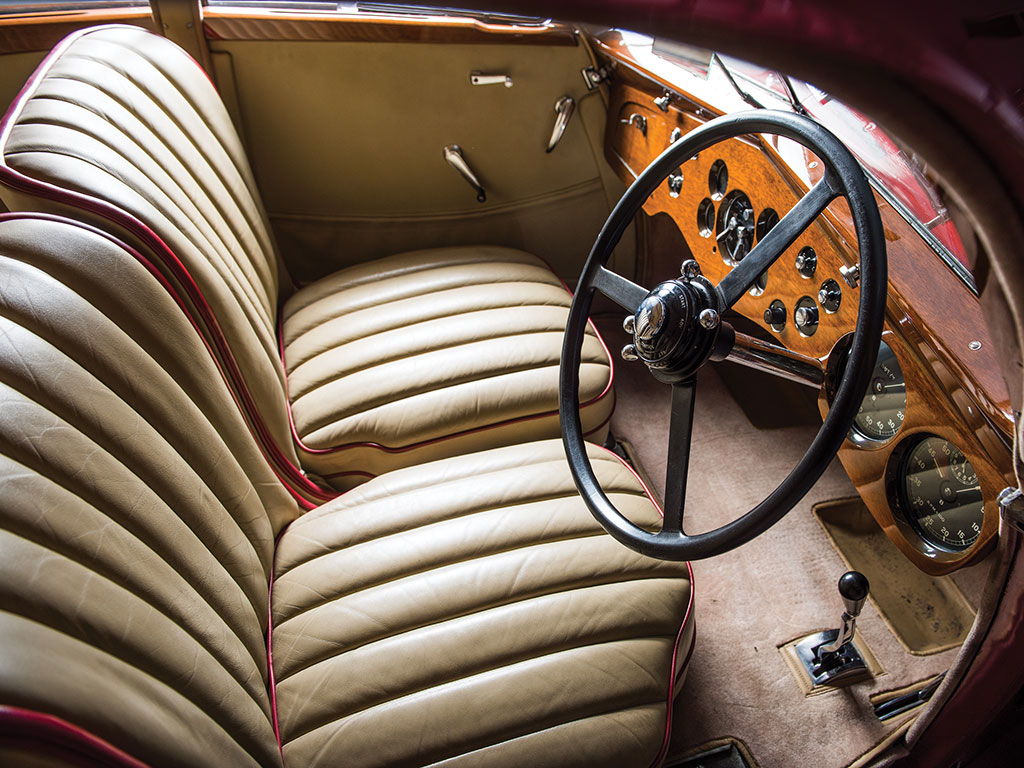 The most common coachbuilder for these "silent sports car" Bentleys was Park Ward but there were a number of other coach-builders who were commissioned to build the bodywork for these cars. Amongst these others was Gurney Nutting and this is the coach-builder that was chosen for the red 1936 Bentley 4¼ liter Airflow saloon featured in this post.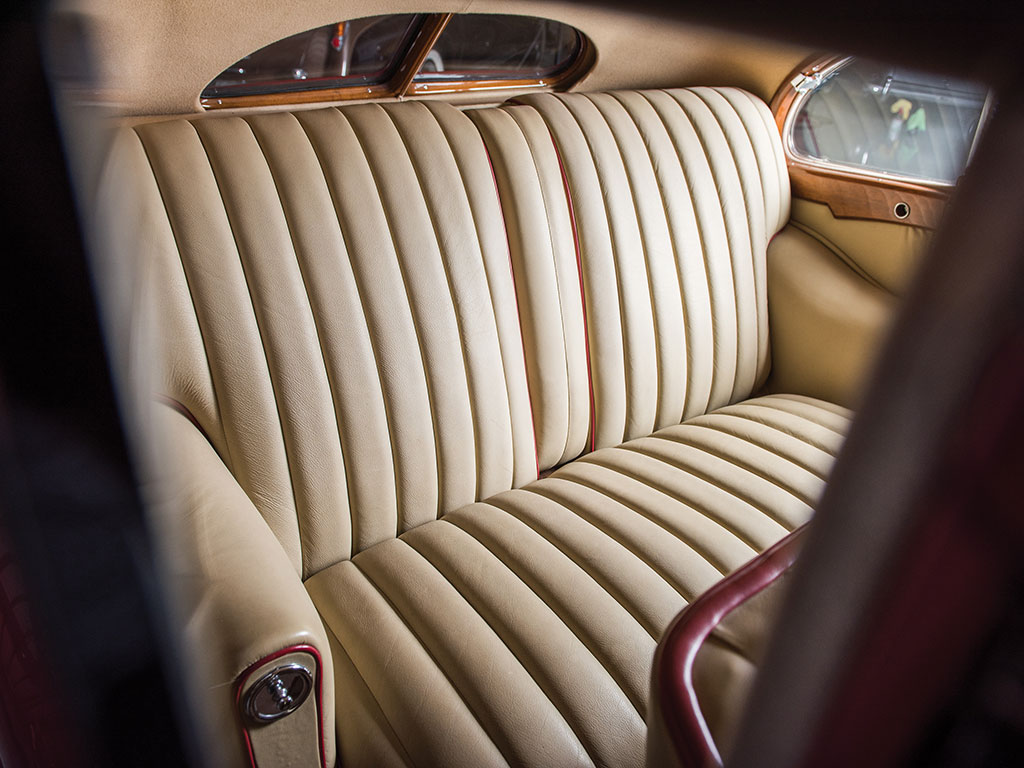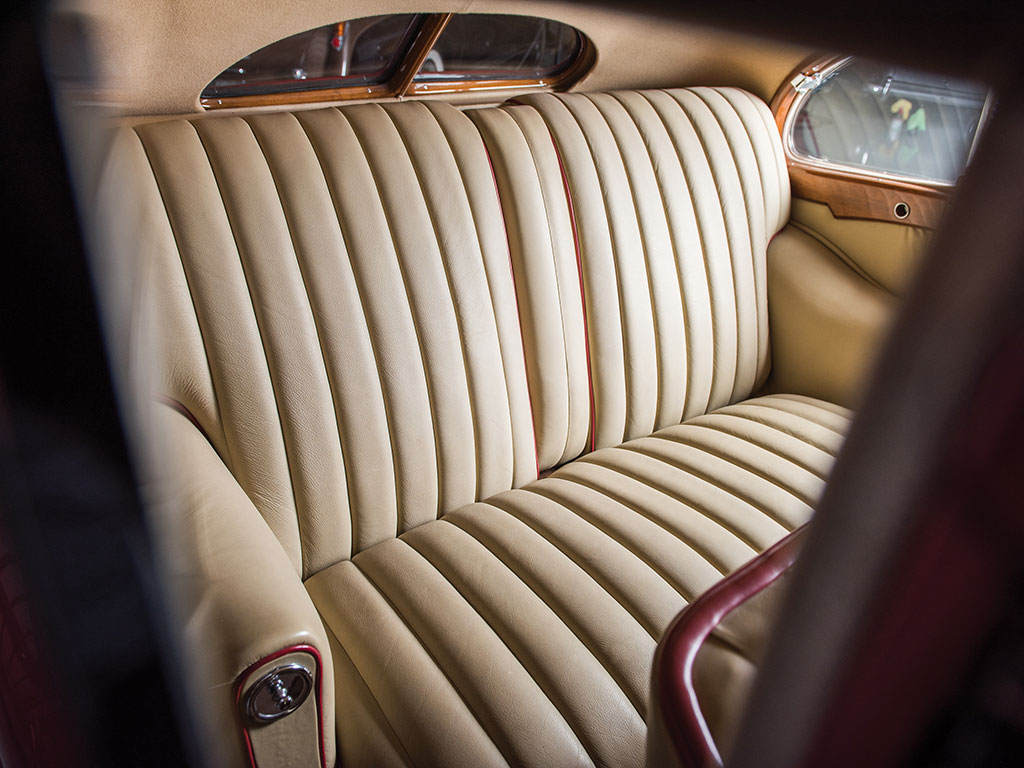 Only two Airflow Bentleys were created by Gurney Nutting's chief designer A.F. McNeil. McNeil's eye for automotive design was second to none and the Airflow is one of his most interesting works. He was a man who favored streamlined yet gracefully dignified designs such as the Airflow.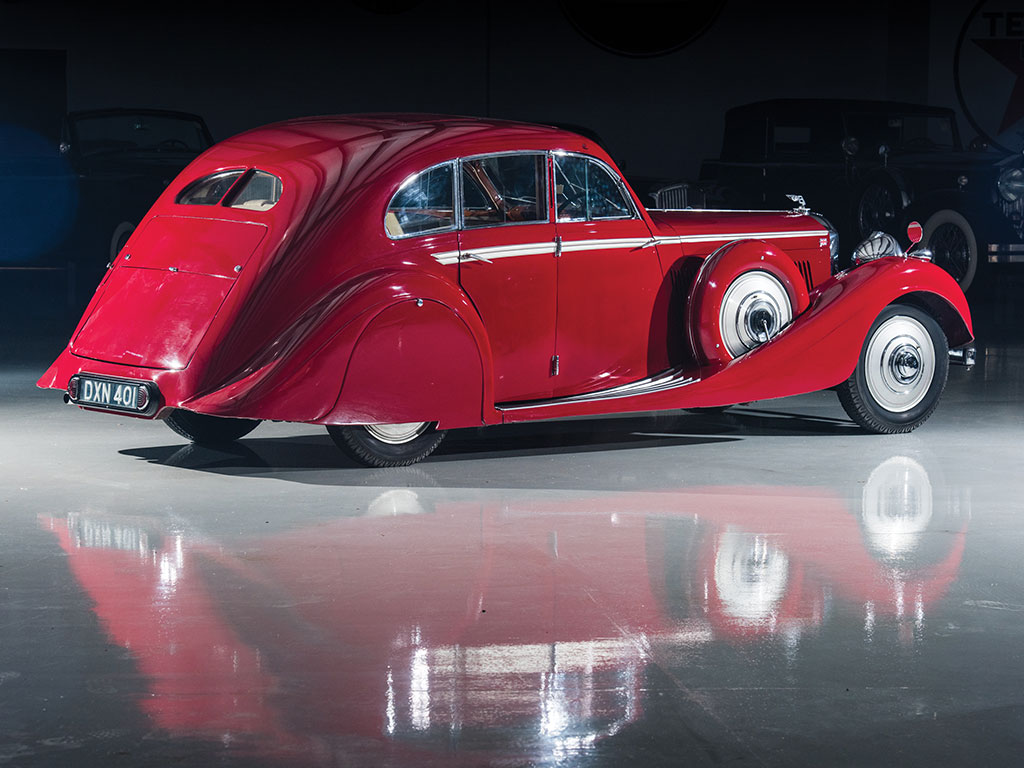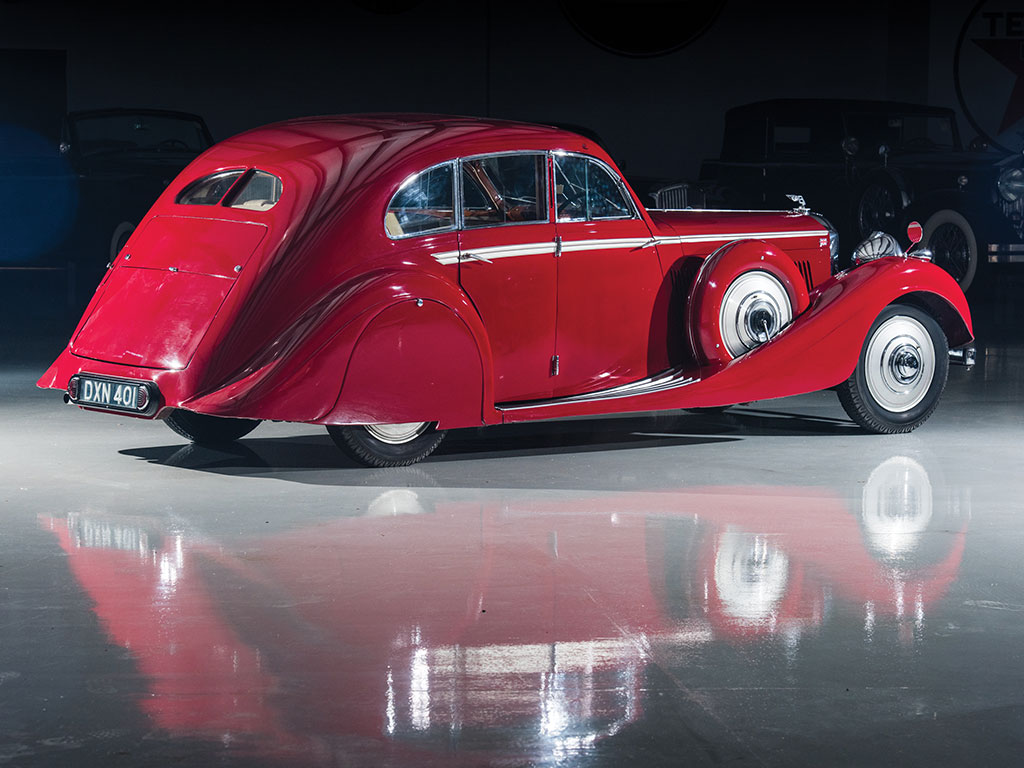 The red 1936 Bentley Airflow was the show car for the Gurney Nutting stand at the 1936 Olympia Motor Show in London although at that time the car's original color was "Steel Dust" and the car was upholstered in gray leather, a color scheme Commander Bond would no doubt have approved of as his old Bentley was painted battleship gray.
This 1936 4¼ liter Bentley Airflow is coming up for sale by RM Sotheby's at their Amelia Island auction to be held over 10th-11th March 2011.
You will find the sale page for this car if you click here.
The car is to be sold without reserve.
The Bentley cars of this era tend to be very attractive cars and this Gurney Airflow is one of the most interesting and rare styles extant.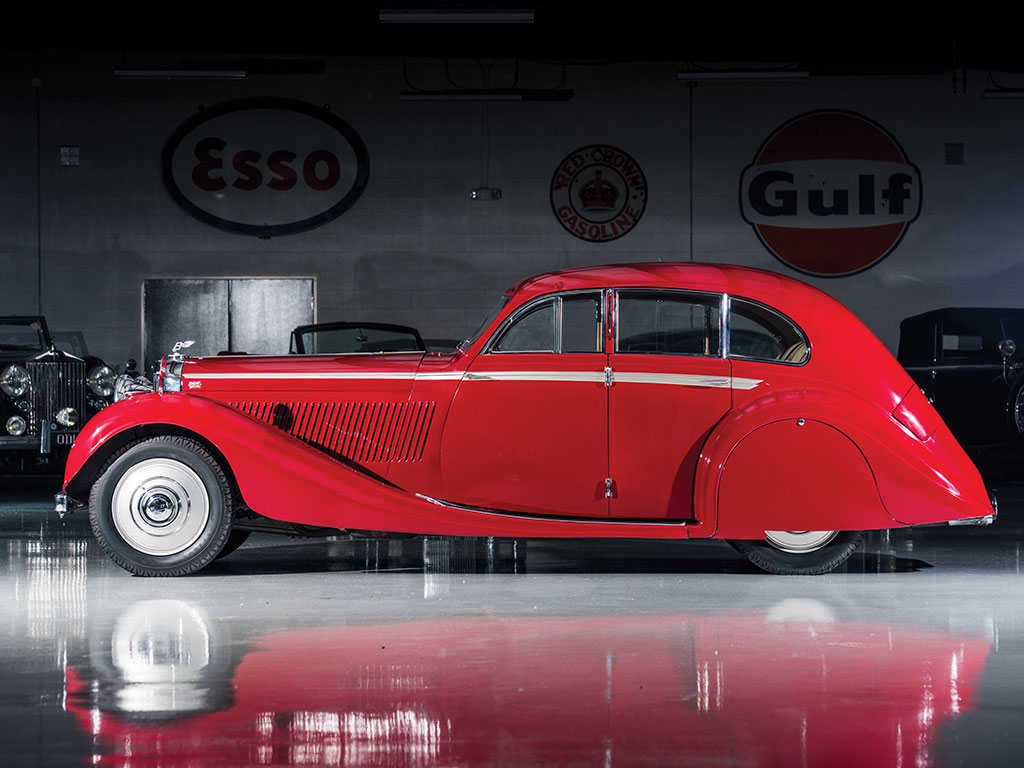 (All pictures courtesy RM Sotheby's).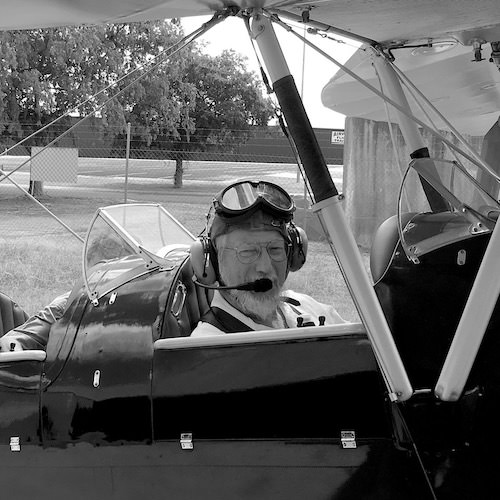 Jon Branch is the founder and senior editor of Revivaler and has written a significant number of articles for various publications including official Buying Guides for eBay, classic car articles for Hagerty, magazine articles for both the Australian Shooters Journal and the Australian Shooter, and he's a long time contributor to Silodrome.
Jon has done radio, television, magazine and newspaper interviews on various issues, and has traveled extensively, having lived in Britain, Australia, China and Hong Kong. His travels have taken him to Indonesia, Israel, Italy, Japan and a number of other countries. He has studied the Japanese sword arts and has a long history of involvement in the shooting sports, which has included authoring submissions to government on various firearms related issues and assisting in the design and establishment of shooting ranges.