It was using a pump action .22 gallery rifle when I was first bitten by the gun bug. I was too young to remember if it was the Winchester or Colt version. But I was a kid at a fun park in the south east of England and the targets were glass bottles. Firing .22 Short cartridges at those glass bottles through that petite pump action gallery rifle was my introduction to shooting a "real rifle" and I became a "gun nut" right there and then. I went back every night of that one week holiday and by the end of the week the poor gallery owner had run out of bottles. It took a few years before I could own a rifle of my own, but once I'd graduated from college and had a job and an income one of the first things I did was buy a .22 rimfire rifle, join a shooting club, and find places to go bunny and fox shooting.

To this day I have a soft spot for pump actions although I was converted to bolt action rifles decades ago and for a very long time my "go to" hunting rifles and competition rifles have all been bolt actions. But I'd own a pump action rifle in an eye blink, especially for hog shooting or in any situation where a follow up shot may be likely, or where multiple animals might need attending to, as happens when we're out after pigs. A pump action's in-line operation makes it that bit easier to get back onto a target and fire a follow up shot by comparison with a bolt action, and even by comparison with a lever action although the advantage is not so marked. A pump action is also one of the safest actions you can have in your hands. It allows you to carry the firearm with the action open if you need to and get it into action instantly, it provides a lot of safe carry choices which is why the pump action shotgun became a standard carry gun for law enforcement and hunter alike.

Back in the "Cowboy Era" of the 1880's the lever action rifle reigned supreme and was destined to become the iconic rifle of the era. However, over at Colt there was a desire to expand into new areas of business. The Colt 1873 revolver had been phenomenally successful and had soundly beaten all competitors including the Smith & Wesson No. 3. So management at Colt reasoned that perhaps they could also create a rifle that might just beat the Winchesters and the Marlins. Colt tentatively ventured into the rifle making business in 1883 with its Colt Burgess lever action rifle. The Colt Burgess demonstrated itself to be a viable proposition and in its sixteen months of production achieved sales of 6,403 rifles. Winchester's model 1873 was selling at a rate of about 15,000 per year. The Colt venture into the lever action rifle business proved that there was indeed a market there that could be exploited. What was needed however was a rifle that was distinctly different from Winchester's offerings. So Colt abandoned the Burgess that was rather too much a Winchester look alike and made the move to create a slide action/pump action rifle.

Colt introduced their Lightning slide action rifle in 32-20, 38-40 and 44-40 calibers in 1884. It was first made in the medium size action both in a rifle with a 26″ barrel and 15 round magazine and carbine with a 20″ barrel and 12 round magazine. In 32-20, 38-40 and 44-40 this rifle was able to be a companion to the popular Colt Single Action revolvers (but not the double action M1877 which were made in .32 Colt (Rainmaker), 38 Long Colt (Lightning) and 41 Long Colt (Thunderer)). Colt's notion of what would successfully sell paid off. The Colt Lightning medium action sold well and was especially popular with law enforcement. The San Francisco Police Department for example bought 401 of them in 1898 and these rifles have "SFP" and a San Francisco Police serial number engraved on the tang. Total production was a respectable 89,777 rifles. The combination of having rifle and revolver chambered for the same cartridge was an attractive formula. The Colt Lightning rifle proved itself a durable companion to the Single Action Army revolver and the cash registers positively buzzed with sales.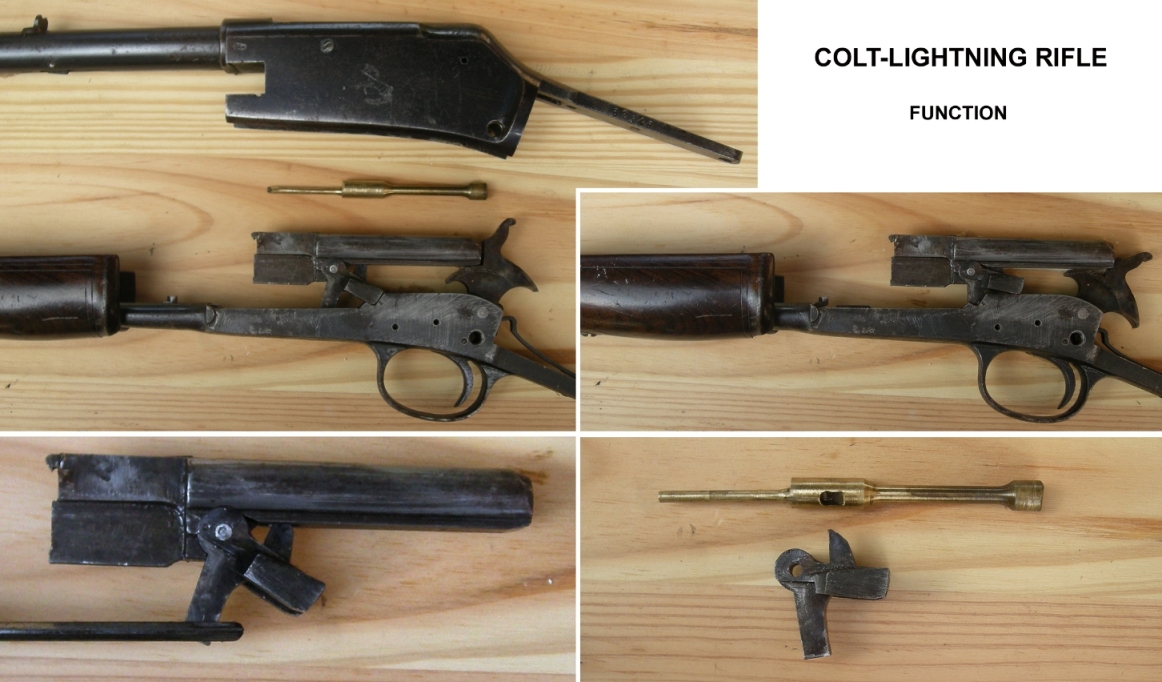 Once the medium action Lightning rifle was in production and had established good sales Colt then went for the small end of the market by making a .22 rimfire small action. This rifle was intended to be for gallery shooting including both in homes and fun fairs. The rifle was also excellent for small game such as rabbits and foxes. It was introduced about three years after the medium action. At about the same time Colt also introduced their large action version of the Lightning chambered for full size rifle cartridges the .38-55 Winchester, .45-60, and .50-95 Express.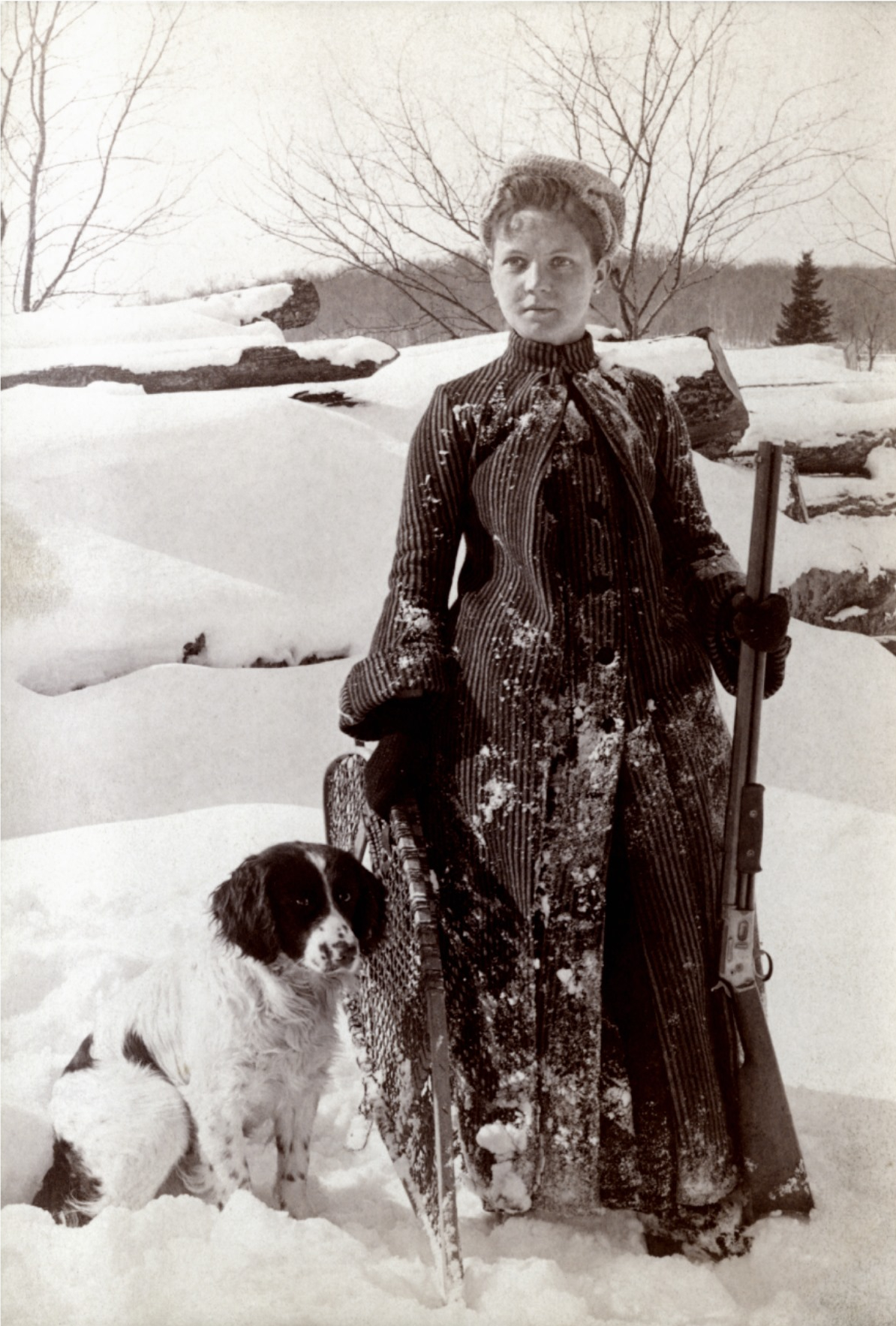 The large frame rifle was not a strong seller, in fact over its seven years of production (1887-1894) only 6,496 were made. The formula for success for the medium action Colt Lightning had very much been its common chambering with the Colt Revolvers. Although the large action was undoubtedly a better choice for hunting for deer on up it just wasn't able to match or even approach the sales for the medium and small action Lightnings. I find this a bit curious but then I'm someone who tends towards heavier caliber hunting rifles so I think a 22″ barreled Colt Lightning in .50-95 would be a wonderful idea. Sadly with so few made and collector prices of such rarities very high I'm unlikely to ever acquire one.
Original Colt Lightning rifles are out there and no doubt there may be some reading this who will go and check on the various rifles accumulated at home to see if you might have one. If you do find you have one, or are wanting to buy one a good place to look to get a feel for values is the Guns International web site. You'll find a page of Colt Lightnings on Guns International if you click here.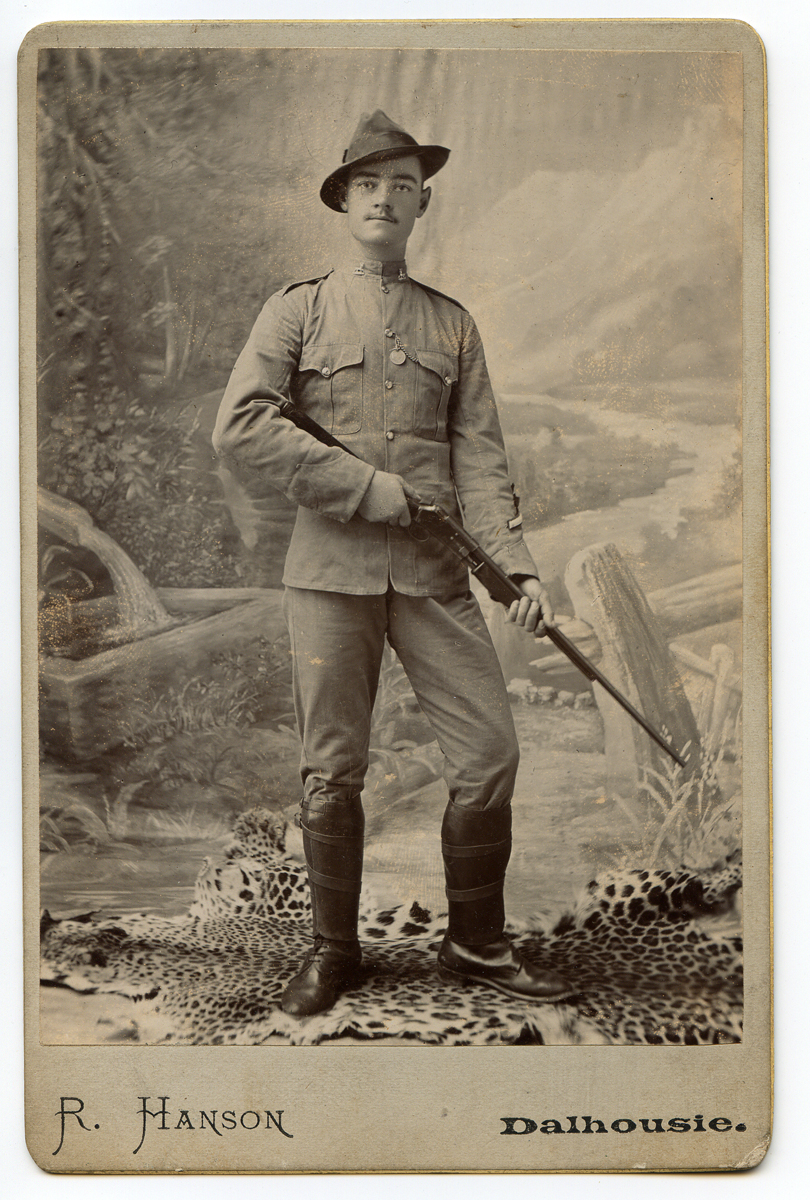 The Colt Lightning rifles were taken out of production in 1904 but for those who would like to own and shoot one all is not lost as there are some good replicas out there. When buying a replica price is a fairly good guide. The cheaper the rifle the less likely it is to be a good investment.
Uberti make a Colt Lightning replica and you'll find it on Uberti's web site if you click here.
Uberti also made the Beretta replica which is now out of production.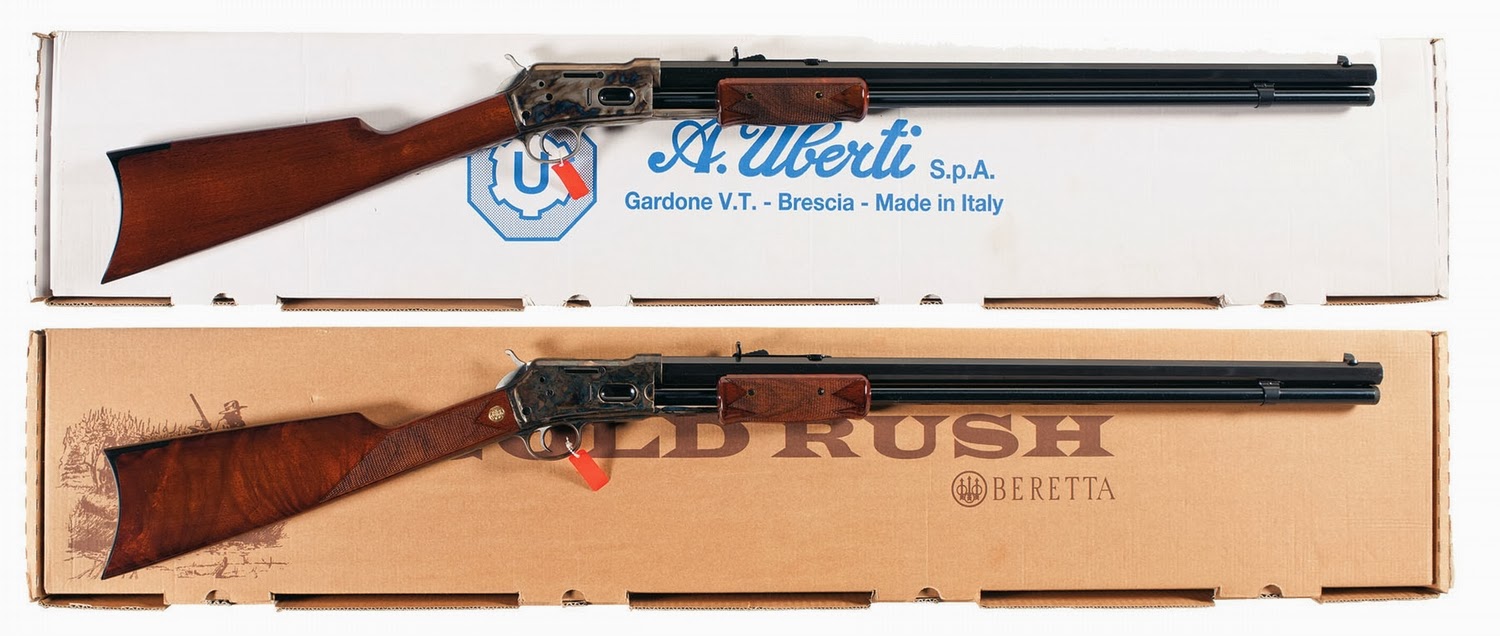 A replica with quite a good name is the Pedersoli and you will find their replicas of the medium frame Colt Lightning if you click here.

American Western Arms apparently went through some teething troubles with their Colt Lightning replica when it was first introduced years ago. Nowadays the quality is said to be excellent and their version of the Colt Lightning is well worth a look.
You'll find the American Western Arms Colt Lightning replica on their website if you click here.

So for those looking for a good replica of the Colt Lightning especially if you are looking for one for Cowboy Action Shooting for example then these should provide you with a good place to start looking. Or, if you are in Australia the slide action Colt Lightning replicas chambered for pistol calibers are allowed in competition just as lever actions are as they are very much a Colonial era rifle and a part of Australia's Colonial era heritage.
The Colt Lightning is a far less famous rifle than the various Winchester lever actions. It doesn't appear in Western movies often, in fact the only appearance I can think of is its appearance in the hands of Colonel Douglas Mortimer—the "Man in Black", in Clint Eastwood's "For a Few Dollars More". But just because it isn't a movie star doesn't mean that it wasn't an excellent rifle and one that was liked by lawmen.
But for me the slide action rifle has a special place simply because way back in the fifties it was the first "real rifle" I had the opportunity to fire and it was so much fun the "gun bug" bit me real good.
(Feature image at the head of this post is of an original large frame Colt Lightning rifle in 50-95 fully restored by Doug Turnbull. You will find Doug Turnbull's website if you click here).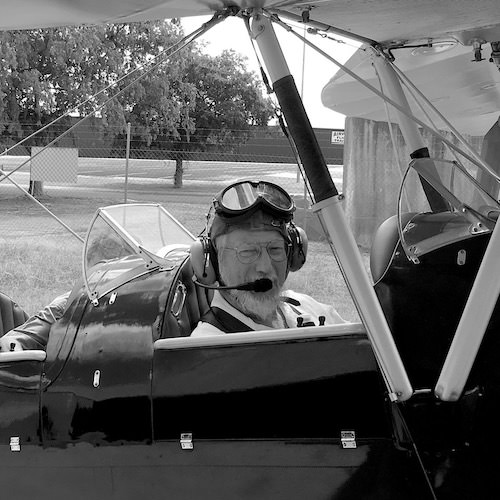 Jon Branch is the founder and senior editor of Revivaler and has written a significant number of articles for various publications including official Buying Guides for eBay, classic car articles for Hagerty, magazine articles for both the Australian Shooters Journal and the Australian Shooter, and he's a long time contributor to Silodrome.
Jon has done radio, television, magazine and newspaper interviews on various issues, and has traveled extensively, having lived in Britain, Australia, China and Hong Kong. His travels have taken him to Indonesia, Israel, Italy, Japan and a number of other countries. He has studied the Japanese sword arts and has a long history of involvement in the shooting sports, which has included authoring submissions to government on various firearms related issues and assisting in the design and establishment of shooting ranges.