Introduction: A Trusted Name Resurrected
The Webley revolver became the iconic British gentleman's arm. Without doubt favored by fictitious private detective Sherlock Holmes and his friend Dr. Watson, who brought his Webley revolver back from the Afghan War. The Webley was far more than the standard arm for fictitious characters however and was the side-arm for British officers in Britain's many colonial wars, such as the Zulu War, and was an officer's side-arm throughout the First and Second World Wars.
Not only did Webley make design and make revolvers however, but even an automatic revolver, and also automatic pistols. Winston Churchill carried a Webley automatic in .32 ACP for part of the Second World War until, as legend has it, he swapped it for a M1911 Colt .45 ACP.
But Webley were largely put out of the handgun business at the end of the First World War when the British government, afraid of a communist revolution, introduced restrictive firearms laws across the British Empire which made it extremely difficult, if not impossible, to own a handgun for self defense. Few people realize that prior to the First World War it was a perfectly normal thing for motorists traveling Britain's country roads to have a Webley handgun in the car's glovebox, just in case of unexpected nastiness. But the Russian Revolution had frightened the British ruling class: indeed Karl Marx had been a regular speaker at London's Hyde Park "Speaker's Corner", and the leader of the Russian Revolution, Vladimir Lenin, had also: although it is reported that Lenin's accent was so difficult to understand that people simply couldn't understand him, which was probably just as well. Not only that but at the last public meeting of the Suffragettes prior to the First World War a Suffragette Bodyguard had discharged a blank firing revolver (probably a Webley) to frighten the police who charged into the hall to arrest Mrs. Pankhurst, something that proved difficult to do as the Suffragettes had installed barbed wire in the flower arrangements around the stage to make getting to Mrs Pankhurst a painfully slow process.
With the market for handguns effectively strangled by government regulation Webley & Scott turned to manufacture of sporting arms including shotguns, which the British government considered to be "mostly harmless", and air rifles and pistols.
The Empire Centerfire Rifle
Webley & Scott's return to the making of sporting firearms in the twenty-first century began in 2010 with the debut of their 900 Series over and under shotguns. By 2011 the company was working on a new range of shotguns and rifles culminating in the release of the Bettinsoli made 1000 Series shotguns in 2016, the Xocet rimfire rifle that same year, and now the "Empire" centerfire hunting rifles have made their debut.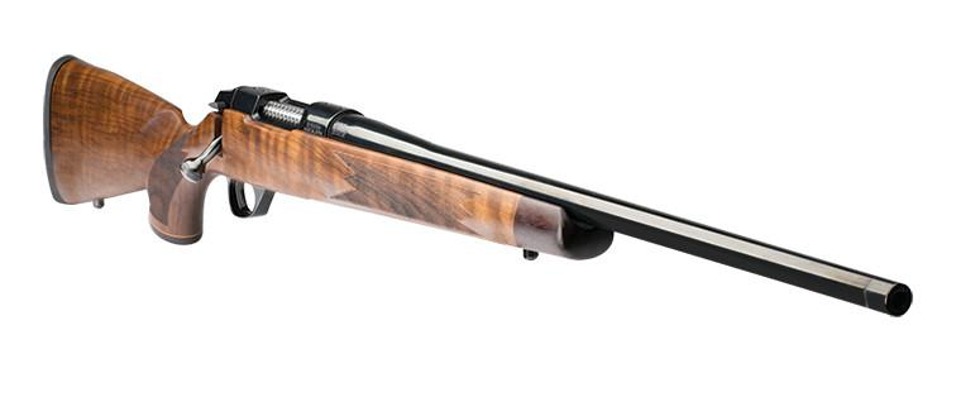 In Britain's gun trade, traditionally, a manufacturer would not necessarily make their own actions, barrels or complete guns, but these would be made by other gunmakers and then sold under the brand name of the maker whose brand name appeared on them. A couple of examples of this practice are R.B. Rodda "Of London and Calcutta" and the Army and Navy Stores guns, all of which were made by other makers. Even the makers of "best guns" often used actions from other makers: Holland & Holland for example built their bolt action rifles on German made Mauser M98 or British Enfield actions, depending on availability. American rifle maker Weatherby have always had others make their rifles and in the past Weatherby rifles have been made by J.P. Sauer & Son of Germany, Schultz & Larsen of Denmark, and in recent years Howa of Japan.
The new Webley & Scott Empire rifle follows this tradition: the rifle is based around a Howa 1500 barreled action and completed with the option of an Italian walnut stock by Minelli. This is an intelligent strategy as it allows Webley & Scott to build their new venture into the sporting rifle market with a barreled action of known good quality with a stylish Italian walnut stock, and yet offer this rifle for sale at a modest price point. This action features a two front locking lug jeweled bolt with recessed bolt face, blade extractor and plunger ejector.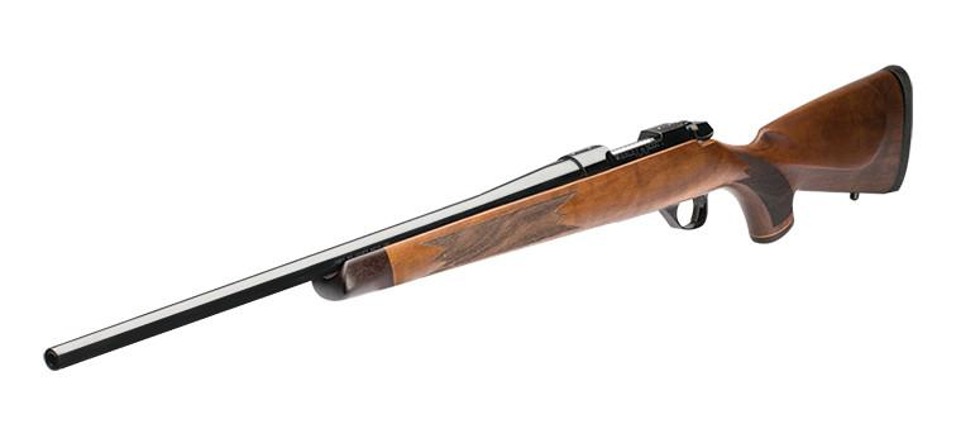 The Howa 1500 barreled action is pillar bedded into the Minelli walnut stock and the barrel is kept free floating, which is the safest way to ensure optimum accuracy in a production rifle. The trigger is the HACT (Howa Acuator Controlled Trigger), the same one that is used in the Howa 1500 and the Weatherby Vanguard, and it is a fully adjustable two-stage trigger with a light take-up, and a clean break at around the three pound mark.
The Empire's Howa 1500 action features the standard three position safety catch located to the right of the bolt shroud, which provides a full forward position in which the rifle can be fired, a middle position in which the safety is engaged to block the rifle from firing, but the action can be safely cycled to remove a live cartridge from the chamber or to chamber a new cartridge, and in its rearmost position the safety catch locks the bolt closed so it can't be inadvertently knocked partially open, and locks the rifle so it cannot be fired.
Barrels of the Webley & Scott Empire rifles are hammer forged and feature a muzzle with a match style crown, similar to that used on the current production Winchester Model 70. The rifles are claimed to be capable of sub MOA accuracy at 100 yards.
The Empire rifle uses a detachable steel magazine, the magazine being fitted with a plastic follower.
Models
The Webley & Scott Empire rifle is made in a variety of models with seven stock options to suit most, if not all, tastes. The premier model is the Traditional Walnut which features a Grade 2 walnut stock complete with rosewood fore-end and pistol grip caps. the stock on this rifle is oil finished and made weather resistant. Its profile is extremely straight to mitigate recoil and it is fitted with a tastefully conservative black recoil pad.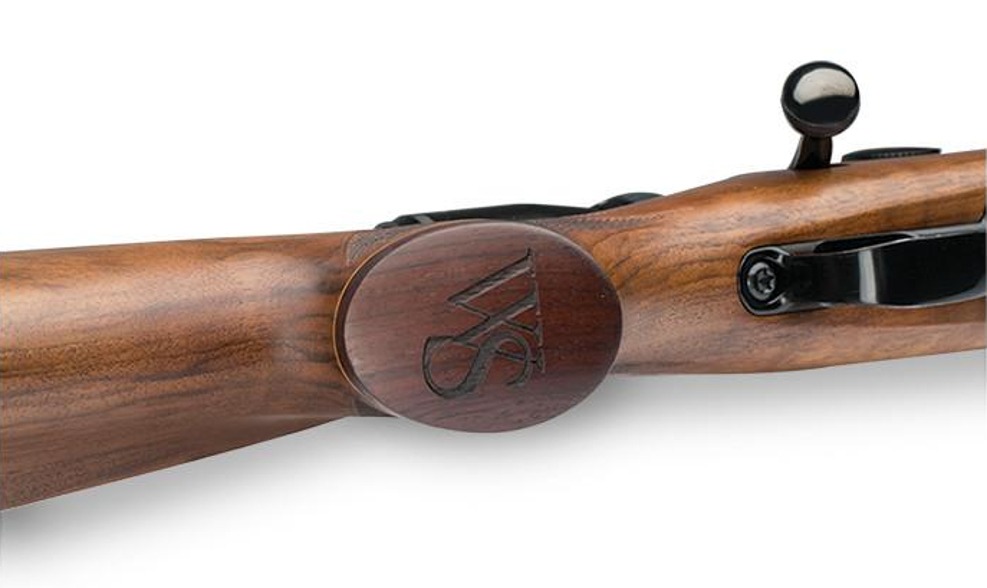 For those who favor a synthetic stock the VFT Black and VFT ODG provide the same stock profile but with either a black synthetic soft touch stock that has a nice solid feel about it, or a Tactical ODG finish. These are  rifles for those who don't want to worry about blemishing their Grade 2 oil finished walnut when out hunting in the rain, hail, sleet or snow.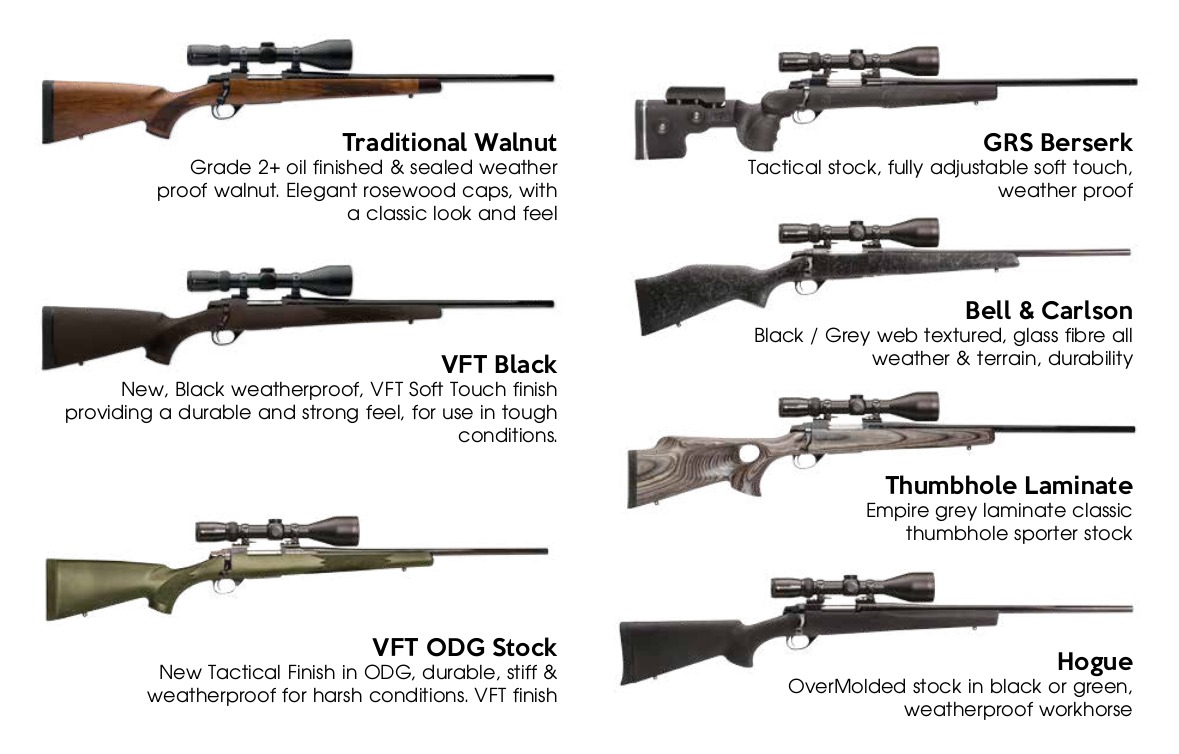 The other two all weather rifle styles are the Bell & Carlson, and the Hogue. The Bell & Carlson has a Monte Carlo style reminiscent of that pioneered by Roy Weatherby and is black and gray textured glass fiber, while the Hogue has a straight combed OverMolded black or green stock.
The next style is the Thumbhole Laminate which features a nice looking and highly practical gray laminated stock, also a great choice for extreme weather conditions as evidenced by the Canadian Rangers choosing laminated stocks for their rifles to be used in the extreme conditions of the north of Canada.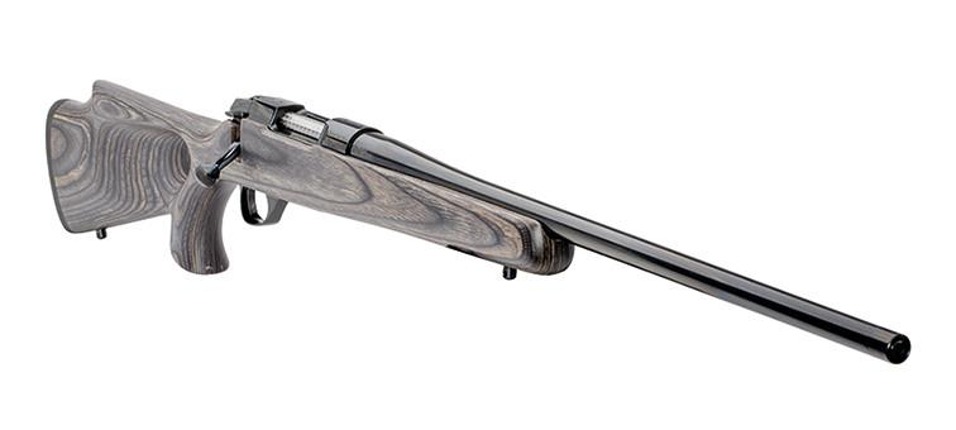 Last but not least is the GRS Beserk which features a fully adjustable "tactical" style of stock in soft touch synthetic.

The Webley & Scott Empire rifles are made in common calibers ranging from .223 Remington to .338 Winchester Magnum, using appropriate action lengths for the caliber and appropriate barrel lengths.

Conclusion
The new Webley & Scott Empire rifles are being imported into the United States by Legacy Sports International, and into many other countries also. This rifle marks a return of an old and much respected name, a name that has been sorely missed by those of us who have a fondness for the "Wobbly Webley" as the revolvers used to be called. The Empire checks the boxes in terms of price, quality and style. It is a very promising addition to the sporting rifle market and one that's well worth a look if you are thinking of adding a little something to your rifle cabinet.
You will find the Webley & Scott catalog on their website if you click here.

Picture Credits: Webley & Scott, Legacy Sports International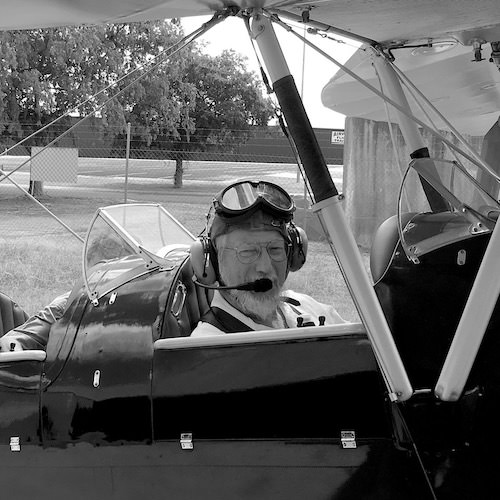 Jon Branch is the founder and senior editor of Revivaler and has written a significant number of articles for various publications including official Buying Guides for eBay, classic car articles for Hagerty, magazine articles for both the Australian Shooters Journal and the Australian Shooter, and he's a long time contributor to Silodrome.
Jon has done radio, television, magazine and newspaper interviews on various issues, and has traveled extensively, having lived in Britain, Australia, China and Hong Kong. His travels have taken him to Indonesia, Israel, Italy, Japan and a number of other countries. He has studied the Japanese sword arts and has a long history of involvement in the shooting sports, which has included authoring submissions to government on various firearms related issues and assisting in the design and establishment of shooting ranges.