American author Ernest Hemingway owned and used a .577 Nitro Express double rifle, and the caliber was popular as an emergency stopper of dangerous game, especially noted as a charge stopper. There is little difference between a .577 Nitro Express and the later .600 Nitro Express. Given that cases and bullets for the .577 NE are in production to this day and companies such as Barnes Bullets are making bullets for it and providing loading data this is a practical choice for someone who is planning on dangerous game hunting. The .577 NE was also popular for tiger hunting in India where a different loading would be used than that used for elephant. The Kynoch ammunition for soft skinned dangerous game normally featured a soft pointed bullet with the jacket given longitudinal grooves at the ogive to ensure it would open up quickly. Given that tiger and lion hunters oftentimes had to deal with man-eaters common sense demanded the use of a caliber and bullet of trustworthy stopping power.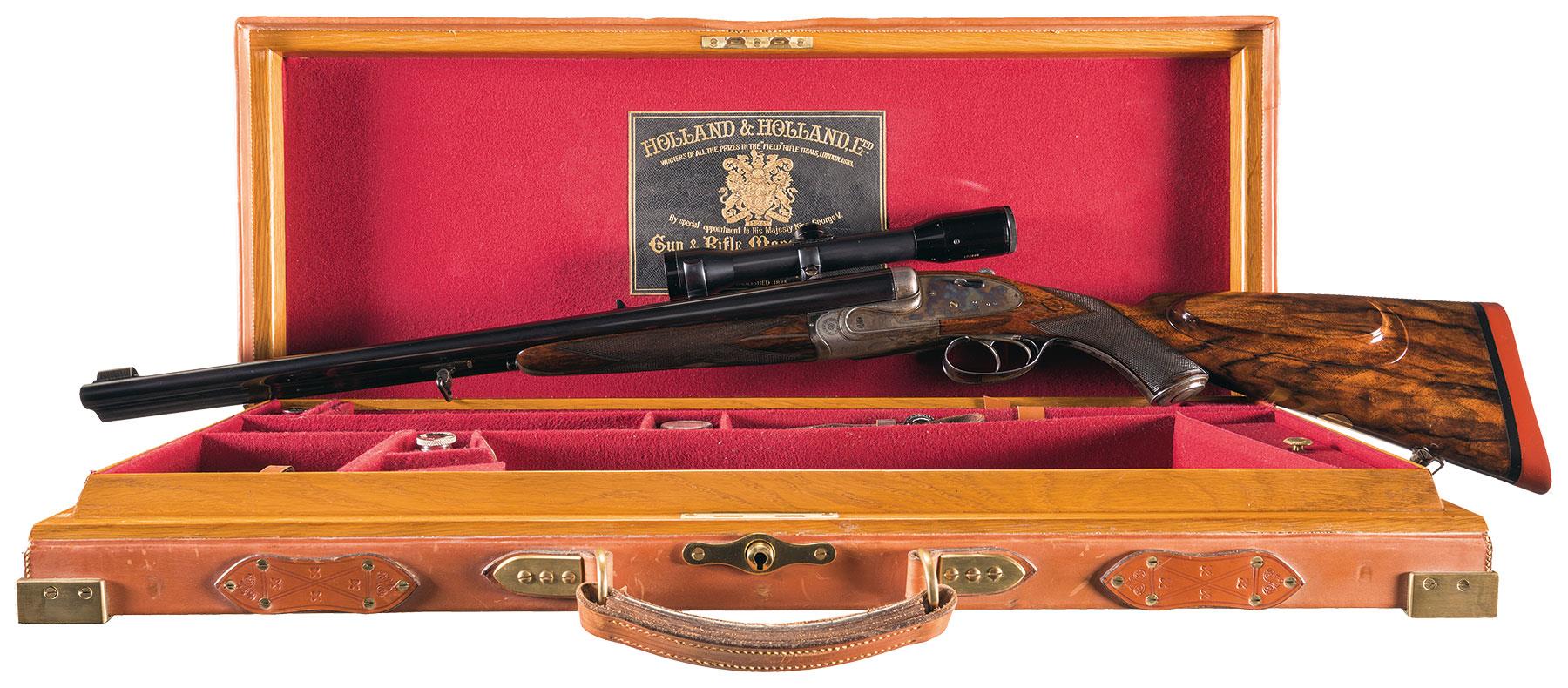 Amongst the British rifle makers London company Holland & Holland are amongst the very top tier. Especially famous for their double rifles the reputation of the company is nothing short of legendary and they were and are the top choice of those affluent enough to afford their rifles, including royalty. Holland & Holland holds two Royal Warrants in Britain. Originally founded in 1835 by Harris Holland the company had built for itself a well deserved reputation by the time of the 1883 trials organized by the prestigious "The Field" magazine. In those trials Holland & Holland won all of the rifle trials and firmly cemented their already established reputation as a rifle maker without par. Holland & Holland went on to develop and patent their hand detachable side-lock mechanism in 1908, and their self-opening mechanism as fitted to their Royal guns in 1922.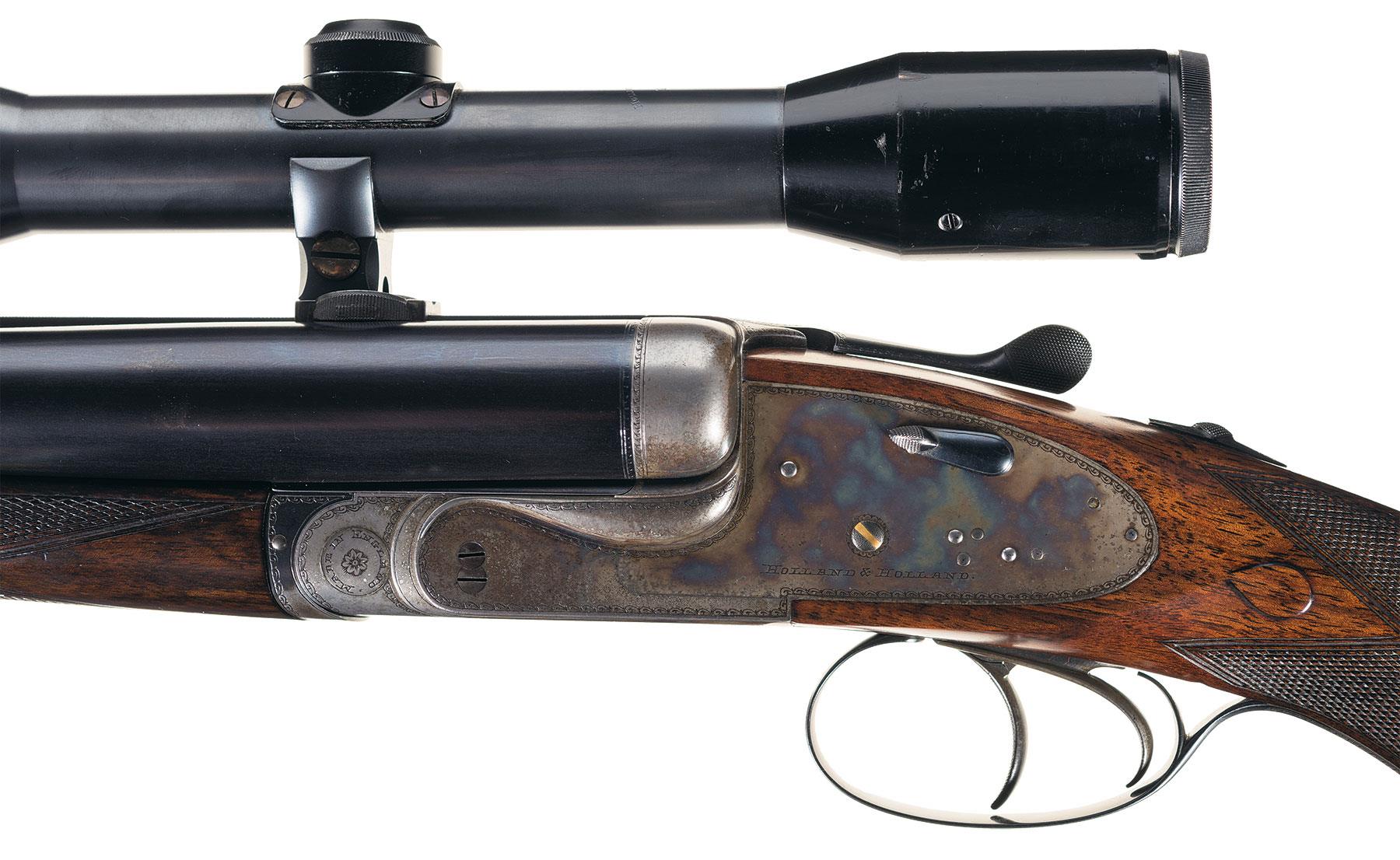 A Holland & Holland Royal double rifle is both a work of engineering excellence and a work of art all rolled into one. A Royal double rifle is hand made and takes time for the team of gun-smiths to create the various parts and hand fit everything into the closest thing to perfection that can be attained here on the earth. As each rifle is a bespoke affair made to best suit the customer's needs these rifles can be found with many variations in style and decoration. Holland & Holland are expert at fitting the rifle to the customer like a tailored Saville Row suit.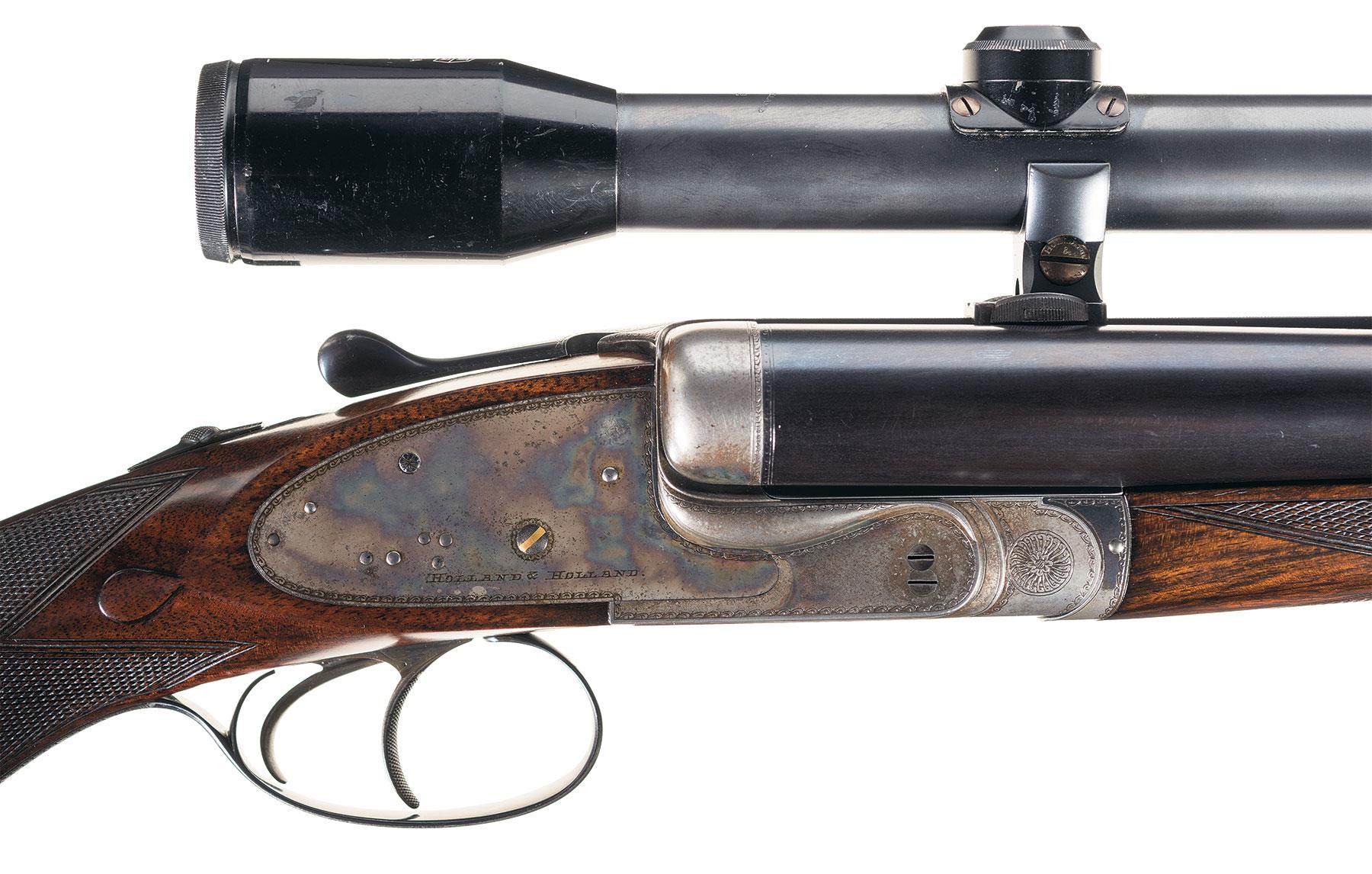 The Holland & Holland Royal .577 3″ Nitro Express in our pictures is coming up for sale by Rock Island Auction Company at their Premiere Auction to be held from May 5th-7th, 2017.
You will find the sale page for this rifle if you click here.
This rifle is particularly attractive in how it is styled. The rifle is not encumbered with heavy artistic engraving but instead has minimal border engraving with attractive case hardening of the action. The result is an understated and refined looking rifle whose design and engineering are superb. There are many thoughtful details in this rifle, the front trigger is cross-hatched, the rear trigger is not, this gives the shooter an immediate tactile feel for which barrel they are about to fire so there is no chance for confusion in the face of a charging pachyderm or lion. Life and death situations require that all foreseeable possibilities for confusion be eliminated. Similarly the action tangs, both top and bottom, are extended to reinforce the wood with steel. The lower action tang extends all the way to the steel grip cap and the upper tang extends over an inch onto the comb. The .577 NE is a powerful round that generates as much recoil as any of us ever wants to have to handle and this Holland & Holland Royal is made for many years of fail free service.

The open sights on this rifle are a practical ramped bead front sight with a sliding hood, and a drift adjustable "U" notch rear sight marked "50", with a platinum accent wire. The express rib of the rifle is fitted for detachable "claw" mounts for a rifle-scope. There are times when a hunter might really want a rifle-scope on a rifle such as this although the rifle would normally be carried and used with the open sights. Night hunting using a bait to bring in a big cat would be one scenario where the rifle-scope would prove useful.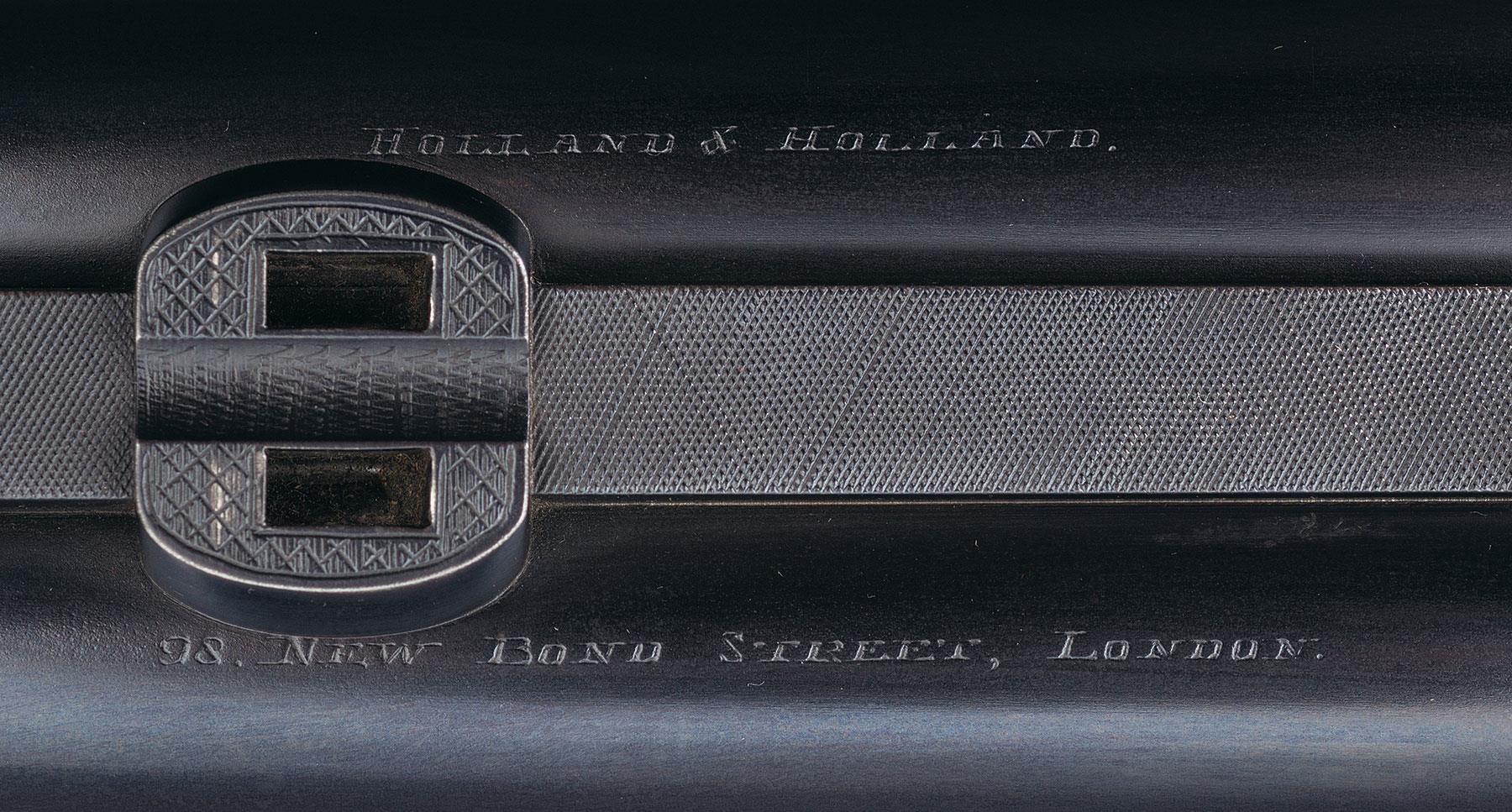 Overall weight of this rifle is a comfortable 12 pounds 4.9 ounces; the length of pull is 14¼" to the end of the recoil pad; the drop at comb is 1⅝" and the drop at heel 3⅛".
The rifle comes with a fitted brown leather case fitted with a canvas protective cover, brass corner reinforcement, and a gold embossed black leather makers label inside the lid. The case contains the rifle, a Hensoldt-Wetzlar Diasta 4×32 scope with H&H markings numbered to match the rifle, a brown leather sling, two nickel finished snap caps, a bottle of Holland & Holland Rangoon Jelly, a small box of shotgun size bore patches, a two piece cleaning rod, two cleaning brushes, a spare screw, and a leather pocket pouch of .577 NE cleaning tools.
Rock Island Auction Company describe the condition of this rifle as follows: "Extremely fine with 98% of the blue finish, showing some light handling marks and edge wear. 70% case colors are present on the lock plates with a brown and gray patina showing on the frame and the underside of the forearm mounting iron. The stock is very fine, with a few light dings and handling marks. Scope optics are clear. The case shows some mild wear. Mechanically excellent."
This looks to be a superb collector's rifle, and also looks to be a rifle that can be used with confidence. If you purchase the rifle we would recommend it be taken to Holland & Holland for checking and servicing prior to being used as a dangerous game rifle.
You will find Holland & Holland, their range of new double rifles, and their services if you click here.

(All pictures courtesy Rock Island Auction Company).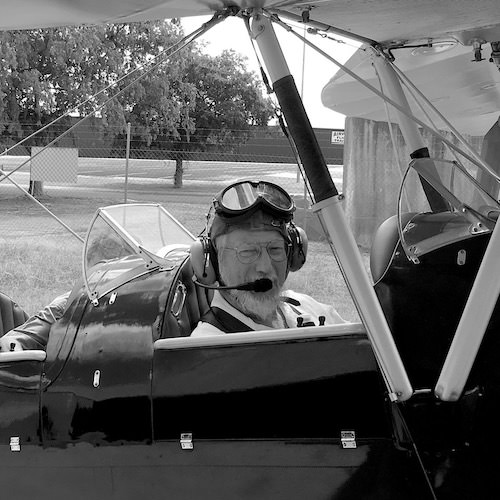 Jon Branch is the founder and senior editor of Revivaler and has written a significant number of articles for various publications including official Buying Guides for eBay, classic car articles for Hagerty, magazine articles for both the Australian Shooters Journal and the Australian Shooter, and he's a long time contributor to Silodrome.
Jon has done radio, television, magazine and newspaper interviews on various issues, and has traveled extensively, having lived in Britain, Australia, China and Hong Kong. His travels have taken him to Indonesia, Israel, Italy, Japan and a number of other countries. He has studied the Japanese sword arts and has a long history of involvement in the shooting sports, which has included authoring submissions to government on various firearms related issues and assisting in the design and establishment of shooting ranges.